Thanksgiving Style Mini Meatloaves
This post may contain affiliate links (meaning I earn a small comission if you purchase an item through a link I provide) I only provide shoppable links to items I love and are helpful. As an Amazon Associate, I earn from qualifying purchases.
These Thanksgiving Style Mini Meatloaves are so easy to make. These are an excellent weeknight dinner because they're finished in under 25 minutes! I absolutely love the total comfort food vibes these have without much work at all!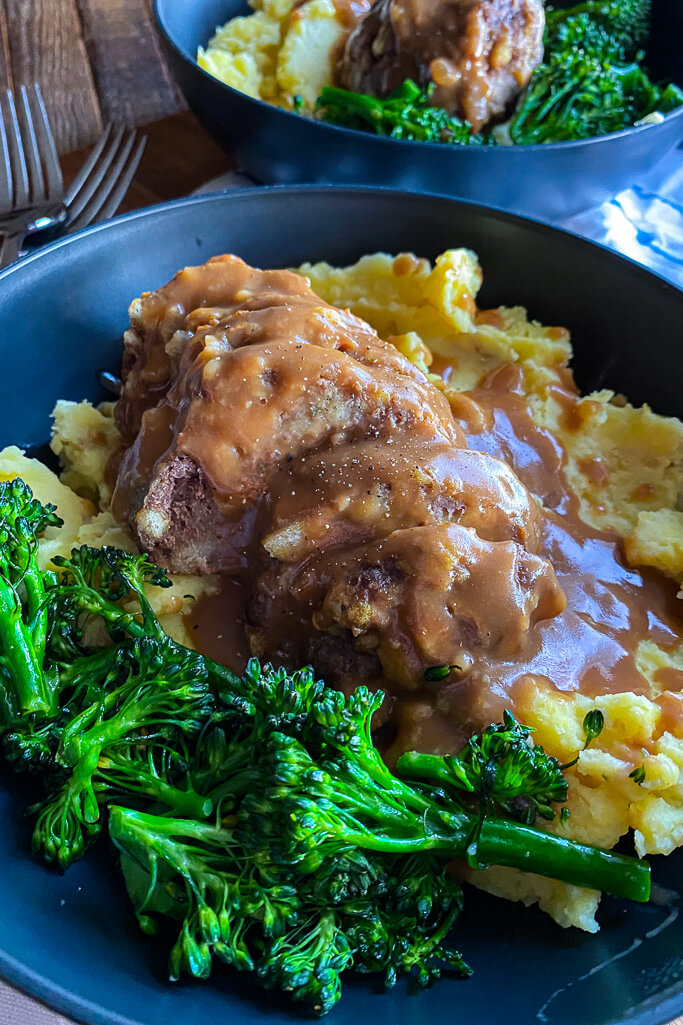 I'm writing this post today for all of yall out there who like to listen to my extra long rambles. Over the years, I've stopped "talking too much" in posts due to negative nancy's, but today I am because I've got a lot to say.
I get asked a lot when I do Instagram "Ask me Anything" Stories how I come up with recipes and this recipe is the perfect example of how I come up at least 75% of recipes. Spoiler alert, if you don't want to read the whole thing. It pretty much begins with budgeting and ends with reducing food waste. I am trying to be more strict about both. You know why? because necessity is the mother of all invention, friends. I do my best work time and time again when I don't have much to work with. When I have a stocked pantry, fridge, and freezer. I'm actually worse at creating recipes. I never said I made much sense.
Now, lets get to these Thanksgiving Style Mini Meatloaves and how I decided to create these little "petite-y meaties" (iykyk haha). It started last week on a random day (that I actually was going to take off) when I was making coffee. I looked over at my sweet potatoes and realized they've seen better days so I should probably make something with them and what do ya know Thanksgiving is right around the corner. I'll make a thanksgiving side dish!
I decided on a savory sweet potato mash because I've always loved the idea of savory sweet potatoes. None of that marshmallow nonsense here. Y'all can make a sweet potato pie and do that (in my opinion). So, I did this mash, but realized I didn't have enough sweet potatoes to make the amount I wanted and I added carrots to lower the carbs and their orange. Why not, right? Well, wrong kind of. I had the cooking time off a bit because of this and I sorta kinda ended up burning the sweet potatoes just a bit past the "delightfully charred" stage. I decided to go on with the recipe anyway and see what happened. The verdict? I couldn't stop eating them, but to be sure I needed something to eat it with that was thanksgiving-y.
Instead of running to the store and getting a turkey breast or rotisserie chicken or something along those lines. I decided to keep within my weekly grocery budget (which was already spent) and use what I had. I looked in the fridge first and realized I had some fresh ground turkey sausage and lean ground beef. Perfect, meatloaf!
Then, I realized I had stove top stuffing sitting on the counter (actually for crock pot chicken and stuffing) and vaguely remembered my friend telling me she loves making the meatloaf recipe that's actually on the back of the stove top box!
Well, I couldn't just do the recipe on the back of the box so I made them mini, mixed meats (better texture), skipped the addition of bbq sauce because meh, and in place of a traditional ketchup glaze, I made a delicious gravy to go with'm! Now, there you have it. I also made a side of roasted broccoli and fried potatoes (because Eric kind of hates sweet potatoes 90% of the time). Dinner was served.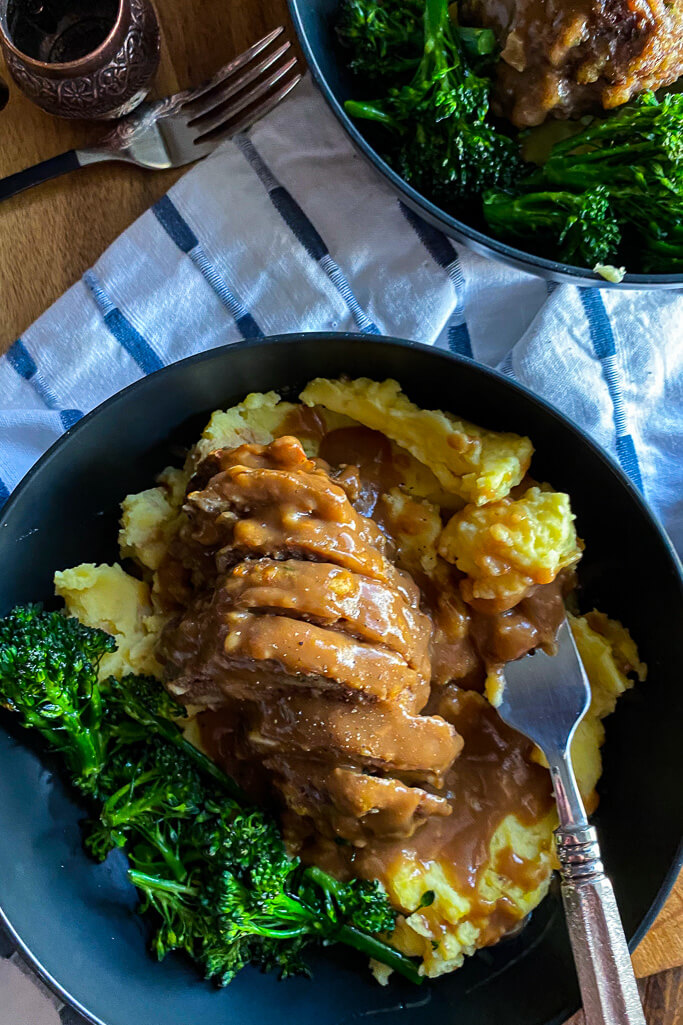 It was the perfect comfort food! Those dang thanksgiving style mini meatloaves really made it! Eric and I are kind of obsessed. In fact, I'm making them AGAIN this weekend to share with my mom and her husband. I explained this in a Instagram story and multiple people replied saying something like "your life sounds like those "if you give a mouse a cookie" books. Honestly, I couldn't agree more. My thought process isn't for the faint of heart and definitely not "SEO" friendly (if you know you know).
Why Thanksgiving Style?
I named these delicious little things "Thanksgiving Style Mini Meatloaves" because honestly, I had no idea what else to call them. When I took a bite I was immediately reminded me of Thanksgiving so why not? I didn't want to call them just "mini meatloaves" because I'm sure at some point I'll make a different type of mini meatloaf. I hate confusion with recipe names.
So, I asked yall for some advice on Instagram on what I should call these and I about died laughing. My top favorite names you all advised were *drum roll please*… Lisa (yes someone said to name it Lisa! HAHA), Turbeef-loaf (a play off of turducken), Turbeefy Meaties, Turbo Meat Boats, Gobble Moos, Meat Pillows, and we cannot forget Petitey Meaties. HAHA Y'all I really am blessed with kind of the best readers on the internet. You all know how to make a girl laugh and that's one of the best things in the world to me. And just so you know, from now on I will only refer to these mini meatloaves as "Lisa" in my own home… However, that might confuse some folks here (especially new readers) so we're just gonna call'm Thanksgiving Style Mini Meatloaves.
And if you're new here Hi! please don't leave after this paragraph…
How to make Thanksgiving Style Mini Meatloaves: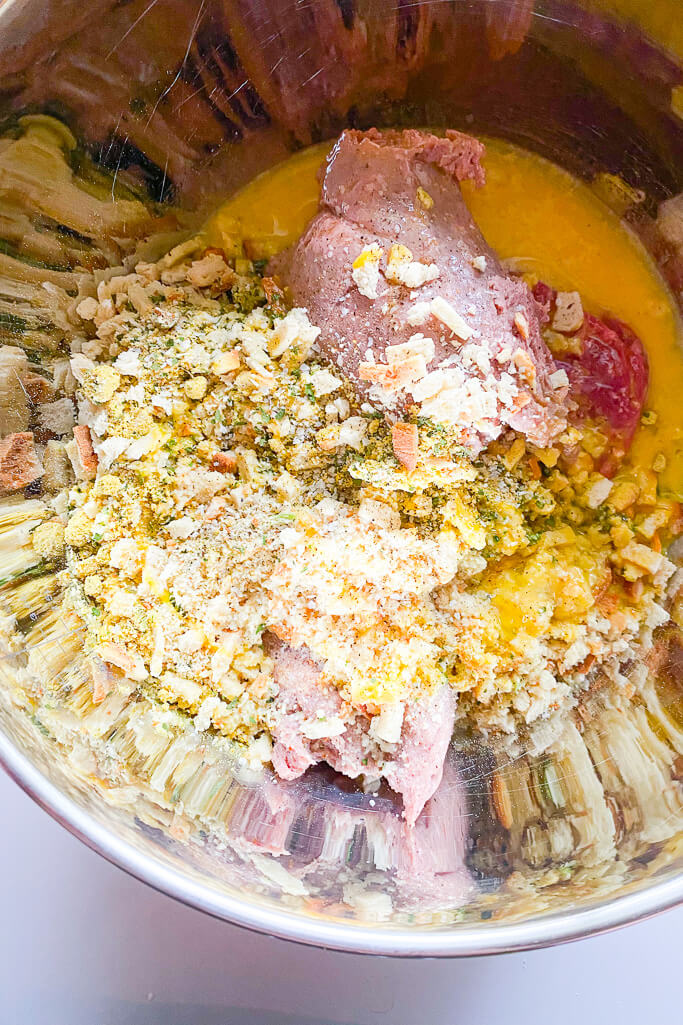 Start off by preheating the oven to 425 degrees. Grab a large bowl and add raw turkey sausage, ground beef, 2 beaten eggs, and 1 cup water. Also add in a box of Stove Top Stuffing Mix! That's right. In place of your traditional bread or breadcrumbs, we're going with stuffing mix and it's so so good!
I'm going to be honest. Mixing meatloaf by hand is your best bet to get everything combined in the best way. I keep food safe gloves on hand for stuff like this, but even if I didn't I'd still do it. Don't mash for much more than a minute total otherwise the texture will be off.
Note: If you can't find ground turkey sausage, just use lean ground turkey. This turkey sausage is what I tend to have on hand. The sausage has some spices added to it, but it shouldn't take away too much from the finished product. You could also use links, but just cut the casings off. I find it by the pork sausage/bacon, but sometimes they have it in the turkey meat section or frozen area!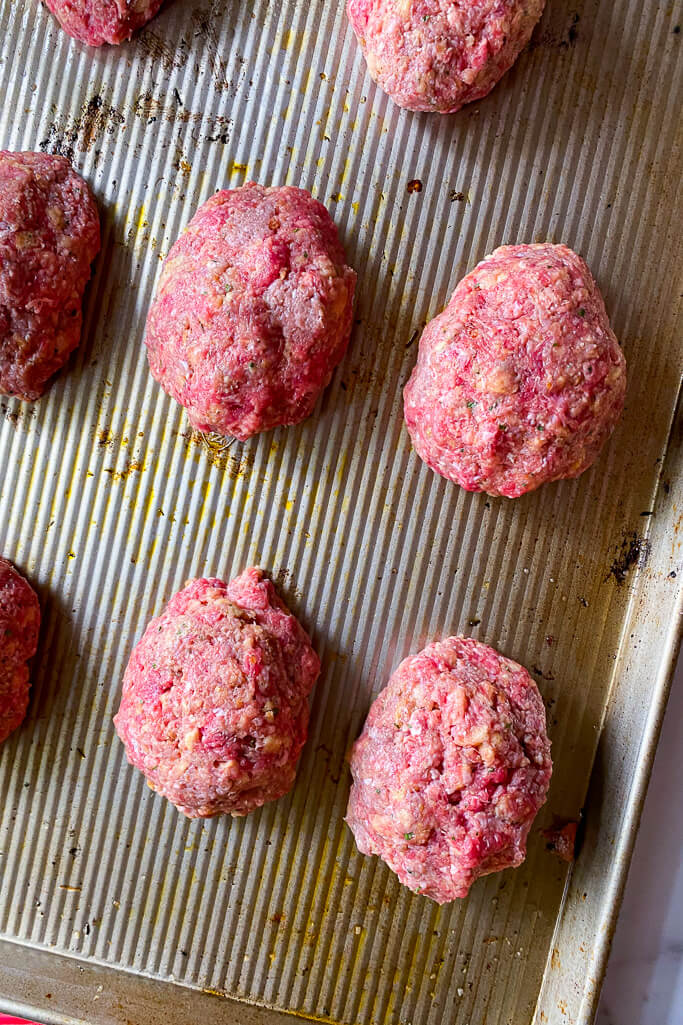 Shape the meat mixture into small loaves and place on a baking sheet that has been sprayed lightly with cooking spray. For more precise nutrional information make sure they are about 6 ounces each.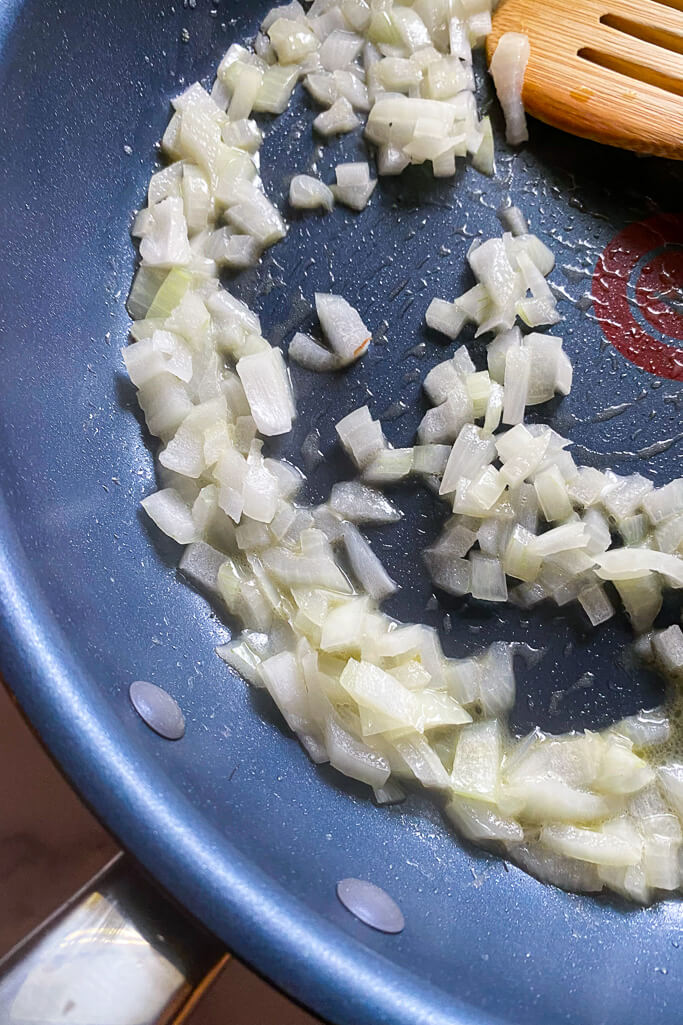 While the meatloaves bake in the oven make the gravy. I usually start making the gravy when the meatloaves have about 10 minutes left. In a skillet heat half of a chopped yellow onion and light butter over medium heat. Continue to cook until softened (about 3-4 minutes). Stirring almost constantly so they don't get too brown.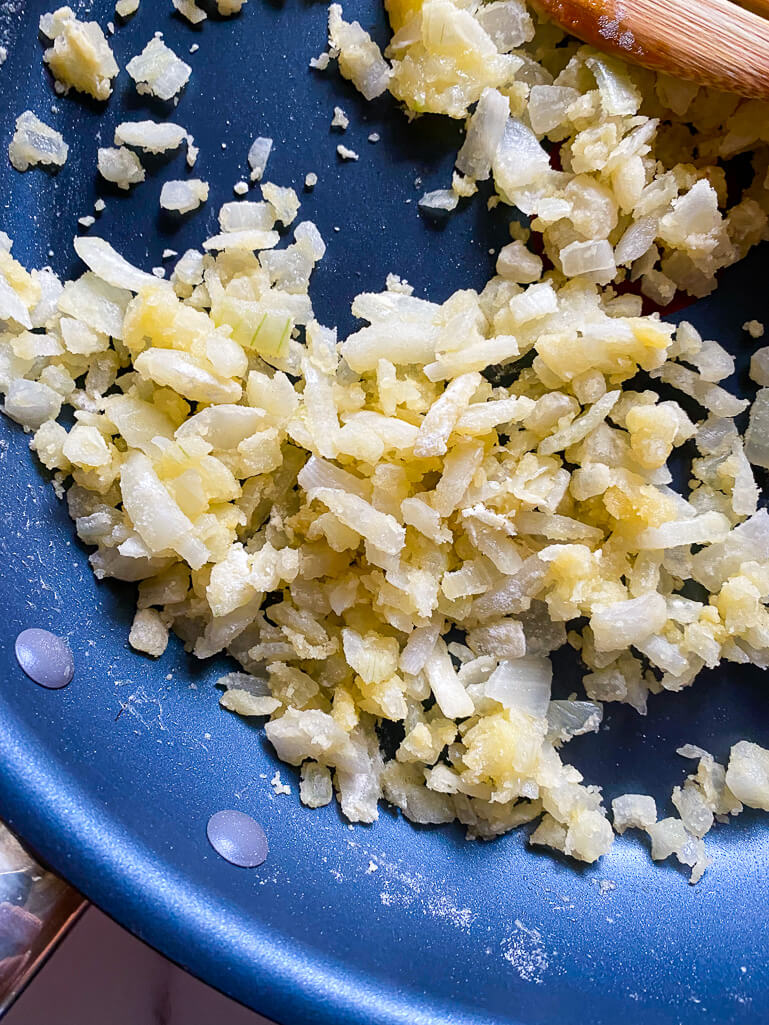 Add in 3 tablespoons of flour and cook for about a minute or until the flour is golden in in color. Stirring constantly.
Whisk water in slowly and then add chicken or beef better than bouillon. Bring to a boil and continue to cook for 1-2 minutes or until thickened (but it really shouldn't take much more than maybe 3 minutes). Remove from heat and set aside. Salt and Pepper to taste, but it probably doesn't need anything.
Gravy troubleshooting:
I know some folks have a hard time with gravy and I hear ya! The key is honestly patience and constant stirring and whisking. Thats really it. See my spoon in the photo above how you can see the pan? When that happens, the gravy is done. When you're able to drag your spoon and it takes a second or two for it to "come back together" again. If you can't make space then it's not thick enough. Now, if your gravy gets a bit too thick you can always add a little water and thin it out.
When the meatloaves have cooked for about 20 minutes or until thermometer 165 degrees. Remove from the oven and let them sit for a few minutes to rest.
Drizzle with about 1/4 cup gravy on top of the meatloaves. All ya need now is some mashed potatoes and/or veggies!
This is just so good! It has quickly become one of our favorite recipes and it's totally kid friendly. Mom win!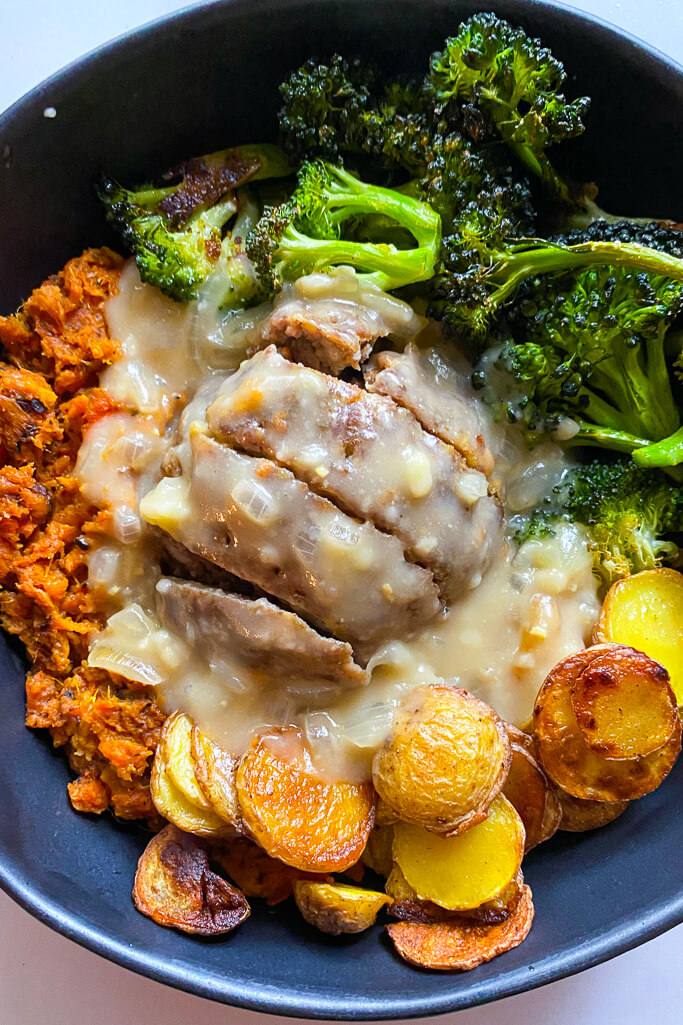 Here's the meal we made with it the first time we enjoyed'm. The sweet potato mash, fried potatoes, and broccoli! This was just a total comfort food meal, but lightened up, just enough! You can see in this photo that the gravy is lighter. Its just because I used chicken stock concentrate. In other photos I used beef stock concentrate. Either one works wonderfully. The beef one just has a bit more of a "rich" flavor. I ran out of chicken so I used beef.
Hope you love this recipe and have the best day! -Star
Print
Thanksgiving Style Mini Meatloaves
Materials
Meatloaves
1

pkg

stove top stuffing mix

1

cup

water

1

lb

raw lean ground beef

(I use 93/7)

1

lb

raw lean breakfast turkey sausage

(or 93/7 lean ground turkey will work)

2

eggs

well beaten
Skillet Gravy
1/2

diced yellow onion

3

tbsp

light butter

(i use the land o lakes in the tub)

3

tbsp

all purpose flour

2¼

cups

water

1

tbsp

chicken or beef stock concentrate

(i use better than bouillon next to stock/broth in grocery store)
Instructions
Mini Meatloaves
Preheat oven to 425. In a large bowl mix together ground beef, ground turkey, stove top, eggs, and water. Mash together (with hands if you can to incorporate everything better) for only about a minute tops otherwise the texture isn't awesome.

Line a sheet pan with parchment paper or aluminum foil (not necessary but for easier clean up) and shape 8 mini meatloaves onto it. They will be about 6 ounces each if you want it to be super accurate, weight it out.

Bake for about 20 minutes or until meat thermometer reaches 165 degrees. Remove from oven and let sit for just a few minutes to rest a bit before cutting into them.

Top with about about 1/4 cup gravy, serve, and enjoy!
Skillet Gravy
When the meatloaves have about 10 minutes left to cook, make the gravy. In the skillet add light butter and diced onions. Cook over medium heat until the onions are softened (about 3-4 minutes). Stir flour in a continue cooking for about 1 minute or until the flour is golden. Slowly whisk in water followed by stock concentrate. Bring to a boil and cook until thickened (about 2-3 minutes).
Notes
WW Points: 9 Points
One Mini Meatloaf: 270 calories, 9g fat, 3g saturated fat, 400g sodium, 14.5g carbohydrates (14 net carbs), .5g fiber, 1.5g sugar (0g added sugar, 0g sugar alcohol), 26g protein
Skillet Gravy (per tablespoon) makes 2 cups total: 9 calories, .5g fat, 0g saturated fat, 50g sodium, .9g carbohydrates (.9 net carbs), .1g fiber, 0g sugar, 0g added sugar, 0g sugar alcohol, 0g protein