Hey you guys!
I've got something super delicious for to add to next weeks meal plan.
I have been craving a good taco pizza for quite awhile now, probably at least a month. We have places in my town that have some dang good taco pizzas, but I just haven't been wanting to splurge calorie-wise too much on food lately.
This will definitely be a go to for Taco Tuesday and or Pizza Night from now ON.
Eric absolutely could not believe that this was a "lightened" up version! Now, that's what I like to hear!
I started with a pre-made crust to make this a super friendly and easy weeknight dinner. I will probably experiment with a homemade crust soon- so check back for that! The layers of refried beans and cream cheese, taco meat, and cheddar cheese are perfection. Topped off with some delicious lettuce, green onion, cilantro, and tomatoes to complete the full taco effect.
This was literally thrown together within 15 minutes and took about 10 minutes to bake in the oven. LESS than 30 minutes? Yes Please! Sign me up! Sometimes with little Pepper, I am lucky if I get a whole 30 minutes in the kitchen to make dinner. So I completely understand the demand for 30-minute meals now. Before her, I didn't. Now I know, those precious babies seriously make time disappear!
I hope you enjoy this as much as we did. The recipe calls for TWO pizza's because this FLEW OFF the pan within minutes. You can easily adjust the ingredients if you just want to make one pizza, but it also reheats in the oven beautifully. I leave the lettuce, onions, cilantro on, but take the tomatoes off when re-heating. I also add another dose of fresh lettuce when it's been reheated because it does get wilty. (Is that a word?) Well it is now.
I also added some light sour cream, salsa, and guacamole to spread on top, that's totally up to you.
But it really, really completed my taco pizza.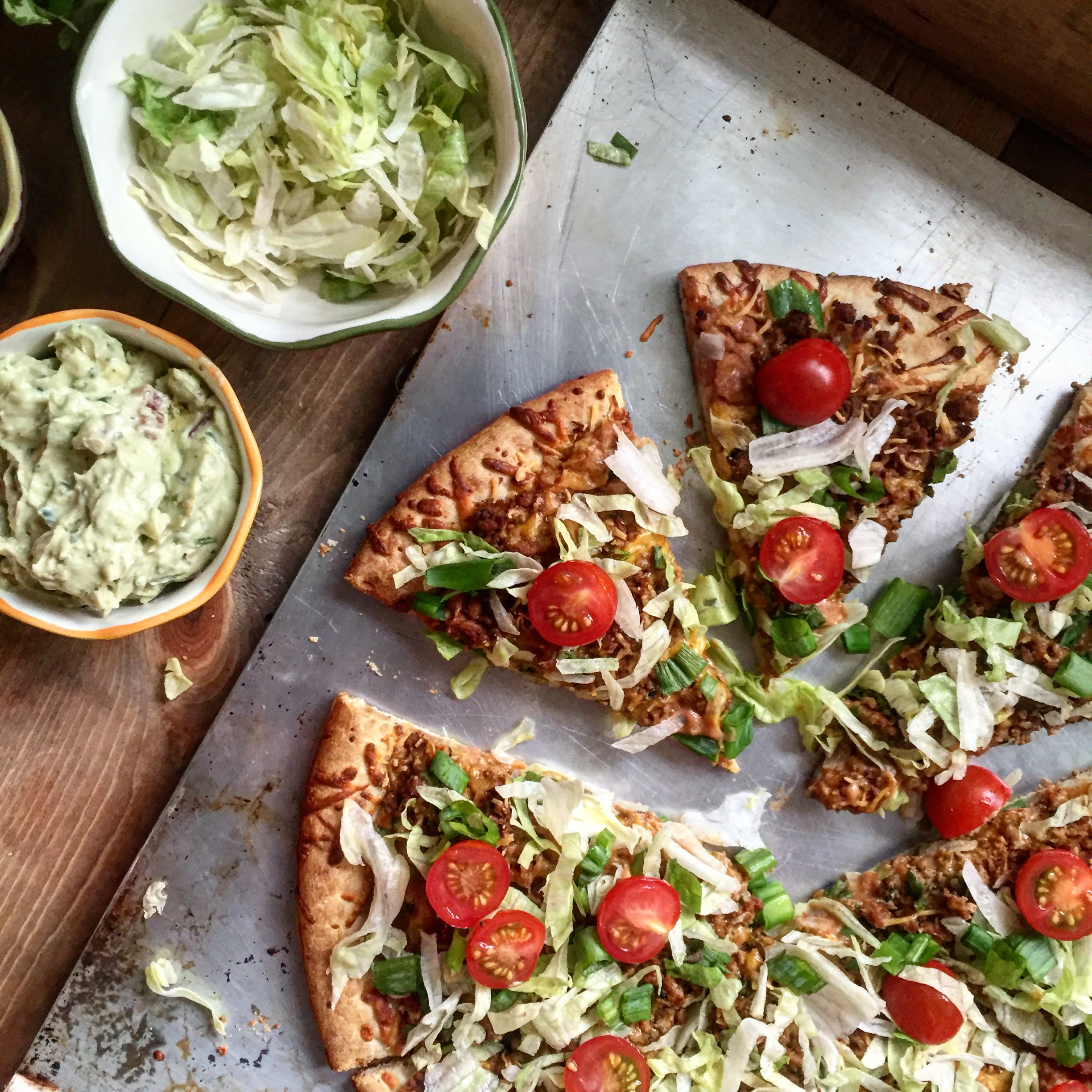 Taco Pizza
Taco Tuesday meets Pizza Night in the most delicious way possible!
Ingredients
1

lb

Lean Ground Turkey

2

Boboli Whole Wheat Pizza Crusts

(or crust of your choice)*

1/2

Packet McCormick Taco Seasoning

(or 4 tbs homemade taco seasoning)

1

cup

Refried Beans

, I use La Preferda Authentic Style

1/4

cup

light cream cheese

, softened

1

cup

reduced fat cheddar made with 2% milk

1/2

cup

green onions

, chopped

1/4

cup

fresh cilantro

, chopped

Cooking Spray

tomatoes

, lettuce, cilantro, and green onions for garnish
Instructions
Preheat oven to 400 degrees.

In a medium skillet, brown your ground turkey.

When the ground turkey is cooked, add your taco seasoning, 1/4 cup green onions, and two tablespoons of cilantro (try not to skip the cilantro part, I promise it makes the meat SO much better!). Mix well and cook all together for 3-4 minutes.

While your meat is cooking, lightly spray both pizza crusts with cooking spray. Put the first one on a cookie sheet or pizza stone and pre-bake for about 2 minutes. (Repeat with second crust)

In a medium bowl take your refried beans and light cream cheese and mix thoroughly until combined.

Take pizza crust, spread half the cream cheese and bean mixture covering the entire thing except for the outer edges.

Next, spread 1/2 the taco meat onto the pizza followed by half of the cheddar, cilantro, and green onions.

Bake for 10 minutes. Remove from oven and top with shredded lettuce and tomatoes!

Repeat steps 6-8 for second crust.

Cut each pizza into 5 slices. Enjoy!
Recipe Notes
7 Freestyle Smart Points (calculated with Weight Watchers Recipe Builder)
7 smart points per serving (Calculated with Weight Watchers Recipe Builder)
7 points plus per serving
290 calories per serving
*Note: If using different crusts- the points may vary