This post may contain affiliate links (meaning I earn a small comission if you purchase an item through a link I provide) I only provide shoppable links to items I love and are helpful. As an Amazon Associate, I earn from qualifying purchases.
Happy Sunday, y'all. This Stuffed Pepper Soup is so good! It's all the flavor like the classic Stuffed Pepper Dish, but without any hassle stuffin' all those peppers up. You're just 30 minutes away from this cozy soup that's perfect for meal prep too!
Lately, we've been in the mood for soup around these parts. Eric could eat some soup on the hottest day in July, but me? I've gotta wait until the cold weather sets in which it has here in the Midwest. So, we are both super cozy, happy, soup eatin' campers. Growing up my mom made Stuffed Pepper Soup a lot during the colder months of the year. I always loved it! She never really had a recipe. In fact, 99% of my mom's recipes are never the same. I didn't even ask her about this one because I definitely knew the answer. I would honestly be the same if I didn't have this blog. I cook by taste and smell which is my favorite way to cook.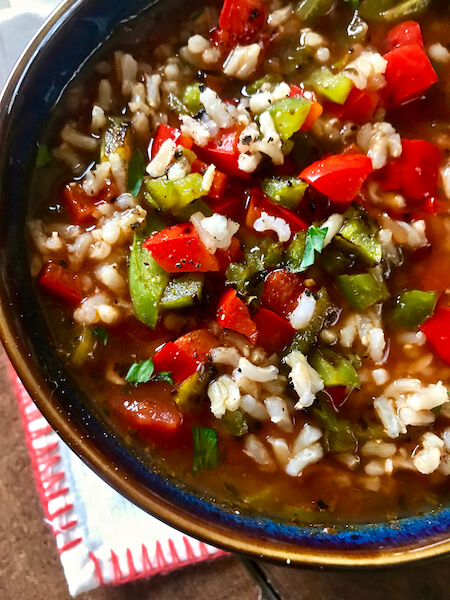 This Stuffed Pepper Soup is just perfect for dinner and reheats deliciously for lunches throughout the week. Since it's so healthy I love to shmear a bit of butter on a warm and crispy baguette and sop up the soup with it. The soup is filled with all the flavors of classic stuffed peppers, but without all the work. Have y'all had my Italian Sloppy Joes? Well, if you have you'll know that the meat sauce is just delightfully delicious. It's my favorite! What happened was a few weeks back I was craving some soup, but I had skipped going to the grocery store for about 4 days straight because it was cold, and raining, and I was being a child and didn't want to go. So, I was scrounging around the pantry and fridge for different meals. I realized I had some leftover Italian Sloppy Joe Mix in the freezer and I figured… hm, why not use that as a base for a Stuffed Pepper Soup? Ya'll it hit the spot. I ate almost the entire batch of soup by myself. I hope you love this soup as much as I do. I'm sharing how I make it from start to finish, but if you happen to have some Leftover Italian Slopped Joe Mix you can use that too and just add chopped green peppers, broth, a lil hot sauce, and a lil balsamic vinegar to take the flavor to the next level. You'll just love this!
Let's get cookin'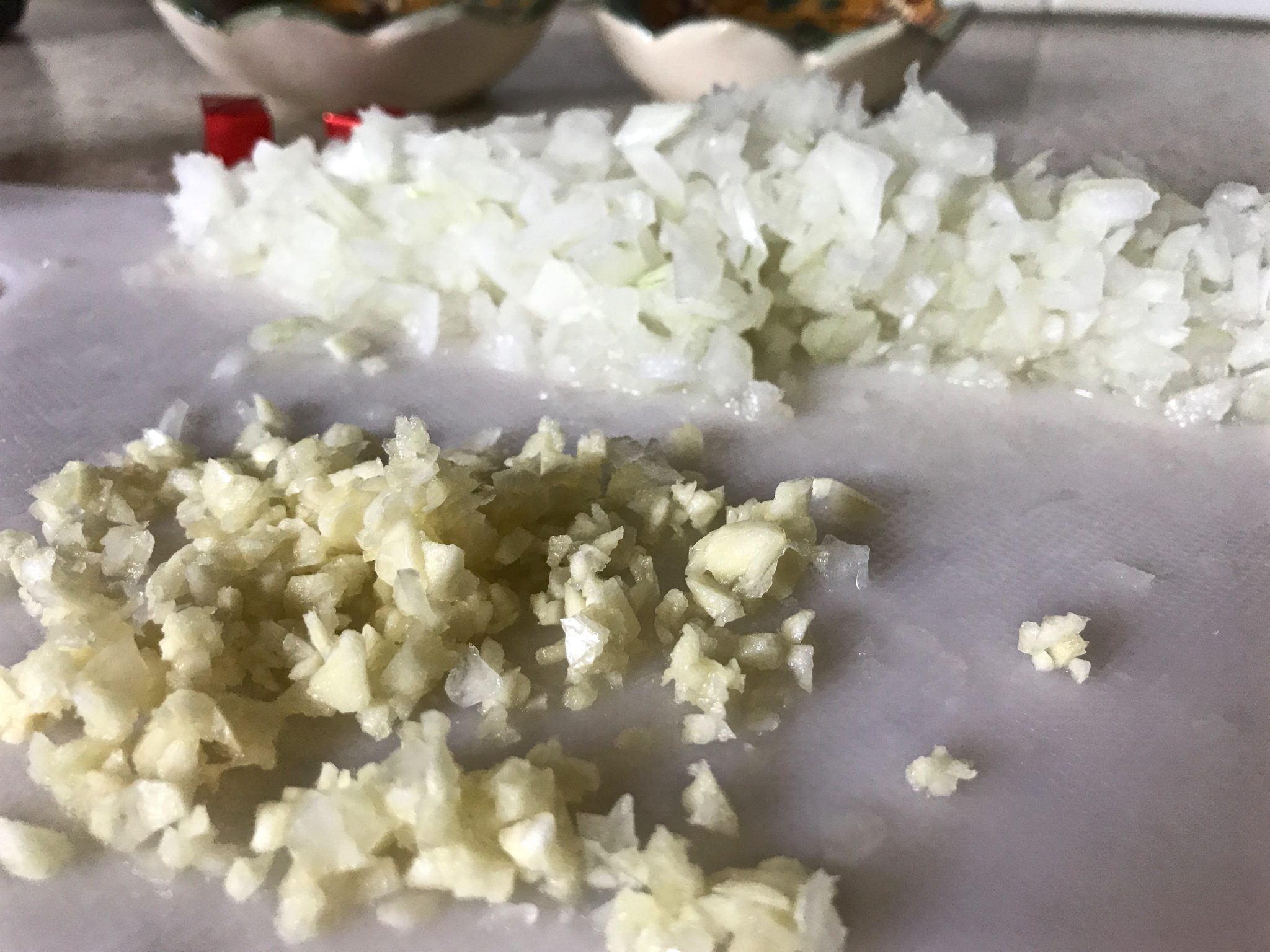 First grab a yellow sweet onion and chop it up finely then a few cloves of garlic and do the same.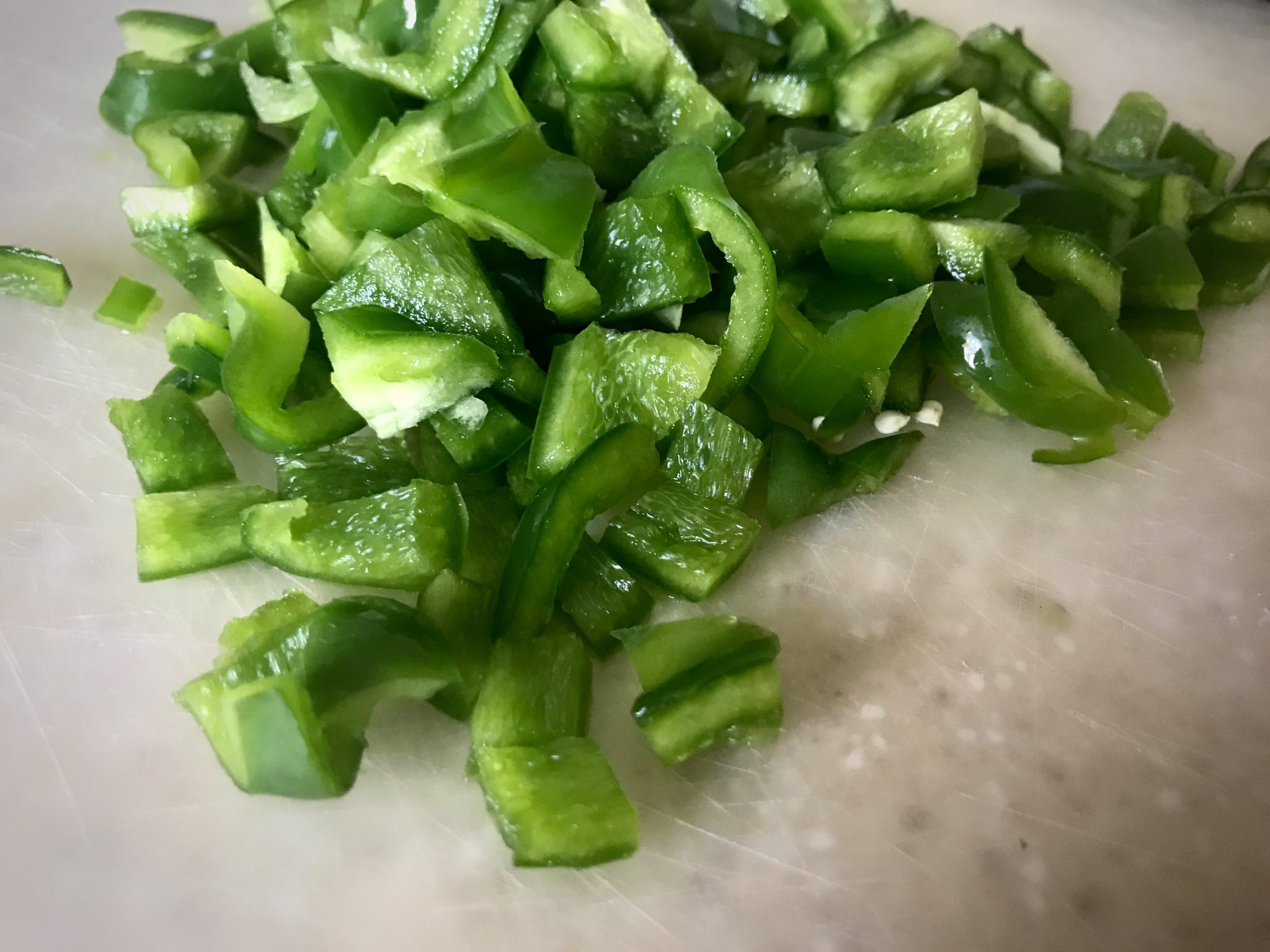 Grab a couple green pepper. or a red pepper. or any color bell pepper really! Chop it up. You'll need about three cups.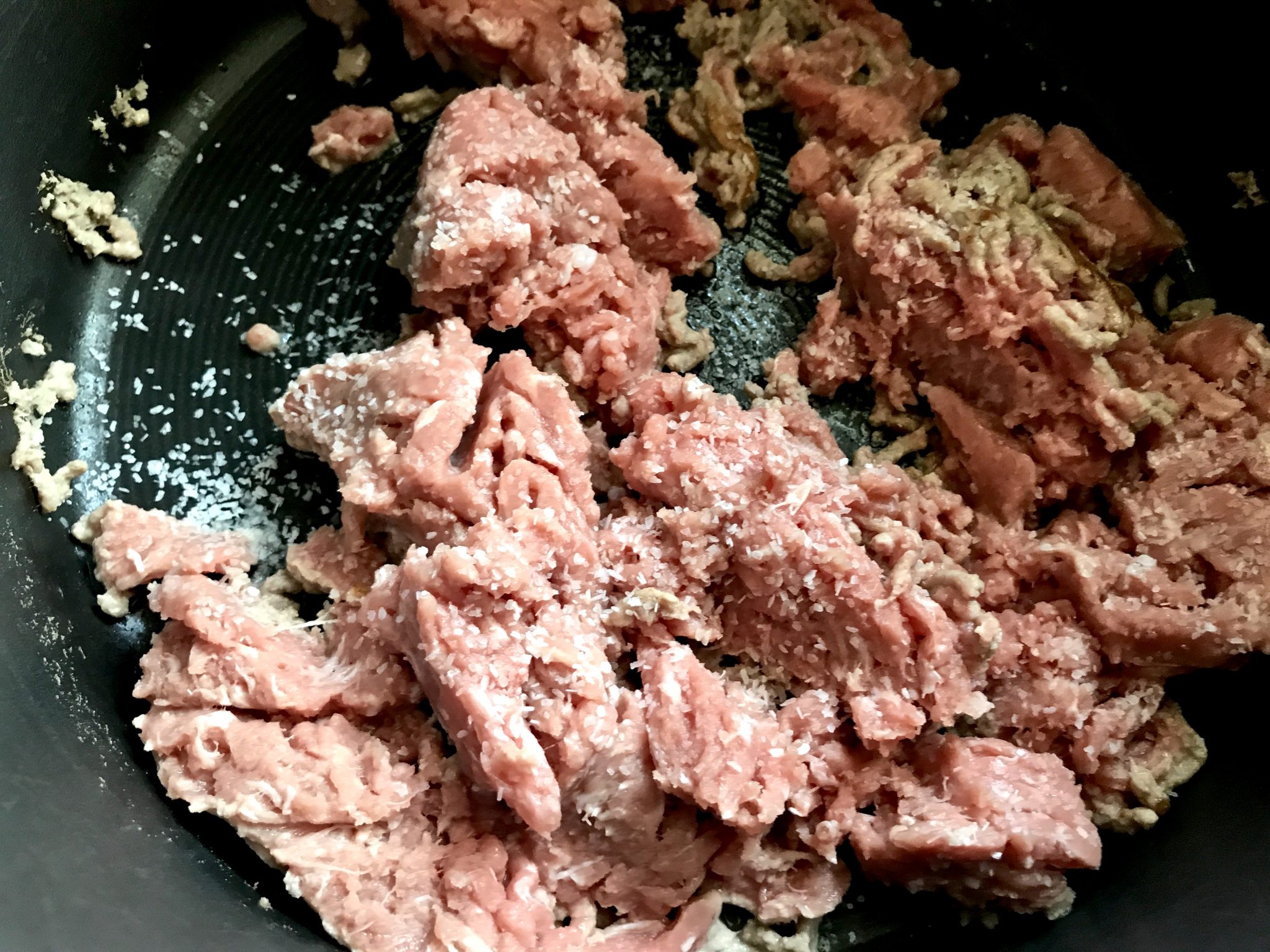 Add lean ground turkey to a smokin' hot large pot, salt the meat with kosher salt, and break it up with a spatula.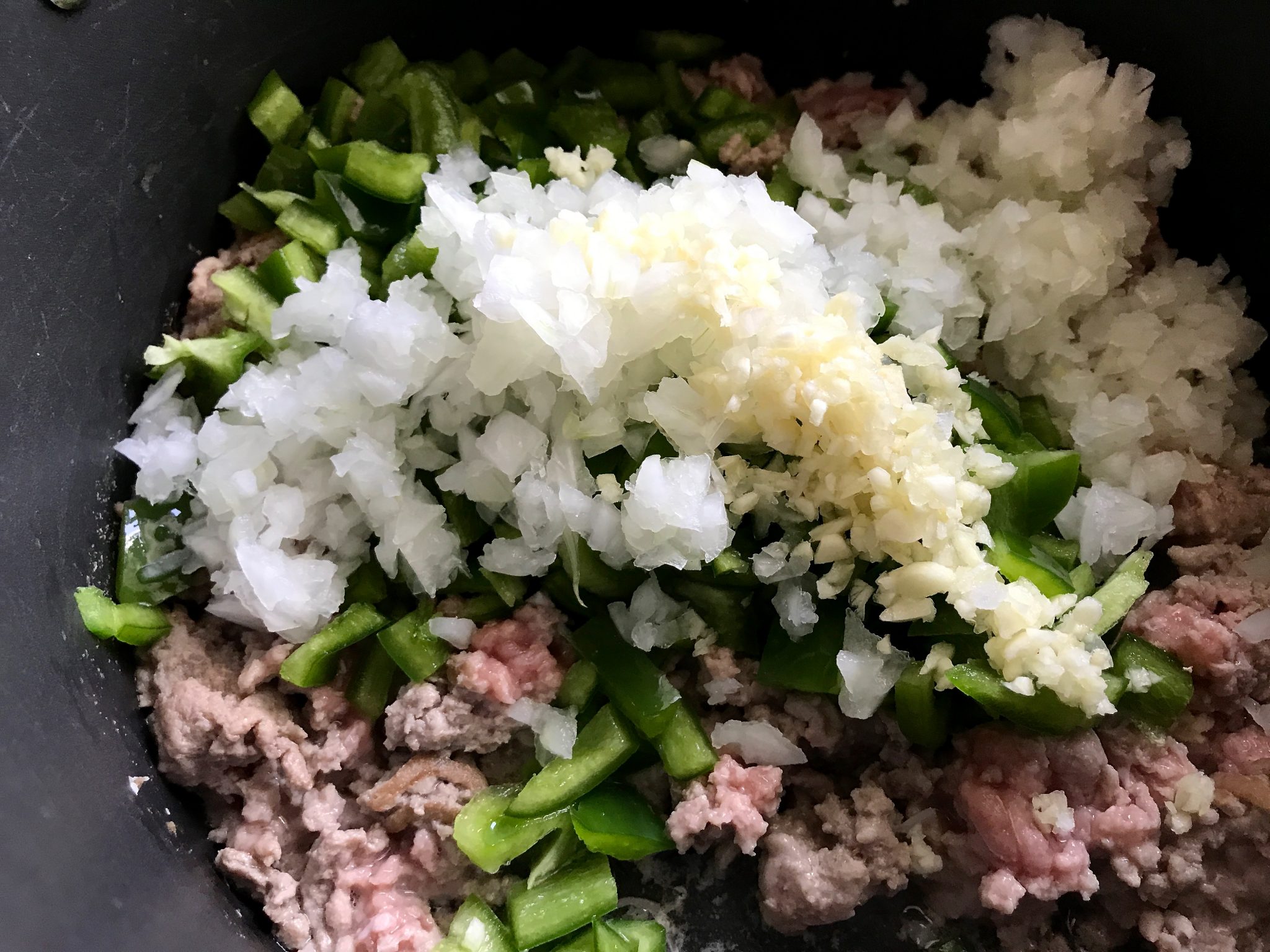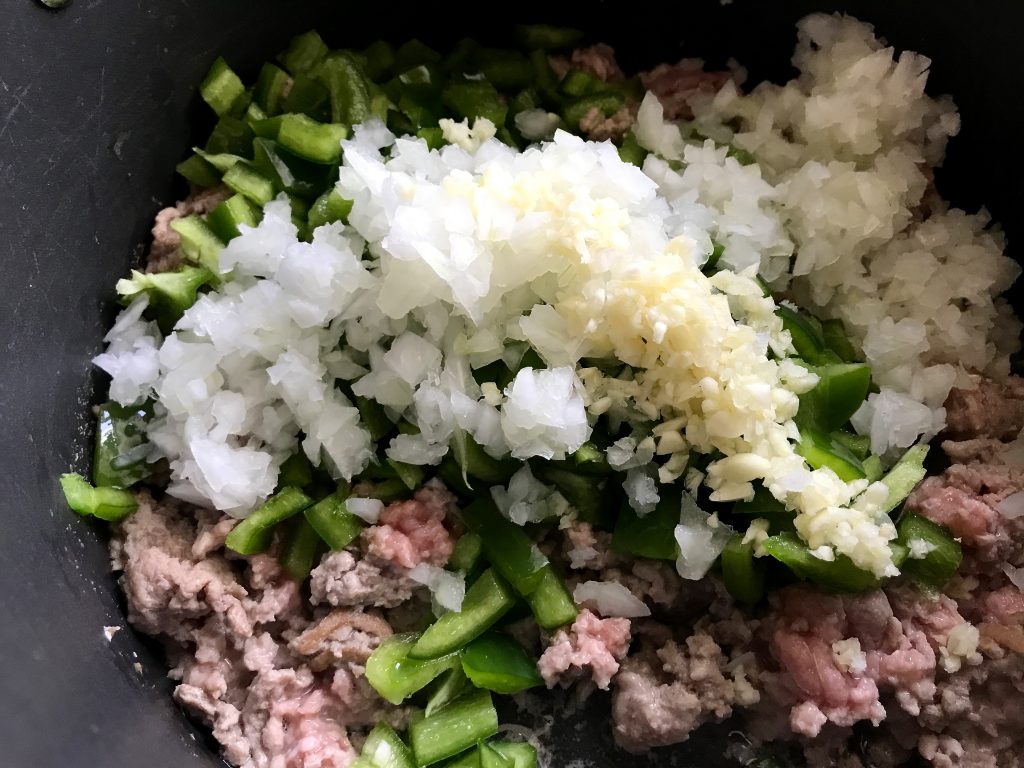 When the meat is broken up add green peppers, onion, and garlic. Continue to cook until the meat is browned and the vegetables are soft.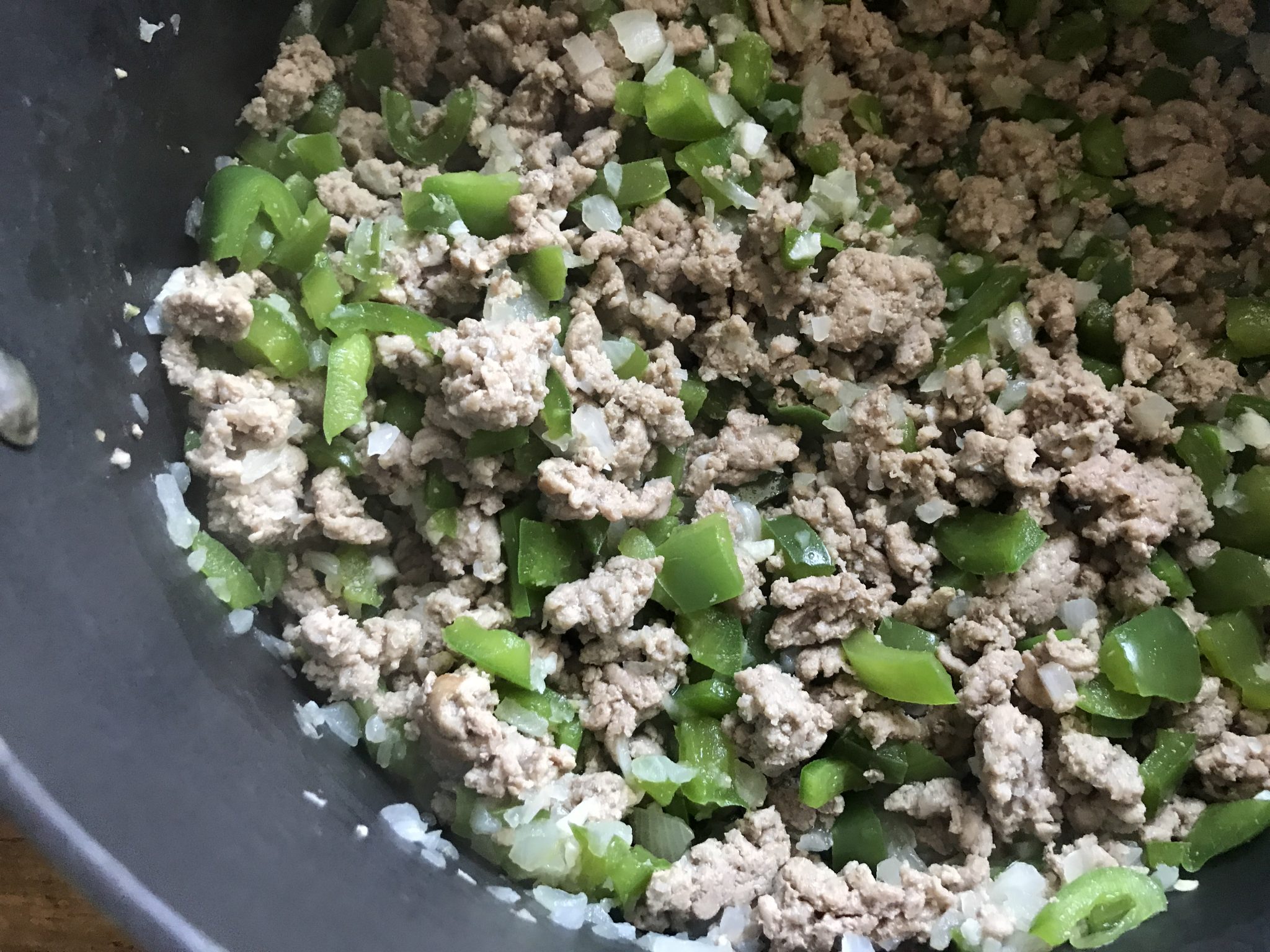 It'll look a lil somethin' like this.
Add all these goodies to the soup party. a can of diced tomatoes, a can of tomato sauce, 1.5 teaspoons of basil and oregano, 2 tablespoons of Worcestershire sauce, a few dashes of Frank's hot sauce, a lower sodium beef bouillon cube, and a halfa tablespoon balsamic vinegar. If you don't have the balsamic vinegar lying around this isn't a must, it does add a delicious layer of flavor to the soup, but I've made it twice without adding it and it was perfectly scrumptious. So in conclusion, no need to make a trip to the grocery store for it if you don't have it on hand.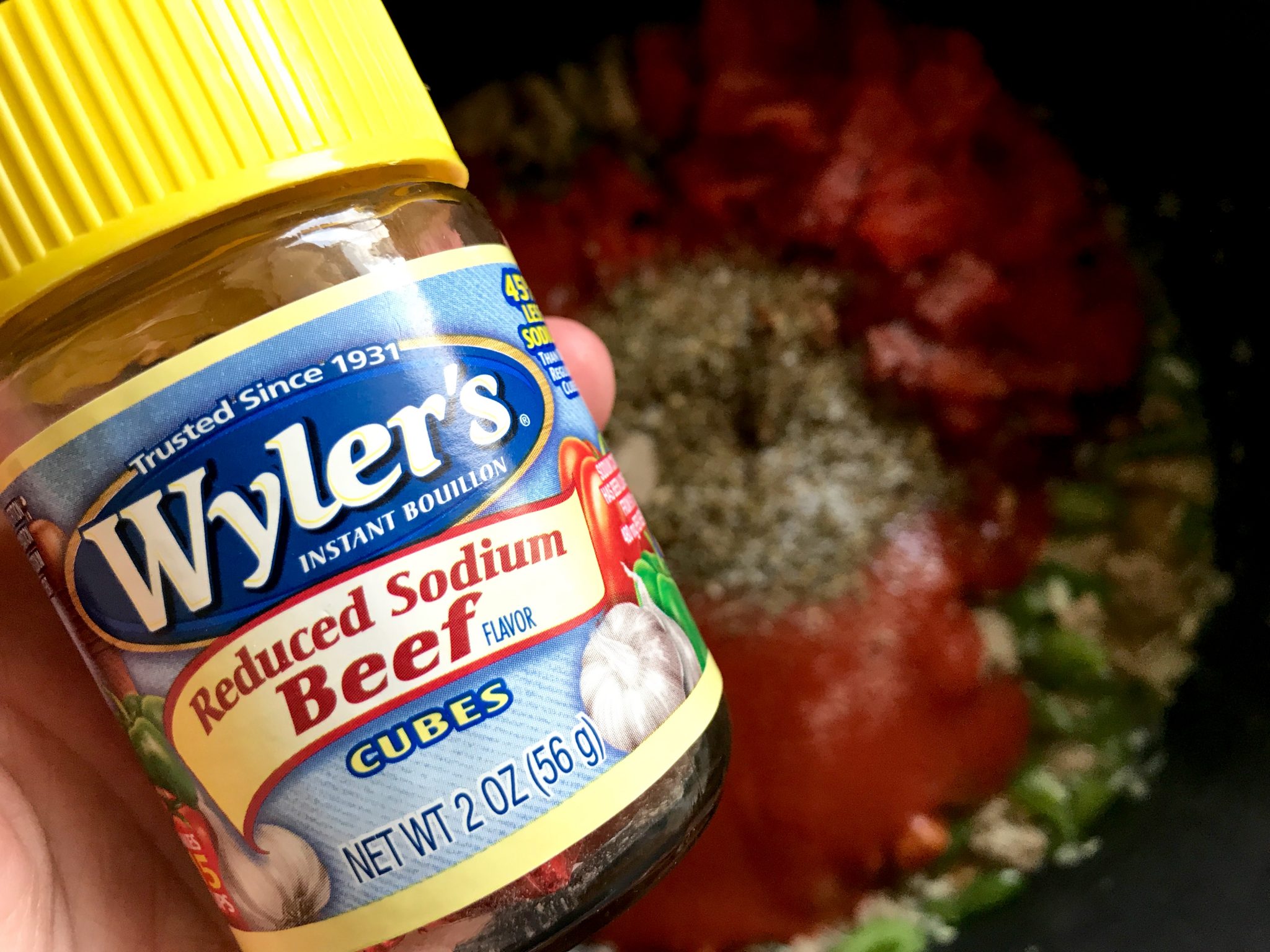 Here's a picture of the beef bouillon cubes that I have on hand.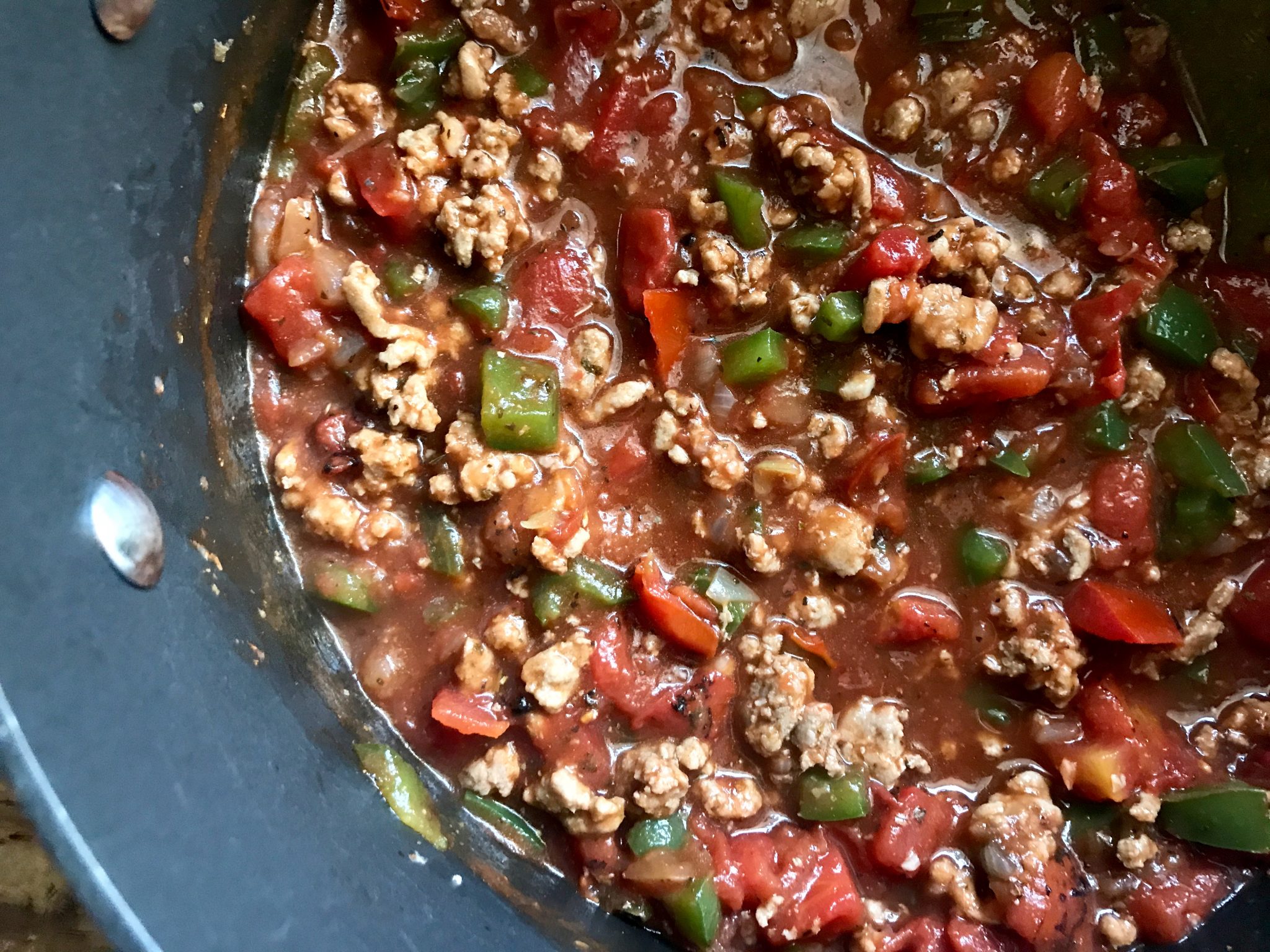 Stir it all up and cook together for a few minutes over medium high heat.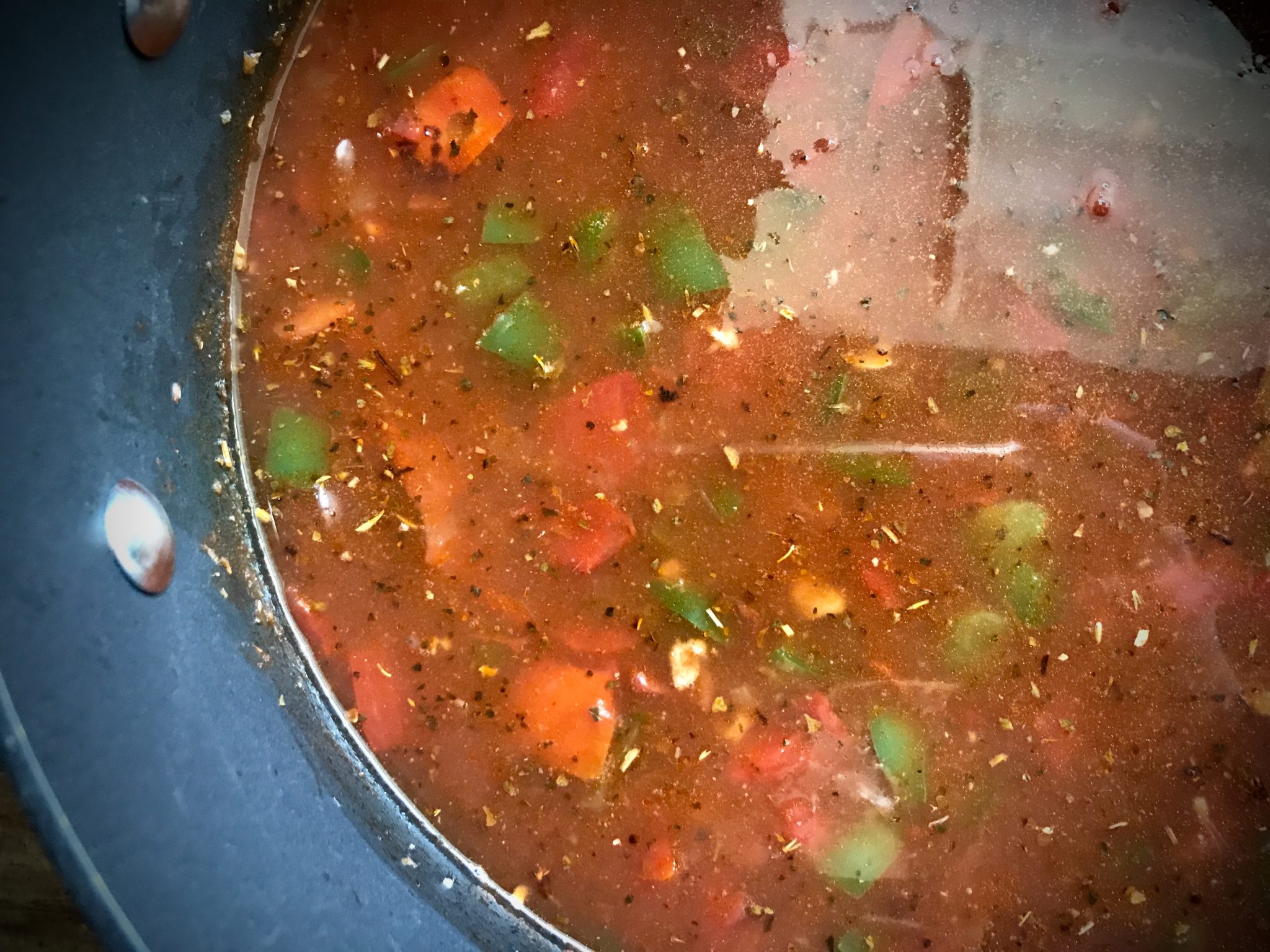 Add about five cups of low sodium beef broth. Bring to a boil and then reduce to simmer for about 10 minutes to let it all cook together.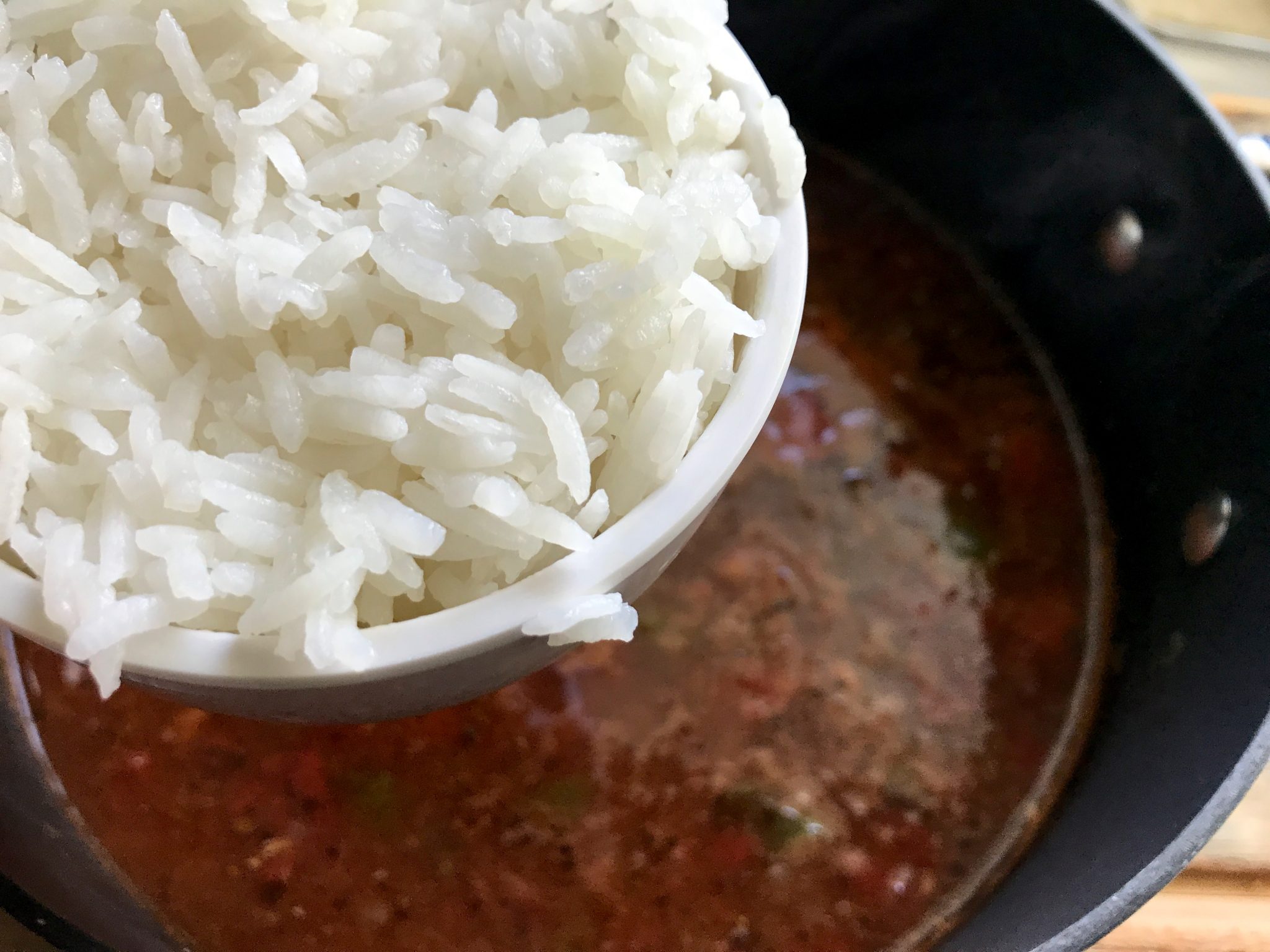 Add 1 and 1/4 cup cooked rice. I used Jasmine rice because it's what I had on hand and it's just so yummy.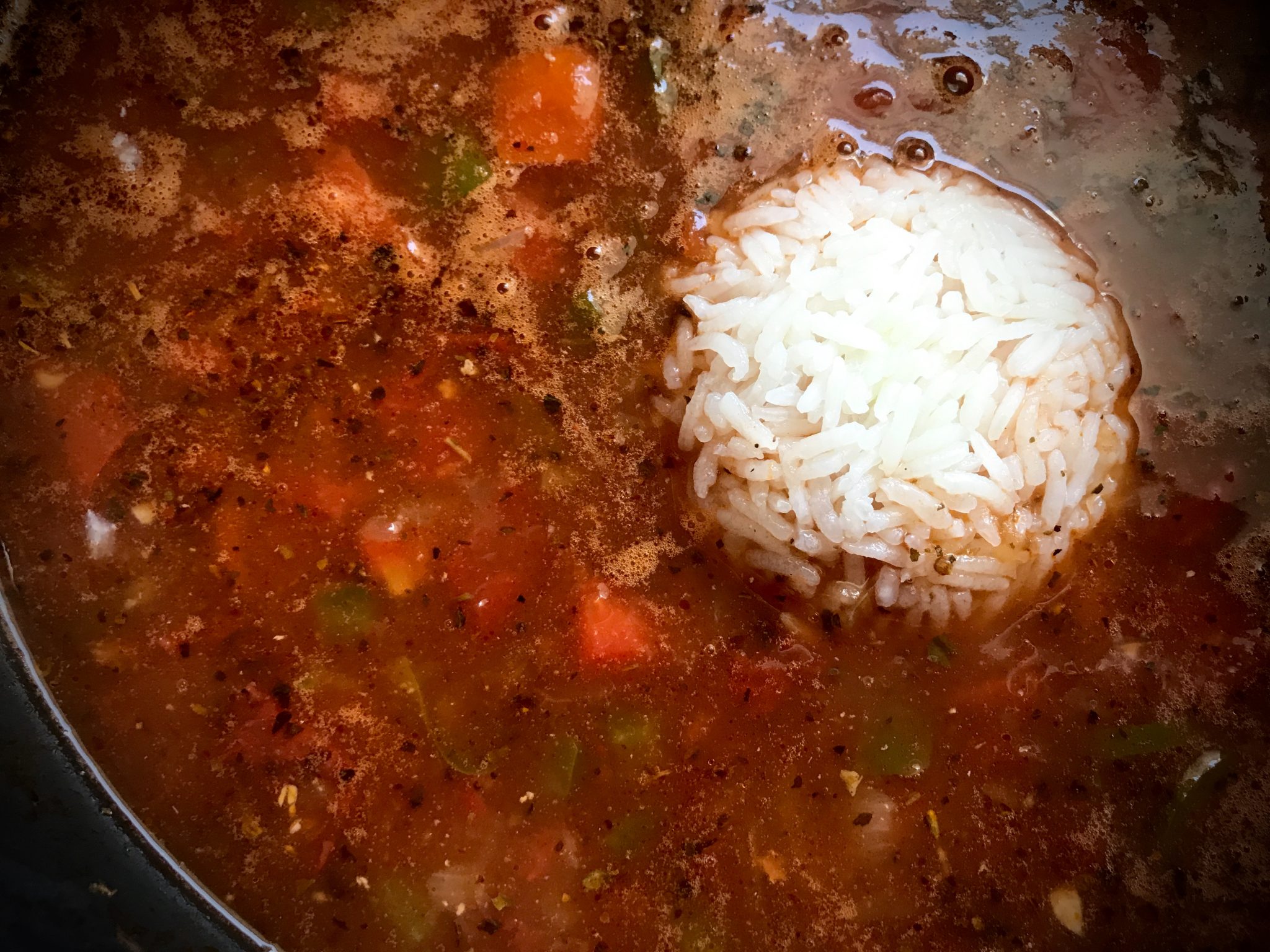 This photo was not needed, but I thought this little mound of rice looked cute in there. Cute? I need a life.
Stir it in! (And don't forget to salt and pepper to taste if it needs it!)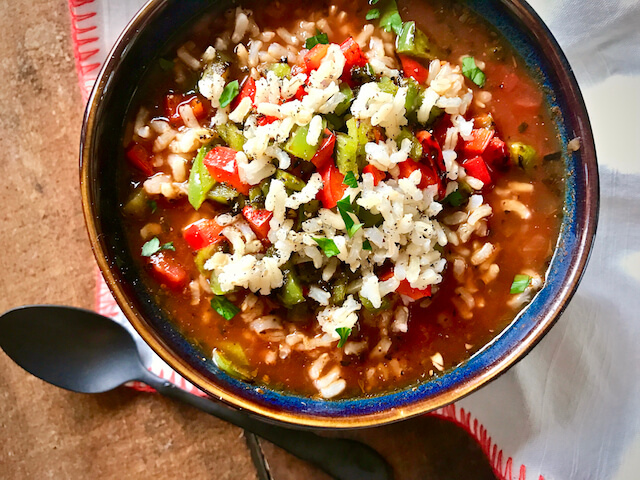 And there ya have it. You've got yourself a super delicious bowl of soup.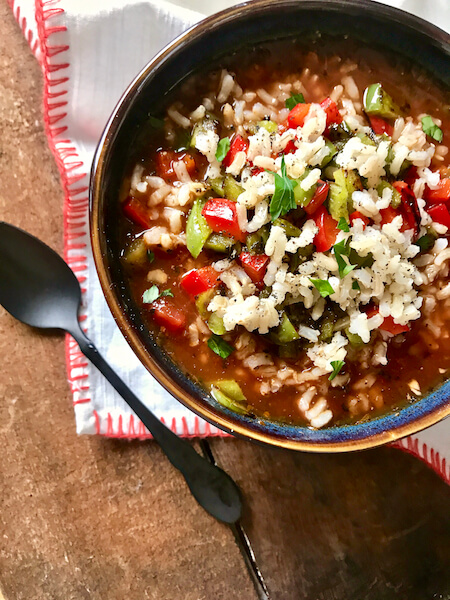 Such a simple soup, but it truly is bursting with flavor.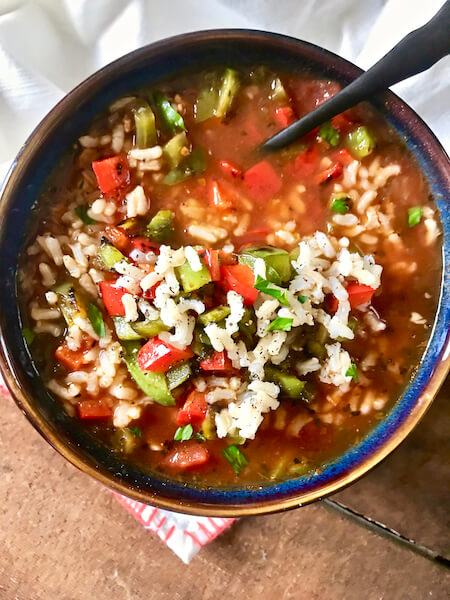 And it's so pretty! Pretty + delicious are two of my favorite combinations when it comes to food. Make this soon, y'all! You'll love everything about it.
I really needed to work fast while writing this post because… you guys, Hearth and Hand launched at Target Stores today and…. I need more dishes. and kitchen utensils. and kitchen linens. and pretty things. Dear Joanna Gaines, just take all my money. See ya!
With love from my kitchen to yours,
Star
Print
Stuffed Pepper Soup
Stuffed Peppers without all the fuss
Materials
1

medium

yellow sweet onion

finely chopped

5

cloves

garlic

minced

3

cups

chopped red and green bell peppers

about 2-3 depending on the size of the pepper

1

lb

lean ground turkey

I use 93/7

1

14.5 ounce can

diced tomatoes

1

14.5 ounce can

tomato sauce

1

low sodium beef boullion cube

1 1/2

tsp

dried basil

1 1/2

tsp

dried oregano

1/2

tbsp

balsamic vinegar

2

tbsp

Worcestershire sauce

2-3

dashes

Frank's Hot Sauce

5

cups

low sodium beef broth

1 ¼

cups

cooked rice

I used jasmine rice

1

tsp

kosher salt

pepper

to taste
Instructions
Over medium high heat in a large pot add ground turkey, season with kosher salt, and break meat apart with a spatula.

Add green peppers, onions, and garlic and continue to cook until the meat is browned and vegetables are soft.

Add diced tomatoes, tomato sauce, basil, oregano, Worcestershire sauce, balsamic vinegar, beef boullion cube, and a few dashes of hot sauce. Stir and cook together for a few minutes.

Add beef broth. Bring to a boil and then simmer and continue to cook for about 10 minutes.

Stir in the cooked rice and enjoy!
Notes
Suggested serving size to match WW points and nutritional info below: 1 cup 132 calories, 4g fat, 1g saturated fat, 13g carbohydrates, 2g fiber, 4g sugars, 11g protein Weight Watchers Points: 3 Points