Spicy Sausage Egg Muffins
This post may contain affiliate links (meaning I earn a small comission if you purchase an item through a link I provide) I only provide shoppable links to items I love and are helpful. As an Amazon Associate, I earn from qualifying purchases.
These Spicy Sausage Egg Muffins are the answer to your breakfast prayers. They are fairly easy to prep and they reheat deliciously so you can make them all up at once and eat them all week long for a tasty, healthy, quick, grab-and-go option.
Yes, I realize I just posted a breakfast recipe with a little spicy kick last week, and I also realize these have a lot of the same ingredients as the Breakfast Enchiladas, but there happens to be a very good reason for that and that reason is that one time when I made the enchiladas I realized in the middle of cooking that I had forgotten to grab tortillas at the grocery store. Tortillas are kind of a big part of enchiladas and as I've mentioned a few times before running to the store for just one item just doesn't happen when you live kind of far from said store. I improvise a lot when it comes to cooking because of this reason and sometimes my favorite meals have been created by having to do this. I guess you could say it's kind of an awesome thing that the store isn't a hop, skip, and a jump away because I think that's where my creativity has a chance to shine through. I know, I know baked egg muffins aren't a new thing and that I am not the first and will not be the last to come up with a tasty version of them, but I am kind of in love with the flavor in these little guys. Just enough spice from the green chiles, garlic, and onion to kick your breakfast game up a notch or two.
If you've been reading here for a while you know that Eric is a pretty routine kind of guy when it comes to his breakfast. Every single morning (with the exception of holidays) he has to have one of my Make Ahead Freezer Friendly Breakfast Sandwiches and I swear that if he doesn't have one of those babies to start off his busy work day that he thinks that his whole day just might fall apart. He ate these muffins every morning for a week! He absolutely loved these and didn't miss his beloved lil sandwiches one bit. He even asked to have them again this week. I knew I had to share them with ya! I hope you enjoy them, because we sure do. If you're in a breakfast meal prep rut be sure to try these out because they come together quickly and are just perfect for on the go eating. Or, eating very quickly, standing up while your toddler pulls out every single pot, pan, and cutting board from the kitchen cupboard.
Into the kitchen!
Chop up an onion! (and a couple cloves of garlic that aren't pictured because, well, life).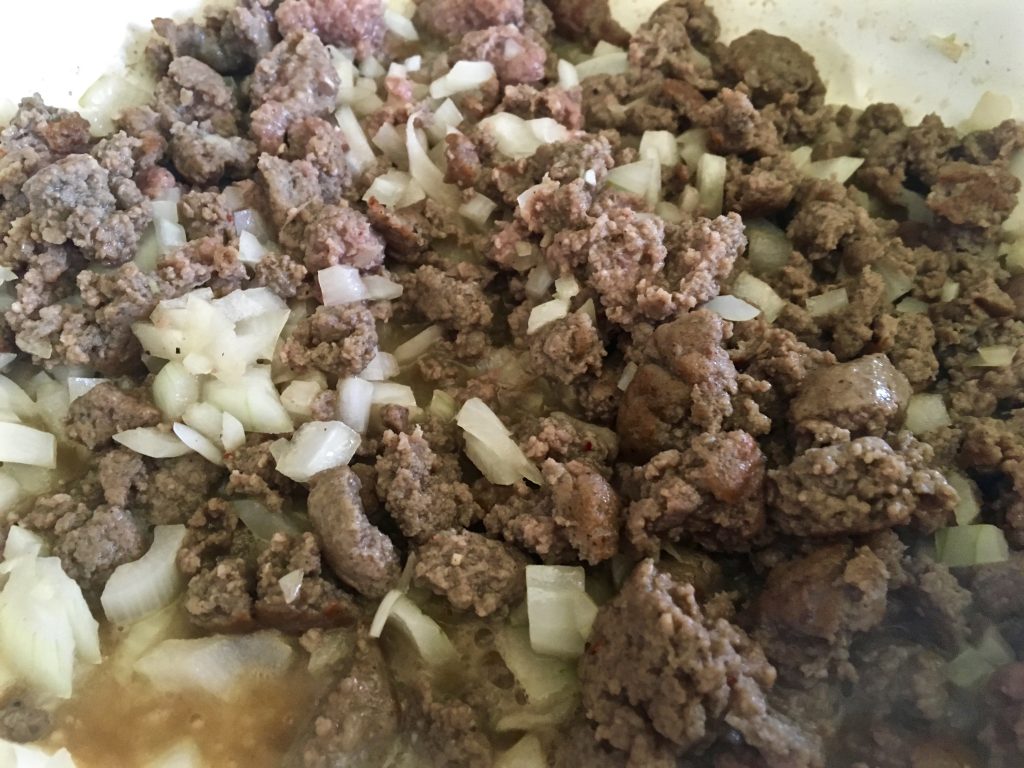 Toss the chopped up onion and garlic in with some turkey sausage. Continue to brown the sausage and cook the onion and garlic all together.
Add a small can of mild green chiles! After the meat is browned and the onions are soft remove from the stove and set into a larger mixing bowl on the side.
In the same pan coat with a bit of cooking spray and add hash browns, season salt, and pepper. Cook them for about 5 minutes. They don't need to be crispy, just heated through nicely.
Add the hash browns to the spicy sausage mixture. (You can see there's a bit of cilantro in here, I've made these a few times now and I prefer them personally without the cilantro so I won't be including it in the recipe. HOWEVER, if you LOVE cilantro feel free to add a bit!)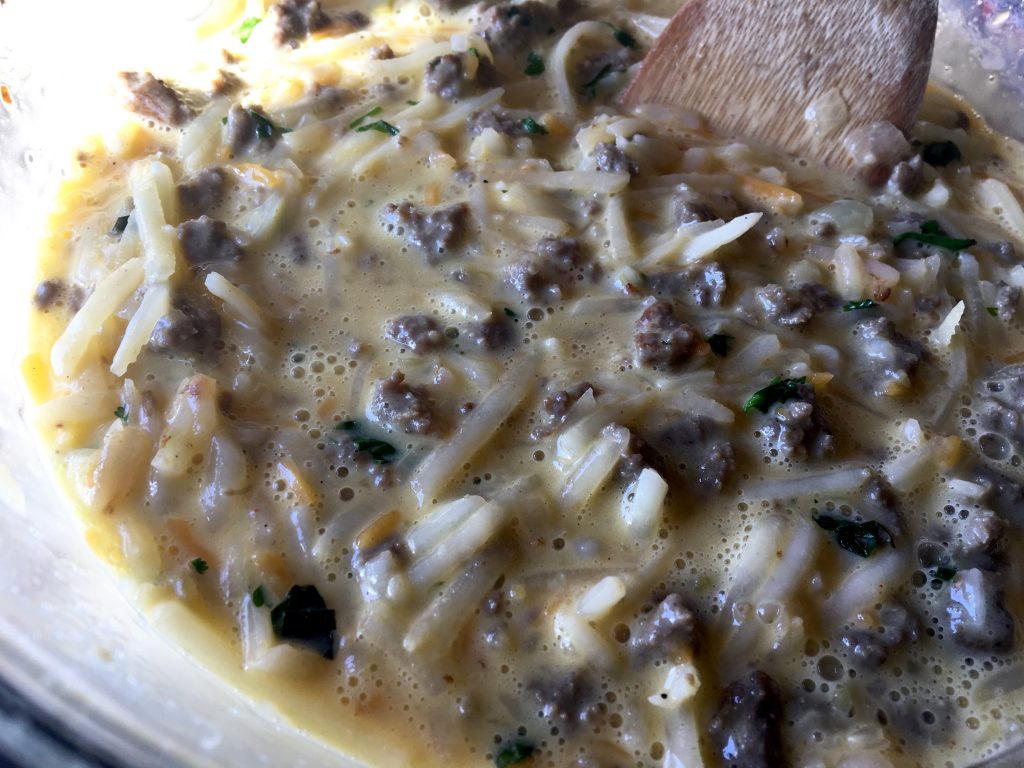 Then add some liquid egg whites or egg beaters then mix it all up! I actually have a mixture of both here because I didn't have enough of one or the other.
Scoop the mix into muffin tins that are coated with cooking spray. Pop into a preheated 375 degree oven for 15-18 minutes. Note: Oven times seem to vary when it comes to eggs so to make sure they are cooked through stick a knife in them and it should come out clean when they cooked perfectly.
Yum!!! Make these this week! Make these today! Make these right now and then let me know how it went because I love to hear if you loved, liked, or hated my recipes. Okay, I don't really like to know when you hate them. I promise you won't hate them though. Have a great week, y'all!
With love from my kitchen to yours,
Star
P.S. If you haven't yet, try my Breakfast Enchiladas too! Ta Die For!
Print
Spicy Sausage Egg Muffins
A delicious combination of egg whites, turkey sausage, hash browns, and chiles. Perfect for on-the-go breakfasts!
Materials
1

lb

lean turkey breakfast sausage

i use jennie o

1

small onion

chopped

2

cloves

garlic

minced

1 4

ounce

can green chiles

mild or hot, depending on spice preference

3

cups

liquid egg whites or egg substitute

3

cups

hash browns

I use simply hash browns- if using frozen heat them up on stove

1 1/2

tsp

Lawry's Season Salt

Pepper

to taste

Cooking Spray
Instructions
Preheat oven to 375 degrees.

In a large skillet over medium high heat add turkey sausage, break up a bit with spatula then add onions, garlic, and chiles. Continue to cook until the sausage is browned and the onions are soft.

Remove from skillet and set into a large bowl on the side.

In the same skillet over medium high heat, spray lightly with cooking spray and add hash browns, season salt, and pepper just until they're nice warmed about 3-4 minutes. *if using frozen hash brown this will take a little longer.

Add hash browns in with the turkey sausage and stir together.

Add egg whites and mix together thoroughly.

Spray a muffin tin generously with cooking spray and scoop mixture into each spot about 3/4 full. Pop into the oven for about 15-18 minutes. Insert knife into middle to check if they are done. The knife should come out clean. Repeat and make a second batch. Enjoy!
Notes
Serving size: 1 Muffin (makes 20 muffins) 85 calories 2g fat, .5g fat saturated fat, 6.5g carbohydrates, 1g fiber, .5g sugars, 7g protein WeightWatchers Points: 1 Point