This post may contain affiliate links (meaning I earn a small comission if you purchase an item through a link I provide) I only provide shoppable links to items I love and are helpful. As an Amazon Associate, I earn from qualifying purchases.
Hi there, hello, happy Sunday! This is gonna be a super duper quick post because I've had a pretty busy week traveling and celebrating my niece and her GOLDEN BIRTHDAY these past couple days. It's nice to get away, but I am starting to miss home a bit. (Even the laundry! I'm just kidding. That'll never happen.) I do sort of miss Eric though. He had to stay behind and hold down the fort with our two dogs. I wasn't going to post this weekend, but because I didn't getcha a recipe post out last weekend I figured I'd better get to it. On Instagram the other night, I posted a poll asking if you'd like me to post either this Southwest Chipotle Ranch or a recipe for Cilantro Lime Rice. It was a pretty close call, but this delicious ranch with a kick won by a few hundred votes. Y'all made it extra easy on me because this recipe is cinch. You literally just throw a bunch of stuff either in a bowl (if using an immersion blender) or a blender. You can use either one. I tend to use the immersion blender a lot more for simple stuff like this because it does the same job as a big bulky blender and the little immersion blender adapter thing is quicker to clean. If you're wondering, yes, 98% of my decisions are based on how many dishes I will be doing later. Pay attention a little when you're blending up this good stuff because using the immersion blender may result in just a few flying drops of ranch, but nothing disastrous or anything.
Anyhow, Back to the this Southwest Chipotle Ranch. Eric has been buggin' me to make a spicy ranch forever and a day now. I don't really know why I kept putting it off. I just add things to my to do list and 99% of the time they never get completed. (I know it's not just me, right?) Finally, Eric threatened to make it himself and that's where I stepped in. Ha! Ya'll don't know this, but Eric is kind of hilarious when it comes to anything having to do with the kitchen and cooking. He claims he has no idea what he's doing, but I think he just puts on an act so that I'll do it. It's true I tend to baby him when it comes to this, but oh well. I enjoy cooking for him. The other night he had some super random stuff out on the counter and said, "I'm going to make some spicy ranch- if you won't." You guys, I'm not even going to talk about what he had out on the counter, but I put it all away and whipped this up. It's pretty dang delicious and I think you'll love it! Eric ate the entire jar (just over 2 cups worth) within a day, so I think we all can guess his thoughts on it. You can add this to countless things like raw veggies, tacos, salads, burrito bowls, pizza, baked potatoes, and/or egg sandwiches (YES! EGG SANDWICHES! REALLY AMAZING!) to take things to next level delicious. This is such a versatile condiment to have on hand. It's a new staple in our fridge, for sure!
Let's get in the kitchen and I'll show you literally like 4 pictures because this is so easy it's ridiculous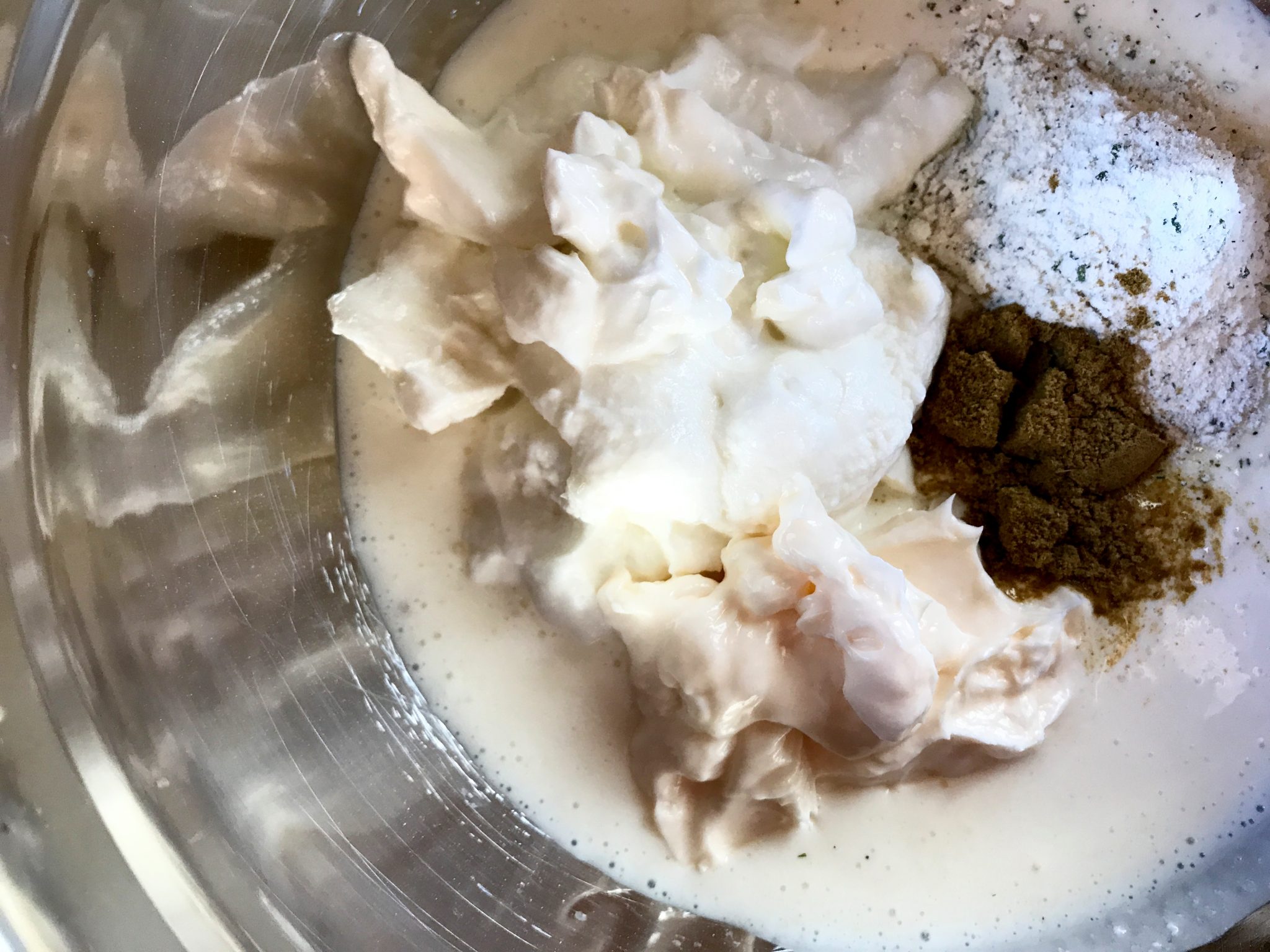 Grab a bowl and add 1 cup of buttermilk, 1 cup of non fat greek yogurt, 1/4 cup light mayo, 1 tsp cumin, 1 packet ranch dressing seasoning mix.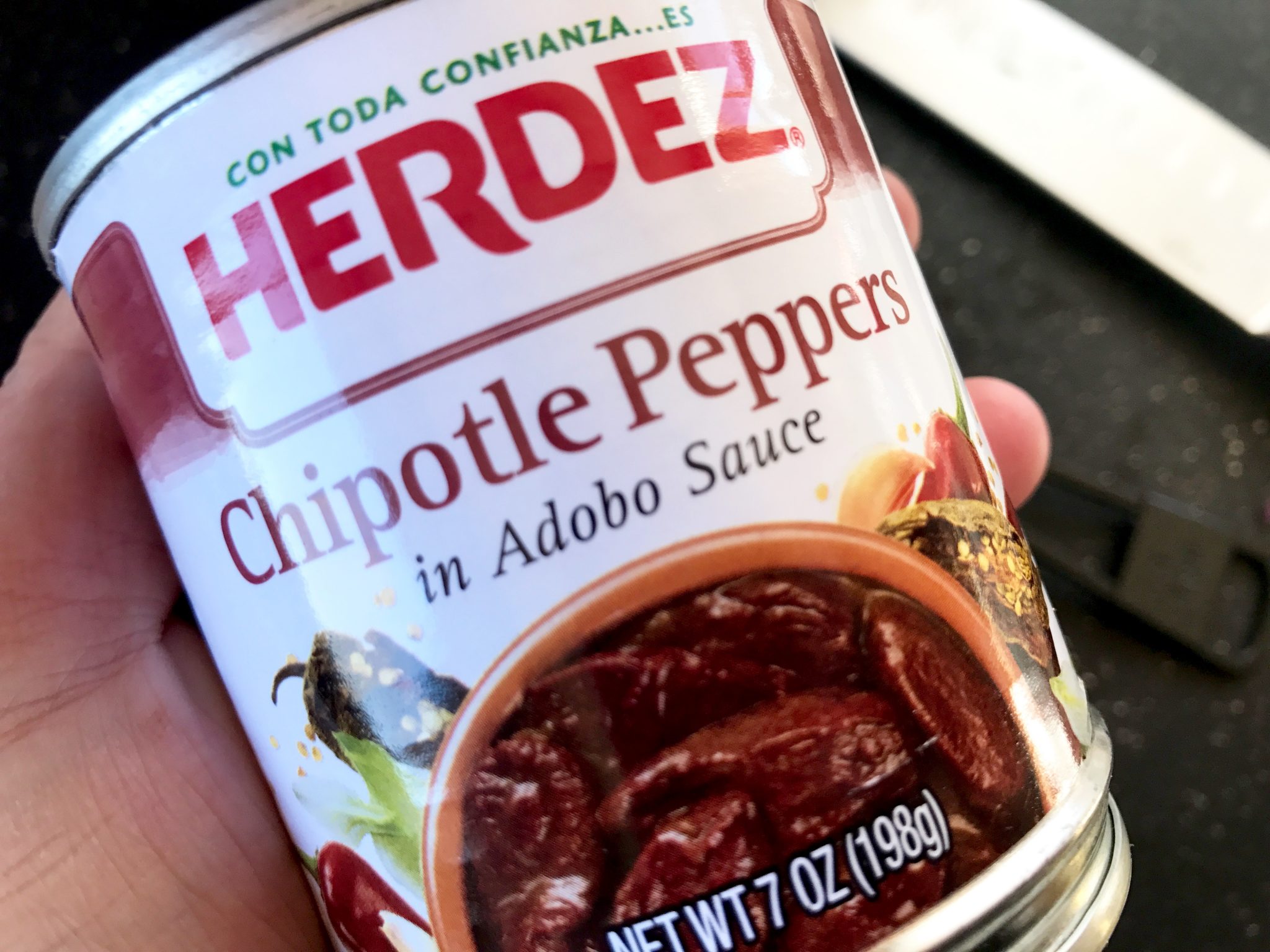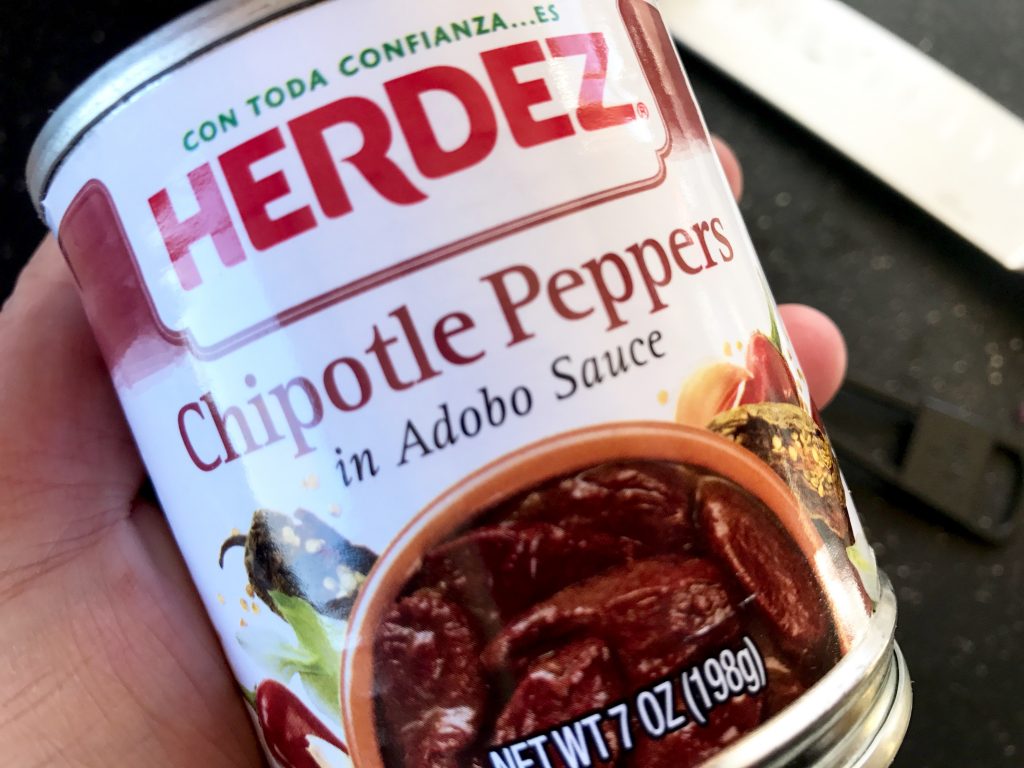 Grab can of these guys. You can find'm in any grocery store. There's usually three or four different brands, and I grab any ol' brand. Make sure they are in adobo sauce because you'll need like a teaspoon of the sauce. I'm not sure if they are even availble without the sauce because I've never see them, but just make sure there's sauce. I almost always have a few cans of these in the pantry to add a "smoky spicy" flavor to things. They are great to have on hand!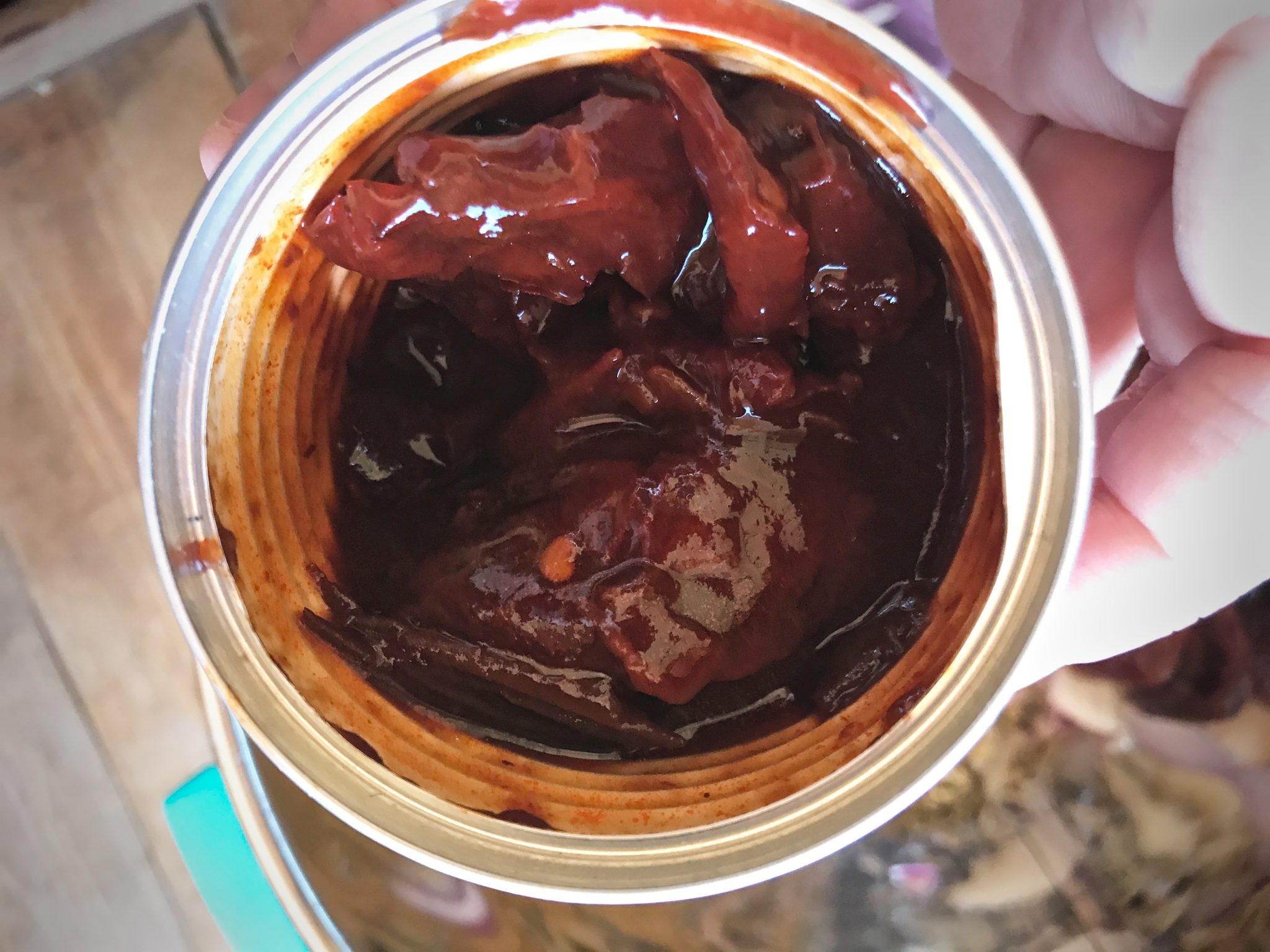 Here's what they look like just incase you've never really worked with these. Now, these babies will bring the heat to the dressing. I use one pepper plus one teaspoon of the sauce. I'm going to write the recipe to only use half of a pepper because Eric and I handle spice VERY well so I don't want this to be too spicy for the average person. My best advice? Start with a half of a pepper and a teaspoon of adobo sauce. If you think you want more heat add the other half'a pepper. You can always add more, you can't add less.
I know you're going to have leftover peppers. Pop'm in a freezer baggie and throw'm in the freezer. They'll stay good in there for bout three months. You can also use them in a few recipes that I have coming to the blog this month. I'm so excited to share them with ya!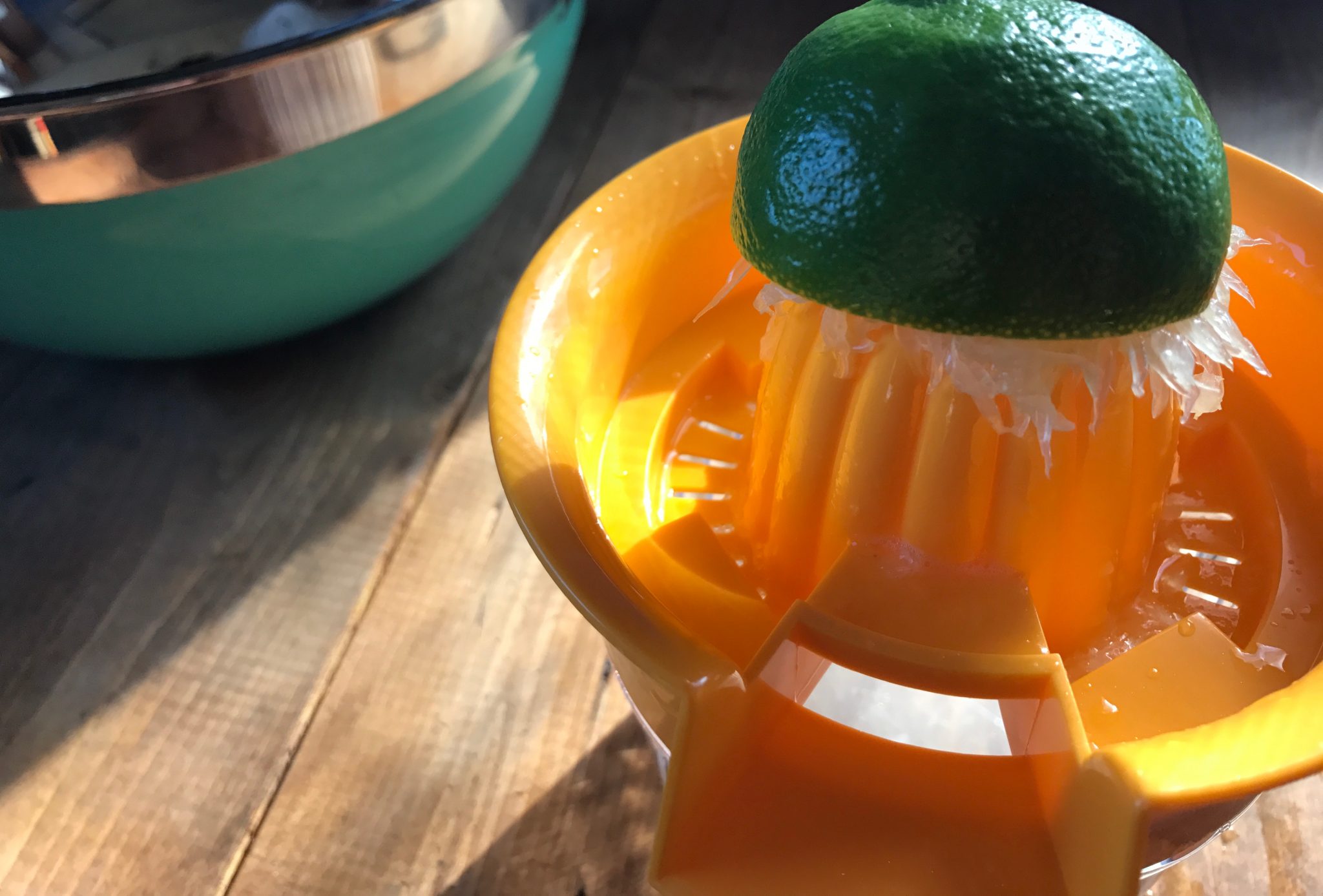 Moving on from the peppers. Geesh, there was a lot to say about one tiny pepper. Phew! Let's juice one lime and pour that into the mix. Here's a lil tip to get the most juice out of your lime. Microwave it for about 20 seconds, cut it in half, then juice it. Works every time!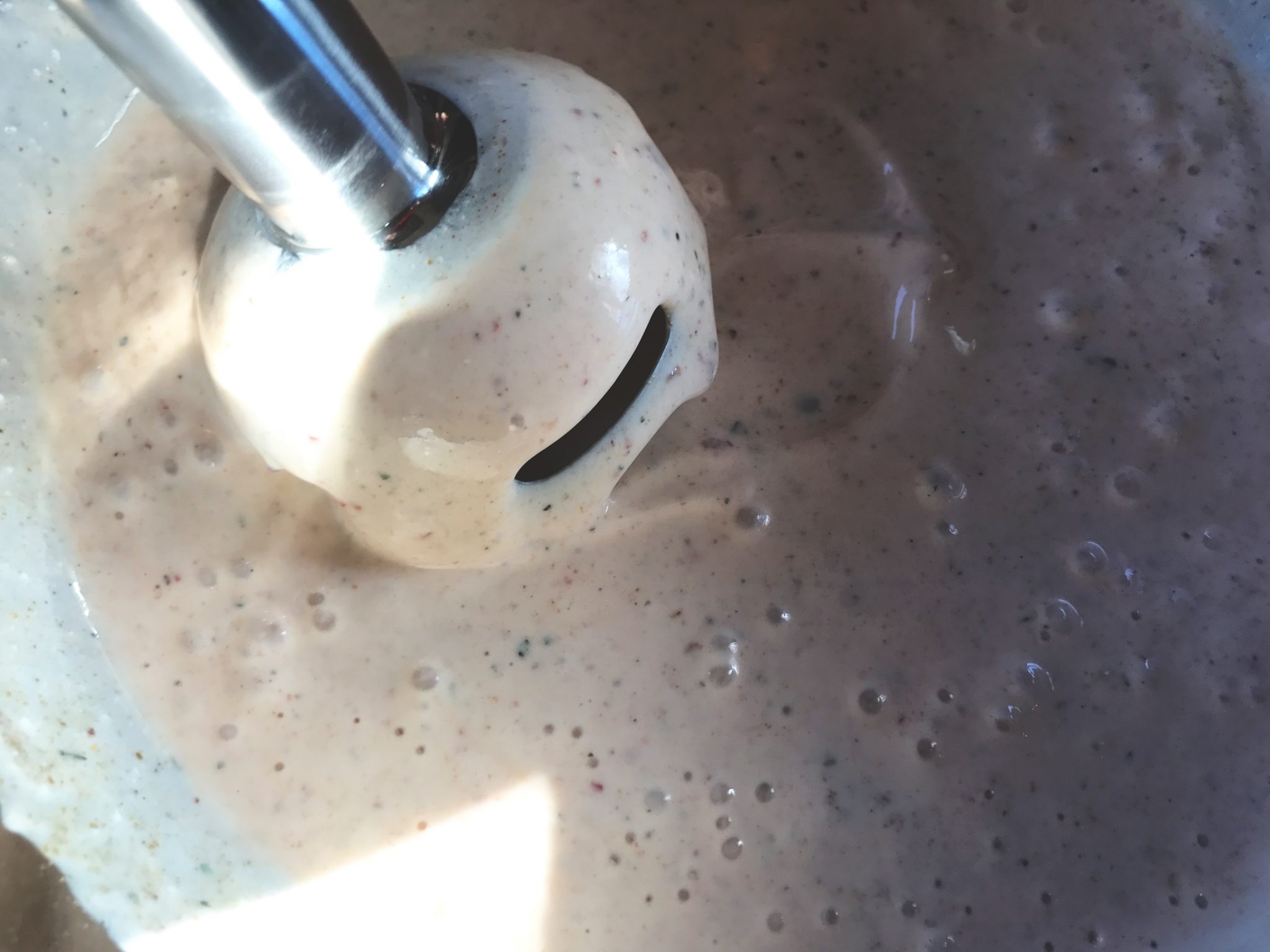 Now blend everything with an immersion blender. (This can also be blended in a blender or food processor- whatever you fancy!)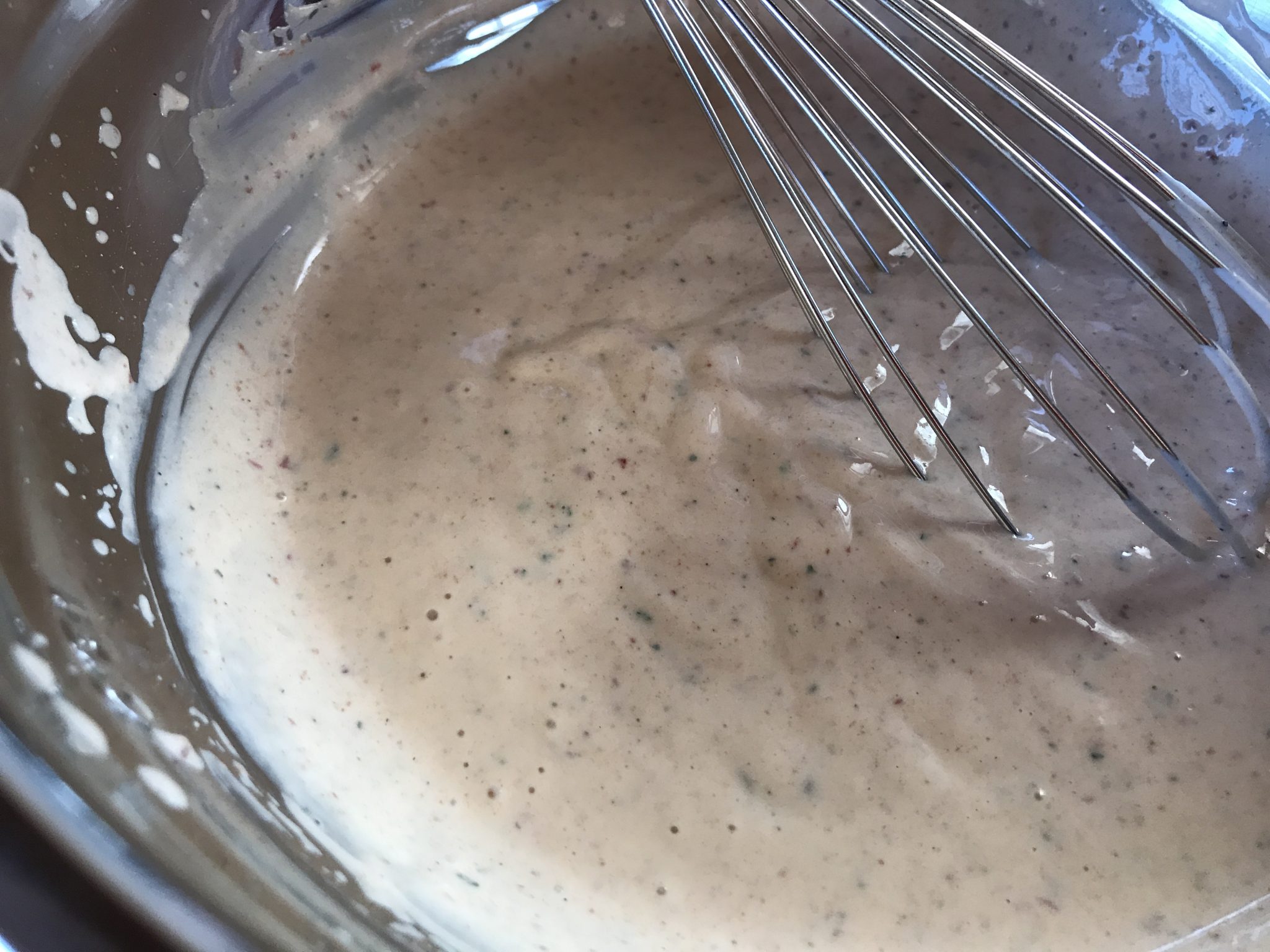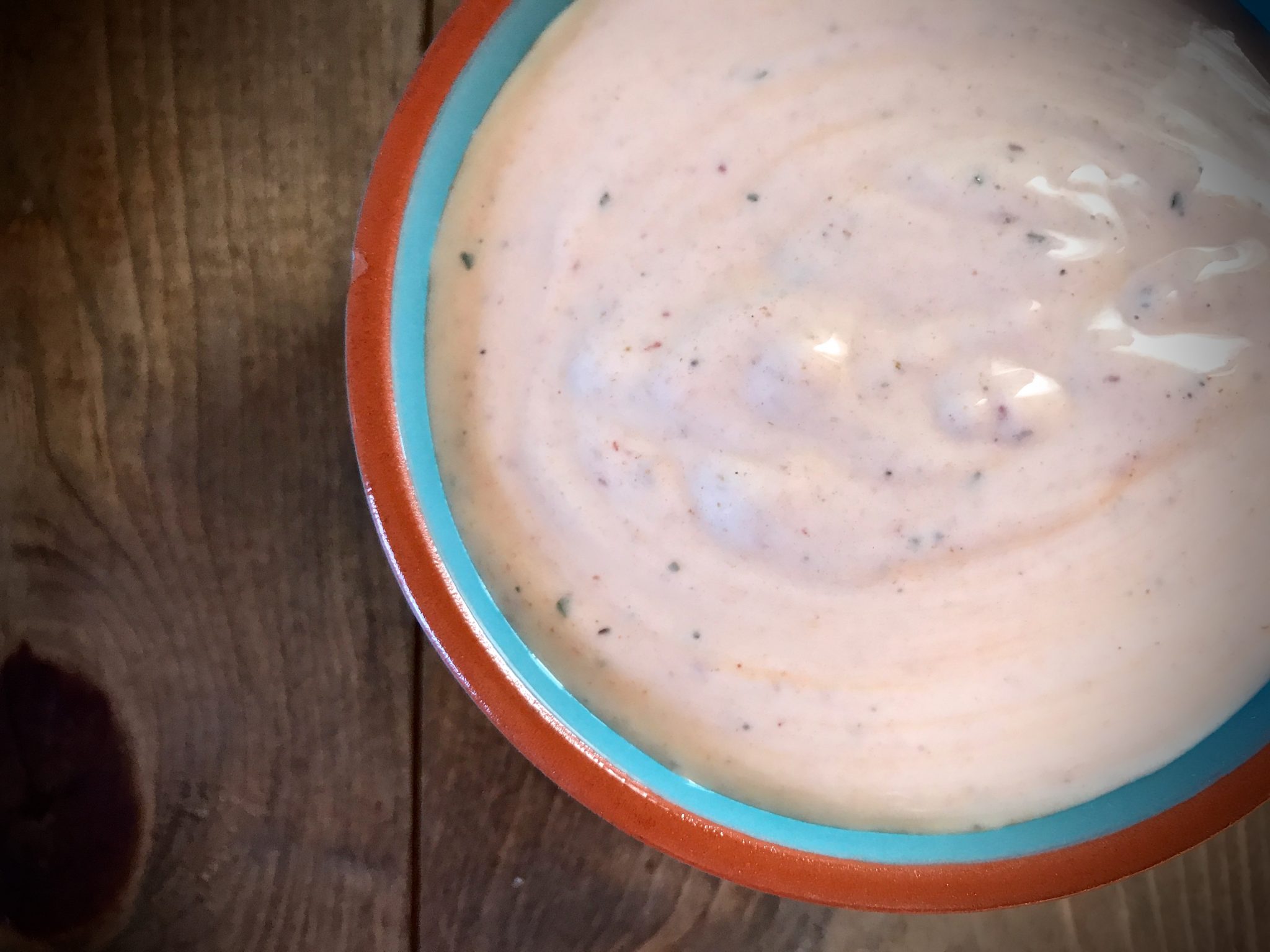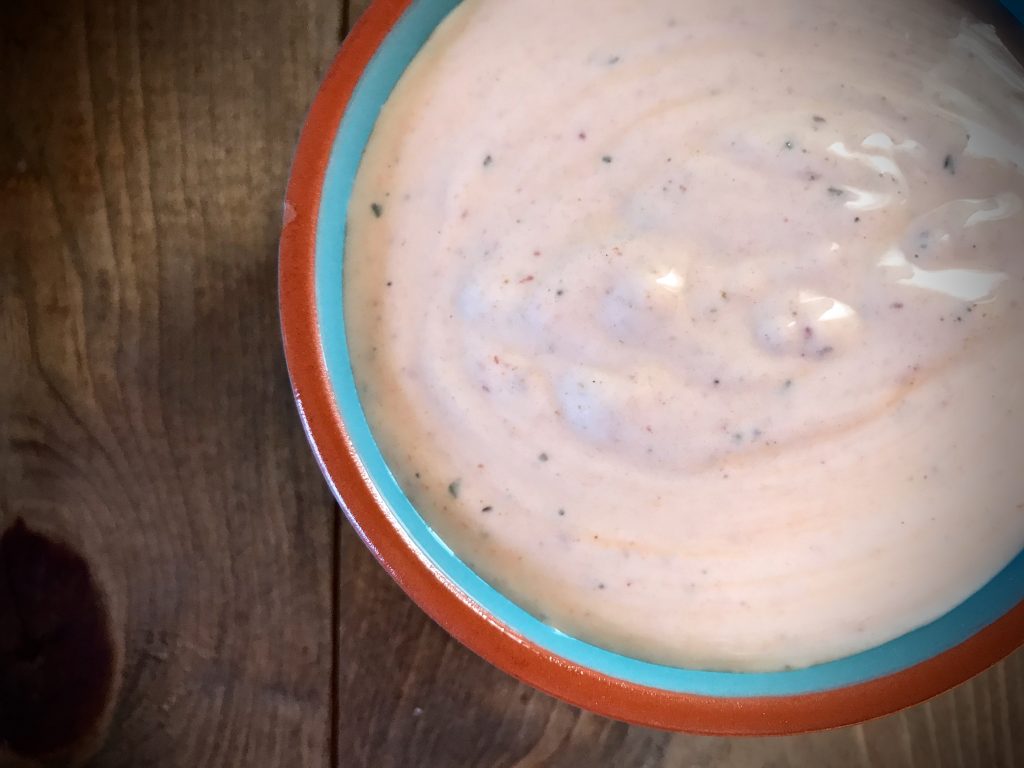 This might be the most boring photo I have ever taken in my life, but man this stuff is good and it adds so much flavor to sooo many things.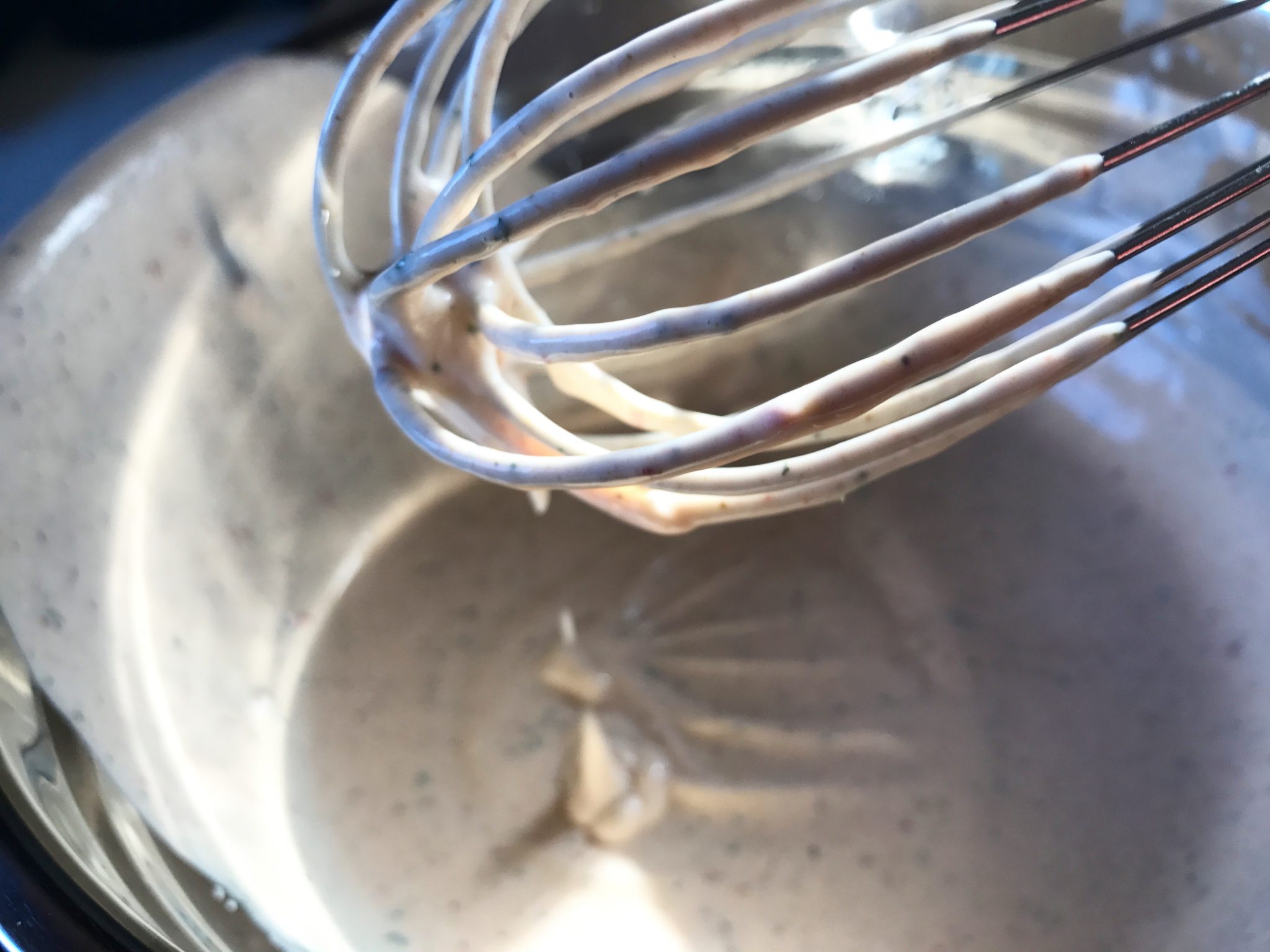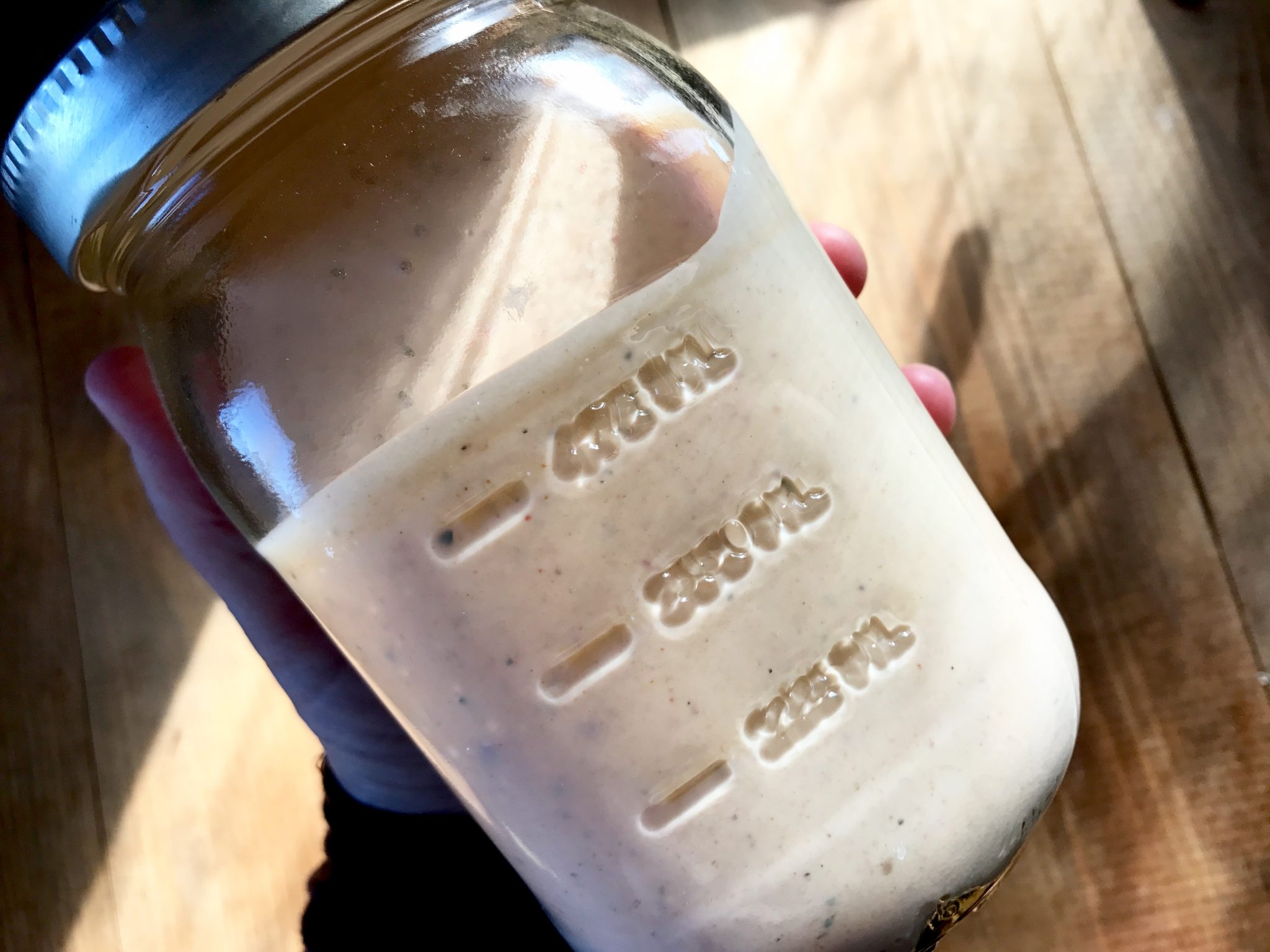 Pour this stuff in a jar, keep it in your fridge, and put in on, like, literally everything.
Hope ya love it as much as we do!
With love from my kitchen to yours,
Star
Oh P.S. Eric hates greek yogurt. Legit hates it. He tells me all the time, "Don't put that greek yogurt in stuff. I don't like it." But, I did it anyway and I'm on batch 5 in two weeks because he ate all of it.
Print
Southwest Chipotle Ranch
a southwestern inspired ranch with a kick
Materials
1

cup

lowfat buttermilk

1

cup

non fat greek yogurt

1/4

cup

light mayo

1

tsp

cumin

1

packet

ranch dressing seasoning mix

1/2

chipotle pepper (in adobo sauce)

from 7 oz can found in Latin foods section in grocery store. Can use whole pepper depending on level of spice preferred

1

tsp

adobo sauce

from same can as the peppers

juice of one lime

(about 1 tablespoon)
Instructions
Add all ingredients to a bowl and blend together until smooth with an immersion blender. Refrigerate for at least 20 minutes before serving. Store in air tight container for up to 7 days. Makes 2 1/4 cups.

Can use blender or food processor in place of immersion blender.
Notes
Serving size: 2 tablespoons
13 calories .5g fat, 0g saturated fat, 1g carbohydrates, 0g fiber, .5g sugars, 1g protein
WeightWatcheres Points: 1 Point