This post may contain affiliate links (meaning I earn a small comission if you purchase an item through a link I provide) I only provide shoppable links to items I love and are helpful. As an Amazon Associate, I earn from qualifying purchases.
These Southwest Blended Burgers are created using a 75:25 meat to mushroom ratio. By cuttin' down a bit on the meat we're saving calories, maximizing flavor, and helping our planet out. It's really a three way tie to the winners circle, am I right? It might sound a little intimidating, but these are easy to prepare! You'll want this burger at least once a week, I promise!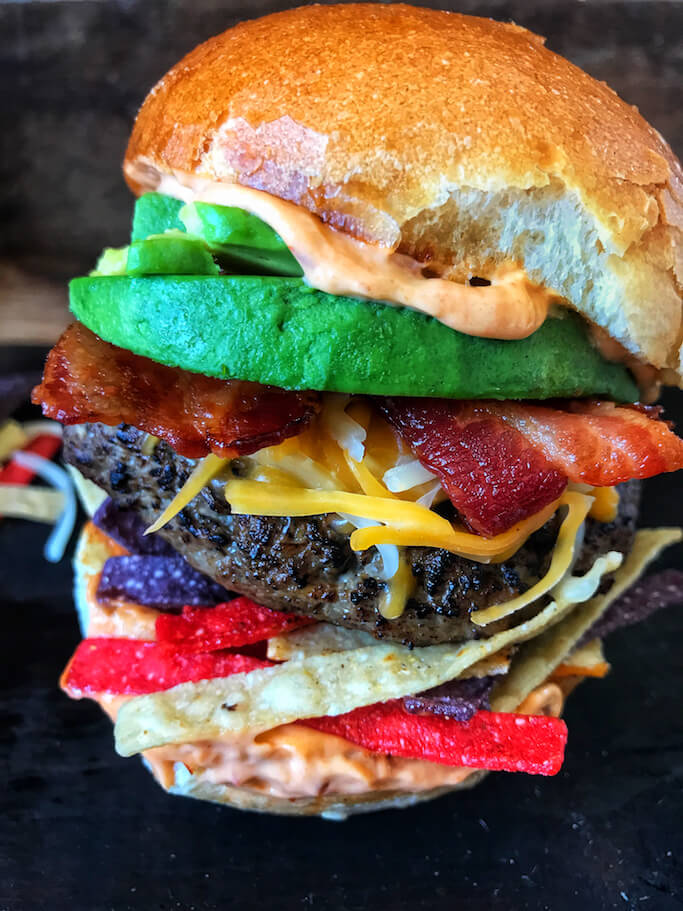 How yummy does this look? It's soooo good, friends. In March, The Mushroom Council and Bon Appetit reached out to me and asked if I could help promote their Blended Burger Contest and create my very own recipe for a Blended Burger. Well folks, let's just say yer girl has been eating a lot of burgers these past few months and it's been absolutely glorious. I was a lil intimidated by replacing part of the meat mixture with minced mushrooms, but honestly it's effortless and the mushrooms add that natural umami flavor without even realizing there's mushrooms in the thing. There's one tiny step to do before making up the burger patties and that's just mincing up the mushrooms extra fine so that they blend into the burger patty nicely (Promise you won't know they're there, even fooled myself)! If you happen to have a food processor this step is totally easy peasy. I decided to go with the Southwest Blended Burger because Southwest flavor is like home to me… yeah, even though I live in the Midwest. Ha! Maybe in another life I lived in Texas or something and this is why I literally dream about Southwest cuisine.
The day I started working on these Southwest Blended Burgers was pretty much the best day ever. Eric said if this Southwest Blended Burger were on the menu at our favorite local burger place he would probably order it every single time. It's a good thing he's got me to cook for him because we don't even need to go out for a crazy good and over the top burger anymore. Just kidding, obviously I need a break from cooking sometimes! But honestly, that's a compliment if I ever got one because we really, really like that burger place! I was so obsessed with this burger that I reached out to make sure I could add it here on this ol' blog because it needs to be made, guys. It needs to be made!
It's a bit higher in WW points and calories than my average recipe on here because of all the extra yummy toppings, but honestly you could tone it down a bit by leaving out the bacon and/or cheese or even eat a bunless burger because it's just all so magical together. Who needs a bun all the time anyway? I will say every time I made this burger I was so full that I didn't need any side dishes and It kept me super satisfied. I betcha it's still much better for ya than your average burger when goin' out to dinner. My favorite burger at a local restaurant clocks in at about 30 WW points per burger! Whoaaaa. I'm good with this guy at home for about 12 WW points.
Let's get in the kitchen and make some blended burgers!
Start off by mincing 4 ounces of button mushrooms. You can use a food processor to do this or by mincing your lil heart out with a knife.
Perfect. Just like this. I realize gettin'm this fine with a knife isn't the easiest so if you don't have a food processor, don't worry. The first two times I prepared these burgers I did it as best I could with a knife and then had a light bulb moment when I realized I did in fact have a food processor that I never use. This is just a mini 4 cup one, but it works like a charm! I forgot how much I love food processors.
Grab a bowl and add 12 ounces of ground beef, 4 ounces of minced mushrooms, 1 tbsp Worcestershire sauce, 1 egg yolk, 2 minced garlic cloves, 1 tbsp dried minced onion (you can find that with the regular spices in the grocery store), 1/4 tsp cumin, and 1/4 tsp kosher salt. Note: Remember to reduce salt if not using kosher salt.
Mix it together gently with your hands to combine ingredients. Be sure not to over mix though because it'll make the burger like a lil hockey puck and nobody wants that. Cover this and refrigerate for at least 30 minutes to let all those flavor mingle, but can be made even the night before you want to make these burgers!
Now that the flavors have mingled in the fridge for awhile go ahead and make the burger patties by diving it into four, rolling gently into balls, and pressing down. Be sure to indent the middle of the patty with your thumb. Now, if you're not makin' these burgers straight away go ahead and pop'm back into the fridge until you're ready to throw'm in a hot skillet. It's best to cook cold burgers.
In a large non stick skillet over medium heat add 1 tsp of canola oil and let it heat up. We're looking for that sizzle when the burgers hit the pan so you want to be sure it's hot. Just quickly sprinkle a drop or two of water in the pan. If it sizzles, it's hot.
Place the burgers in the pan and cook on one side for 2-3 minutes once it's browned, flip, and continue to cook for another 2-3 minutes.
Make sure not to press down on the burgers and try to only flip once!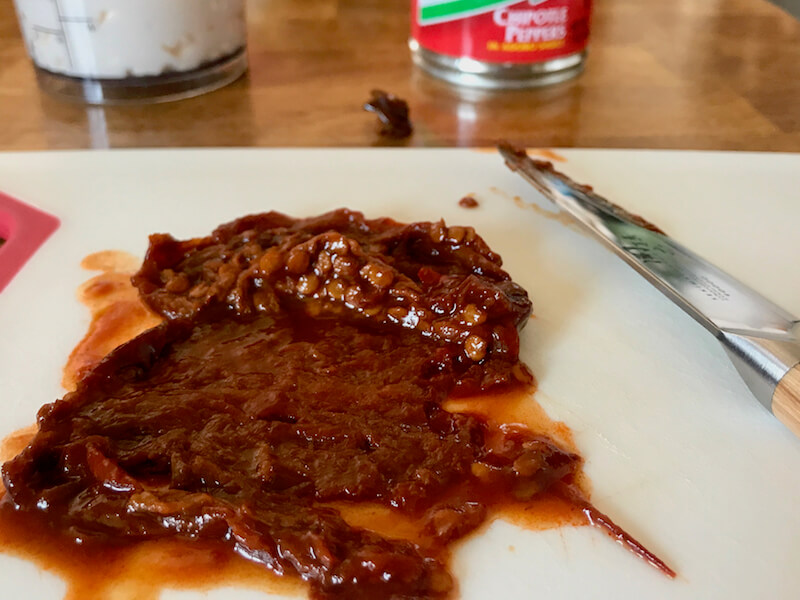 For extra credit you can whip up some Chipotle Mayo real quick! Grab a can of chipotle peppers in adobo, you can find these bad boys in the grocery store usually in the Hispanic section. I'd take the seeds out if I were you because it's a fairly small amount of mayo mixture and with the seeds will have ya sweatin' a bit.
In a small bowl or cup add 1/4 cup light mayo, 1/4 cup non fat greek yogurt, 1 chipotle pepper (no seeds), 1 tsp adobo sauce (from the can of peppers), 1/4 tsp cumin, and salt n' pepper to taste!
Insanely delicious! I could eat this stuff on just about everythaaaang!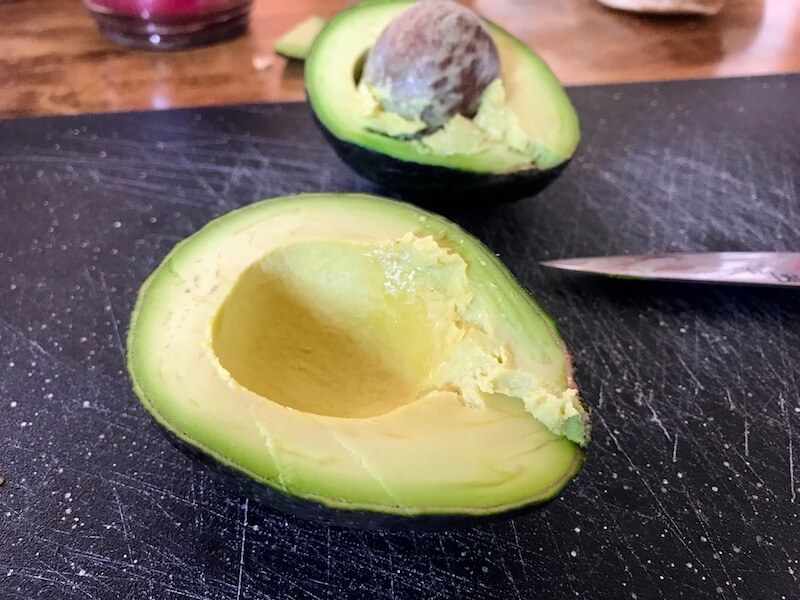 Slice up half an avocado because it's the right thing to do.
And now it's time to build this burger. This totally hits that gourmet burger spot, y'all. I know you know what I'm talking about. Those crazy good burgers that have so many toppings that you can barely fit the dang thing in your mouth, but trust me those babies are fully loaded with calories/points so while this is still a bit higher in those pesky calories/points… it's a fraction of what you'd spend in one of those burgers in those crazy good burger joints and it tastes just like heaven on a bun. Pssst.. You can skip that bun and it's still five stars.
Okay got myself off on a bit of a rant, I just love this burger and I'm kinda proud of it. Top these babes off with some of that lighter chipotle mayo, crushed tortilla chips or tortilla strips, a little reduced fat shredded colby jack cheese, fresh salsa, and a couple thin slices of avocado. It's got a lot of components, but it sure is good and you won't need any side dishes with this sandwich because it's a meal all on its own!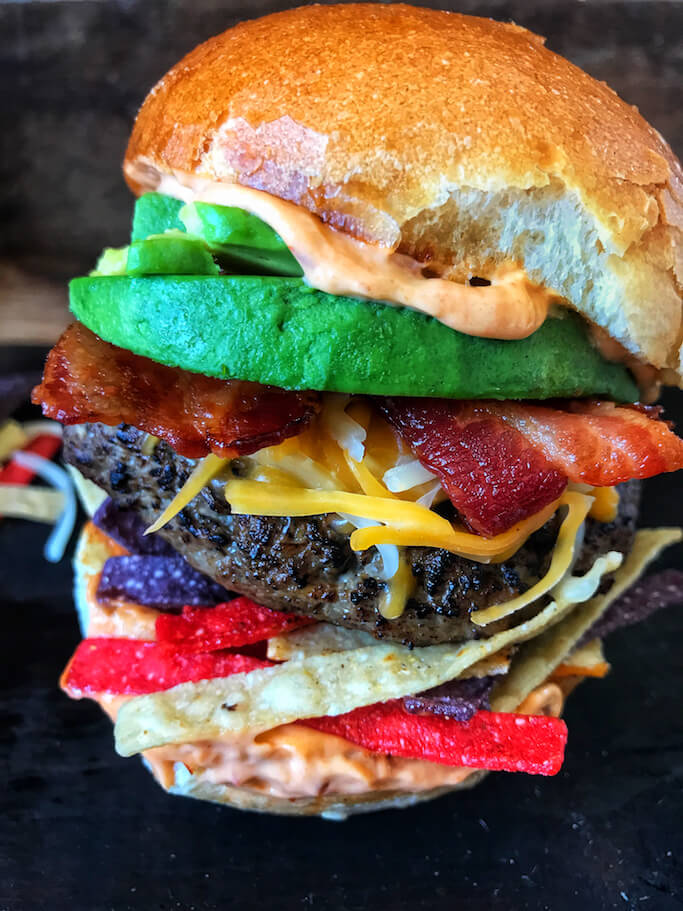 Make this and enjoy! Be sure to let me know how it goes!
With love from my kitchen to yours,
Star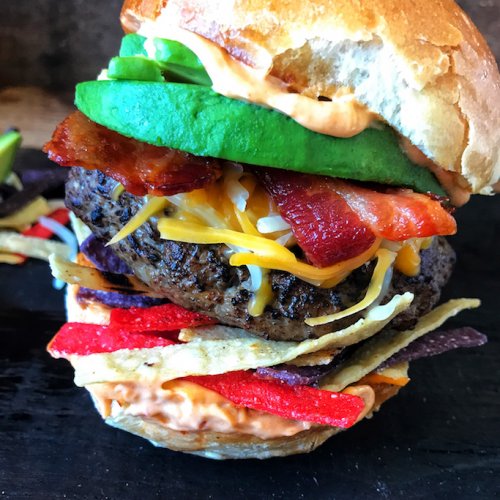 Print
Southwest Blended Burger
A blended ground beef and mushroom burger that's a little on the lighter side piled high with delicious toppings.
Materials
Southwest Blended Burger Patty
12

oz

lean ground beef, 93% lean 7% fat

4

oz

white button mushrooms

finely minced with a knife or in a food processor

1

tbsp

Worcestershire Sauce

1

egg yolk

2

garlic cloves

finely minced

1

tbsp

dried minced onion

you can find dried minced onion with the other dried spices in the grocery store

1/4

tsp

cumin

1/4

tsp

kosher salt

reduce if using table salt

1

tsp

canola oil (for cooking)
Chipotle Mayo
1/4

cup

light mayo

preferably Hellman's brand

1/4

cup

non fat greek yogurt

1

chipotle pepper in adobo sauce

remove seeds

1

tsp

adobo sauce

1/4

tsp

cumin

salt & pepper, to taste
Toppings
1.5

oz

crushed tortilla chips or tortilla strips

4

slices

center cut bacon

cooked til crispy

1/2

medium avocado

thinly sliced

1/2

cup

reduced fat shredded colby jack cheese

1/2

cup

fresh salsa

4

reduced calorie light hamburger buns
Instructions
In a large bowl place all of the ingredients for the blended burger patties except for the canola oil. Mix together just enough to incorporate all of the ingredients, but be careful not to over mix. Cover tightly and place in fridge for at least 30 minutes, but this can be done up to 12 hours in advance.

Make patties: Divide the burger mixture into four parts. Roll gently into a ball and flatten out to make a patty. Place thumb in middle of the patty to indent the burger. Place on a plate cover and refrigerate until ready to make. It's best to cook burgers cold.

Make Chipotle Mayo: Add all ingredients into a bowl and blend together using an immersion blender. Note: if you don't have an immersion blender just chop the chipotle pepper up extra fine and whisk ingredients together very well. Set aside.

Heat a large skillet over medium heat. Add oil and place burgers in the pan. Cook for 2-3 minutes until browned, flip, and cook for another 2-3 minutes. Avoid flipping more than once and be sure not to press down on burgers.

Build each burger by spreading chipotle mayo on each side of the buns. Add crushed tortilla chips, burger patty, shredded cheese, a slice of bacon, salsa, and thinly sliced avocado. Enjoy!
Notes
Serving Size: 1 burger with toppings & bun
480 calories 25g fat, 4.5g saturated fat, 9g fiber, 40g carbohydrates, 4g sugar, 34g protein
WeightWatchers Points: 9 WW Points (will need to add points for bun)