Slow Cooker Italian Turkey Meatballs
This post may contain affiliate links (meaning I earn a small comission if you purchase an item through a link I provide) I only provide shoppable links to items I love and are helpful. As an Amazon Associate, I earn from qualifying purchases.
These Slow Cooker Italian Turkey Meatballs are spiced just right, easy to throw together, and perfect to use in a number of different recipes!
Okay, okay. I know I am almost on the brink of sharing too many meatball recipes with ya, but I just can't help myself. In this house, we love meatballs! I think my favorite part about them is that I can make a big batch in the beginning of the week and then eat them multiple different ways throughout the week so that I don't feel as if I am eating the same thing every single day. This is one of my tried and true absolute favorite summer crock pot recipes. I always say that I don't use my crockpot all that much, but then summer rolls around and I begin to remember how much I absolutely love that little kitchen appliance more than anything in this world on these midwest steamy summer days. It rings even truer now with a little one because we spend our long summer days on the go, in a pool, or just outside playing in the yard. By the time we come in for the evening I often find myself giving Eric a look like, "I'll give you a thousand dollars to go get us dinner so I don't have to heat this dang kitchen up." Sometimes he does and I always kick myself a little because it is such a big waste of time, money, and even gas since we live a ways out from different restaurants. It's also not the healthiest of choices, which is probably my biggest concern.
In the summer, I really try to cook one or two days a week in the kitchen where I make multiple meals and only heat up the kitchen on those days. The rest of the days are either salads, on the grill outside, or you guessed it, in the crockpot. Why is this one of my all time favorite crockpot recipes? Because I start out with a handful of ingredients, a few minutes of prep in the morning, and by the afternoon I've got a big ol batch of Italian Meatballs just bursting every which way with lots of flavor. Then, all week I have so many different choices of lunches and dinners to make for the family. We usually start off with good ol Spaghetti and Meatballs. It's such a delicious classic and in my opinion, so underrated. The next night, I usually make Meatball Sub Sandwiches. Soon, I'll have fresh zucchini out of the garden, and will more than likely make Italian Meatballs over a big bed of my garlicky-zoodles. I've also used these in my Insta Almost famous Meatball Sub Bubble Up! Last but not least, Meatball Pita Pizzas. So good. Make'm and enjoy'm however you want'm because they are so wonderful, I just had to share them with ya.
Let's get in the kitchen!
Start off by placing 1 chopped onion, 3 minced garlic cloves, 1 1/2 tsp salt, 1 tbs oregano, 1 tbs dried basil or about 1/4 cup fresh chopped basil, and two 24 ounce cans crushed tomatoes. Don't mind that goop in the back there.
So, I killed my basil plant. I didn't actually kill it, I forgot to water it and we were on borderline draught conditions and it was outside and I forgot about it. Okay, I killed it. Fast forward, I went to the grocery store to pick up odds and ends I needed to photograph this recipe. I was just going to grab another basil plant. No basil plants. Okay, fine. I'll spend 3-4 dollars on one of those small plastic packages for 8 basil leaves. No over priced little plastic packages. Okay, fine. Weird basil green goop tube in produce section? Sure, why not. To be honest, It tastes pretty legit. I would probably buy it again in a pinch, but it looks a little to goo-like so for that reason, I more than likely will not buy it willingly again. If you choose to use the green goo. I think It was about 1 1/2 tbs. I'm honestly not sure.
Mix it all up inside the crockpot. In case you're wondering, yes this is basically the same recipe as my crock pot marinara!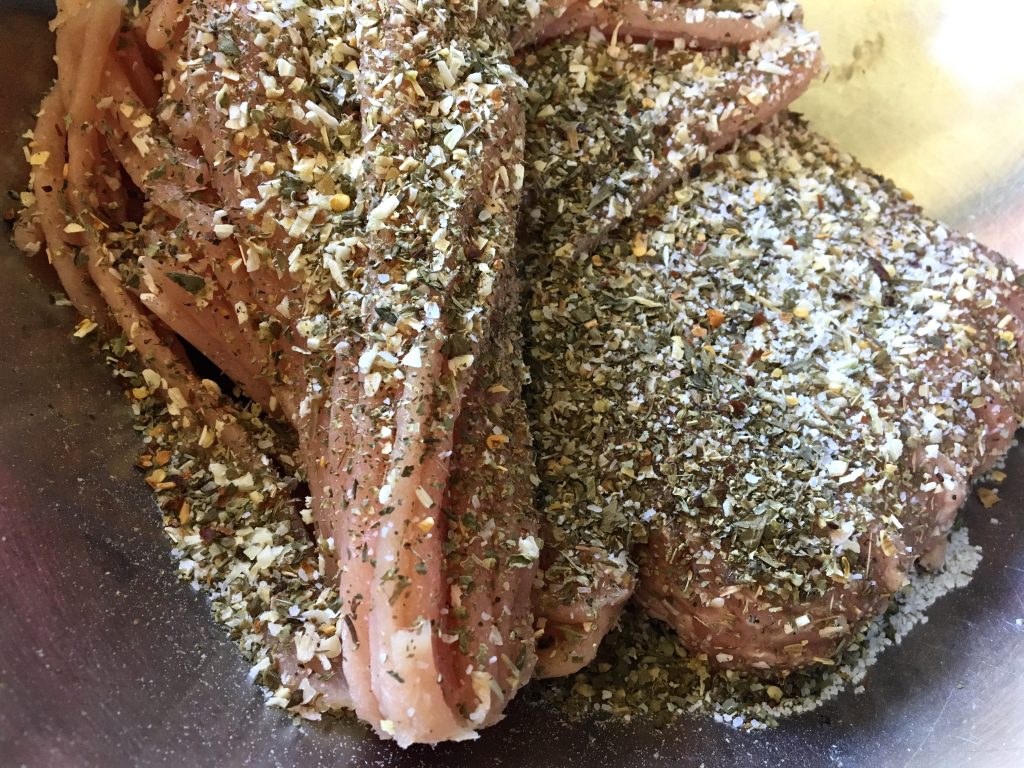 In a large mixing bowl add lean ground turkey, Italian seasoning, salt, and just a pinch or two of red pepper flakes.
Then add parmesan cheese, minced garlic cloves, egg, olive oil, and bread crumbs.
Dig in with your hands and combine, avoid over mixing because this will make the meatball tough. (I know, I know it's kind of gross, but you'll be fine) Just wash your hands real good after.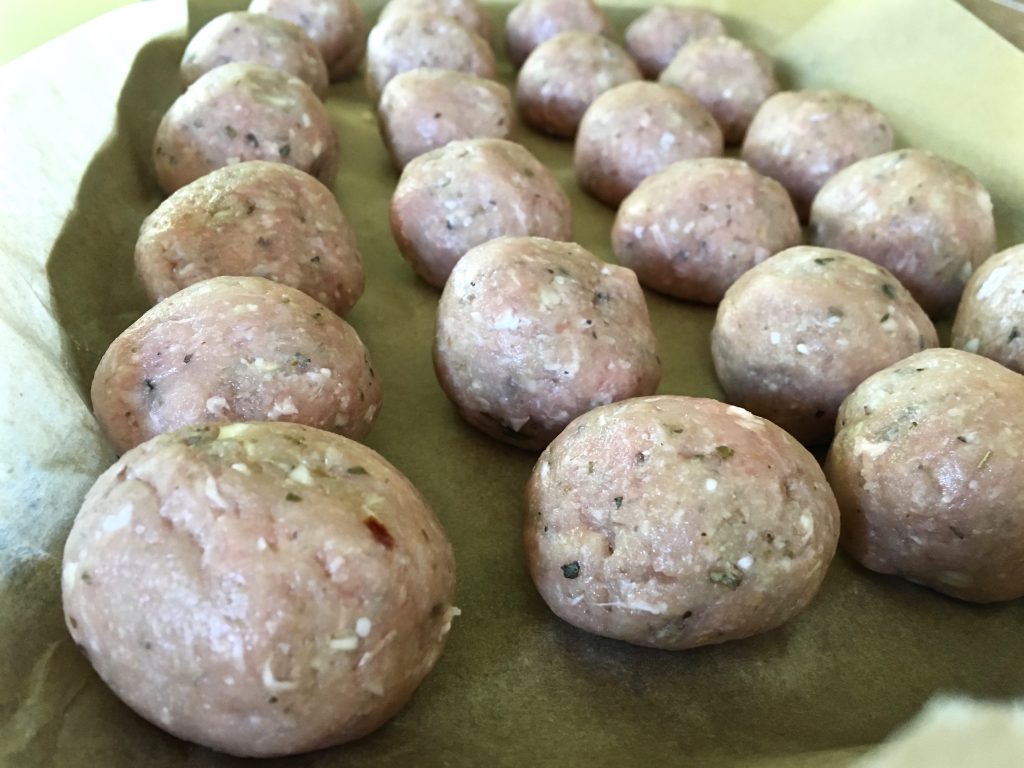 Grab a couple plates or a sheet pan to place meatballs on. You can also drop the meatballs directly into the crockpot full of sauce if you'd like, but because I have precisely 764 things going on in my brain I normally lose count. I like to keep count of how many I am making to ensure that I have all my nutritional info in check because I'd like to lose 5 lbs a few times over. Haha! No really though. I do.
Plop those meatballs in your crockpot o' sauce. I just love the word plop, don't you?
Mix them into the sauce ever so slightly. Juuuust enough to cover the meatballs with a touch of sauce.
Several hours later you'll come inside from the heat or come home from work to these delicious little guys and it'll smell so good you'll just take a fork and eat one. Trust me, I do it every single time. So does Eric. We love these things so much.
Note: you can make these any time of the year. I personally make more in the summer months.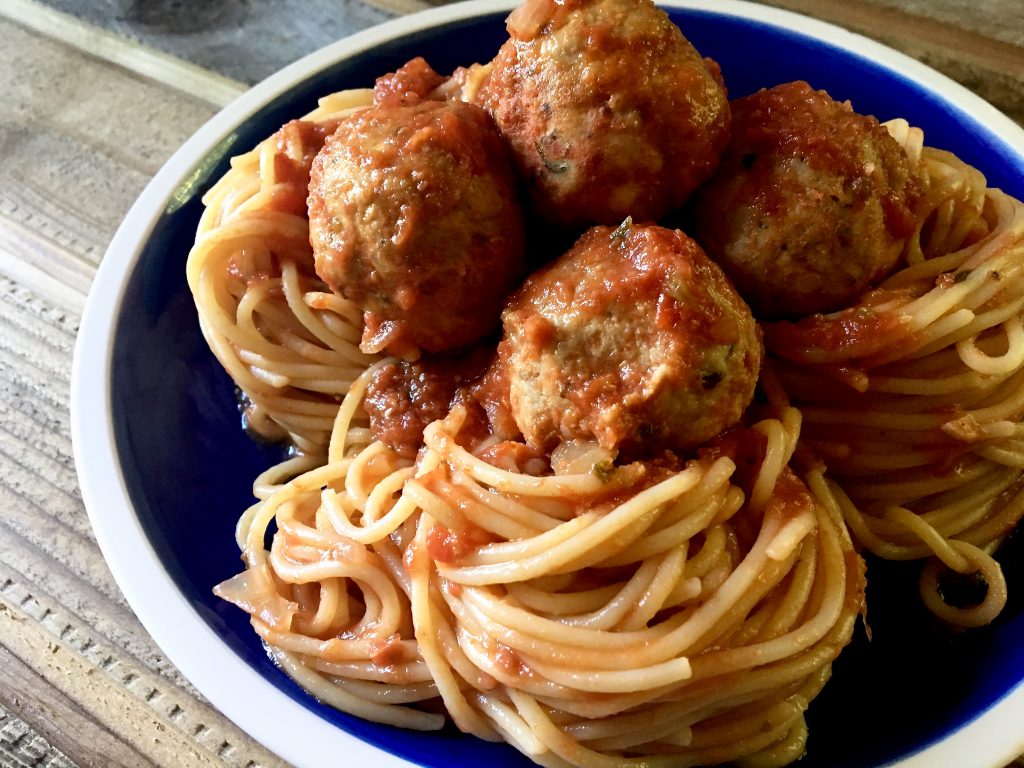 To round this meal out, I made a big ol pot of spaghetti or sket as miss Pepper says!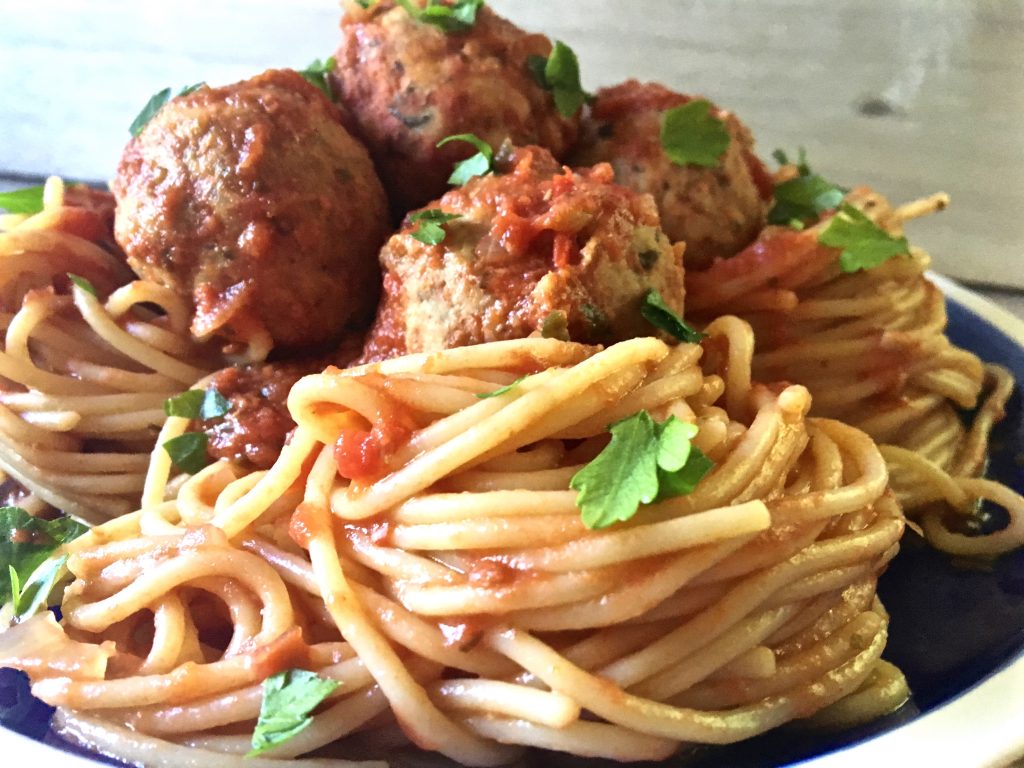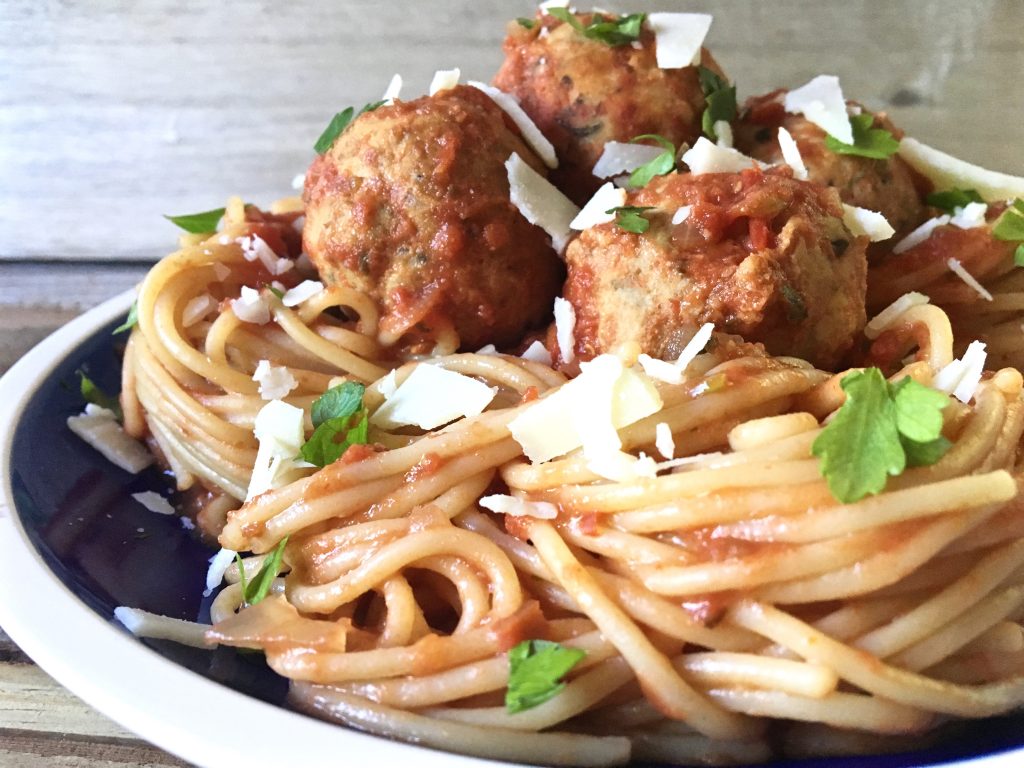 Mmm.. Mmm MM!
I
Meatball heaven.
Can we just make Meatball Monday a thing from now on?
Vote yes or no.
I vote yes times 1,000.
If you need me, I'll be thinking of more meatball creations.
I hope you love these guys, let me know if ya make'm and what you decide to do with'm!
With love from my kitchen to yours,
Star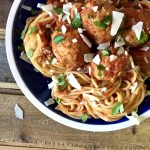 Print
Slow Cooker Italian Turkey Meatballs
My favorite recipe for classic turkey meatballs. They're filled with tons of flavor and are as tender as can be.
Materials
The Sauce
2

24 ounce cans

crushed tomatoes

1

medium yellow onion

chopped

3

cloves

garlic

minced

1

tbs

oregano, dried

1

tbs

basil, dried

or 1/4 cup chopped, fresh

pinch of

red pepper flakes

1 1/2

tsp

salt

1

tsp

pepper
Turkey Meatballs
2

lbs

lean ground turkey

1 1/2

tbs

minced onion, dried

found in the spice aisle

1 1/2

tbs

italian seasoning

1/2

cup

parmesan cheese, grated

1

egg

well beaten

1/4

cup

bread crumbs

3

cloves

garlic

minced

1

tbs

olive oil

1

tsp

kosher salt

1/2

tsp

pepper
Instructions
The Sauce
In a crock pot add crushed tomatoes, oregano, basil, chopped onion, minced garlic, salt & pepper, and a pinch of red pepper flakes.

Set slow cooker to low and assemble meatballs.
Italian Turkey Meatballs
In a large bowl add ground turkey, dried minced onion, Italian seasoning, grated parmesan, egg, breadcrumbs, olive oil, minced garlic, salt & pepper, and a pinch of red pepper flakes. Dig in with your hands and mix thoroughly together.

Roll each meatball in between palms to form and place into the slow cooker full of sauce. When all meatballs are placed into the sauce stir together and cover meatballs.

This should make 30 healthy sized meatballs about 1-1 1/4 inches in diameter. Set slow cooker to low and cook for 7 hours.
Notes
Serving size: 3 Meatballs and about 1/2 cup sauce
Meatballs: 180 calories, 6g fat, 1g carbohydrates, 0g fiber, 0g sugar, 20g protein
Sauce: 20 calories, 4g carbohydrates, 1g fiber, 1.5g sugar, .8g sugars
WeightWatchers Points: 5 Points (+ 0 for any amount of sauce)