Slow Cooker Mexican Shredded Chicken
This post may contain affiliate links (meaning I earn a small comission if you purchase an item through a link I provide) I only provide shoppable links to items I love and are helpful. As an Amazon Associate, I earn from qualifying purchases.
Hi ya guys! How's it going? We've got this super summer Slow Cooker Mexican Shredded Chicken on deck tonight. It's easy to throw all the ingredients into one pot, let it cook, and then shred it up when it's all done. You can add this to so many delicious things like tacos, burrito bowls, baked potatoes, salad. The list goes on! It's full of so much yummy flavor.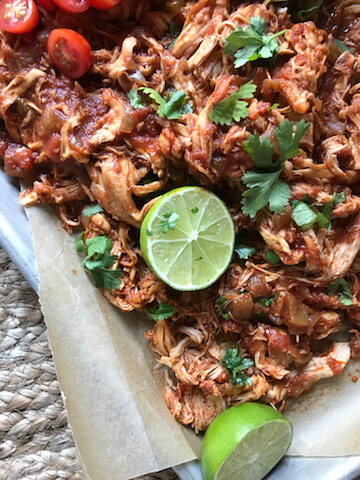 I have been able to be in the kitchen so much more lately and it has made my heart so happy. I think I am finally getting into a better groove when it comes to getting recipes photographed, written down, and posted. (It's only taken a year and a half! ha!) I love this little blog and I am my own worst critic! There are recipes on here that we have eaten for 3-4 weeks straight because I just knew it could be better if I did one little thing different. Another thing I am terrible at? I don't usually measure spices. I grew up learning to cook by tasting. I'll even confess to you that I didn't even own a set of measuring spoons before I decided to start writing this blog. I decided that telling you to shake your spice just enough so it covers the chicken just a bit, but not too much or use the palm of your hand to measure out about a tablespoon just wasn't going to work well. However, old habits die hard and to this day, I still cook this way. I'm getting better about it, but man, I really do love the natural way things come together in the kitchen instead of measuring out everything. Don't worry. I'll still give ya measurements because I love ya and I want you to enjoy foods the exact way that I am enjoying them too!
Today, I am going to share one of my favorite ways to enjoy chicken for quick weeknight dinners featuring tacos!!! We all know and love my Chicken Street Tacos, but sometimes just a plain old taco or taco salad is delicious too. (Especially when you have delicious components to work with.) I use this Slow Cooker Mexican Shredded Chicken for so many other things than just tacos. I do quesadillas, enchiladas, taco salads, baked chimichangas. It's such a versatile recipe and I really, really love delicious versatile recipes. Years ago I read a recipe somewhere on the internet that featured Slow Cooker Salsa Chicken! It just wasn't my favorite. It lacked flavor somewhere. It could have just possibly been the jar of salsa I used. Who knows? But, it inspired me to make something kind of like it (because I really liked the idea), but not it exactly. You know what I am saying? This recipe resembles it in ways, but is bursting with so much more flavor than what you generally get with a typical jar of store bought salsa. It's real easy to prep and throw into a slow cooker on busy (or lazy) mornings. It'll be done just a little later in the day for you to enjoy a delicious, healthier meal. It really makes for GREAT meal prep too. I like to make a batch, store in the fridge, and then have all the items along side of it to make up taco salads or burrito bowls throughout the week. Personally, this really helps me not only with crazy schedules and having a toddler, but to continue on with my choice of living a healthier life. This is just one of my favorites and I really hope you enjoy it too! I'll be sharing a few posts of other yummy meals I make using this chicken, but I won't tell you that I'll have them up on the blog in the next few weeks like I normally do and then never get it done. I'll have them up someday. I promise. Haha!
Here's whatcha do!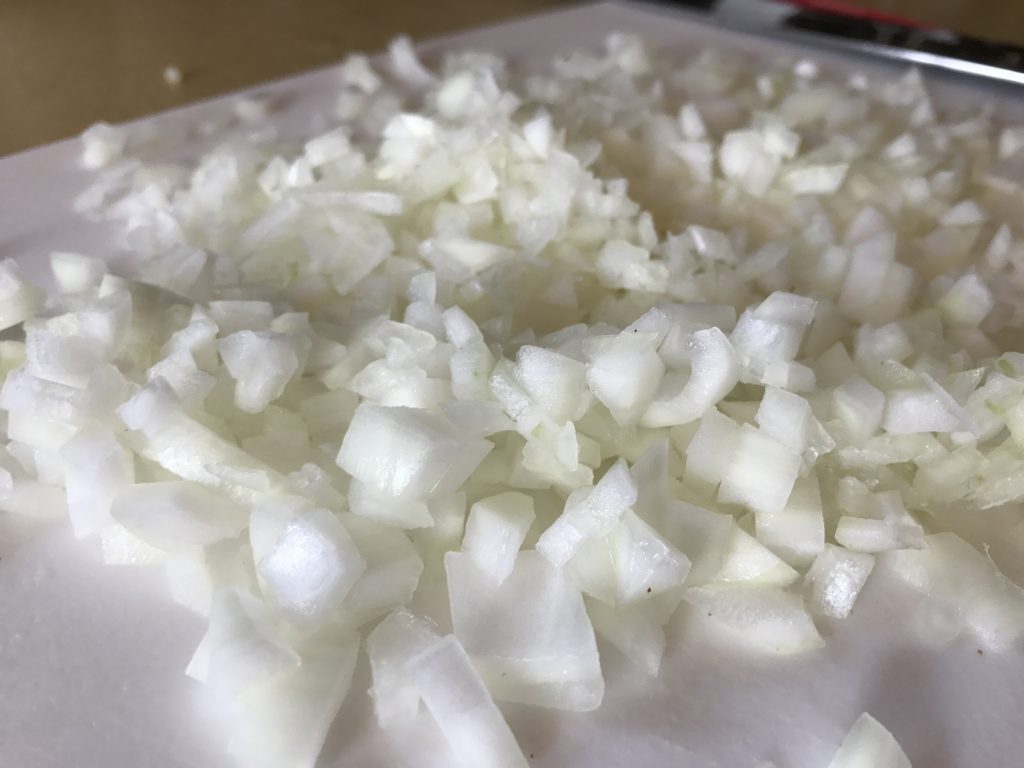 Like so many of my recipes, start by chopping up an onion!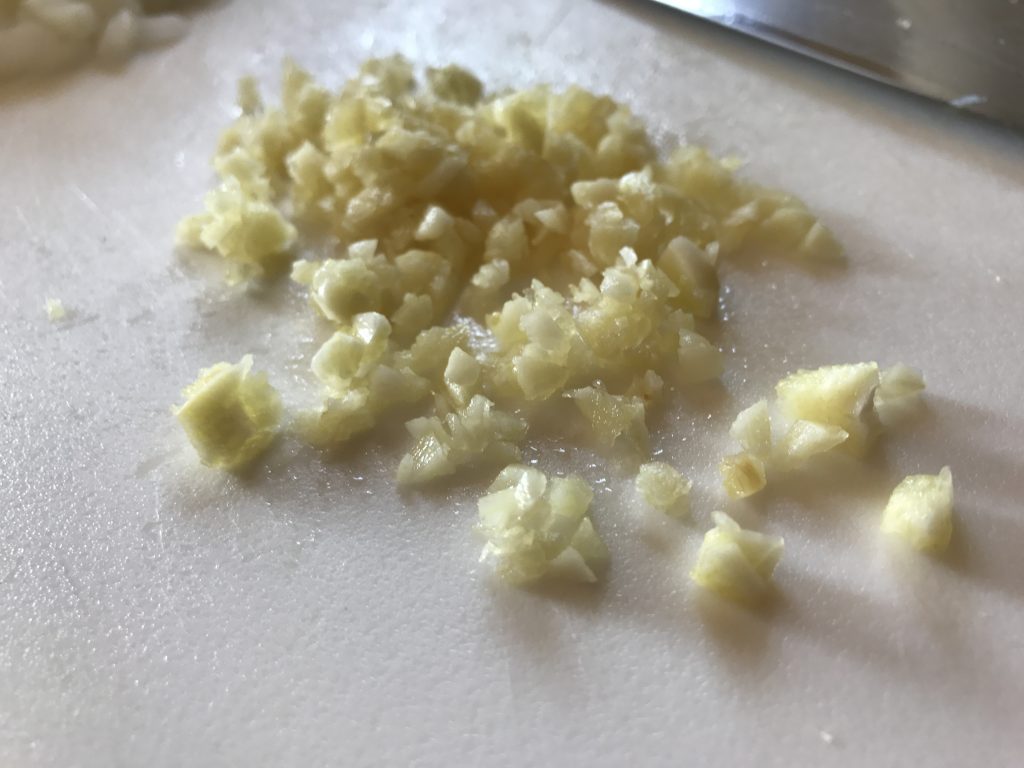 Then mince a few cloves of garlic.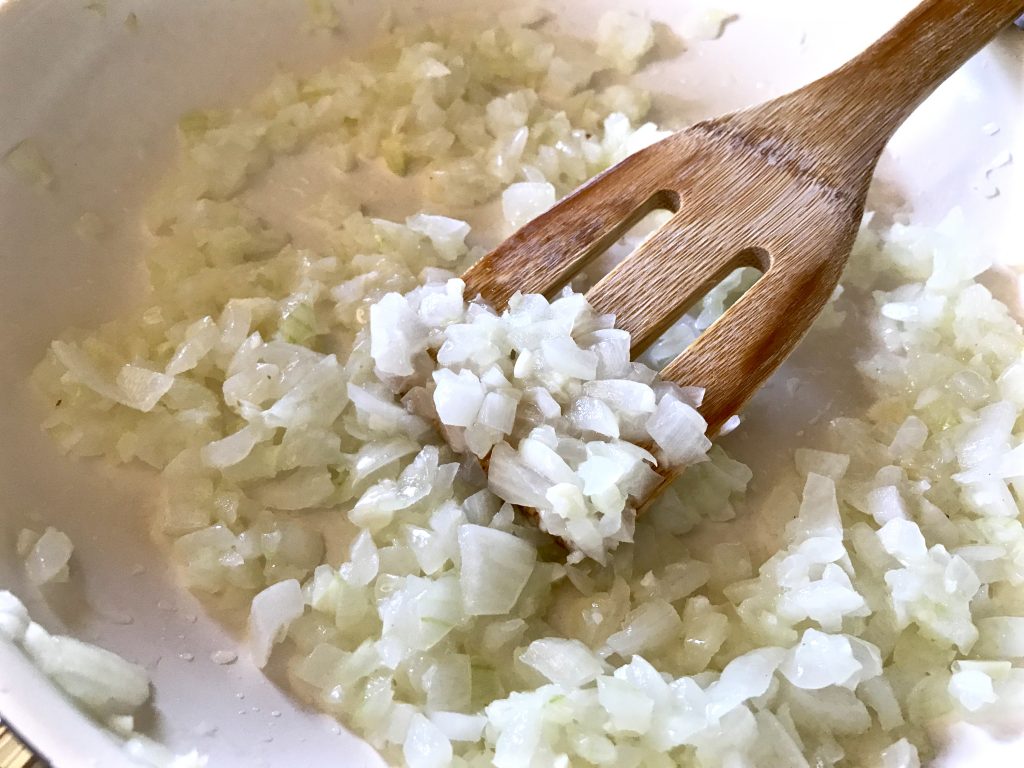 Throw'm into a hot pan with a little vegetable oil and cook'm up until they are soft.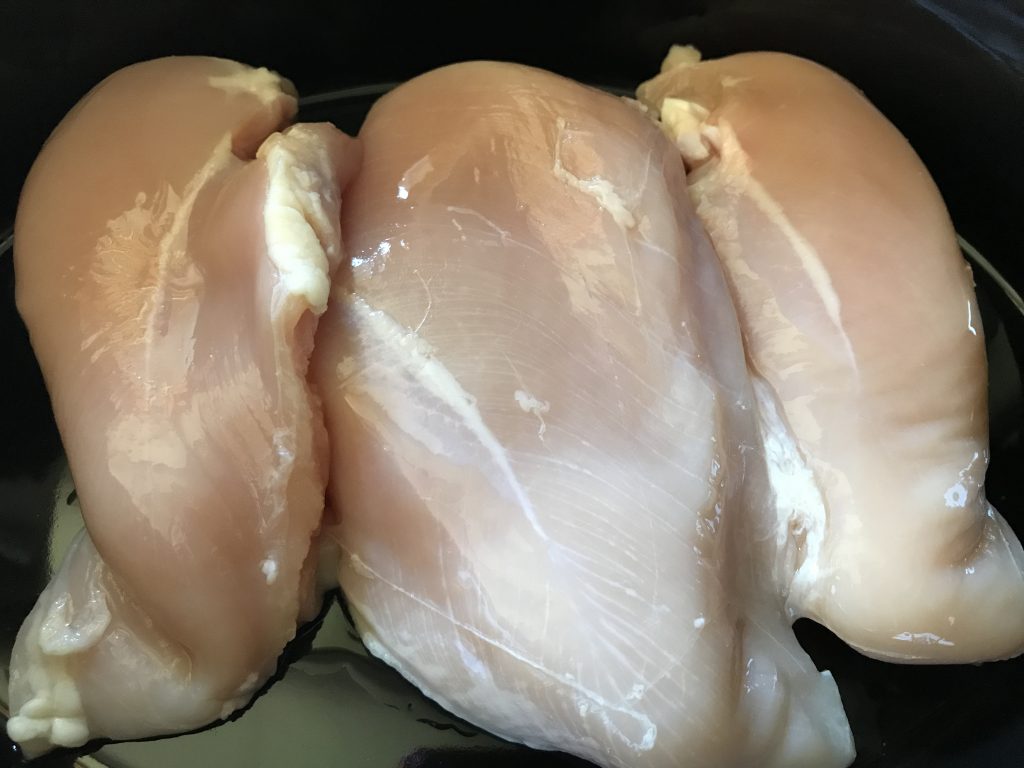 Grab some chicken breasts and put them in the slow cooker.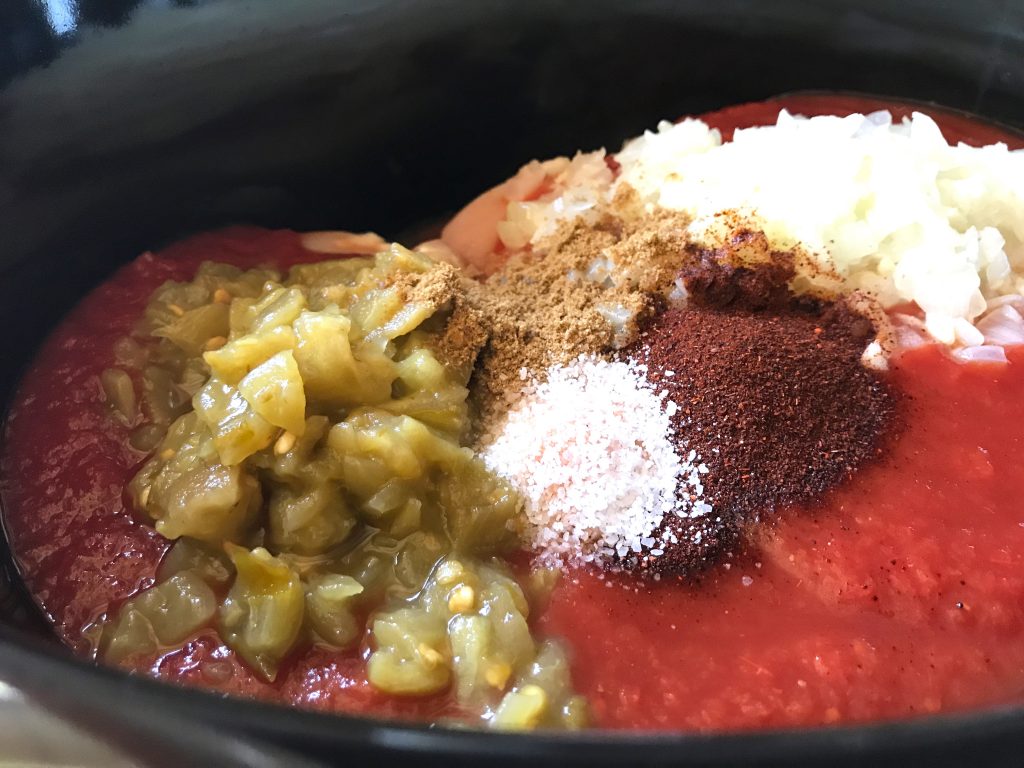 On top of the chicken pour in chicken broth, tomato sauce, green chilies, cumin, chili powder, salt, pepper, and the sautéed onions and garlic. Don't forget a few dashes of your favorite hot sauce! I use Franks. We really enjoy Franks in this house!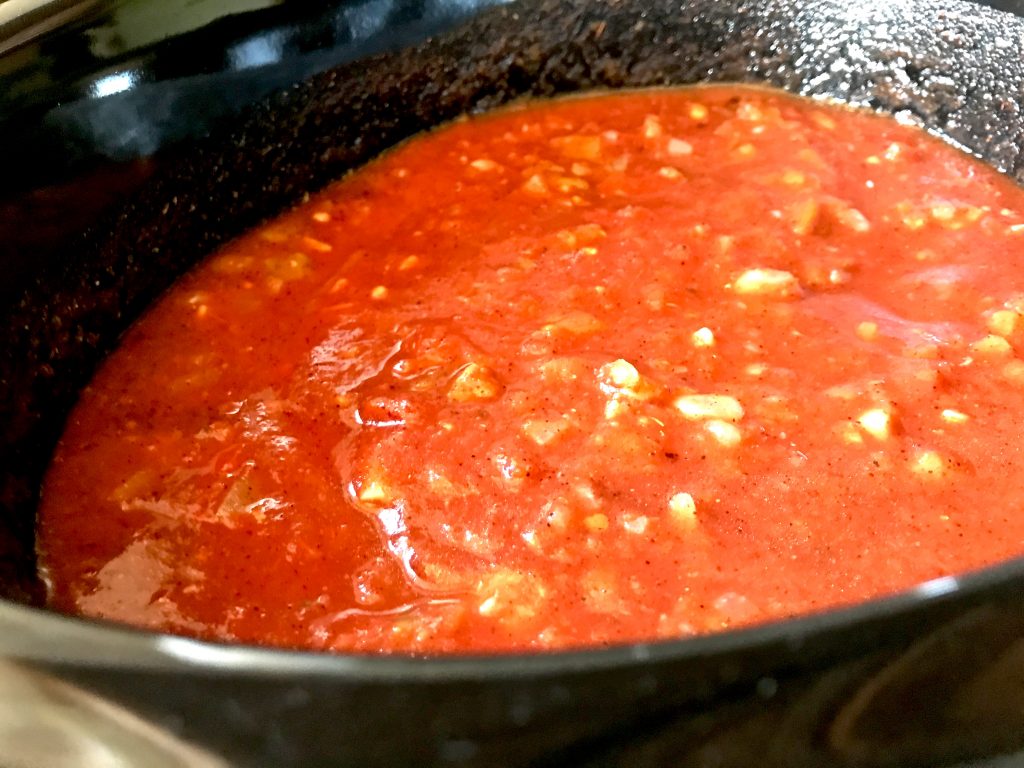 Mix'r all up! Place the cover on top and cook on low for about 7-8 hours or high for about 5.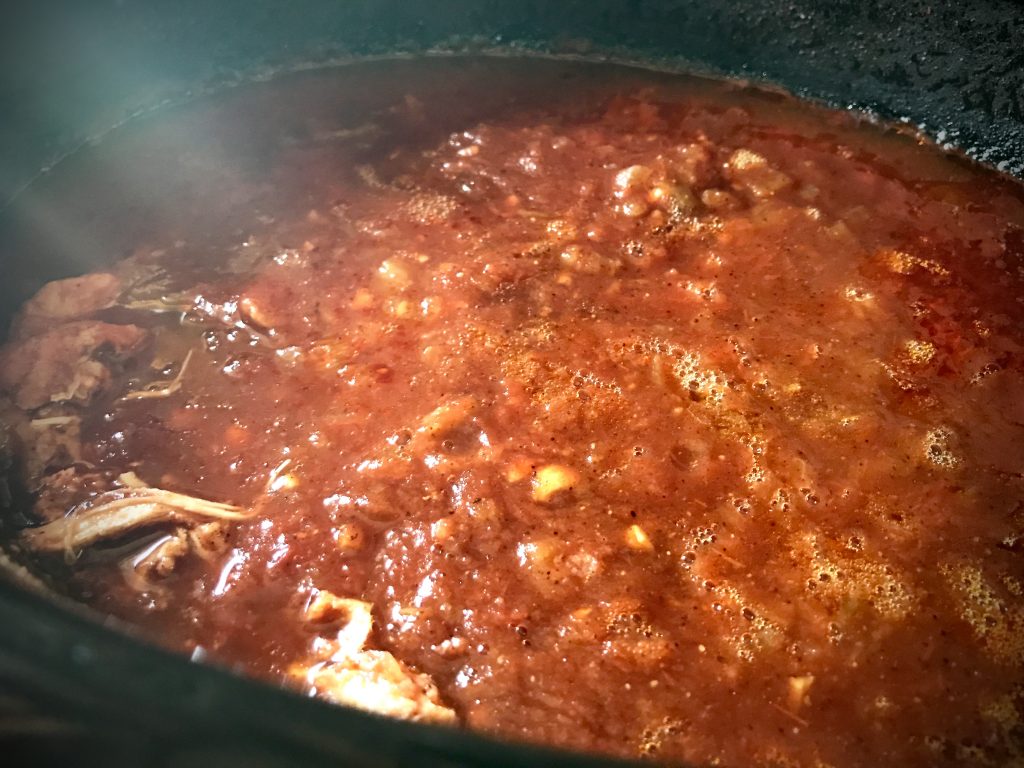 Come on back to this wonderful smell that is luring you into the kitchen.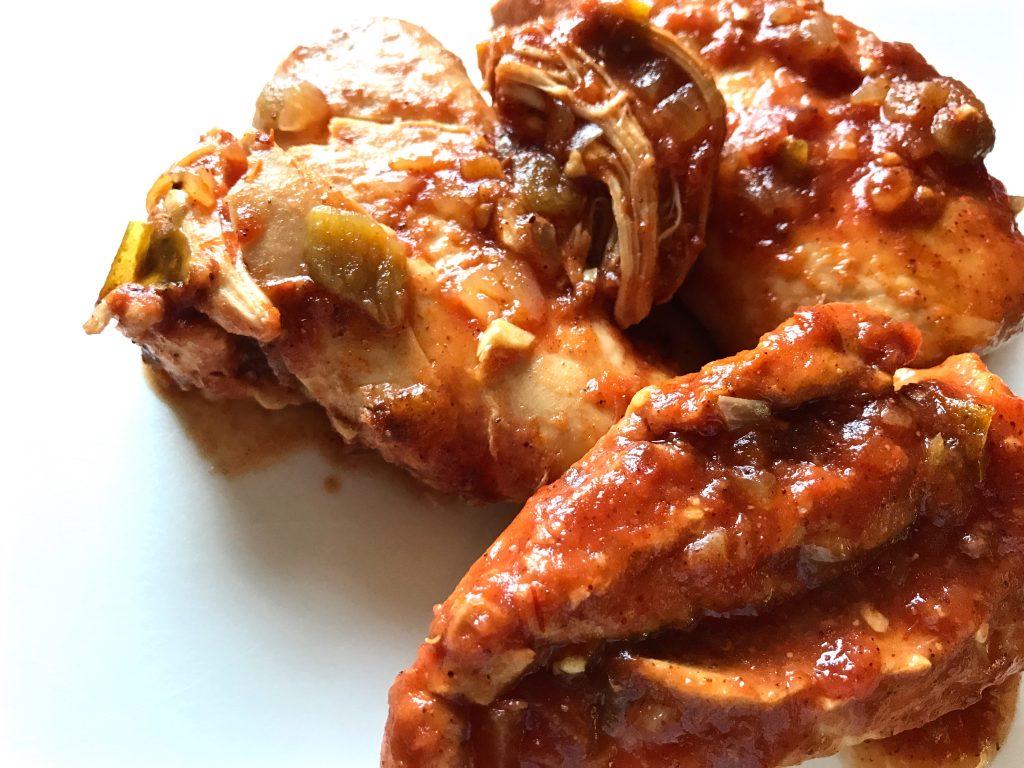 Take the chicken out and shred it up.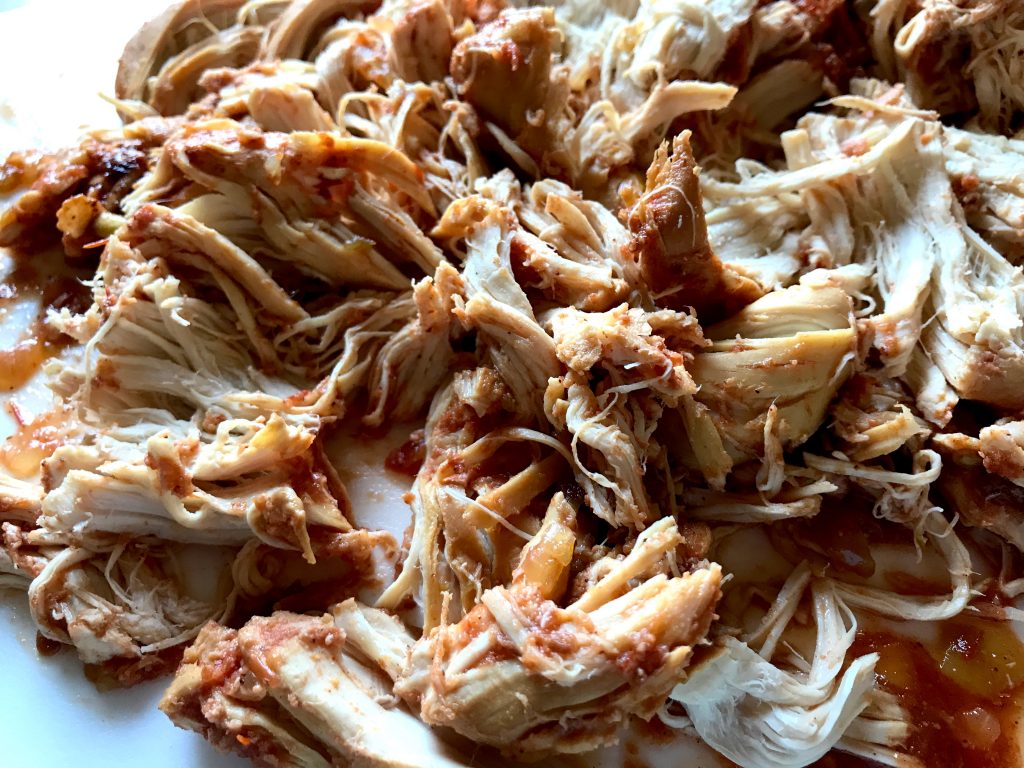 Kinda like this. You can shred it more or less or chop it up. It honestly doesn't matter all that much, but be sure to break it up.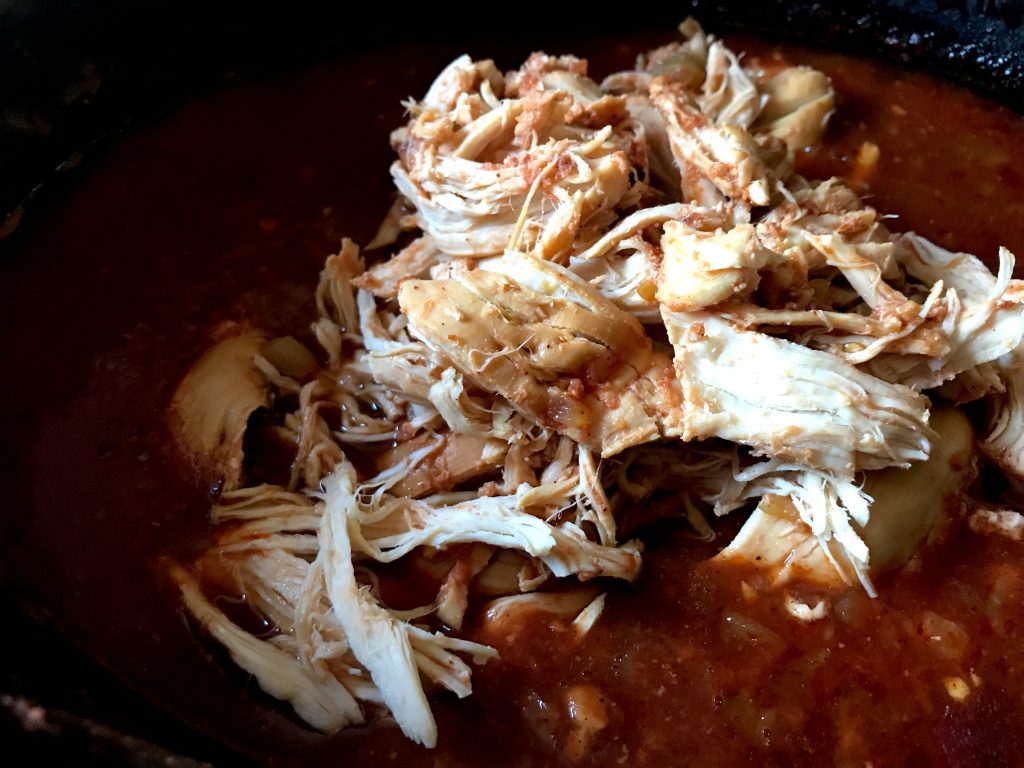 Return it to the slow cooker in the red sauce and let cook together for another 20-30 minutes to let the flavors mingle a lil better. Take it out of the sauce, discard the sauce, and serve with taco fixin's or whatever your heart desires! I promise to share some of my favorite ways to use this chicken other than just taco night.
Side note: When I put it back into the crockpot I usually use that time to heat tortillas, chop lettuce, make my delicious homemade salsa, cilantro lime rice, mexican style street corn, and/or chipotle pinto beans. No, that does not all get done in 20 minutes. I'm not super woman, but I sure do try. I have a hard time eating tacos or any mexican for that matter without all the delicious fixin's.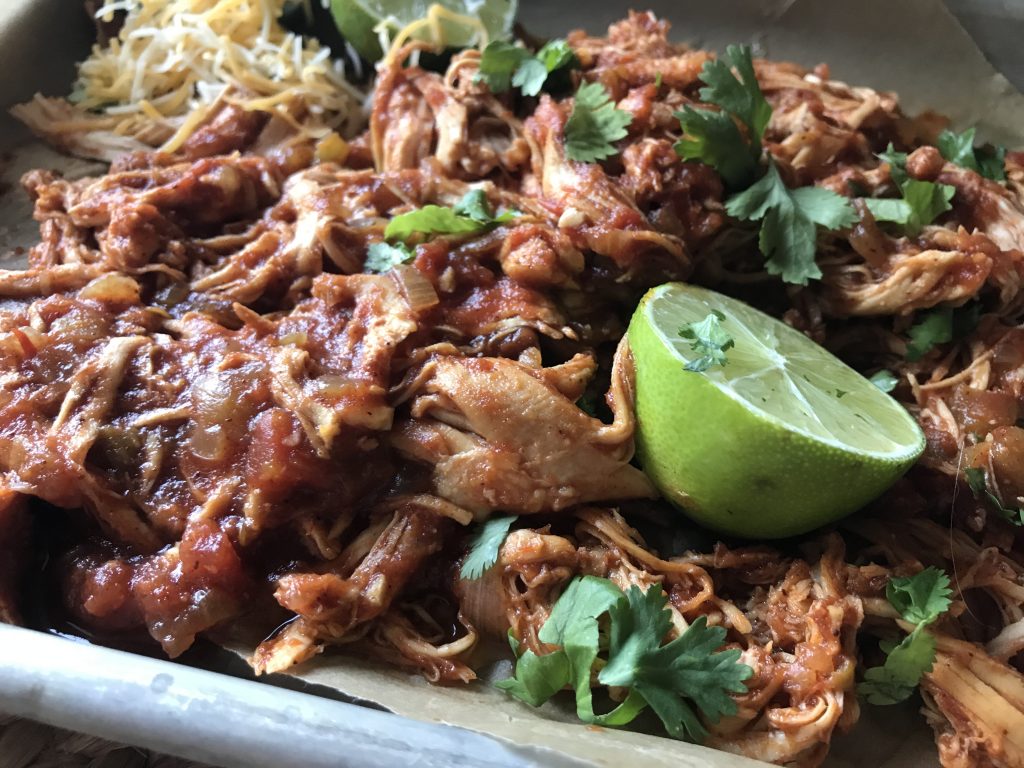 This is completely up to you, but this is how I like to serve mine. I put them on a big sheet pan squeeze the juice of a lime all over and garnish with a bunch of chopped cilantro! Deeeeeelish, guys. Deeeeelish.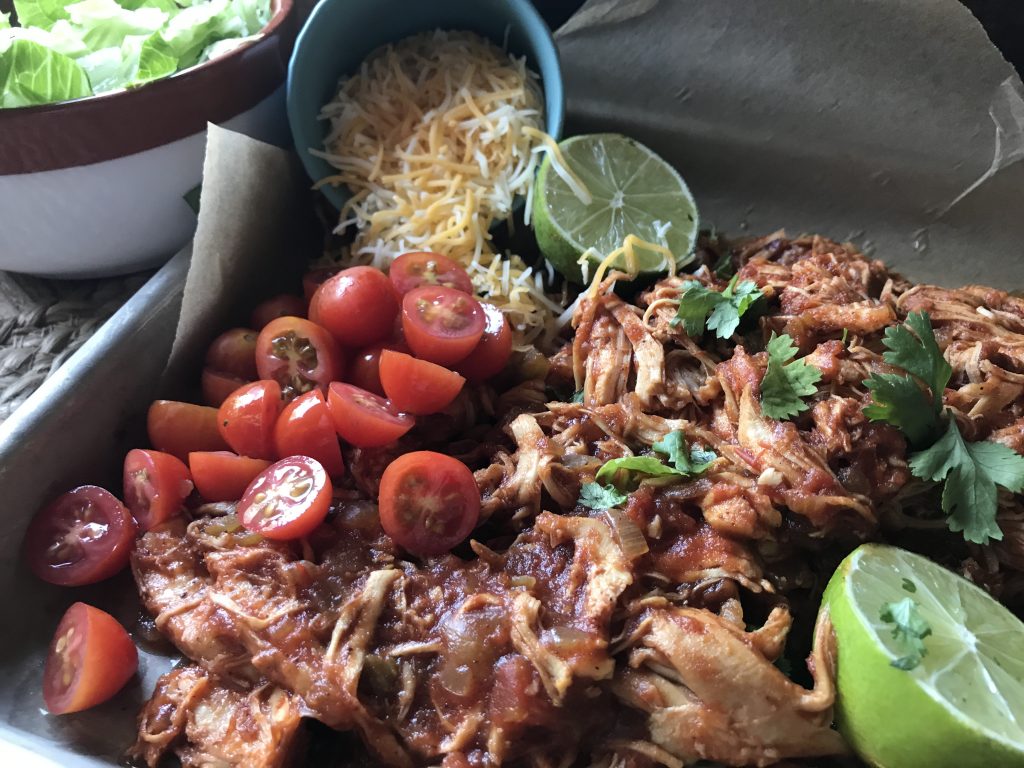 I normally just pile all the taco fixin's on the sheet pan and around the meat for a make your own taco bar type of thing! Everyone loves it and I don't use a billion dishes. (In case ya haven't heard. I hate doing dishes.)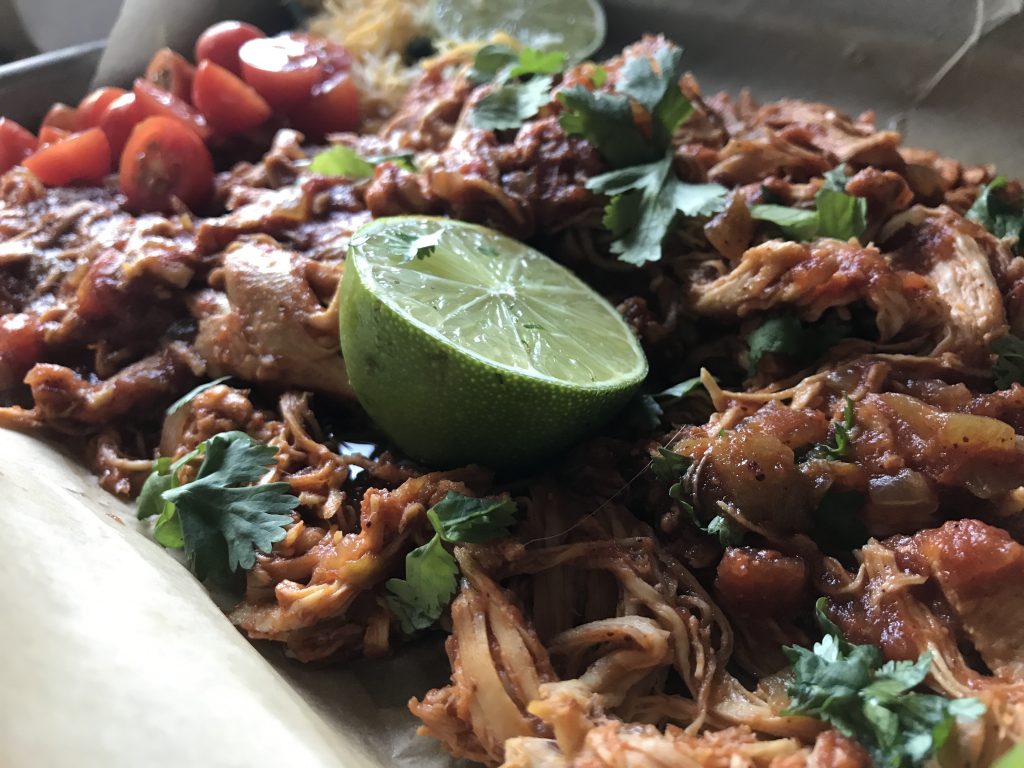 Mexican food is some of my favorite food to photograph. I just love all the colors, don't you?
Serve this up on your next Taco Tuesday celebration! And don't forget the salsa!
You could even make Taco Night extra special by whippin' up a batch of my easy peasy Mexican Style Street Corn, Have ya had it? Ya have to have it!
With love from my kitchen to yours,
Star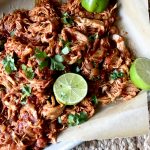 Print
Slow Cooker Shredded Mexican Chicken
Mexican inspired slow cooked chicken perfect for tacos, salads, and burritos!
Materials
2

lbs

boneless skinless chicken breast, raw

1

medium

yellow onion

chopped

3

cloves

garlic

2

tsp

vegetable oil

(or olive oil)

1

15 oz can

tomato sauce

1

4 oz can

diced green chiles

1

cup

chicken broth

98% fat free

1

tbs

cumin

1

tbs

chili powder

2

tsp

coriander

(in the spice aisle)

1 1/2

tsp

kosher salt

1

tsp

pepper

a few dashes of your favorite hot sauce

(I use Franks)
Instructions
In a medium skillet heat oil and add onions and garlic. Cook until soft or about 5 minutes and then add to slow cooker.

Add the rest of ingredients to slow cooker and mix until combined well.

Cook on low for 7-8 hour on low or high for 5 hours.. Remove chicken from sauce, shred, and return to slow cooker for 20-30 minutes to allow the flavors from the sauce to mingle with the chicken. Enjoy chicken with tacos, salads, enchiladas, burrito bowls, quesadillas, or whatever ya want!
Notes
Serving size: 1/2 cup (3.5 oz)
WW Points: 0
67 calories .9g fat, .2g saturated fat, 2.3g carbohydrates, .5g fiber, .7g sugar, 11g protein.
To reheat leftover chicken: Grab a skillet and heat chicken over medium heat for about 5 minutes.