This post may contain affiliate links (meaning I earn a small comission if you purchase an item through a link I provide) I only provide shoppable links to items I love and are helpful. As an Amazon Associate, I earn from qualifying purchases.
Slow Cooker Kalua Pork is the most tender and delicious slow cooked pork. It can be used in a variety of ways like adding to sandwiches, baked potatoes, burritos, and rice bowls! It's inspired by the traditional Hawaiian Kalua Pig. Perfect for parties and potlucks because EVERYBODY loves it!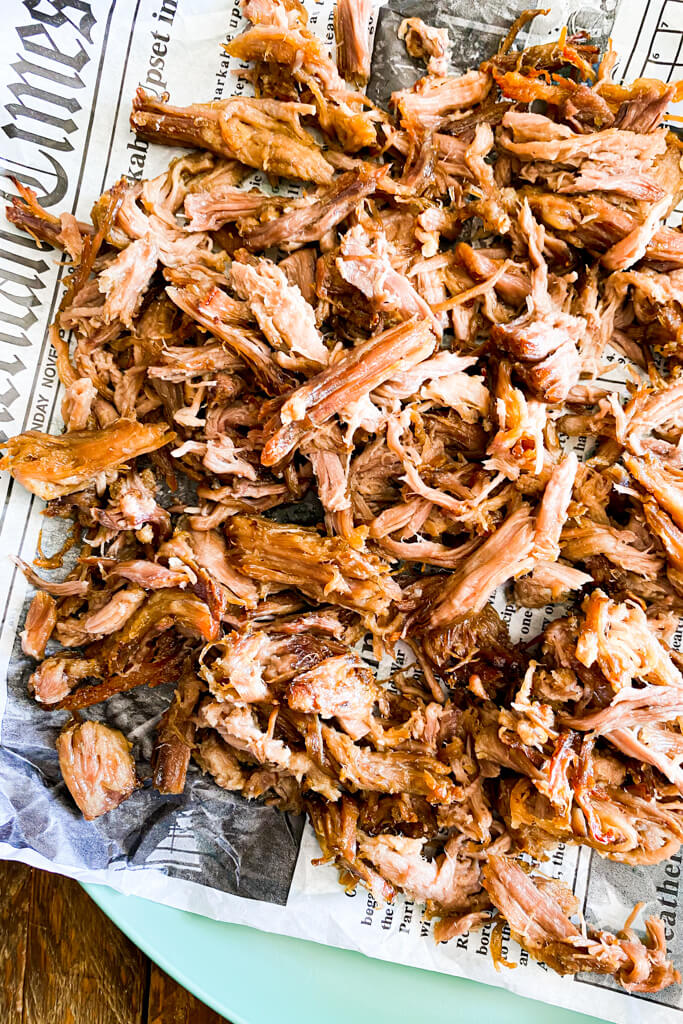 What is Slow Cooker Kalua Pork?
Well first of all, it does not contain any coffee liqueur. Haha! I can't tell you how many messages I got the other day when I posted about this pork asking why I would put Kahlua (the coffee flavored liquor) in a recipe. Not many folks have heard of Kalua Pork (also known as Kalua Pig) unless they've traveled to Hawaii, but that's bout to change here on The Skinny-dish Dish, y'all are gonna love this because its literally fall off the bone mouth wateringly delicious and it's only 4 ingredients!
Kaula Pork is actually a traditional Hawaiian dish where a whole pig is used and seasoned with Hawaiian salt and wrapped in banana leaves. It's placed into a huge pit that has been dug in the ground. The word "kalua" from the name because of cooking it in an underground oven (pit), called imu in Hawaiian. It's traditionally served at luaus.
Now, don't worry. I'm not gonna ask you to go out and dig a pit in your back yard and round up a wild pig. This is most definitely not a traditional way of making Kalua Pork, but years ago my mom went to Hawaii and she came back raving about the Kalua Pork. At some point, she found this recipe and the rest is history. I've been eating this pork for years and since I've moved out and lived on my own I've changed up just a little because that's why I have my own food blog. It's still as simple as can be and the hardest part of the entire recipe is having patience during the cook time.
I've always been nervous to post this recipe since its so different from the traditional method, but after posting it on Instagram the other day while I was cooking with my sister and getting an overwhelming response from readers asking for the recipe I decided that it was time. I rushed home from our trip to the Midwest, grabbed a Pork butt, and patiently waited for it to cook all so I could add it to the blog as quickly as possible!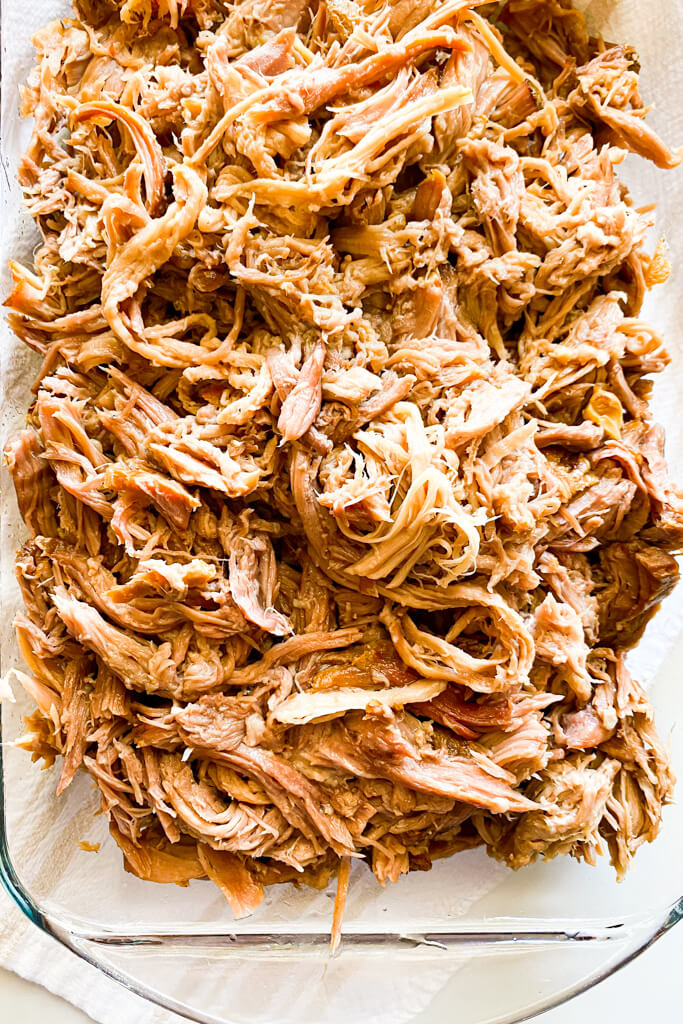 Does it really taste like traditional Kalua Pig?
The truth? I personally don't know. I've never been to Hawaii and I've never tasted it the traditional way. However, my mom, sister and grandma who've all been swear it tastes just like the real thing! As well as family members that we've shared the recipe with. I'm sure it has its differences, but all I know for sure is that this Slow Cooker type is SUPER GOOD.
What to make with Kalua Pork?
Pulled Pork Sandwiches! (with the slaw from this recipe)
Cuban Rice Bowls (one of my faves! recipe coming soon)
Wraps (with your favorite sandwich fixings!)
Breakfast hash (chop up and cook potatoes, onions, and peppers in a skillet. Add Kalua Pork til heated through. Add a couple over easy eggs and dig in!)
Macaroni salad
This recipe for Kalua Pork usually makes about 2-3 lbs of cooked meat so I love to repurpose the leftovers into new meals!
Is Kalua Pork freezer friendly?
Sure is! Just make sure it's cooled and then add to a ziplock freezer bag. Press as much air out as you can and store in freezer for up to three months. Reheat by letting it thaw in the fridge and then heat in a skillet or in the oven until warm.
Ingredients for Slow Cooker Kalua Pork:
6-8 lb Pork Butt/Pork Shoulder Butt Blade Roast: (the weight will range.. I've never found a pork butt smaller than 6 pounds and I've never found one much larger than 8)
1-1/2 tablespoons of kosher salt: The traditional method uses Red Hawaiian sea salt, but back when my mom started making this recipe it wasn't something we could grab at the local grocery (still isn't honestly), but it was also super rare to order stuff like that and receive it in the mail (and this was only like 10-12 years ago and it was still rare haha). Feel free to use the Hawaiian sea salt (it's a 100% easier to acquire these days), but know that I usually use Kosher salt because it's what I have on hand. I might change my mind when I order the Red Sea Salt and make it with it again.
3 slices center cut bacon: The bacon is actually only used to line the bottom of the slow cooker. I think it helps to add a light, but sweet smokey flavor which mimics the traditional Hawaiian method a bit. I've seen other recipes use liquid smoke to mimic a mesquite taste, but my mom HATES liquid smoke so I think that's why she uses the bacon. I've never tried it with liquid smoke.
How to make Slow Cooker Kalua Pork: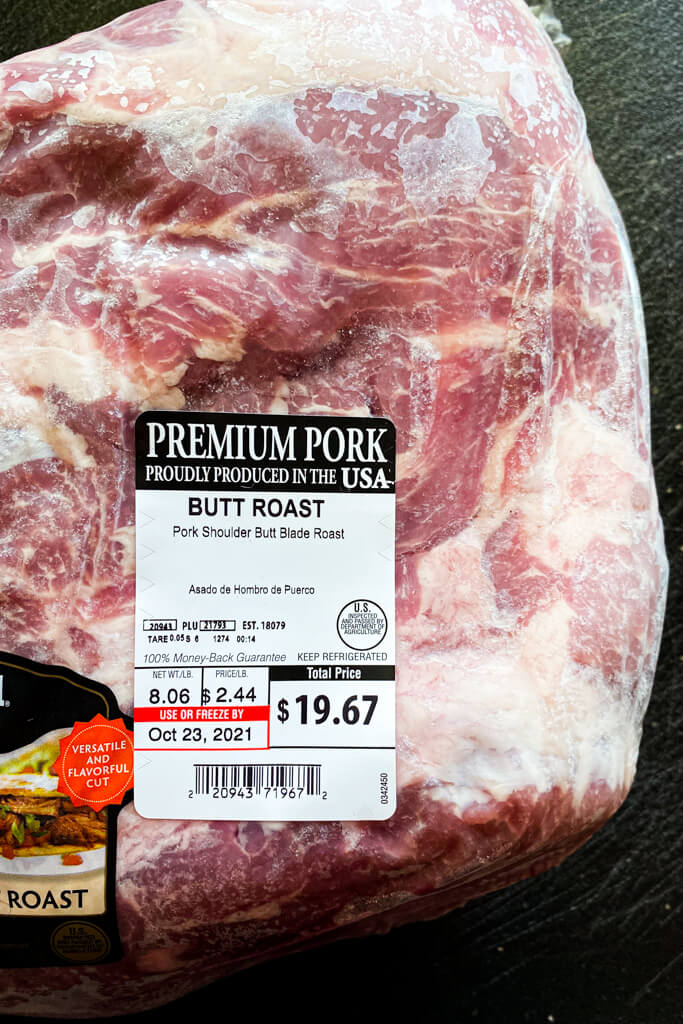 First off grab a Pork Butt Roast! I've never found one much less than about 6 lbs and not much more than 8lbs. I know that's a really big roast, but please know that it's freezer friendly and also that this 8 lb roast produced about 3 lbs of meat so it's not like I'm actually making 8 lbs of meat. There's a bone that is discarded as well as fat that will be discarded.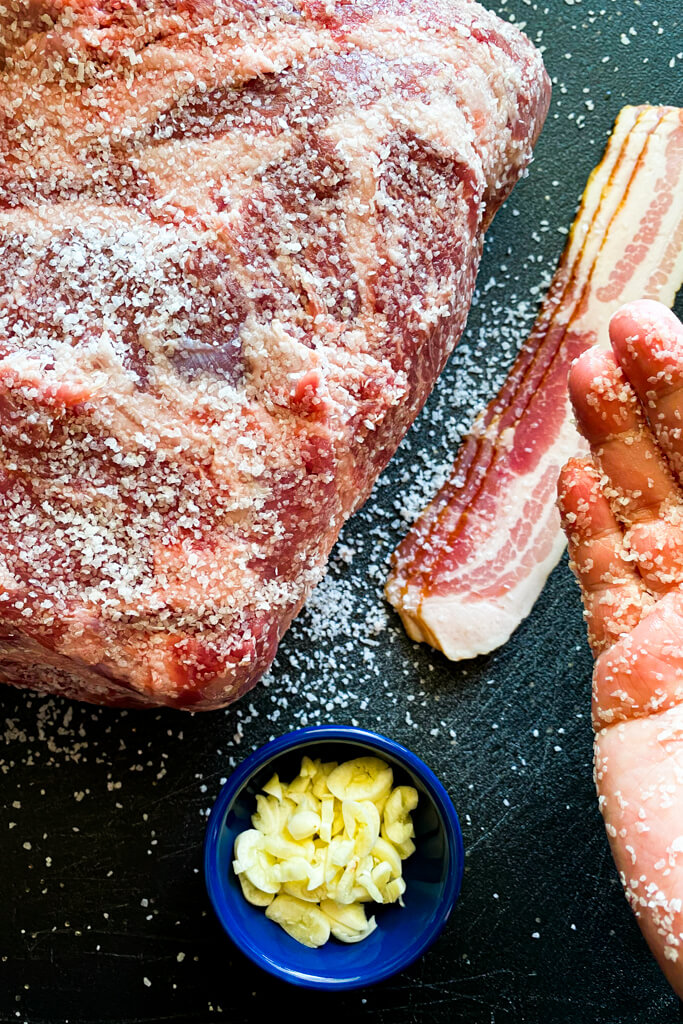 Now, unwrap the roast and rub the entire roast with kosher salt.
For an 8lb roast, I am using 1-1/2 tbsp of kosher salt. If you've got a roast around 6lbs I would use about 1 tbsp. If using fine salt you will need to reduce the amount by half. I don't recommend using table salt.
Using garlic? slice it quickly into thin pieces.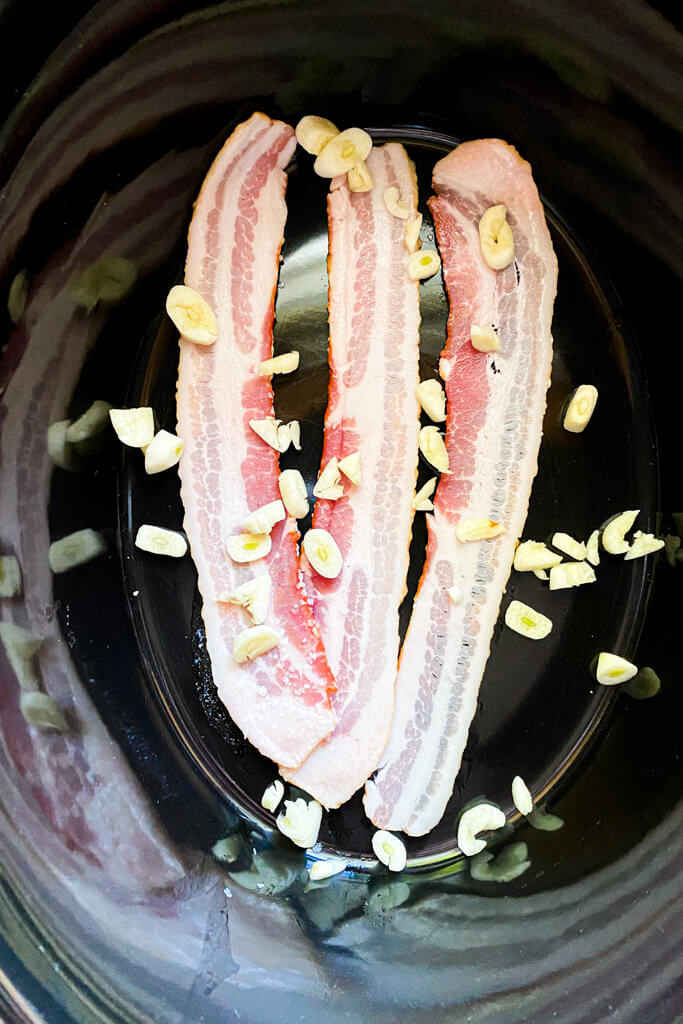 In a crockpot, lay the bacon on the bottom and throw half the garlic on top. Isn't this easy?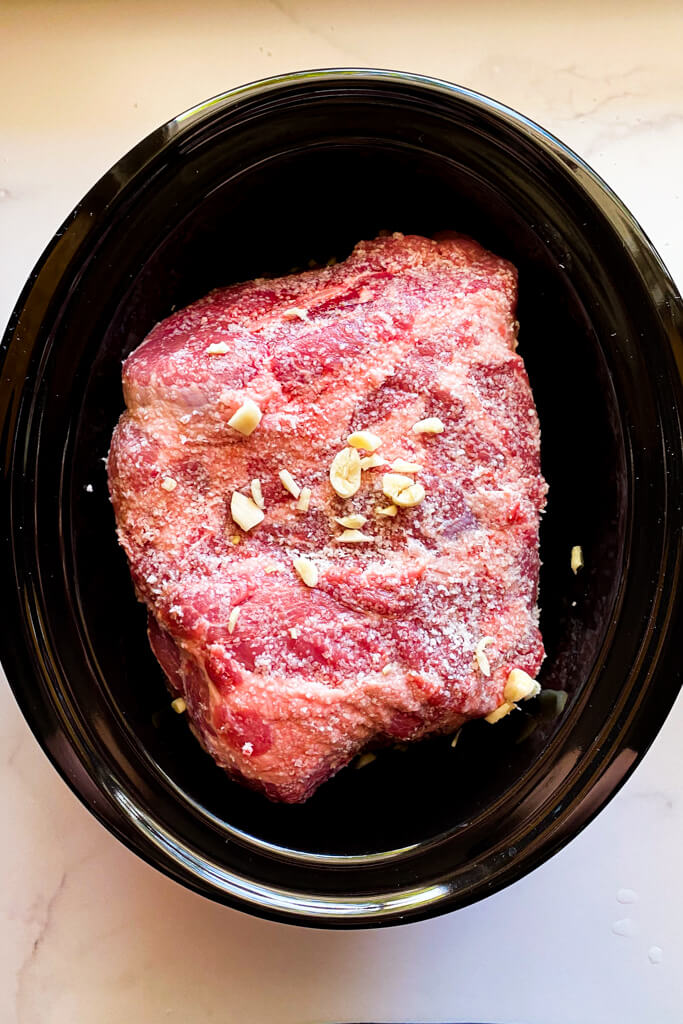 Place pork butt roast on and sprinkle with remaining garlic cloves. Add the cover and set on low for at least 20 hours. Yes really. Setting to high for half the time does not and will not produce the same results. I'm sorry. I tried. It wasn't as good. About half way through you'll question me, probably message (or email me), and want to turn it off. It'll probably even look really weird, but trust me. It's so good this way.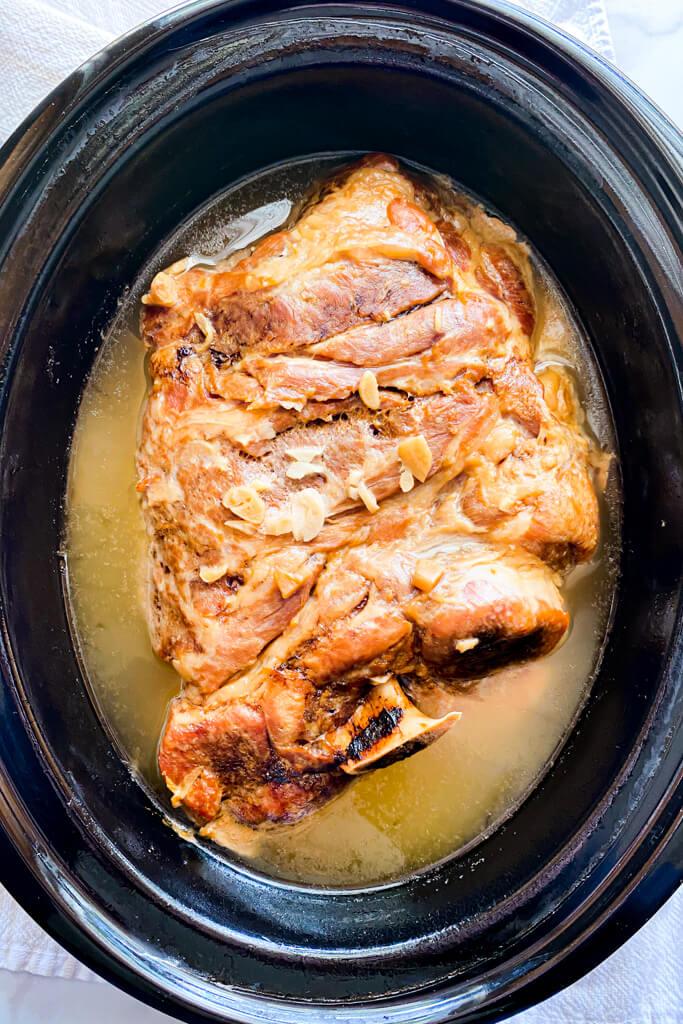 After 20-ish hours, you'll wind up with something like this and oh my goodness its glorious.
PS Don't add any broth or liquid! It creates its own broth while cooking. Look at all of it! The hardest part of this recipe is waiting for it.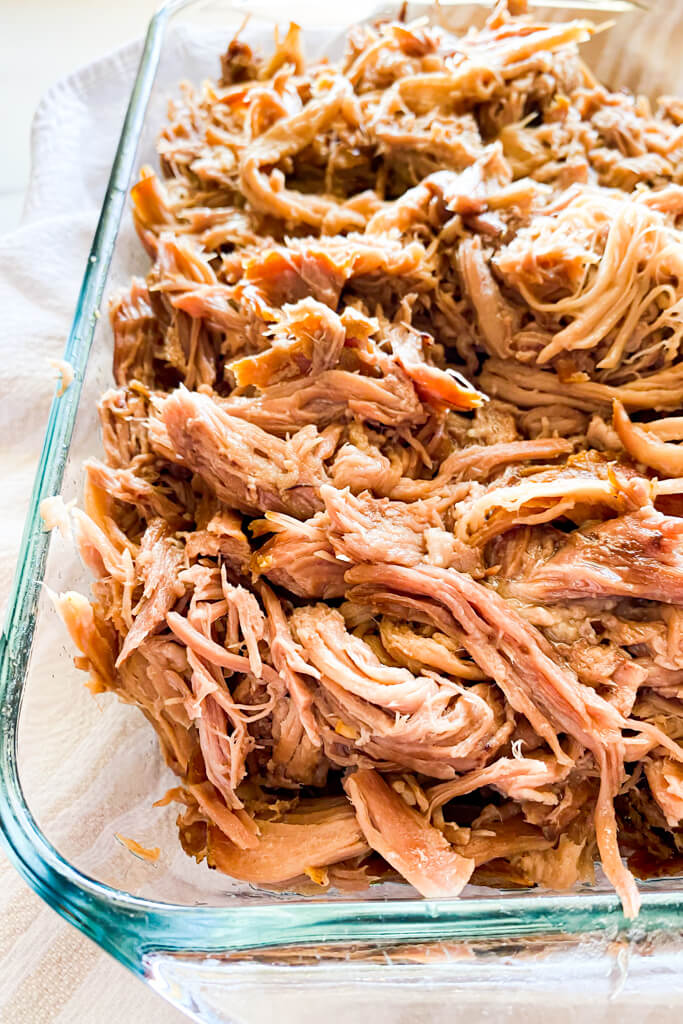 Best way to shred is to grab a really big plate or here I have a 9×13 baking dish and just take pieces out a little at a time and shred. I take longer to shred because I pick out the fatty pieces. There's not as much as you might think there is (there is a fat cap at the bottom that will basically fall off after cooking), but this isn't a super lean pork roast which is definitely why it's soooo good. Haha! While shredding drizzle with about 1/2 cup of the cooking liquid more if you think it needs it.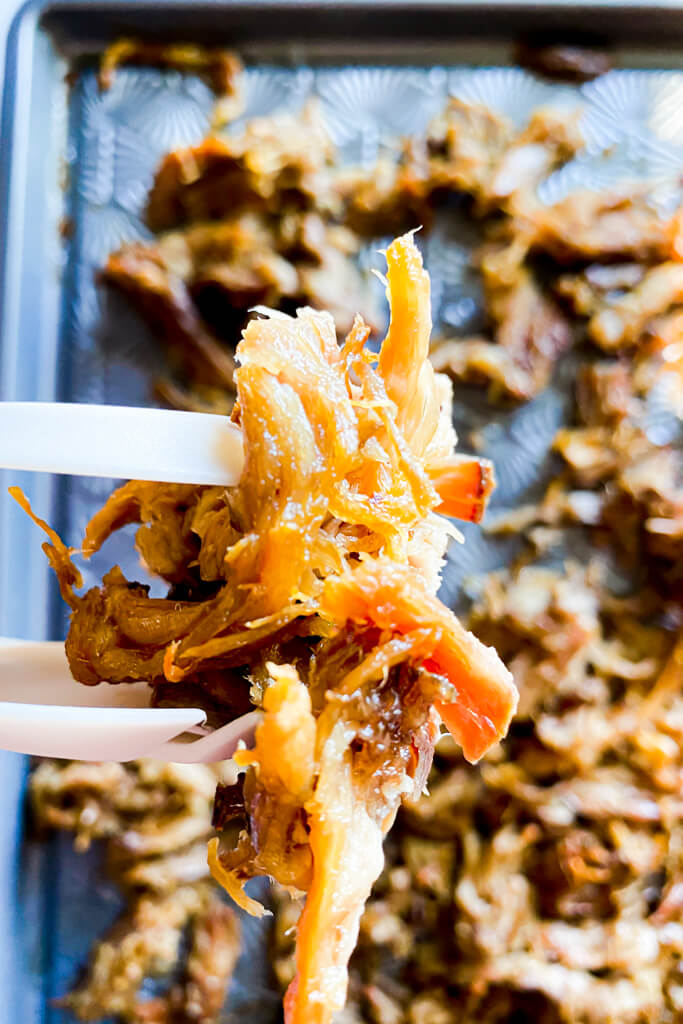 One last step that also isn't technically necessary, but I prefer it this way and is one of my own little tweaks to the original way my mom made it. I always put whatever amount I'm using immediately on a sheet pan and then I broil it on high until crispy (about 6-8 minutes). It's extra magical this way. Little pork crispy bits are one of the finer things in life and I'll stand by that.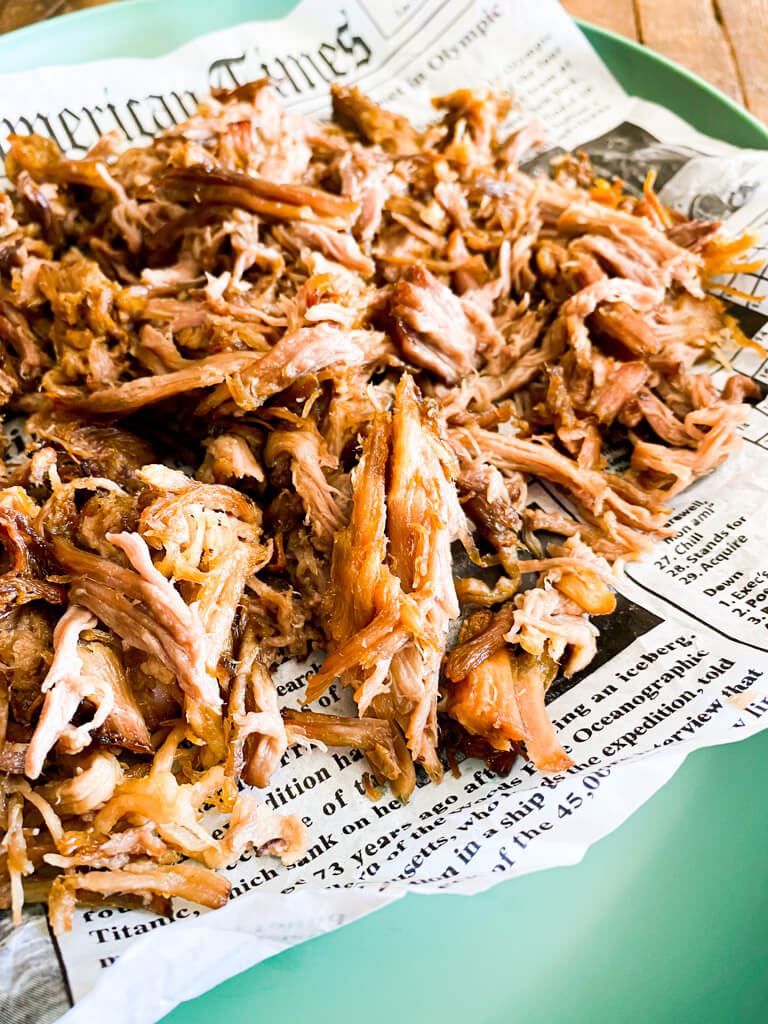 This is truly one of my favorite things to make for parties also! Just remember to plan for the time it takes to cook and then grab a bag of buns. Easy peasy and EVERYBODY loves it.
I hope you enjoy!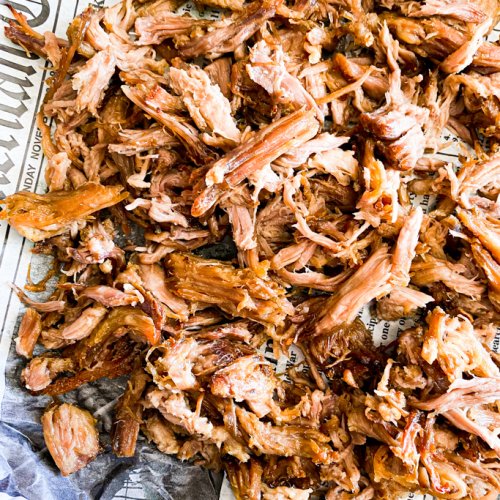 Print
Slow Cooker Kalua Pork
Hawaiian inspired pulled pork
Materials
6-8 lb

Pork Butt/Shoulder Roast

(weight will vary a bit)

1-1/2

tbsp

Kosher Salt

*see notes

3

slices

center cut bacon

8-10

cloves

garlic, sliced

optional but recommended
Instructions
Rub pork roast all over with kosher salt.

Lay bacon on the bottom of the slow cooker. Add the pork roast on top. Place cover on.

*add sliced garlic here too if using*

Cook on low for 20 hours. (yes really)

When its done cooking shred with two forks picking through and discarding fat.

For extra goodness: spread shredded pork onto a sheet pan and broil for about 8 minutes on high until there's lots of crispy bits. Add pork to buns for sandwiches, in tacos, baked potatoes, rice bowls, etc! Very versatile.
Notes
The servings will vary a bit depending on how big your pork butt is so the nutritional information is not exact, but is fairly accurate and this is how I count it personally.
2 ounces of meat is about 105 calories, 2.5g saturated fat, 7g fat, 100g sodium, 0g carbohydrates, 0g fiber, 0g sugar (0g added sugar), 10g protein
Weight Watchers Points (3 oz): 6 Points
Notes on salt* If using a pork butt that's closer to 6 lbs use only about 1 tbsp of kosher salt. If using a FINE salt such a table salt (even though I don't recommend it) use half the amount of salt.