Slow Cooker Tomato Soup with Grilled Cheese Croutons
This post may contain affiliate links (meaning I earn a small comission if you purchase an item through a link I provide) I only provide shoppable links to items I love and are helpful. As an Amazon Associate, I earn from qualifying purchases.
Slow Cooker Creamy Tomato Soup with Grilled Cheese Croutons. Does it even get more fall sounding than that? Here in Illinois we are getting a little autumn tease. It's been in the lower 60's with a cool breeze for the past few days now. I've opened up the house to allow the fresh cool air in. I've mentioned a few times now that my kitchen is switching to fall food. I'm glad Mother Nature decided to oblige and bring the cooler weather in for me. Now I just need the leaves to start changing and I'll be golden.
I could go on and on about how much I love this weather. Summer and I have never truly gotten along. It's mostly because of my hair. I have this crazy hair that just never cooperates with the humidity. I am not a fan of sweating. At all. I long for cooler weather where I can curl up on the couch with a blanket, hot coffee, and look out the window to see trees bursting with orange, gold, maroon, and yellow. I love that it's finally time for soups, stews, and yummy casseroles. I'm sure you all are just as excited as I am to spend some more time in the kitchen and not have to worry about how hot it makes the house when the oven is on.
The past few weeks I've been dreaming of tomato soup. I love a good creamy tomato soup. While digging through old recipes, I found this one. The basis of this recipe is from a Taste Of Home Cooking Class I took a few years back. That was so much fun! I need to look into if they still do these, because I learned so much in just those few short hours. Of course, I added some different things here and there over the years to make it as flavorful as can be. And I switched to almond milk instead of heavy cream that I used to use to make it more WeightWatchers and calorie friendly. If you want to splurge on your calories or don't give a you know what about calories, add the heavy whipping cream instead! Both ways are beautifully delicious.
In this post, I will also show you how to make grilled cheese croutons, it's basically just glorified grilled cheese cut into tiny squares. However, there's a plot twist. Read along and you'll see.
When I first started cooking, the word "roux" frightened me. It's just a word. Don't let it scare you. I promise it's a lot easier than it sounds. Just follow along with the directions and it'll be just perfect for you to enjoy.
Now let's get cookin'!
Grab your crockpot and add vegetable broth, crushed tomatoes, onions, garlic, and carrots.
Time for some spice: add in parsley, oregano, basil, salt, and pepper. Put the cover on the pot, set to low, and go about your day. Come back in about 7-8 hours (until the veggies are nice and soft)
Flash forward: It's been 7-8 hours. ha!
Now let's get to this roux. Try to place your crock pot as close as you can to your stove top. It'll make the process easier while pouring some of the tomato mix into the pot.
In a pot over low heat add your butter and olive oil.
Now, take your flour and slowly pour in while whisking. Whisk constantly for about five minutes, until its a glue-like yellowish brown paste.
Slowly pour in one cup of the tomato mixture from the crockpot while whisking. Whisk together until thouroughly mixed.
Now slowly pour in 4 more cups of the tomato mixture while whisking together, and whisk until smooth, then add the thickened soup back into the slow cooker with the remaining tomato mixture.
Now add in the parmesan cheese. I LOVE PARMESAN CHEESE!
and the almond milk! Mix all together and continue to cook on low for another half hour.
Now during this half hour, while you're waiting for this soup to be done…. You can either go relax on the couch OR make some grilled cheese croutons!
Here's the plot twist: Butter & Light Butter can be higher in points and calories. I use the diner trick and I use Light Mayo instead of butter on grilled cheese for the "buttered" side of the bread. Diners use real mayo, but light mayo tastes just as good. Feel free to use butter or whatever you would normally use to make a grilled cheese.
Okay so grab some day old bread, I personally LOVE sourdough bread. You can use whatever you want. Like I said, this is a glorified grilled cheese sandwich cut into tiny squares, but they are PERFECT to top off your soup with. When you make this your friends and family with think you're genius and you spent SO much time on grilled cheese croutons! I know Eric thought I was a dang prodigy when I put the bowls of soup on the table for dinner the other night.
Back to the recipe, spread the mayo on the side of the bread that you'll use to grill.
In a lightly sprayed skillet lay down the mayo side of the bread and top with cheddar.
Top with the other slice of bread and grill for 2-4 minutes until golden brown.
Flip and grill for another 2-4 minutes until golden brown.
Now set out and let it cool for about 10 minutes.
Now cut the sandwich into strips
and then into squares
Now grab some fresh basil, chop it up. This is completely optional, but I LOVE the taste of fresh basil in this soup. It really just completes the meal, and it makes it look pretty.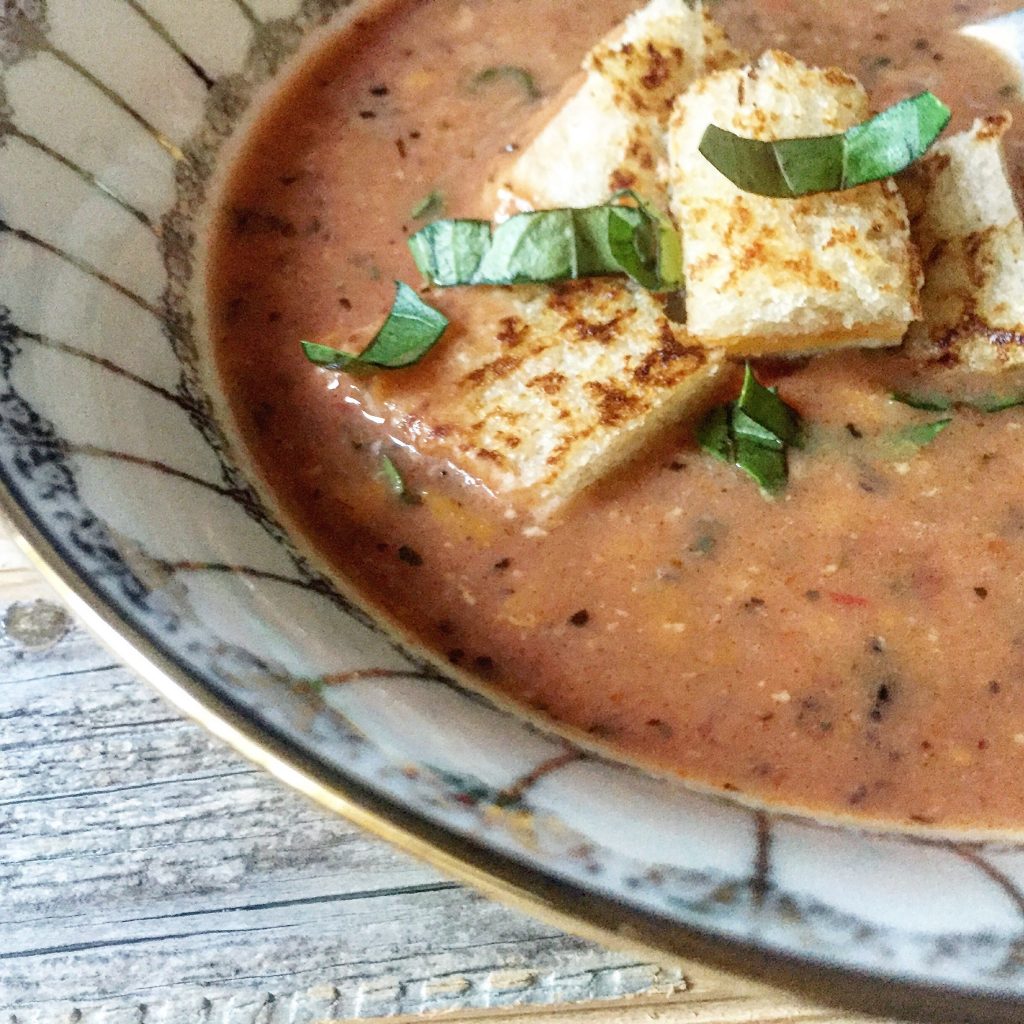 Top your soup with your grilled cheese croutons and some basil, and you're good to go! Serve Immediately.
If you're feeling the fall vibes as much as I am, make this soup as soon as possible! I'm sure you'll enjoy it very much and the grilled cheese croutons are the PERFECT addition.
This also reheats perfectly and makes a big old batch so you can take it for lunches all week!
Enjoy!
-Star
Print
Slow Cooker Creamy Herb Tomato Soup with Grilled Cheese Croutons
A heavenly herbed creamy soup topped with crunchy grilled cheese croutons.
Materials
Creamy Herb Tomato Soup
1 28

oz

can crushed tomatoes

1

cup

carrots

, chopped finely

3

cloves

garlic

, minced

1

large onion

, chopped finely

4

cups

vegetable broth

1

tablespoon

dried basil

1

tablespoon

dried parsley

1

tablespoon

dried oregano

1/2

tablespoon

ground pepper

1

tsp

salt

4

tablespoons

olive oil

2

tablespoons

light butter

1/2

cup

flour

2

cups

almond milk

1/2

cup

grated parmesan cheese

Salt & Pepper

, to taste

fresh basil

, for garnish, optional
Grilled Cheese Croutons
2

(about 3 oz) slices day old bread, I use sourdough

1

oz

reduced fat shredded sharp cheddar

1

tablespoon

light mayo
Instructions
For The Creamy Tomato Soup

In a crockpot add carrots, onions, garlic, crushed tomatoes, vegetable broth, and all the spices. Cook on low for 7-8 hours.

About 30-40 minutes before you plan to serve the soup. Grab a pot to prepare the roux.

On low heat, heat the oil and butter until the butter is melted. Add the flour slowly then constantly whisk for 5-7 minutes until the roux is a glue-like brownish yellowish paste.

Slowly whisk in 1 cup of hot tomato mixture into the roux until combined.

Add 4 more cups into this mixture and whisk until smooth.

Add thick soup mixture back into the crock pot along with the almond milk and parmesan cheese.

Continue to cook on low for a half hour.
For the grilled cheese croutons
Spread light mayo on one side of each slice of bread. Place one slice, mayo side down on a lightly sprayed skillet, sprinkle cheddar cheese on to it, and top with the other slice of bread. grill for about 2-4 minutes until one side is golden brown, flip and repeat. Place the grilled cheese on a plate or cutting board. Let sit for about 10 minutes to thoroughly cool. Cut into four strips vertically and then 4 strips horizontally. Place on top of Tomato soup and garnish with fresh basil. Enjoy!
Notes
Serving Size: 1 1/2 cups of soup- 7 Smart Points. 5 Points Plus. 190 calories, 14g fat, 11g carb, 3g fiber, sugars 0g, protein 6g.
Grilled Cheese Croutons 1/4 of the croutons- 2 Smart Points. 2 Points Plus. 80 Calories. 3g fat, 10g carbs, 0.5g fiber, 0.5g sugars, 3.5g protein
Adapted from Taste Of Home