Skinny Southwest Ranch Dip
This post may contain affiliate links (meaning I earn a small comission if you purchase an item through a link I provide) I only provide shoppable links to items I love and are helpful. As an Amazon Associate, I earn from qualifying purchases.
This Skinny Southwest Ranch Dip is a recipe you'll want to have close at hand for your next gathering! An easy and tasty dip with a healthy spin and full of protein, this creamy dip is made up with greek yogurt and light cream cheese, and loaded with beans, corn, seasoning and more! Make extra, because this will go fast!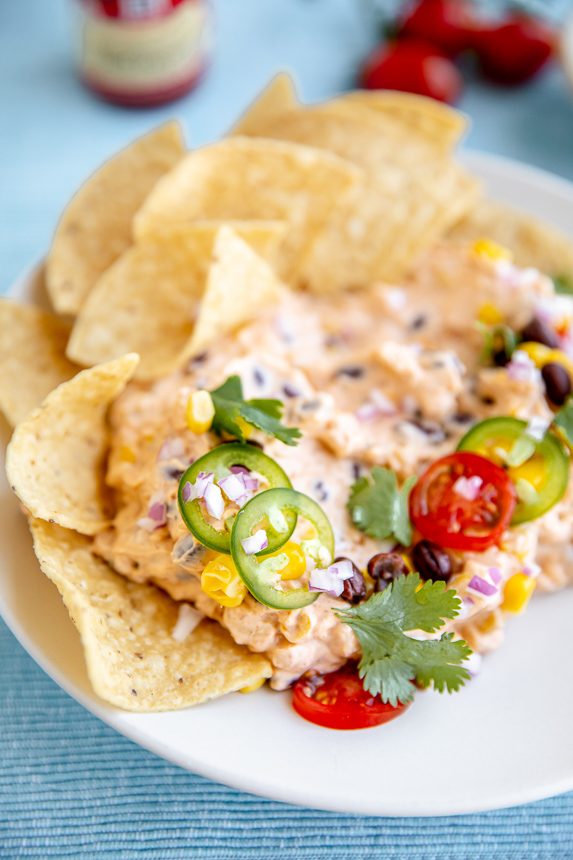 Skinny Southwest Ranch Dip is totally the recipe for: "oops I forgot to make something what can I make that takes seconds to prepare and bring to the party" type of recipe. Seriously! It's also super delicious and on the healthier side of life because instead of the tradition dip that's full of mayo and/or sour cream I add a hefty amount of non fat greek yogurt which is full of protein and helps keep you feeling satisfied.
What's that I hear? You're not a big fan of greek yogurt and your about to run far, far away from this recipe? PAUSE! I don't like greek yogurt. I'm not one of those people who can pretend greek yogurt is sour cream. I promise, but I do love that its a healthy and protein rich alternative in certain recipes. I only use it when it fits. It fits here and you barely even know that it's in this recipe! In fact, I can't taste it one bit!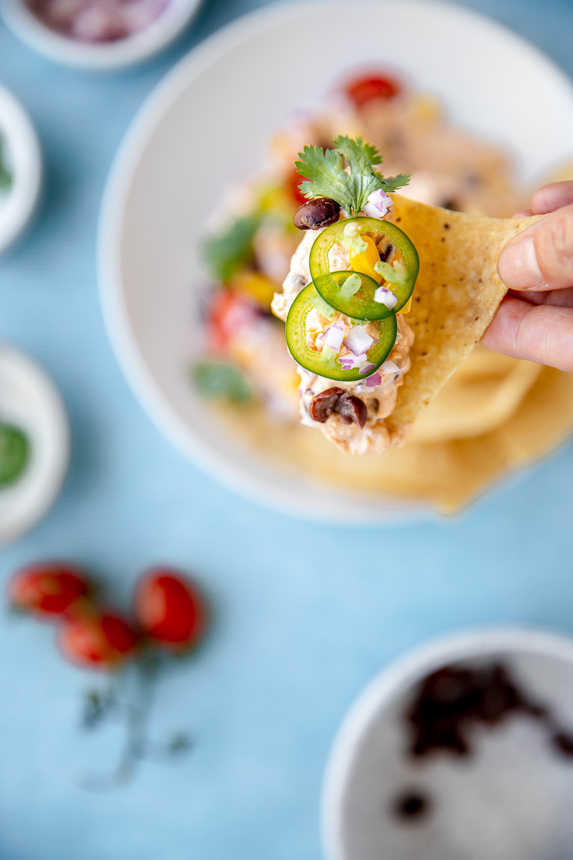 I'm a busy mama and I know y'all are busy too, especially during the summer months. I tried to make this Skinny Southwest Ranch Dip a "throw some stuff in a bowl and voila!" type of recipe. I'm pretty sure that just about anyone could throw this one together for a party, cook out, pool day!!, potluck, girl's night, a Sunday Football game, etc. It's really easy, and it's really good! Everyone will love it.
HOW TO MAKE SKINNY SOUTHWEST DIP
Let's start with a large bowl. You're gonna throw in a coupl'a cups of non-fat greek yogurt, a package of light cream cheese, a packet of the buttermilk ranch dressing and seasoning mix, a packet of your favorite taco seasoning, and 1/8-1/4 tsp cayenne pepper, a bit more or less depending on the level of spice you prefer.
Mix that all together with a hand mixer until it's combined very well.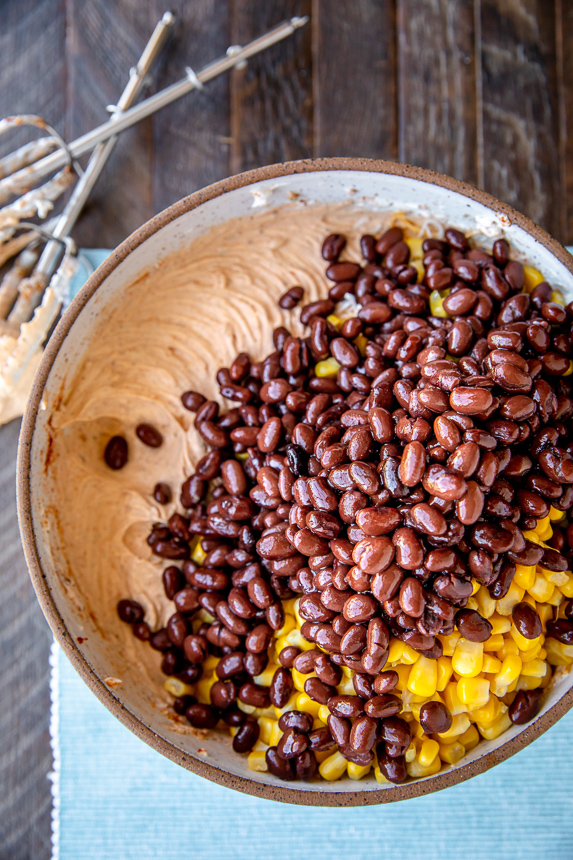 After it's mixed together fold in some shredded reduced fat Mexican cheese, black beans, and sweet corn.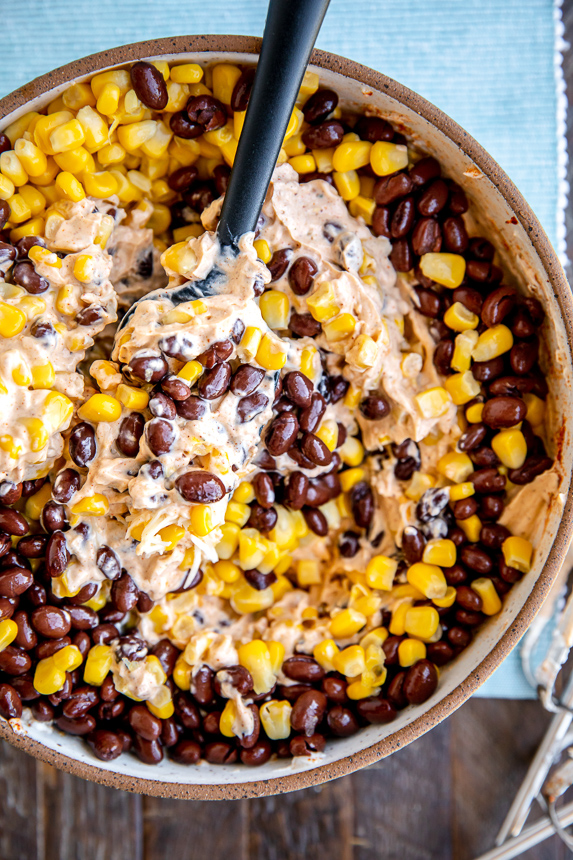 I like to think of this as the lazy way to make that 7 layer dip. It's got a lot of the same awesome flavors going on, but no fuss.
And, we're done! Ta-Da!! It tastes super delicious right after mixing it up, but if you've got the extra time… try and let it sit in the fridge covered for at least 30 minutes, to let those flavors mingle a bit and do their thing it just makes it better. This would also do well if you want to make it the night before.
The dip itself isn't much to look at. But honestly, do you know many dips that are? I decided to "pretty it up" by adding some extra goodies like fresh tomatoes, cilantro, and jalapeños. Listen though, not something you need to do. It's perfect in a big bowl with some chips next to it. We also love to slice baby bell peppers and scoop it up that way too!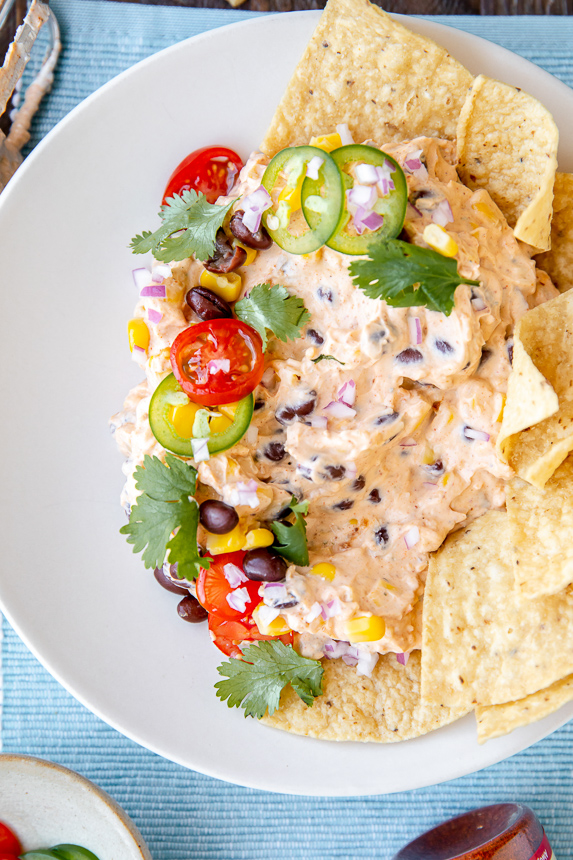 Easy peasy, absolutely delicious, healthy, and pretty! Do yourself a solid and get in the kitchen and make this stuff as soon as possible. Pair it with some chips and/or vegetables and you're good to go!
Skinny Southwest Ranch Dip was originally posted on December 17, 2017, but updated photos and post for reader experience on June 16, 2022.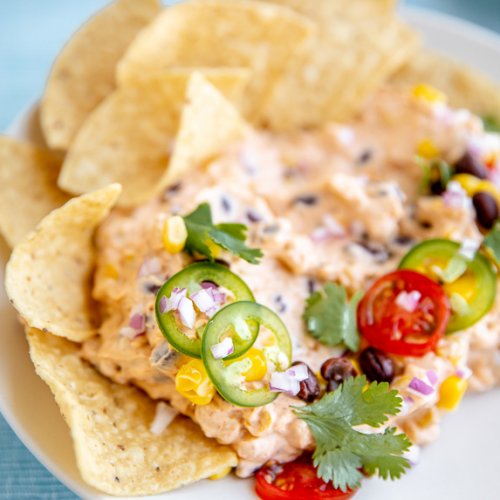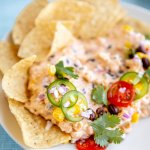 Print
Skinny Southwest Dip
a delicious dip filled with taco and ranch seasoning, cream cheese, yogurt, corn, and black beans. A great addition to any party, potluck, picnic, or cook!
Materials
2

cups

nonfat greek yogurt

i use fage 0%

8

ounces

light cream cheese

1

– 1 oz packet

low sodium taco seasoning

1

0.4 oz packet

buttermilk ranch dressing & seasoning mix

I the use hidden valley restaurant style

1½

cups

black beans

drained and rinsed very well

1½

cups

whole kernel corn

canned (drain well) or frozen (if using frozen just let it thaw in the fridge or if you need to- cook then let it cool before adding)

3/4

cup

reduced fat shredded Mexican cheese

1/8

tsp

cayenne pepper

use more or less depending on your level of spice preference
Instructions
In a large bowl add greek yogurt, cream cheese, taco seasoning, ranch seasoning, and cayenne pepper. Mix together with a hand mixer until combined well.

Fold corn, black beans, and shredded cheese into the mixture until combined well.

For best taste, cover and refrigerate for at least 30 minutes before serving. Serve with chips and/or vegetables.

(Optional) Garnish with freshly chopped tomatoes, cilantro, onions, jalapeños, etc. It's not needed, but it makes it a bit more presentable for a party if you care about that.
Notes
Serving: 1/4 cup 112 calories 12g protein, 2.5g fat, 8g carbohydrates, 1.5g saturated fat, 1g fiber, 217g sodium, 2g sugar (0g added sugar, 0g sugar alcohol) Weight Watchers Points: 2 points