Easy and Healthy Chicken Salad
This post may contain affiliate links (meaning I earn a small comission if you purchase an item through a link I provide) I only provide shoppable links to items I love and are helpful. As an Amazon Associate, I earn from qualifying purchases.
This Easy and Healthy Chicken Salad is lighter on calories, but still has all the protein, taste, and texture of traditional chicken salads. The perfect light and healthy lunch on a hot summer day!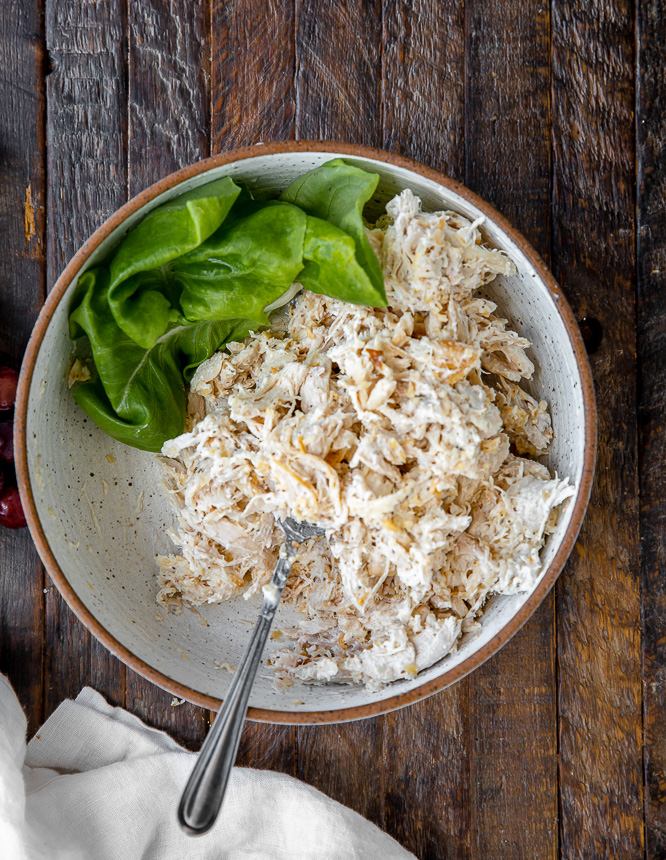 I love this recipe. It's one of the best ways to make Easy Chicken Salad!
I grew up on it so it's something I crave constantly. I can't remember a time, especially in the warmer months, that this wasn't in a container in the fridge. It's simple, only 4 ingredients, and comes together in minutes! If you're in the mood for something a little different, try out my chicken salad with grapes!
This is also ideal for meal prep throughout the week cause it's so easy to quickly serve at lunch or bring along on a picnic, to the beach, or on a boat ride! Think extra easy: prepare a container of this + add pack of crackers/carrots. You're set!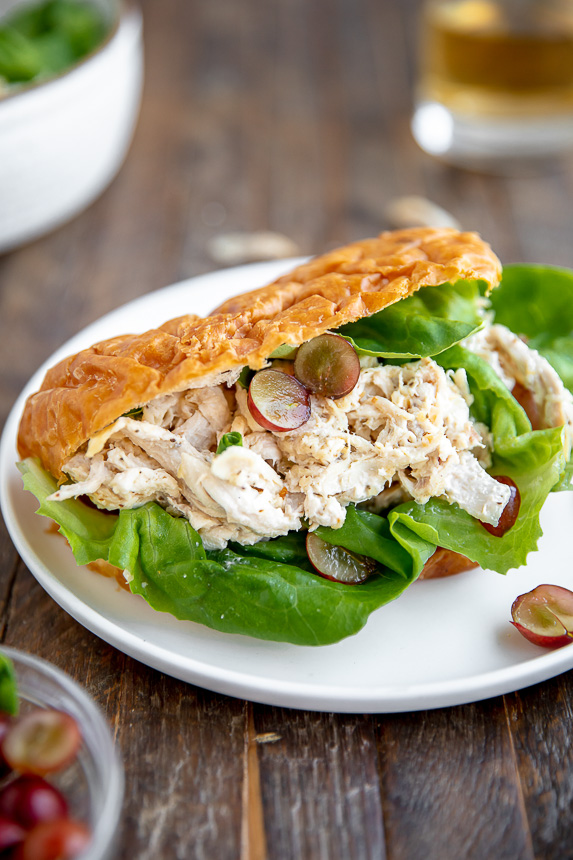 This healthy chicken salad recipe is so easy. It's ideal to make for meal prep because it only takes about 3 minutes to prepare and requires a handful of ingredients. Keep in mind that it does require some extra fridge time though so keep in mind you will need that total hands off time to make it the best.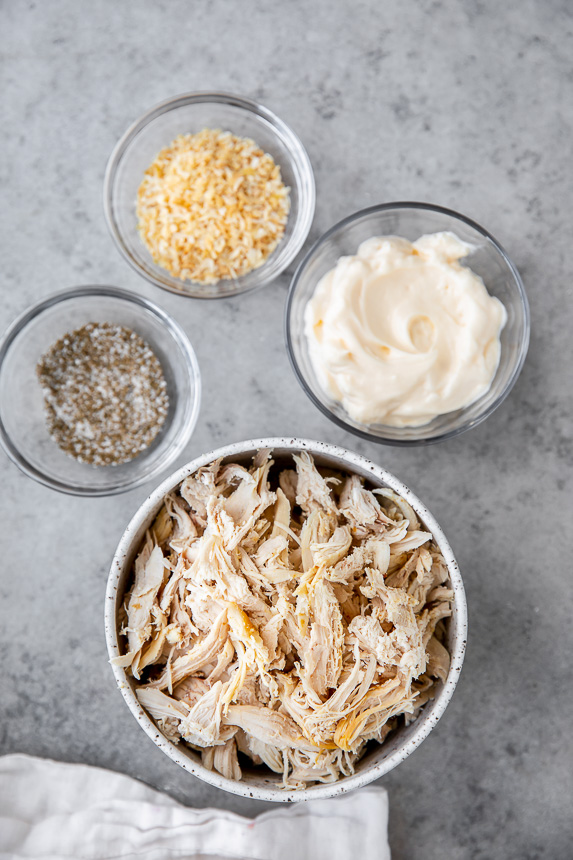 KEY INGREDIENTS
What makes this Easy and Healthy Chicken Salad so special? Gather up these exact ingredients and you'll see exactly why! This is my mama's recipe and like I said before, it's crave worthy!
Finely Shredded Cooked Chicken – you can use left over chicken, rotisserie chicken breast, canned chicken breast (surprisingly it tastes great!). I love to use this Instant Pot recipe or Slow Cooker Shredded chicken recipe .
Mayonnaise- I prefer using light Dukes or Hellman's to keep it lower in calories and low fat.
Dried Minced Onion– This is a must have ingredient if you want to make it the best way. Dried minced onions can be found in the spice aisle with all other spices. Sometimes it will say chopped instead of minced.
Celery Salt– Another non-negotiable item to make this particular recipe. It might be a little unfamiliar, but its found with all other spices at any grocery store.
Pepper to taste- I normally just add a few grinds and it's enough.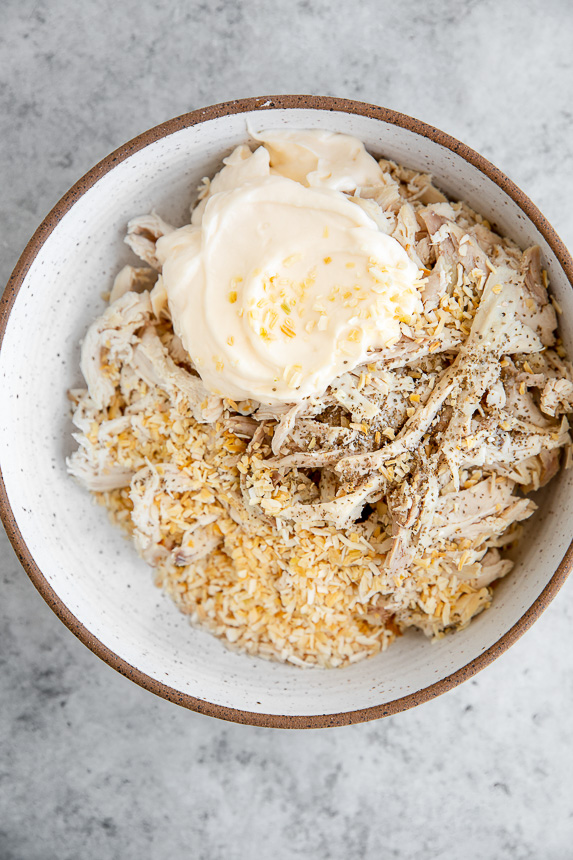 LET'S MAKE CHICKEN SALAD:
Grab a medium bowl and add the 3 cups chicken, 1 teaspoon celery salt, 1/2 cup mayo, three tablespoons minced onion, and a pinch of pepper.
Stir together really, really well. If you want the best results ever- get in there with your (clean them real good please!) hands. This ensures the chicken and all the other ingredients are combined thoroughly and it also breaks down any larger chicken pieces.
Cover and refrigerate for at least a half hour so that the dried minced onion can rehydrate a bit and the other flavors will mingle and get to know eachother.
CHICKEN SALAD VARIATIONS
I love this recipe just the way it is. No add ins necessary! But, there are weeks that we love to add easy ingredients into it and change it up for lunches. It makes meal prep a lot less boring!
Grapes – fresh, juicy, sweet!
crumbled bacon- bacon makes everything better, y'all!
nuts- I love toasted almonds or pecans for a good crunch.
cranberries- easy to add sweetness!
fresh green onion- if you really want to go for an onion forward taste!
What can you eat Chicken salad with?
I enjoy it in a big ol' good sandwich or piled into lettuce wraps, but I also love eating what I like to call, easy chicken salad snack plates!
I place a nice scoop of chicken salad on a plate and pile on lots of veggies (celery, carrots, cucumber), grapes, apples, different types of crackers, and maybe a slice of cheese for for good measure. It's the ultimate flex on a satisfying and healthy lunch!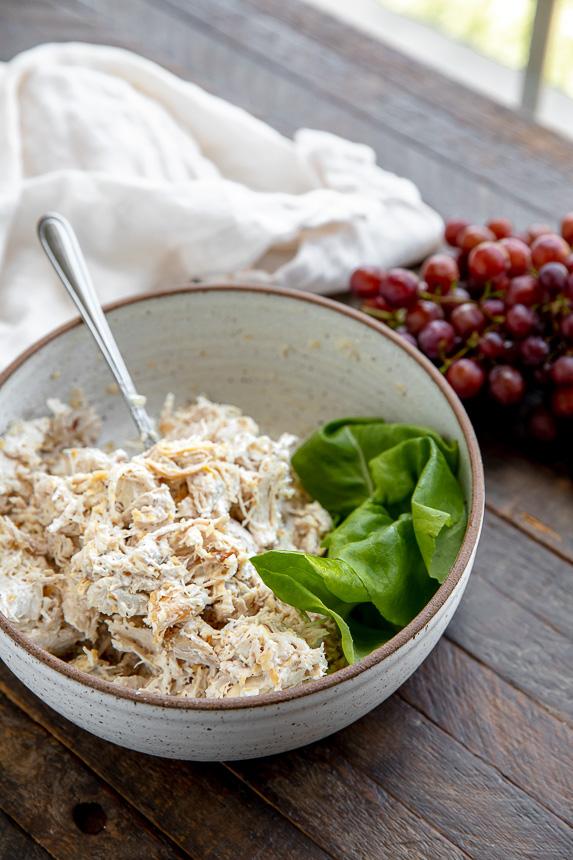 FAQS !?
Can you make Chicken Salad the day before?
Absolutely! In fact, I recommend it. This recipe requires a little fridge time for ultimate taste so having it sit overnight only improves the flavor.
How long can chicken salad be kept in the refrigerator?
3-5 days in a tightly sealed container in the fridge thats kept at or below 40 degrees.
This recipe was originally posted on 5/09/2016, but I updated with new photos and extra tips for the reader on 06/29/2022.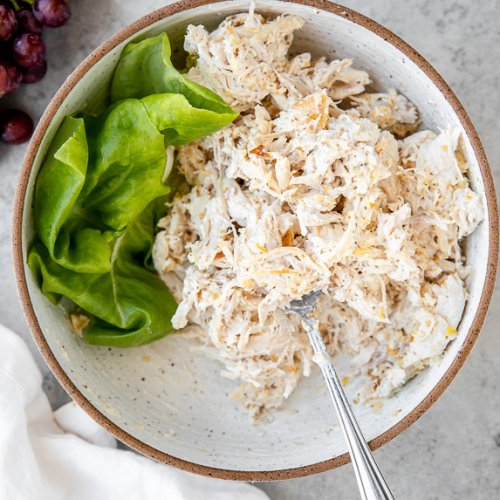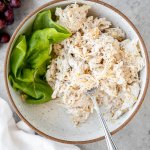 Print
Skinny Chicken salad
simple, easy, and healthy chicken salad recipe with mayo and seasonings!
Materials
3

cups

FINELY shredded chicken

1/2

cup

Light Mayonnaise

preferably dukes or hellmans

3

tbsp

dried minced/chopped onion

1

tsp

celery salt

pinch of pepper
Instructions
In a large bowl, place finely shredded chicken, mayo, celery salt, pepper, and minced onion.

Using clean hands, mix together very thoroughly for best results, but you can also use a fork and stir it extremely well.

Cover and put in the refrigerator for at least 20 minutes to let all of the flavors mingle and the onions soften.

Serve in a salad, lettuce wrap, pita, or sandwich. We also love serving with lots of veggies, fruit, and crackers for a big snack lunch plate.
Notes
Serving size: 1/2 cup Weight Watchers Points: 2 165 Calories 8g fat, 1g saturated fat, 1g carbohydrates, 385mg sodium, 0g fiber, 0g sugar, 0g added sugar, 0g sugar alcohol, 20g protein