This post may contain affiliate links (meaning I earn a small comission if you purchase an item through a link I provide) I only provide shoppable links to items I love and are helpful. As an Amazon Associate, I earn from qualifying purchases.
Hey Friends! Are you ready for the easiest and dreamiest chicken tender recipe ever? Today, I'm going to share this recipe for Skillet Pickle Chicken with ya! Technically, it should probably be called 'Pickle-Brined Crispy Chicken Tenders' or something along those lines so that you're not all like, "What in the heck is Skillet Pickle Chicken?!" Eric thought I was nuts when I told him at first I was making Pickle Chicken. I just like the name! It doesn't taste all that strongly of pickles… unless, that is, you leave it in the brine for a VERY long time. I did this, and It was honestly some of the best dang stuff I've ever eaten! But his opinion was that it tasted too pickle-y when I did that, so I found a happy medium on how much pickle juice to use, and for how long, yada yada. I am loving this Pickle Chicken and I think you will too!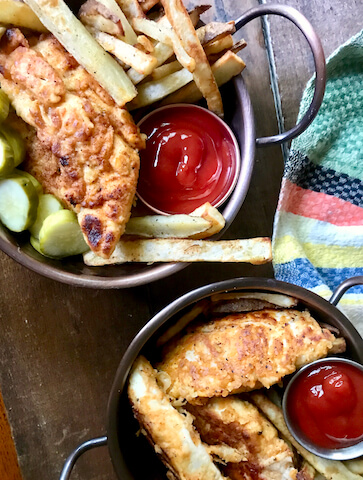 Since I thought up this recipe, we've been eating this a lot… it's like I'm living my best life as a toddler. Pepper and I are in heaven! It turns out there are only so many times a man can take eating chicken tenders and fries, so Eric's a little over it. but this might just be my favorite meal ever! The only real downside to this recipe is that the brining process is of the utmost importance. And to do it right, it's going to take some time, it really won't work otherwise. So if you and your family want to enjoy these amazingly tender, delightfully flavorful, lightly breaded chicken tenders, I Promise it's worth your time.
Let's chat for a minute though! How's it going? What month is it? June, you say? How in the world?!? For us livin here in the midwest, this spring was weird and very Wintery… and then all of a sudden it was like someone switched on a big light, and the bright sunny heat of Summer dropped right on top of us! I guess it beats the prolonged, gray, muddy springtime transition we endure most years, but it was kind of a shock.
Apparently, between this seasonal whiplash effect and my business trip out west for the food blogger's conference, I completely lost my sense of time. Because I haven't gotten a recipe up for weeks now! Not making excuses. I've just been loving my family, and cooking from the heart, you know? That's my favorite kind'a cooking, where you're not measuring and writing down all the ingredients. The downside to all that noise is that I gotta go back and redo everything and try to get it exactly like it was before, so I can share with y'all on this lil ol' blog. But I'm gonna go ahead and wrap up the small talk because I know all y'all are here for this lil thing called Pickle Chicken! You're gonna love it, and want to make it every single day for the rest of your life. (and if you have a 2-4 year old, I'm going to say this will be their new favorite thing. Unless they're being extra toddler-ey… then they may decide to hate it. Because, toddlers, right?)
Let's get in the kitchen!
Let's start with some raw chicken. (I know, everyone's very favorite pictures, right?) I usually use tenders, but I've also cut breasts into tender-shaped strips, and it works out well. It's up to you. Yes, there is a tough, annoying strip of tendon tissue on tenders… I usually trim the upper part of the tendon out with a sharp knife or scissors real quick. That tends to be the most annoying part of the tender tendon. No pun intendered. Ha ha! I'm cracking myself up here!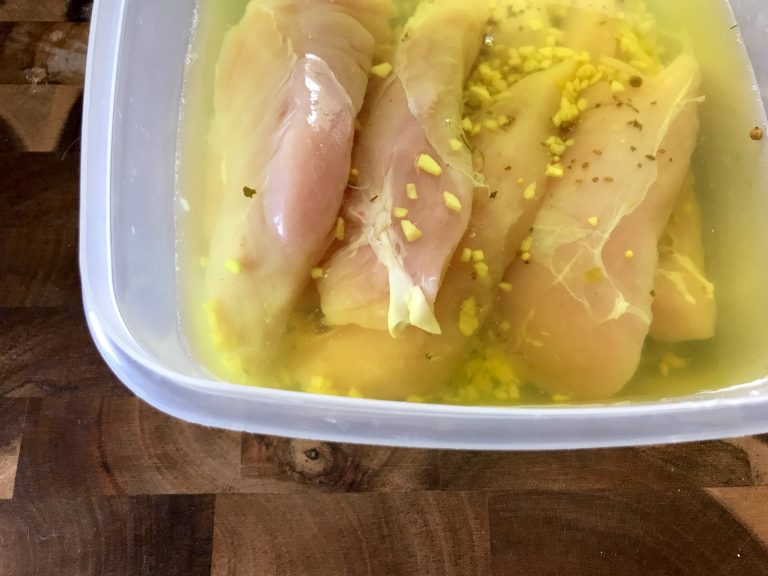 If you're still reading after that terrible joke I just made: I LOVE YA.
Now back to this chicken! It's really simple. Ya see… you simply put it in a deep enough Tupperware, pour about 1 and 1/4 cups of pickle juice and about 3/4 cup of water over the chicken until it's completely covered. Then cover with a tight fitting lid, and pop it in the fridge for about 8-10 hours. Yep, that's all she wrote folks!
Let's make it extra delicious though, okay?
When your chicken is done brining, grab a small bowl and add 1/4 cup flour, 1/2 tsp paprika, 1/2 tsp kosher salt, 1/4 tsp oregano, 1 tsp garlic powder, and 1/2 tsp onion powder.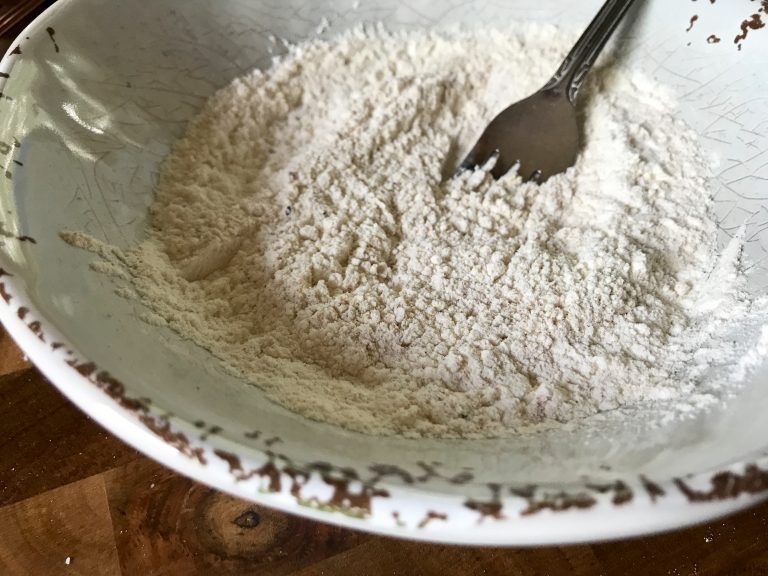 Stir it all together until it's combined well.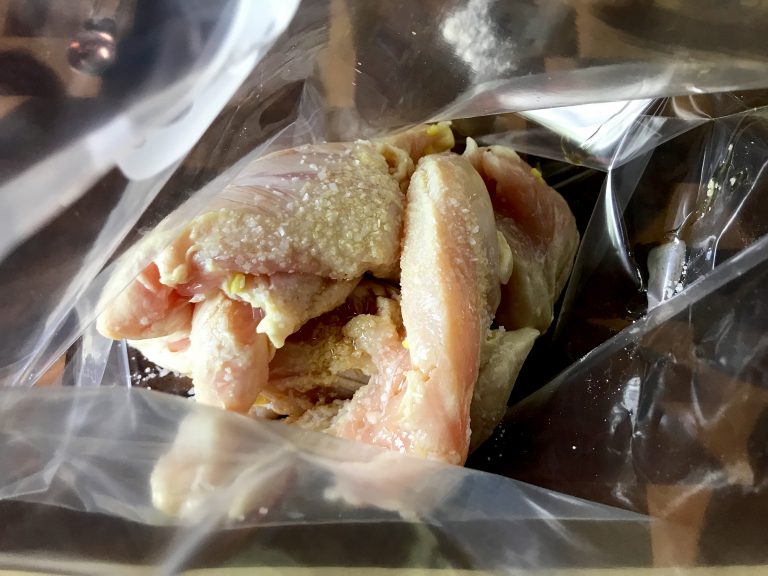 Important: After removing chicken from the brine, dab it dry with a paper towel. This will help the breading stick to the chicken better.
It's time to toss the chicken into a large plastic bag with 1 teaspoon each of Olive Oil and Kosher Salt, and rub the oil and salt around enough to coat the chicken well.
Add the flour mixture to the chicken.
Then, Shake it! Shake it! Sh-sh-shake it!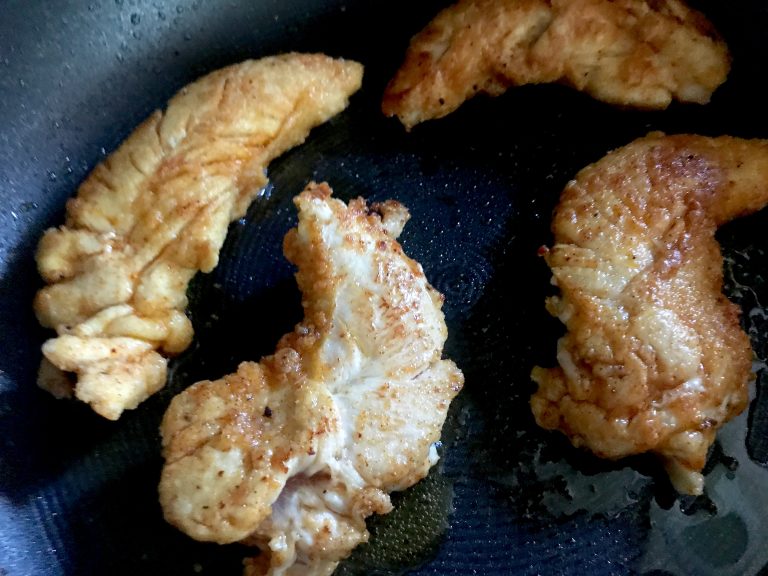 Last but not least, warm a large skillet over medium heat then and add 2.5 tsp of vegetable oil. Swirl it around the skillet, then add the coated chicken to the pan and let the chicken cook and crisp up on each side for about 4 minutes, or until the internal temp reaches 160 degrees. Be sure not to crowd your pan! You'll need to do this in two batches… when the first batch is done, just remove those steaming-hot tenders from the skillet and set them aside, add another 2.5 tsp of vegetable oil, and repeat!
Isn't that just the prettiest plate of chicken you ever saw?
I swear I can smell these pictures!
Be sure to let the chicken sit on a plate and "rest" for 5-10 minutes. Letting the chicken rest just helps keep it super tender and juicy. Let'm rest before digging in. It's non negotiable.
While these tenders were takin' their lil siesta, I finished up some really, really yummy french fries in our Air Fryer! I'll be sharing the recipe for those some time soon, so stay tuned for that.
Here's some photos to make ya drool a lil:
Chicken n' pickles go together like peanut butter n' jelly, I'm tellin' ya!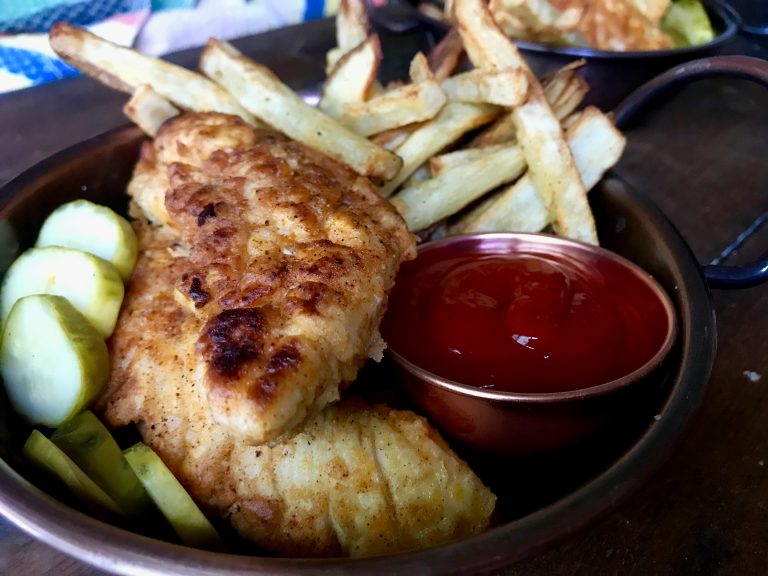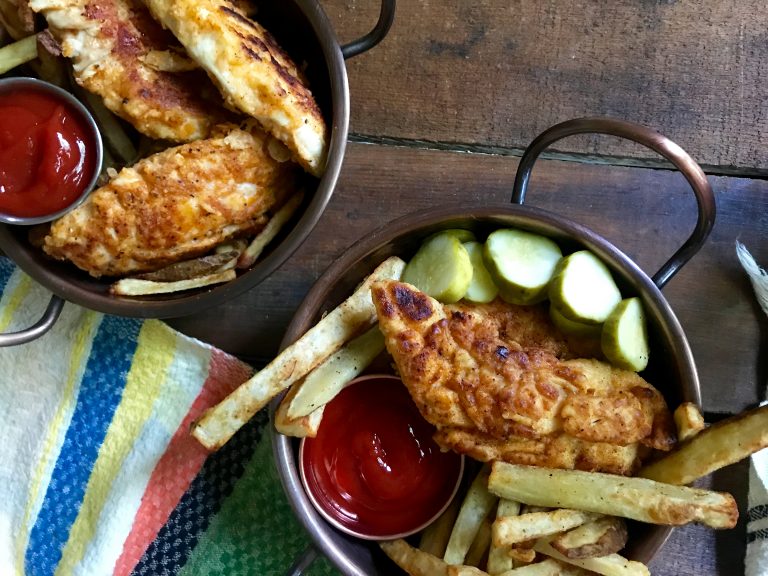 Y'all, get in that kitchen, and make yourselves some Skillet Pickle Chicken! And, as always, you know I wanna know how much you loved it. So please, let me know in the comments!
With love from my kitchen to yours,
Star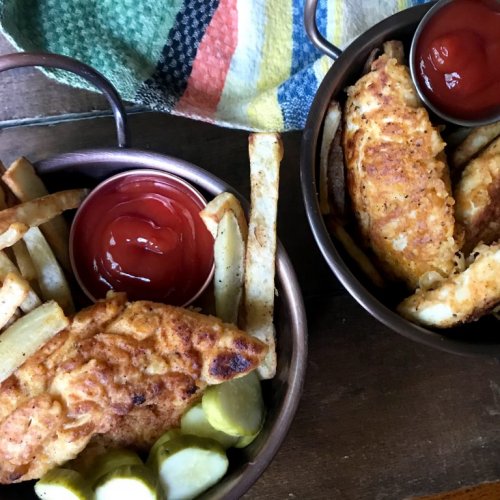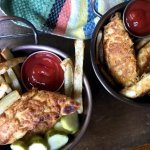 Print
Skillet Pickle Chicken
Tender, juicy, and flavorful pickle brined chicken tenders lightly breaded and sautéed in a skillet.

Materials
1¼

cups

dill pickle juice

I personally love claussen pickle juice the most

3/4

cup

water

1½

lbs

chicken tenderloins, raw

(chicken breast cut into strips will also work, just be sure they are all about the same size)

5

tbsp

all purpose white flour

1/4

tsp

pepper

1

tsp

kosher salt divided

1/2

tsp

smoked paprika

1

tsp

garlic powder

1/4

tsp

onion powder

1/4

tsp

oregano

6

tsp

vegetable oil divided
Instructions
To Brine Chicken:
If using chicken tenders, trim the white tendon out of the top of the chicken tender. Lay raw tenders into a Tupperware or large bowl, then cover them with the pickle juice and water. Cover tightly and refrigerate for 8-10 hours. The longer the brine time, the more "pickle" taste will come through, but it's still very subtle after about 10 hours.
To Cook Pickle Chicken:
In a bowl, add flour and spices, and stir together well. Set aside.

Remove the raw chicken from brine, dab each piece of chicken dry with a paper towel well, and then place into a plastic ziplock bag.

Add 1/2 tsp kosher salt and 1 tsp vegetable oil, then massage the bag to make sure the chicken is completely coated.

Add seasoned flour to the baggie and shake the chicken well until the pieces are completely coated.

Warm up a large skillet over medium heat. Add 2.5 teaspoons of vegetable oil. When the oil is hot, add half the chicken, and cook for about 4 minutes on each side, or until golden brown (until internal temp reaches 160 degrees). Remove and set aside to rest.

Put remaining chicken in skillet and simply repeat above instructions again. When the chicken is finished cooking remove from pan, set aside, and let it rest for 5-10 minutes as needed.
Notes
Serving Size: 5 ounces, cooked (about three tenders) WW Points: 3 Points
207 calories. 7g fat, .5g saturated fat, 6g carbohydrates, 0g fiber, 0g sugars, 0g added sugar, 0g sugar alcohols, 30g protein