This post may contain affiliate links (meaning I earn a small comission if you purchase an item through a link I provide) I only provide shoppable links to items I love and are helpful. As an Amazon Associate, I earn from qualifying purchases.
I have one word for you, and it's really not a word. But here it is: MMMMMMMM….
Seriously though, y'all… This is the recipe of the season that you will want to make for your family, friends, or just yourself because I am telling you that these are the best little things that have come out of my kitchen. A couple'a weeks or so ago, I did a poll on Instagram asking what they would like to see this holiday season and I had an overwhelming response from readers asking for Stuffing and Appetizers! I honestly don't do appetizers too much. I like to focus on the main event and throw an easy dip on the table or a meat and cheese board, but I'll change my tune right about now because these little guys are a very important addition to the season. These are an absolute must for a Friendsgiving celebration. They aren't traditional in the sense that they are rolled up into a little ball and served that way, but they still have all the delicious flavors of a traditional stuffing. These will win Thanksgiving this year. Eric declared after I had made them that these may be the best things I've ever made… and I make a lot of things, guys. A lot. I stick with a couple boxes of stove top stuffing mix to make it easier on everything because I know thanksgiving is quite an event for some households. These are even easier because you can make everything up, roll into balls, and store in a container in the fridge early in the morning and heat in the oven for about 20 minutes before serving. I just love these things and I can't wait to serve them for an appetizer for our family Thanksgiving dinner. Eric is quite a "food critic" these days…. So trust me, if he says they are the best thing I've ever made and you've tried other recipes of mine and love them. You'll wanna make'm up!
Let's get in the kitchen because time is running out before the big day and if there's one thing you need to know about me it is that I love stuffing more than anything in this world. And if you love stuffing, you'll go nuts over these things.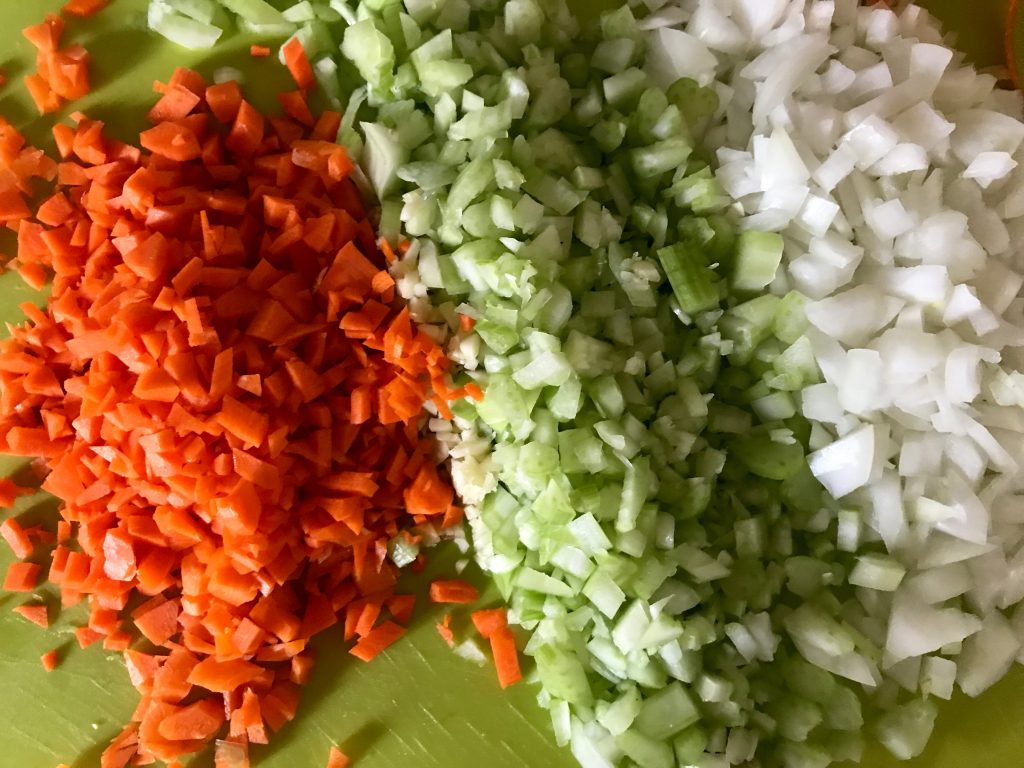 At the heart of some of the most delicious of recipes you'll find freshly chopped carrots, celery, onions, and garlic. So get to choppin' those babies up!
Add a pound'a lean breakfast turkey sausage to a smokin' hot skillet and break it apart with a spatula.
Add all those yummy chopped veggies into the pan with the turkey sausage.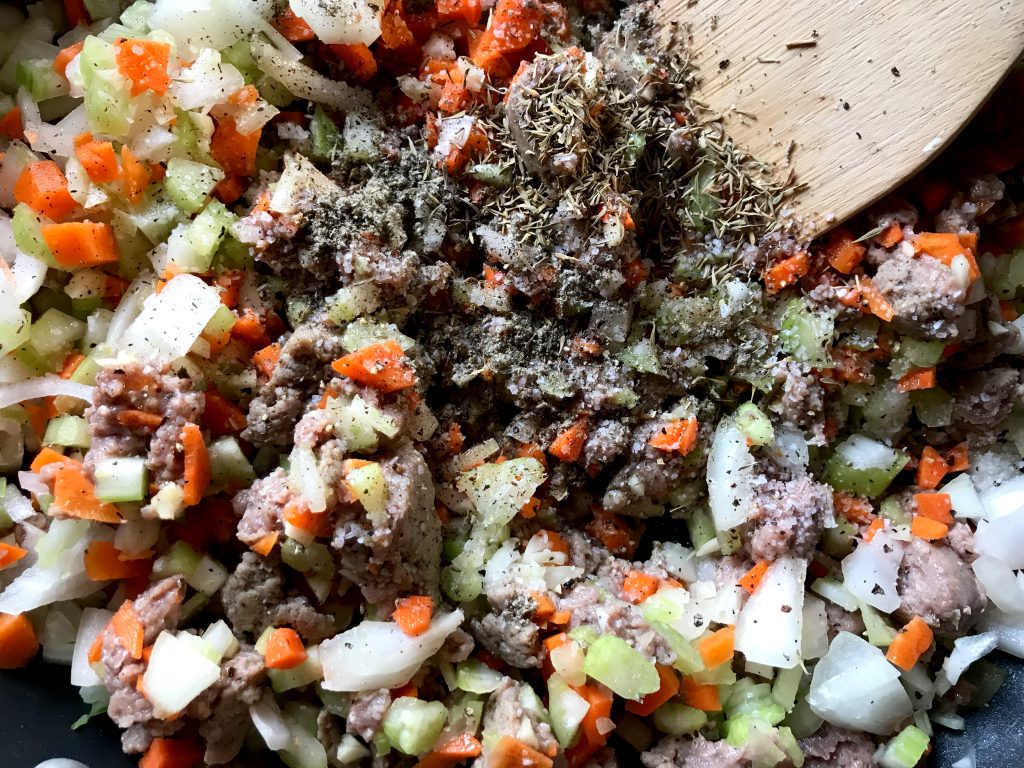 Throw some kosher salt, sage, and thyme in with all of of those goodies let it cook all together stirring every once and awhile, and fill your kitchen with the most magical smells that'll make you crazy.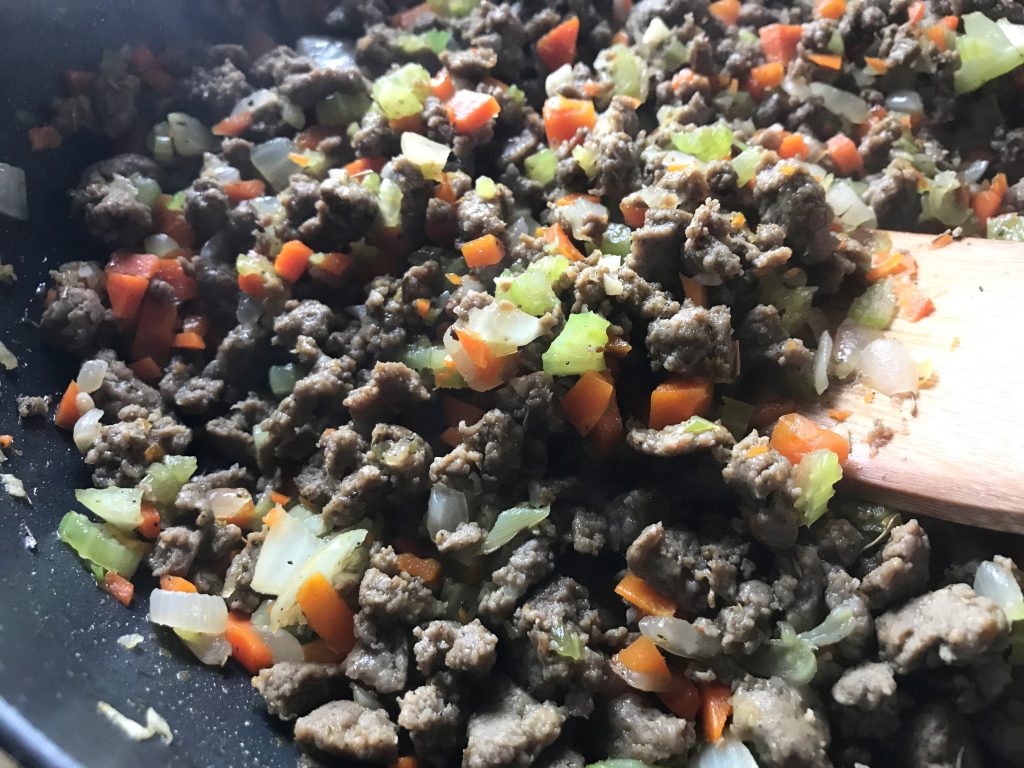 Continue to cook until the veggies are softened. And taste it because you know you want to.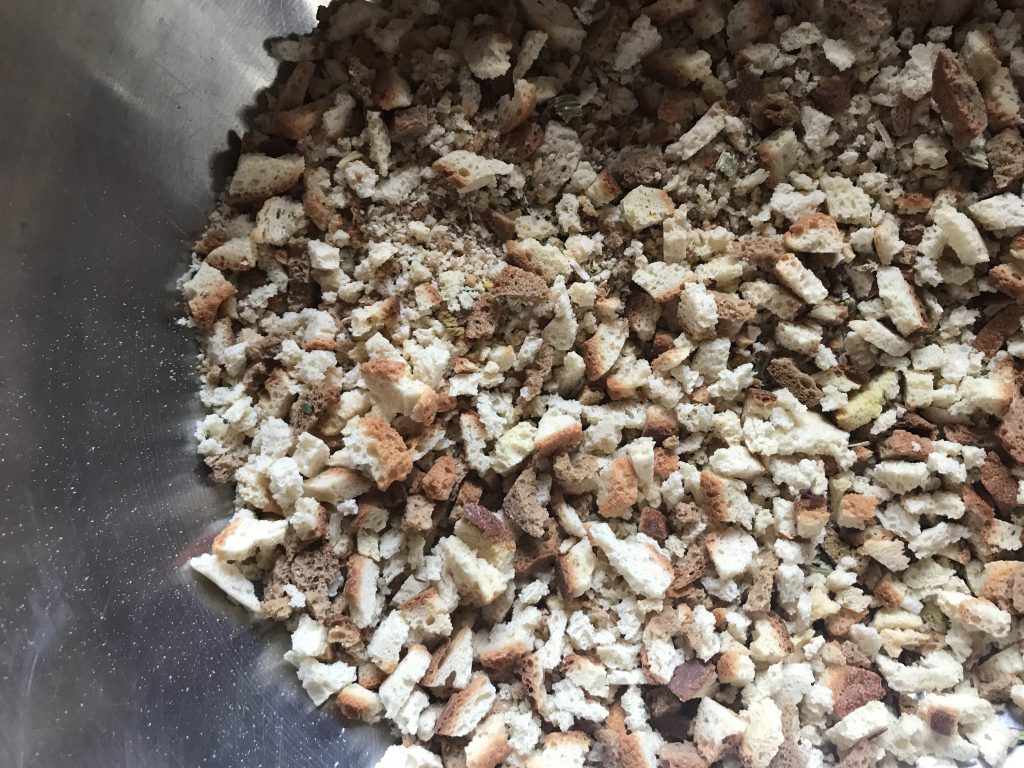 In a large mixing bowl throw two boxes of stuffing mix. I use the Stove Top box for Turkey because it's easy and because these are an appetizer type of food or a fun side dish. I just wanted to make it easy for y'all and for myself. Thanksgiving can be quite the work load so, we'll keep some parts simple, but of course, insanely delicious.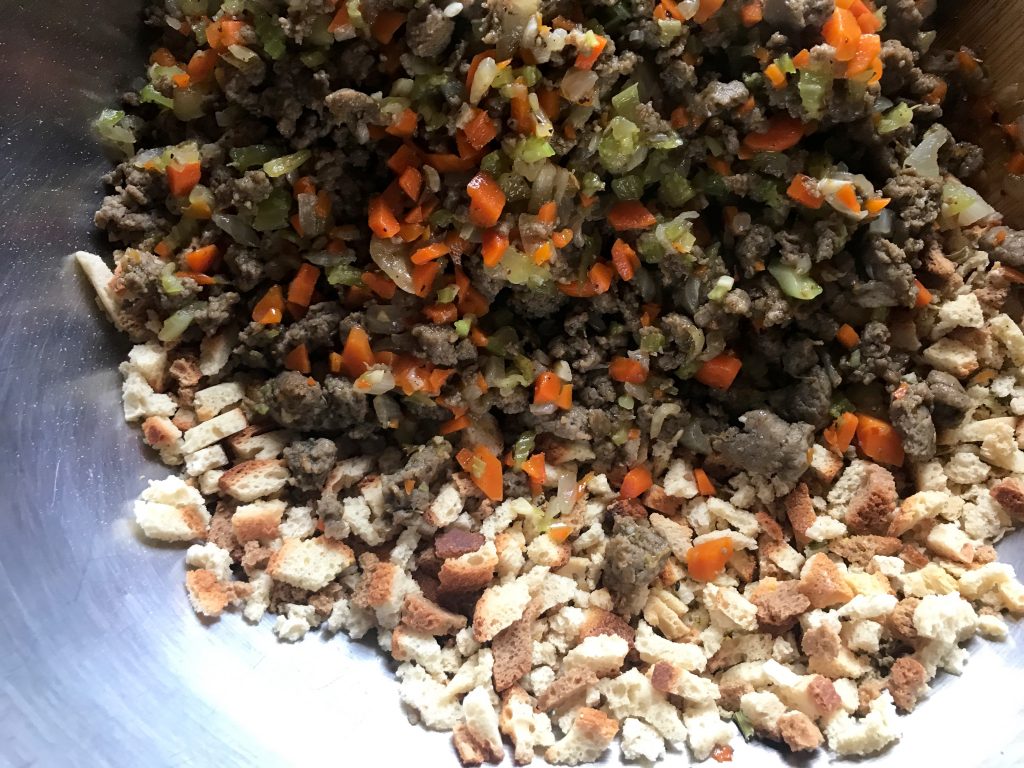 Throw the skillet of goodies in with the stuffing mix.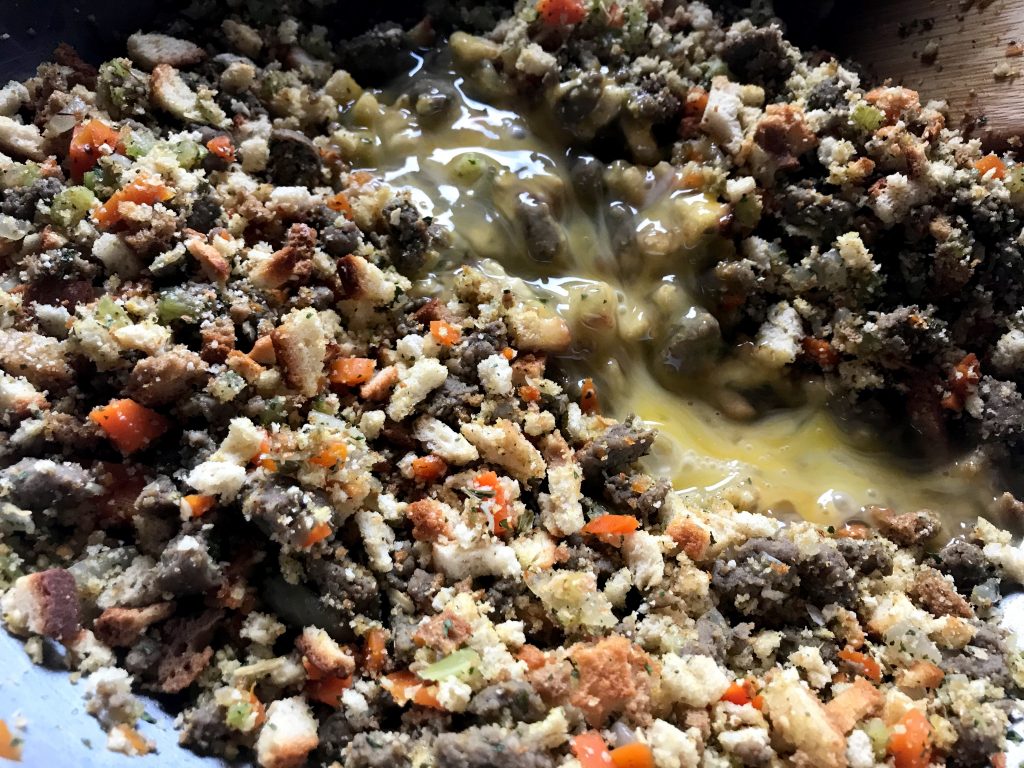 Add half a cup of egg substitute or egg whites and two cups of chicken broth. (Both work I just had only egg beaters on hand this time around)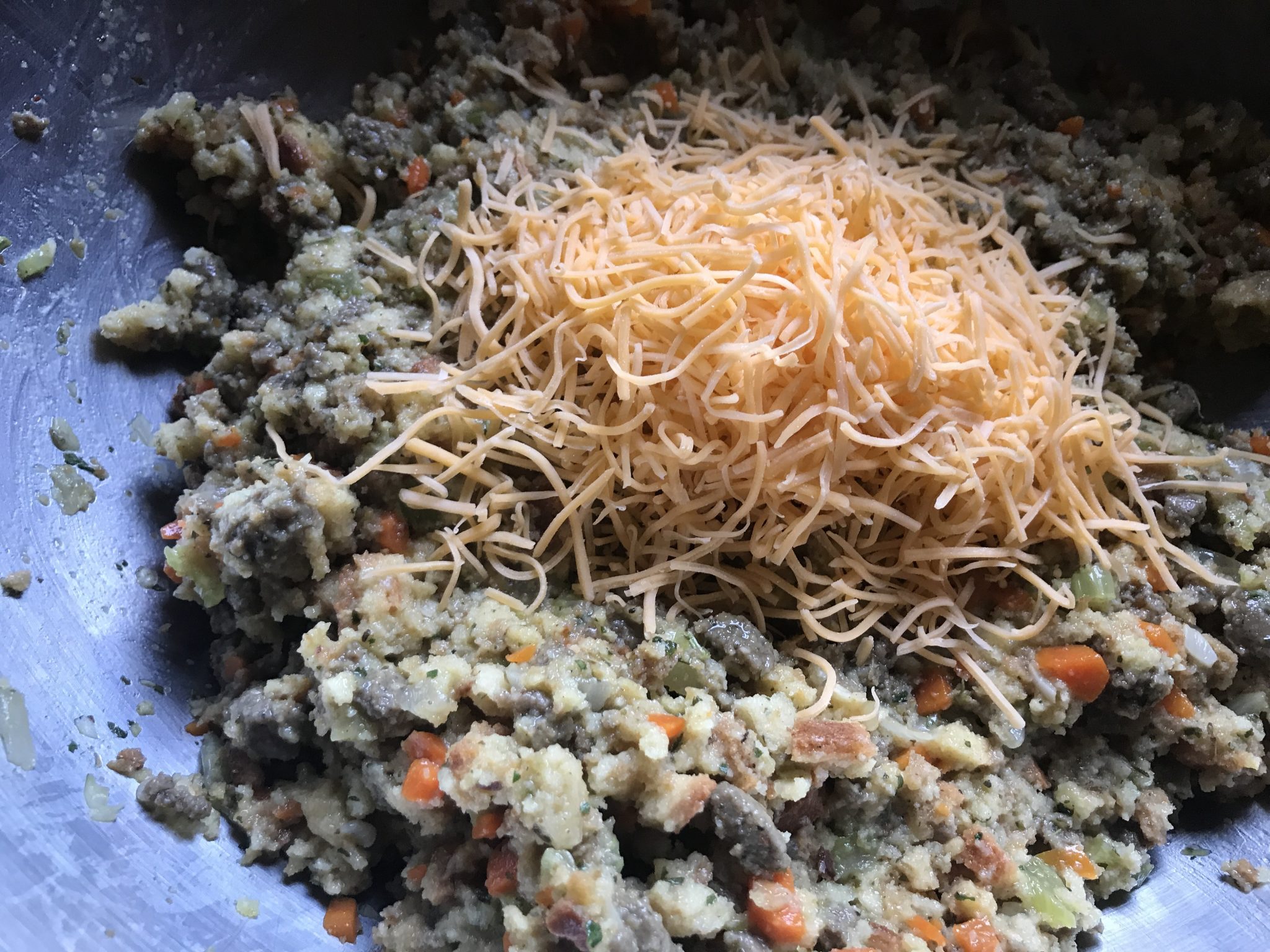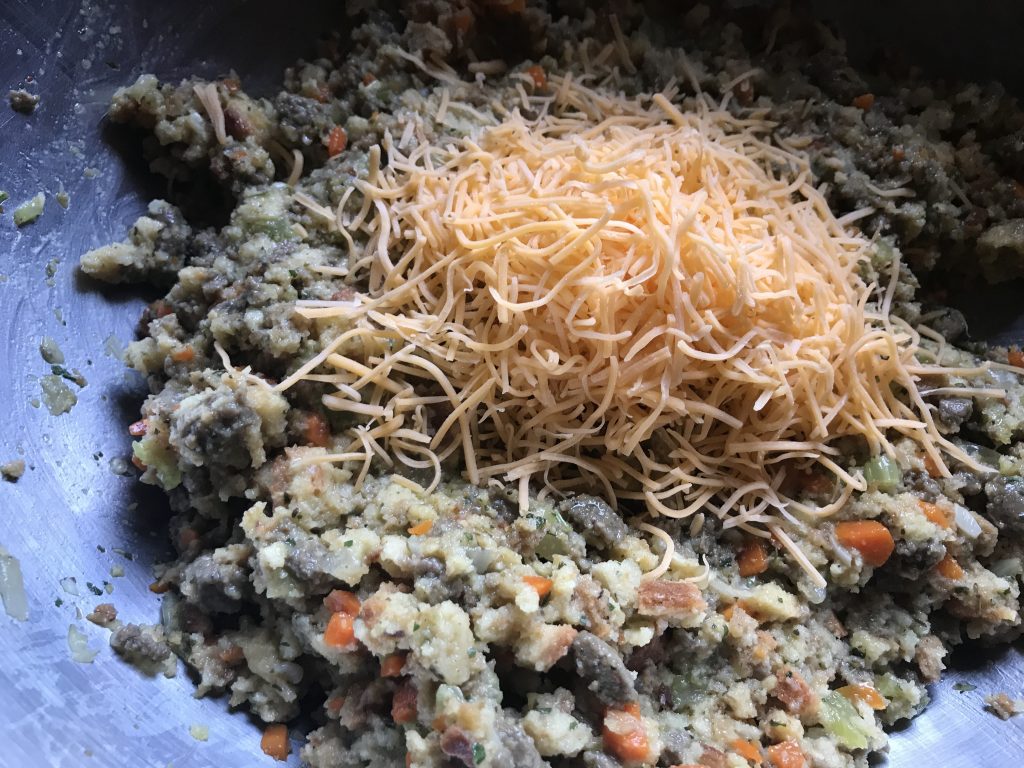 Add in some reduced fat cheddar… and get in there with your hands, y'all. You need to make sure this is combined REALLY, REALLY well. If for whatever reason it doesn't seem "smooshy" enough just add a bit of chicken broth. (I believe smooshy is a technical term only used by the finest of home cooks. HA!)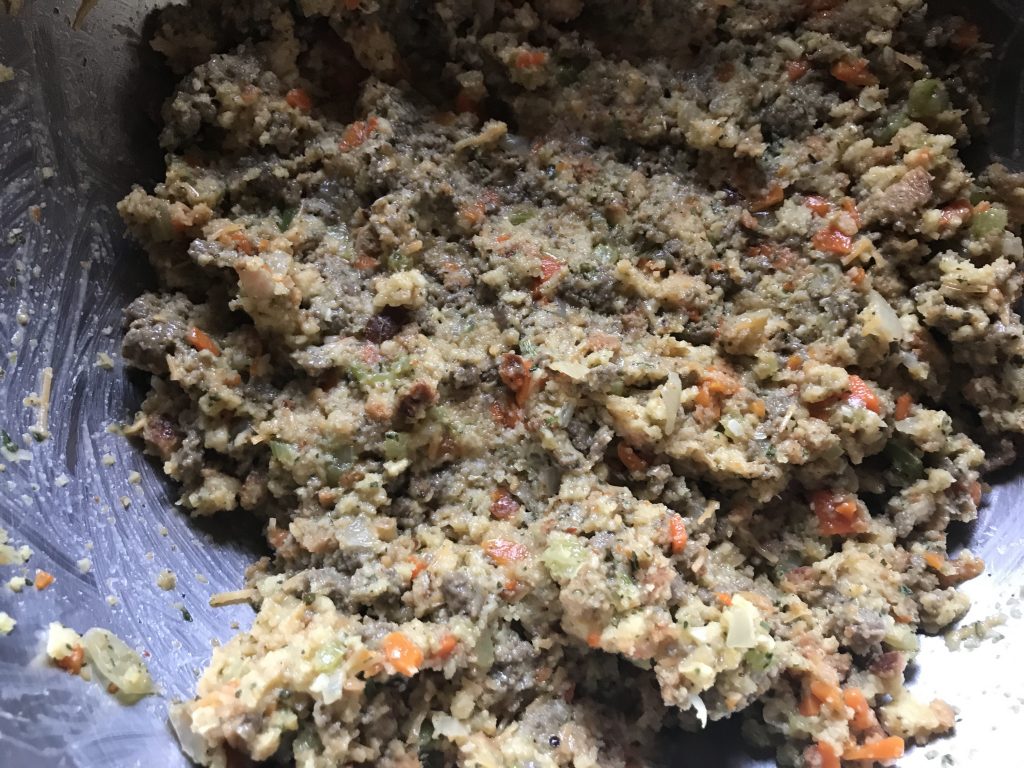 It'll look a lil something like this and forgive me, I know it's not the prettiest, but good Lord it's good!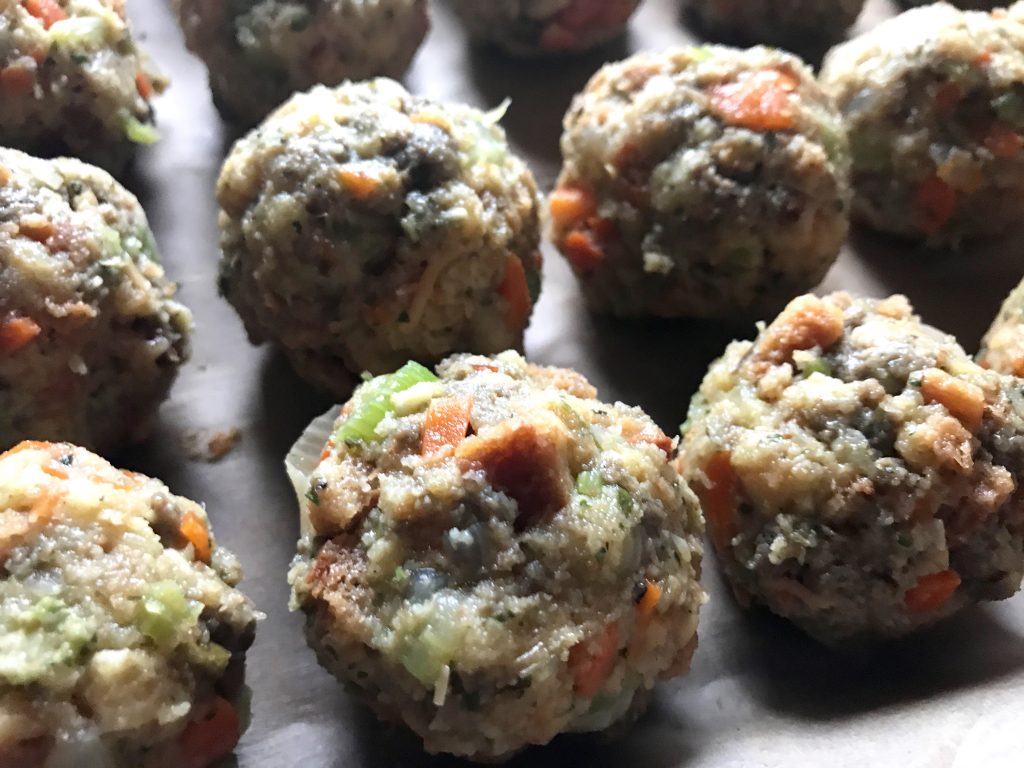 Form them into balls about the size of a golf ball and place on a cookie sheet. Pop in a preheated 375 degree oven for about 15 minutes.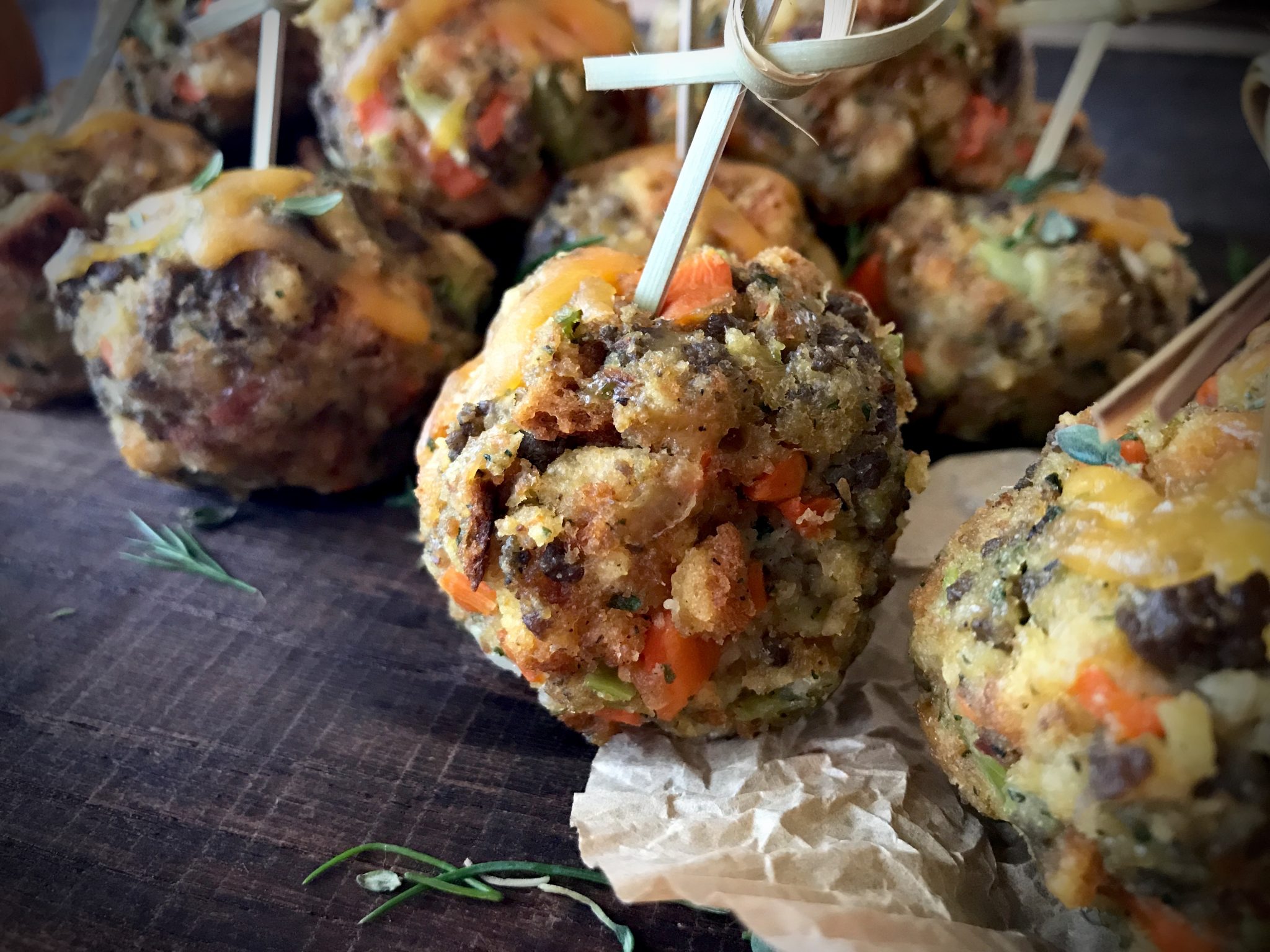 And here ya go! The "cutest" little appetizer and/or side dish to add to your Thanksgiving table.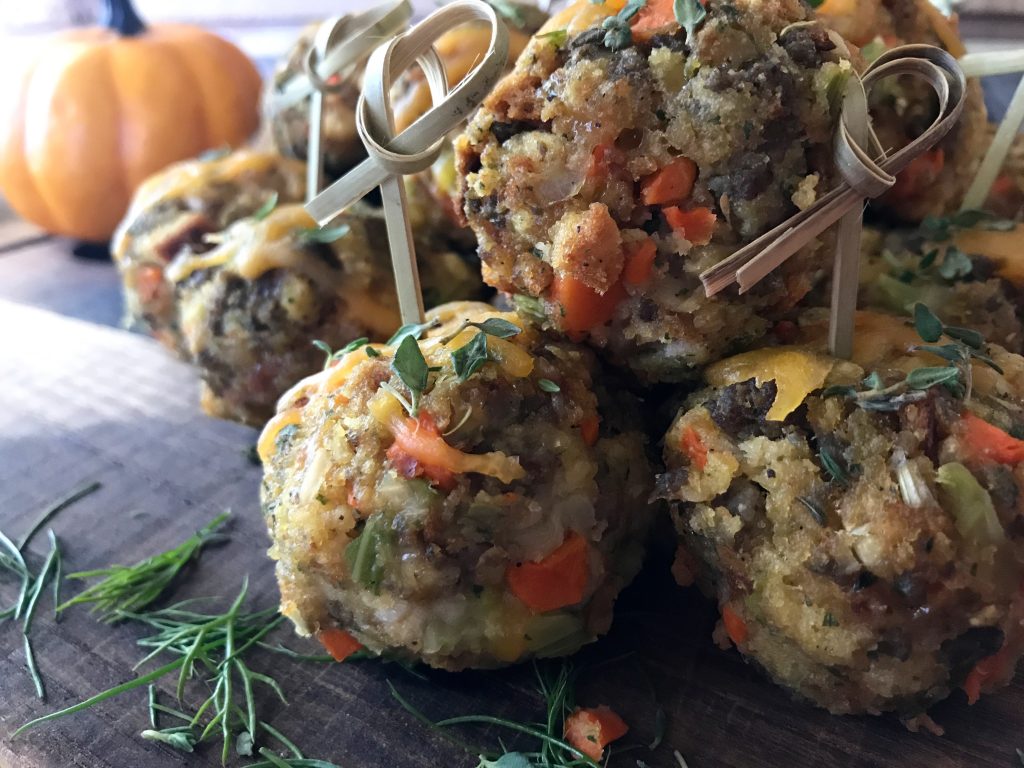 They really are some of the best dang things I've ever had.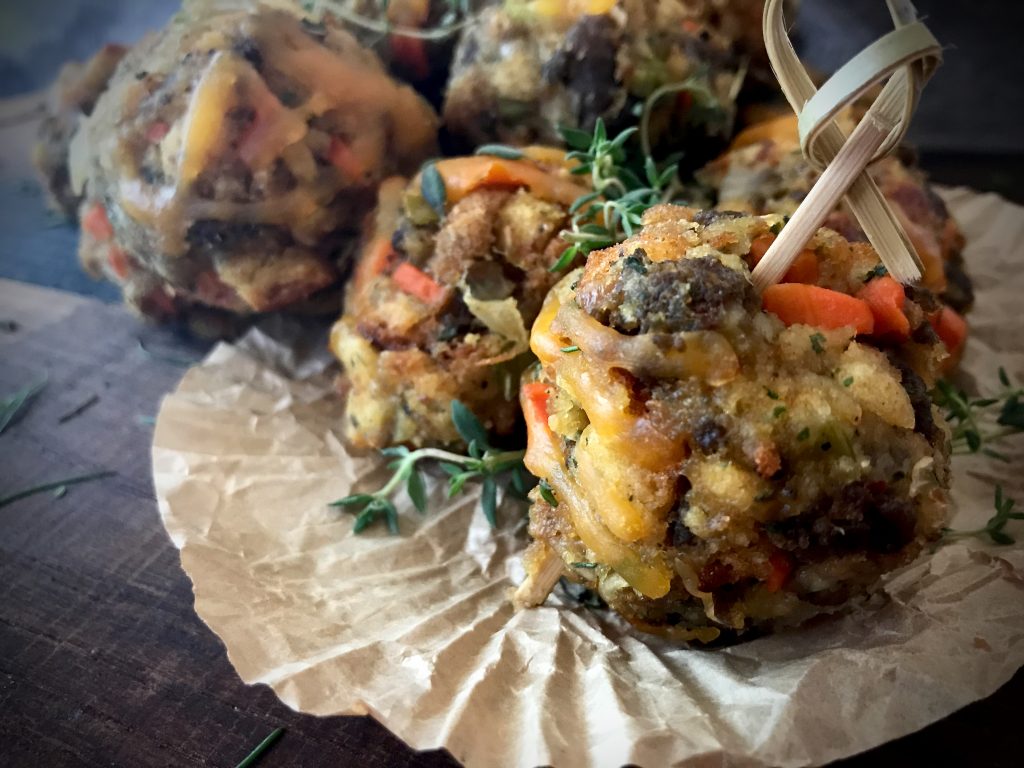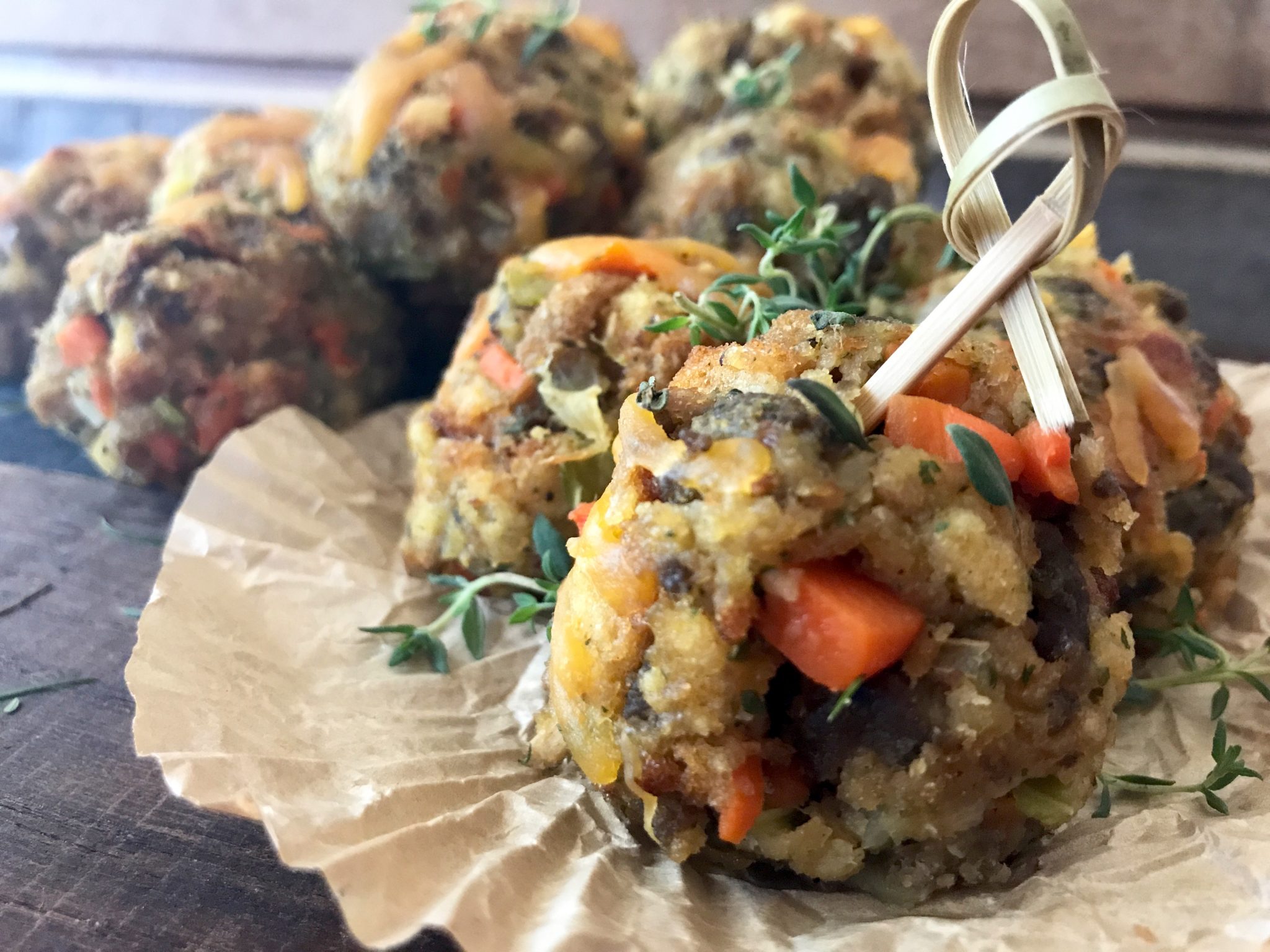 Just in case I haven't convinced ya yet…. MAKE THESE. MAKE THESE RIGHT NOW.
While these are for Thanksgiving. I've been eating them on and off for almost two weeks and It's not Thanksgiving and they are perfect to just make for lunches to be honest. It's felt like Thanksgiving dinner every day for two weeks. I call that a win!
Let me know how ya like'm when you make'm! Enjoy!
With love from my kitchen to yours,
Star
P.S. This serves a lot'a people! I intentionally made this a larger recipe because there's normally a lot of mouths to feed and there's a lot'a mouths that aren't watching their weight so they may pop 5 or 6 of these bad boys without second thought. You can definitely halve the recipe if you're not lookin' to make 40 little bites though!
P.P.S. Make these, please and thank you. Lots of love.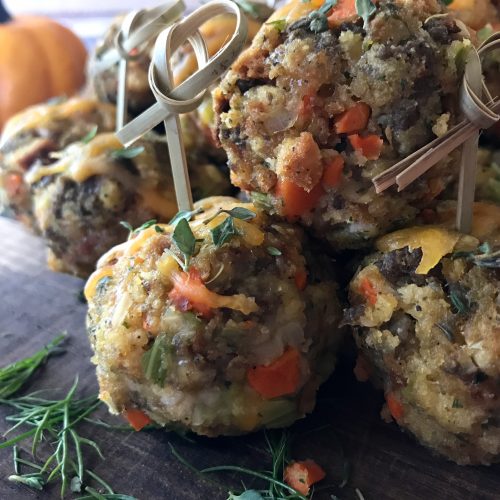 Print
Sausage Stuffing Bites
The perfect bite of thanksgiving!
Materials
1

pound

lean turkey breakfast sausage, uncooked

I use Jennie-O

4

large

carrots

finely chopped (about 1 1/2 cups)

3

stalks

celery

finely chopped (about 1 cup)

1

medium

sweet onion

finely chopped (about 3/4 cup)

3

cloves

garlic

minced

1

tsp

thyme

dried

1

tsp

ground sage

dried

1

tsp

kosher salt

2

6 oz packages

stove top stuffing mix

(you can use a different brand, just use about 12 ounces total)

3/4

cup

reduced fat shredded cheddar

I use Sargento Sharp Cheddar

2

cups

low sodium chicken broth

1/2

cup

egg whites or egg substitute
Instructions
Preheat oven to 375 degrees.

In a large hot skillet add your turkey sausage and break apart with spatula. When the meat is broken up add all of the chopped vegetables, thyme, sage, and kosher salt. Continue to cook over medium-high heat until meat is cooked and vegetables are softened.

In a large mixing bowl add stuffing mix, cooked sausage and vegetables, chicken broth, shredded cheese, and egg whites.

Dig in and mix with your hands! This needs to be combined VERY well.

(If for some reason the mixture seems a little dry add a bit of chicken broth.)

Form into 40 golf ball sized balls. Place on a cookie sheet lined with parchment paper.

Place in preheated oven for about 15 minutes. Serve with a toothpick stuck in them for a fun appetizer feel! Enjoy!
Notes
Serving size: 2 Bites
99 Calories. 2.8g fat, 1g saturated fat, 10g carbohydrates, 1g fiber, 1.5g sugar, 7.5g protein
WeightWatchers Points: 3
Note: you can prep these in the morning and simply store in an air tight container until ready to serve with or before the meal. They may require a few extra minutes in the oven.