Santa's Favorite Monster Cookies
This post may contain affiliate links (meaning I earn a small comission if you purchase an item through a link I provide) I only provide shoppable links to items I love and are helpful. As an Amazon Associate, I earn from qualifying purchases.
These Monster Cookies have a Christmas cookie twist and we call'm Santa's favorite because they are totally Santa's favorite! These cookies are filled with oats, peanut butter, mini chocolate chips, white chocolate chips, red n' green peanut butter filled m&m's, and red n' green mini m&m's.
If you haven't already guessed it. These are your basic Monster Cookies, but what makes them a little extra special for Christmas is that I add a touch of cinnamon, green and red peanut butter m&ms, white chocolate chips, AND mini green and red m&ms. My goodness, they are good! If you've never had a Monster cookie you're totally in for a special treat. These Monster Cookies are on Christmas crack!
The original recipe came from my mama and she's been making Monster cookies since I was probably 5 years old. I won't be doing the math for y'all today, but it's been around for a while. I forgot to ask her where she had gotten the recipe before writing this, but my guess is she found it in a magazine. You remember finding recipes in magazines? Y'know before the internet was a popular thing? haha.
I gave my mama's recipe a bit of a Christmas-y twist only because I am who I am and I love Christmas and I always have an abundance of different types of red and green m&m's this time of year.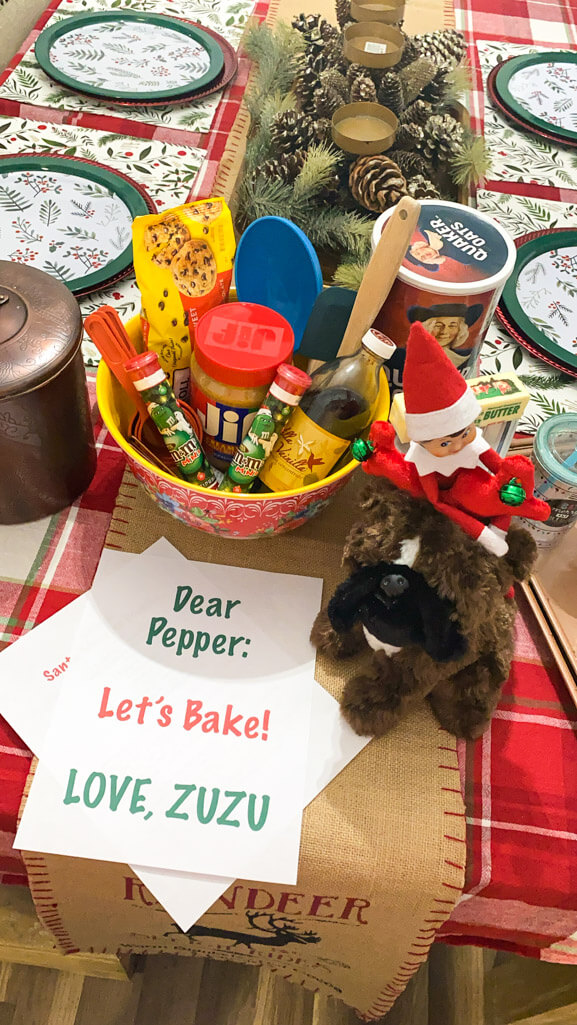 Do you have an Elf on the shelf at your house? We do, but before you're like "Oh my Gosh how do people have time for moving the dang elf around and doing all this stuff?" I don't. I explained on Instagram the other day that our elf mostly hangs out in the Christmas tree or in Pepper's doll house, but a few times during the Christmas season ZuZu (that's her name) brings some special things for us to do together as a family like a Christmas-y craft project, a nice book, hot cocoa fixin's, and once a year she even rummages through my cabinets and gets all the ingredients to bake Santa's Favorite Monster Cookies. I don't have the ambition to do a ton with the elf and I think it's vital to not set a super high standard in our house when it comes to the elf because I'm a very forgetful person.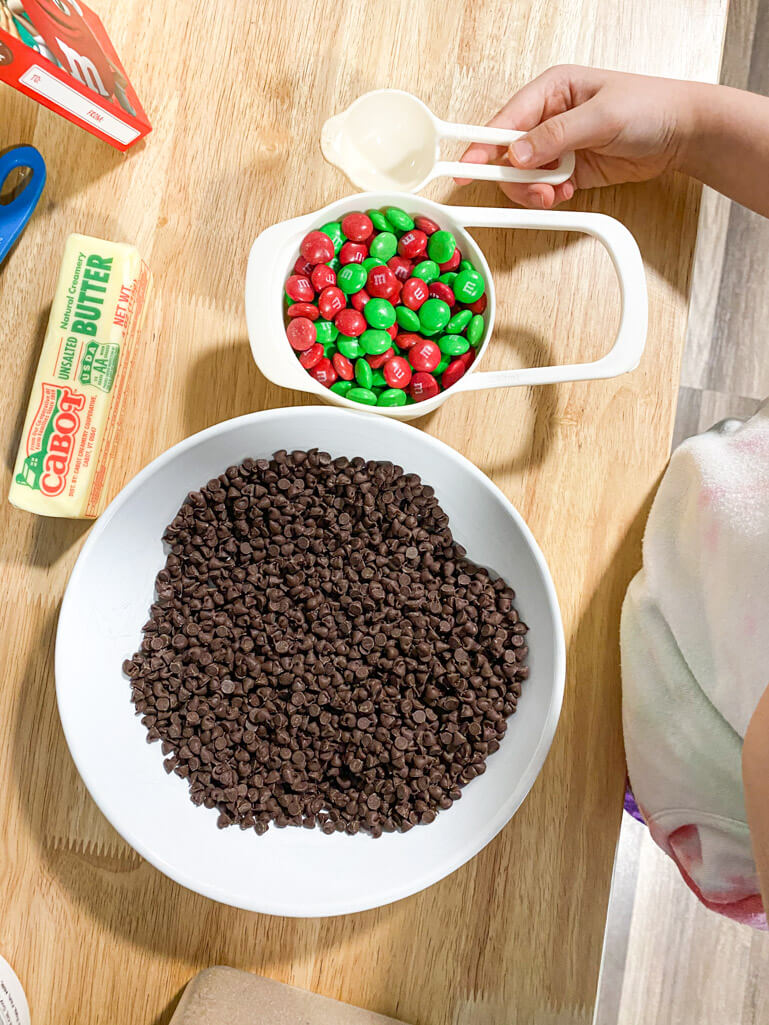 This is also a super kid friendly recipe. If your little one likes to help in the kitchen, I definitely recommend it! They can measure everything out with very little help from you. It's perfect. As Pepper was measuring the different mix-in's she yelled for me and said "Look mama a snow man!" Do you see it? It's the perfect example of why seeing life through a child's eyes is so fun. I would'a never seen a snowman had I been doing this alone.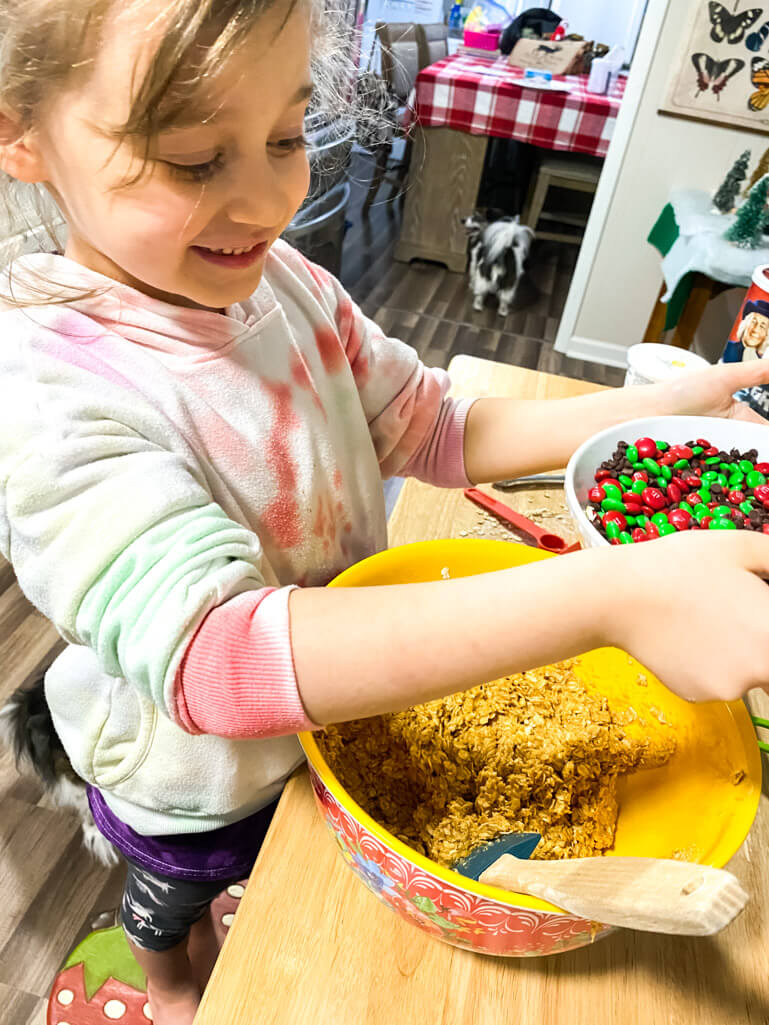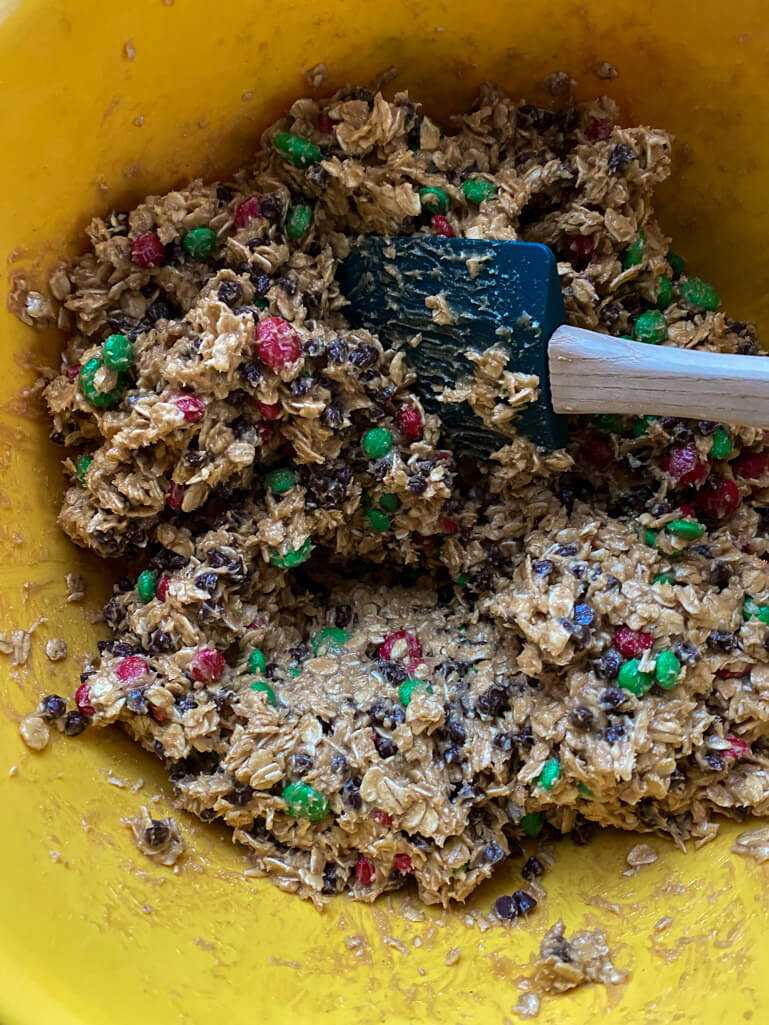 I know this isn't the normal kind of post you're used to seeing around these parts, but it's Christmas so I thought I'd post something special. Also, when I posted these cookies on Instagram I think I got about 200 messages asking for the recipe within 24 hours so I thought I'd better get it up! Answering 200-ish people is no easy task and this way it's here for years to come and I can always reference it.
PS Please do not ask me the WW points or the calories. I don't want to know.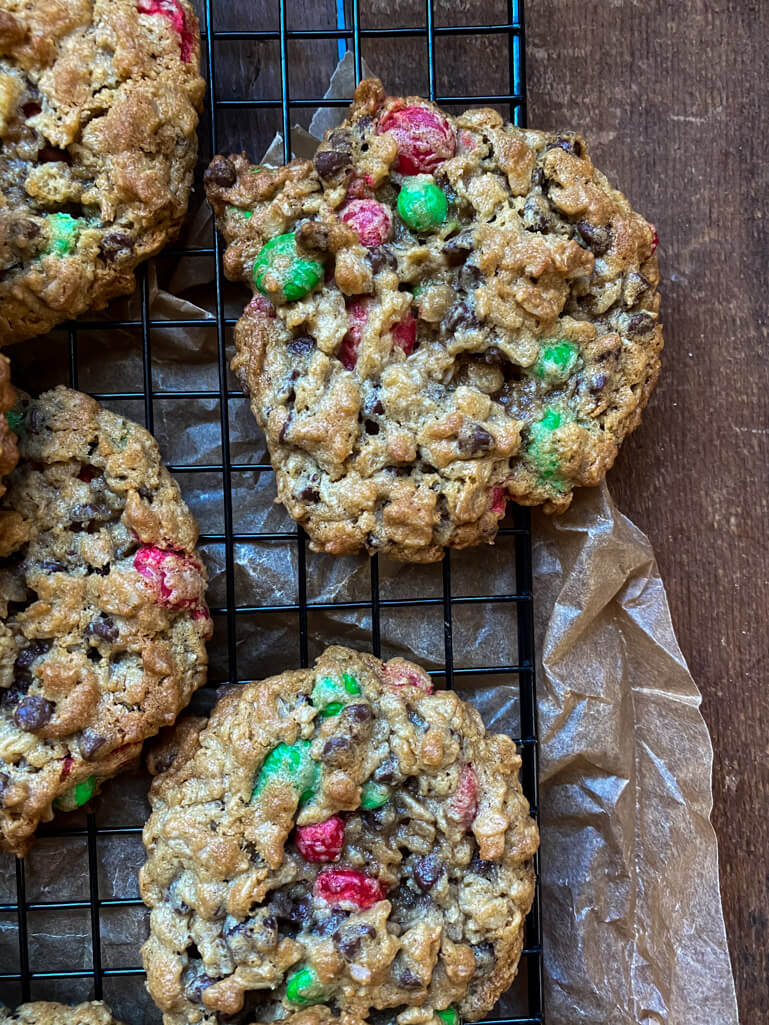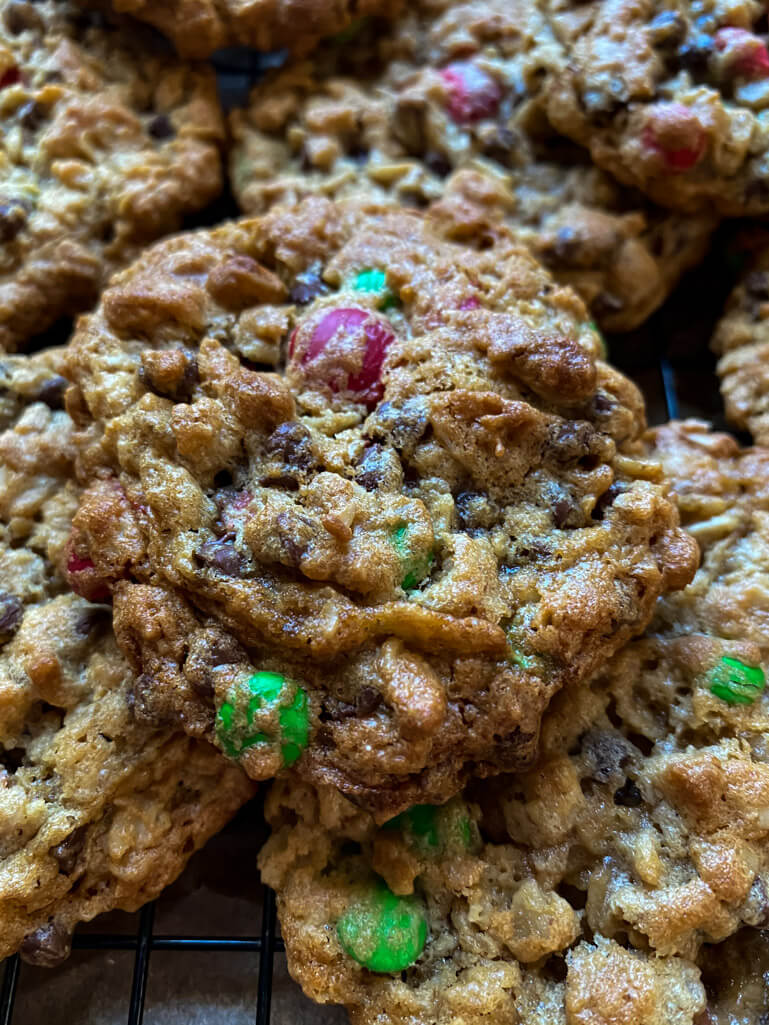 If you make these, I sure hope you enjoy!
I hope y'all have a beautiful Christmas! Blessings to you and yours from me and mine!
Print
Santa's Favorite Monster Cookies
Monster Cookies with a Christmas twist!
Materials
1

cup

sugar

1

cup

light brown sugar (packed)

1

stick

unsalted butter

(room temp! not melted and not warmed up in the microwave)

3

large

eggs

1½

cups

peanut butter

(chunky or smooth – do not use all natural)

1

tbsp

vanilla

2

tsp

baking soda

1/2

tsp

salt

1½

tsp

cinnamon

4½

cups

old fashioned oats

1

cup (total)

mixture of mini green and red m&ms and peanut butter green and red m&m's.

*You can have all of one or the other. It's up to you. The mixture makes them extra yummy.*

1

cup (total)

semi sweet mini chocolate chips and white chocolate chips

*You can have all of one or the other. It's up to you. The mixture makes them extra yummy.*

extra m&m's and chocolate chips to stick into the cookie for it to "look prettier" after they are done baking.

*optional
Instructions
Preheat oven to 350°F. Line baking sheet with parchment paper.

In a bowl cream together white and brown sugar with the butter until combined well and light and fluffy.

Beat eggs in one at a time and then beat in peanut butter, vanilla, cinnamon, baking soda, and salt until combined.

Add in the oats and mix together until combined well.

Stir in m&m's and chocolate chips.

Scoop 3 tablespoon sized cookie mounds onto cookie sheet and space them about two inches apart otherwise they will run into each other.

Bake the cookies for 12 minutes then remove them from the oven and allow them to cool for at least 10 minutes on the cookie sheet before moving them to a cooling rack to finish cooling.

*The key to most cookie baking is having them almost under baked a bit when removing from the oven and slowly finish "baking" just enough while on the cookie sheet. The perfect texture!!