This post may contain affiliate links (meaning I earn a small comission if you purchase an item through a link I provide) I only provide shoppable links to items I love and are helpful. As an Amazon Associate, I earn from qualifying purchases.
I have a gift to share with ya today. It is this incredibly delicious, incredibly quick, and incredibly easy salsa recipe. I learned the basis of this recipe from an ol' friend. The same one whom I talked about in the post where I shared the Mexican Style Street Corn recipe. She taught me a lot of different methods when it came to cooking not only authentic Mexican food, but also cooking in general. I'm pretty sure every single time she made salsa she made it a different way, but she is who I learned the basis of my favorite recipe from. I've been tweaking it here and there over the years and I just love it!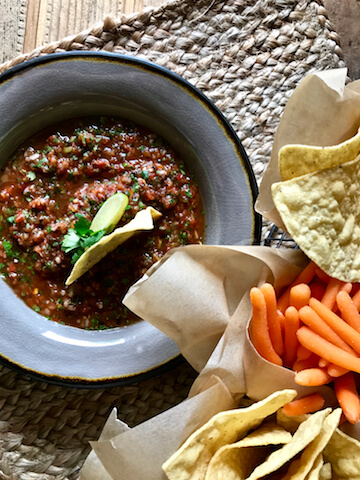 Sometimes I make it pretty spicy and sometimes I don't make it spicy at all because little Miss Pep actually loves salsa, but she can't take the heat. So a'course, my mama heart feels for her and I don't put the entire jalapeño into the blender so she can dip her tortilla chips in the salsa bowl just like mama and daddy. One whole jalapeño is the perfect amount of spice in my opinion though. You can always adjust the heat by adding a dash or two of your favorite hot sauce too. You can play with the spices any which way really, I know a lot of recipes out there call for the same type of ingredients, but just different measurements. Most of'm add sugar, but I never have. I personally think is one of the best versions. (Obviously, I'm a little biased though!) But, I do have family and friends who will vouch for me. This is a pretty dang delicious salsa recipe.
I am FINALLY getting it up on the blog after months of friends asking me for this recipe. I'm sure they are happy to have it here rather than have to remind me umpteen hundred times to send it their way. I really am the worst at remembering things. Is it motherhood? Is it me? Is it life? I don't know. I'm just as forgetful as they come sometimes.
So anywho, here it is in all it's glory! It's perfect along side my Chicken Street Tacos, Beef and Rice Taco Casserole, White Chicken Enchilidas… I mean it's salsa it's pretty much perfect any time of the day! It's perfect for cook outs. It's perfect for the non-cooks. It's perfect for parties of all sorts. You bring a big pretty bowl of this stuff and a couple bags of salty tortilla chips and you'll be the star of the show, I promise ya. I do use canned tomatoes in this recipe. It's really my personal preference and I know a lot of people would rather use fresh tomatoes and you can! I just really like the convenience of canned. I also prefer the flavor of the Fire Roasted tomatoes. You can find this canned version of tomatoes in many different grocery stores and in many different brands, but if you're having trouble finding them you can surely use just the plain ol diced tomatoes. Tomatoes aren't in season oh say about 10 months out of the year here in the midwest, and this is definitely something that finds it way on my dinner table at least once a week, no matter the season. So, I'm happy that I like it so much using a can of tomatoes.
Enough talkin', let's get cookin'
Here's whatcha need: 1 Jalapeño, one bunch of cilantro, 1 lime, 2 cloves of garlic, 1 yellow onion, 1 can of diced green chiles (mild or hot, it's up to you!), 2 cans fire roasted tomatoes. (Not pictured: Coarse Sea Salt/Kosher Salt & cumin)
Roughly chop the onion up.
Throw it on in there with the tomatoes and chiles
Quickly chop up a couple cloves of garlic. (Side note: If you like garlic add an extra clove or two, but maybe don't do that if you're going on your first date later in the day.)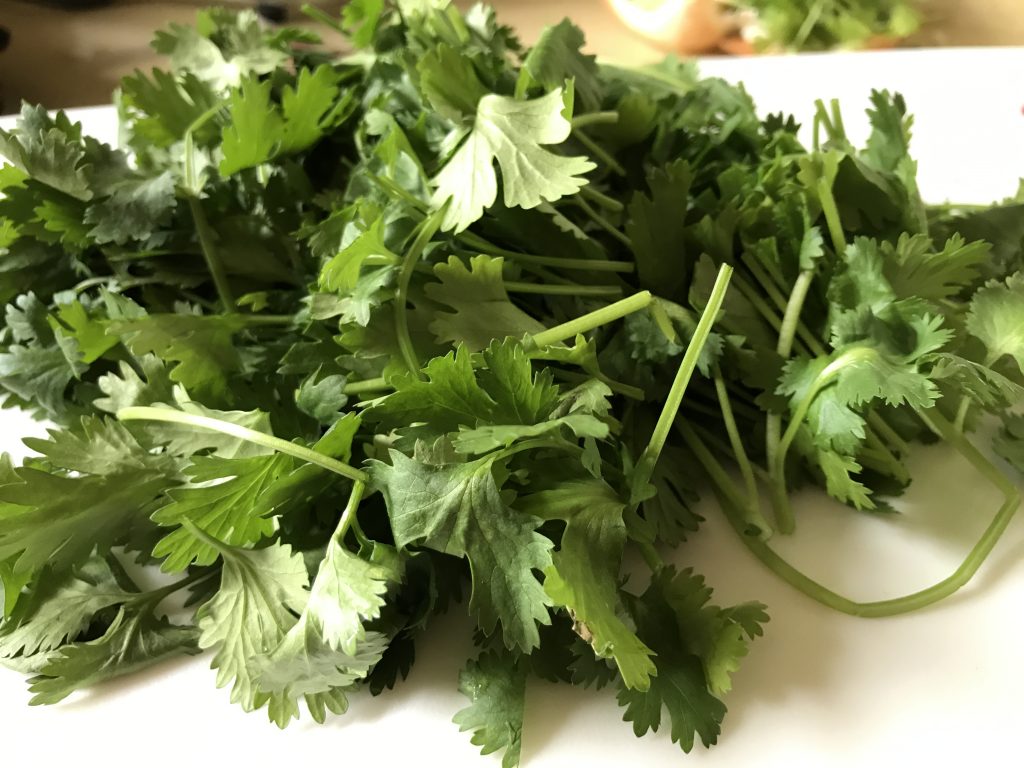 Roughly Chop up some cilantro. (Do you get the theme here? Just roughly chop stuff up and throw it in the blender. This is hardly a recipe. It's a very forgiving way of doing things. I promise.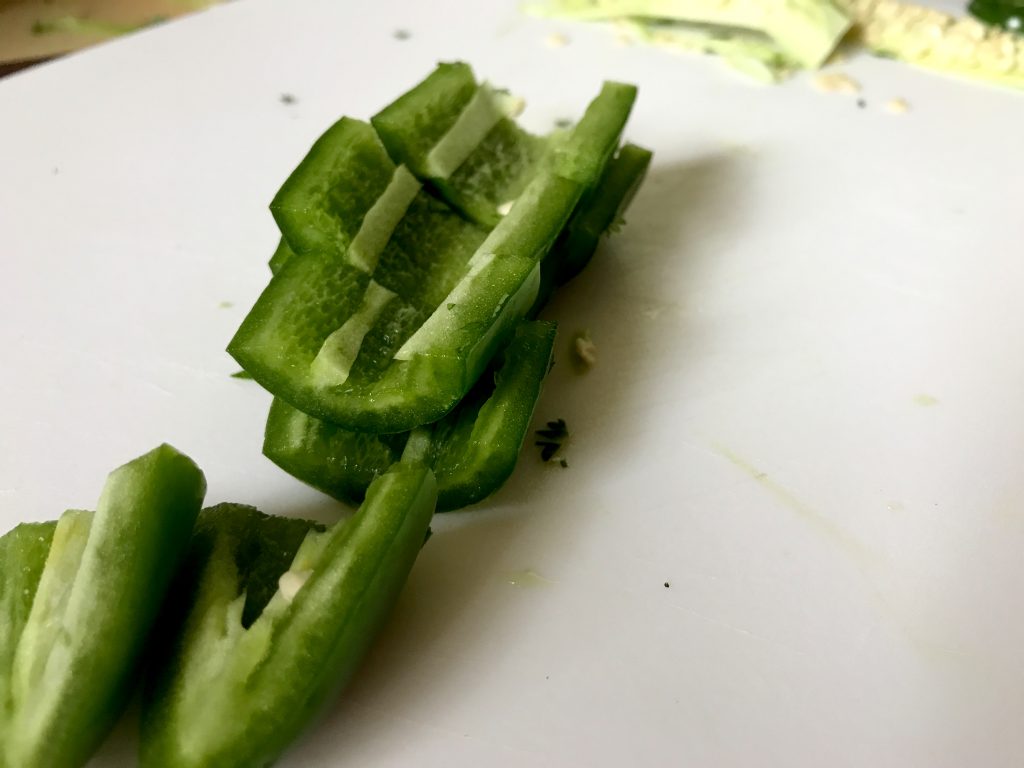 Now, This batch of salsa I knew Pepper was going to want in on because the last batch had TWO jalapeño's in it and I wouldn't let her touch it. She lost her mind. So, I cut the ribs and seeds out and added the smallest amount of seeds to add just a touch of spicy. If you don't like spice at all, do the same. However, I really do think 1 whole jalapeño is a perfect amount for this much salsa. It's no spicier than the kind you would indulge in at a Mexican restaurant. Also, portion yourself out some chips and then hide the chips because you're going to want to dive into this stuff the way you would at a Mexican restaurant!
Pile in your cilantro and jalapeño then add cumin, salt, and the juice of one lime.
By the way, don't really worry about what order in which you add these ingredients. I add them differently every single time. Like I said, do this any which way and it'll come out perfectly.
Hit pulse on your blender or food processor about 12 times. Again, this is your decision. I like mine VERY thin. If you like it a bit chunkier maybe just hit pulse 6 times and see where you're at. Do whatever your salsa lovin' heart desires.
Pop it into the fridge for at least 25 minutes before serving, but the longer the better. The flavors really need to marry in there.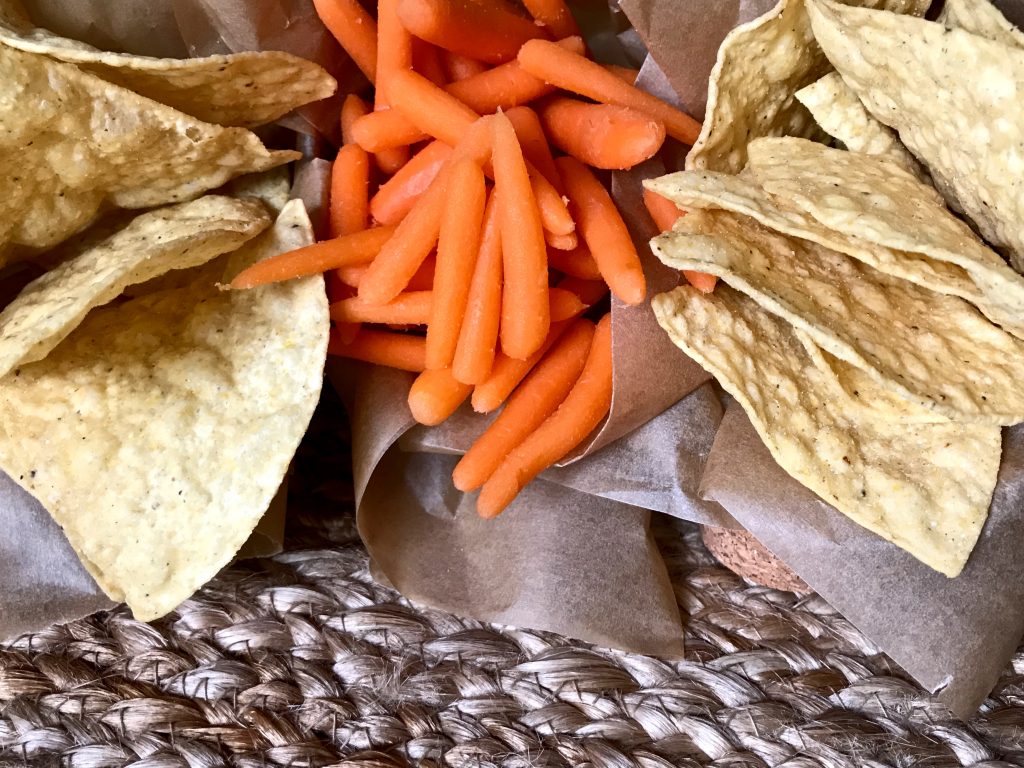 Grab some chips… and/or whatever else you like to eat salsa with. I personally love salsa and sweet petite carrots together! I think it's the sweet heat mixture thing that I love so much. It also adds the "crunch" factor that you get with chips IF you are trying to cut a few more calories.
PSA: You might need to add a little salt when the salsa is ready to go. This part is really up to you. I am a sucker for saltiness, so I always add a bit more before serving.
I got these gorgeous new bowls the other day to add to my collection of random dishes. It's getting just the tiniest bit out of hand, but I don't think I'll ever stop. I'll build an extra shed outside or something for storage. It might actually get to that point sooner rather than later at the rate I am going. In other news, look at how beautifully delicious this salsa looks in my pretty new bowl!?
I could almost just lick my computer screen as I type this.
I'm so happy to live in a world where salsa and chips exist.
Remember back when I convinced most, if not all, of you who read this lil ol blog to make my Slow Cooker Marinara? Remember how I told ya that you'd never, ever buy jarred sauce again after you made it? Same here. I very, very rarely buy a jar of salsa these days, and I can almost promise ya that you'll never want for those jars on the store shelves again unless of course there is an emergency and you have zero time to make this salsa which takes maybe 6.7 minutes from start to finish.
If you make this, let me know! I hope ya enjoy it so much.
With lots of love from my kitchen to yours,
Star
Print
Salsa
a quick and easy salsa recipe that is bursting with freshness in every bite.
Materials
2

14.5 ounce cans

Fire Roasted Tomatoes

1

4.5 ounce can

mild green chiles

1

bunch

cilantro

about 1 1/2 cups, roughly chopped

1

whole

jalapeno

cut into small chunks

3

cloves

garlic

roughly chopped

1

medium

yellow onion

roughly chopped

1 1/2

tsp

cumin

1

tsp

salt

juice of one lime
Instructions
Place all ingredients into a blender or food processor and pulse until you've reached desired consistency. 10-12 times for thinner consistency (like the pictures) or 6-7 times for chunkier salsa. Cover and refrigerate for at least 25 minutes so the flavors can marry. Salt to taste. Dig in and enjoy! Yields: About 5 cups Salsa
Notes
Suggested Serving size: 1/4 cup
18 calories, 0g fat, 0g saturated fat, 3g carbohydrates, 1g fiber, .5g protein
WeightWatchers Points: 0