Roasted Sweet Potatoes with Bacon and Parmesan
This post may contain affiliate links (meaning I earn a small comission if you purchase an item through a link I provide) I only provide shoppable links to items I love and are helpful. As an Amazon Associate, I earn from qualifying purchases.
These Roasted Sweet Potatoes with Bacon and Parmesan are sure to make your taste buds do a little happy dance… right on top'a the dinner table!
Here's what's in store for you- cubes of sweet potatoes that are soft in the center, and crispy on the edges… a little diced, center-cut bacon… some grated Parmesan for good measure, and just a kiss of onion, ground cumin, and smoked paprika to wrap it all up. In a neat little present for your mouth, with a bow. Trust me- make these.
T-MINUS TEN DAYS TIL THANKSGIVING, Y'ALL!
What are you throwin' on your Thanksgiving tables? I still haven't decided what I'm bringing to Thanksgiving. I'm pretty sure these Roasted Sweet Potatoes are going. I run a food blog, but I've never hosted Thanksgiving. I'm not full of a ton'a tips and tricks like I wish I was because, to be honest, I still rely on mama to take over Thanksgiving. I have no shame about it. I'll shout it from the rooftops, because I'm more than happy to hand over roasting a big ol' bird to someone else. It's a legitimate fear of mine to cook a giant Turkey! I do, however, lend a hand with making side dishes. Yep! I'm all about them side dishes. So I'll continue to do my part by using my creativity to dream up yummy sides each year.
Listen to this: Eric hates sweet potatoes. scratch that, he looooooathes sweet potatoes. Because of this, I've never done much with'm, because I don't wanna hear him whine about how they are the worst. I don't dislike the things, and I've never been deeply in love with them. That all changed the day I threw this recipe together… All of it.
The sweet pahtoodle heavens opened up, guys. Eric completely enjoyed a plate full of these Roasted Sweet Potatoes next to some spicy roasted chicken breast! The thing is, they're sooooo sweet, they need a lil' balance… They need salty, they need flavor. Please don't hate me for this statement- the very last thing a sweet potato needs is more sugar and marshmallows. I know, I know. Opinions are like… well, never mind. I really believe it though… neither of us has ever met a sweet potater casserole that we really liked. To us, it was a dessert! It belongs on a dessert table.
Now that I've finally broken our aversion to sweet potatoes, this recipe will definitely be on the dinner table more often than not. I hear that they're very healthy, good for your skin and bones and stuff. Plus… bacon. What's not to like? We just love'm.
Let's get into the kitchen!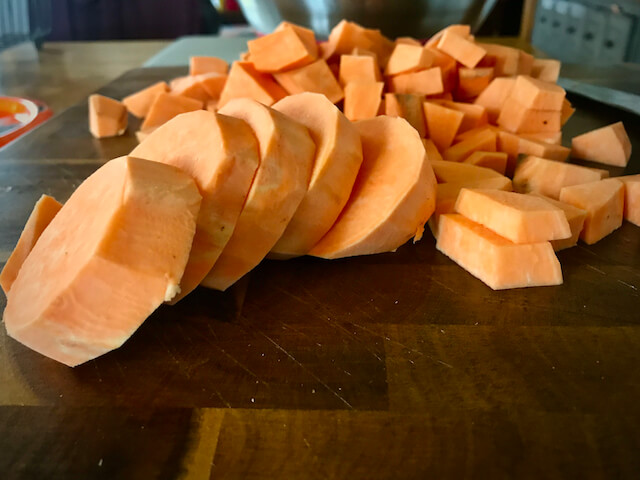 Preheat yer oven to 425 degrees. Then, cut up 1.5 pounds of sweet potatoes into small, bite-size cubes.
Now dice up 5 slices of center-cut bacon. Try to make it kinda-sorta small, so it moves around and distributes better throughout the dish.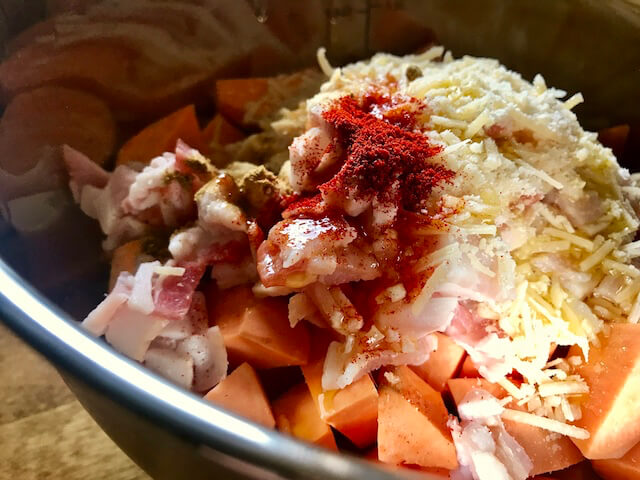 Add goodies to your taters: The diced bacon, 1/4 cup grated Parmesan, 1 tsp garlic powder, 1/2 tbsp olive oil, 1/2 tsp kosher salt, 1/2 tsp onion powder, 1/2 tsp smoked paprika, and 1/2 tsp cumin. Trust me when I say this- the addition of cumin is magical, and it will not make you think Mexican food. I don't know why I decided to throw cumin in this recipe, but I'm so happy I did.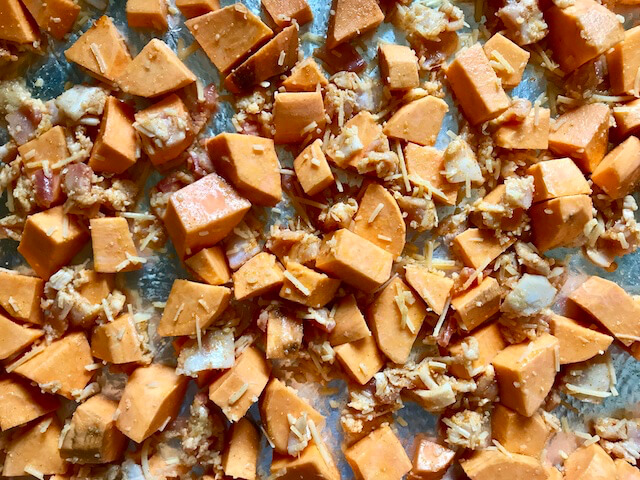 Spread the magical mixture onto a large sheet pan, and spray that baby with some olive or avocado cooking spray. Place'm into the oven, and let that oven do its mystical oven thing where stuff turns instantly delicious, and caramelized, and perfect. Let'm go for about 25-30 minutes… right up until the moment the bacon looks crispy, and those taters are just a lil brown and crispy on the edges.
And can you believe this- we're done. So easy! And so GOOD!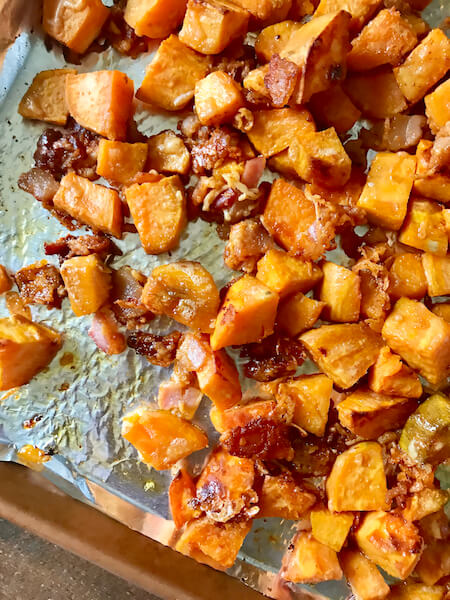 I'm not going to hold it against you if these just can't replace your sweet potato casserole for turkey day, but will hold it against you if you don't add these to your dinner plate on some random Thursday evening. Because dang it, they are just delish!
with love from my kitchen to yours,
Star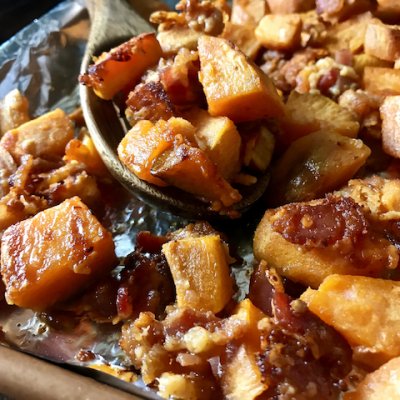 Print
Roasted Sweet Potatoes with Bacon and Parmesan
Roasted sweet potatoes coated in parmesan cheese, spices, and lil bits of diced bacon. A new favorite side dish that is easy and delicious!
Materials
1-½

pounds

sweet potatoes

cubed, peeled

5

slices

center cut bacon

raw, diced

1/4

cup

parmesan cheese

grated

1/2

tbsp

olive oil

1/2

tsp

ground cumin

1/2

tsp

kosher salt

1/2

tsp

onion powder

1/2

tsp

smoked paprika

1

tsp

garlic powder

olive oil or avocado oil cooking spray
Instructions
Preheat oven to 425 degrees. In a large bowl add potatoes, bacon, parmesan, all spices, and olive oil. Mix together very well.

Place aluminum foil on sheet pan and light spray. Place the coated sweet potato mixture onto sheet pan and spread evenly. Spray the top of the potato mixture with a little more cooking spray.
Notes
Serves: 8. Serving Size: heaping 1/2 C. (3 ounces)
Calories: 106. Fat: 2.5g, Saturated Fat: .5g, Carbohydrates: 17g, Fiber: 2.5g, Sugar: 3g, Protein: 4g.
WeightWatchers Points: 4 Points