This post may contain affiliate links (meaning I earn a small comission if you purchase an item through a link I provide) I only provide shoppable links to items I love and are helpful. As an Amazon Associate, I earn from qualifying purchases.
This Ramen Noodle Salad recipe is a total Midwestern summer cookout classic! Super easy and crazy quick to throw together. Full of veggies, toasty ramen noodles, almonds, and sesame seeds tossed in a tangy dressing to pull it all together. It's traditionally shared at potlucks and parties, but it can double as the most delicious lunch with some added protein!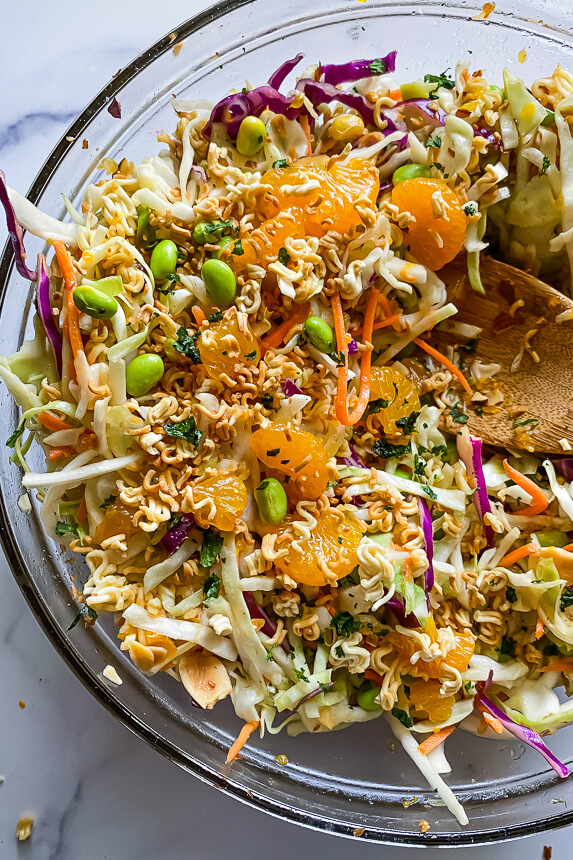 Raise your hand if you grew up with a mama who made this Ramen Noodle Salad as a side dish for cookouts? I admit when my mom used to make it I would stick my nose up as far as I possibly could because I mean… let's be honest- uncooked ramen and cabbage… ? Why mom?
When I was little, my cousins and I used to play this game. I don't think we really had a name for it, but it went like this: we would all fill up a cereal bowl with the most ridiculous combinations and dare each other to eat it. That's what I used to think about this Ramen Salad recipe. Ha! Like someone just dared my mom to put all these things together and take it to a party. I'm really sellin' it, aren't I?
The original version even has sunflower seeds in it too! It was just so random, but I remember my mom always getting so many compliments on it so she would always make it for different potlucks and birthday parties. One time, I was brave and decided to try it. Wow did my mind change pretty fast. Y'all its so good. And that uncooked ramen? It's incredible. All together it's like a sweet and savory texture party in your mouth.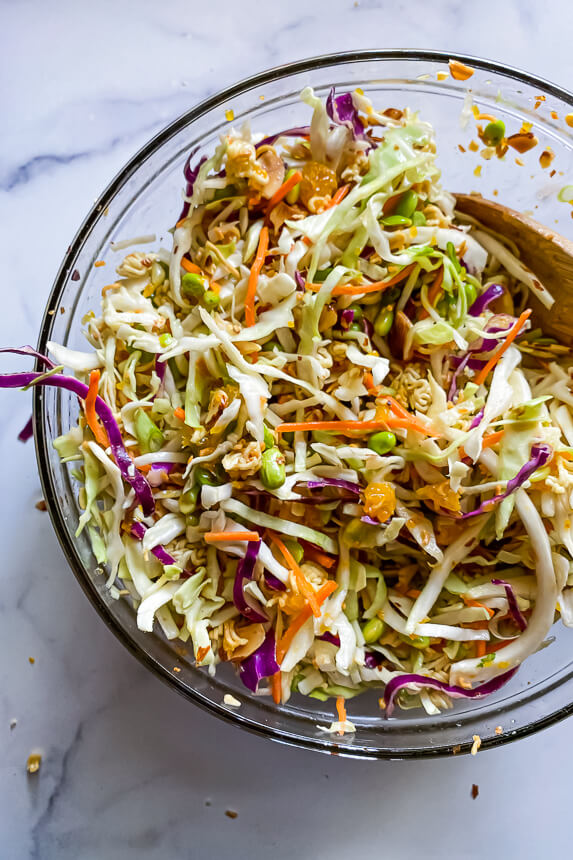 If you didn't grow up in the Midwest you might think this is a really weird salad and you might even make it and still think its super weird. I woke up feeling extra nostalgic a few weeks back and decided to make my mom's recipe, sprinkle a lil of my own magic into it, and cut way way way down on the sugar in the original recipe. Most ramen noodle salad recipes call for half'a cup sugar (if not more-eek). The first time I recreated it I added just a couple tablespoons of honey which added nice flavor and sweetness, but then I decided to just go for a little stevia in the dressing to cut way down on the sugar-y part. If stevia ain't yer thang- just use some honey.
Can Ramen Noodle Salad be a main dish?
Working on this recipe caused me to have a lot of this Ramen Noodle Salad leftovers! Eric and I started eating it as lunch daily. I actually just added a little sliced Easy Baked Chicken that I had prepped and it was the perfect lunch. I think adding shrimp or steak would be a yummy protein addition too! Eric recommends adding a little sriracha to it too.
How to make Ramen Noodle Salad: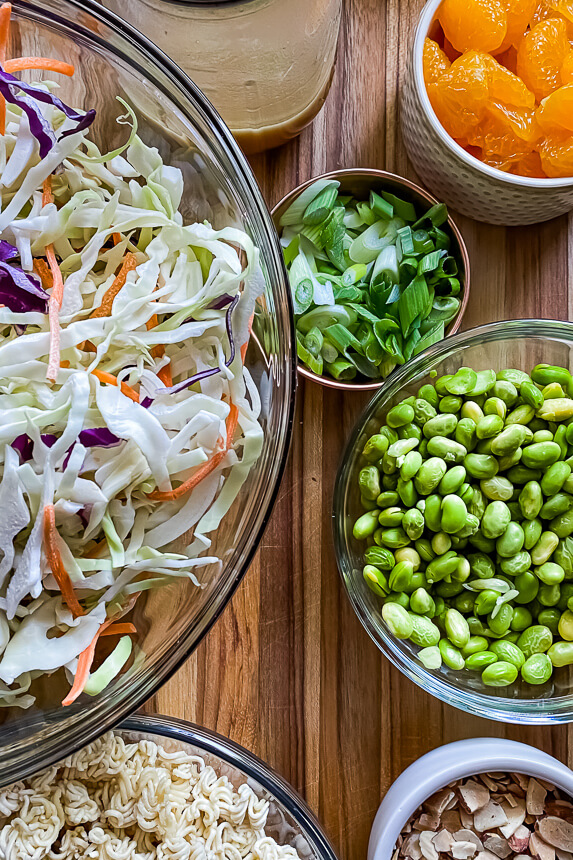 GATHER THE RAMEN NOODLE SALAD INGREDIENTS
There are a couple different variations to this salad, but I stayed fairly true to the original 90's favorite. Honestly didn't want to bring it into this decade. I want the nostalgia. I just enhanced a few things and nixed the sugar.
Ramen Noodles- crushed and uncooked! Yep that 24 cent package we all know and secretly love. Truly the perfect crunch.
Coleslaw mix- Make life easy and grab a big 16 oz bag of shredded coleslaw mix in the produce section. You can surely shred some green cabbage, red cabbage, and a couple carrots to make this if you prefer! I like this short cut though.
Sliced Almonds- Make sure they are plain. You can find these usually in the baking aisle. You can also use slivered almonds. Sometimes they are labeled as "raw".
Mandarin Oranges- I think these add a really delicious sweetness to the salad. I use the kind that's in 100% fruit juice NOT syrup/light syrup.
Edamame- A yummy texture addition! You don't have to add these, but I really enjoy them in this. You can usually find frozen shelled edamame with no problem in the freeze section, but if not- skip'm!
Green onions– thinly sliced
Sesame seeds- Just a tablespoon, but it adds a delightful light toasted sesame flavor along with more texture. Some recipes call for sesame oil in the dressing, but I switched it up and decided on this cause sesame oil is just… really strong.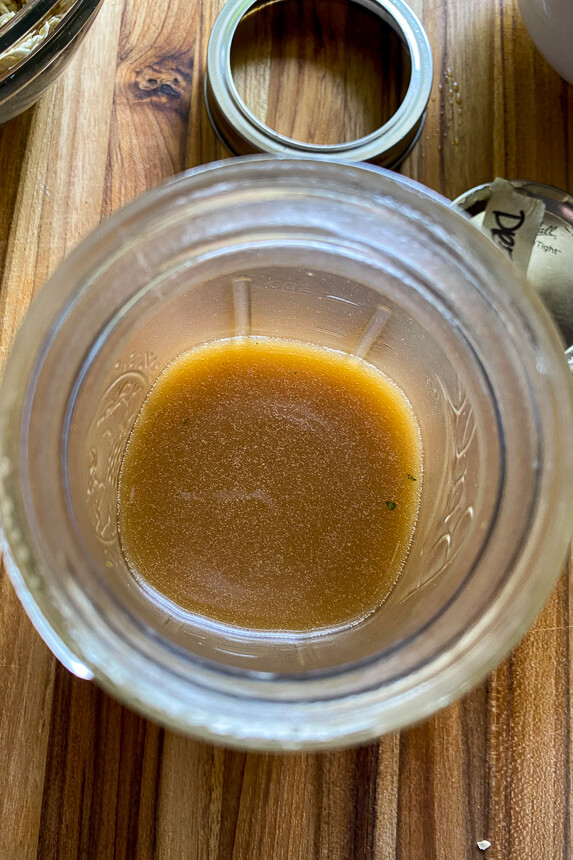 In a small jar add 1/4 cup olive oil (vegetable oil works too), 1/4 cup rice vinegar, 2 tbsp low sodium soy sauce, 1/4 tsp garlic powder, and 1 tsp stevia. Make sure the lid is on tight! Shake well.
Pstttt If you want to kick it up a notch add a little sriracha and then shake it up!
Toast the uncooked noodles AND sliced almonds (if they aren't already toasted) over medium heat in a skillet! Watch them super closely and stir often because some pieces will be larger than others!
After most of the noodles start to get toasty (they won't all toast up and that's okay). They will resemble the color of peanut butter. Add in a tablespoon of sesame seeds. Let them toast for maybe a minute or so. Toasting all of these elements will take your tastebuds to happy town. Trust me!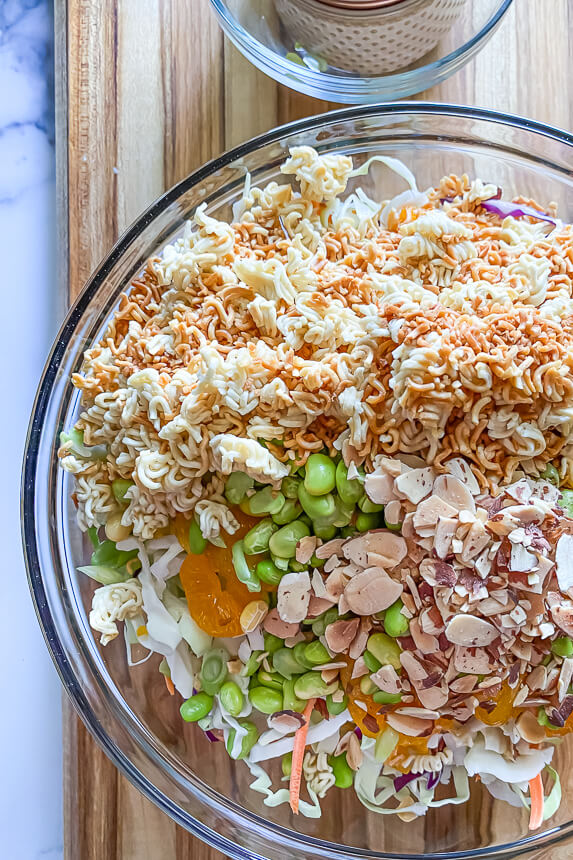 In a large bowl stir together your coleslaw mix, green onions, mandarin oranges, edamame, uncooked ramen, almonds, sesame seeds. Pour the dressing over the top and toss it all together.
Here's the controversial part: I add about 3/4 tsp of the little seasoning packet that comes in the ramen package. I know its stupid high in sodium, but listen, I don't use the whole thing. The whole thing is in one package of ramen(one serving), but this makes a lot more servings than one. You don't have to use it though- you can salt and pepper it to taste and call it a day. After all, It's your kitchen and you can do what you want!
One of the best things about this salad is that it's totally gorgeous. It's a showstopper among the different side dishes on that potluck table. I know the ingredients list is little questionable, but this sweet and salty mixture is just wonderful.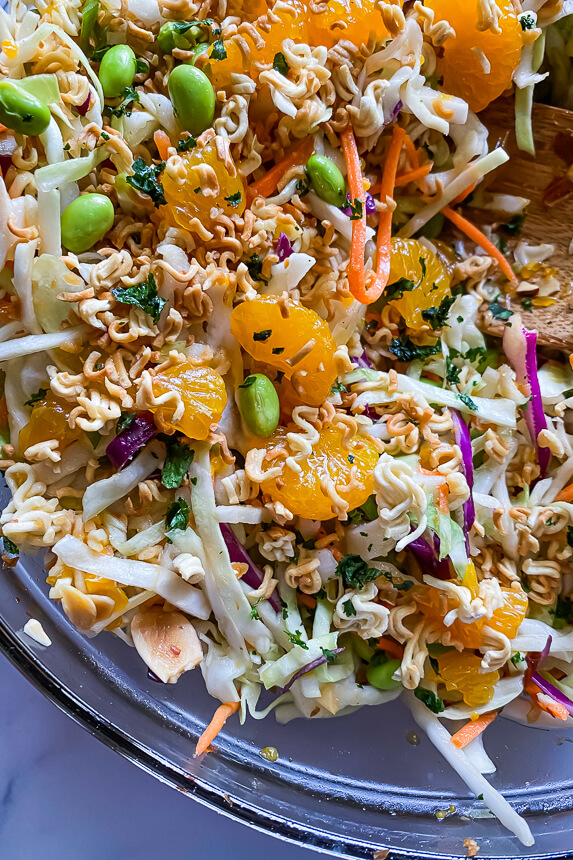 Can I make this Ramen Noodle Salad ahead of time?
Kind of. So, I personally don't mind it mixed all up and letting the flavors mingle. But, keep the freshly toasted crunchy parts separate. Add them when you're ready to serve. You can mix up everything else including the dressing in advance. I would do it up to 8 hours in advance.
I don't mind it sitting in the fridge for a couple days and eating it with a fork out of the fridge for a midnight snack, BUT the people at the party you're going to might enjoy it a little more fresh.
MORE SALAD RECIPES TO LOVE: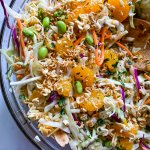 Print
Ramen Noodle Salad
Ramen Noodle Salad is a favorite midwestern potluck classic! Shredded cabbage, ramen, and almonds tossed with a simple dressing.
Materials
1 (16 oz)

pkg

bag coleslaw mix

1/2

cup

chopped green onions

1 (3 oz)

pkg

ramen noodles, seasoning packet removed

1

cup

shelled and cooked edamame

*I find it in the frozen section and just make it according to the bag directions

1

cup

Mandarin oranges

*in 100% fruit juice not syrup

½

cup

thin sliced or slivered almonds

1

tbsp

sesame seeds
Dressing
¼

cup

rice vinegar

*you can also use white vinegar

¼

cup

light tasting olive oil

2

tbsp

low sodium soy sauce

¼

tsp

garlic powder

1

tsp

stevia

*or your favorite sweetener
Instructions
Place uncooked ramen noodles in a ziplock bag and crush then into tiny pieces.

Heat a skillet over medium heat and add uncooked ramen and almonds (if they aren't already roasted) stirring often. You'll know they are becoming toasted when they're almost just like the color of peanut butter. Not all pieces will toast up perfectly- don't try cause other pieces will burn then. Add sesame seeds to the uncooked ramen when its almost done and toast those with it all for about a minute. Set aside.

In a jar (or grab a small bowl and whisk it together super well) add oil, vinegar, sweetener, garlic powder, and soy sauce. Place the lid on and shake well.

In a large bowl add coleslaw mix, edamame, onions, oranges, ramen, almonds, and sesame seeds then toss with the dressing. You can either salt and pepper to taste here or add about 3/4 tsp of the seasoning packet from the ramen. It's up to you! Serve immediately.

Make ahead tips: Make dressing and mix with all ingredients. Toast ramen/almonds/sesame seeds, but keep separate until serving.

I personally still really enjoy it as leftovers with everything mixed together. Stays good for 4-5 days in a container with a tight fitting lid.
Notes
Makes 10 cups. Serving size: 1 cup (side dish)
WW Points: 5
179 calories, 11g fat, 2g saturated fat, 359g sodium, 14g carbohydrates, 2.5g dietary fiber, 4g sugar (0g added sugar/sugar alcohol), 11g net carbs, 4.7g protein
Notes: Toasting the ramen/almonds is an optional step, but it's necessary if you want it to taste
extra amazing.
Make this a yummy main dish by doubling the serving and adding some chicken breast or other protein.
Nutrition
Serving:
1
cup
|
Calories:
179
kcal
|
Carbohydrates:
14
g
|
Protein:
5
g
|
Fat:
11
g
|
Saturated Fat:
2
g
|
Sodium:
349
mg
|
Fiber:
3
g
|
Sugar:
4
g