Quick Chipotle Pinto Beans
This post may contain affiliate links (meaning I earn a small comission if you purchase an item through a link I provide) I only provide shoppable links to items I love and are helpful. As an Amazon Associate, I earn from qualifying purchases.
Hi there! Time for some quick Chipotle Pinto Beans, folks! This might be the shortest post I'll ever write. I'm sure y'all kinda breathed a sigh of relief, huh? I know I'm a rambler, but I always find my way, you know? When I was younger I always got in trouble for talking with my teachers. I feel like blogging is even more my calling because I get to talk about whatever I want, whenever I want, and I won't be getting yelled at by the teach. It's a pretty great gig and I'm pretty lucky.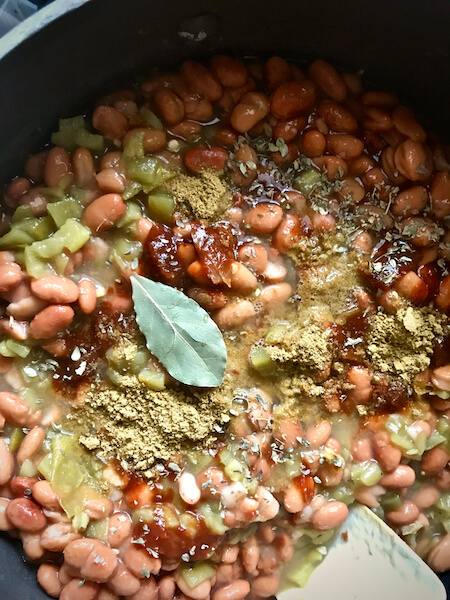 Anyhow, I still can't believe I say things like this these days, but here it goes: I really, really, really love these pinto beans. Like, I could just sit and eat a big ol' bowl of'm for lunch. I have a couple times actually. I might add a little cheese because I'm me, but other than that, they are perfect all by themselves. If you've been following me for awhile you might know that I was a bonafide bean hater up until August 2017. I don't know why I changed my mind to be completely honest. I just gave'm another chance while I was making some chili for Eric. Now, I love them! (well most of'm- i don't do kidney beans!) Sometimes, it can be good to try new things and not stay so stuck in your ways. I still won't touch a mushroom with a ten foot pole though so don't ask! haha!
Anyway, I'm making this post short and sweet just like these beans, except the beans aren't sweet at all, just a tad bit spicy, very tasty, but not sweet. You get the picture, right?
At the end of this post, I've got some pretty exciting FOOD NEWS to share….
LET'S GET IN THE KITCHEN!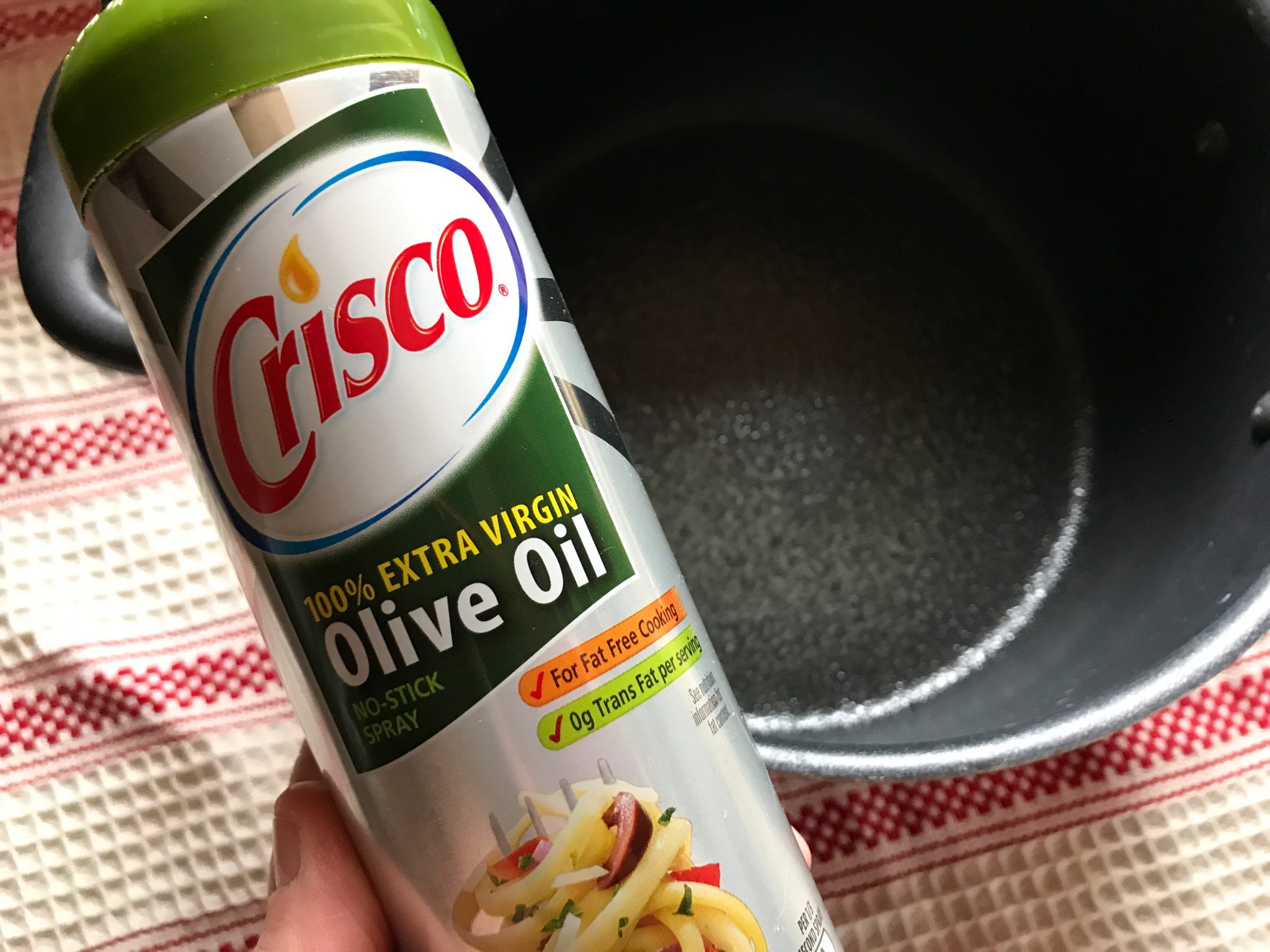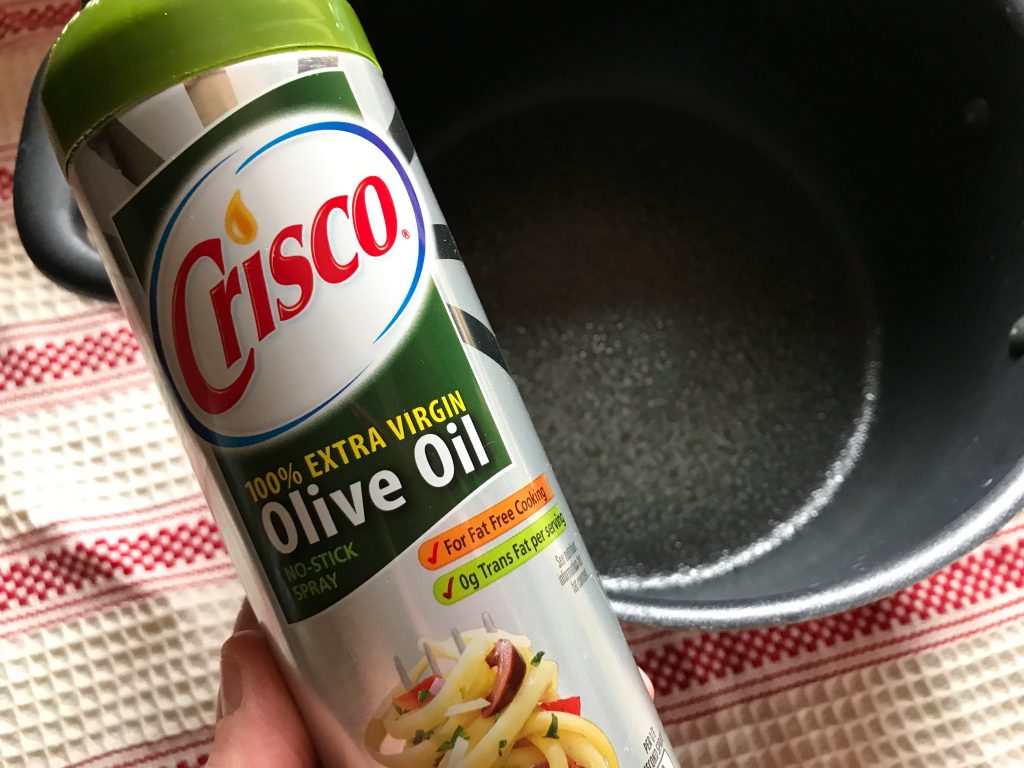 Grab a sauce pan and spray it with some olive oil cooking spray. You can really use any kind of cooking spray, but i personally prefer the olive oil one.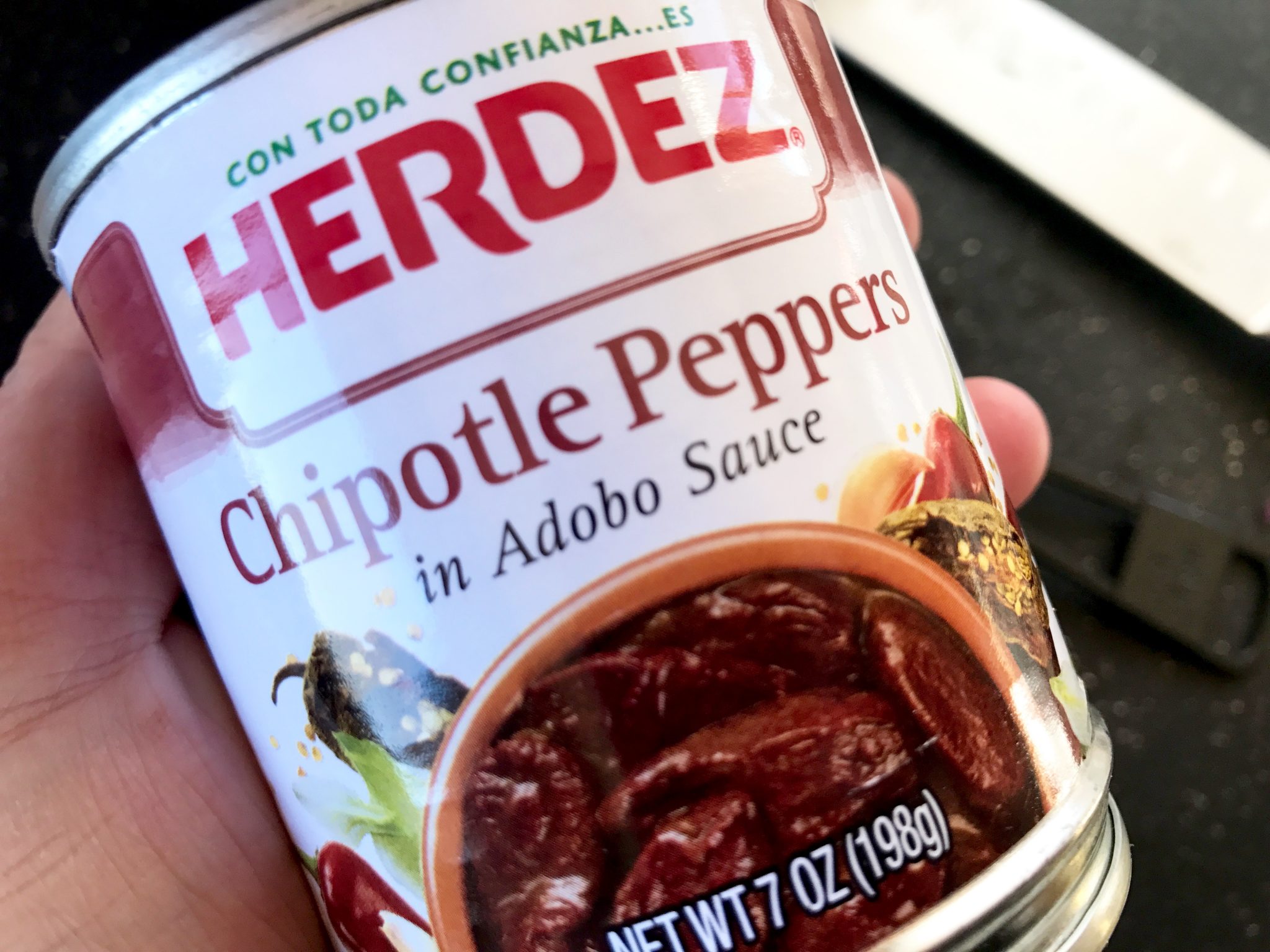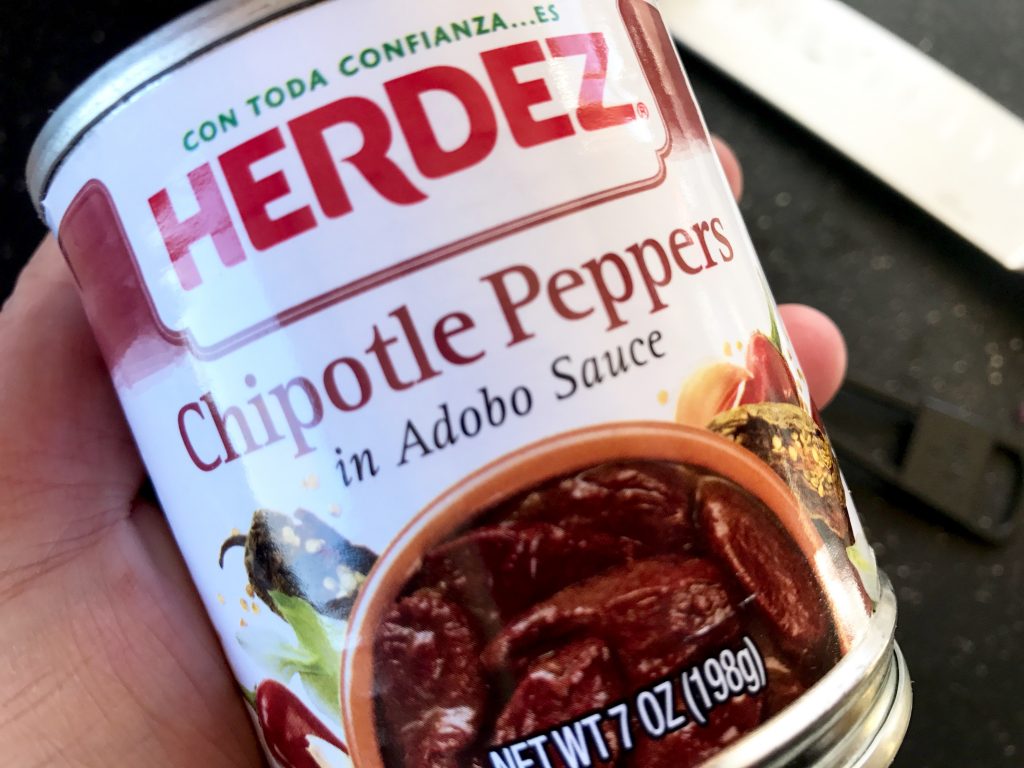 You'll need a small can of these guys for these beans. It's important. Don't forget'm! You'll need one chipotle pepper and you'll need 3 teaspoons of the adobo sauce that they come in. You can find these guys in ANY grocery store in the Latin foods section. Any brand works!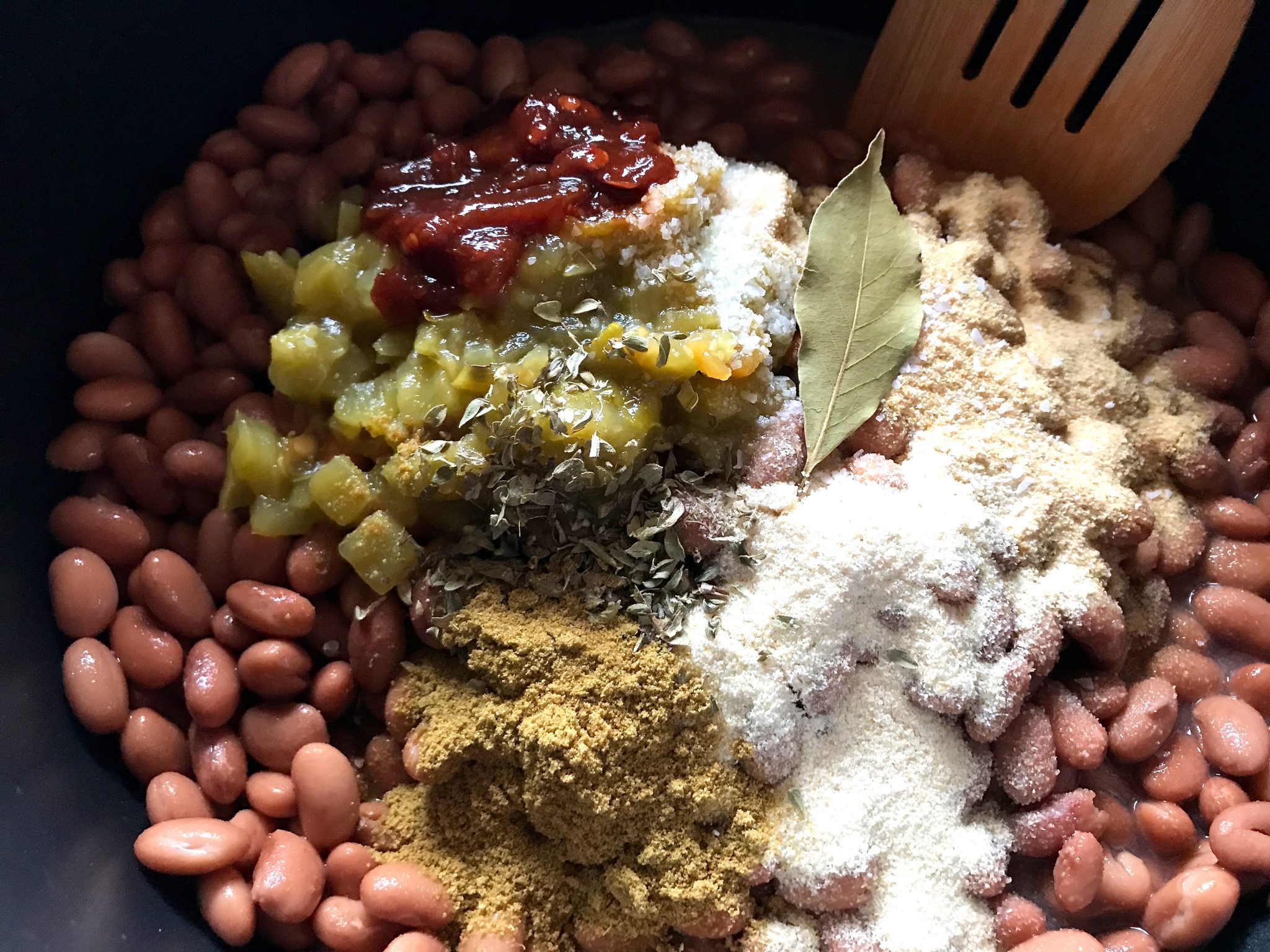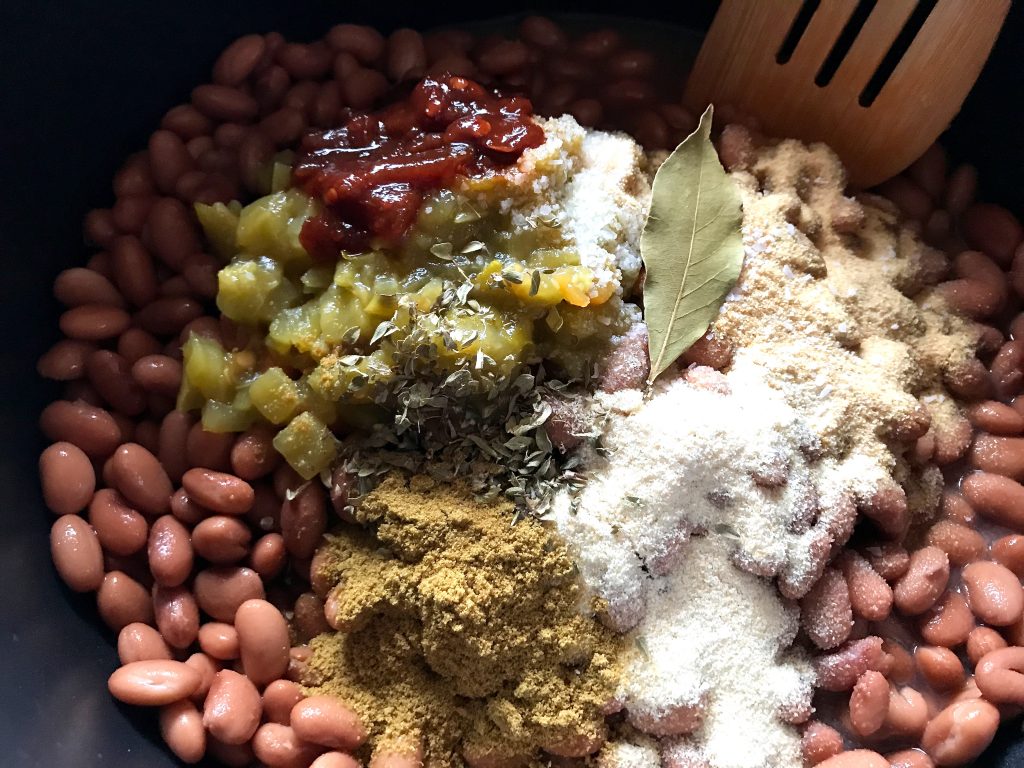 Quickly throw in two 15 ounce cans of pinto beans partially drained, 1/4 tsp oregano, 1 tsp garlic powder, 1 tsp onion powder, 1 tsp cumin, 1 tsp kosher salt, mild green chiles, 3 tsp adobo sauce, 1 chipotle pepper, and one bay leaf.
Okay so, two things:
In this photo, I threw in a 4 oz can of mild diced green chiles. I do this a lot of the time when I make these now, but I also REALLY enjoy throwing a can of Rotel in with'm. It's SO yummy. When I was photographing the recipe the other day I set the can of Rotel down somewhere and COULD NOT FIND IT FOR THE LIFE OF ME. Guess where it was, guys? It was in my couch. (unopened- thank goodness.) I want to blame my toddler, but I truly don't know if I can for sure. I can be just the tiniest bit absent minded from time to time. Which brings me to number two…
If this looks like a bunch more dried spices than what the recipe calls for to you it's because it IS. I grabbed the tablespoon instead of the teaspoon and didn't realize it until I was DONE putting the spices in. I'm pretty heavy handed with the spices usually so I thought it would be fine, NO. IT WAS NOT FINE. Don't do that. Make sure you use the recommended amount of spices because it is the PERFECT amount, I promise. Double check your measuring spoons, y'all. … lesson of the day. Whoops!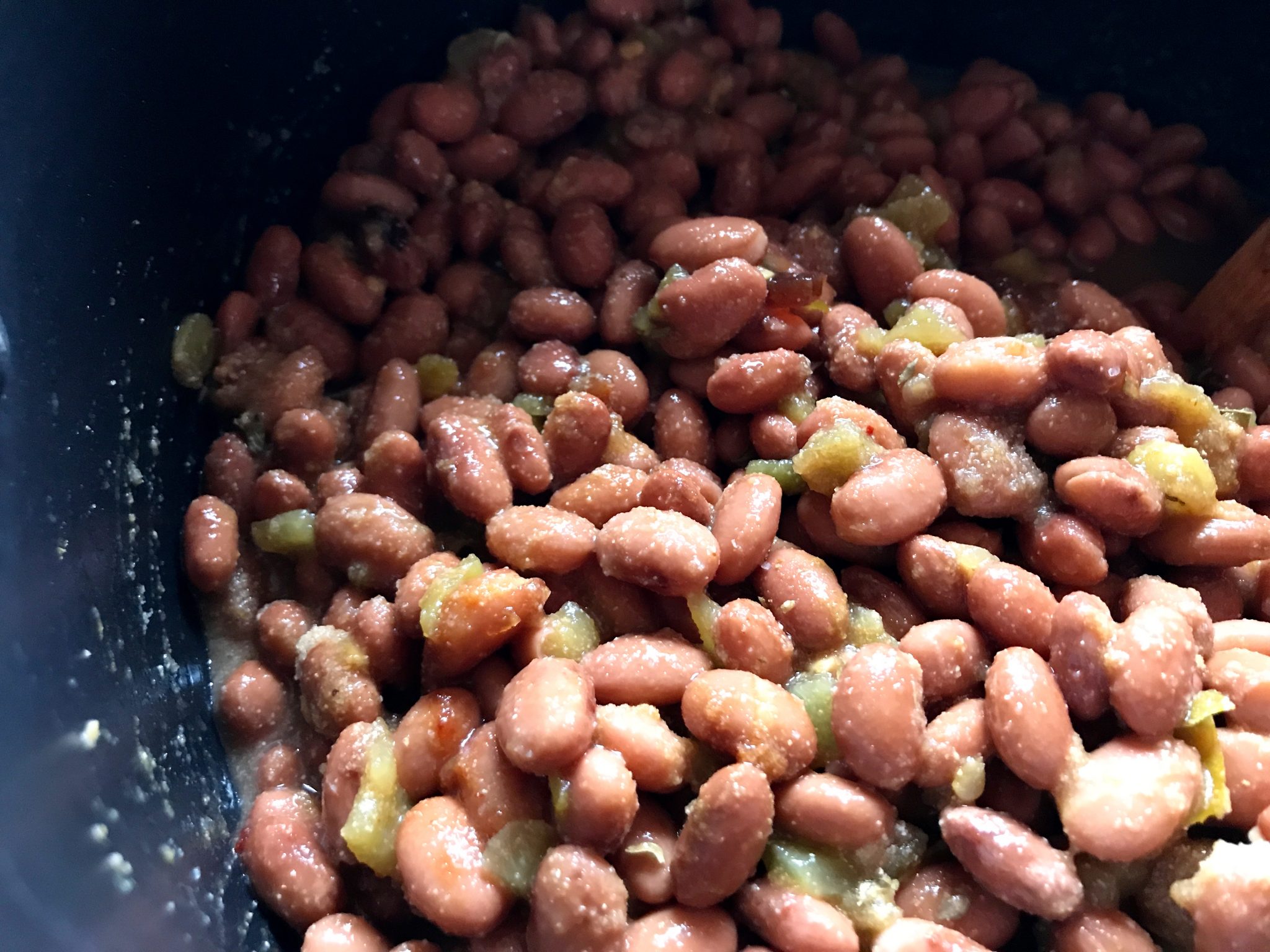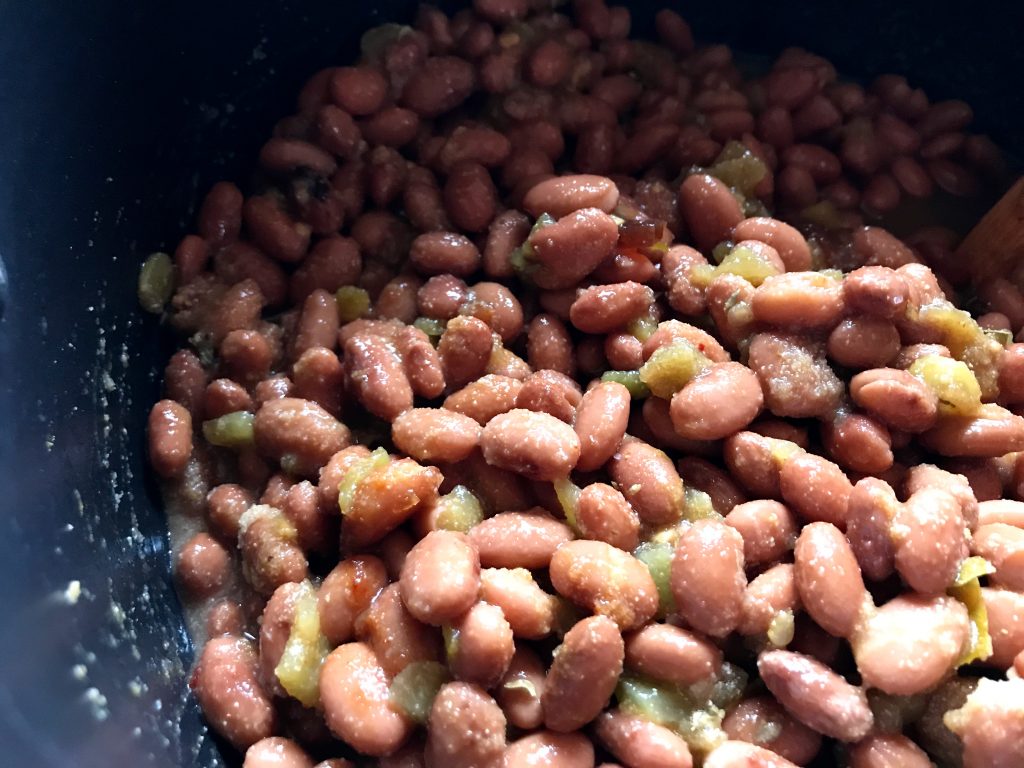 Stir it all up! Cover the pot and heat over medium low heat for 10-12 minutes or really just until warm.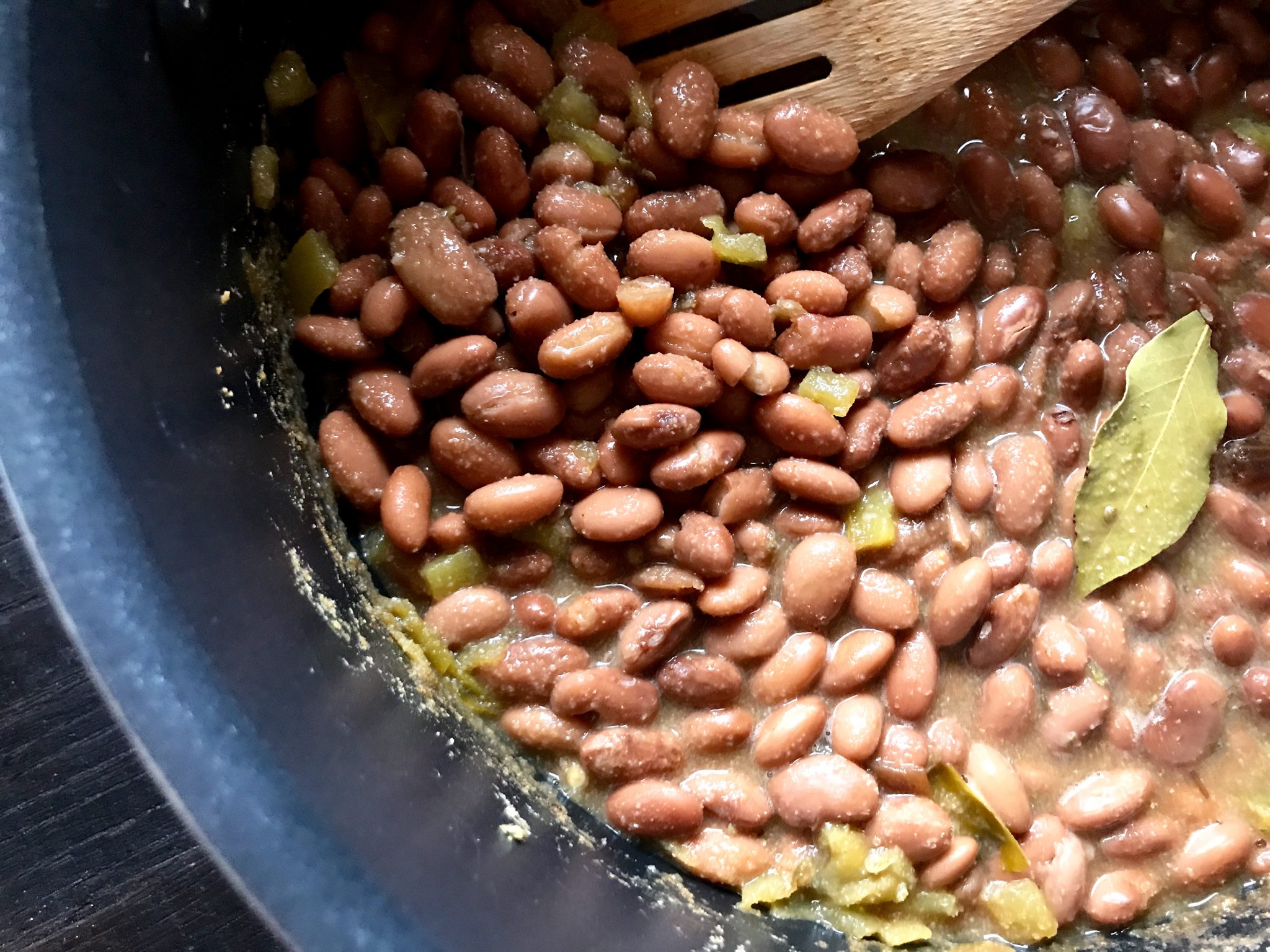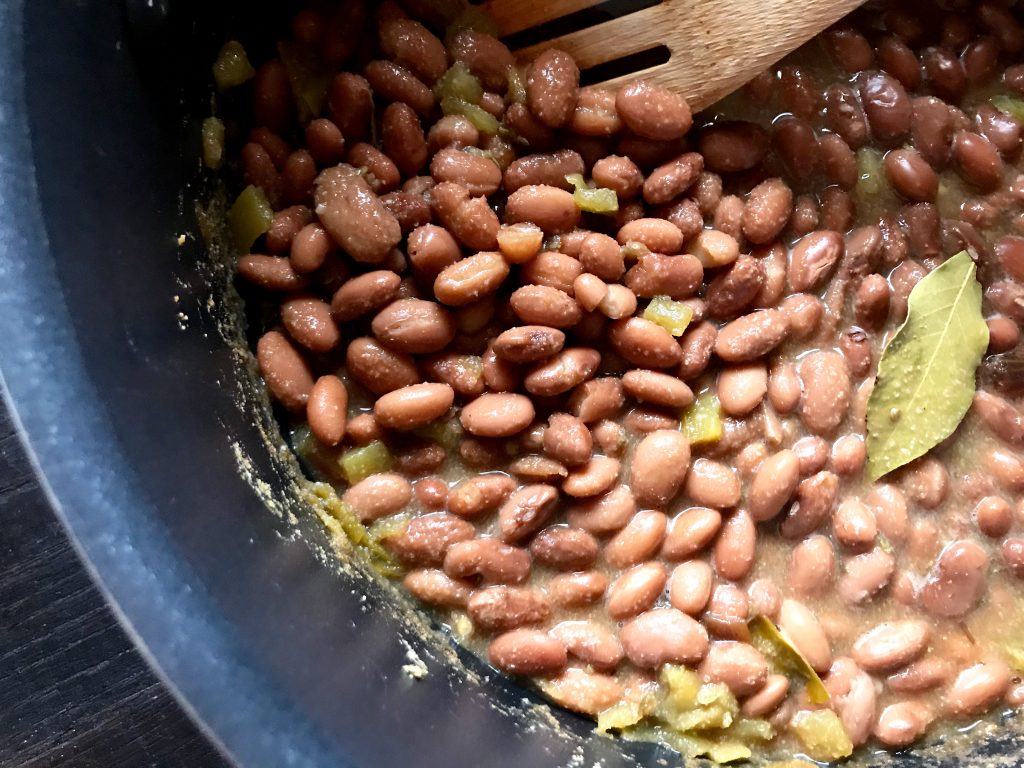 When they are warm go ahead and fish out the bay leaf & the chipotle pepper and toss in the garbage.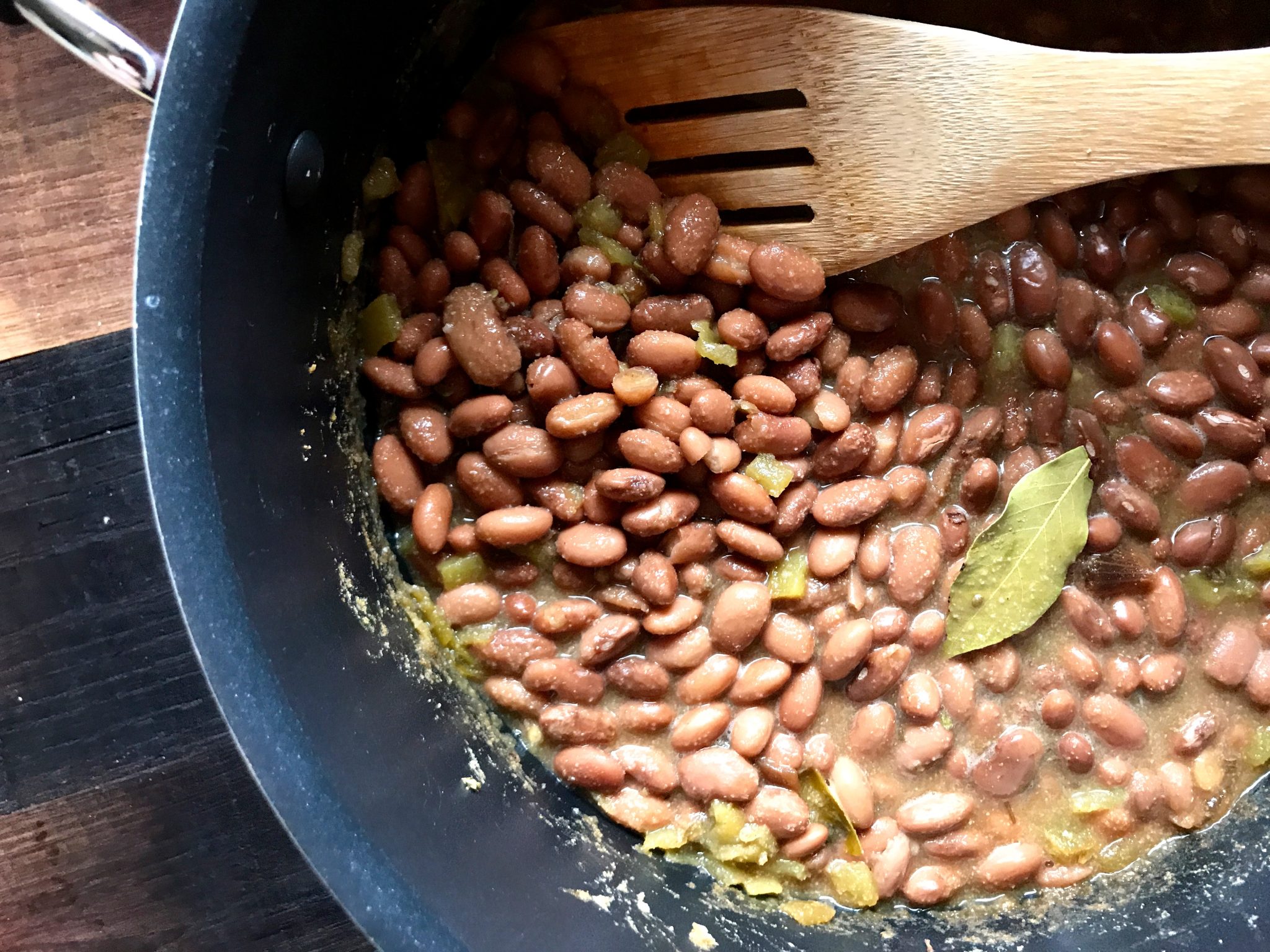 See wasn't that quick and easy? short and sweet?
I know these aren't much to look at but man alive, they are tasty. These beans are inspired by the pinto beans you get at Chipotle Mexican Grill. We do NOT live anywhere near a Chipotle so back in January I set out to work on some recipes to get the feel of a really, really tasty burrito bowl like the ones ya can get at Chipotle. This was the first part of the bowl that I "perfected" in my opinion. Now, this isn't a copy cat recipe because I don't know what Chipotle does to their beans. I know a couple things they do to their rice, but as far as these beans and other delicious goodies they have. I don't have their recipes, but I set out to make my own version of things and I AM SO EXCITED TO SHARE IT WITH YA!!!
Over the next week, I will be posting ALL of the recipes to make the best dang Homemade Burrito Bowls this side of the Mississippi.
Are you excited yet? I am. I've been working on these recipes for months.
Of course, you don't HAVE to make these and make all the other recipes I am posting for Burrito Bowls, but if you want pure happiness- you do.
Just kiddin'.
I hope you make'm and love'm. Stay tuned this week for all the parts of your new favorite meal prep option.
Let me know how it goes!
With love from my kitchen to yours,
Star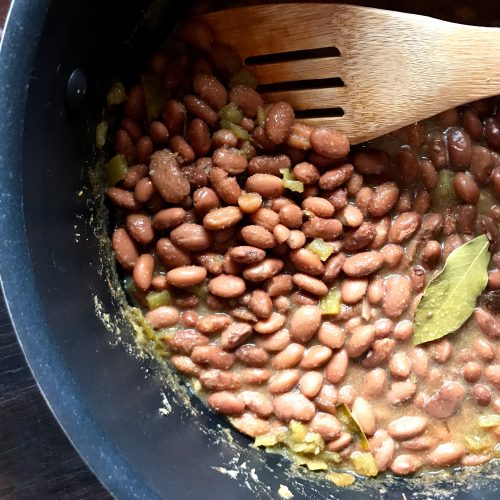 Print
Quick Chipotle Pinto Beans
Pinto beans simmered in Mexican spices and peppers for ultimate flavor
Materials
2

15 ounce cans

pinto beans

partially drained

1

4 oz can

mild green chiles

or 1 can Rotel (green chiles & tomatoes)

1

chipotle pepper (from can)

You can find canned chipotle peppers in adobo sauce in latin food section in any grocery store

3

tsp

adobo sauce (from can)

You can find canned chipotle peppers in adobo sauce in any grocery store in the Latin foods section

1

bay leaf

1

tsp

kosher salt

1

tsp

cumin

1

tsp

garlic powder

1

tsp

onion powder

olive oil cooking spray
Instructions
In a medium sauce pan spray bottom with olive oil cooking spray. Add all ingredients to the pan. Stir until combined well. Bring to boil then reduce to medium low heat, cover, and continue to cook for 10-12 minutes until heated through. When heated remove bay leaf and whole chipotle pepper. Serve warm. Enjoy!
Notes
Makes about 3.5 cups serving size: 1/2 cup
110 calories 1g fat, 0g saturated fat, 19g carbohydrates, 6g fiber, 1g sugar 6g protein
WeightWatchers Points: 0 points (any amount)