This post may contain affiliate links (meaning I earn a small comission if you purchase an item through a link I provide) I only provide shoppable links to items I love and are helpful. As an Amazon Associate, I earn from qualifying purchases.
Good Morning, or evening depending on when I actually get this posted. I'm shooting for the morning since this is a delicious breakfast recipe.
Funny story, September First hit and everyone, including me, went pumpkin nuts. I went to our local grocery store to pick up some pumpkin and THEY DIDN'T HAVE ANY.
So I didn't panic, just yet, I figured we have two other grocery stores. I'll grab some there.
No.
Just kidding, guys. There was no pumpkin to be found in small town, Illinois.
Fun Fact: Illinois has the highest pumpkin production in the U.S. .. so please tell me why we didn't have any pumpkin when pumpkin pie spice everything season hit? I don't know. I should write them a letter.
But thankfully, a couple weeks ago, I went down the pumpkin aisle when I was grocery shopping and they were stocked to the brim with pumpkin so I grabbed approximately 38 cans just in case it happens again.
So I FINALLY get to make some delicious pumpkin recipes.
How many times have I said pumpkin in this post so far?
Pumpkin. Pumpkin. Pumpkin.
Blogger. Mom. Pumpkin Enthusiast.
Okay back to the reason y'all are here and I know it isn't to hear me say pumpkin one more time.
This oatmeal is just delicious as can be. It has all of the wonderful tastes of pumpkin pie, but delivered in a steaming hot bowl of oatmeal. It's perfectly lightened up so you can enjoy the taste of fall any morning of the week in just a few minutes. One of my favorite parts about this quick and simple recipe is that all of these items can be found in my pantry. I also always have almond milk in the fridge if not for recipes, then definitely for coffee. So, I always can have a bowl of hot oatmeal if I am lacking in the grocery department.
Here's what happened in my kitchen once I finally had some pumpkin in my greedy little hands…
You'll need some unsweetened almond milk (vanilla or plain), oats, pumpkin, cinnamon, pumpkin pie spice, vanilla. You can top with some delicious walnuts and a little bit of regular or sugar free maple syrup for some extra sweetness.
Cook oats and almond milk together in a small pan
When the oats are finished cooking stir in vanilla, cinnamon, pumpkin pie spice, and pumpkin puree. Cook for another few minutes.
Mmmm.. Your kitchen will be smelling amazing at this point.
Just so creamy and comforting on a cooler morning. I love this oatmeal. So much.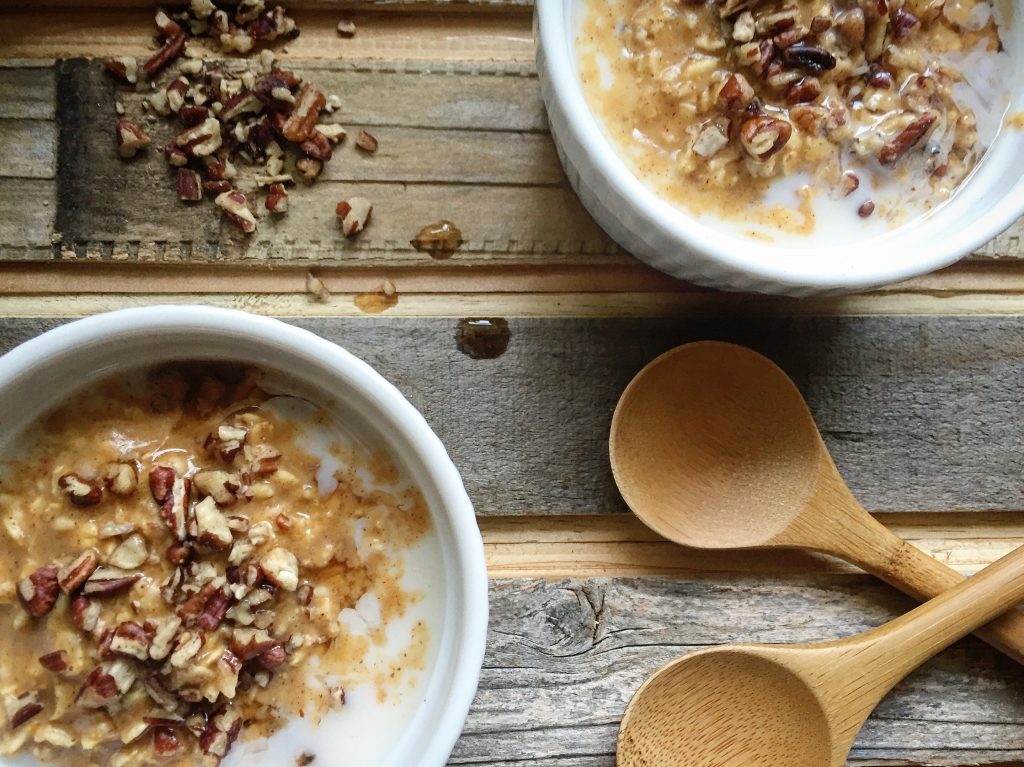 P.S. I add a splash of almond milk after they are done cooking to add a touch of rich creaminess. It's divine.
I hope y'all enjoy!
Xo, Star
Print
Pumpkin Pie Oatmeal
Pumpkin-ey, creamy, slightly sweet bowl of comfort.
Materials
1

cup

Old fashioned Rolled Oats

1 1/2

cups

Unsweetened almond milk

, vanilla or plain

1/4

cup

Pumpkin puree

1/2

tsp

Cinnamon

1/2

tsp

Pumpkin Pie Spice

1/2

tsp

Vanilla

Toppings of choice

(optional): walnuts, pecans, maple syrup, sugar free maple syrup, brown sugar, stevia
Instructions
In a small pan, add oats and unsweetened almond milk. Cook over medium heat, bring to a boil, and then reduce to simmer and stir occasionally for about 4-5 minutes, or until desired consistency is reached. Add pumpkin puree, vanilla, cinnamon, and pumpkin pie spice. Cook for another 1-2 minutes. Serve and top with desired toppings to add a bit of sweetness, or nuts for a bit of crunch.
Notes
Serving size: 1/2 the batch. (About 3/4 cup)
115 Calories, 3g of fat, 0g saturated fat, 17g carbohydrates, 4g fiber, 2g sugar, 4g protein.
WeightWatchers Points: 4