Pigs in a Blanket Pancake Bake
This post may contain affiliate links (meaning I earn a small comission if you purchase an item through a link I provide) I only provide shoppable links to items I love and are helpful. As an Amazon Associate, I earn from qualifying purchases.
Hey there, friends! This Pigs in a Blanket Pancake Bake is the perfect thing to step up your breakfast game! It's completely packed with the flavors, textures, and smiles of light & fluffy and sweet & savory pancakes with sausage. PLUS- It's done in half the time! This makes it easy to throw together any day of the week. It's great for a crowd, and it's just the perfect thing for Christmas breakfast!
Anyone else drooling yet? I am.. a lot.
Let's talk for a minute.
Before we dive in, there are two things you need to know about me.
First, I loathe making pancakes. It's such a lengthy process! I'm honestly not very good at flipping them properly, and they are always cold by the time I get them on the table. It's just not my favorite thing to cook. You can find me making pancakes pretty much never, unless it's someone's birthday… and even then, it's debatable.
The second thing- weirdly, I absolutely love pancakes. I don't have much of a sweet tooth, but when it comes to pancakes I need them like I need air! A few weeks ago, I was thinking about how much I love pancakes, and how much I hate making them. Then it hit me… TRY A PANCAKE BAKE! I've made pancake muffins in the past, so I figured it would probably work. And folks, it really did.
One more thing, my favorite guilty foodie pleasure is Pigs in a Blanket! I'm not sure, so if "Pigs in a Blanket" happens to be a Midwesty thing, I'll explain – It's basically pancakes wrapped around sausage links, and then drowned in maple syrup. It's the gosh-dang best! However, you definitely won't find me making Pigs in a Blanket. Because really now.. that's even more to do. When we're out for breakfast I love ordering them, but it's such a heavy meal, and often times leaves me feeling not so great. So I figured… two birds, one stone- you know? Pancake Bake + Sausage. Well, sorta. It's turkey sausage, so there's no "pigs" in this blanket, but hear me out.. it's absolutely delicious. And since creating it, we can't stop eating this for breakfast every day! You're all going to love it, and I can't wait to hear your thoughts after you make it.
This recipe just so happens to be pretty dang perfect for Christmas morning. Nobody wants to spend the morning in the kitchen instead of loving on the family. So, add it to your menus, y'all. No standing around in the kitchen, staring at the griddle as you make the pancakes. All you need to do is mix up the batter, add some turkey sausage, then bake! I like to round the whole meal out by adding some Lazy Girl Scrambled Eggs (they take just a minute or two to make), and a variety of fresh fruit on the side!
Let's get in the kitchen and I'll show ya how it's all done. You're just a few steps away from a delicious Pigs in a Blanket Pancake Bake!
Throw half a pound of turkey sausage into a pan, and cook it until it's brown and crispy.
When it's done cooking, remove from the heat and stir in one tablespoon of maple syrup. I use real maple syrup, because nothing compares… but you can use sugar free if desired!
Grab a medium mixing bowl and add 2 cups of all purpose flour, 1 teaspoon of cinnamon, 1 tablespoon of baking powder, 1/2 teaspoon of salt, and 2 tablespoons of sugar (or sugar substitute… I personally usually use Truvia/stevia- you can find it in the baking aisle, near the sugar and sugar substitutes). Stir it up with a whisk or fork to combine it really well.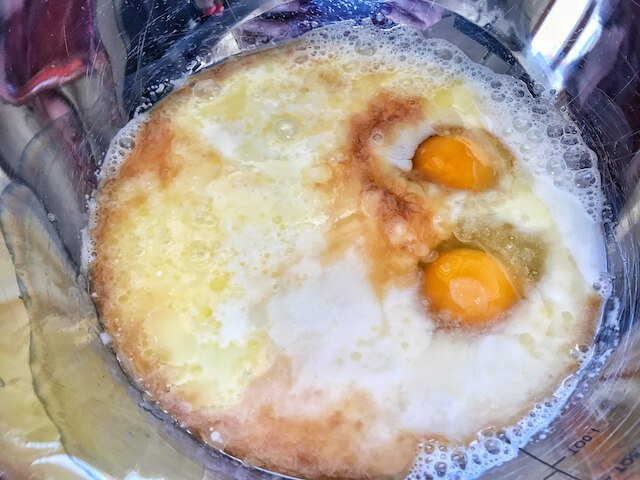 Next up grab yourself a bigger bowl. Add one and a half cups of low fat milk, two eggs, one teaspoon of vanilla extract, and one tablespoon of melted butter.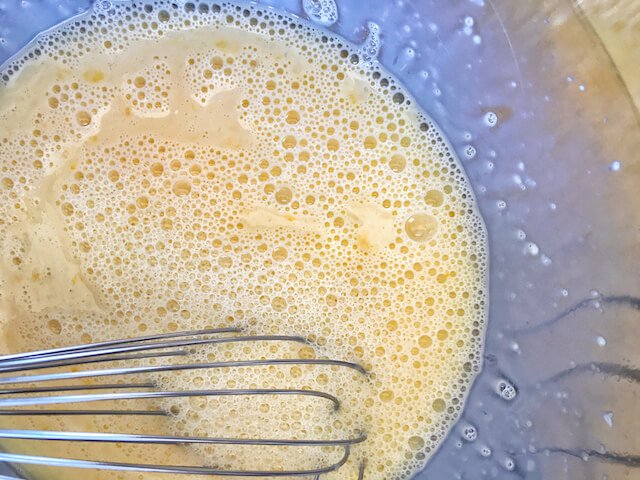 Whisk it together real good!
Pour the flour mixture into the milk & egg mixture. Stir it together just until it's combined. Be careful not to over mix here– The batter should be a bit lumpy! If for whatever reason it seems a bit thick, you can add a tablespoon or two of water.
Now you can either gently fold the cooked turkey sausage into the batter, or if you're scared of over mixing, you can sprinkle it on top after you've poured it into the baking dish.
Pour the batter into a 9×13 casserole dish that's been sprayed well with cooking spay.
Bake for 25-28 minutes. To ensure it is done, insert a knife into the middle of the pancake bake- if the knife comes out clean, you're good to go!
Let it sit for a few minutes before cutting into it and serving.
And here she is, Pigs in a Blanket Pancake Bake!
Cut it into squares… and live happily ever after.
Hello beautiful. 🙂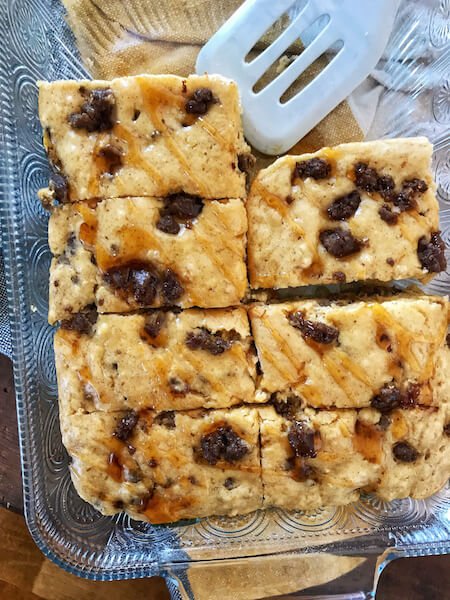 Truth be told, I ate two pieces before I remembered I had to take photos. Silly me. When it comes to pancakes, I have very little self control… This Pigs in a Blanket Pancake Bake doesn't last very long in our house!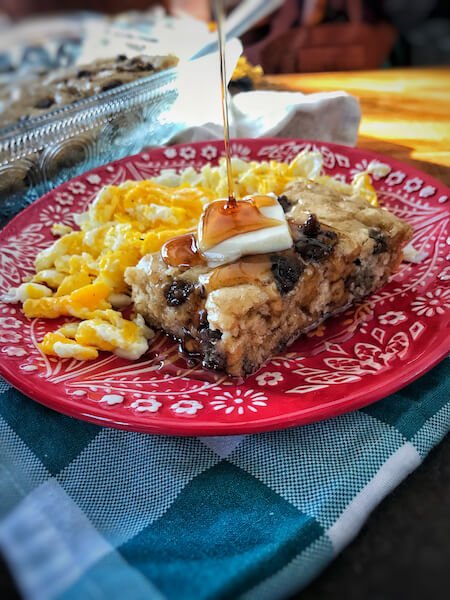 You can add a lil buttah, or light buttah, or fruit, or whip cream, oand/or a drizzle of maple syrup to make it even better- really, whatever your lil heart desires. Just remember it'll be extra points/calories for whatever ya add- so be sure to account for it.
Pssst..if the sausage part ain't your thing, it'll work without it!
I hope you all love this as much as we do.
Don't forget to let me know how it goes!
With love from my kitchen to yours,
Star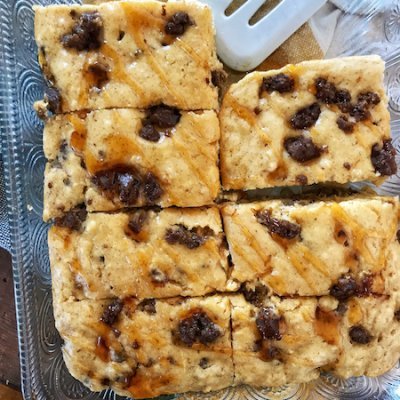 Print
Pigs in a Blanket Pancake Bake
Light and fluffy pancakes without the fuss.
Materials
½

lb

lean turkey breakfast sausage, raw

i use Jennie O

1

tbsp

maple syrup

2

cups

all purpose white flour

1

tbsp

baking powder

½

tsp

salt

2

tbsp

stevia or favorite sugar substitute

1

tsp

cinnamon

1-½

cups

1% low fat milk

2

large

eggs

1

tsp

vanilla extract

1

tbsp

butter

melted
Instructions
Preheat oven to 350 degrees. Spray a 9×13 casserole dish well with cooking spray.

Place turkey sausage in a pan, break up with a spatula, and cook for a few minutes until cooked through and browned. When the turkey sausage is done cooking remove from heat and stir in maple syrup. Set aside.

In a medium bowl add flour, baking powder, cinnamon, stevia, and salt. Stir together well with a whisk or fork.

In a large bowl add milk, eggs, vanilla, and melted butter. Whisk together well.

Add flour mixture to the egg and milk mixture. Stir together just until combined. Batter will be lumpy. Be careful not to over mix! If for whatever reason you feel like the batter is too dry add one or two tablespoons of water.

Gently fold the turkey sausage into the batter. If you're scared to over mix the batter then you can just sprinkle it evenly on top!

Place into a preheated oven for about 25-28 minutes. You can check to be sure it's done by inserting a knife into the middle of the pancake bake- If the knife comes out clean it's good to go!
Notes
Serving size: 1/8 of casserole dish.
Calories: 200, Fat: 5g, Saturated Fat: 2g, Carbohydrates: 26g, Fiber 1g, Sugars 3.5g, Protein 10.5g
WeightWatchers Points: 7 Points
*real sugar may be used in place of sugar substitute, but the calories/points information will change