Philly Cheese Style Stuffed Peppers
This post may contain affiliate links (meaning I earn a small comission if you purchase an item through a link I provide) I only provide shoppable links to items I love and are helpful. As an Amazon Associate, I earn from qualifying purchases.
Philly Cheese Style Stuffed Peppers… WOW. Our family loves these so much, I rushed this recipe right to the head of the line so all of you can make them! Now Eric and I aren't exactly Philly Cheese Steak experts or anything. But these are a perfect way to get the rich flavor of the iconic American sandwich, without breaking the bank with carbs, calories, or ww points! "How is it possible?" you may ask. For starters, I eliminated that grease-soaked bun, and loaded the delicious stuffing into baked bell peppers! This makes them low in carbs, but still very high in flavor. They're totally filling, so you won't overeat or get hungry again two hours later. And if you still need a reason to make these, how about this: they're pretty dang easy to make. For all these reasons, the cook will love these just as much as everyone else!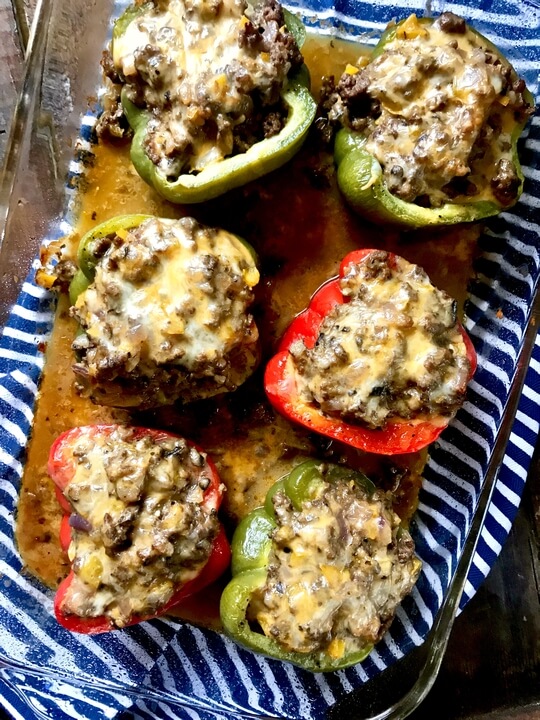 So for years, I've seen Philly Cheese Steak Stuffed Pepper recipes floating around the internet. But all of those called for either shaved beef or thinly-sliced steak. Long before I had this blog, I actually cooked up the steak recipe, and I didn't love it. It needed a sauce, and more flavor. It called for first cooking the steak on the stove, and then baking it. And well, that meat ended up way too dry for us. I'm not knockin' those recipes- if you've tried it that way and you like it, that's great! But it just wasn't our cup'a tea. I decided my version of Philly Cheese Style Stuffed Peppers would have a few key differences – I'd use a savory creamy sauce to tie together the meat, mushrooms, peppers, and onions; I would hide the mushrooms as much as possible, while making sure to preserve all of the added flavor (if you've been following for a while, you probably already know that mushrooms and I aren't best friends…); and finally, I would call them Philly Cheese Style Stuffed Peppers. Because there's no way around it, we all know ground beef is not steak, so I'm not gonna pretend it is. But I'm tellin' ya, it really does the job in this recipe!
NOTE FROM THE AUTHOR: My dislike, distaste, and general hatred of mushrooms is limitless, and very powerful. As a result, a significant portion of this post returns to that topic. So for those of you who enjoy them, here's a way to skip over these parts: From this point forward, if you see these symbols: 🍄, that means more trash-talking about those nasty little fungus lumps.
Eric's been throwing different ideas my way lately. You know, just to shake things up, and to help exercise my creative cooking muscles. In the mix of those ideas, a couple things kinda stuck in my brain- stuffed peppers, and steak sandwiches… and I was was all "Hot dog! Philly Cheese Steak Stuffed Peppers… I need to try'm again!" As I said before, I just wasn't a fan of the sliced steak pieces after cooking them twice. So I used extra lean ground beef… also because we have about 20 lbs of it stocked up in the freezer. 🍄 I also decided to *gasp* keep it as close to the classic sandwich style as I could, which meant *double gasp* MUSHROOMS. Many of you already know I hate mushrooms with a fiery passion. Like, I don't really even allow them in my kitchen… at all. So before the first bite, I was full-on prepared to hate this recipe… I went ahead and made'm for Eric, because y'know we do things for the ones we love, yada yada. But to my disbelief, I loved these more than I ever thought possible. 🍄🤢 The thought of eating mushrooms bothers me so much that when I make these again, I'll add mushrooms to only half of the stuffing mix, and it'll be fine. But for my readers, I wanted to include the mushrooms in the main recipe… then us sane people who hate mushrooms can just leave them out. Ha! I really am mostly kidding around. 🍄 If you're a fellow mushroom hater, I'm not going to promise that you'll like these. But I can tell you this: I think mushrooms are horrible, squishy, vile little things… and I already have these Philly Cheese Style Stuffed Peppers on the meal plan again next week. So go ahead, give them a try!
The one thing I will say bout the shrooms is that I minced those suckers so fine, they basically melted into the sauce. So I couldn't really tell they were present. 🍄 I had to basically trick myself into thinking they weren't there! "Hi I'm Star, and I'm basically five… Hide my veggies please!" But seriously… If someone else had cooked these and no one told me the ingredients, I'm almost certain I wouldn't have known. And I can detect mushrooms like no other.
🍄 The first one I had, I ate reeeeeal slow. It actually made me chuckle a bit, because I was like "I like this a lot, but I'm having a hard time liking this, because I know how many mushrooms went into this." Anyway, I guess I'm laughing now because I've written a few hundred words about how much I hate mushrooms… and you're probably all like "Girl, please – stop talking about dang mushrooms and give us the recipe already!!" 😂
And so I will! Here we go, folks!
Let's get into the kitchen!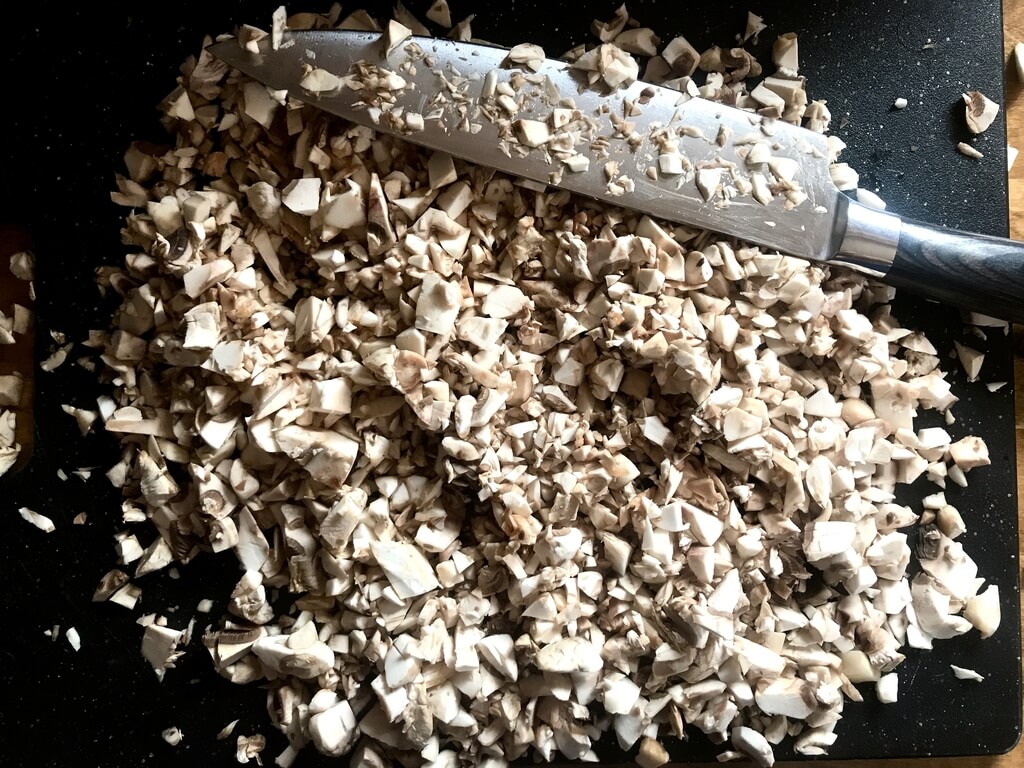 Let's get this step out of the way… Grab an 8oz package of white mushrooms. Slice, dice, and mince your lil hearts out. After chopping, this picture shows only about half of what I ended up with. For reasons that don't need to be repeated, I minced the heck outta these.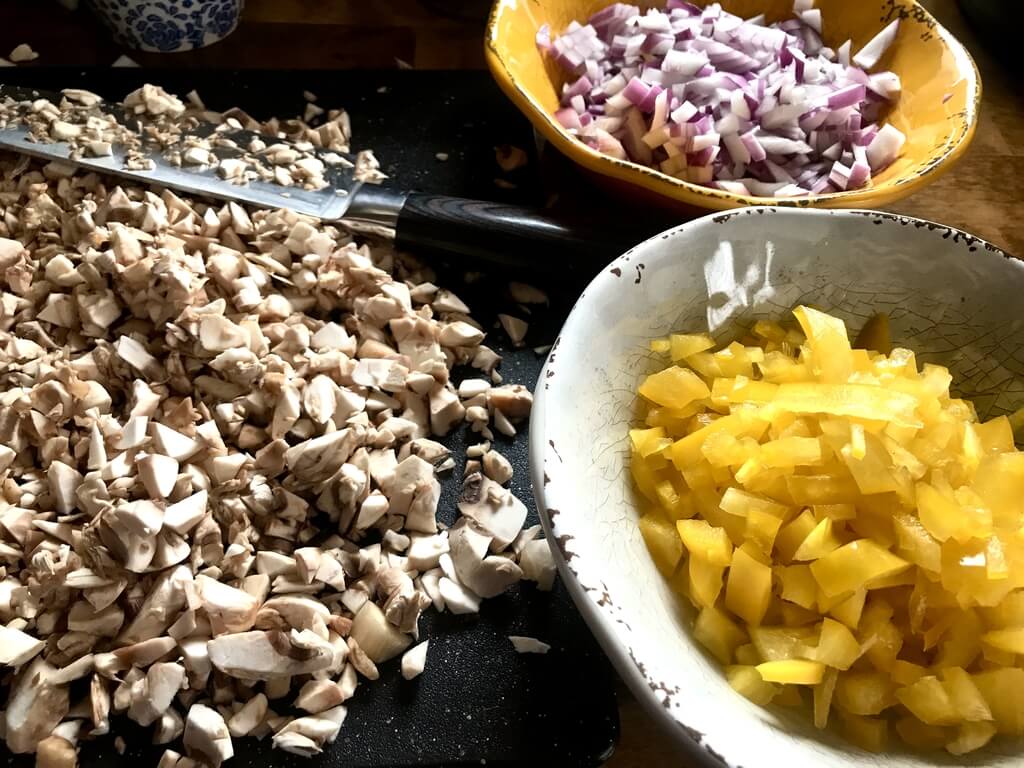 Also, chop up a medium red onion and a bell pepper. I'm using a yellow one, but the color makes no difference.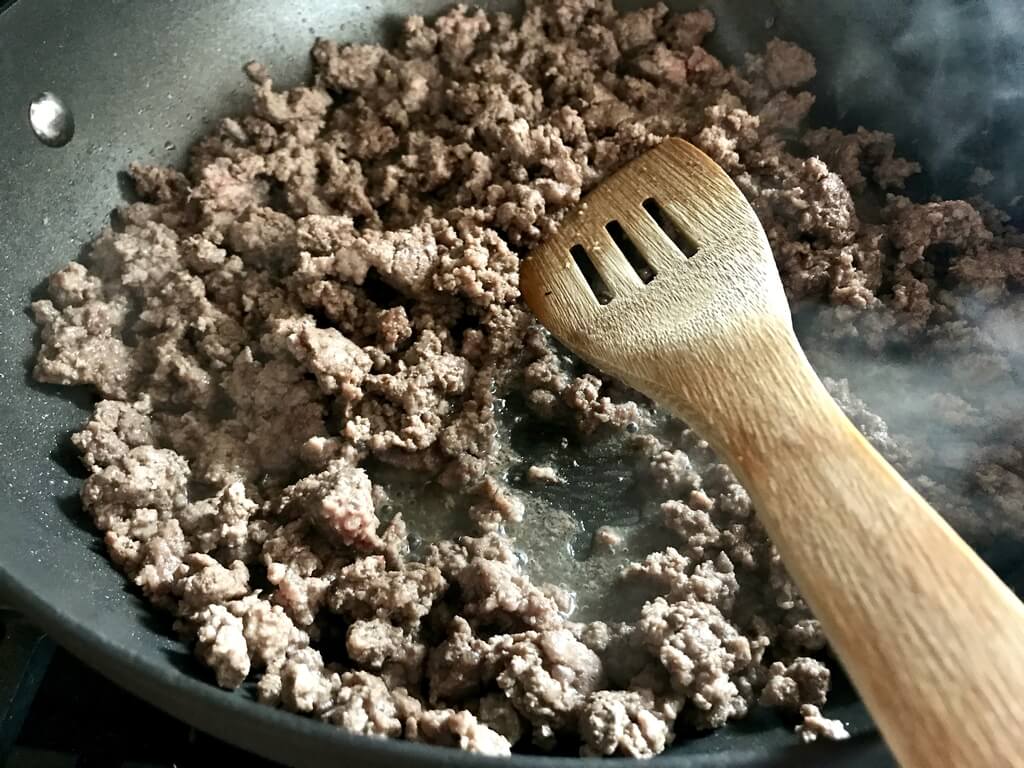 While chopping up those things… grab a pound of extra-lean ground beef, throw it in a skillet over medium heat, and sprinkle it with a couple pinches of kosher salt and some freshly ground pepper. Once it starts cooking, keep an eye on it and break it up with a spatula until it's all nicely browned. When it's done cooking, remove from the skillet and set aside.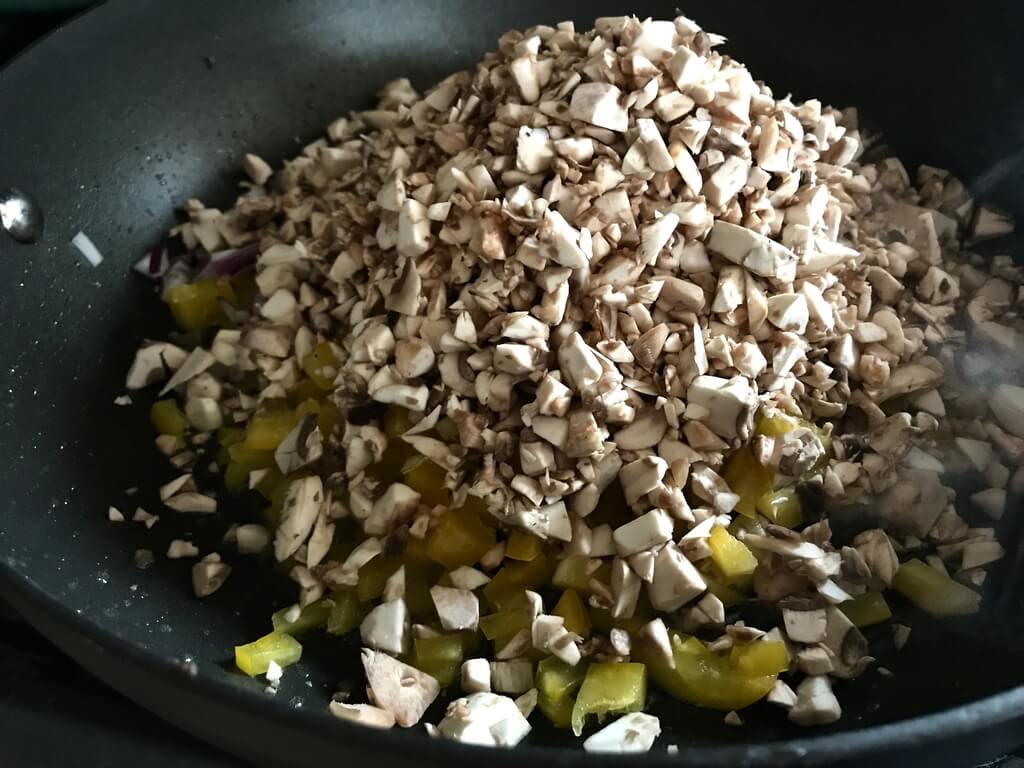 In the same skillet, over medium heat, add two teaspoons of olive oil followed by the onions, bell peppers, and yes… mushrooms.
🍄 (If you're a mushroom hater, I hear you. I am with you. I get it.
🍄 I know this will be hard for you to do, and I'll understand if you just can't do it. Okay?
🍄 I don't know if I've completely gone off the deep end or if this whole blogging thing has just taken over my brain and I'm just like "It's okay Star, do it for the blog.. and for Eric too I guess- every couple weeks, he begs me to make something with mushrooms in it.")
🍄 Anyway, if you need to stand up for your mushroom hatin' beliefs, just leave'm at the grocery store. You'll have a little less mixture to throw into each stuffed pepper, but it shouldn't make much of a difference. Like I said, the mushrooms melt away to almost nothing when the whole mixture is complete.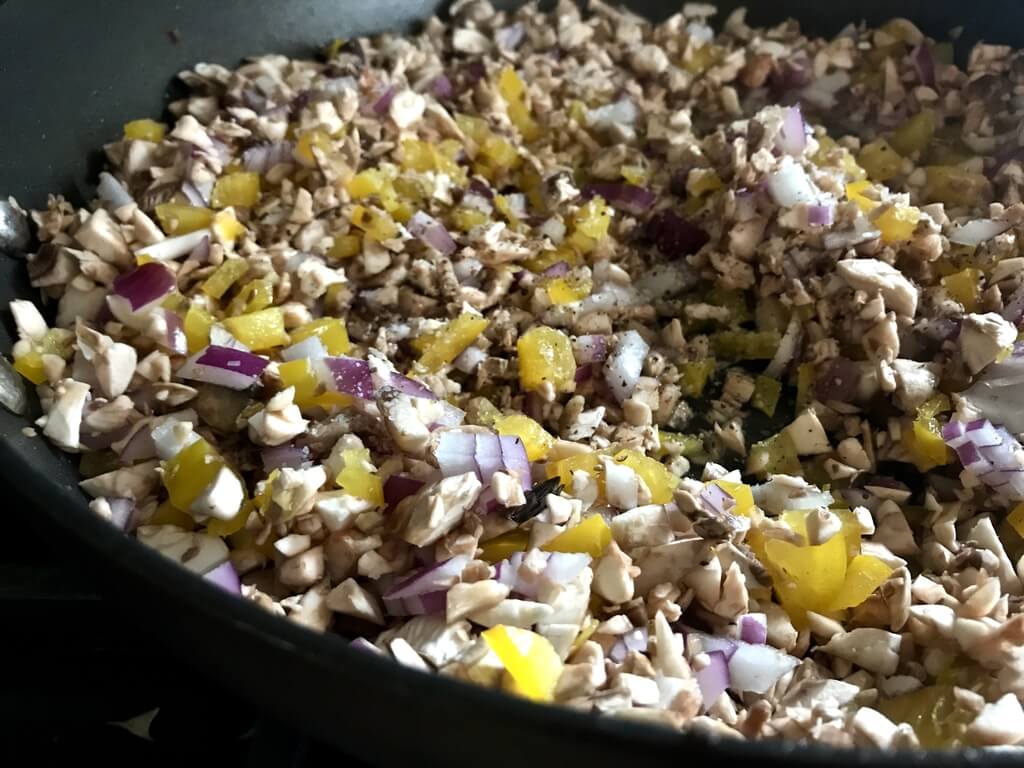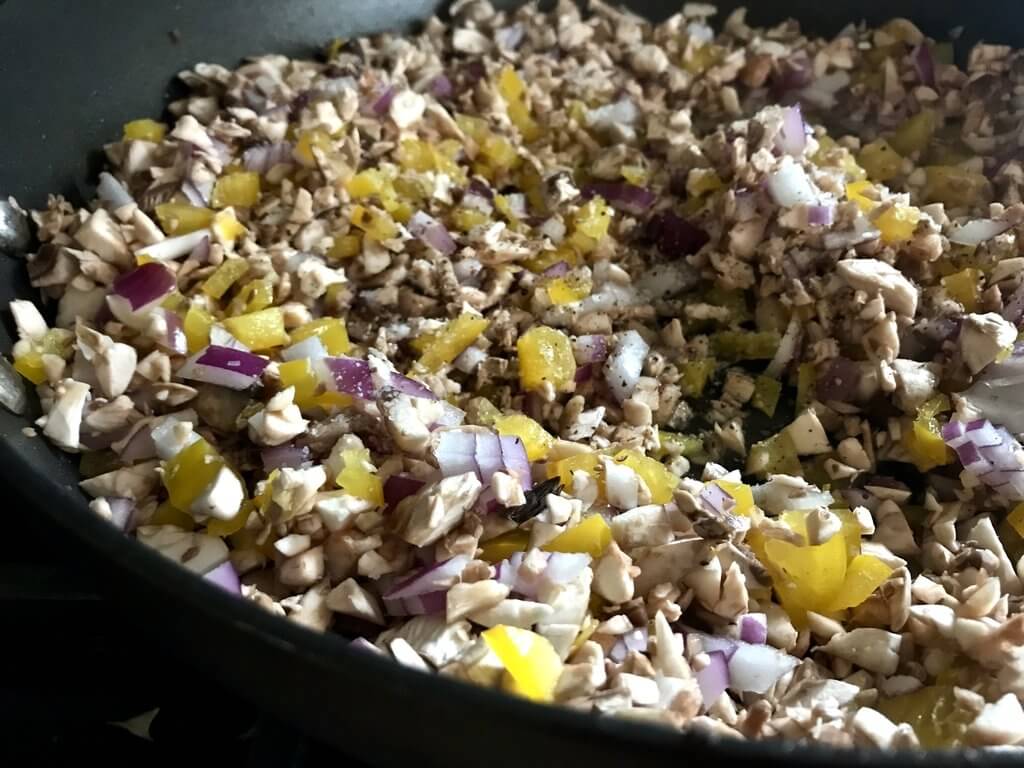 Now sprinkle them with a little kosher salt and pepper, and continue to cook until everything is soft, and the onions are a bit caramelized.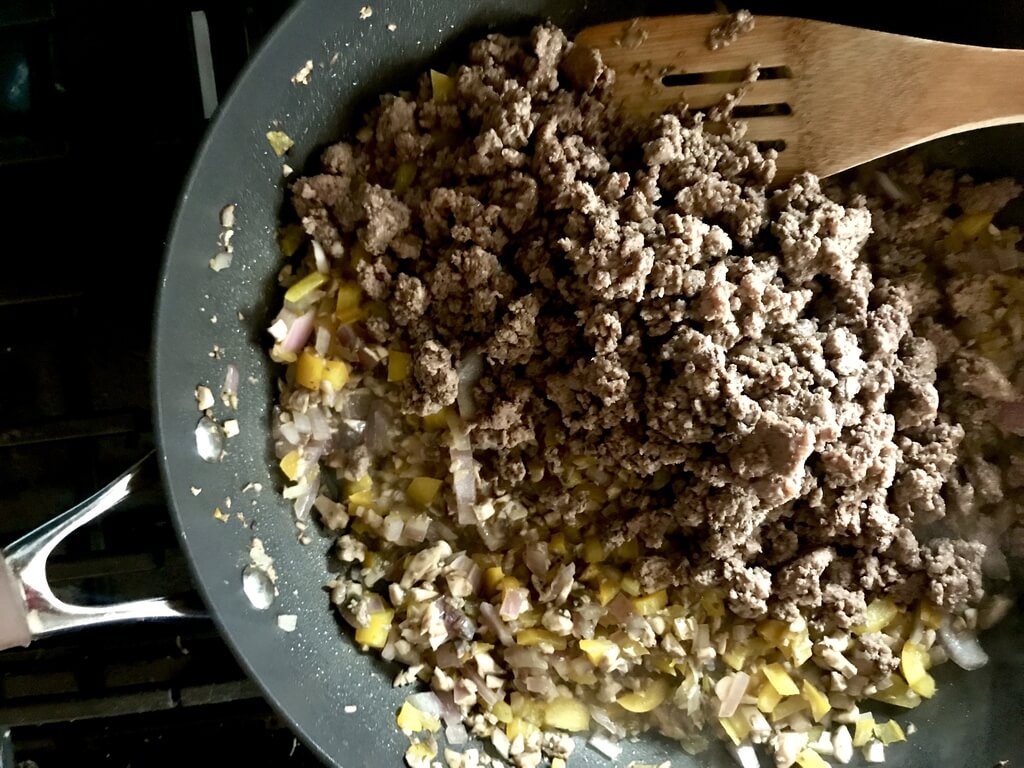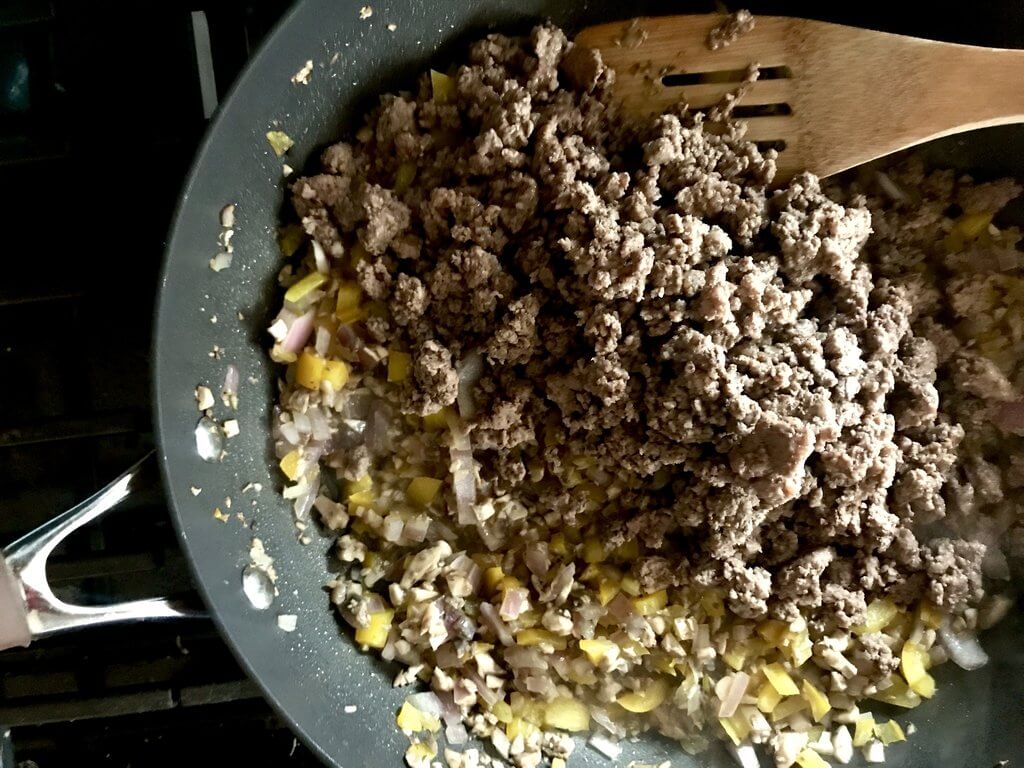 Add the ground beef back into that skillet, and stir it in.
🍄 (Is anyone else extremely weirded out that I'm telling you to put mushrooms into something?)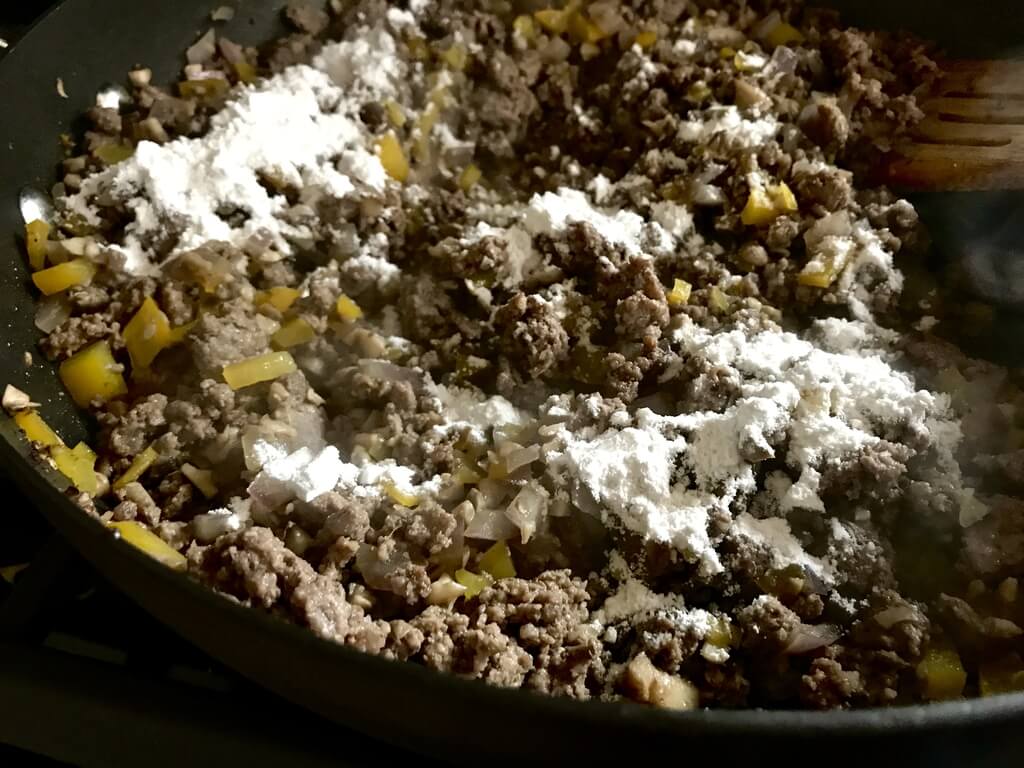 Sprinkle everything with two tablespoons of flour, stir it together, and then continue to cook for about a minute.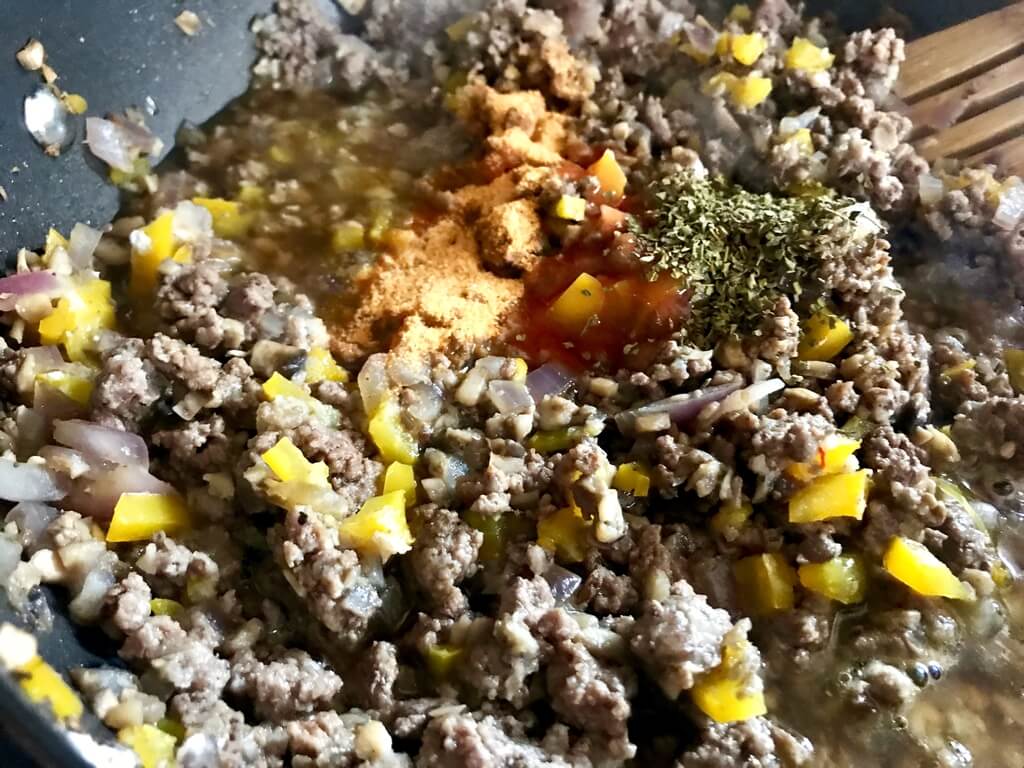 Stir in one cup of beef broth, 1/2 teaspoon of your favorite all-purpose seasoned salt (I'm team Lawry's), 1/2 teaspoon oregano, 2 tablespoons Worcestershire sauce, and one tablespoon of hot sauce. Let it cook for a few minutes, and be sure to salt and pepper to taste.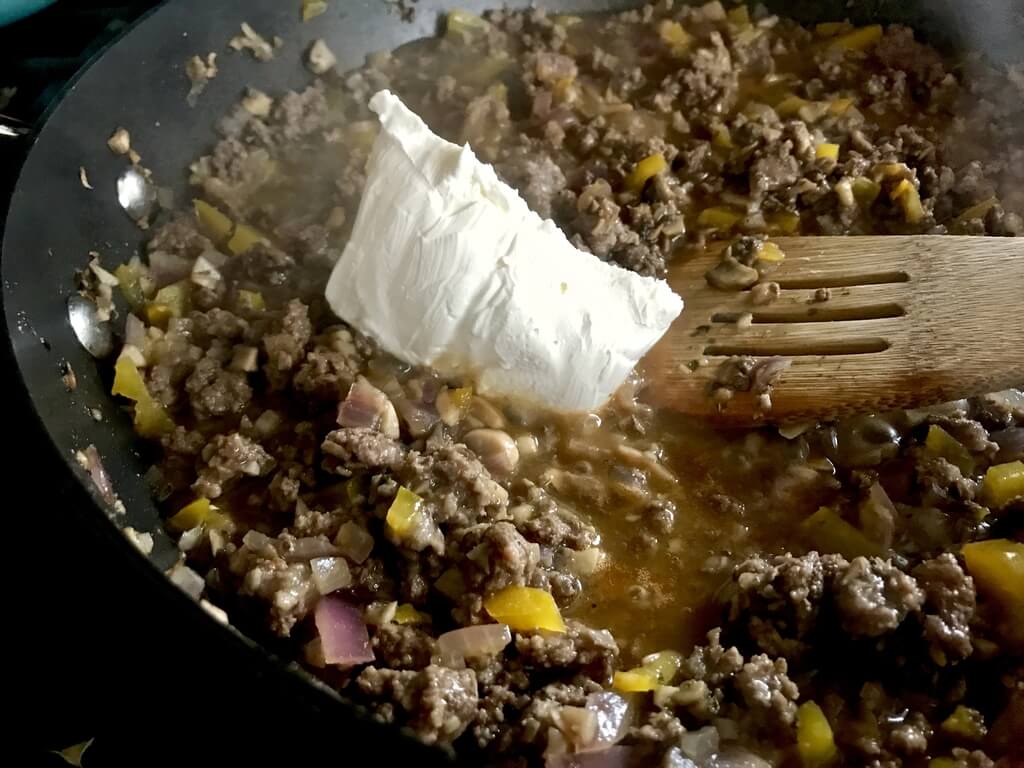 Stir in two ounces of light cream cheese. Continue to stir until the cheese melts into all of that delicious stuffing mix- meat, pepper, onion… and um, 🍄 mushroom mixture.
Goodness, I'm really sellin' this recipe, 🍄 even while I continue to be so weirded out about mushrooms being a part of it. I hate'm, but I love this… and it feels so wrong! Haha!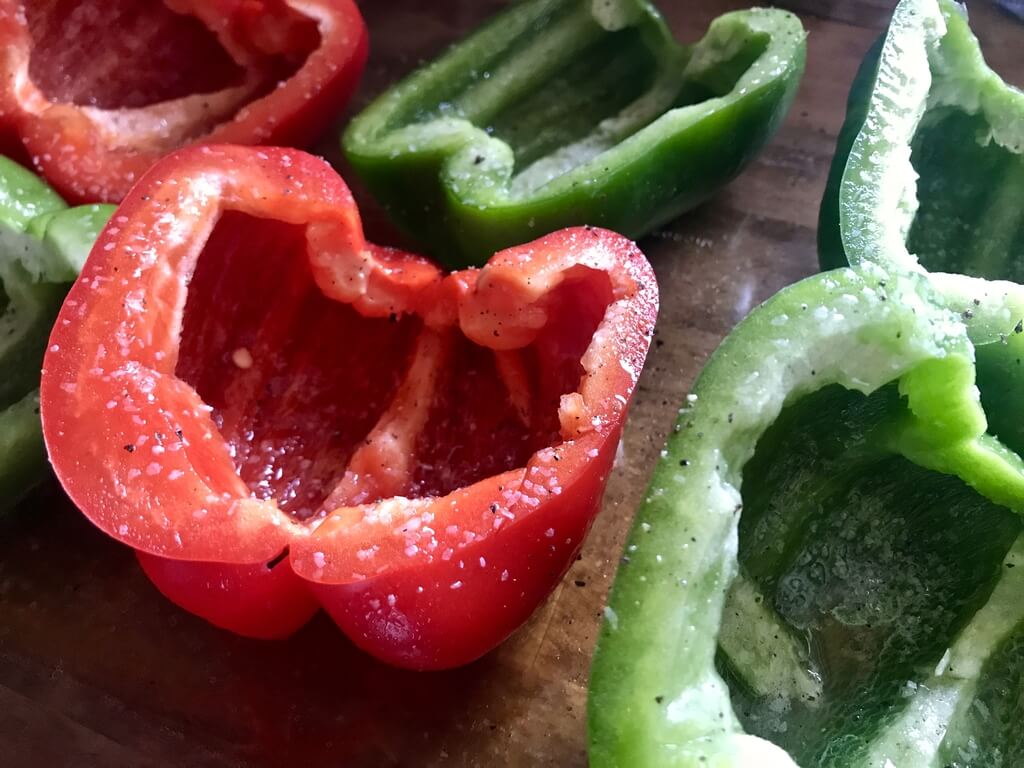 Grab three more peppers. (again, color isn't gonna matter here, I chose green and red because apparently, I was feelin' Christmasey.) Just slice'm in half, so that you have six halves total. Remember to get rid of the seeds and such! Grab your 9×13″ casserole dish, and add about 1/4 cup beef broth into the bottom. Now place the empty pepper halves in there, leaving a bit of space between them. Sprinkle'm with some kosher salt and pepper, and then spray them with some olive oil cooking spray.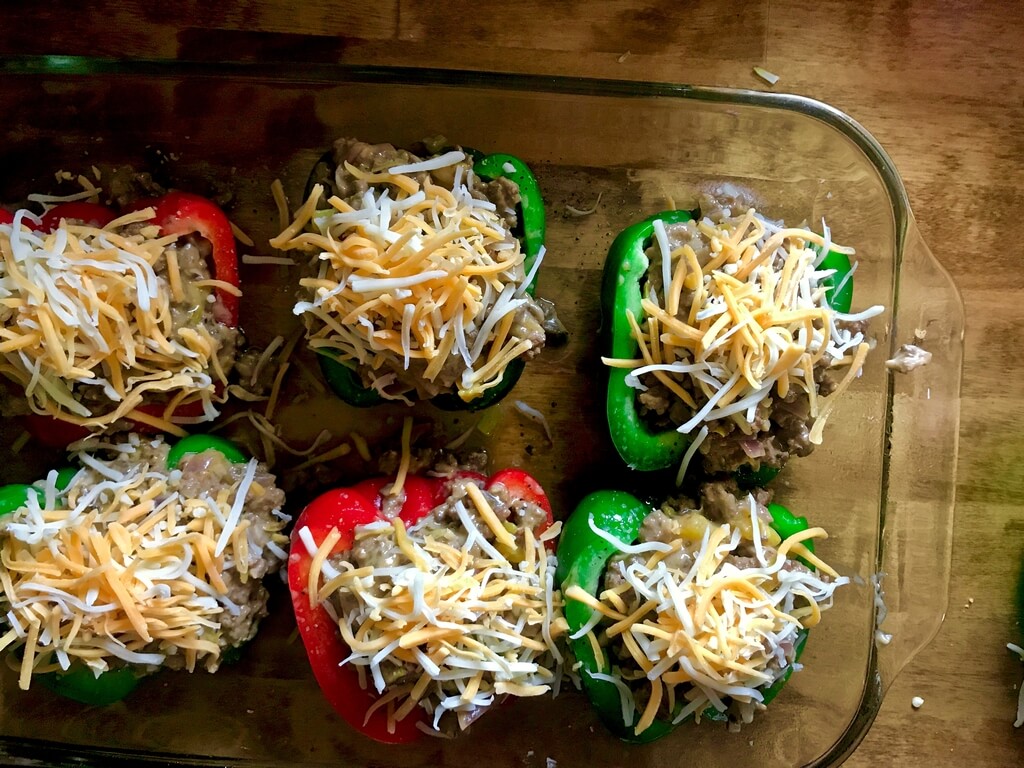 Onto the best part – load those babies up with the Philly Cheese mix, and then top it off with some shredded Colby Jack (made with 2% milk, or the good ol' regular stuff if that's what you fancy). Spray the tops of the cheese with just a bit of cooking spray.
Hey… WHERE'S THE PROVOLONE? I know. Truth is, I didn't have any. And this was already so stinkin' good, I'm not gonna change a thing! But of course, you can totally do some provolone on top, to make it more Philly Cheese Steak-y.
Anyway, cover these guys with some tin foil. (This is the reason we sprayed the tops of the cheese with cooking spray – we all know tin foil is a great and amazingly useful product. One of the few downsides is that while baking, foods that touch the foil end up sticking to the foil. Nobody likes it when that delicious melty cheese comes off… so we spray the tops, and it comes right off, easy peasy! Pop'm in the oven at 400 degrees for 30 minutes covered; then uncover them, and bake for about 10 more minutes.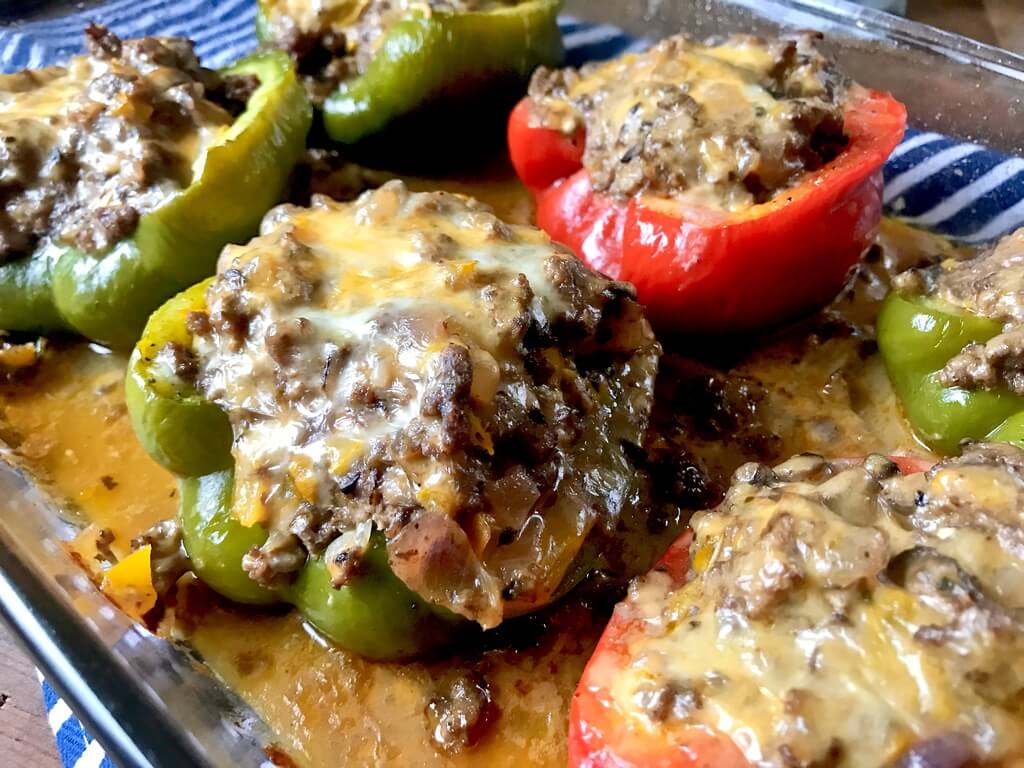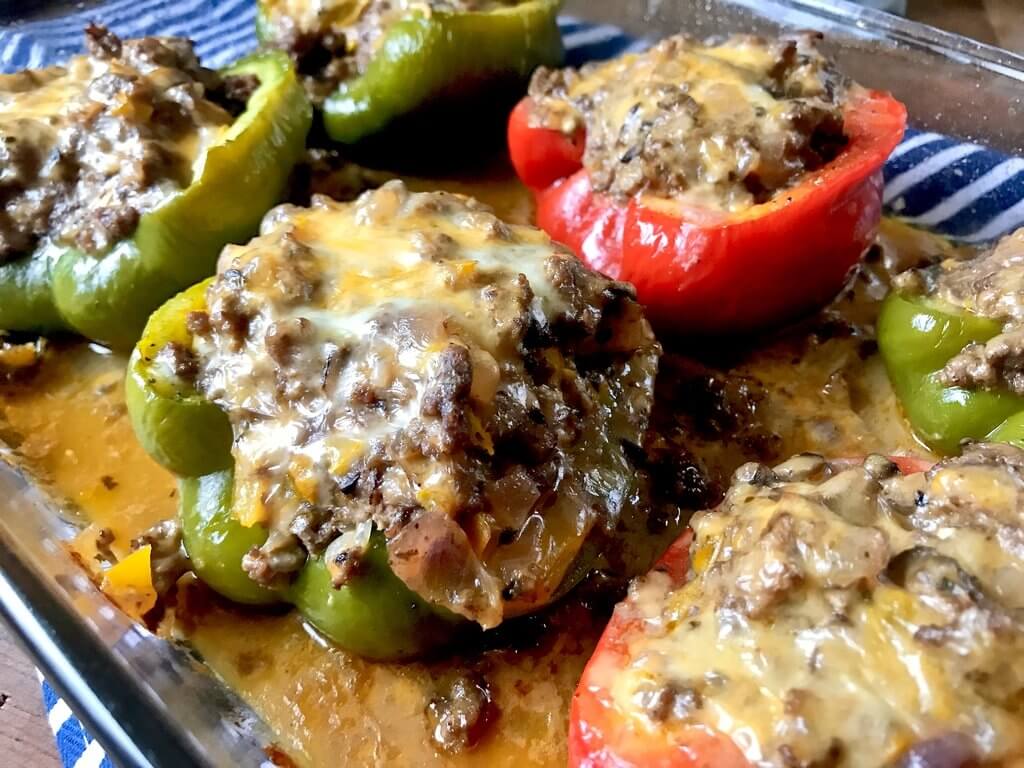 And then they are done and we can all drool together, okay? Oh my goodness, these are just too good. I can't even believe how good they actually are 🍄 because there's so many mushrooms and my brain can't handle it!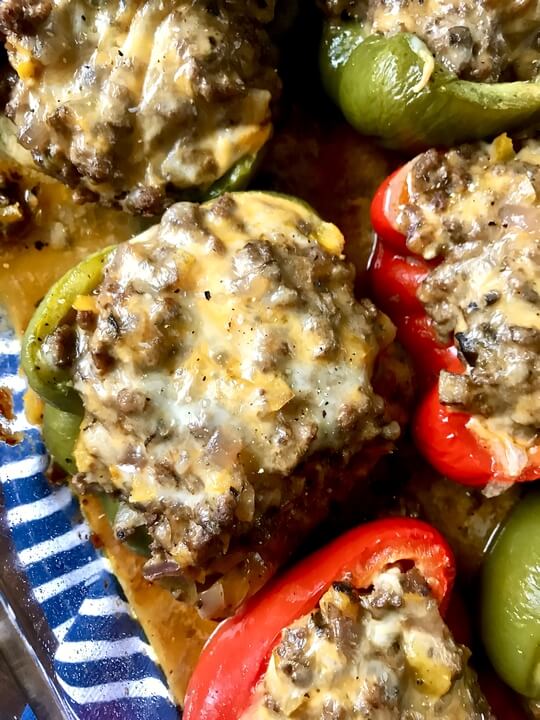 Okay- Please go make these, and then let me know how it went… because I'm dying to know if you love them as much as I do. If you hate mushrooms and then make these with mushrooms like I did, I want to know if you like them too… or of I've just lost my goshdarn mind.
I hope y'all have a great week!
With love from my kitchen to yours,
Star
Grab the printable recipe below!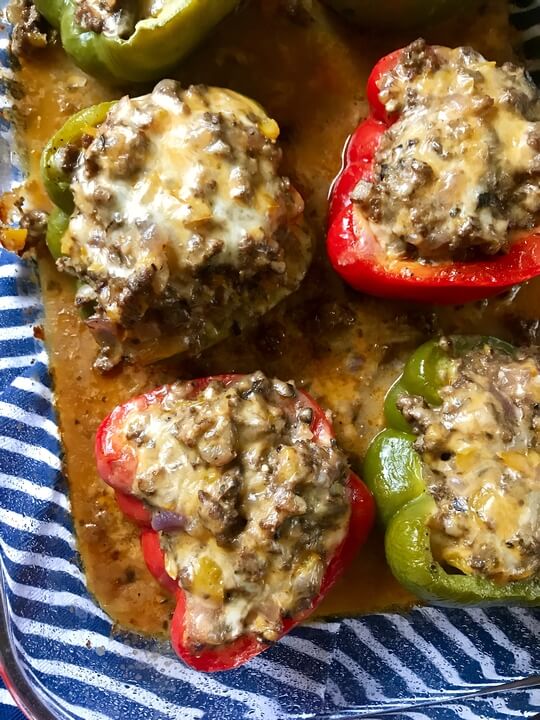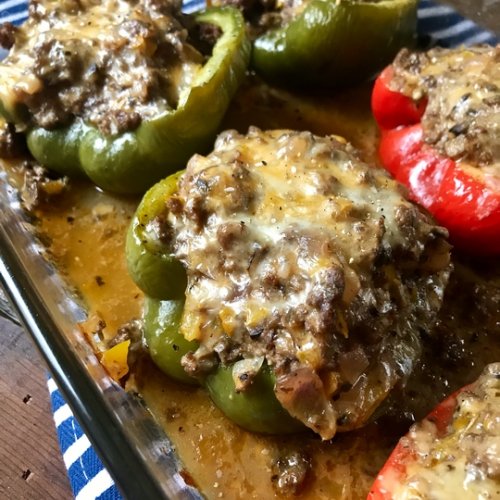 Print
Philly Cheese Style Stuffed Peppers
bell peppers stuffed with a rich beefy filling
Materials
1

lb

extra lean ground beef, 95% lean, raw

2

tsp

olive oil

8

ounce pkg

white mushrooms

minced, minced, and minced some more

1

medium

red onion

chopped

4

medium

bell peppers

1 of the peppers chopped and 3 peppers cut in half and clean the seeds out

2

tbsp

all purpose white flour

1-1/4

cup

beef broth, low sodium

1/4 cup reserved for later

2

tbsp

Worcestershire sauce

1

tbsp

hot sauce

i use Frank's

1/2

tsp

oregano

1/2

tsp

all purpose seasoned salt

i use Lawry's

2

oz

light cream cheese

Kosher salt & pepper

to taste

cooking spray

i prefer olive oil or avocado oil cooking spray

2/3

cup

Colby Jack cheese made with 2% milk

shredded
Instructions
Preheat oven to 400 degrees.

In a large skillet over medium heat, add ground beef, season with a pinch or two of kosher salt and pepper. Break up with a spatula and continue to cook until browned. Remove from skillet and set aside.

In the same skillet add olive oil, diced onion, mushrooms, and peppers. Season them with a little kosher salt and pepper while cooking. Cook for about 3 minutes or until the mixture is soft.

Add the beef back into the skillet with onions, mushrooms, and peppers. Stir together and sprinkle with flour. Stir to coat the mixture for about 30 seconds.

Add in 1 cup beef broth, Worcestershire sauce, hot sauce, oregano, seasoned salt, and cream cheese. Stir together until everything is combined and the cheese is melted. Salt and Pepper to taste.

Slice 3 peppers in half lengthwise, clean out seeds and such, spray peppers with cooking spray, and sprinkle a little salt and pepper on each. In your 9×13 baking dish, add 1/4 cup of beef broth, then place pepper halves inside.

Stuff each pepper half with Philly Cheese mixture (about 2/3 cup), top evenly with shredded cheese, then spray the cheesy top of each pepper with cooking spray. Cover the dish with tin foil.

Place in oven, covered, for 30 minutes. Then uncover, and bake for about ten more minutes until cheese is lightly toasted. Enjoy!
Notes
Serves 6 total. Serving size: 1 stuffed pepper half WW Points: 5 Calories: 246, Fat: 8g, Saturated Fat 4g, Carbohydrates: 11g, Fiber: 2g, Sugars: 5g, Protein: 28g