One Pot Creamy Chicken Fajita Pasta
This post may contain affiliate links (meaning I earn a small comission if you purchase an item through a link I provide) I only provide shoppable links to items I love and are helpful. As an Amazon Associate, I earn from qualifying purchases.
This One Pot Creamy Chicken Fajita Pasta is bursting at the seams with classic sizzlin' chicken fajita flavor. Combining pasta, cheese, chicken, peppers and onions all in one pot make this wonderful for any night of the week!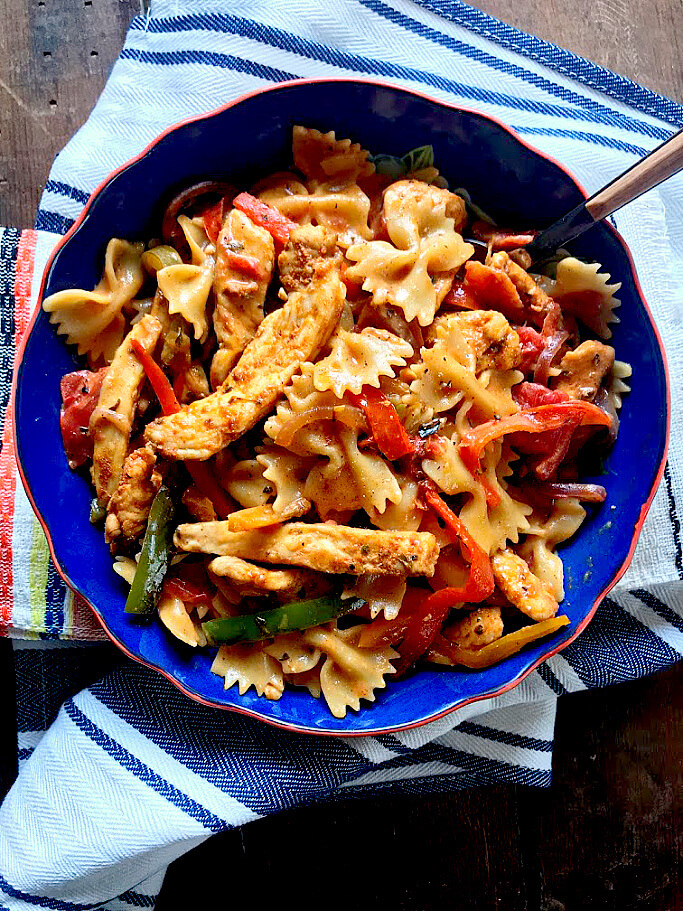 About two months ago, I asked y'all on good ol' Instagram what they'd like to see more of here on the skinnyish dish. So many of you requested more one pot recipes! I'd be lying if I said that I wasn't super excited about that response because they are a serious lifesaver around here! Everything in one pot? Yes, please. Even cooking for a living as I do… dinner time some nights can be so tough! We try to keep things healthy, hearty, and family friendly around here and I love gettin' it all done in one pot because that means less dishes and more flavor! Chicken Fajitas happen to be one of my favorite foods and I realized I didn't actually have a recipe relating to them whatsoever on here yet so I decided to test out this One Pot Creamy Chicken Fajita Pasta! It's super flavorful, super delicious, and super easy to prepare. I know you'll love it! I do add a bit of heat in it with cayenne pepper which I reduce if I think Pepper will eat it. (That kinda sounds weird, huh? Pepper won't eat pepper.) By the way, she actually will eat peppers, but not spicy ones much like most toddlers no matter how hard I try. Anyway, yeah just leave it out if you're not sure what do with it.
This One Pot Creamy Chicken Fajita Pasta also happens to be one'a those "gets better every day" type of recipes. The flavors mingle in the fridge over night and the next day it's to die for, folks! I like to serve this one next to a big chopped salad all dressed up in my Chipotle Southwest Ranch or easy peasy Roasted Corn!
How to roast corn? Just throw some fresh or frozen corn on a cookie sheet, spray it with a bit of cooking spray, add seasoning (salt n' pepper, etc), and broil until they get a bit brown and crispy. Delicious!
How to make One Pot Creamy Chicken Fajita Pasta: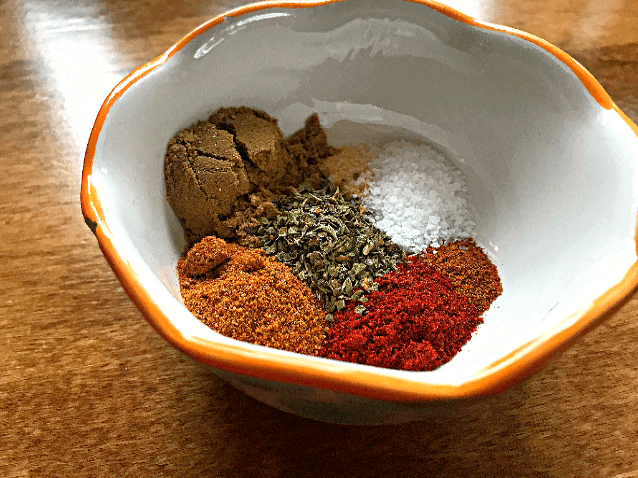 The most important part. The seasoning mixture! Grab a small bowl and add 1 teaspoon smoked paprika, 2 teaspoons chili powder, 2 teaspoons cumin, 1 teaspoon garlic powder, 1/2 teaspoon oregano, 1 teaspoon kosher salt (reduce by half if not using kosher salt), and 1/4 teaspoon cayenne pepper. Remember you can leave out the cayenne pepper if your unsure of your heat preference. You can always add hot sauce to your portion!
Also, you can use pre-made fajita seasoning, but I personally haven't had any so I'm not sure how much flavor there is in those and if you've had my recipes before you know that I don't skimp in the seasoning department so just don't be shy with it if you choose that route!
Next grab three bell peppers (orange, yellow, red… whatever ya fancy) and a large onion. Slice'm all up into thin strips.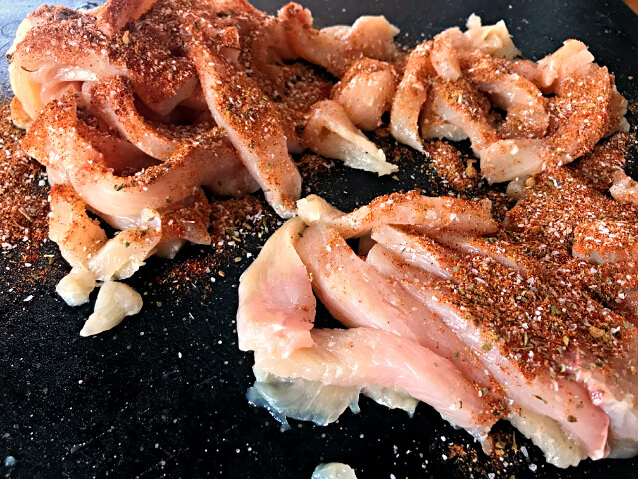 Chicken time! Grab some raw chicken breast. I had a pack of thinly sliced ones on hand so I just cut those up into thin strips. If you only have whole chicken breasts just cut in half and then cut into thin strips.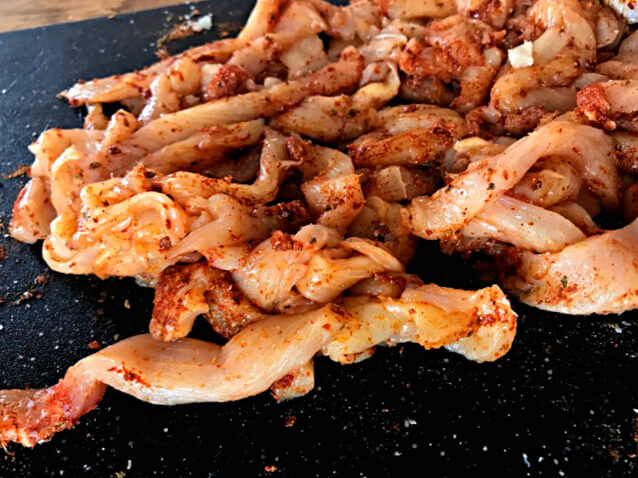 Grab the seasoning mixture and rub HALF of it into the sliced chicken real well. I know you're all like, "ewwww raw chicken." Same, friend, same. Just suck it up, buttercup! Or use a pair of food safe gloves! Rubbing the chicken kinda creates a "crust". I just really like that method.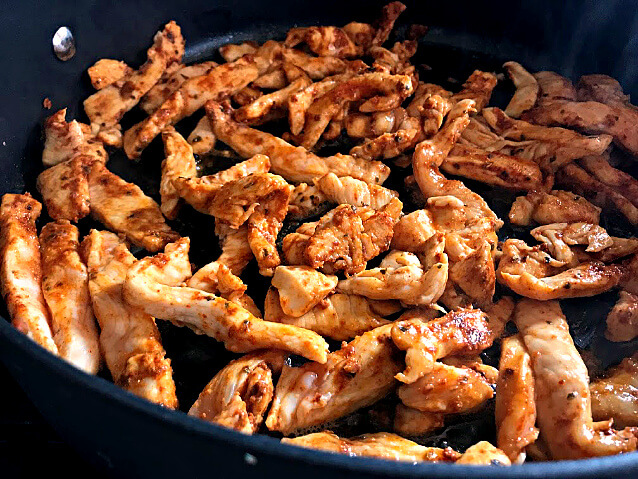 Heat up a large nonstick deep skillet with two teaspoons of olive oil and throw the chicken in. Continue to cook and stir the chicken occasionally for about 5 minutes over medium heat. When the chicken is done remove from heat and set aside.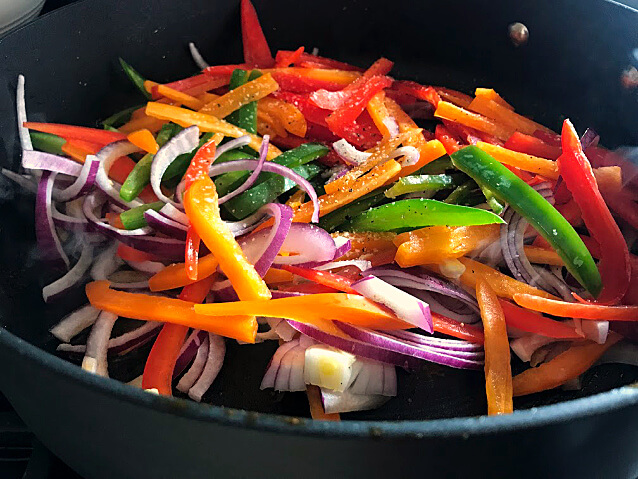 Add 2 more teaspoons of olive oil and then those diced peppers and onions to the same skillet. Season the pepper n' onions with a bit'a salt and pepper. Continue to cook for another 5-6 minutes over medium heat until they're softened. Remove half of'm and set aside with the chicken.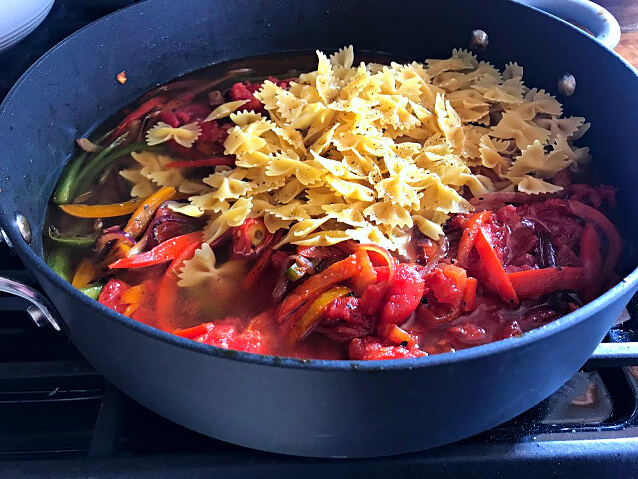 Now add in the other half of the seasoning mixture you made up a lil bit ago along with a can of diced tomatoes, 2-1/2 cups chicken broth, 8 oz of dry pasta. I'm using bow tie, but something like this will work just fine. Stir it all together. Bring it a boil.
Listen cause this is important! You'll need a skillet that has a cover that fits well. I personally use this skillet all of the time for my one pot recipes! My favorite dutch oven also totally works!
Now, cover the skillet and leave it alone for bout 12ish minutes. If you're using a thicker pasta it could take a minute or two longer. Just pop the lid off and test a noodle. If it's not done, just put the cover back on a cook for another 2-3 minutes.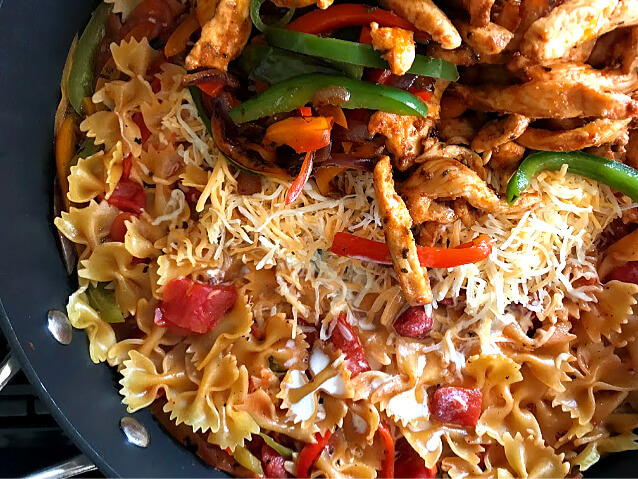 Now that we've got the pasta cooked.. add in 1/2 cup of half n' half, 3/4 cup reduced fat colby jack or mexican shredded cheese, sliced chicken, peppers, and onions. Stir together over medium-high heat for a few minutes. The sauce will thicken a bit after it sits for a few minutes. Salt & Pepper to taste!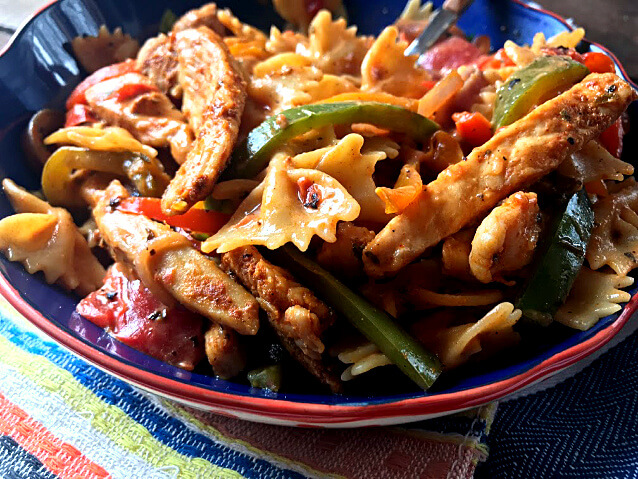 And here we go! All done, in the bowl, and ready to shove in yer mouth!
So creamy. so dreamy. so flavorful! It's all I want for Christmas. (because It's March and I haven't made my Christmas list yet.)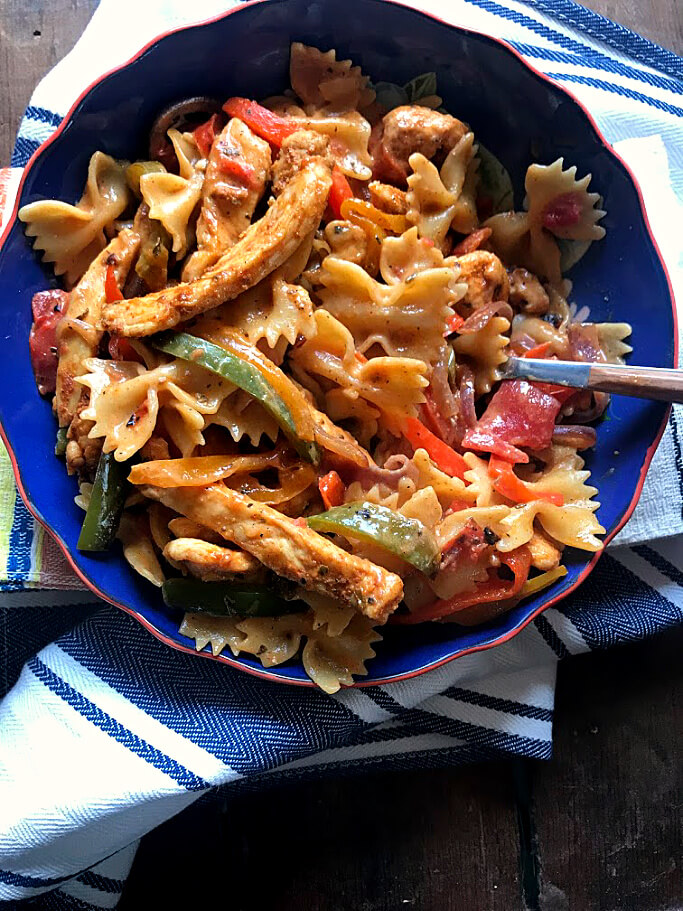 Hot dang! Make this now. I just *puffy heart* one pot wonders.
and carbs.
and spicy food.
Gimme this daily and I'll be happy as a clam.
Ready for my close up!
okay, I'm done now.
Happy Cooking! Don't forget to let me know how it goes. Leave me a comment below (extra credit if you remember to rate the recipe!) or tag me on social media with a photo- y'all know I love to see that!
With love from my kitchen to yours,
Star
Psst. Remember you can grab the printer friendly recipe for this One Pot Creamy Chicken Fajita Pasta below!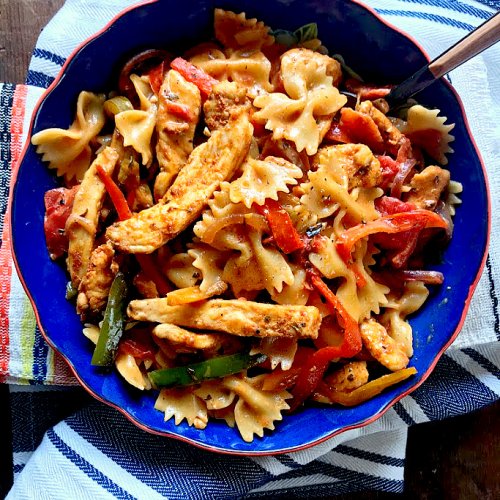 Print
One Pot Creamy Chicken Fajita Pasta
One Pot Creamy Chicken Fajita Pasta is a delicious, easy, and flavor packed meal filled with chicken, peppers, tomatoes, onions, and a creamy southwest sauce.
Materials
Chicken Fajita Pasta
4

tsp

olive oil

divided

3

medium

bell peppers (red, yellow, green, orange)

sliced evenly into thin strips

1

large

onion

sliced evenly into thin strips

1-1/2

lb

chicken breast, raw

sliced evenly into thin strips

8

oz

bowtie pasta, dry

1

14.5 oz can

fire roasted diced tomatoes

2-1/2

cups

low sodium chicken broth

1/2

cup

half and half

3/4

cup

reduced fat shredded Colby Jack or mexican blend
Fajita Seasoning
1

tsp

smoked paprika

2

tsp

chili powder

2

tsp

cumin

1

tsp

garlic powder

1/2

tsp

oregano

1/4

tsp

cayenne pepper

less if you want less heat

1

tsp

kosher salt

reduce by half if using regular table salt/sea salt
Instructions
Stir together spices to make fajita seasoning mix.

Rub half of the fajita seasoning mix onto the thinly sliced chicken breast really well.

In a large non stick deep skillet heat 2 teaspoons of olive oil over medium heat. Add seasoned chicken breast and cook for about 5 minutes stirring occasionally. When the chicken is golden brown and cooked remove from skillet and set aside.

In the same skillet add 2 more teaspoons of olive oil followed by the onions and peppers. Sprinkle with salt and pepper. Cook, stirring occasionally, for about 5 minutes or until there soft and a little golden brown. Remove half of the pepper and onion mixture from the pan and set aside with the cooked chicken.

Add the dry pasta, diced tomatoes, chicken broth, and the rest of the fajita seasoning mix. Stir well. Bring to a boil then reduce heat to low. Cover and simmer for about 12 minutes or until the pasta is cooked.

When the pasta is cooked, turn the heat to medium high and add in half and half, cheese, cooked chicken, peppers, and onions. Stir all together constantly for a few minutes to let the sauce thicken up a bit. Salt and Pepper to taste and chow!
Notes
Serving size: 1-1/2 cup Calories: 386 Fat: 10g, Saturated Fat: 4g, Carbohydrates: 34g, Fiber: 4g, Sugars: 4g, Protein: 37g WeightWatchers Points: 7 Points