One Pot Bacon Cheeseburger Pasta
This post may contain affiliate links (meaning I earn a small comission if you purchase an item through a link I provide) I only provide shoppable links to items I love and are helpful. As an Amazon Associate, I earn from qualifying purchases.
The other day I woke up craving a big ol' bacon cheeseburger and I just couldn't stop thinking about one! Now, I can make a pretty mean lightened up cheeseburger, but I wanted to make something just a lil different so, this One Pot Bacon Cheeseburger Pasta was born and oh lordy, I'm so happy it was!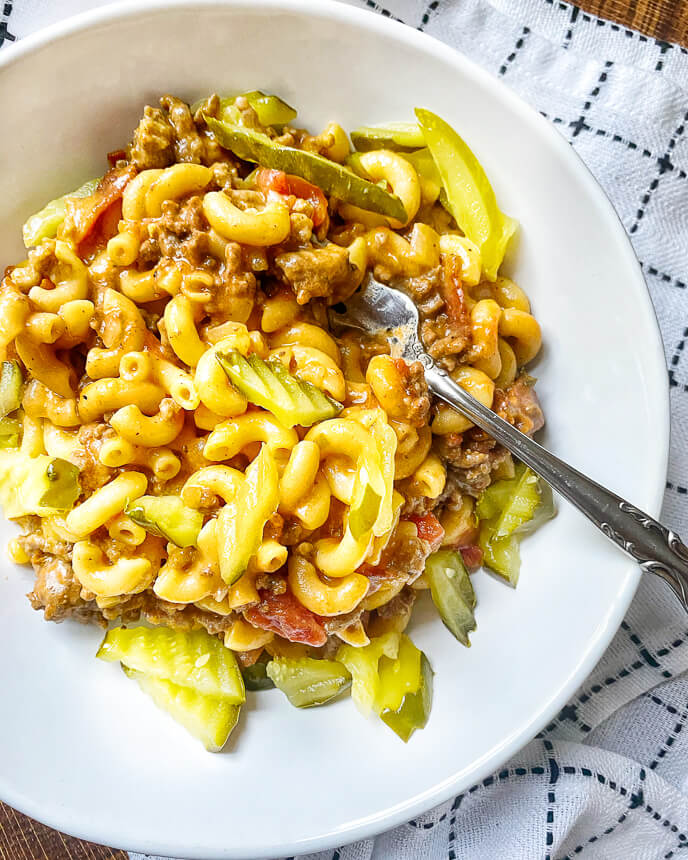 I want to keep this post just a lil shorter and sweeter because guess what?
It's sunny…
It's 65 degrees…
It's April, and… [drumroll]
It's not snowing anymore!!
It's SPRING! (please don't let that be a jinx)
And, I've offically got spring fever. I want to clean all the things, grill all the things, plant all the things, and live outside. However, I'm sitting here on this lovely Spring-y, Sunday morning to write this lil ol' post to you, my dear friends, because I love ya and because I tortured y'all by showing you this One Pot Bacon Cheeseburger Pasta for daaaaaaaays last week on Instagram with promises of it being up this weekend. You were all so excited and I just didn't know, and I didn't look at the forecast. (I mean, who even looks at forecasts anymore?)
I shouldn't have procrastinated all week as I so often do. But do you wanna know something very personal about me? I am a huge procrastinator, and I work best when it's very last minute. I fly by the seat of my pants, and I just kinda wing everything. So I'm going to quickly write this post, and then I think I'm going to pack a bag, and just move outside. I can hear Pepper and Eric out there flying a kite right now. But first, I'm gonna finish up here inside, in front of the laptop. Because I love all you guys, and I hope you make this right now… I just know you're going to love it!
Okay, let me tell you why you should make this like yesterday:
It's easy-peasy.
It's made in one pot, aka my favorite thing.
It's a ton of food for very few Weight Watchers Points, and it's lighter in calories.
It's cheeseburger-ey heaven.
It's flavorlicious. (new word, you like?)
It makes for perfect meal prep because it reheats deliciously!
To the kitchen we go!
Chop up some red onion. It'll be a heaping cup full.
Chop up some center cut bacon too, then throw it in a hot skillet. Cook it up for a few minutes.
Be sure your skillet has a tight fitting lid. Since this is a one pot meal that means that you're noodles will be made in it too and in order for them to cook properly, you're going to need that lid.
Here's a link to the skillet I use. It's tried and true in all of my one pot meals. I love this skillet.
Click here for skillet. (affiliate)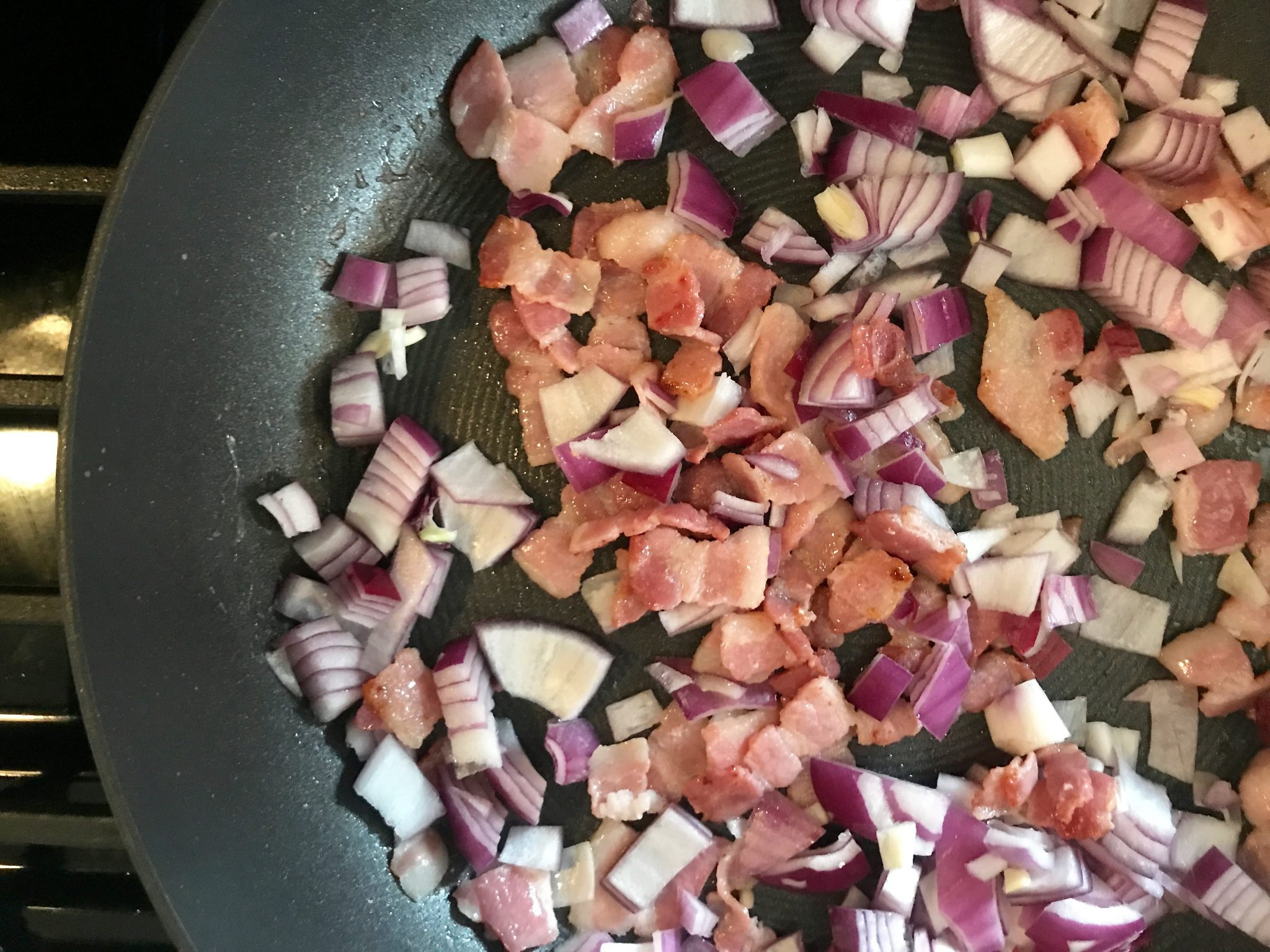 When the bacon has started to crisp up, throw in your chopped up red onion.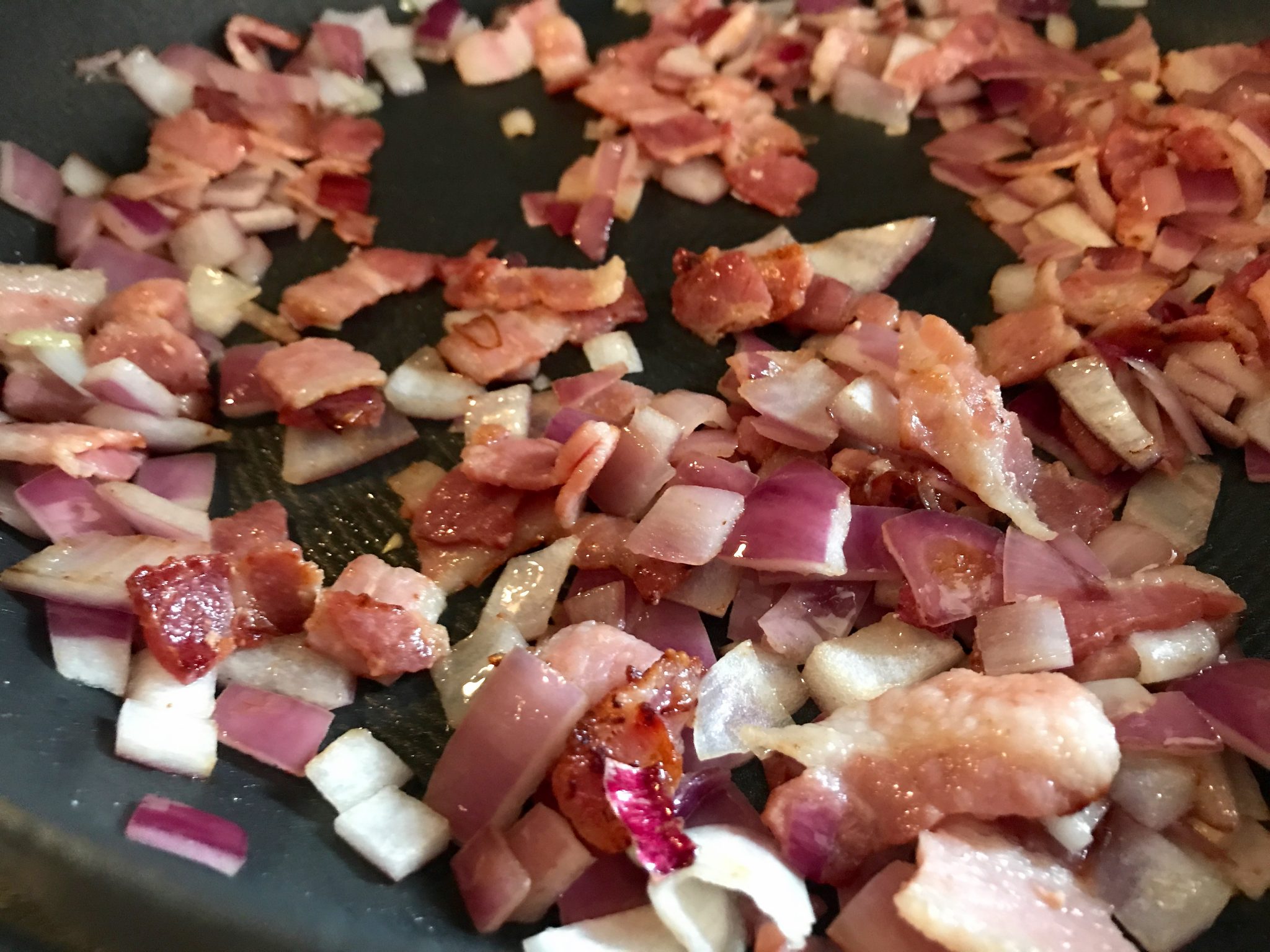 Let it cook for a few minutes until the bacon is crisp, and the onions are soft.
Now right here, you can go one of two ways: You can leave the bacon and onions in (like I do), or you can remove them and toss them back in at the end when the pasta is all done. This helps keep the bacon a bit more crispy. Some people would rather do it that way. It's totally up to you! I leave it in the pan, and let those flavors blend together!
Add in the ground beef, break apart with spatula, and continue to cook until browned- drain any excess grease out of the pan.
I will always, always, always, use Lawry's Seasoned Salt on a classic cheeseburger. Since, I'm going for the classic bacon cheeseburger flavor in this dish, It makes for the perfect combination of flavor. You can find this stuff in any grocery store in the spice section.
And because burgers and pickles go together like mac and cheese, let's add some dill relish.
And a can'a diced tomatoes!
Stir it all together, and then stir in your dry pasta. Bring it to a boil, reduce heat to simmer, put a tight fitting lid onto the skillet, and let it cook for about 12 minutes or until the noodles are done cooking.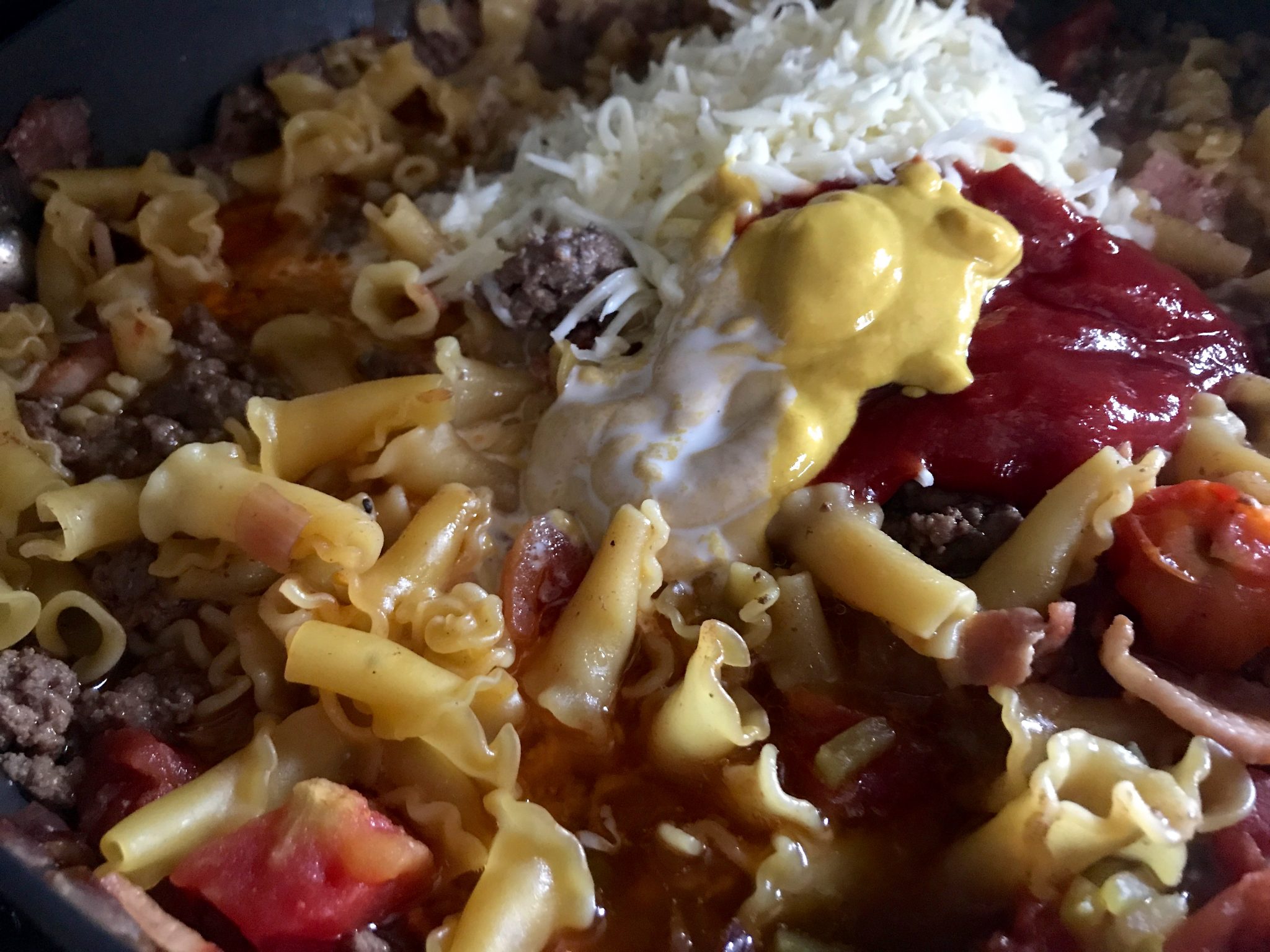 When the noodles are done cooking, stir in shredded mozzarella cheese, worcestershire sauce, ketchup, mustard, and half and half. Continue to cook over medium-high heat for 3-4 minutes until the sauce thickens up and becomes creamy.
Let the sauce set for a few minutes, salt and pepper to taste, then seeeeerve it on up!
I added just a bit of reduced fat sharp cheddar and some crispy bacon to make it a lil more photogenic. It doesn't need it whatsoever!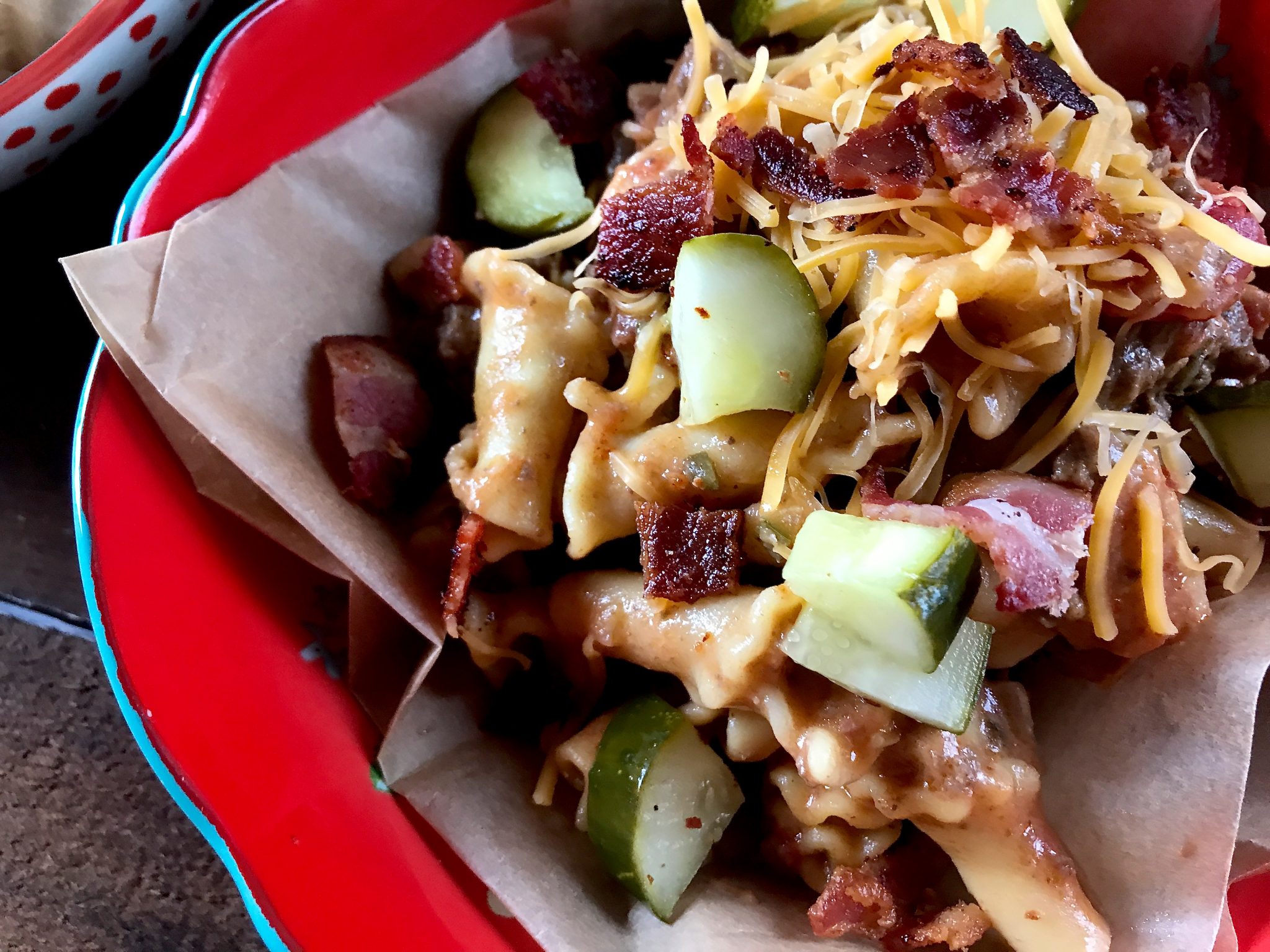 But I'm not gonna sit here and tell you that didn't make it even more delicious.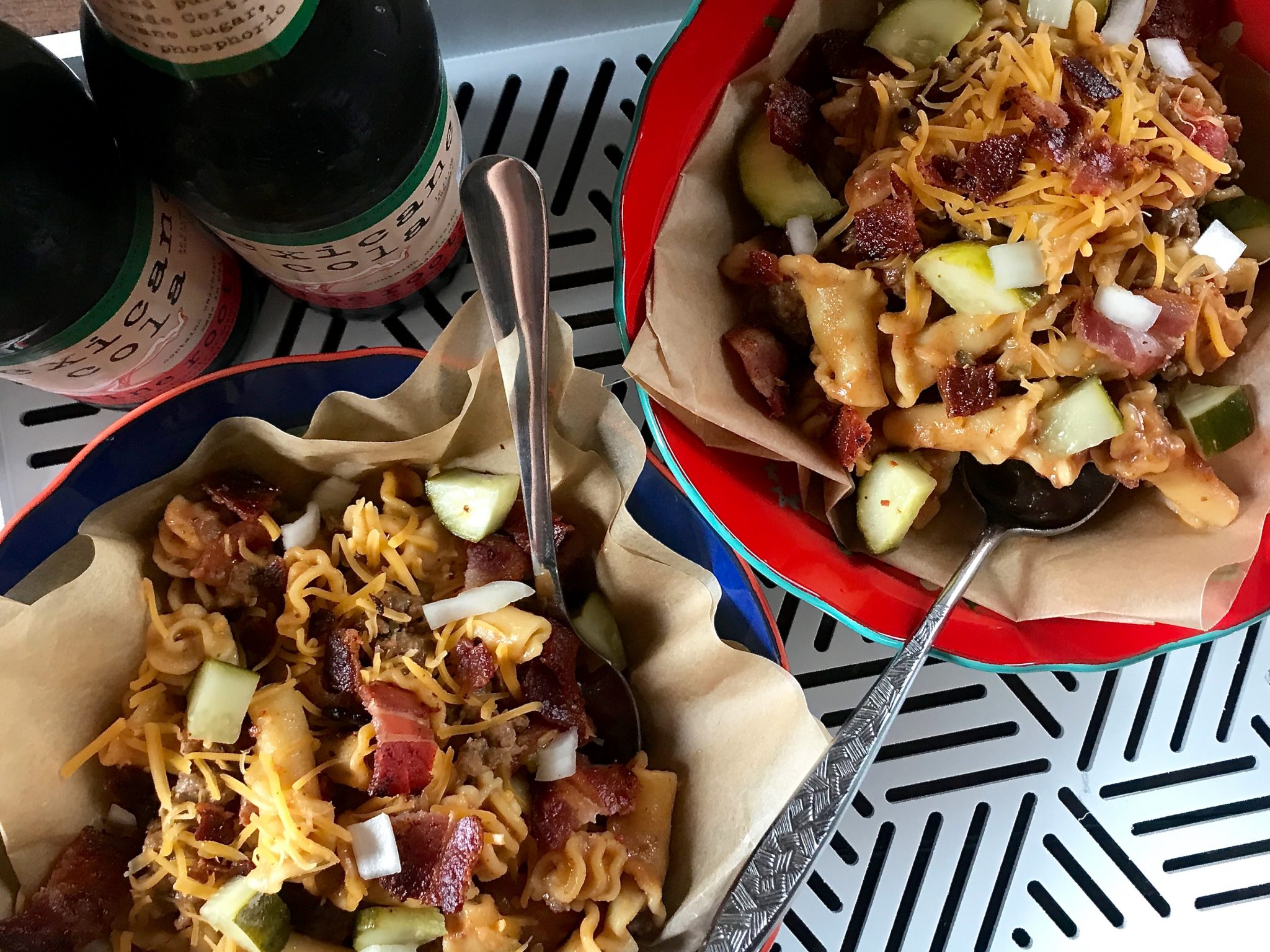 I think this might be my new favorite food group.
It's just so good, guys!
You're going to love it!
And, honestly, it's such a hefty serving size that I almost couldn't finish it. Almost. I'm not a quitter, y'all. Not one noodle was left behind.
In conclusion, you need to make this as soon as humanly possible.
And we're done. Time to go play outside!
With love from my kitchen to yours,
Star
P.S. It's even better as leftovers! Hoo-ray!
One Pot Bacon Cheeseburger Pasta
A one pot pasta take on a classic bacon cheeseburger meal. Perfect for weeknights and it's incredibly delicious!
Print Recipe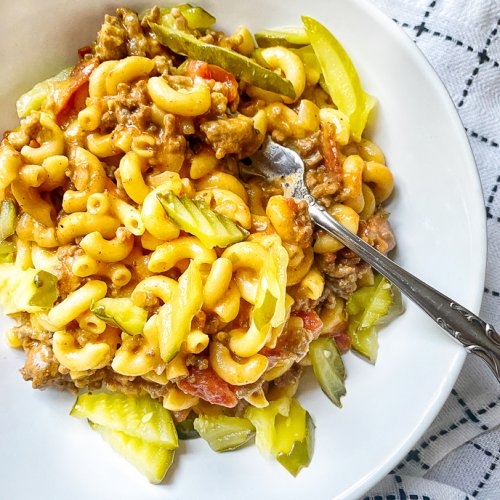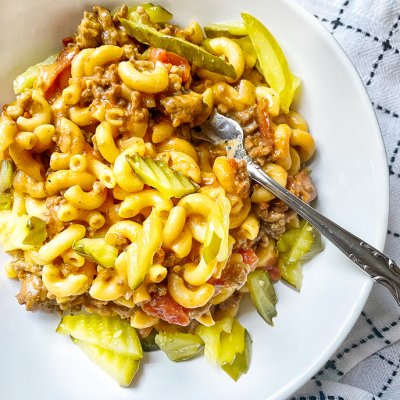 Ingredients
1

medium

red onion

diced

6

slices

center cut bacon

chopped, raw

1

lb

extra lean ground beef

raw

1.5

tsp

Lawry's Seasoned Salt

3

tbsp

dill relish

1-

14.5 oz

fire roasted diced tomatoes

1½

cups

beef broth

1

cup

water

8

oz

pasta, dry

I use Campanelle, but you can use any type of pasta that holds sauce well

3/4

cup

shredded part skim mozzarella cheese

1/2

cup

fat free half and half

1/4

cup

reduced sugar ketchup

I use Heinz

2

tbsp

yellow mustard

1

tbsp

Worcestershire sauce

salt & pepper, to taste
Instructions
Heat a large skillet over medium heat. Add chopped bacon. Cook for a few minutes and then add in the diced red onion. Cook until bacon is crisp and onion is soft.

Add ground beef and break apart with spatula. Season with seasoned salt and continue to cook with the bacon and onions until meat is browned.

Add a can of diced tomatoes and the dill relish stir into the meat and then add the dry pasta along with beef broth, water, and a pinch of salt. Stir all together and bring to a boil and then reduce heat. Cover and simmer for about 12 minutes or until the pasta is cooked.

When the noodles are cooked, stir in mozzarella cheese, half and half, ketchup, mustard, and Worcestershire sauce. Over medium-high heat stir constantly for about 2-3 minutes or until the sauce is thickened. Let set for a couple of minutes before serving to help the sauce thicken a bit more. Salt & Pepper to taste! Serve & enjoy!

Optional: Sprinkle with extra cheese, pickles, onions, and/or bacon, if desired!
Notes
Serving size: 1.5 cups
WW Points: 9
387 calories. 11g fat, 5g saturated fat, 37g carbohydrates, net carbs 35g, 2g fiber, 5g sugars, 0 added sugar, 0 sugar alcohol, 32g protein
Nutrition
Calories:
387
kcal
|
Carbohydrates:
37
g
|
Protein:
32
g
|
Fat:
11
g
|
Saturated Fat:
5
g
|
Sodium:
690
mg
|
Fiber:
2
g
|
Sugar:
5
g