One Pot Alfredo Pasta with Bacon and Peas
This post may contain affiliate links (meaning I earn a small comission if you purchase an item through a link I provide) I only provide shoppable links to items I love and are helpful. As an Amazon Associate, I earn from qualifying purchases.
Lately, I've been all about ease and this One Pot Alfredo Pasta with Bacon and Peas is ALL about ease. It's loaded with garlic, bacon, pasta, peas and finished off with a lazy creamy Alfredo that is just to die for.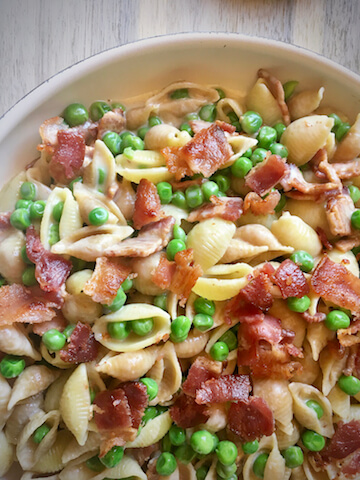 Lazy summer days are in full effect and I have pressed the easy button a few times now and what I mean by that is that I like to skip on using too many dishes whenever possible. I am quite literally the messiest person in the kitchen. You can't tell from my photos, but when I am cooking there's all but noodles stuck up on the ceiling. I wish I was exaggerating, I really do. My mom tried to teach me the value of "cleaning as you go" since my early teenage years. She still tries to give me a quick lesson in this method every time I am in her kitchen, but alas it's just not me. I am a messy woman in the kitchen, and that's just a fact! BUT, i'll tell ya what, some of my favorite creations come forth when there's precisely 730 different dishes to do, twenty containers open on the counter, and my dogs are licking some sort of sauce off the lower cabinets. Why am I telling you all about my disorganized chaotic method of choice when it comes to cooking? Well, I've been seeing all these "one pot" dishes lately. The ones where you quite literally make every single lil thing in one pot and then you have dinner ready and there's like 3 dishes and even less if you make everybody eat with their hands and use paper plates. This is a real treat for someone like me who just has such an aversion to doing dishes and loading the dishwasher. I truly refused to believe that a one pot meal like this would even work for the longest time. I got to thinking I should probably just test this theory myself for the sake of my own sanity.
So about this one pot pasta. I went with bacon because well bacon and I are the bestest of friends in the kitchen and I use it whenever I can. (See: Bacon Balsamic Turkey Burgers, BLT Pasta Salad, Bacon and Pepper Frittata, Bacon, Egg, and Cheese Biscuit Bake) I went with peas because Pepper absolutely loves peas right now. I'm talking it's almost the only thing she eats besides fruit and cheese at the moment so we almost always have 3-4 packages of frozen sweet peas in the freezer. Last but not least, I went with parmesan cheese to help aid the cheesy, creamy, delicious factor because parmesan cheese is just so dreamy, a bit salty, and has a nutty flavor that I just love. Not only is the pasta a big hit on busy nights when I don't want to dirty any dishes. It's a huge hit with my little miss Pepper. She eats a whole heck of a lot of it and it makes my heart so happy to see her eat something that isn't cut off of a block of mozzarella cheese. She still refuses any and all macaroni and cheese, but this pasta and her are golden so I will continue to make it for her every few days because it's just her favorite right now and I really, really love her. Also, Eric and I just love it too! Also, I only have a few dishes to do after dinner and there aren't any noodles or anything on the ceiling. It's easy, dreamy, delicious, and that's all I can really ask for these days.
Let's get into the kitchen, shall we?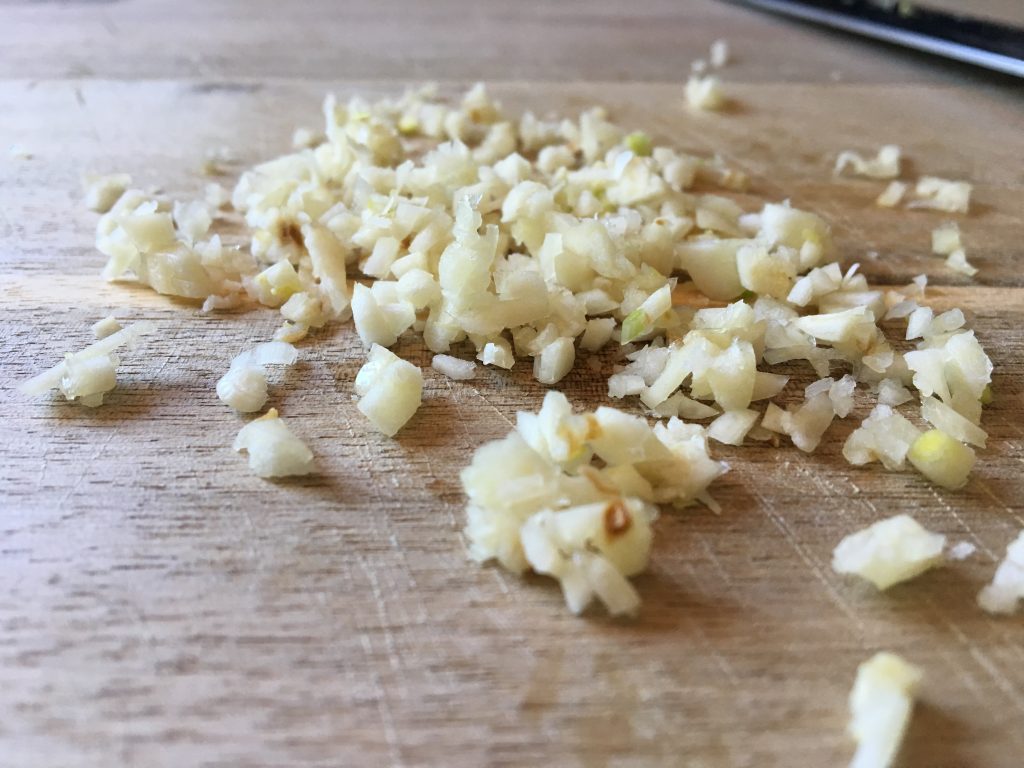 First things first, mince up a few cloves of garlic real quick and set aside. You'll need them real soon.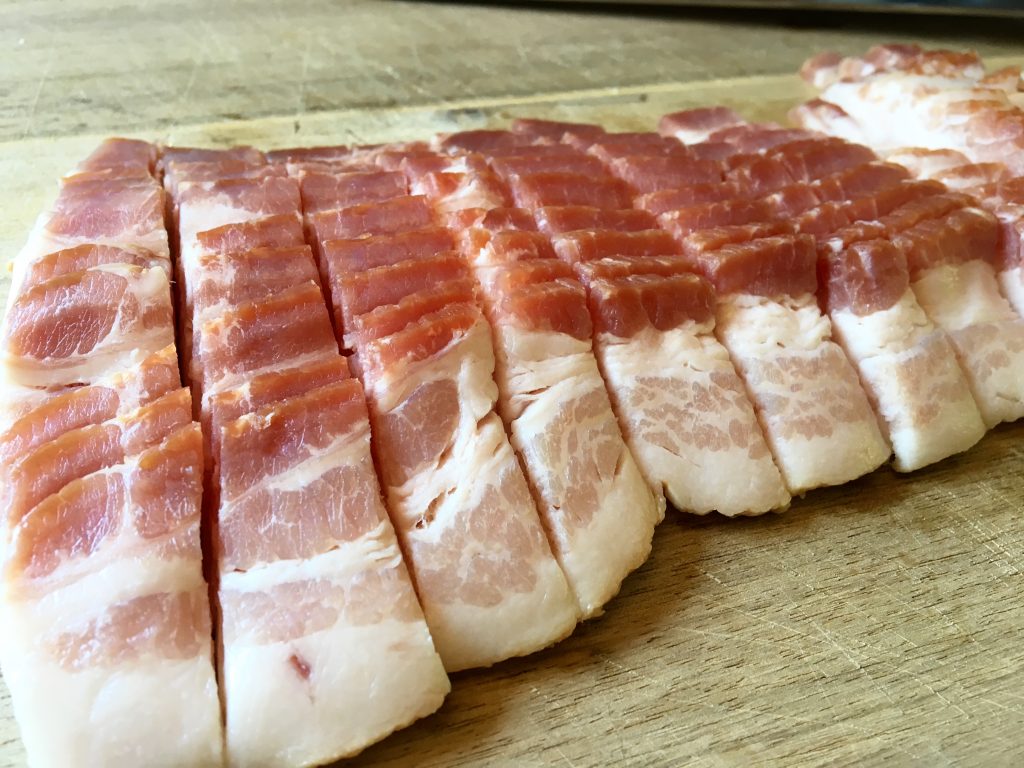 Grab some center cut bacon and cut into small pieces.
Place the bacon in a deep large skillet and cook until it gets nice and crispy. (You'll need the proper fitting lid for this skillet. Just a heads up, If your house is anything like mine and your child digs in the cabinest for different pots, pans, and lids and chases the dogs with the pots and makes hats out of the lids. I've had to search for said proper fitting lids one too many times. I normally find them in places like the dog bed or under the couch.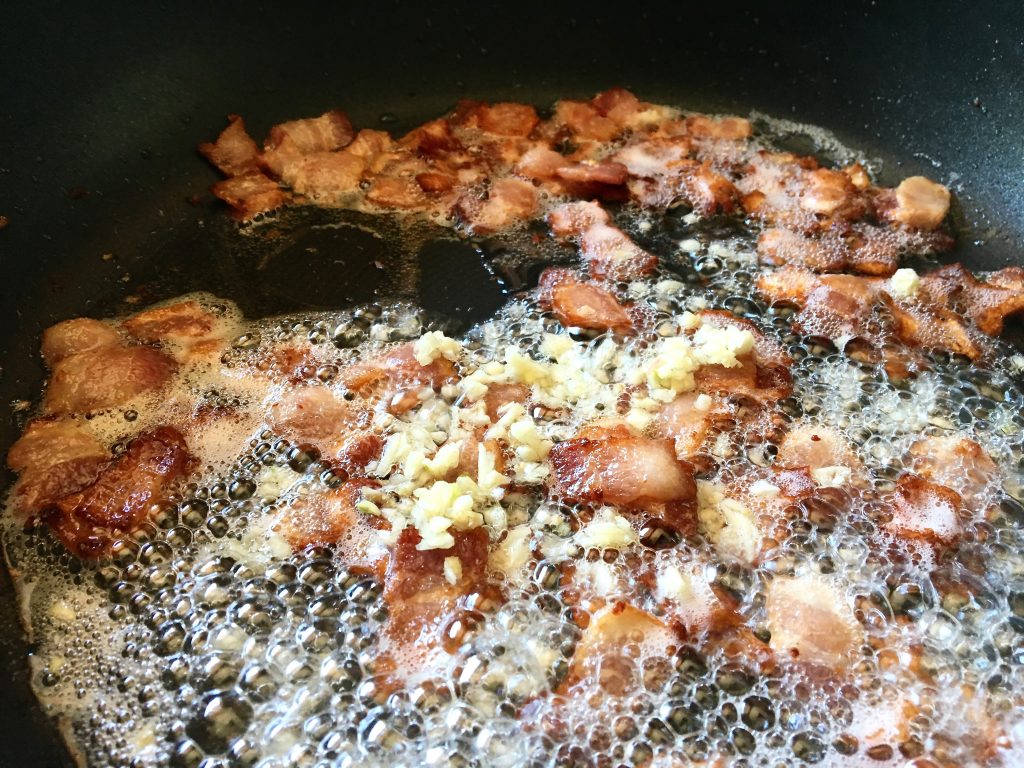 When the bacon is crispy, add the minced garlic and cook just until fragrant. Literally about 25 seconds.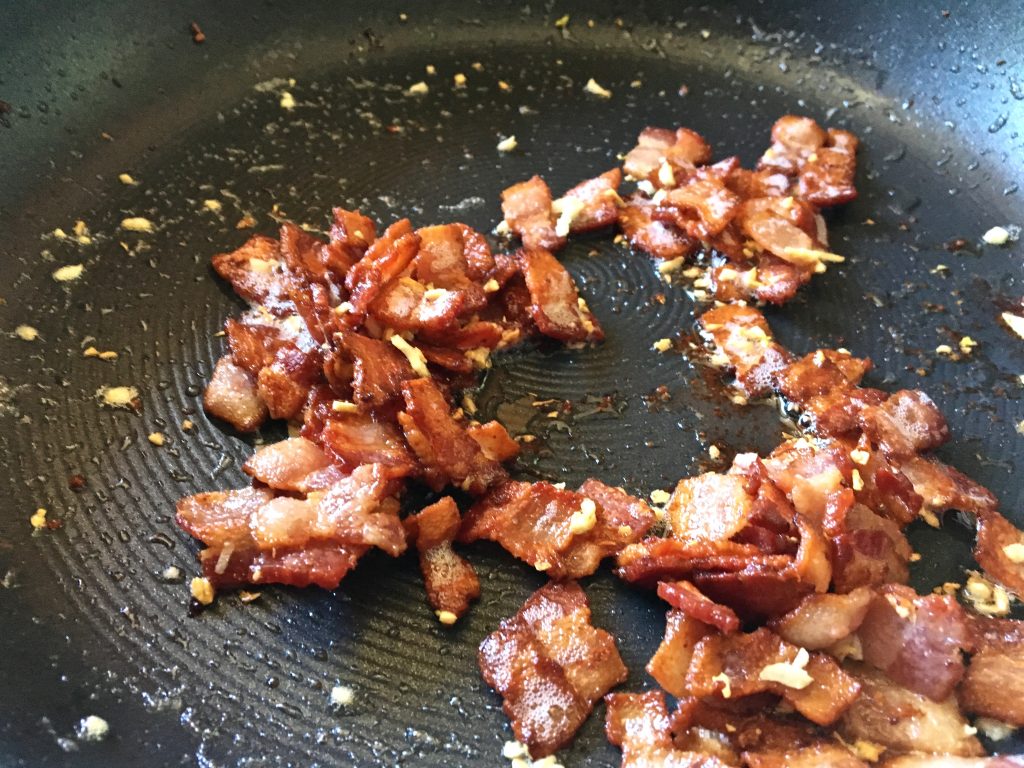 Drain the grease off.
Add in your noodles, water, broth, and salt & pepper. Don't mind my lil mix of whole wheat and white fiber shells. It's just what I happened to have had on hand over here. Bring to a boil, stir, then cover. Simmer for about 12 minutes or until the noodles are cooked.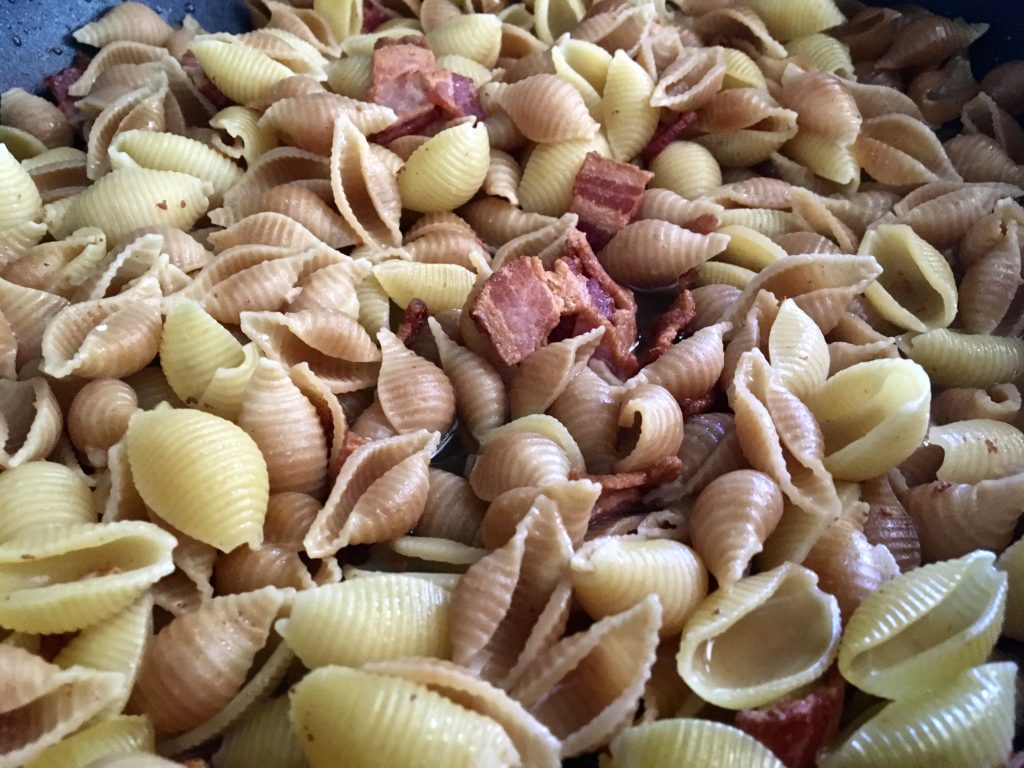 There we go. They should be cooked perfectly.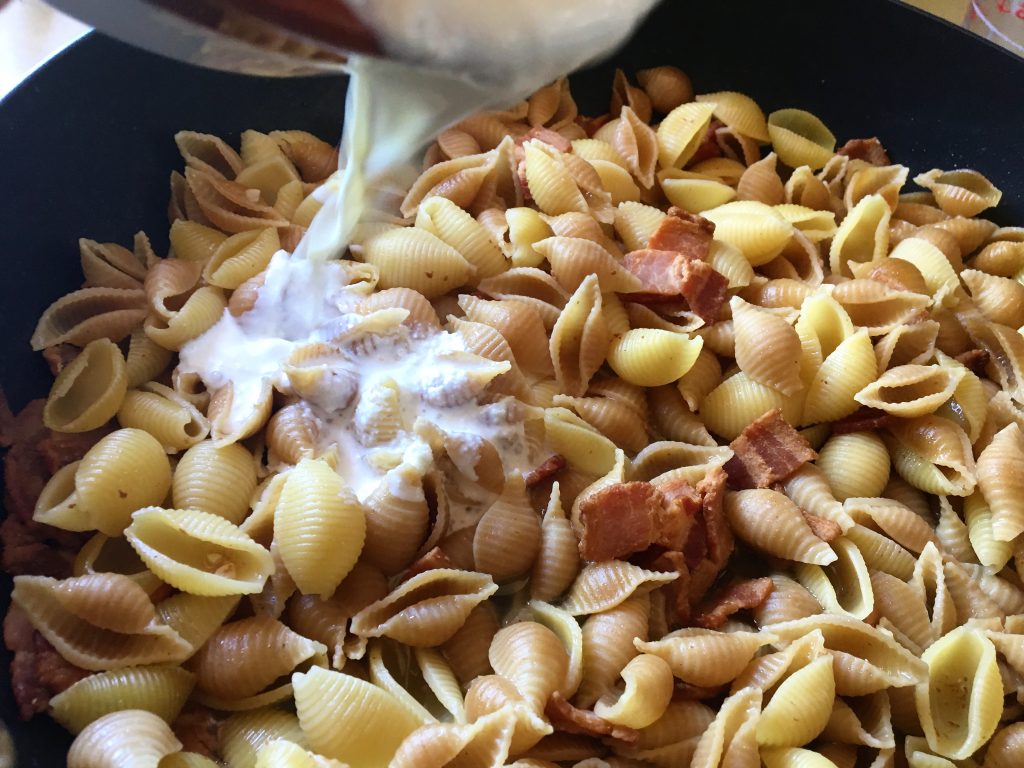 Pour the half and half and parm into the cooked pasta. Over high heat, bring pasta to a boil while stirring constantly.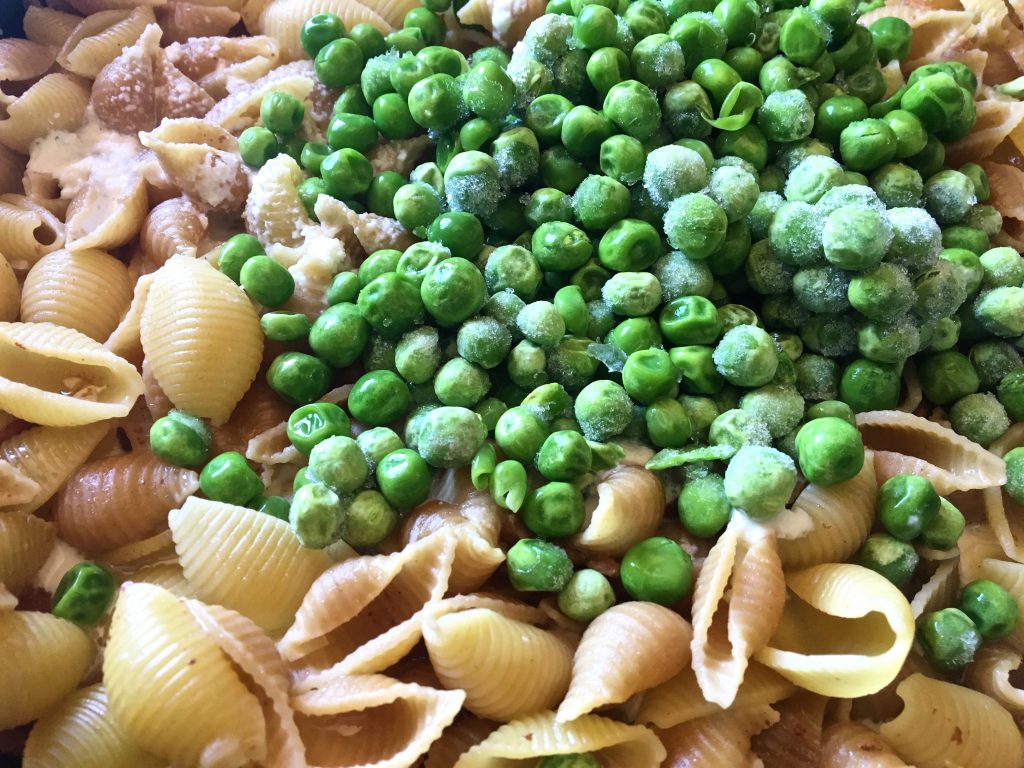 Add peas and continue to stir until sauce thickens and peas are heated through. About 3-4 minutes.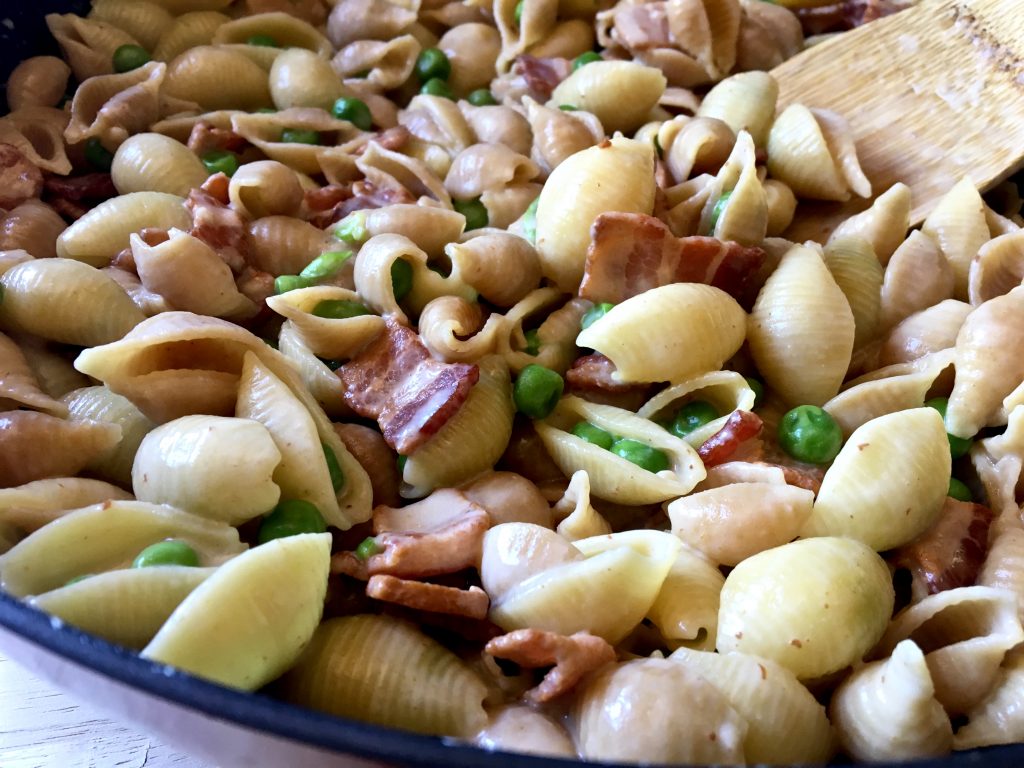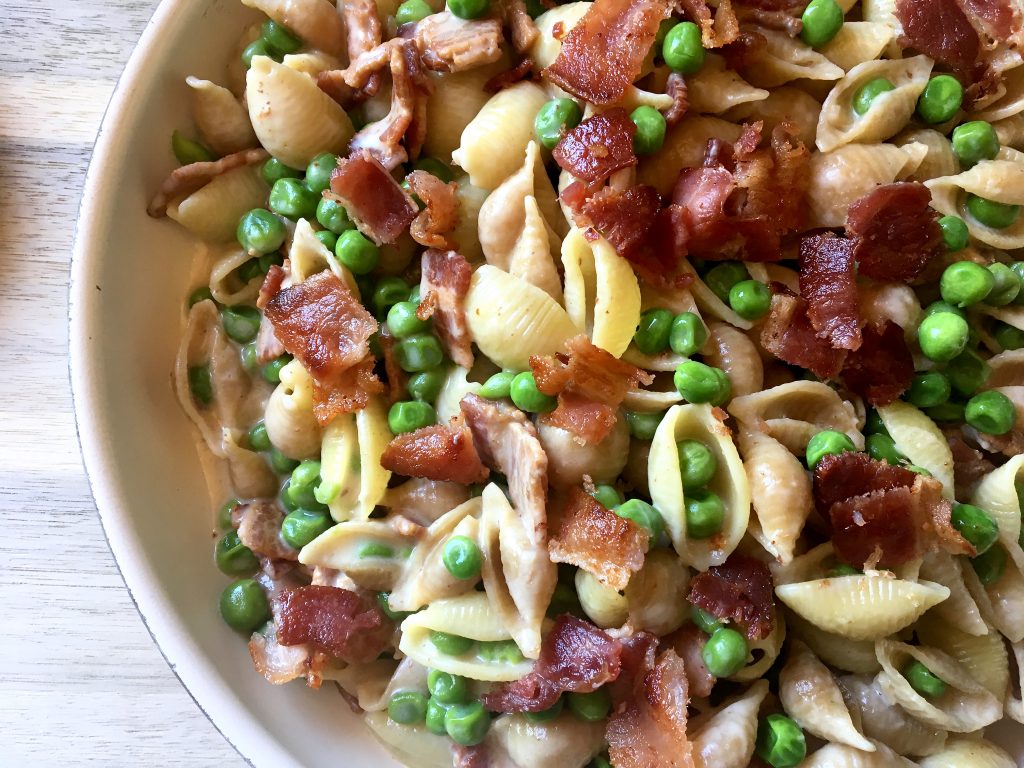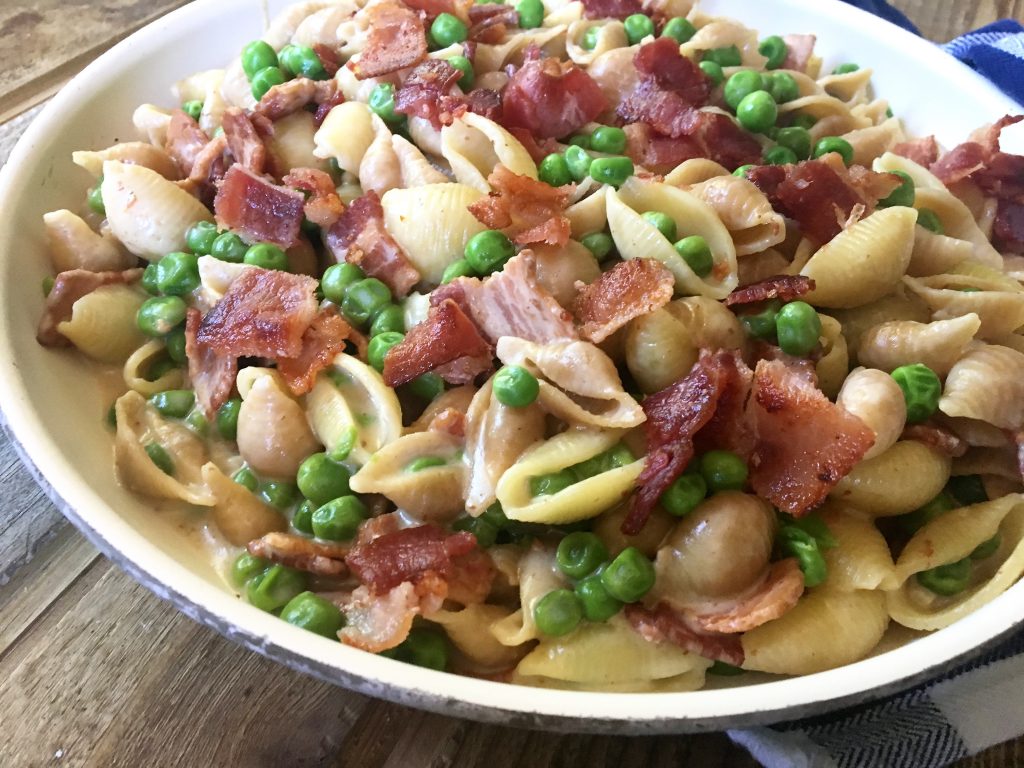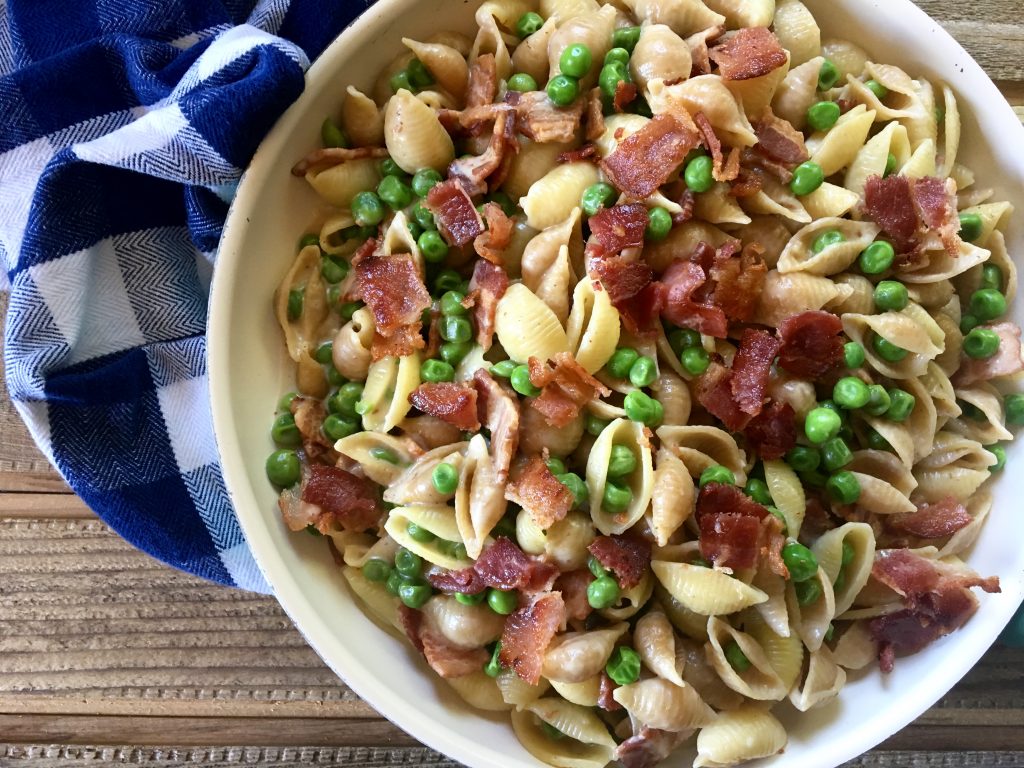 And just so ya know, there's one way to make it even more delicious. Cook up a few extra slices of bacon and crumble just a bit on top of each bowl.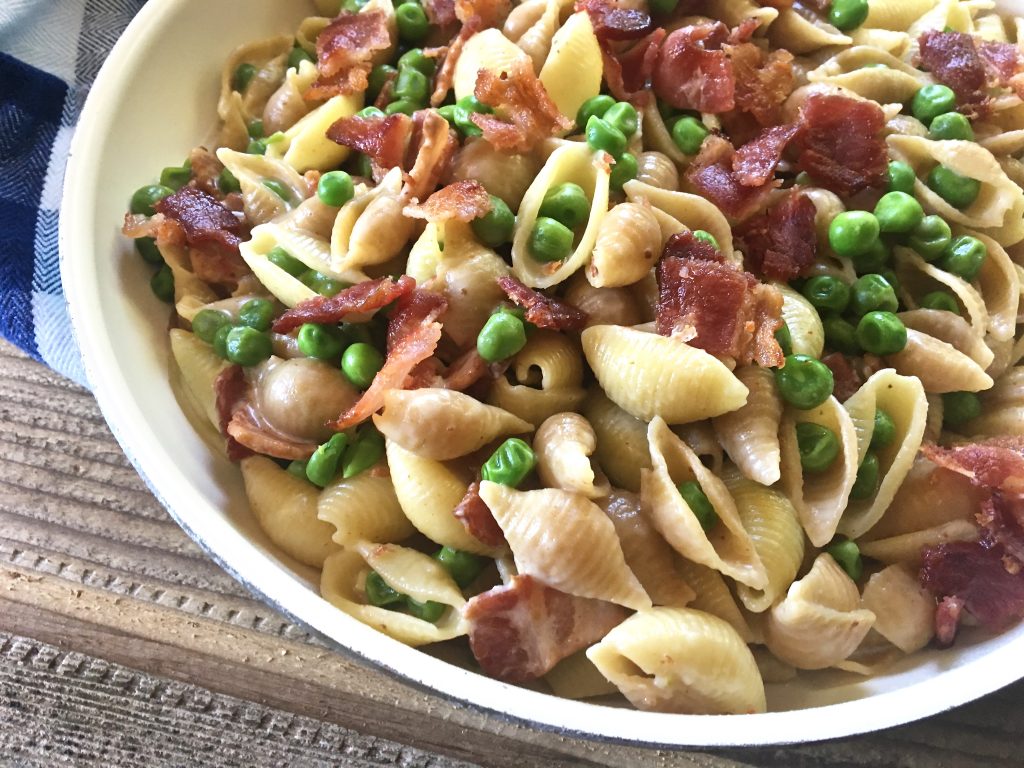 It's just so bright, colorful, and easy! This pasta comes together so quickly for me and after dinner, especially if I made everyone eat with their hands, I just have a handful of dishes to clean up which is one of the sweeter things in life. I love this meal so much. Since this is something I almost always have in the fridge lately. I'll letcha know that I've also used it more as a side next to a delicious piece of grilled chicken or bulked up the protein by adding in a handful of already grilled or shredded chicken breast. I hope y'all enjoy. Let me know if ya make it!
With love from my kitchen to yours,
Star
One Pot Alfredo Pasta with Bacon and Peas
a creamy, cheesy one pot pasta with peas and bacon
Print Recipe
Ingredients
10

slices

center cut bacon

uncooked and sliced into small pieces

4

cloves

garlic

(minced)

8

oz dry

shells

(whole grain or chickpea pasta works well in this too)

1 ½

cups

low sodium chicken broth

1

cup

water

1/2

tsp

salt

1/4

tsp

pepper

1/2

cup

half and half

1/2

cup

parmesan cheese

grated

1 ½

cups

sweet peas

frozen
Instructions
In a large deep skillet add the pieces of bacon and cook over medium heat until crispy. Add the garlic and cook just until fragrant, about 25 seconds. Drain off the grease. Stir in pasta, water, chicken brother, salt, and pepper. Bring to a boil and reduce heat. Cover and simmer for about 12 minutes or until the pasta is cooked. Add the half and half, parmesan cheese, and peas. Over medium-high heat, stir constantly until sauce is thickened for about 3-4 minutes. Salt & Pepper to taste. Sprinkle with extra crispy crumbled bacon and or parmesan cheese if desired.
Notes
Serving Size: 1 and 1/4 cup
350 Calories 13.5g fat, 6g saturated fat, 40g carbohydrates, 6g fiber, 2.5g sugar, 18.2g protein
WeightWatchers Points: 6 Points