This post may contain affiliate links (meaning I earn a small comission if you purchase an item through a link I provide) I only provide shoppable links to items I love and are helpful. As an Amazon Associate, I earn from qualifying purchases.
Hi there, Happy Sunday! Sundays around here are either super lazy or super busy. Today it's a super lazy Sunday. I lost an hour of my precious beauty rest last night. (Thanks time change) So I've been a little grumpy, and Pepper was all sorts of cranky this morning when I realized, "Oh wait, this is her normal lunch time. She's probably hungry and ready for a nap already!" So I happily made her a little cheesy quesadilla and a side of carrots and ranch. She scarfed it then grabbed her blankie. It was time for bed! After I laid her down, I fumbled around the kitchen thinking about what to make Eric and I for lunch. I decided to make my favorite sandwich, ever. in the history of sandwiches. Okay, I'll let you in on a little secret, these babies aren't healthy so if you're a super strict weight watcher or calorie counter props to you, but turn around and don't look back. (at least at this post. haha!) I figured out the smart points for these babies and it's not pretty, but I know how to make them a little lighter and I will in the future and then I'll share them with you and you'll like me again. If you're like me and like to have something not so waist friendly once and awhile, but still like to be mindful. Then stick with me and make this sandwich because it's great and it's my favorite and it's easy and it's perfect for a lovely, lazy Sunday lunch. Eat some carrots on the side. It'll be fine. This is basically a turkey poorboy. Have you ever had a real poorboy? oh boy, they are good. However, I really, really love these turkey ones. a whole lot and I know you will too.
Off to the kitchen we go!
Preheat your oven to 400 degrees. Grab some garlic bread, yep, the freezer kind. yep, the kind swimming in real butter. yep, this is where all the points/calories come from. Let it thaw naturally for a few minutes.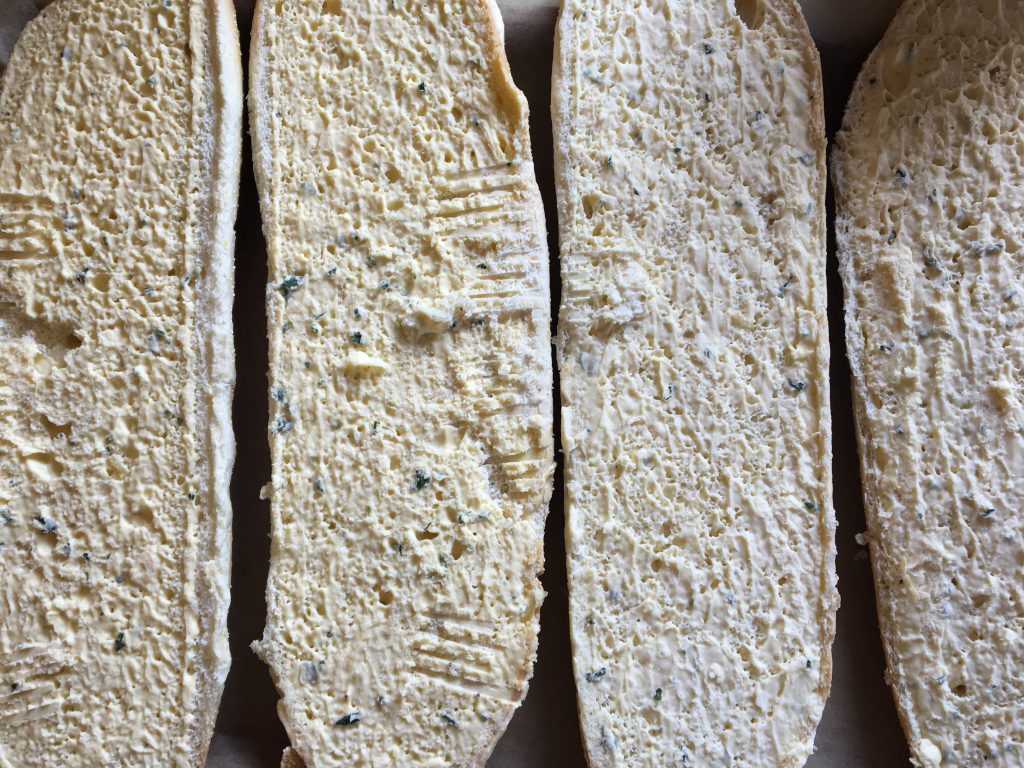 Pry it open with your fingers or a fork and lay it on a baking sheet butter side up. I like saying that, butter side up. Ahhh.. and Bake for 6 minutes.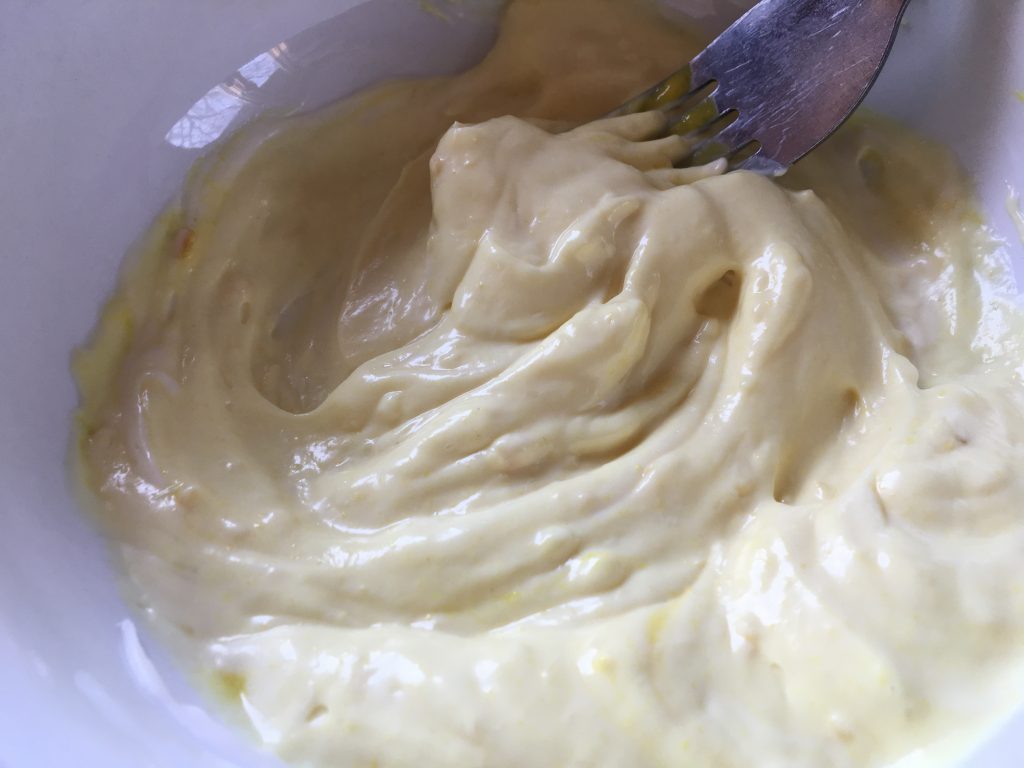 Mix up some secret sauce. Aka Light mayo, dijon mustard, and minced onion. Set aside.
Grab some turkey and some cheese. I personally love this provolone-mozz blend, but you can use provolone or mozzarella and it'll still be just as delicious.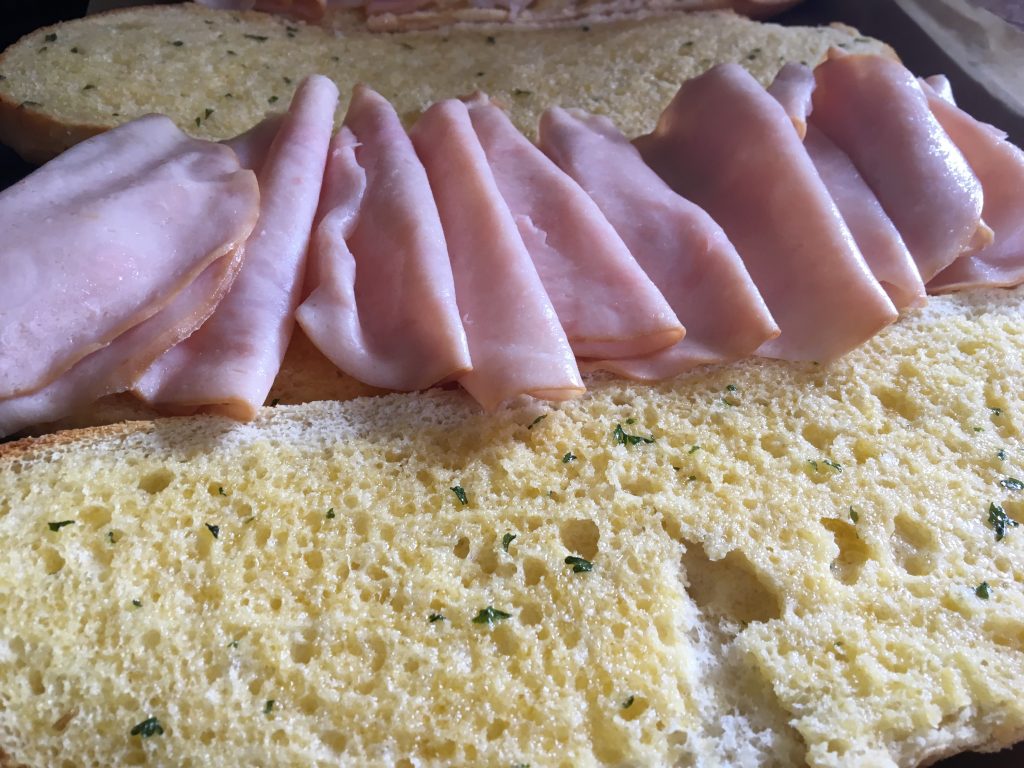 Pile on the turkey.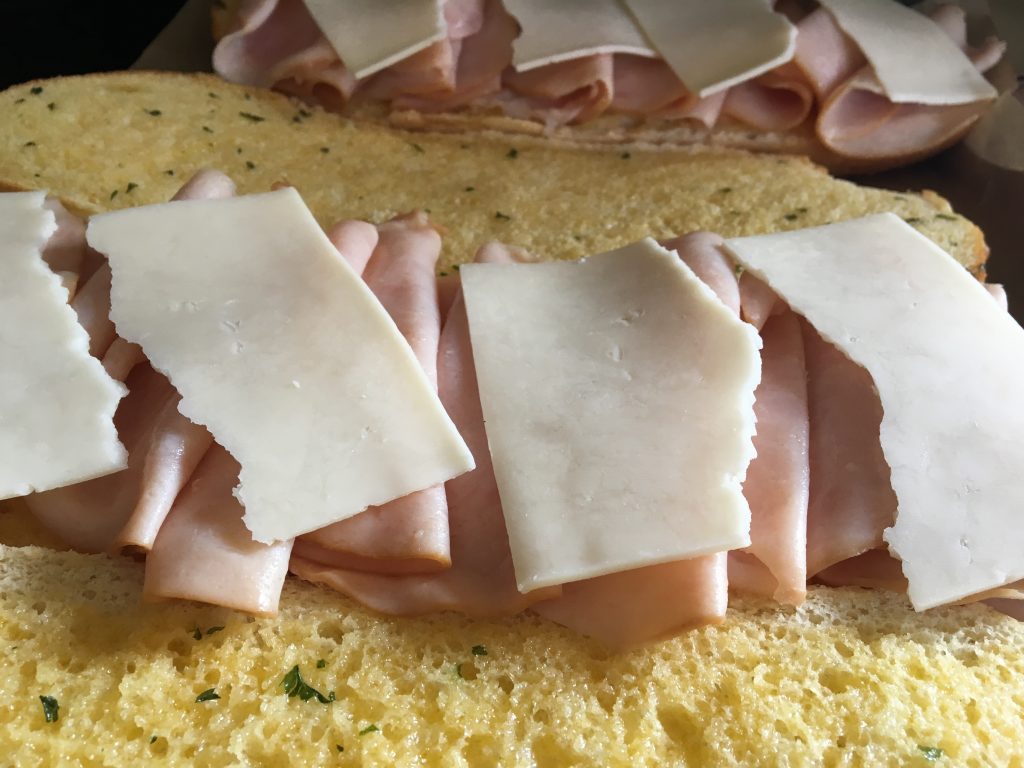 Pile on some cheese! Pop back into the oven for another 5 minutes or until the cheese is nice and melted.
Like this!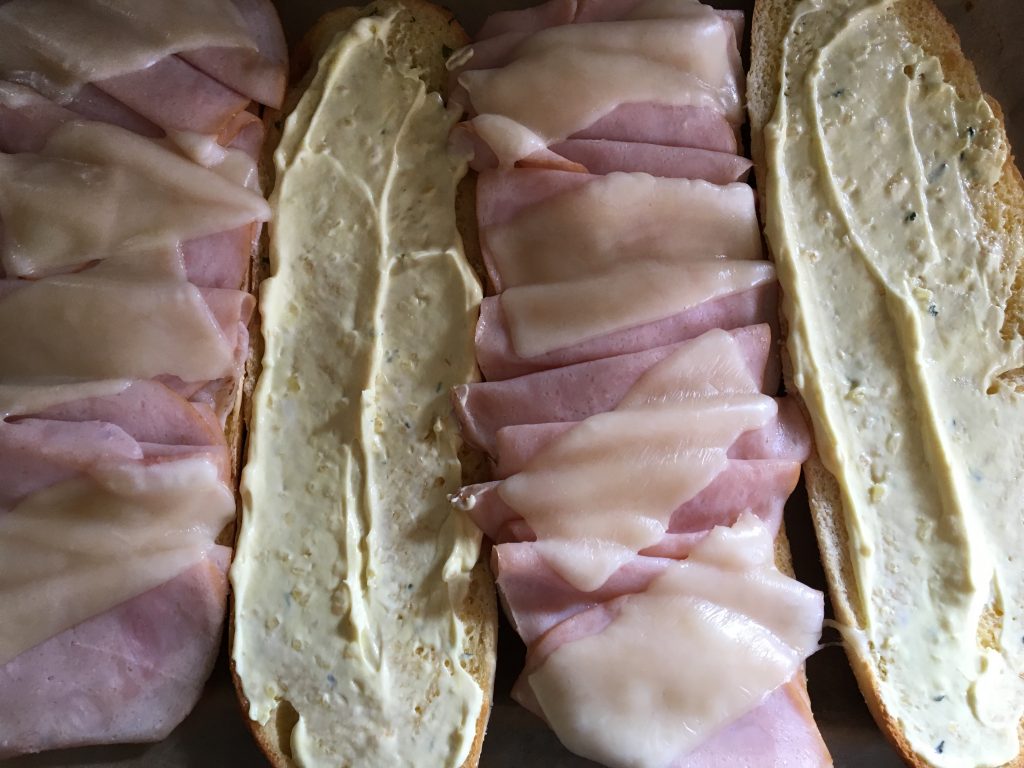 Then evenly spread the delicious secret sauce. (Note: You can easily only make one loaf of bread for sandwiches. I make two because Eric loves these and he'll have these for lunch for the week)
Chop up some lettuce or use the bagged stuff. Whichever you please. This sandwich just needs a nice fresh crunch.
Pile that on top. The more the merrier. I love lettuce.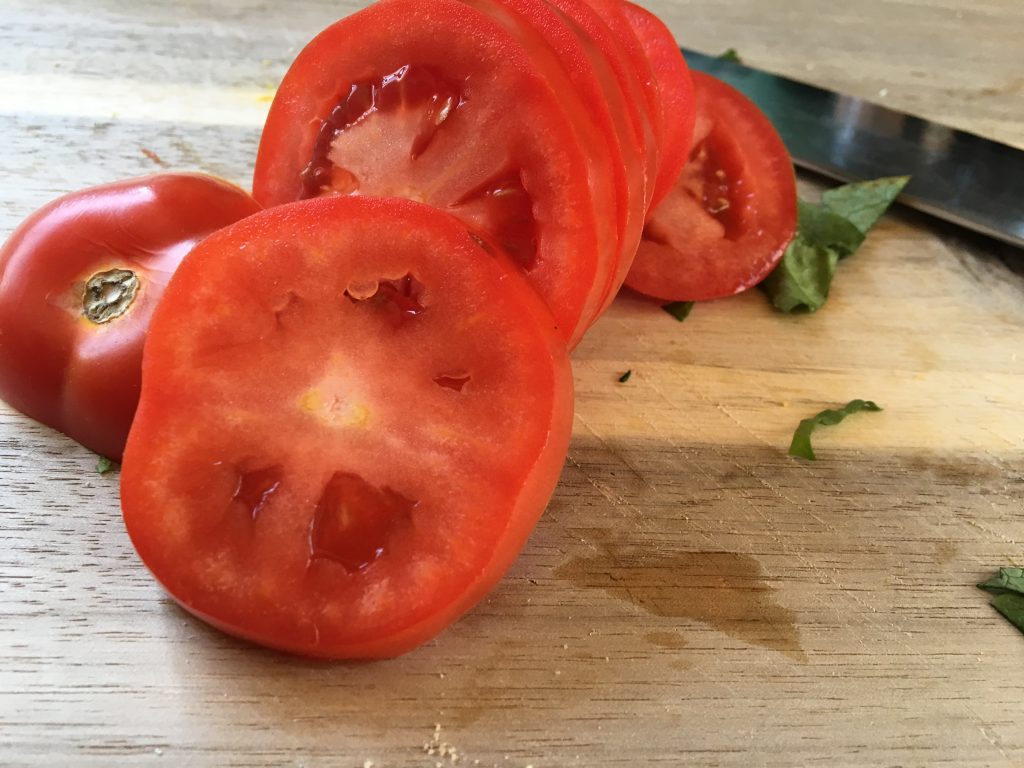 Slice a tomato!
Then plop those babies on there too.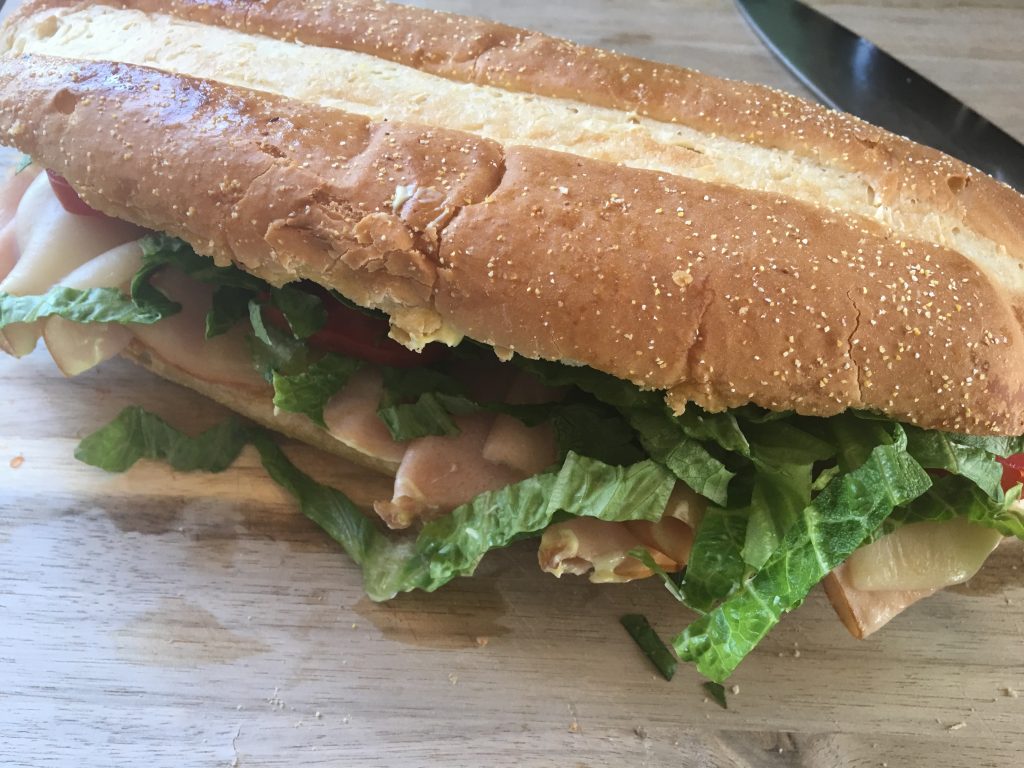 Close her up!
Cut into three equal parts.
Okay, I got a little carried away with the lettuce.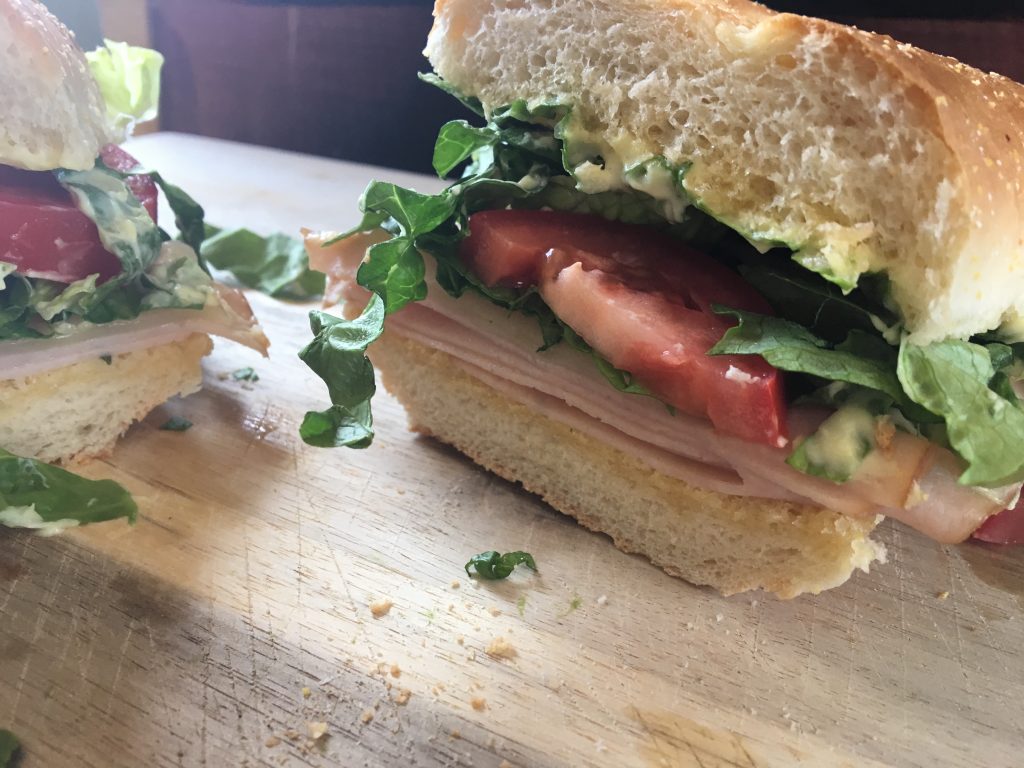 Hello, favorite sandwich.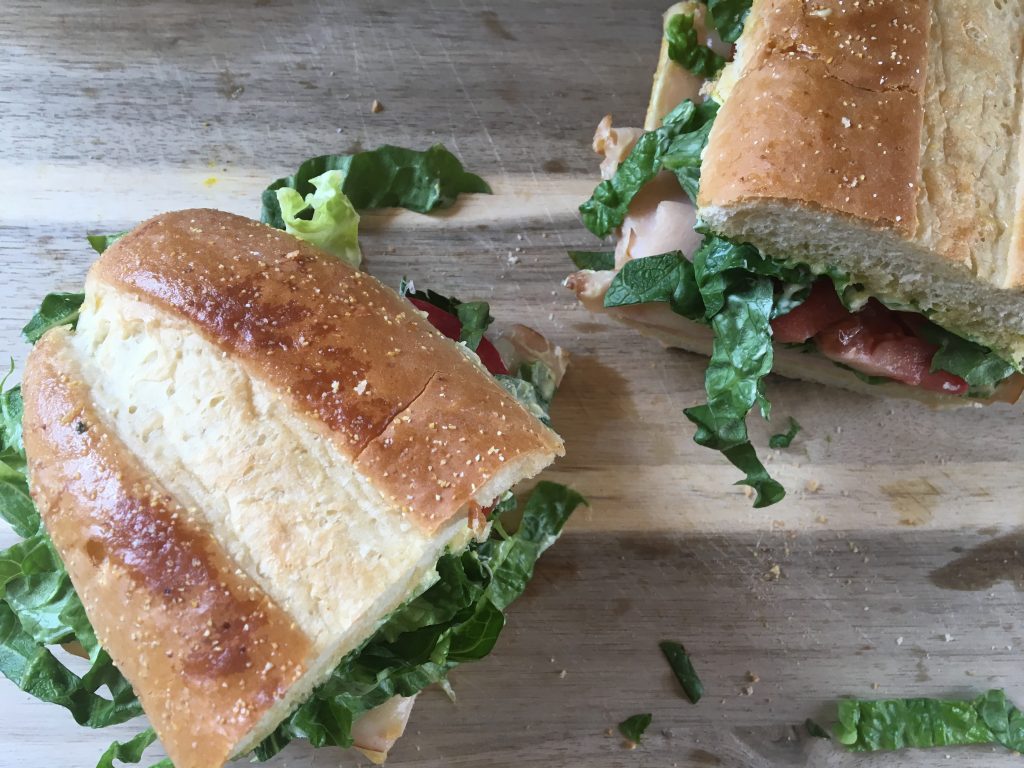 So yummy. So, so, so yummy.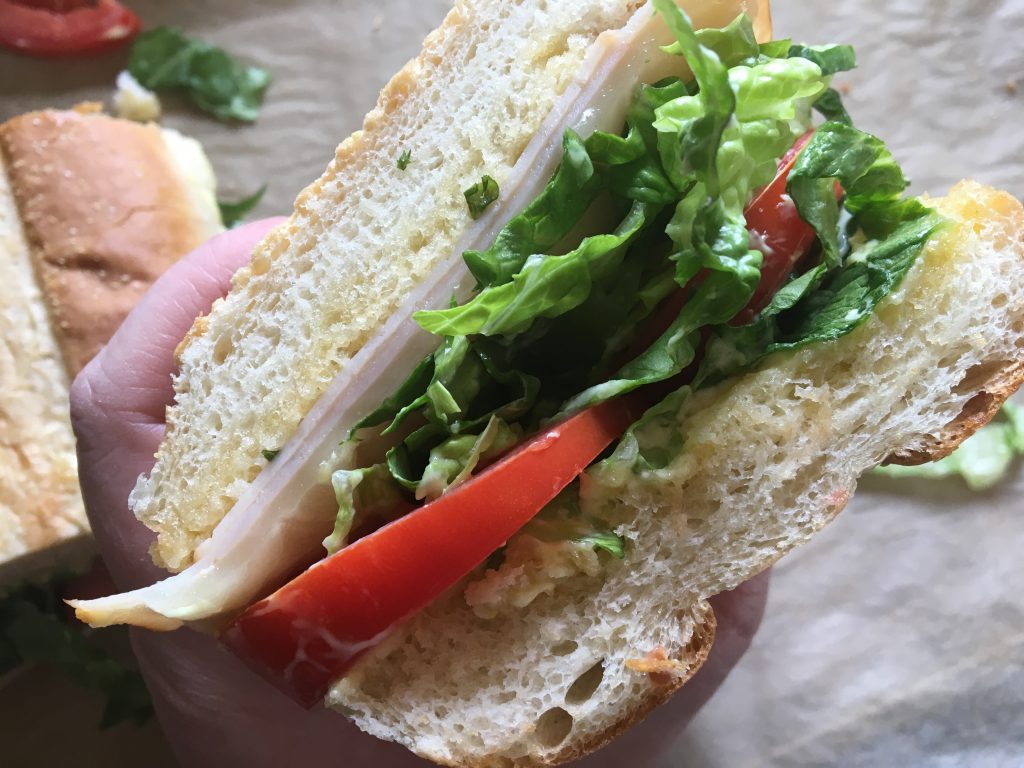 Pick it up and chow! (and eat some carrots on the side)
It's all about balance, boys and girls.
Excuse me while I got eat this.
With love from my kitchen to yours,
Star
P.S. I'm going to lighten this up.
P.P.S. Please love me still.
P.P.P.S. I really love this sandwich.
Print
Turkey Poorboys
a hot cheese and turkey sandwich on delicious garlic bread!
Materials
2

loaves frozen garlic bread

1

pound

deli turkey

4

slices

mozzarella and or provolone cheese

1/4

cup

light mayo

2

tsp

dijon mustard

2

tsp

minced onion

lettuce

, chopped

tomato

, sliced
Instructions
Preheat oven to 400 degrees. Place garlic bread butter side up on a sheet pan. Place into the oven for 6 minutes.While the bread is heating up. Mix light mayo, dijon mustard, and minced onion together and set aside. Remove from oven and pile on turkey and cheese. Place back into oven for another 5 minutes until cheese is melted. Spread mayo mixture onto the bread. Pile high with lettuce and tomato. Fold sandwich together and cut each loaf into three equal parts. Enjoy!
Notes
If you don't want tons of these sandwiches laying around after having one. This recipe can EASILY be halved and just as delicious.