This post may contain affiliate links (meaning I earn a small comission if you purchase an item through a link I provide) I only provide shoppable links to items I love and are helpful. As an Amazon Associate, I earn from qualifying purchases.
Mom's Best Potato Salad is the seriously best potato salad recipe! Although, I still think when my mom makes it it's better because she puts extra love in it. This Potato Salad is a classic, simple, and absolutely delicious recipe! A must make during the summer for any cookout, pot luck, or BBQ!
If you would ask me at any given time what my favorite recipe is it's, without a doubt, this potato salad. It's so delicious and something I crave every summer and every single cook out. I actually don't usually make it because who else agrees food tastes better when mom makes it? It's my number one request whenever my mom says, "what can I make?" whenever we have cookouts. We both decided a couple weeks ago that something this good should be shared with some of my favorite people (you all)! So here it is, friends.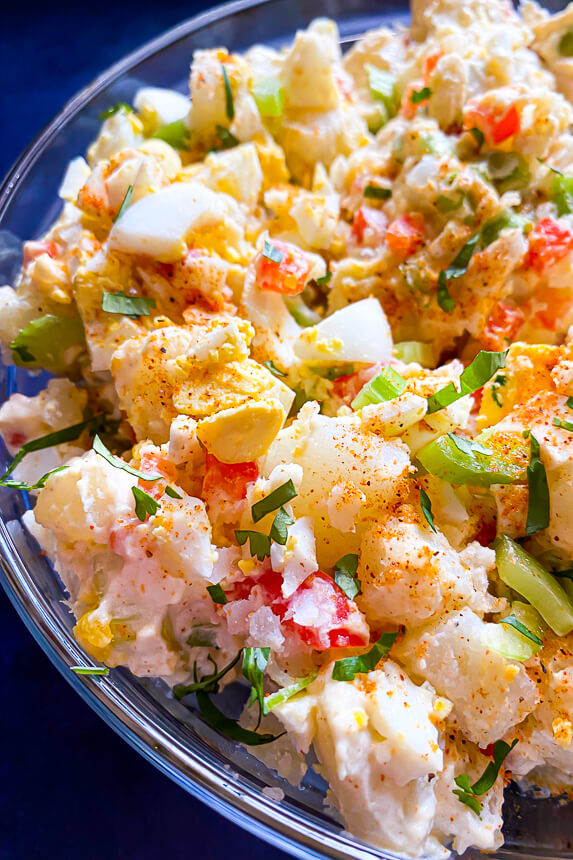 I remember my favorite meal growing up with hamburgers or hot dogs off the grill + this potato salad. It's just a staple in my life. While this Potato Salad is classic and requires simple ingredients that you probably keep on hand regularly. There are a few extra steps like hardboiling and peeling eggs (kind of the bane of my existence). But it's totally worth it. Read through the post to get a few extra tips to save time!
HOW TO MAKE MOM'S BEST POTATO SALAD
First off, I like to have things prepped and ready to go. You'll need 5 hard boiled eggs. You can do this whatever way you like to do it. Make hard boiled eggs in the Instant Pot, Air Fryer, or on the stove top!
HOW TO MAKE HARD BOILED EGGS (STOVE TOP METHOD):
Add uncooked eggs to a pot in a single level, add one teaspoon of salt, cover with water by about an inch and bring to a gentle boil (make sure its not a super heavy rolling boil). When they have come to a boil a timer for 8 minutes. After the timer goes off cover the pot with a tight fitting lid and set the timer again for 6 minutes. Prepare an ice bath (lots of ice with water in a bowl) while they are finishing cooking. When the timer is up, add eggs quickly into the ice bath, and then let them sit for about 10 minutes to completely cool.
To peel the eggs: gently (but also forcefully- haha does that even make sense?) roll each egg to create lots of cracks and then peel. Rinse well with water after you peel each egg and done! Perfect hardboiled eggs. Chop them up for the potato salad!
Gather up about 3 pounds of russet potatoes. Scrub off the dirt, but don't peel them. Yes really! I didn't realize this was one of my mom's tricks, but stay tuned and you'll see. Cut them into thick slices.
Add the potatoes to a big dutch oven or stock pot. Make sure to salt the water with about 3 tablespoons of kosher salt so the potatoes are seasoned. Cover the potatoes with water by about an inch or two. Bring to a boil and cook the potatoes for about 12-15 minutes until fork tender, but not super duper soft. I check them at about 12 minutes and then stalk them until they are the right consistency. Make sure to keep an eye on them because if they're too soft cause they will turn into mashed potatoes and that is literally the very last thing we want.
While the potatoes cook, dice about half of a large red pepper and 3-4 celery ribs to get about 1/2 cup of each.
When the potatoes are done cooking drain off the water. Let them cool a bit before handling. This is where you'll actually remove the skins and it's stupid easy! Like, my mind is blown.
Cut the potatoes into small-ish chunks. After the skins are removed you'll have about 2.5 pounds of potatoes here. A little more or less isn't a big deal. I also cut off any bad spots.
In a small bowl stir together 3/4 cup of mayo, 1/2 cup of sour cream, 1 tbsp apple cider vinegar, 1 tbsp yellow mustard, 1-1/2 tsp celery salt, and 1/2 tsp smoked paprika.
Listen- you can use light mayo and light sour cream here to lighten it up bit. I love Dukes Light Mayo with olive oil, but I'm going to be honest I eat this only a handful of times a year. I prefer the full fat mayo and sour cream addition for the special occasions. If I ate this on the regular I'd probably do the light products. Its your kitchen- you do what you need to do and go on with your bad self.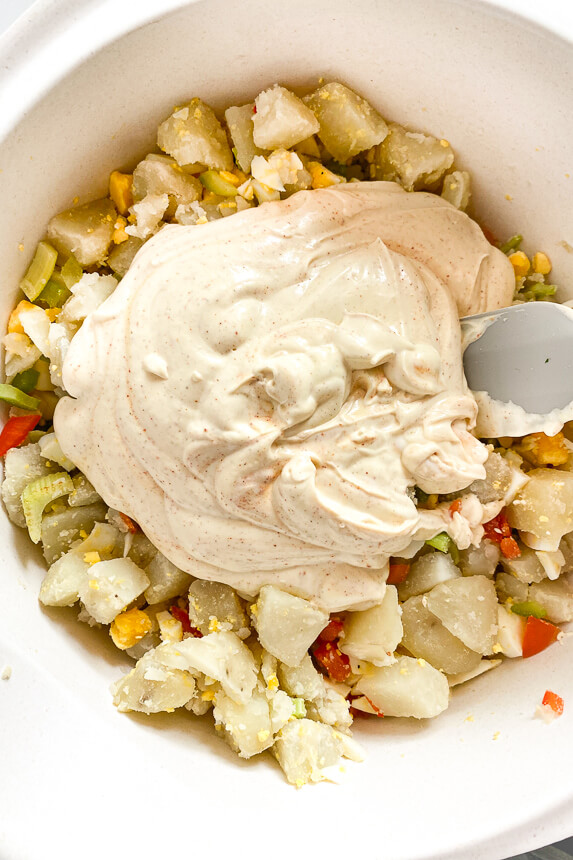 In a large bowl add potatoes, chopped eggs, and diced celery and peppers. Add in the mayo mixture and stir together well.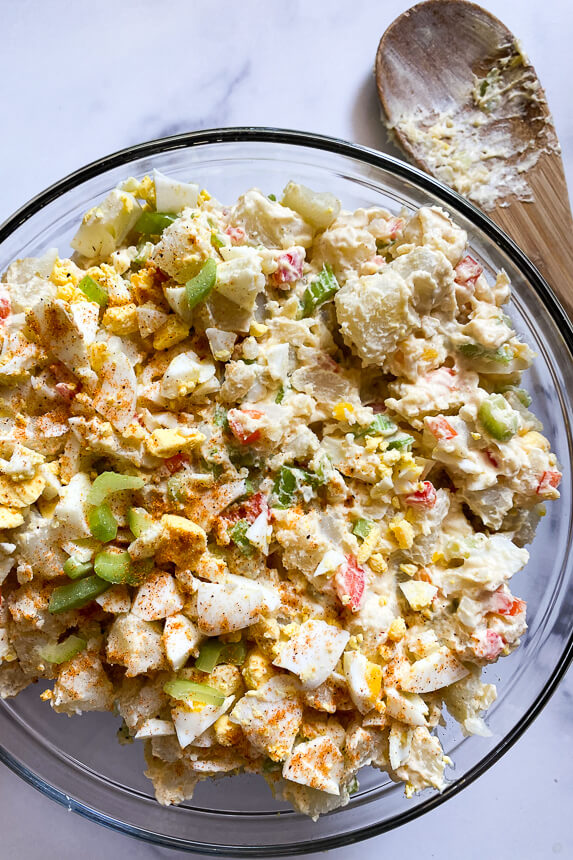 And that's all y'all! Please remember that potato salad tastes best if it can be made a day ahead of time, its just the facts, but if you can't do that make it and give it at least a few hours for the flavors to hang out all together in one big bowl in the fridge before serving. But seriously, better the next day.
If you don't have time to do EVERYTHING the night before I know for a fact my mom almost always makes the hardboiled eggs the day of and then stirs them in the potato salad (and slices a few for the top so it looks peeeerdy). So essentially she does it completely backwards…or am I doing it backwards? Haha
This will most definitely make the best addition to any cookout, pot luck, or BBQ!
Now all you need is a grilled burger with all the fixin's you've got yourself one of the best meals on the planet.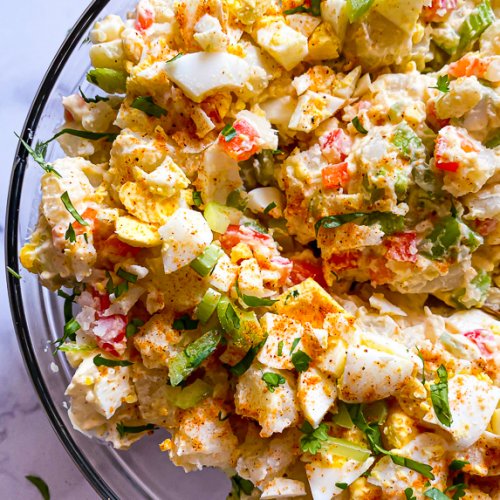 Print
Mom's Best Potato Salad
A classic, easy potato salad recipe filled with diced celery, red peppers, hardboiled eggs and an incredible mayo based dressing.
Materials
3

lbs

russet potatoes

(it'll be about 2.5 lbs cooked after the skins are removed)

5

large

hard boiled eggs

peeled and chopped

1/2

cup

diced celery

3-4 ribs

½

cup

diced red pepper

about 1/2 a large

¾

cup

Mayonnaise

preferably Dukes or Hellmans (full fat or light- see notes)

½

cup

sour cream

(full fat or light- see notes)

1

tbsp

apple cider vinegar

1

tbsp

yellow mustard

1½

tsp

celery salt

½

tsp

smoked paprika

salt and pepper to taste
Instructions
Gather up about 3 lbs of russet potatoes. Scrub off the dirt, but don't peel them. Cut them into thick slices.

In a large pot or dutch oven add potatoes and then cover with water by about an inch. Add 2 tbsp of kosher salt to the water to season the potatoes while cooking. Let them come to a boil and cook for about 12-15 minutes or until fork tender, but not too tender- you do not want them to be mushy.

While the potatoes are cooking make sure you've got all the ingredients ready to go into the salad (eggs, celery, peppers). Grab a small bowl add mayo, sour cream, mustard, vinegar, celery salt, and smoked paprika. Stir together well.

When the potatoes are ready, drain, let cool off so you can handle them, and start removing the skins (see blog post) they literally just slide right off. So easy! After the skins are removed dice potatoes into small chunks.

Add diced potatoes, hard boiled eggs, red peppers, and celery. Stir together then add the mayo mixture. Stir together until combined really well. After you let it sit in the fridge for at least a few hours you'll need to salt and pepper to taste! I like to finish it off with a little Lawry's seasoned salt.

Ideally you can make this the day before serving and let it sit in the fridge overnight, it tastes best this way, but if not, let it sit in fridge for at least a 3-4 hours. Potato salad will keep in the fridge covered tightly for 5 days.
Notes
Makes 8 cups total. Side dish serving: 1/2 cup
note: I'm providing the nutrional infomation and the ww information for both the original version and lighter version. I prefer the original version and will always make room for it, but the lighter version is SUPER delicious too!
Nutritional information: Original version 151 calories, 10g fat, 2g saturated fat, 74g sodium, 14.5g carbohydrates, 1g fiber, 1g sugar, (0g added sugar, 0g sugar alcohol) 13.2g net carbs, 2g protein
Nutritional information: Lighter version 108 calories, 4.5g fat, 1g saturated fat, 74g sodium, 15.5g carbohydrates, 1g fiber, 1g sugar (0g added sugar, 0g sugar alcohol), 14g net carbs, 2g protein
WeightWatchers Points (light version): 3 points
WeightWatchers Points (original version): 5 points