This post may contain affiliate links (meaning I earn a small comission if you purchase an item through a link I provide) I only provide shoppable links to items I love and are helpful. As an Amazon Associate, I earn from qualifying purchases.
This Mexican Street Corn is an easy peasy healthier side dish. The perfect companion to any Mexican or Tex-Mex inspired meal, and a Taco Tuesday must-have! It's got a bunch of flavor and you can spice it up as much as you'd like.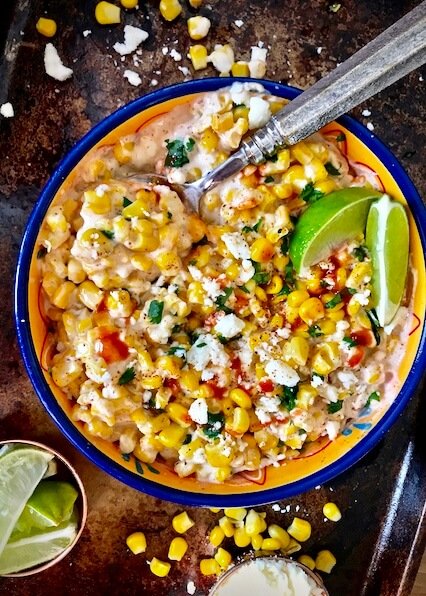 I've had requests upon requests to get this up as soon as I possibly can, and I have a moment of free time so here it is!
So here's my gift to you in honor of Miss Pepper's Birthday Week, "Mexican-Style Street Corn" also known as "Elotes". This Mexican Street Corn is a healthier version so it's not EXACTLY like the authentic kind, but you'd never know! I promise.
Now that summer is here, we will soon have access to loads and loads of fresh sweet corn from the farm, so soon there will probably be corn in just about every recipe, so hope y'all like corn! I mean there's not many things better than some fresh summer sweet corn!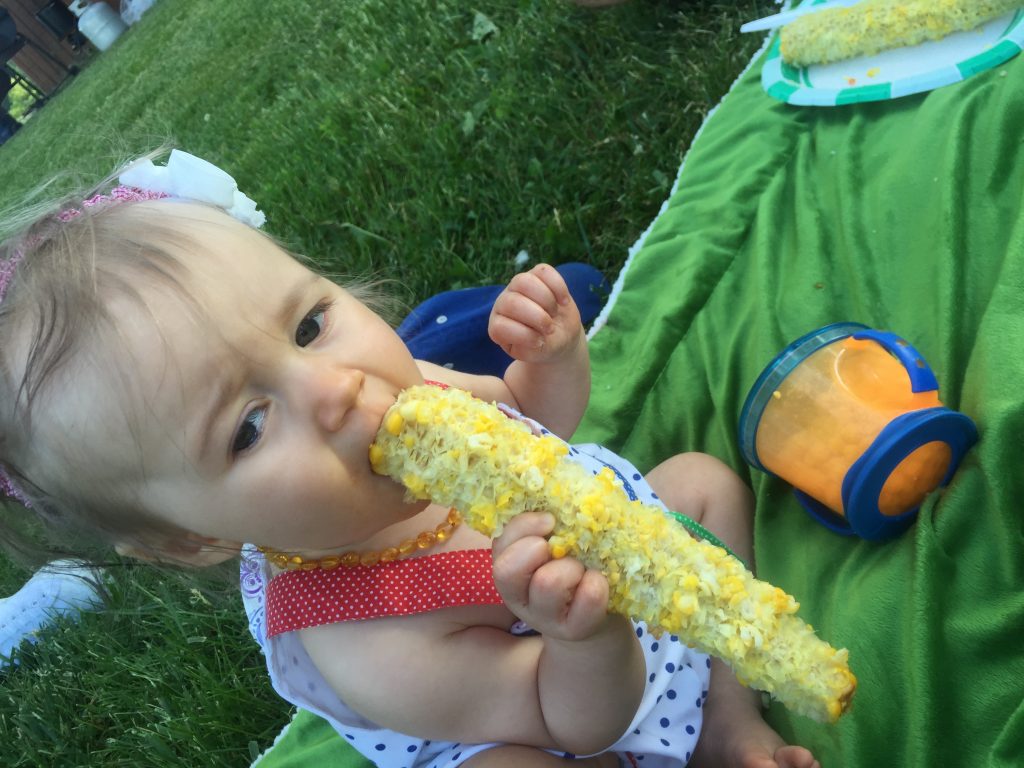 Okay, maybe a baby eating their first cob ever is better than fresh summer sweet corn!
P.S. How many times do you think I'll say Fresh Summer Sweet Corn this summer? Start your bets, guys.
I'll start off by saying that I'm so thankful that I've had a friendship with a lady who basically grew up in Mexico, and came to the United States when she was about 15 years old. This seems like a million years ago when we used to cook together, but she taught me some really awesome things in the kitchen when it came to Mexican cuisine. I will NEVER say I am good at it, because all that I do is from memory, and let's be honest, I lost my memory after having Miss Pepper. I've lost two debit cards, two sets of car keys, a social security card, pants… that's right, pants. The list goes on.
what was I saying?
Oh yes! Mexican Street Corn and the lovely woman who taught me wonderful things in the kitchen. She did not teach me how to make this, but she did bring me to this amazing Mexican Food Market where they sold this little cup of deliciousness out of a small cart in front of the market.
I've had it twice in my life, probably close to 8 years ago, and I can still taste it in my mouth like it was yesterday! It's just not something you forget. When I set out to Lighten this up, I honestly didn't think I could do it. I mean, mayonnaise… and lots of it. But I focused more on the unique tastes and spiciness, rather than the creamy mayonnaise part. Don't worry! This is still creamy as can be. Who would have thought you could still have something like this and NOT feel guilty about it?
I've always accepted a challenge, and this my friends, is how you lighten up Mexican Street Corn. This is literally all from a memory so please don't scold me if I forgot anything important! When I took my first taste of the dish I made, it took me right back to being 19 years old in front of that awesome little food market.
Food can be so wonderfully nostalgic!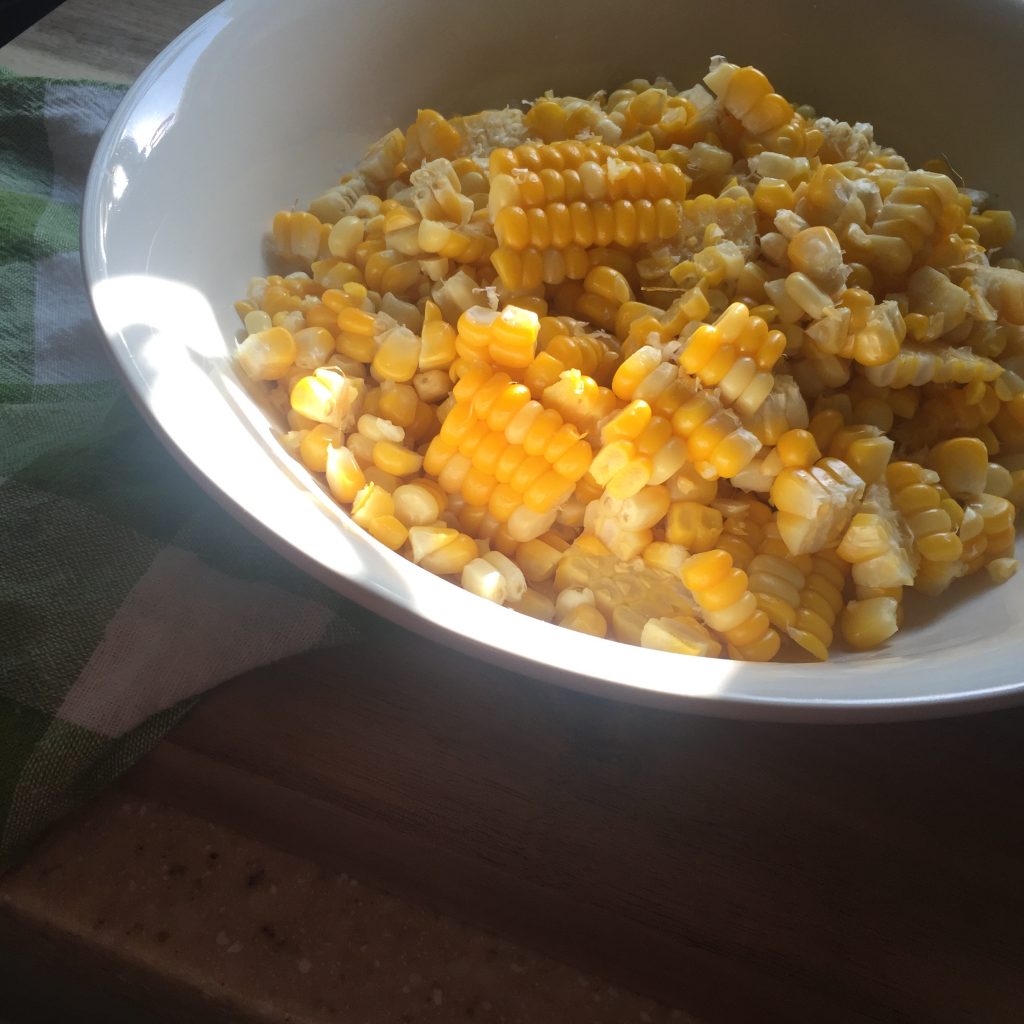 Let's start with some corn! You do not need to use fresh corn cut off the cob, you may use canned or frozen, whatever you fancy! But when I can get it, I prefer it freshly cut off the cob.
Next pile on your mayo, sour cream, cayenne pepper, green onions, and most importantly, Ground Queso Cotija.
(I use Supremo Brand- you can buy it in wedge form and grate it yourself, or you can buy it in a container that looks like the Parmesan Cheese Shakers. This is found in the refrigerated section where they keep different Mexican cheeses, tortillas, and chorizo. If you have trouble finding this cheese go ahead and use Queso Fresco. It works beautifully!)
Then go ahead and load it into a small pan and warm it through on the stove over medium heat for about 3-5 minutes until heated. To save on time and dishes you can also use your microwave and heat for about 1 1/2 -2 minutes. I've done both ways. It comes out exactly the same, I promise!
Now dish up a serving and top with some of your favorite hot sauce and bit more cayenne pepper if you like the heat! Don't forget a lil cilantro to make it even better.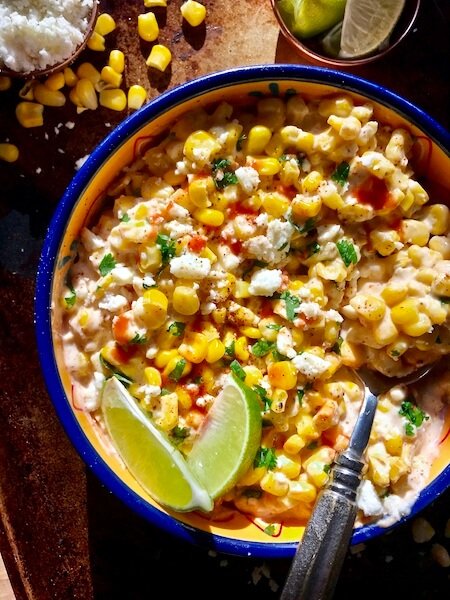 Hope you all enjoy!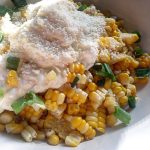 Print
Mexican Street Corn
Materials
3

cups

corn kernels

heated up

¼

cup

light mayo,

preferably hellman's

2

tbsp

non fat sour cream

3 ½

tbsp

Ground Cotija Cheese

Queso Fresco works well too

1

tsp

chili powder

¼

tsp

cayenne pepper

juice of one lime

hot sauce of your choice for topping

green onions, finely chopped

optional

cilantro, finely chopped

optional
Instructions
Mix corn, mayo, sour cream, green onions, cayenne pepper, chili powder, juice of one lime, and Queso Cotija together until well combined.

Heat in a small pan over medium heat for 3-5 minutes until heated through. (You can also heat up in the microwave for 1 ½- 2 minutes)

Top individual portions with hot sauce and/or extra cayenne for extra heat!

Enjoy!
Notes
Serving Size: 1/2 cup
100 calories 4g of fat, 15g of carbs, 5.5g of fiber, 4g of protein
WeightWatchers Points: 2 Points