Make Ahead Freezer Friendly Breakfast Sandwiches
This post may contain affiliate links (meaning I earn a small comission if you purchase an item through a link I provide) I only provide shoppable links to items I love and are helpful. As an Amazon Associate, I earn from qualifying purchases.
Welcome to the holy grail of breakfast meal prep! These Make Ahead Freezer Friendly Breakfast Sandwiches just happen to be super delicious, easy to prep, and they will save you so much time on busy mornings when your kid is asking you where everything is and you've lost your keys 15 times. You're going to love having these ready to go in the fridge and/or freezer.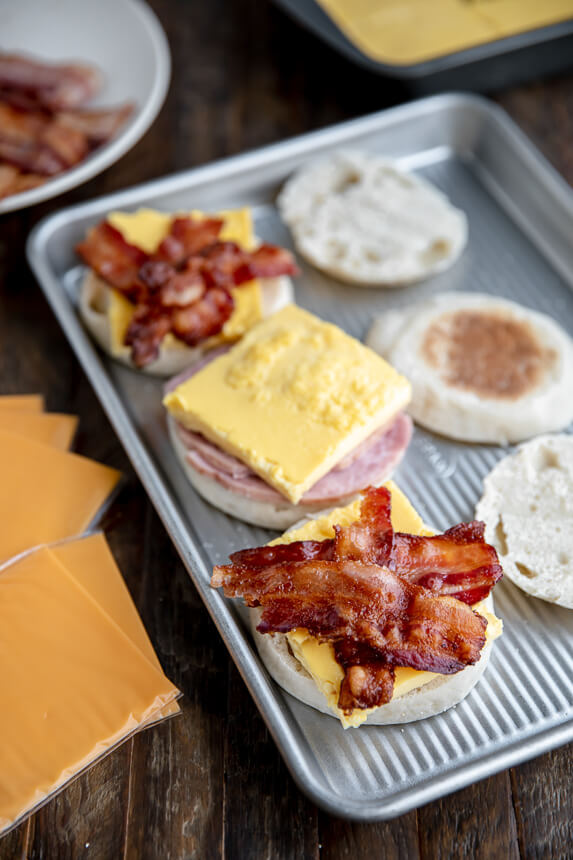 I've been making these freezer friendly breakfast sandwiches for quite a few years now, I love having them as a super easy and healthy (if you play your cards right) breakfast option. The best thing about these sandwiches is that they are completely customizable, I've done center cut bacon, turkey bacon, deli smoked ham, Canadian bacon, turkey, pork, or chicken sausage patties, or just egg & cheese! Just remember, depending on the sandwich filings you use the WW points and calories could be more or less!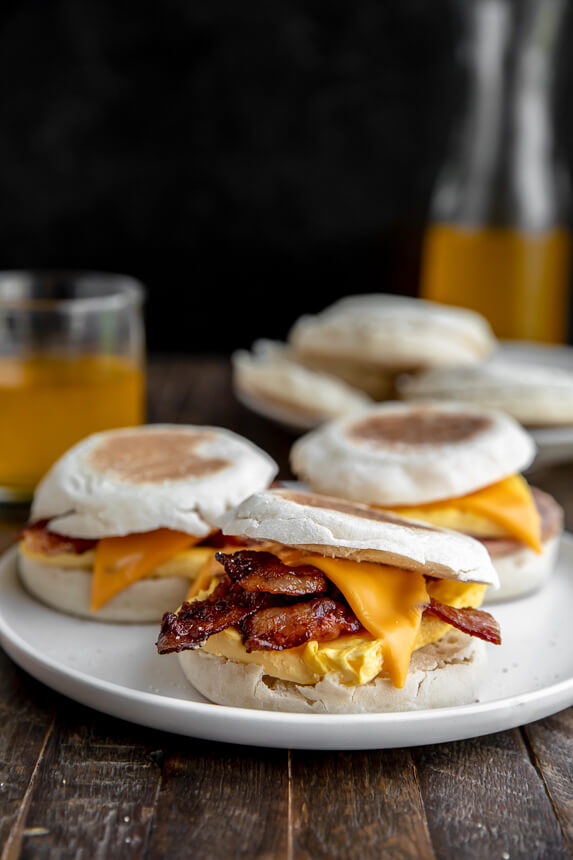 Back when I shared this recipe for make ahead freezer friendly breakfast sandwiches originally about 5 years ago. Eric and I had been so busy that we had gotten into the habit of grabbing breakfast sandwiches in the drive thru. I was known for an Egg White Delight or a Subway Egg & Ham Flat Bread and Eric usually got sausage, egg and cheese anywhere that had it. These days a much more budget friendly and healthy option is my top priority!
I decided to do the math and see how much money we saved by not grabbing breakfast at Mcdonalds, Subway, Dunkin Donuts, Etc. to make 12 sandwiches It's about $20.00! How many sandwiches can I get for 20 bucks? I think 4ish. Maybe 5, Depending on where you go. I'm calling that a serious win in the budgeting department. Two birds, one stone. Healthy and cheap!
Now I'll stop talking your ears off and I'll show you how to make these guys.
How to make Make Ahead Freezer Friendly Breakfast Sandwiches: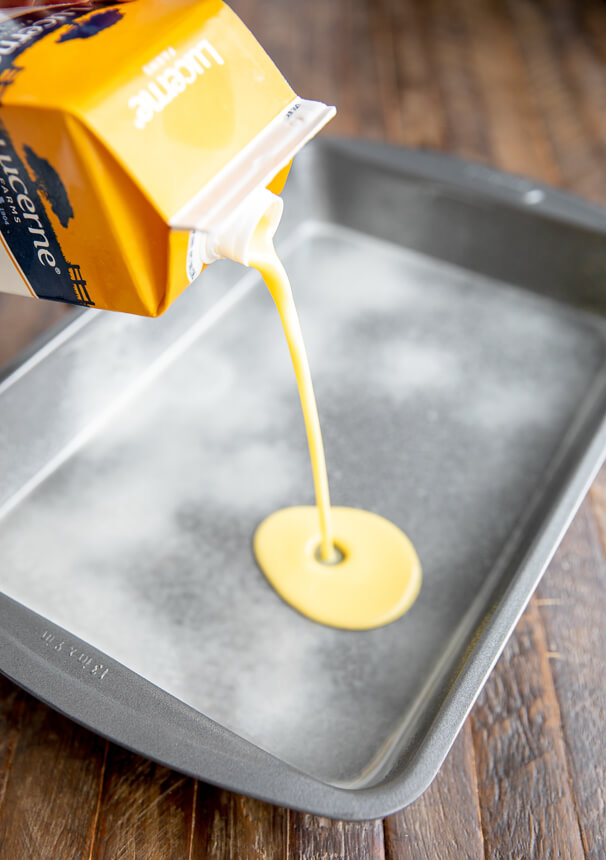 Start off by pouring about 3 cups of egg beaters into a 9×13 sheet pan or casserole dish. Make sure the pan is sprayed super well all over and on the edges with cooking spray. anI've done that multiple times Pop the pan into a 350 degree preheated oven for 20-22 minutes. Oven times can vary a bit with this step especially if you use a glass casserole dish. If the middle of the eggs are still jiggly and/or look uncooked. They need more time.
Note: You can totally use whole eggs if you want to, but for some reason. The cartons of either Egg Beaters or Egg Whites work much better and taste much better with this method of baking the eggs. So that's what I recommend here for this particular recipe.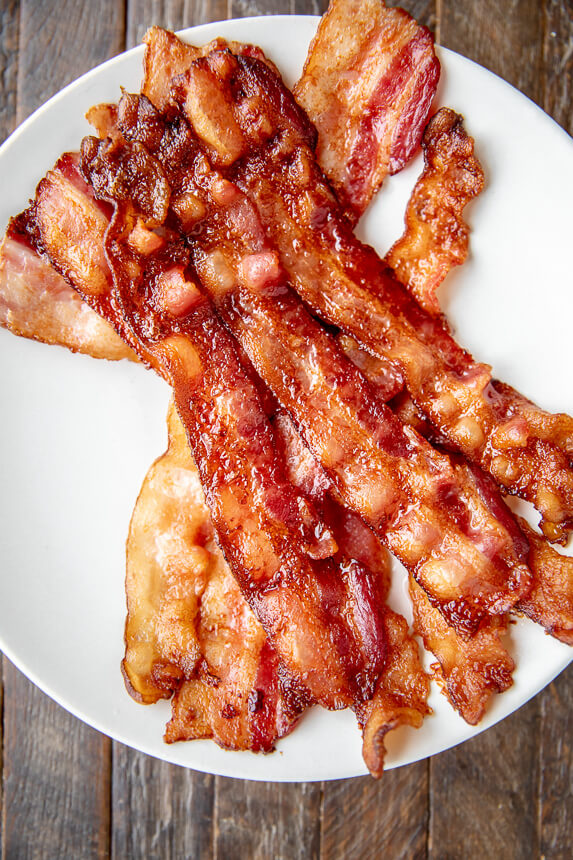 Fry up some bacon and set it aside and let it cool. I just love bacon. Don't you?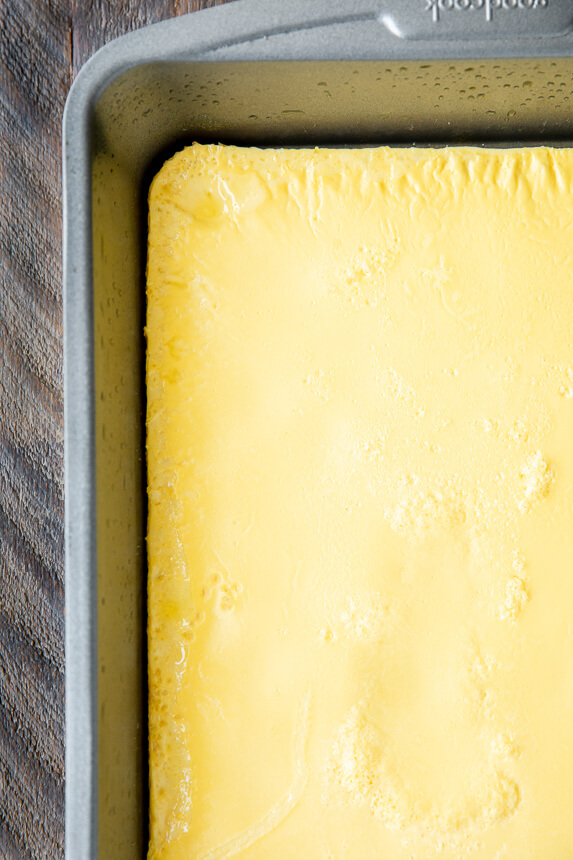 After the eggs come out of the oven they will look a little something like this. See how the edges kind of release from the side of the pan? That's exactly what you want. Cut the eggs into 12 squares.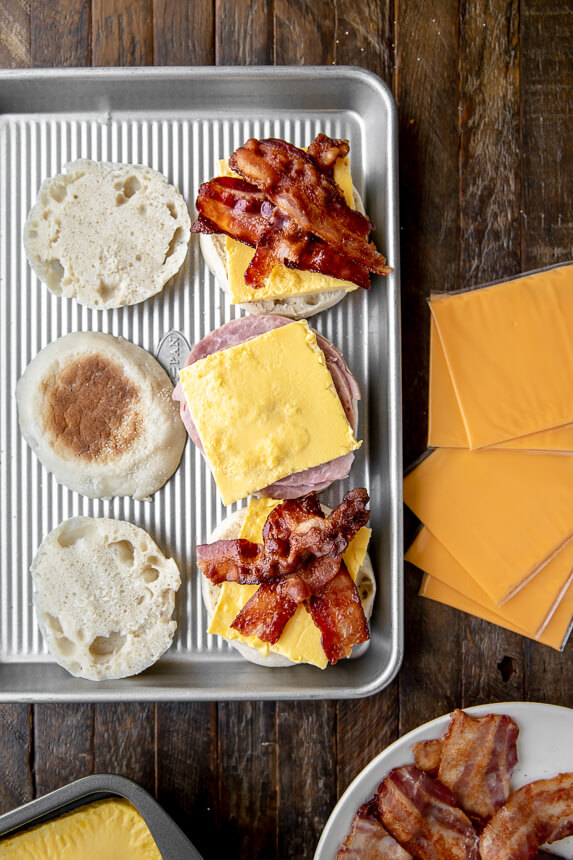 Next, after I've let all the individual items cool completely. I create an "assembly line" and I start building sandwiches. This recipe makes 12 sandwiches.
IMPORTANT: These items need to completely cool before you make the sandwiches up. You can let them set on the counter for a bit or pop them in the fridge and come back for them later.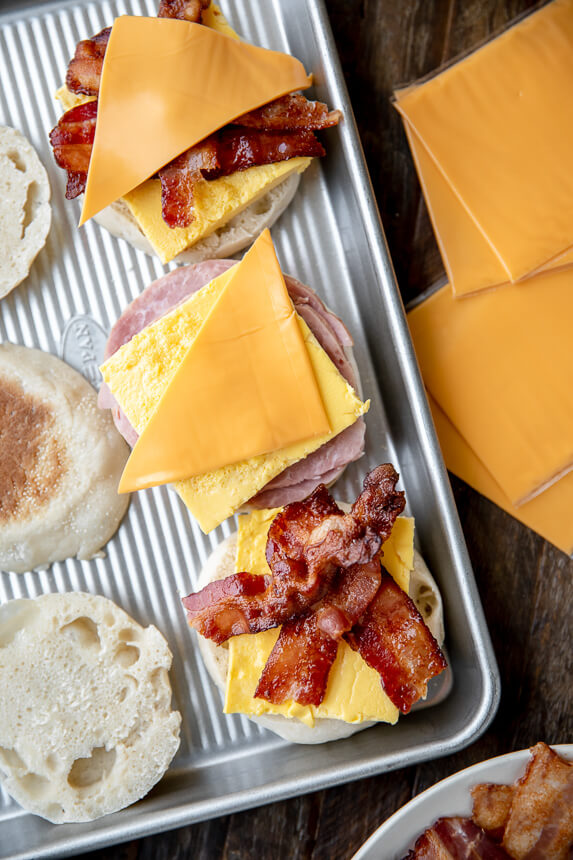 Layer your eggs, followed by bacon, and cheese (or whatever toppings you choose). Deli ham is also a very popular choice for these sandwiches and the prep time is even less. Freezes well, reheats well, and is still a lean and healthy protein to add!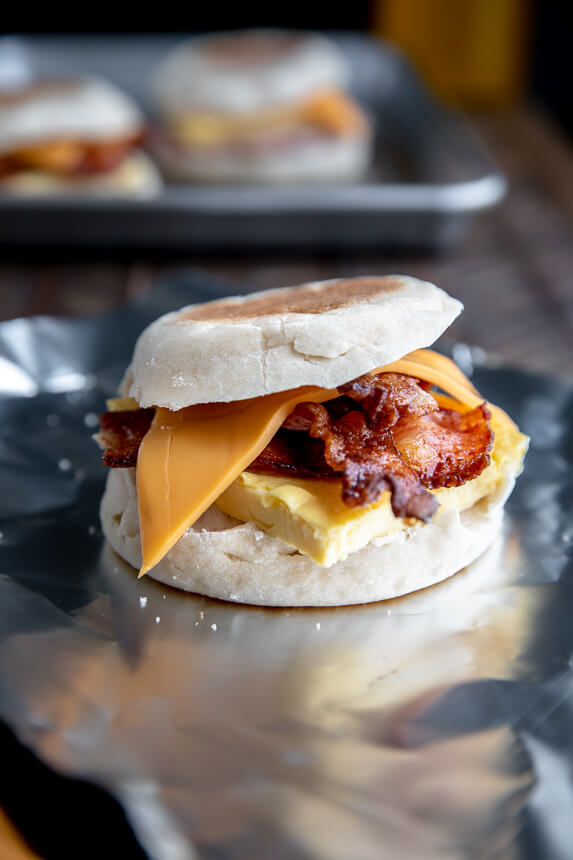 There we go, all done! How delicious do these all look?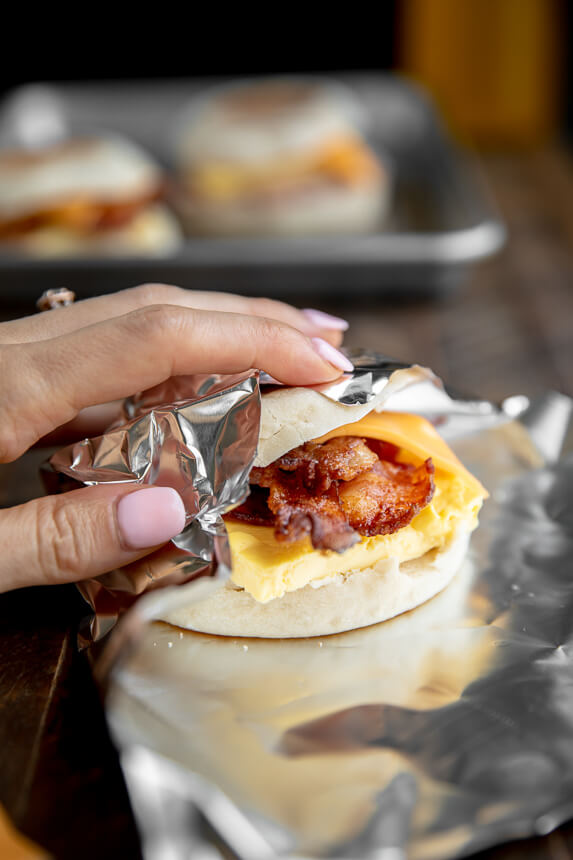 Last, use a small sheet of aluminum foil and wrap up the sandwiches one by one.
Now, Wrap'm all up and then stuff them back into the English muffin bags to keep them organized and compact.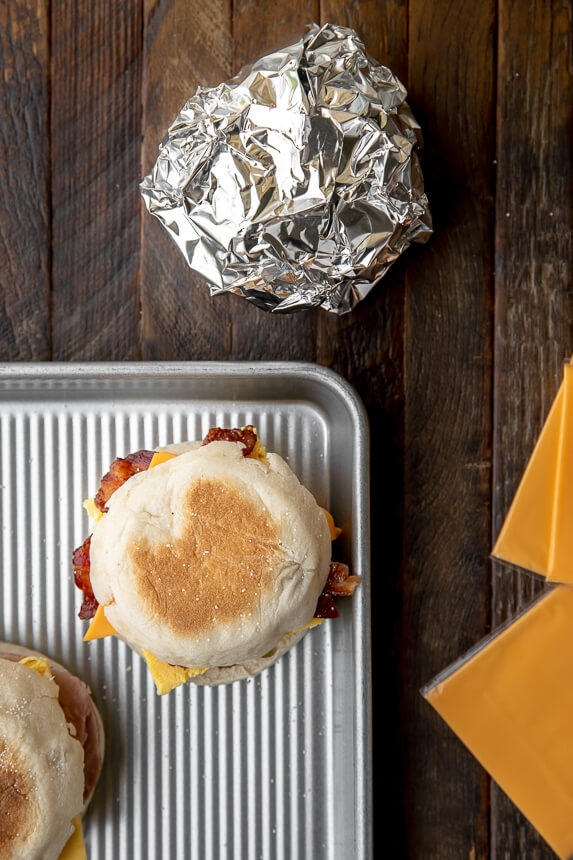 These will stay good for 3 months in the freezer.
HOW TO REHEAT MAKE AHEAD BREAKFAST SANDWICHES (FROM FROZEN):
Take however many sandwiches you plan to eat over the next 4-5 days out of the freezer. Let them thaw at least 8 hours before making a sandwich. Wrap in a paper towel and microwave for about 50 seconds.
You can also pop'm in the oven, still wrapped in foil, at 350 degrees for about 15 minutes. This will make the english muffin a bit more crispy too!
note: I don't like them heated straight from the freezer into the microwave. They just don't heat thoroughly and I find myself having to disable the entire sandwich and heat some parts separately.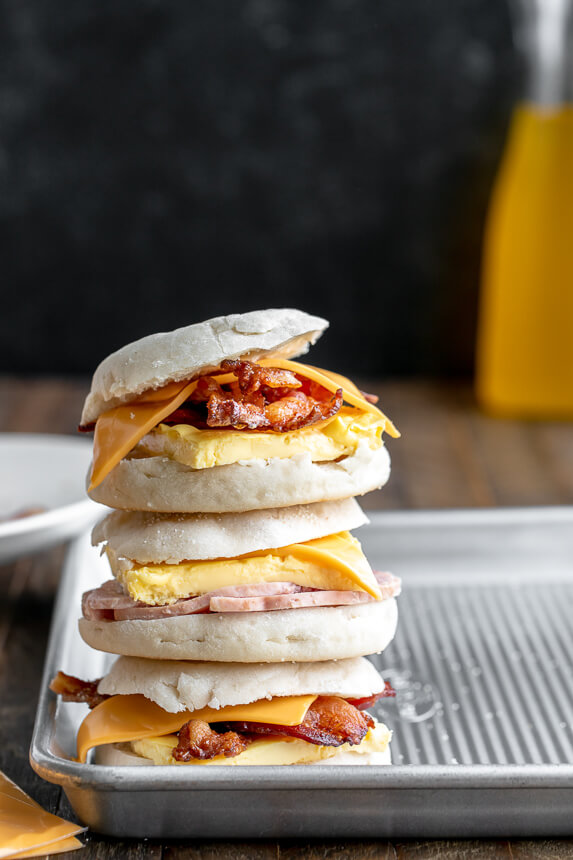 I hope these sandwiches make those busy mornings a little more bearable and a lot more delicious for y'all cause they sure help us out over here!
MORE BREAKFAST RECIPES YOU'LL LOVE:
This post was originally posted on the skinnyish dish on 08/08/2016, but I've updated the photos and post a bit to make a better reader experience on 05/21/2022.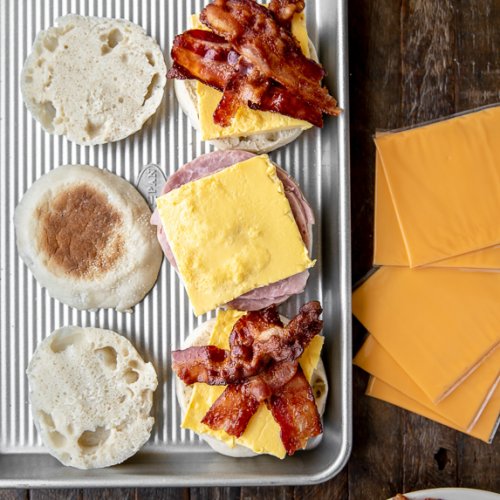 Print
Make Ahead Freezer Friendly Breakfast Sandwiches
Holy grail of busy mornings! Make Ahead Freezer Friendly Breakfast Sandwiches are the perfect on-the-go breakfast sandwich that's totally customizable.
Materials
12

english muffins

i use Thomas light English muffins or lewis bake shop

6

slices

American Cheese made with 2% milk

cut in half

12

Slices

Center Cut Bacon

ham, canadian bacon, or turkey bacon works well too!

3

cups

Liquid Egg Substitute or Liquid Egg Whites

Cooking Spray

coconut oil or avocado oil spray
Instructions
Preheat oven to 350 degrees. Spray a 9×13 cooking sheet (with sides) or a casserole dish well with cooking spray. Be sure to get the sides and corners real good!

Pour 3 cups of the egg substitute or egg whites into the pan (or dish).

Place in preheated oven for 20-22 minutes, uncovered. Time can vary just a bit with different ovens/using a pan or a glass dish. Be sure the eggs are cooked, not "jiggly" on top or in the middle.

While the eggs are cooking, if using, prepare bacon and set aside to cool.

*you can use deli ham, Canadian bacon, and turkey bacon here too. I do find that kind of "crisping these up" in a skillet is more flavorful then just adding to the sandwich straight out of the package. Either way, let them cool.

Separate your english muffins. Don't toss the english muffin bags.

Some people like to toast the English muffins before making sandwiches, but make sure they are cool. I find it much faster to lay out the English muffins on a sheet pan and let them toast pat about 400 for 6-8 minutes. I don't find it to make that much of a difference, but some do!

When your eggs are done, cut into 12 squares and transfer to a plate to cool faster.

The eggs & bacon need to be completely cool or at least room temperature before assembling the sandwiches. Let sit for about 20-25 minutes or pop into refrigerator for about 10-15 minutes.

Form an assembly line and build sandwiches. First the egg, then the bacon, followed by the 1/2 slice of cheese, and top with the other half of the english muffin.

Lay out twelve squares of foil and start wrapping the sandwiches up.

Place 6 sandwiches each back into the english muffin bag and tie and repeat with other bag if using.

Freeze for up 3 months. Before heating, Let the sandwiches thaw over night.

REHEAT INSTRUCTIONS: Microwave for about 50 seconds or pop them in a preheated 350 degree oven for about 15 minutes.

Enjoy!
Notes
Serving Size: 1 Sandwich
Weight Watchers Points: 4 Points
210 Calories. 6g fat, 2.5g saturated fat, 27g carbohydrates, 8g fiber, 16g protein, 2g sugar, 18g protein
If using different ingredients before to double check nutritional info and points if you need to.