Low Carb Cauliflower Sausage Stuffing
This post may contain affiliate links (meaning I earn a small comission if you purchase an item through a link I provide) I only provide shoppable links to items I love and are helpful. As an Amazon Associate, I earn from qualifying purchases.
Low Carb Cauliflower Sausage Stuffing? Nope, not in my vocabulary, until now! This low carb stuffing has the exact same flavor profile as a big ol' bowl of traditional stuffing for a fraction of the carbs, calories, and ww points! This can be made to replace your traditional stuffing with a healthier alternative or simply as a delicious veggie packed additional side dish.
Y'all this recipe is crazy good. For weeks now, i've been seeing folks over on Instagram posting packages of frozen "Cauliflower Stuffing" from Trader Joes. And each time I thought how bad I wanted to try it! But, I wanted to try to make my own from scratch instead of using the frozen meal so I could share it with you all! I was dead set on thinking that I would hate this stuffing. I mean, Cauliflower Stuffing? Nope. Spoiler alert: It's delicious. This is totally one to make as a side dish to any meal not just Thanksgiving! We had it the other night with Easy Baked Chicken Breast and Sweet Potatoes with Bacon and Parmesan! Quite possibly one of the best meals I've had in weeks. Yall have gotta try it for yourselves!
How to make Low Carb Cauliflower Sausage Stuffing:
Preheat oven to 450 degrees. Spray sheet pan with avocado oil cooking spray then lay small bite size pieces (honestly chop them a bit smaller than the photo above) of cauliflower on the pan. Drizzle with avocado oil and sprinkle with 1 tsp of Lawry's Seasoned Salt. Massage the oil and seasoning into the cauliflower so that it's coated well. Roast cauliflower for 20-25 minutes stirring half way through cooking.
I prefer using avocado oil and avocado oil spray because it does much better at high temp cooking. I know it's a bit more expensive, but a little goes a long way and it's worth it to me. You can also use other oils that do better with a high temp!
While the cauliflower is roasting in the oven heat a skillet over medium high heat and add ground turkey sausage to the skillet. Break apart a bit with a spatula.
Add 3/4 cup of carrots, about 4 ribs of diced celery, one diced yellow onion, 1 tsp of each dried sage, crushed rosemary, and thyme. Stir together well and cook over medium heat until the vegetables are soft. When the veggies are soft add in about 1 tbsp of minced garlic and cook for 30 more seconds.
Remove the skillet form the heat and stir in half a cup of freshly grated parmesan cheese. I really recommend freshly grated parmesan here, folks. It'll taste better and melt much better.
By the time you're done cooking the sausage and veggies then the roasted cauliflower should be done or just about done. Remove the cauliflower from the pan and mix into the sausage and veggie mixture.
Can I make ahead of time?
Sure can! This stuffing actually reheats beautifully which surprised me. You can make this up to three days before Thanksgiving dinner. Simply reheat in a 350 degree oven for about 25 minutes or until warmed. I heated mine uncovered and it got a little extra crispy which I liked, but if you don't want that you may want to cover the dish with tin foil.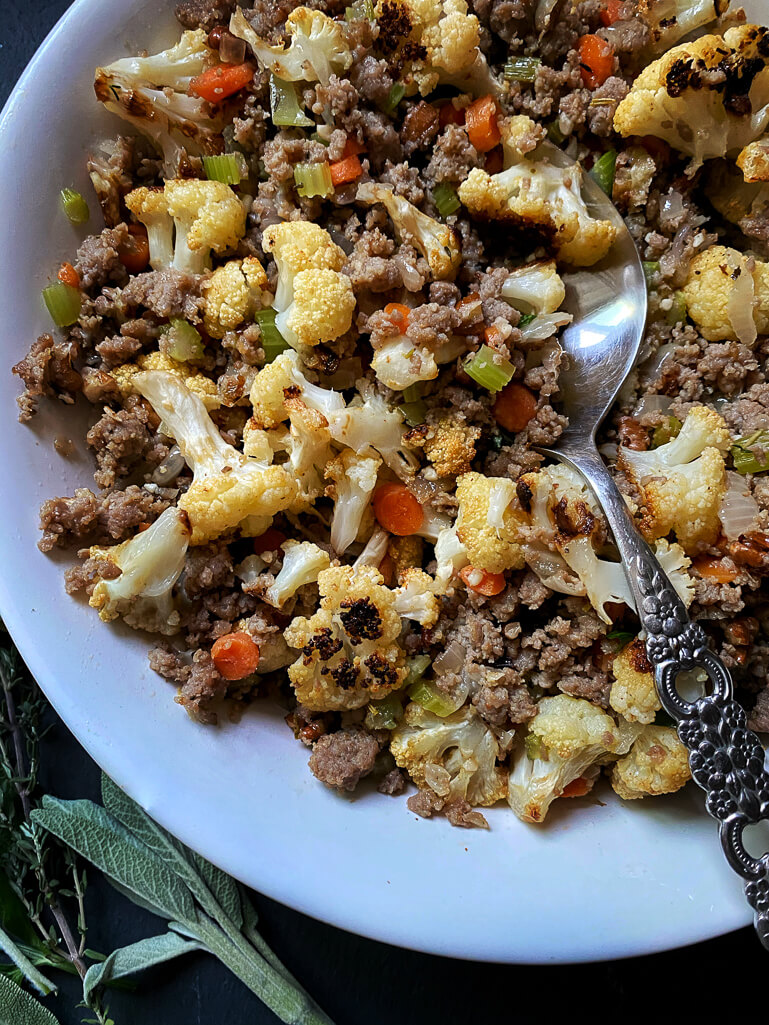 I know this stuffing recipe may sound a little (or a lot) weird to you especially for such an important holiday such as Thanksgiving, but I promise it's delicious! If you're not ready to give it a place on the Thanksgiving dinner table, I get it. But don't sleep on this recipe. Make it as a delicious low carb side dish as soon as humanely possible.
Print
Low Carb Cauliflower Sausage Stuffing
A delicious and low carb twist on a Thanksgiving classic using cauliflower instead of bread.
Materials
1.5

lbs

cauliflower cut into bite sized peices

(one large cauliflower should be enough, I had one small one and one medium sized one)

1

tbsp

avocado oil

(you can also use canola oil, vegetable oil, grapeseed oil)

1

tsp

Lawry's Seasoned Salt

1

lb

lean turkey sausage

breakfast or Italian sausage works, i use butterball or jennie-o

1/2

tsp

of EACH thyme, sage, and crushed rosemary

3/4

cup

carrots, diced

4

ribs

celery, diced

1

medium

yellow onion, diced

1

tbsp

minced garlic

(or about 4 cloves minced)

1/4

cup

grated parmesan cheese

salt and pepper to taste

cooking spray
Instructions
Preheat oven to 450 degrees. Spray a sheet pan with cooking spray then add cauliflower. Sprinkle seasoned salt all over and then drizzle avocado oil. Massage the seasoning and oil into the cauliflower so that it's evenly distributed. Place into oven and cook for about 25 minutes stirring cauliflower half way through.

While the cauliflower is roasting. Heat a large skillet over medium high heat. Add sausage into the pan and gently break apart with spatula. Add onion, carrots, and celery along with sage, thyme, and rosemary. Mix well and cook all together for 5-6 minutes until sausage is browned and vegetables are soft. Add in minced garlic and cook for another 30 seconds. Turn heat off and stir in parmsesan.

When the cauliflower is done roasting add to the sausage and veggie mixture. Stir together well. Serve hot!

This can be made up to three days ahead of time. Preheat oven at 350 degrees and cook for about 25 minutes or until warm. It reheats perfectly!
Notes
Serving size: 3/4 cup
WW Points: 3
157 calories, 8g fat, 2g saturated fat, 5g carbohydrates, 3g dietary fiber, 3g sugar (0g added sugar, 0g sugar alcohol) 15g protein