Loaded Sweet Potato Cauliflower Soup
This post may contain affiliate links (meaning I earn a small comission if you purchase an item through a link I provide) I only provide shoppable links to items I love and are helpful. As an Amazon Associate, I earn from qualifying purchases.
Loaded Sweet Potato Cauliflower Soup! A creamy, smokey, slightly sweet, crazy flavorful, and nutritiously delicious soup. We make it in the slow cooker so you don't have to babysit it on the stove top. Topped with bacon crumbles, crispy onions, a good sized pinch of cheese, dollop of sour cream, and diced green onions for the ultimate bowl of delish!
Hi! Let's make this dreamy Loaded Sweet Potato Cauliflower Soup today! Like A LOT of recipes that you find here on the skinny(ish) dish this recipe was born out of necessity. I had sweet potatoes and cauliflower that had seen better days and I thought to myself…
Let's combine them and make soup because why not? I love a cozy bowl of potato soup so I figured a smokey sweet potato version would be perfect.
But, not just any soup. Let's make it savory, smokey, sorta sweet, and just the tiniest bit of spice enough to make you wonder if you can detect a hint of spice. Most importantly, let's make it good! and also, let's top it off with a bunch of goodies!
I always have sweet potatoes on hand, always. I just love'm, but Eric does not share in my love of sweet potatoes. While I always have them on hand, I tend to forget to make them because he doesn't really want them, ever. Often times, I run into the problem that they need to be used up stat. I'm not sure if I'll ever have that problem again because her even absolutely loved this soup. I originally told him it was a russet potato, cauliflower, and carrot concoction so that he would at least try it without a biased opinion since he despises sweet potatoes (haha!), but I couldn't fool him for long. I think the big ol grin gave me away as I creepily and closely watched him take bite after bite to see what he thought.
Results are in: he had two bowls, plus ate it for leftovers multiple times and even said, I think it's good. In my opinion, if Eric likes it despite hating sweet potatoes… it's PERFECT. My mom and her husband were over and they absolutely loved it too! In fact, she's been bugging me for a couple months to get it on the site so she can make it herself. Yes, even my mama has to wait for recipes sometimes.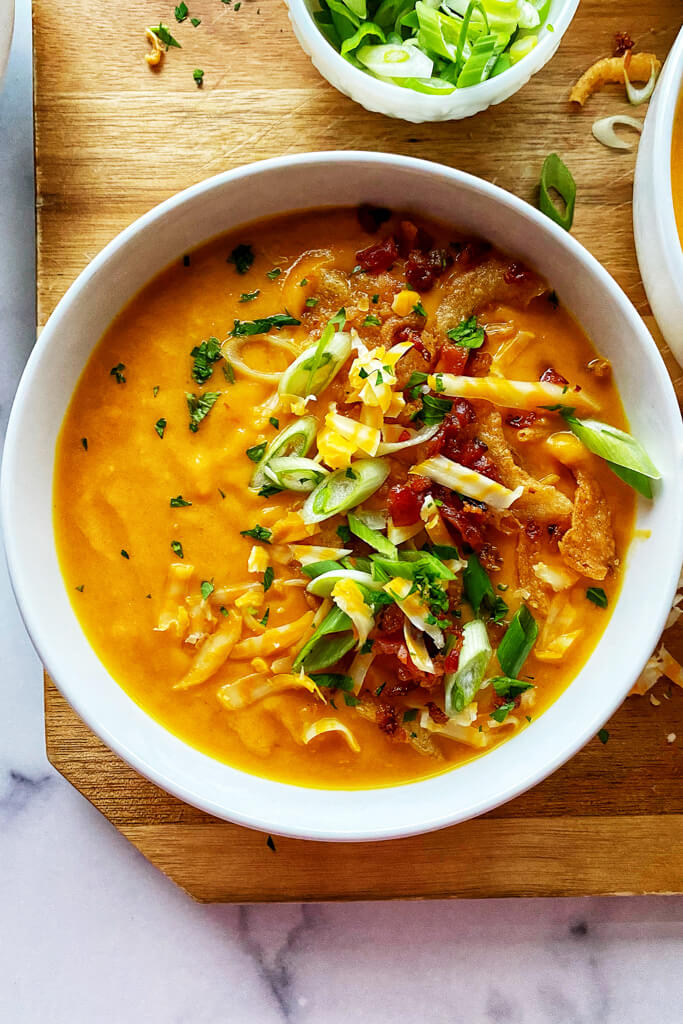 In my opinion, recipes that come with instructions to load extra items on top are the best. More specifically salty, crunchy, and/or fresh goodies that compliment the item beneath it perfectly are perfect. While this Loaded Sweet Potato Cauliflower Soup really does do the job by itself in the flavor department. I love when a bowl of soup is full of colors and textures. It totally brings the dish together and makes the people who "hate soup as a meal" think twice when this kinda thing is is placed in front of them.
This recipe is short and sweet so let's get to it!
PS I lost some photos somewhere along the way in the "process photo" department. I know some of your appreciate that so much, and I will update this with those photos next time I make it, but just know that you're not missin' much with those photos cause there are so few steps here!
How to make Loaded Sweet Potato Cauliflower Soup: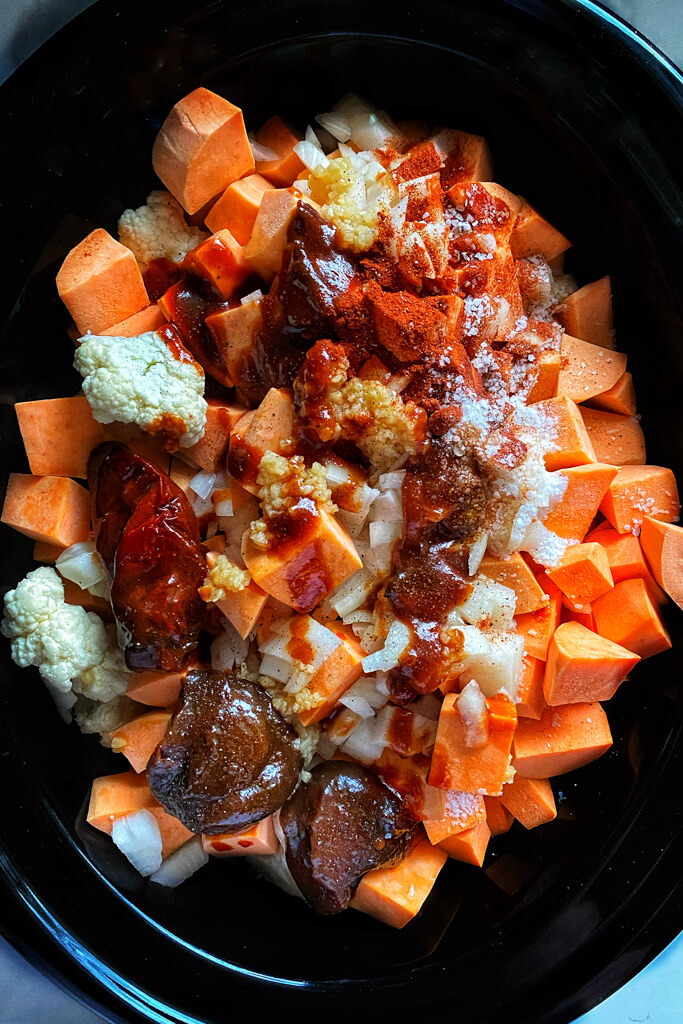 Put all of these items into the slow cooker:
2 lbs sweet potatoes (peeled and cubed)
2 lbs cauliflower (roughly chopped)
4 cups water
2 tablespoons better than bouillon (vegetable, beef, or chicken works just fine)
1 large onion (roughly chopped)
one tablespoon minced garlic (or about 4-5 cloves minced/pressed)
1 chipotle pepper (from a can- usually found in the Latin American food section in the grocery store)
3 tablespoons adobo (you get the adobo from the same can you get the chipotle pepper- its a smokey magical sauce and it's a must have)
1 tsp kosher salt
1 tsp smoked paprika
You'll also need whipped cream cheese and half and half, but do not add these until after it's cooked and you've blended the soup!
Set the slow cooker to high, place the lid on top, and cook for 4-5 hours. When the veggies are tender turn off the slow cooker, add half and half, and blend using an immersion blender until the soup is silky smooth. You can also use a blender, but be sure to only blend small amounts at a time. I feel safe to blend about half the capacity of the blender.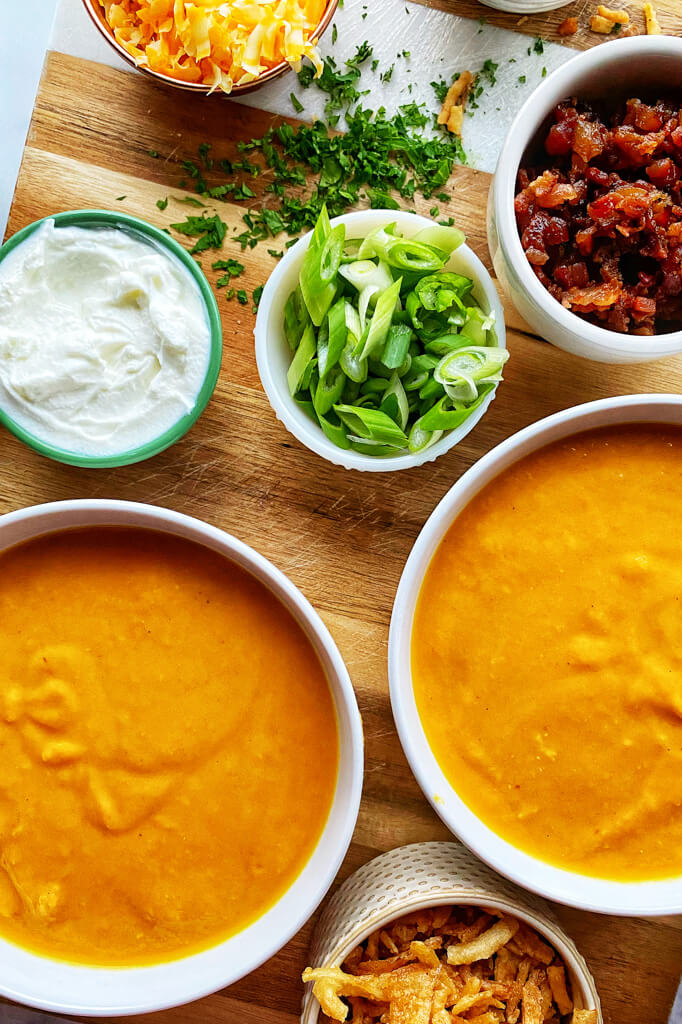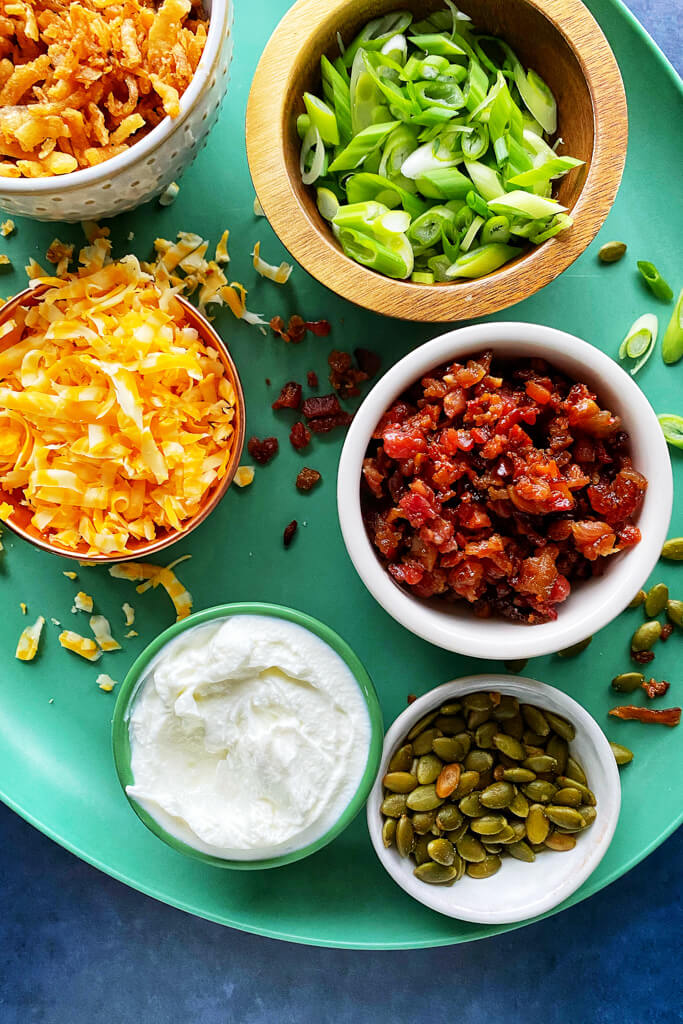 Gather a bunch of toppings! Here I've got sour cream, crumbled bacon, pepitas, freshly shredded cheese, crispy French fried onions, and diced green onions. A small spoonful of each of these are literally what my foodie dreams are made of. Feel free to incorporate as many (or as few) of these as you want. The soup itself is very nutrient rich while being low in WW points and calories. So, plenty of room to add a few toppings to make it a fully loaded perfect bowl of soup.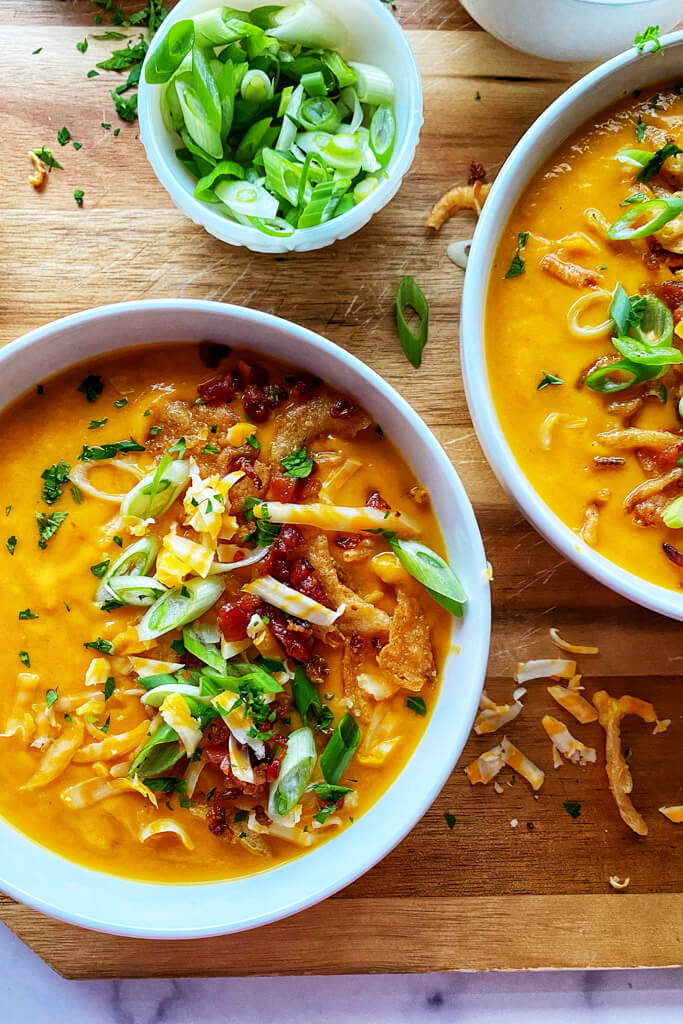 Seriously incredible. It's kind of like the extra grown-up version of loaded baked potato soup and I'm here for it.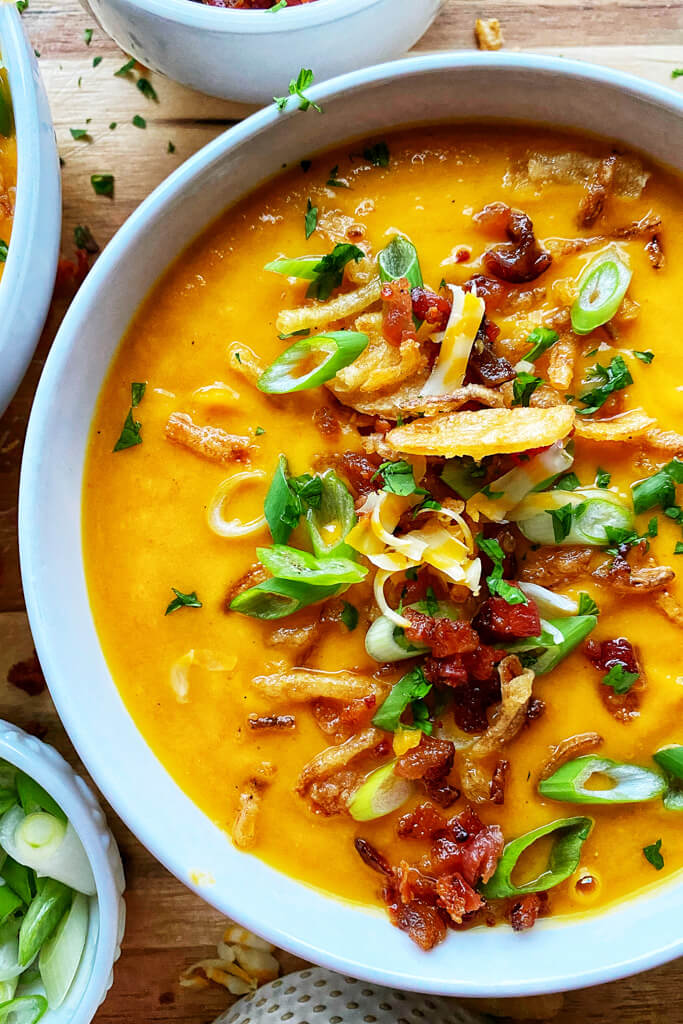 This Loaded Sweet Potato Cauliflower soup is just so yummy. and cozy. and nutritious. and so PRETTY. It really checks all the boxes for me. I think you should grab yourself a big bowl, a handful of toppings, and a big ol' spoon real soon too.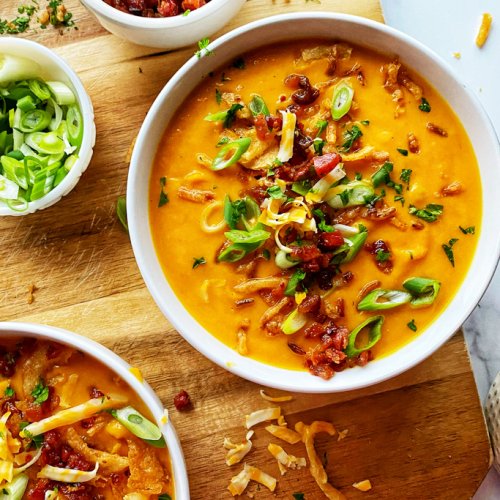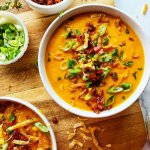 Print
Loaded Sweet Potato Cauliflower Soup
A super creamy and delicious soup with potatoes, cauliflower, and all the toppings.
Materials
2

lbs

sweet potatoes

peeled and cut into cubes

2

lbs

cauliflower

roughly chopped

1

large

onion

roughly chopped

1

tbsp

minced garlic

(4-6 cloves minced)

1

chipotle pepper

(from can)

3

tbsp

adobo

(from can of chipotle peppers)

2

tbsp

better than bouillon (vegetable, beef, or chicken)

*

4

cups

water

1

tsp

smoked paprika

4

ounces

whipped cream cheese

(do not add until the cook as cooked fully)

1/2

cup

half and half

(do not add until the soup has cooked fully)

salt and pepper to taste
Make it LOADED (optional, but recommended):
crumbled bacon

diced green onions

shredded cheese

crispy French fried onions

(these taste best if you heat them a bit in a skillet)

sour cream

pepitas
Instructions
In a slow cooker add cauliflower, sweet potato, better than bouillon, chipotle pepper, adobo sauce, water, onion, garlic, salt, pepper, and spices. DO NOT ADD HALF AND HALF AND CREAM CHEESE YET!

Set slow cooker for high for about 4-5 hours or on low for about 7-8 hours (or until the vegetables are tender).

(sorry for caps, but if you put it in in the beginning it's probably ruined. Milk products just don't do well in slow cookers for longer than about an hour or two in my experience)

When the potatoes are tender turn of the slow cooker and add half and half and cream cheese. Blend using an immersion blender until silky smooth. You can also use a blender, but please remember to blend in small batches or you'll hate me for life.

Add the toppings!! You can use as many or as little as you'd like! Or, you don't even have to add any. The soup is actually perfect all by itself, but I'm a big fan of texture and colors when I'm eating so I love the additional toppings.
Notes
Serving size: 2 cups
182 calories, 3.8g fat. 2g saturated fat, 635g sodium, 33g carbohydrates (27g net carbs), 6g fiber, 9.5g sugar (0g added sugar, 0g sugar alcohol), 6g protein
WeightWatchers Points: 5 Points