Loaded Cauliflower and Potato Casserole
This post may contain affiliate links (meaning I earn a small comission if you purchase an item through a link I provide) I only provide shoppable links to items I love and are helpful. As an Amazon Associate, I earn from qualifying purchases.
Loaded Cauliflower and Potato Casserole is a dream side dish filled with cauliflower and potato and then loaded with bacon, cheese, and green onions. I like to mix potatoes and cauliflower together because you still cut down on carbs without losing the velvet-y texture of the potatoes. This recipe is a holiday favorite, but it really does make a wonderful side dish for any meal!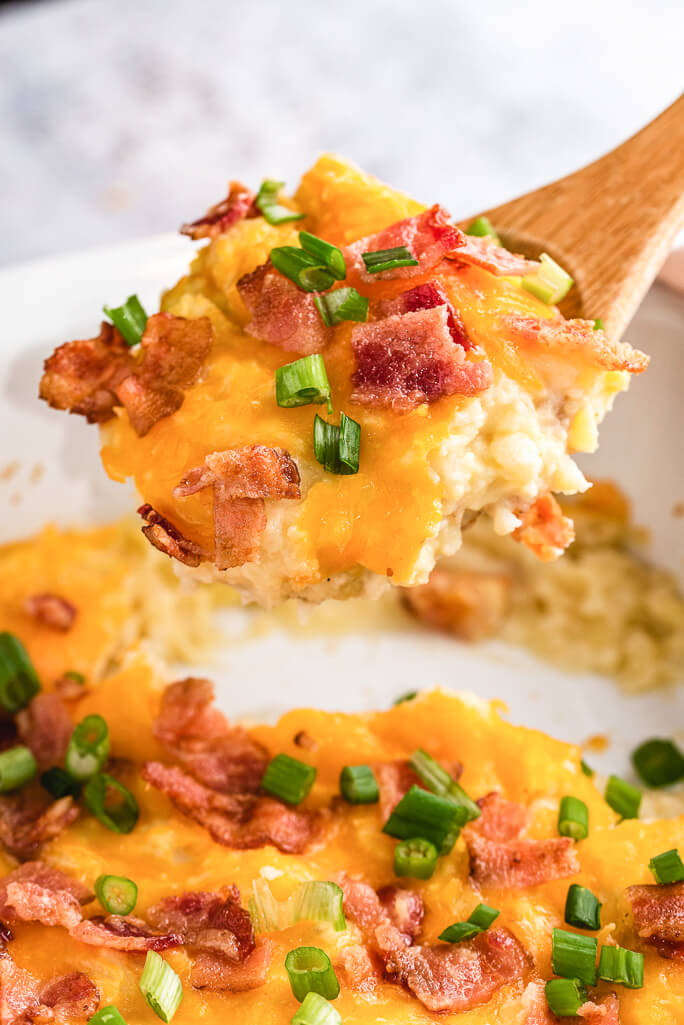 One of my favorite food related things about the holidays are the buttery rich and/or cheesy potatoes. My least favorite thing about the holidays is not feeling so hot after indulging. When prepared a little more healthily (like swapping out the cream for chicken broth and mixing potatoes AND cauliflower). I feel so much better about having an extra scoop or two and my body sure thanks me too! I love that such an indulgent side dish can lightened up just enough with just a few minor changes. And, all the yummy taste is still there!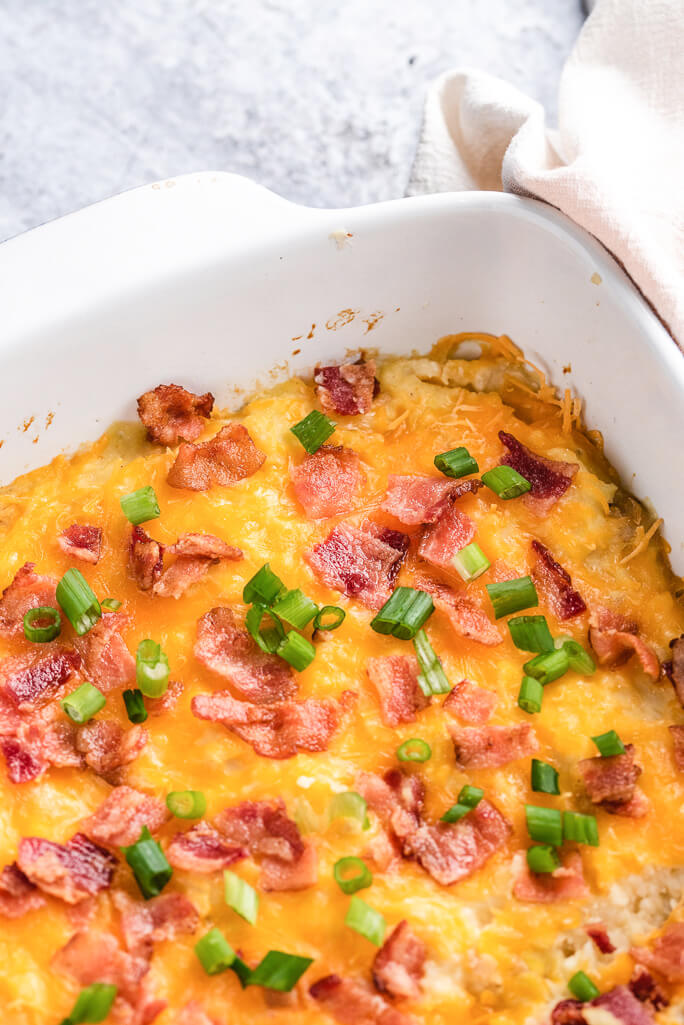 How to make Loaded Cauliflower and Potato Casserole:
Start off by chopping up potatoes and cauliflower. I leave the skins on because I was raised to eat the skins because "that's where the nutrients are". I also like that it's one less step. If you'd rather peel them, go ahead!
Throw'm into a large pot, fill with water, salt the water! (2 tbsp of kosher salt should do it), and then boil until fork tender.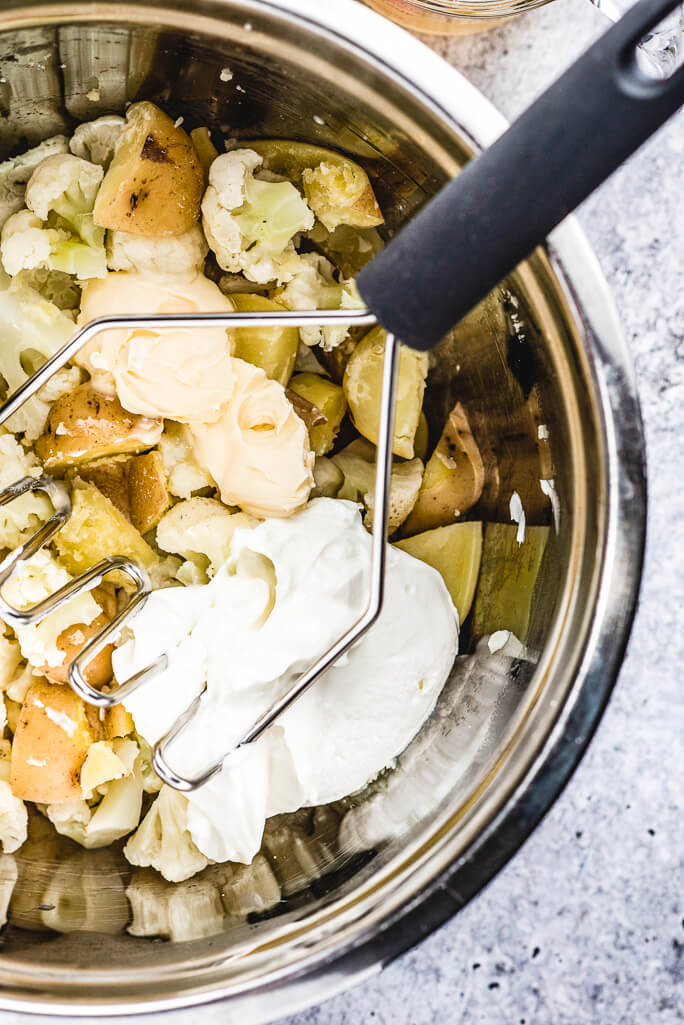 When the potatoes and cauliflower are done boiling. Add them to a large bowl with 1/2 cup non fat greek yogurt, 1-1/2 tsp Lawry's Seasoned Salt, and 2 tbsp of light butter. Add chicken broth and mash until desired consistency.
Spread the mashed cauliflower and potatoes into a 9×13 casserole dish evenly.
Top her on off with some cheese and bacon for some additional love. Then, bake for 20-25 minutes until the cheese is melted.
Top with chopped green onions or chives for absolute perfection.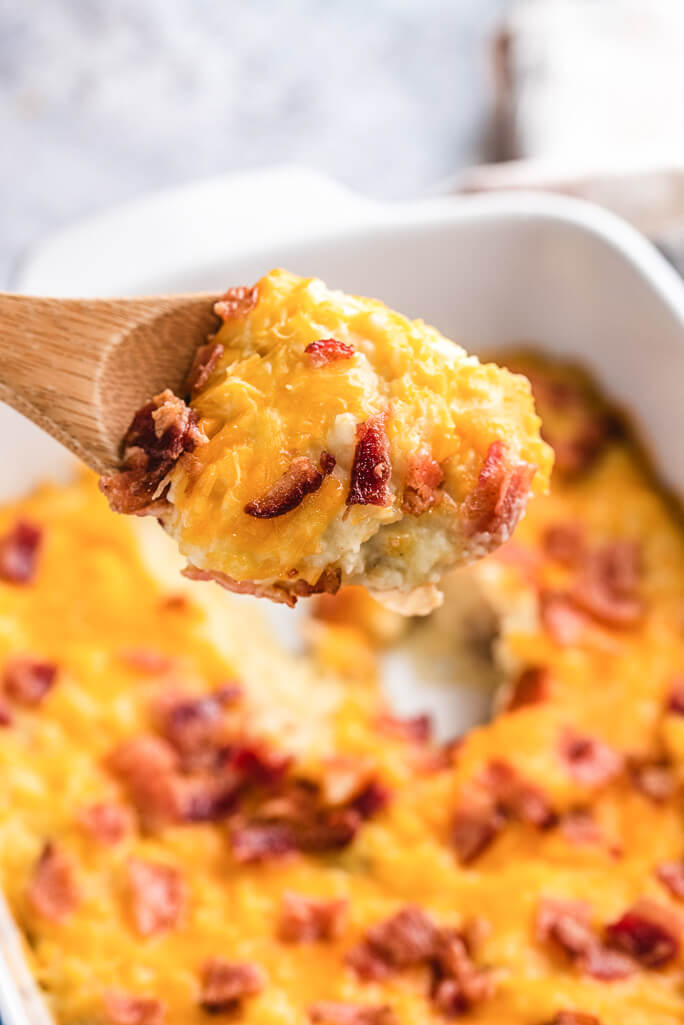 I challenge you to make this and not tell whoever is eating it that it is 65.345% cauliflower. I promise they won't know.
ENJOY!
Print
Loaded Potato and Cauliflower Bake
A delcious side dish filled with mashed potatoes and cauliflower then covered and baked with bacon and cheese on top.
Materials
1

lb

Yukon Gold or Yellow Potatoes

(cut into 1-inch chunks)

1

large head of cauliflower

(cut into chunks)

3/4

cup

low sodium chicken broth

1/2

cup

non fat greek yogurt

2

tbsp

light butter

(I use Land O' Lakes Butter spread with canola oil or Brummel & Brown Yogurt spread)

1½

tsp

Lawry's Seasoned Salt

3/4

cup

reduced fat shredded cheddar

8

slices

center cut bacon

cooked and crumbled

1/4

cup

green onions

Salt & Pepper

to taste

cooking spray
Instructions
Preheat the oven to 375 degrees. Lightly spray a 9×13 casserole dish with cooking spray.

In a large pot, boil your cauliflower and potato chunks until fork tender (mine normally take about 20-25 minutes). Remove from pot and drain.

Put your cauliflower and potato in a large mixing bowl. Add the butter, greek yogurt, and seasoned salt.

With a potato masher, start mashing your little heart out while adding the chicken broth to get desired consistency (you may use a little less chicken broth depending on the texture you prefer so add a bit at a time)! I like mine just a tiny bit chunky. When the desired consistencey is reached transder to the casserole dish and spread out evenly.

Evenly sprinkle the shredded cheese and crumbled bacon.

Bake at 375 degrees for 20-25 minutes or until the cheese is melted.

Top with minced green onion or chives!
Notes
Serving size: 2/3 cup WeightWatchers Points: 3 Points
177 calories, 6g fat, 3g saturated fat, 265g sodium, 18g carbohydrates, 3g dietary fiber, 17g sugar (0g added sugar, 0g sugar alcohol), 15g protein