This post may contain affiliate links (meaning I earn a small comission if you purchase an item through a link I provide) I only provide shoppable links to items I love and are helpful. As an Amazon Associate, I earn from qualifying purchases.
Goooooood morning!
What's better than a lazy Saturday morning? Lazy Girl Scrambled Eggs, that's what! I'm 98.5% sure that nobody makes their eggs this way on purpose. It's always the normal, ya know- scrambled, over easy, sunny side up, hard boiled, poached, deviled… Am I forgetting anything? If so, I apologize. I really like eggs in just about any way shape or form, to be honest. Eggs are a food that have always and will always be a staple in my life. They are kind of magical, and can become so many things! If I were a food, I'd probably be an egg.
Hmm, did it just get weird? Hope not!
Anyway, yeah, I really like eggs. I've been making these "Lazy Girl Scrambled Eggs" ever since I learned how to cook eggs, but over the last few years, I've really perfected them. There is an art to cooking eggs and I totally respect it. But since I'm a rule breaker, I made up my own way, and it's my favorite. The thing that got me thinking about writing this post, and about making my lazy girl scrambled eggs on the regular again, was watching "Runaway Bride" a few months ago. Have you seen that movie? I won't give out any spoilers, just in case. But it's truly one of my favorites. It's a total classic and Julia Roberts is such a lovely actress. Anywho- you know where I'm going with this, right? She changes her egg order for every guy she's with, and Richard Gere figures it out. And then she figures out how she REALLY likes her eggs, and everyone lives happily ever after! It's probably my favorite part of the movie.
Just kidding, it's probably not, really.
Okay, It might be.
Remember that time I told you If I were a food that I'd be an egg?
Let's just get right down to business here… because truthfully, I don't know WHY these guys are so good, but they just are, and I love them this way.
I'm pretty sure I came up with'm accidentally, and because I was being lazy.
Give em a try, because I bet ya'll will love'm too.
Let's get in the kitchen!
You'll need cooking spray. I usually use either Olive Oil cooking spray, or Butter cooking spray.
You'll also need to grab your favorite non stick pan, kosher salt, and some eggs. You can adjust how many eggs ya want according to how many you need. You'll just need to use a few extra pinches of salt and a lil more cooking spray the more eggs you make. I usually make three because it never fails that every time I make myself eggs and I ask Pepper, "sweets, do you want any eggs?" she says, "NO" and then, I sit down and she starts eating my eggs. So I've learned to always make an extra egg, because my child is indecisive, and I don't like to share my food.
(No charge for these amazing parenting tips.)
You'll need a rubber spatula. You can also use a regular ol' spatula, but I thought I'd show you the adorable new spatula set I got for me and Pepper the other day at Target. I have 20 other rubber spatulas, so I didn't need these in any way, shape, or form, but they are soo cute and my heart melted when I saw them! I'm also using them for a photo on this here blog. So I needed them because it was work related, and now I feel justified. The end.
But, the little one says sous chef!
First things first, you need to keep your heat low. Low and slow is the key to these.
Let the pan heat for a minute or two, and then spray your nonstick pan with a few hefty sprays of cooking spray.
Break your eggs and then add'm to the pan. See how the whites are setting just a bit? Good.
Now take the spatula and just break the yolks and kind of swirl them in with the whites.
Now, sprinkle'm with a few pinches of kosher salt, and then spray the top of'm with a few more sprays of cooking spray. Also, don't touch'm! Let them be, and set up a little before moving them around in the pan. I think the key to the perfect eggs is just kind of slightly moving them around in the pan.
When they start to cook, there's not any serious technique for the mixing- just move your spatula from side to side, allow the eggs to kind of move around and fill in behind it, and continue cooking'm low and slow.
When the eggs are done, but still have kind of a "gooey-ish" look (Is that the right word? I hope that doesn't sound gross because it's not, These are delicious!), turn off the heat and just let them sit in the pan for the time it takes you to take out a plate and get some fruit or toast ready. The residual heat from the pan should finish cooking them, and they will be perrrfection.
My mood determines how I eat them. But no matter my mood, it almost always goes to: Lazy Girl Scrambled Eggs on some grilled bread.
How to grill bread:
Spray favorite bread with some olive oil cooking spray.
Lay bread cooking spray side down on a hot grill pan.
Grill for a couple of minutes over medium heat until you have some grill marks.
You're done.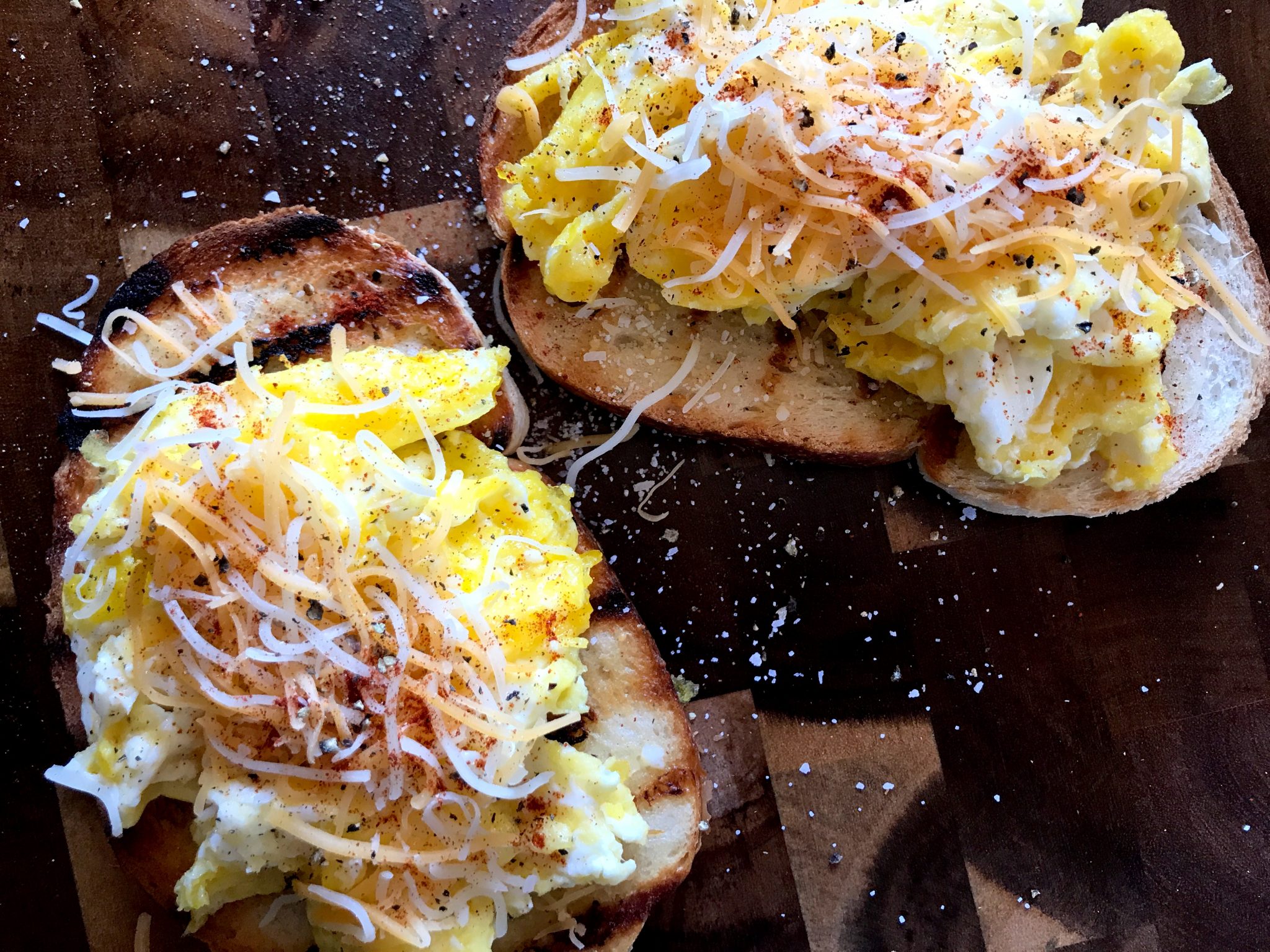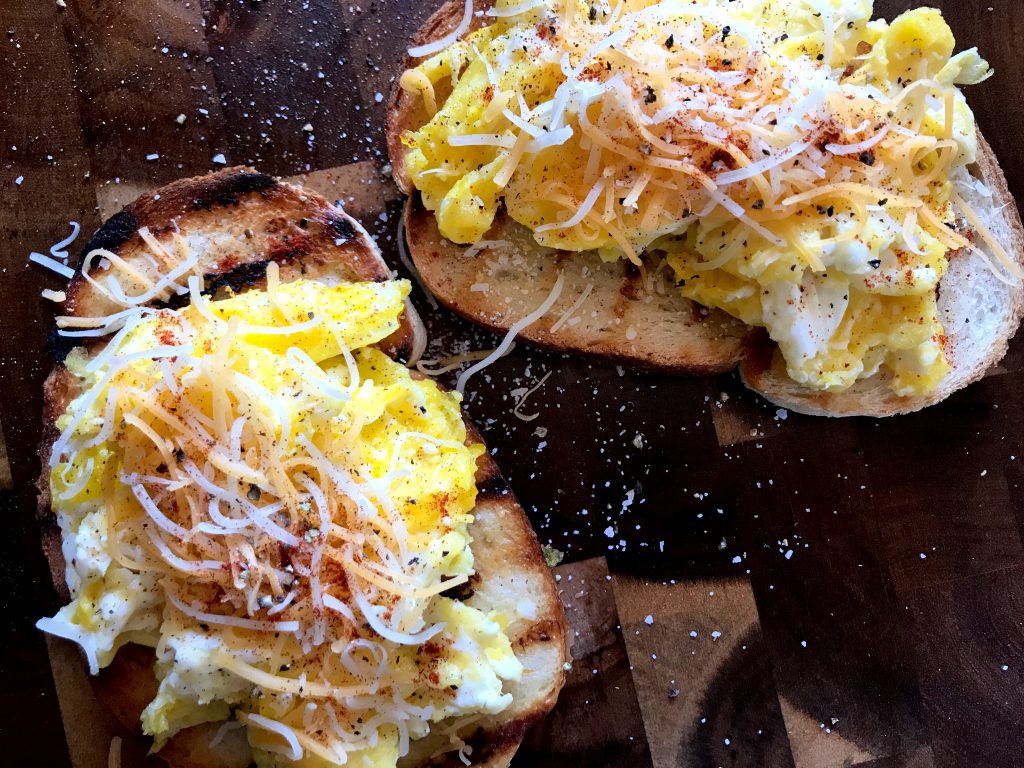 I like to keep it simple and just add a few pinches of cheese.
This might look like somethin' special, but I promise you that while cooking and photographing these the other morning, I had twelve other things going on. They are easy peasy, incredibly delicious, quick, and really only require two dishes, which makes me happy to start the day off like that. Lazy Girl Scrambled Eggs are eeeeeveeerrrryyything.
Also, I know I have some pretty awesome men who read this ol' blog and you're probably not going to make these because of the name. Call'm "Lazy Dude Scrambeled Eggs", okay? Problem solved. I wouldn't forget about y'all.
Such a good breakfast and it's ready in about 5 minutes!
Okay, I've got two very important questions:
How do you like your eggs?
If you were a food what would you be?
Make these and be happy!
With love from my kitchen to yours,
Star
Print
Lazy Girl Scrambled Eggs
Perfect eggs, the lazy way.
Materials
2

large

eggs

a few pinches of kosher salt

olive oil cooking spray
Instructions
Heat a nonstick pan over low heat for a minute or two. Spray well with olive oil cooking spray. Crack whole eggs into pan.

Continue to cook over low heat. When the whites set just a little, swirl the yolks into the whites with a rubber spatula. Sprinkle with kosher salt. Spray the tops with cooking spray. Let the eggs cook all together for a few minutes. Just lightly moving them around with the spatula every so often.

When the eggs are mostly done, but have a slight "wet" look in some places. Turn the heat off and let the eggs sit in the pan while the residual heat finishes the eggs up for about a minute.

Remove from pan and serve with grilled bread, toast, some cheese, fruit, bacon, or however you like your breakfast! ENJOY
Notes
Serving size: 2 eggs
143 calories 9.5g fat, 3g saturated fat, .5g carbohydrates, 0g fiber, 0g sugar, 13g protein
WeightWatchers Points: 0
Note: You can make more eggs easily. Just use a little extra cooking spray and kosher salt and maybe a bigger pan if making a lot more.