Instant Pot White Chicken Chili
This post may contain affiliate links (meaning I earn a small comission if you purchase an item through a link I provide) I only provide shoppable links to items I love and are helpful. As an Amazon Associate, I earn from qualifying purchases.
Instant Pot White Chicken Chili is a quick-and-easy weeknight meal that's got that "cooked all day" kinda feel. It's packed full of chicken, corn, beans, green chilies, and a warm, perfectly balanced blend of spices. It's great on its own, but for extra perfection: load it up with tortilla chips, cilantro, cheese, and a squeeze of lime! A healthy protein packed meal that you'll love!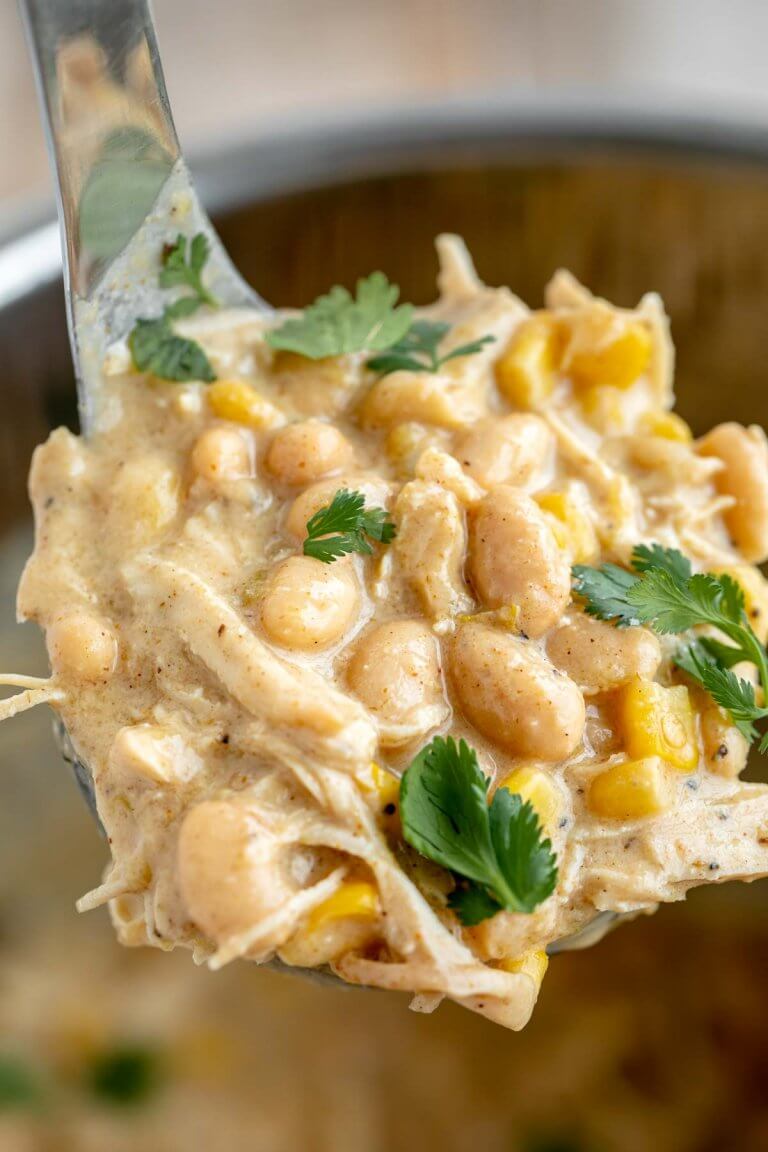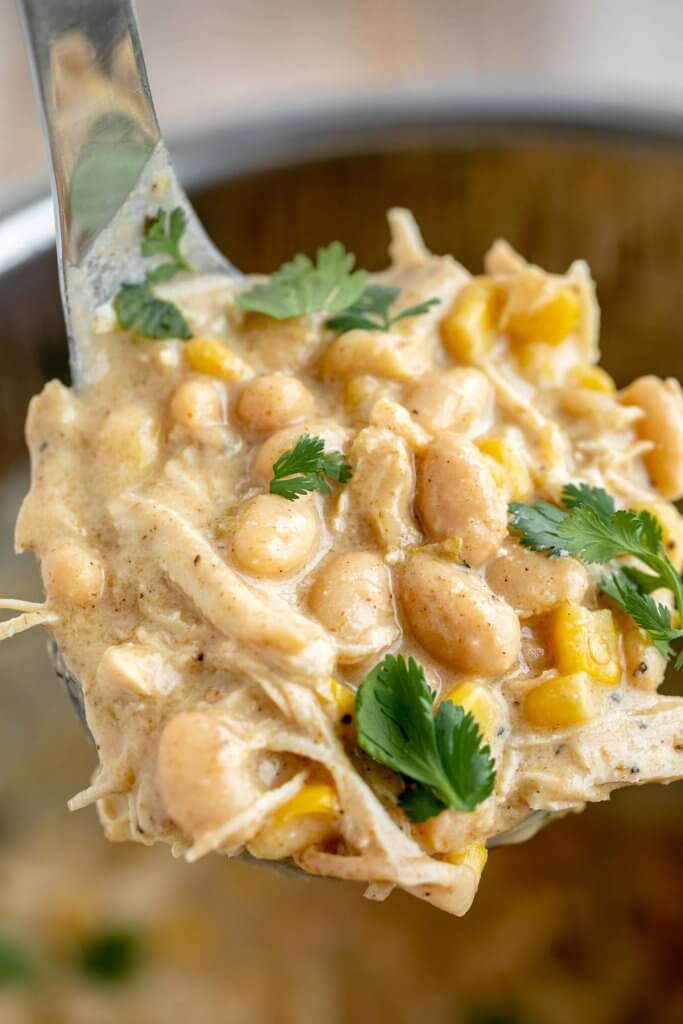 Let's face it, chili season is a very important season. Around here we LOVE White Chicken Chili, Bacon Cheeseburger Chili, The BEST classic beef chili, Chili Cheese Spaghetti Bake, etc. If it's got a chili vibe- sign us up for good.
This Instant Pot White Chicken Chili recipe is a little different from your run of the mill chili recipe that tends to be made with beef and a red tomato-y base. This version is generously stuffed with beans, sweet corn, chiles, and chicken to bulk it up and then spiced up perfectly from an array of seasonings to bring that chili taste all the way home. In this recipe we make it creamy by adding half and half and cream cheese, but if you don't do dairy feel free to skip those.
Why we love this recipe
It's no secret that the crockpot version of this recipe is a long time fan favorite. There have been ballads written about this white chicken chili recipe. This chili has won competitions! It's fed us a long winters nights! It's come in clutch as a freezer friendly meal too. In a nutshell (bowl), It's just a really good recipe. This Instant Pot version is kind of like taking the highway instead of country roads to get to your destination, okay? It's fast. It's easy. It gets you from point a to point b quicker. And who doesn't want to be shoving a big ol' spoonful of white chicken chili into their mouth just a bit quicker?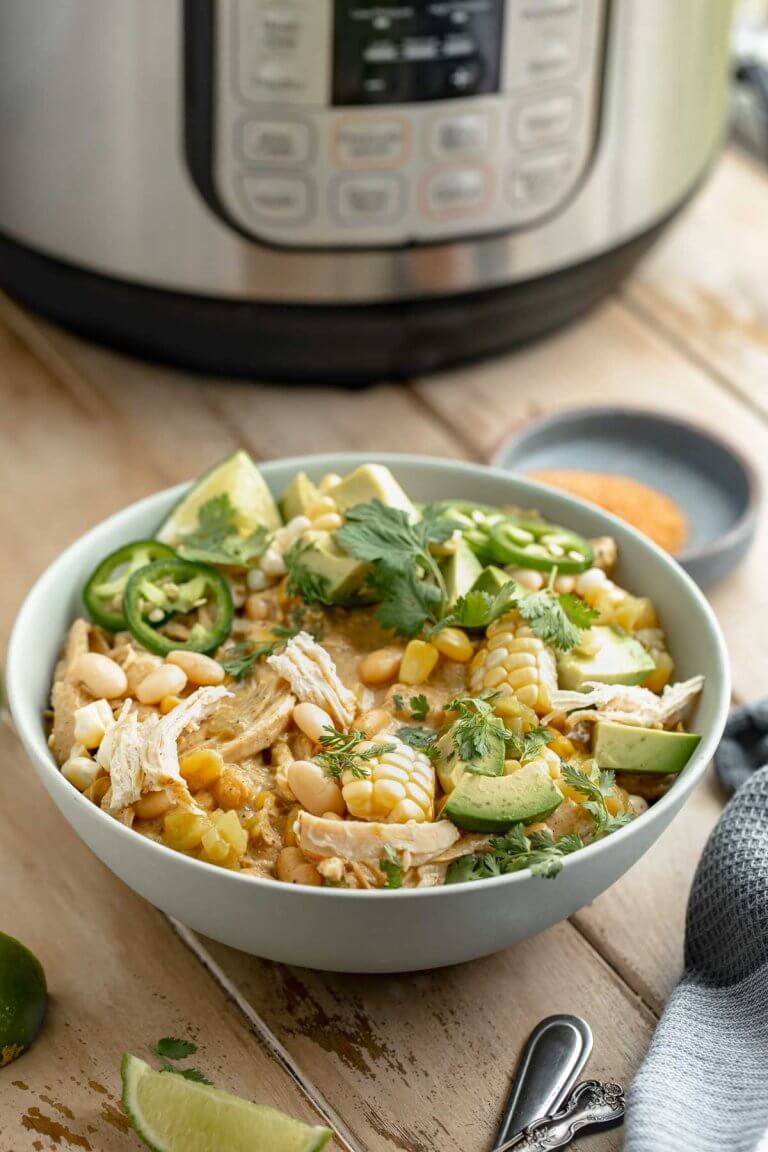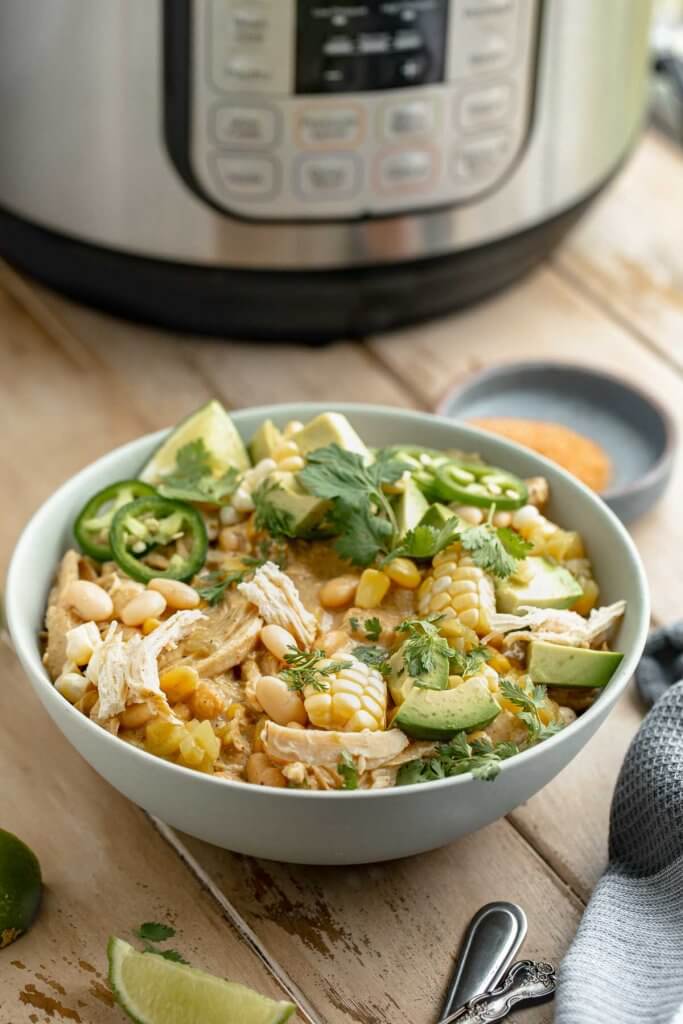 Can you believe it only takes 18 minutes in the Instant Pot? Well okay, it does take a little time for the Instant Pot to get up to pressure… so maybe 30ish minutes total. But seriously, Creamy White Chicken Chili cooked to perfection so quickly? Hellooo, sign me up! Big fan of the Instant Pot on busy nights. Huge fan. It literally packs flavor into something that should have definitely cooked all day for the same taste
Ohhhh yeah. I know you'll ask: Here's the Instant Pot I use!
Ingredients you need: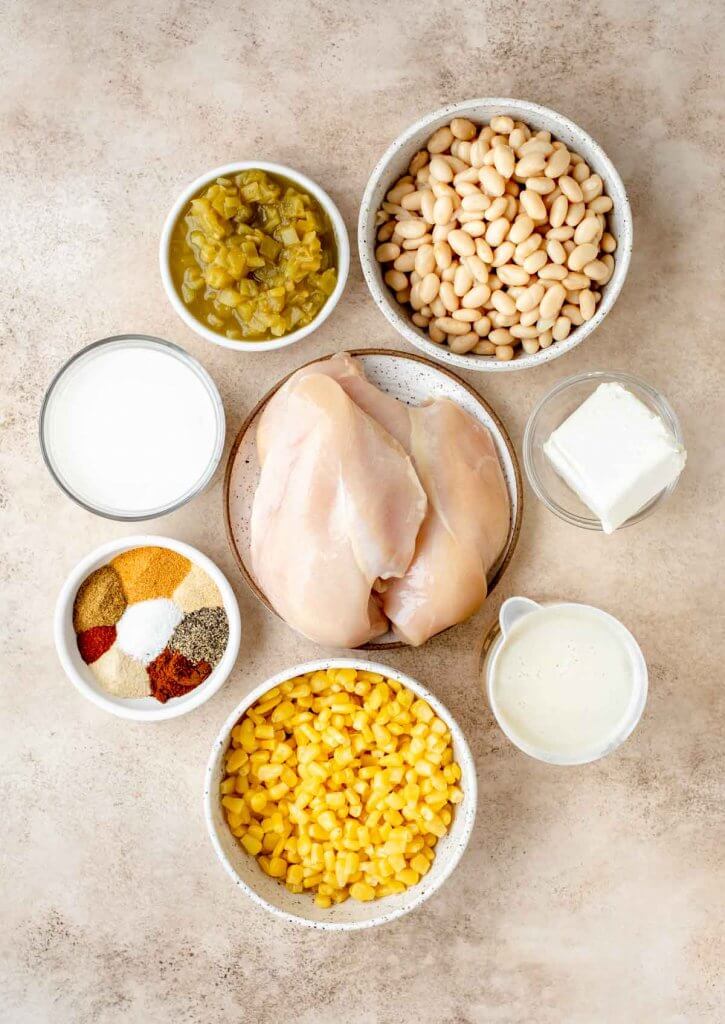 Gather the goods!
2 cans Great Northern Beans
2 small cans o' Green Chiles- Unless you Love spice, make sure they're mild. Because if you get the hot kind… it's gonna get all kinds of spicy, not a bad thing- but just something to note especially if your feeding little ones.
Low sodium Chicken Broth
A variety of perfectly balanced spices: cumin, garlic powder, onion powder, chili powder, cayenne pepper, kosher salt, pepper, and Lawry's Seasoned salt.
raw boneless skinless chicken breast (chicken thighs or a mixture of thighs and breast works well here too!)
corn (canned, fresh, or frozen works here!)
half and half
light cream cheese
How to make White Chicken Chili in the Instant Pot
First, Add all the ingredients into the Instant Pot.
Wait wait… Don't add the Cream Cheese or Half & Half, okay? We'll add those later.
Place the lid on and seal. Switch the valve to the "sealing" position, and pressure cook on Manual High Pressure for 15 minutes. When it's done cooking and the timer beeps, let it naturally depressurize for 10 minutes, then switch the valve to the "venting" position to completely release the steam before opening. I like to throw a towel over the valve and use a wooden spoon to release the steam, but it's not absolutely necessary. However you release the pressure on your Instant Pot, be safe and remember that the steam will be hot that shoots out of the valve!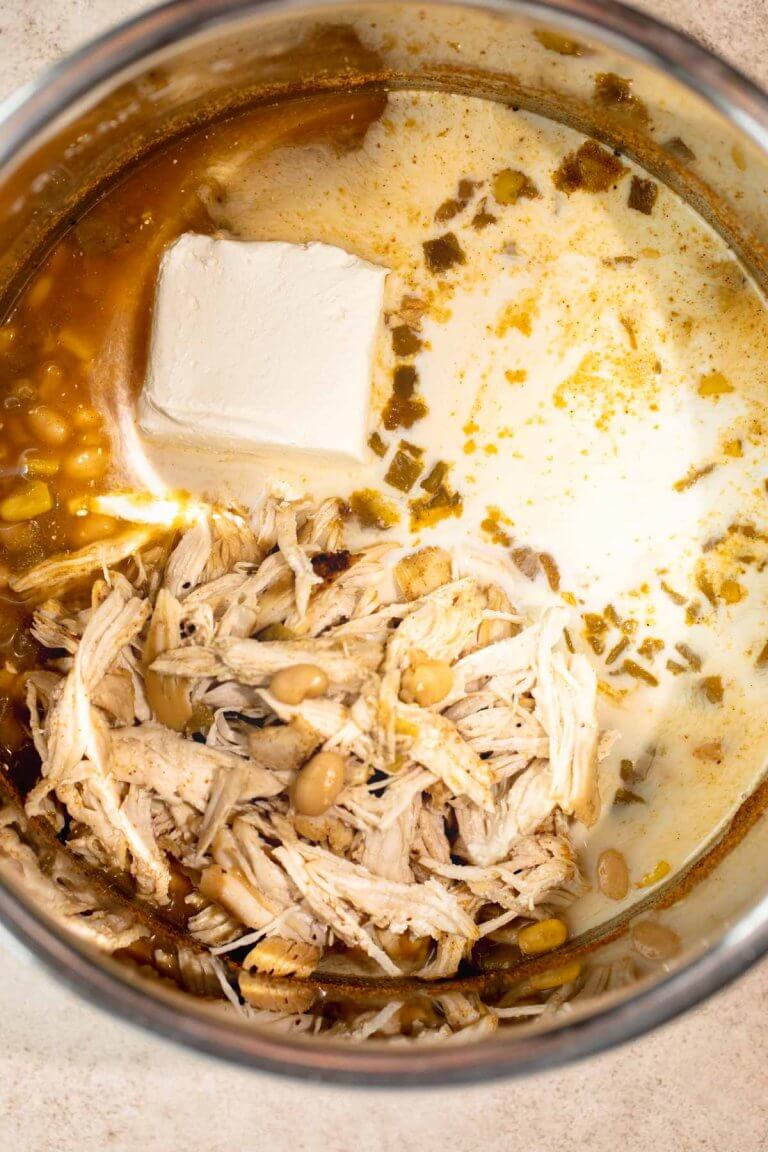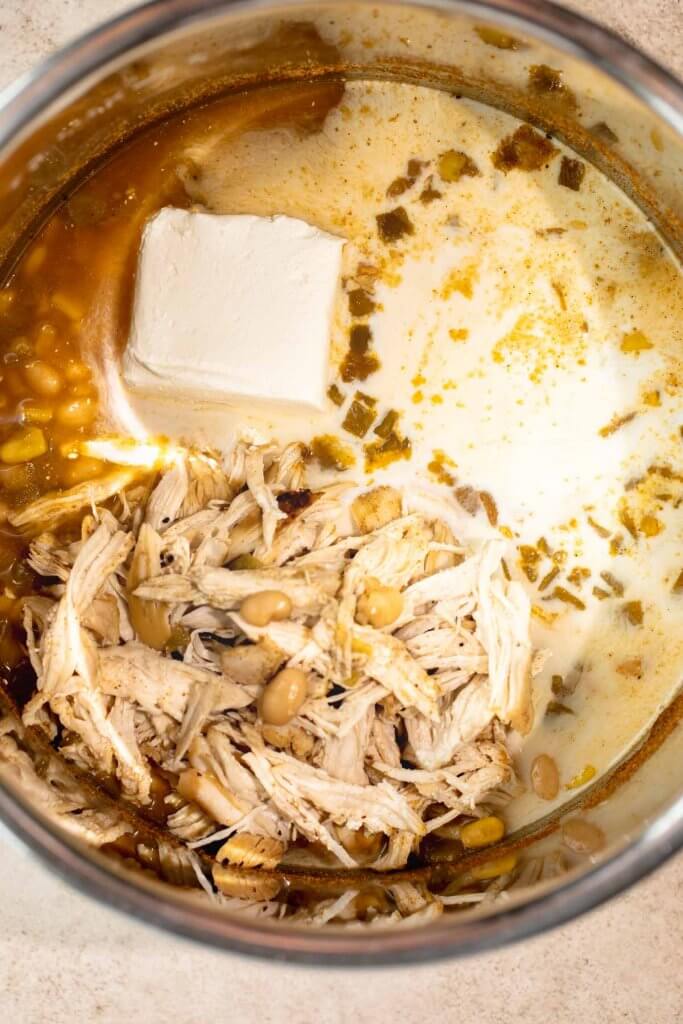 Remove the cooked chicken breast from the Instant Pot. Place it in a bowl or on a cutting board, and shred it up with two forks. I like it to be a little more piece-y so I don't shred it with a mixer, but if you like super small shreds you can grab a hand held mixer and mix it quickly that way.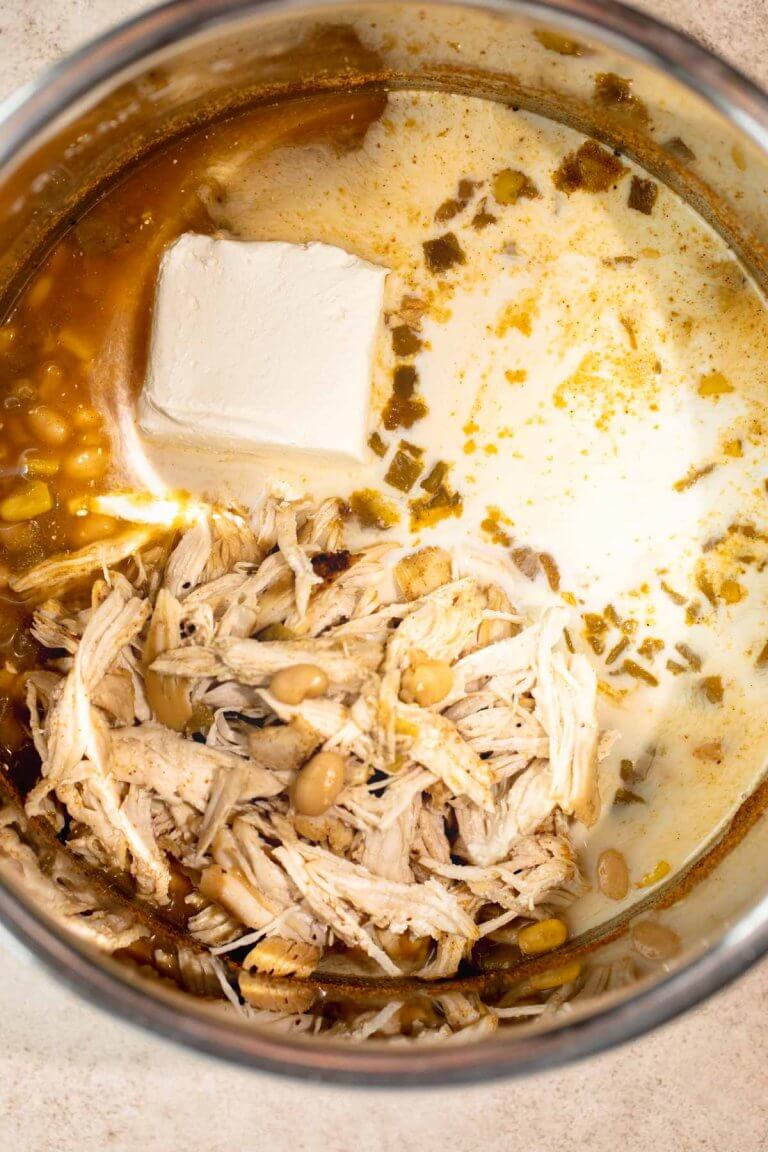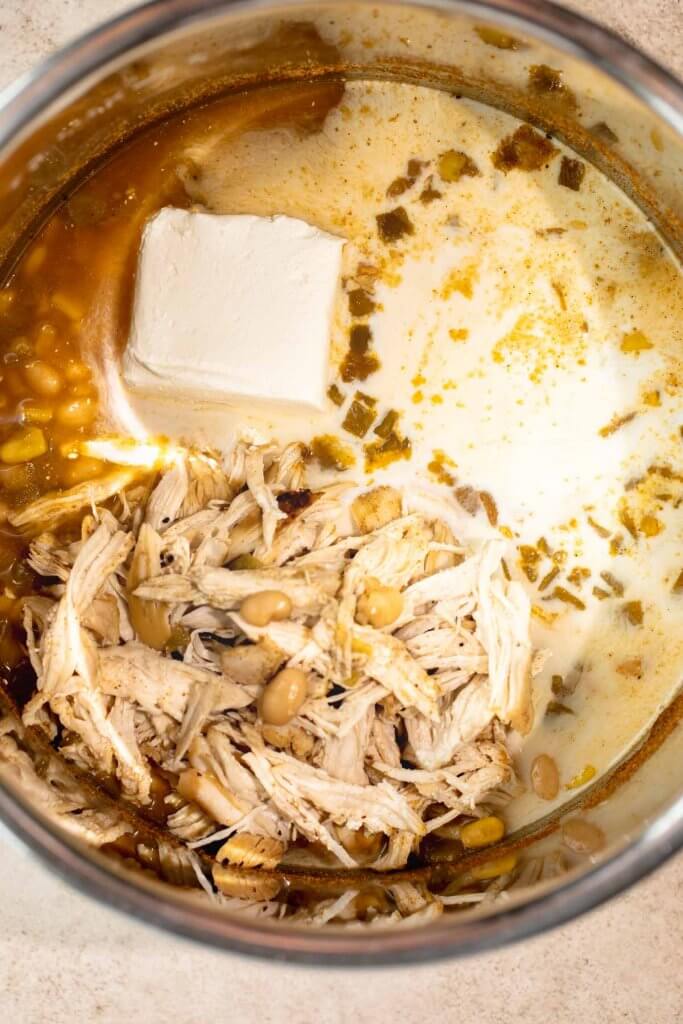 Add the shredded chicken back into the instant pot along with half and half. Add the cream cheese into smaller chunks so that it melts easier. Stir everything together well, then put the cover back on, and let it simmer for about 10 minutes to let the cream cheese melt into the chili. Salt and pepper to taste.
Yum tip: I like to squeeze some lime juice in at this point to to brighten up the flavors.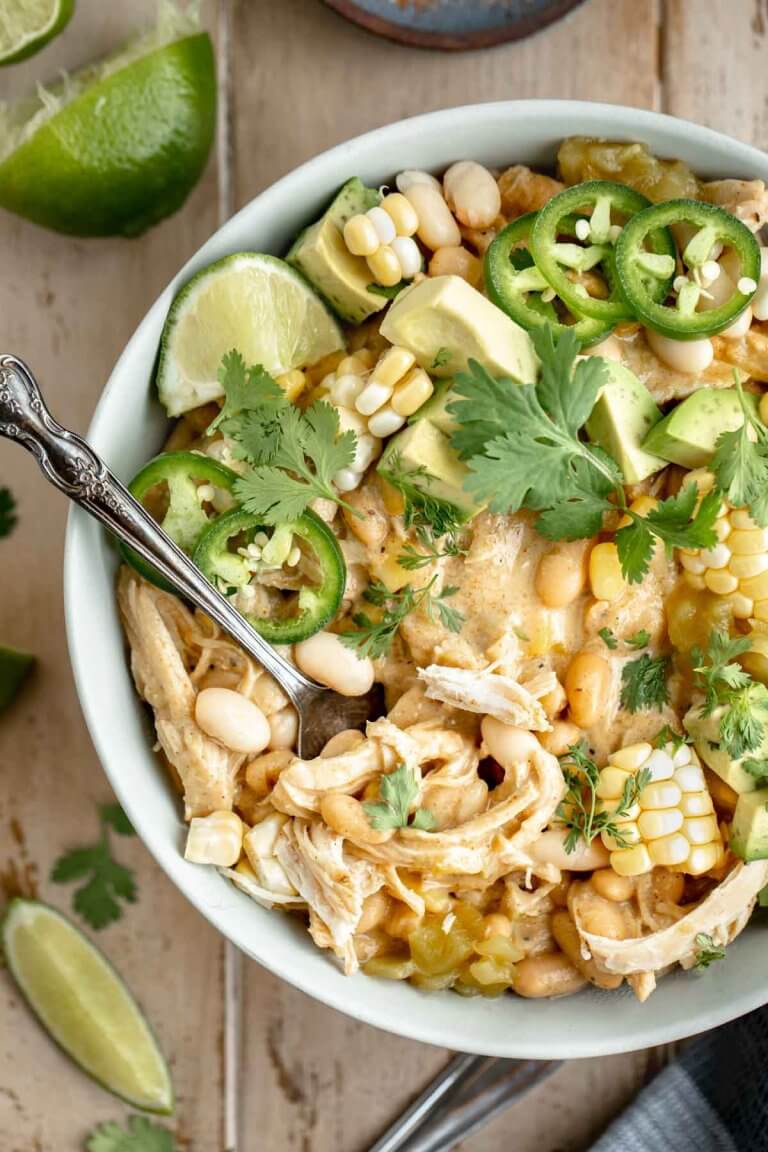 Favorite toppings!
chunks of fresh avocado
crushed up tortilla chips or tortilla strips
cheddar cheese or queso fresco
fresh cilantro
fresh chopped tomatoes
thinly sliced jalapeños for a kick of spice
dollop of sour cream or Greek yogurt
lime wedges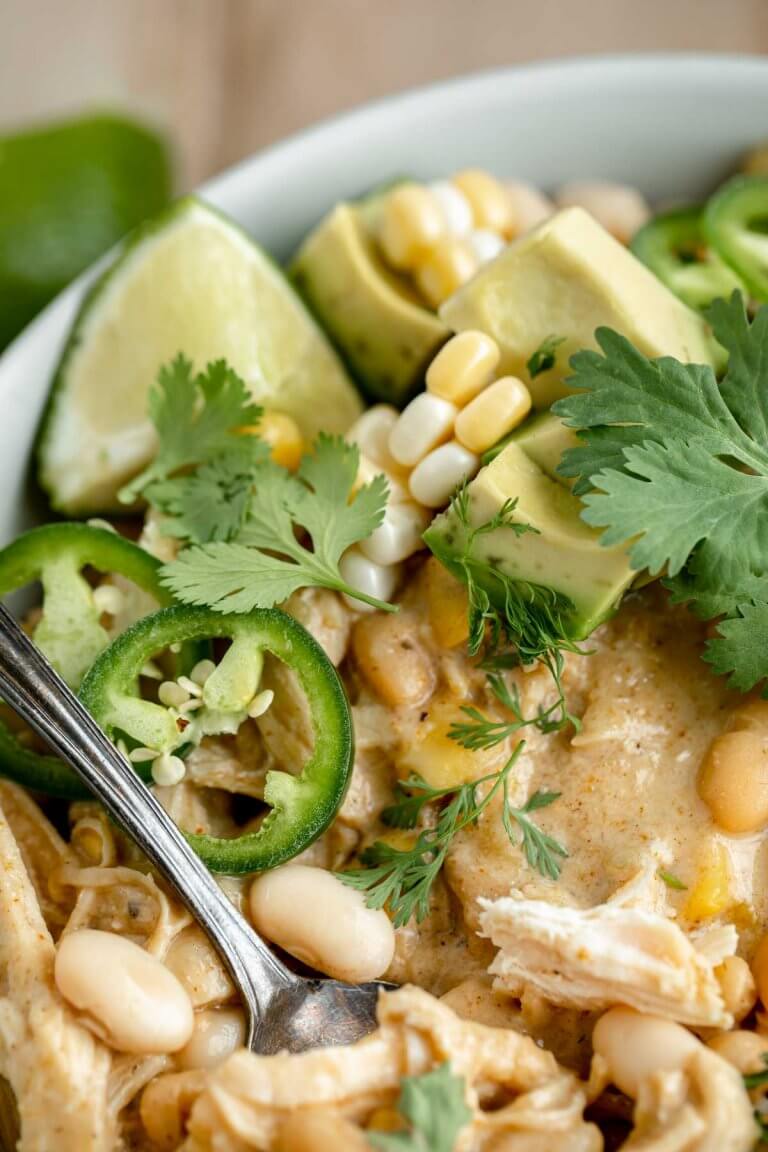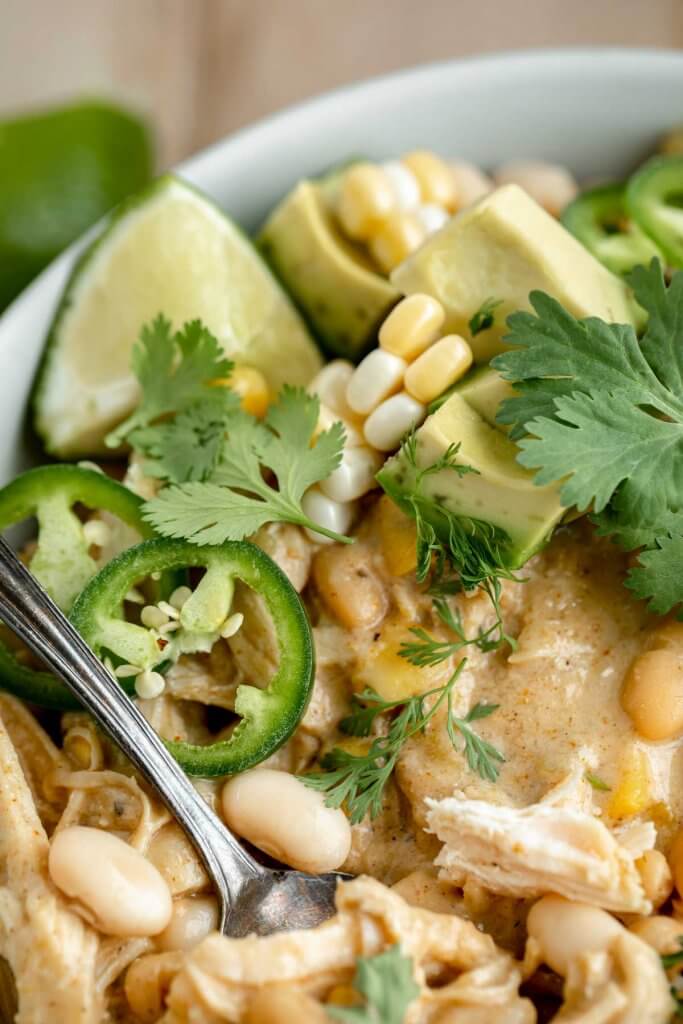 If you're not feelin' like a fancy bowl of Instant Pot White Chicken Chili loaded with a bazillion toppings, don't sweat it! It's all gravy, because they aren't needed. This chili all by itself tastes like angels made it. I usually chop up just a bit of cilantro (if I have it), and do a squeeze of fresh lime. Because delicious Mexican cuisine and fresh lime go together like tacos and Tuesday!
What to serve with White Chicken Chili
Instant Pot White Chicken Chili tends to be a fulfilling meal on its own especially if you add toppings, but I like to serve it on top of cilantro lime rice or with a yummy slice of cornbread from time to time too.
Storing, Reheating, and Freezing
My second favorite part about this recipe is that it reheats so well after being kept in the fridge or in the freezer!
Fridge storage: Add to a container with a tight fitting. It should keep well for 4-5 days.
Freezer storage: place cold instant pot white chicken chili in a freezer safe container and seal. Freeze for up to 3 months.
Reheating: You can reheat by placing it in a sauce pan on the stove top and heating over low until warmed or place chili in a microwave safe bowl and heat until warm.
FAQ
Is White Chicken Chili supposed to be thick or thin?
Thick. Chili is always on the thick side to make it a filling and hearty meal. It should not be super broth-y.
What is White Chicken Chili made of?
In this recipe, we make it with chicken breast, great northern beans, diced green chilis, corn, and spices. We finish it off with a little cream cheese for creaminess.
How long does Natural release setting take for chili?
It should take around 10-20 minutes. It will depend on how much liquid there is. I do a manual release after 10 minutes.
Instand Pot White Chicken Chili was originally posted on 05/10/2019 and updated on 08/19/2022 with new recipe photos, recipe clarity, and tips and tricks.
Print
Instant Pot White Chicken Chili
Quick and Easy White Chicken Chili made in the Instant Pot. It's loaded with tender juicy chicken breast, corn, beans, spices, and a little light cream cheese.
Materials
2

lbs

chicken breast, trimmed, raw

2-

15.5 oz cans

Great Northern Beans

(3 cups) drained, but not rinsed

2-

4 oz cans

mild green chiles

2

cups

corn

frozen, canned (drained), or fresh

1-¾

cup

chicken broth

low sodium if available

2

tsp

cumin

2

tsp

garlic powder

2

tsp

onion powder

2

tsp

chili powder

1

tsp

kosher salt

reduce by half if using regular table salt or sea salt

1

tsp

Lawry's Seasoned Salt

1/4

tsp

pepper

1/8

tsp

cayenne pepper

more or less depending on spice preference, remember you can add spice.. but you can't really take it out

1/2

cup

half and half

4

oz

light cream cheese

cut into small chunks
Instructions
In the Instant Pot, add all of the ingredients above EXCEPT for the cream cheese and half and half.

Place the Instant Pot lid onto the pot and securely lock the lid in place. Set to Manual High Pressure for 16 minutes. When 16 minutes is up and the timer beeps, let the pressure naturally release for about 10 minutes. Then press the valve down with a wooden spoon to do a quick release.

Remove chicken from pot, and shred with two forks. Stir shredded chicken back into the pot, along with the small chunks of cream cheese and half & half. Put the Instant Pot lid back on, and simmer for about 5 minutes to let the cream cheese melt into your chili.
Notes
Serving size: 1 and 1/2 heaping cups (does not include any toppings)
WW Points: 3
345 calories. Fat: 4.5g, Saturated Fat: 2g, Sodium: 690mg, Sugars: 5g, Added sugars: 0g, Sugar Alcohol: 0g, Carbohydrates: 33, Net Carbs: 26g, Fiber: 7g, Protein: 44g