This post may contain affiliate links (meaning I earn a small comission if you purchase an item through a link I provide) I only provide shoppable links to items I love and are helpful. As an Amazon Associate, I earn from qualifying purchases.
This Instant Pot Spaghetti is so delicious and so easy! The best fuss free dinner that my family is addicted to. It's bursting at the seams with flavor!
Did you know we moved last month? If not, now ya do! It's been a crazy a last couple of months and I'm embarrassed to admit how many times we've ordered take-out because my kitchen wasn't unpacked and I was so overwhelmed that I felt like cooking was just the very last thing I wanted to do. I'm still overwhelmed. I'm losing things because I don't remember where I've put them after I've unpacked. I mean you get it, I'm sure. There's times in life we all just need a little break from cooking. However, after a couple weeks of doing that my debit card was like, "hang on, don't you like having money?"and my pants were like, "lady, can you just stop please?" Ha!
One of the first things I unpacked was my Instant Pot and then, the very first thing I made for dinner at our new house was this Instant Pot Spaghetti! Some people might think of spaghetti and categorize it as boring and unoriginal, but I kind of think of spaghetti as comfort and heart warming. It's a classic, and I crave it. And, with just a few teeny tiny tweaks it's kind of healthy too. I really, really love my recipe for One Pot Spaghetti, but this stuff was even better!
To top it off, it's honestly the only thing Pepper will eat lately besides hot dogs and mac and cheese, so it's in the fridge all of the time. I'm not above letting her live off mac n' cheese and hot dogs some days, but I feel like it's my duty to slide some of this delish Instant Pot Spaghetti into her day, you know… widen her horizons. This magical Instant Pot Spaghetti is sure to become a new weeknight must have in your recipe collection especially during these summer months when turning on the stove seems unimaginable!
Let's get into the kitchen, folks!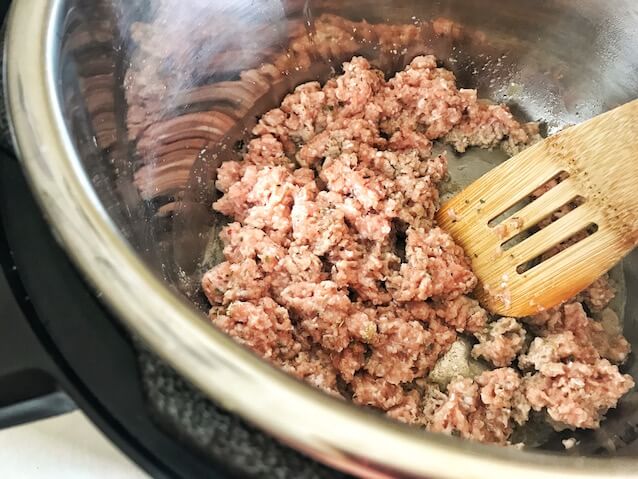 Start off by sautéing some lean ground turkey in the Instant Pot. Season with Salt, Pepper, Garlic Powder, Onion Powder and Italian Seasoning.
You could also use a small onion and a few cloves of garlic. Just sauté them with the turkey, but I felt like keeping this extra easy.
Next, break spaghetti in half and layer it on top of the meat.
Now, add in two cups of marinara sauce, one 16 ounce can of diced tomatoes, one and a half tablespoons of Worcestershire sauce, a few dashes of your favorite hot sauce, and four cups of low sodium (if it's available) chicken broth or stock.
I always use my recipe for slow cooker marinara sauce. It makes a bunch and I almost always have it on hand in the fridge or freezer. It's much healthier than store bought sauce, much more delicious, and it's only zero points on WW! A total kitchen staple.
Take note, if the spaghetti is poking up a bit like in the photo above just gently press it down, but be sure not to stir!
It's time to pop the top on, seal the instant pot and set it to manual mode, high pressure and 8 minutes cooking time.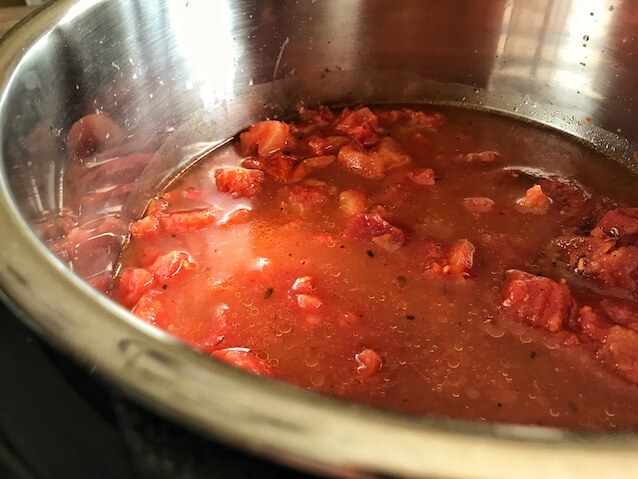 Now, time's up do a quick release and you're good to go. When you open the pot it will look like soup and you will panic a little, but don't fret.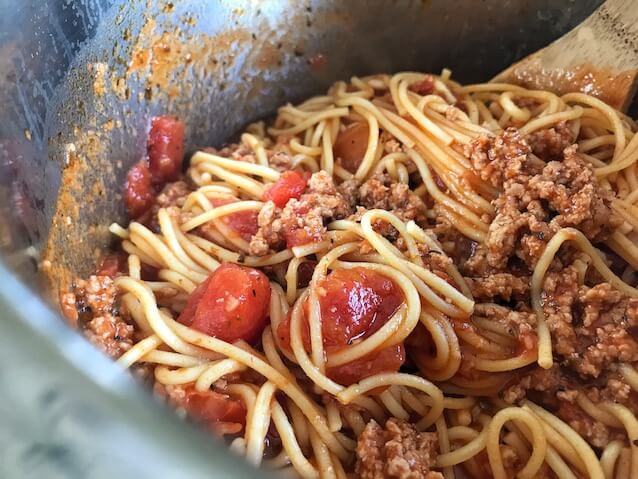 Stir it up real good and you've got yourself one fine dinner full of comfort and flavor.
Scoop into a bowl, top with a little parmesan cheese for good measure, and enjoy!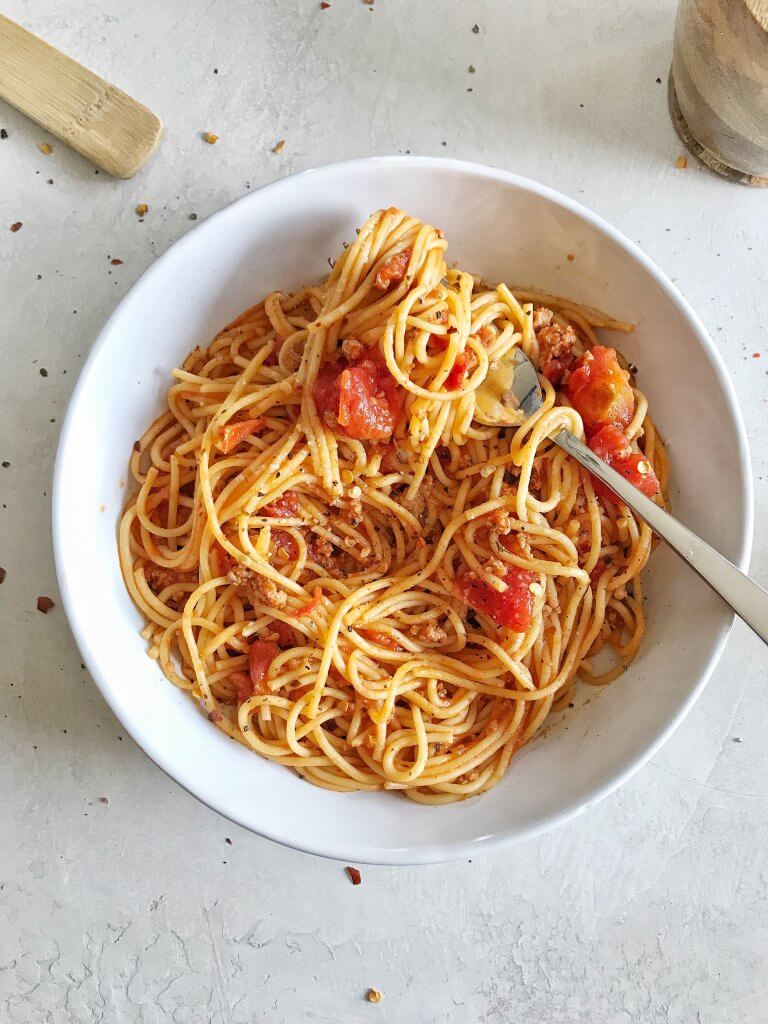 Mmmm Mmmm! I promise this Instant Pot Spaghetti is going to be one of the easiest and tastiest ways you'll ever eat spaghetti. Obsessed.
I hope you enjoy! Let me know how it goes, friends!
With love from my kitchen to yours,
Star
Check out these recipes too!:
One Pot Creamy Garlic Chicken and Veggie Pasta
Print
Instant Pot Spaghetti
Instant Pot Spaghetti is the easiest and yummiest recipe for Spaghetti that's all made with ease in the Instant Pot! Perfect for any night of the week.
Materials
1

lb

lean ground turkey

raw

14

oz

spaghetti noodes

uncooked and broken in half

2

cups

skinnyish dish marinara

or your favorite jar of marinara

1

tbsp

Worcestershire Sauce

1-1/2

tsp

garlic powder

1-1/2

tsp

onion powder

2

tsp

Italian seasoning

a few dashes of your favorite hot sauce

4

cups

chicken broth/stock

low sodium, if available

15

oz can

fire roasted diced tomatoes

salt & pepper

to taste
Instructions
Turn the Instant Pot on to Saute mode. Add ground turkey and season with salt, pepper, onion powder, garlic powder, and italian seasoning. Continue to cook until browned.

Break spaghetti noodes in half and layer on top of the ground turkey, followed by the sauce, diced tomatoes, worscestershire sauce, hot sauce, and chicken broth. Push spaghetti peices down if they aren't covered by the liquid. Do not stir together!

Seal Instant Pot and set to manual high pressure for 8 minutes. When the timer goes off do a quick release. The spaghetti will have a lot of liquid on top, but just stir it real good. Serve and enjoy!
Notes
Serving size: 1-1/2 cups
Calories: 360, Fat: 6.3g, Saturated fat: 1.4g, Protein: 23.1g, Sugar: 7.2g, Fiber: 5.4g
WeightWatchers Points: 9 Points
Note: If using store bought marinara sauce points/calories are subject to change.