This post may contain affiliate links (meaning I earn a small comission if you purchase an item through a link I provide) I only provide shoppable links to items I love and are helpful. As an Amazon Associate, I earn from qualifying purchases.
Instant Pot Mexican Rice is the perfect side dish for taco Tuesday! The Instant Pot method helps makes this rice perfectly tender, fluffy, and flavorful every time. It's so easy to make and completely delicious!
I know a lot of y'all hate "stories" in blog posts these days, but you can easily scroll on by if you don't wanna read cause your girl's got a quick one today. Mexican Rice has been one of my absolute favorite foods since I was like a toddler. I remember going into Mexican restaurants and eating a cheese quesadilla and rice when I was little and well before I discovered how amazing Mexican food actually is. These days, little Pepper's favorite food is also Mexican Rice and quesadillas! I set out a few years ago to make a authentic-ish Mexican Rice recipe to have at home so that we could enjoy it as a side dish (main dish if you're Pepper).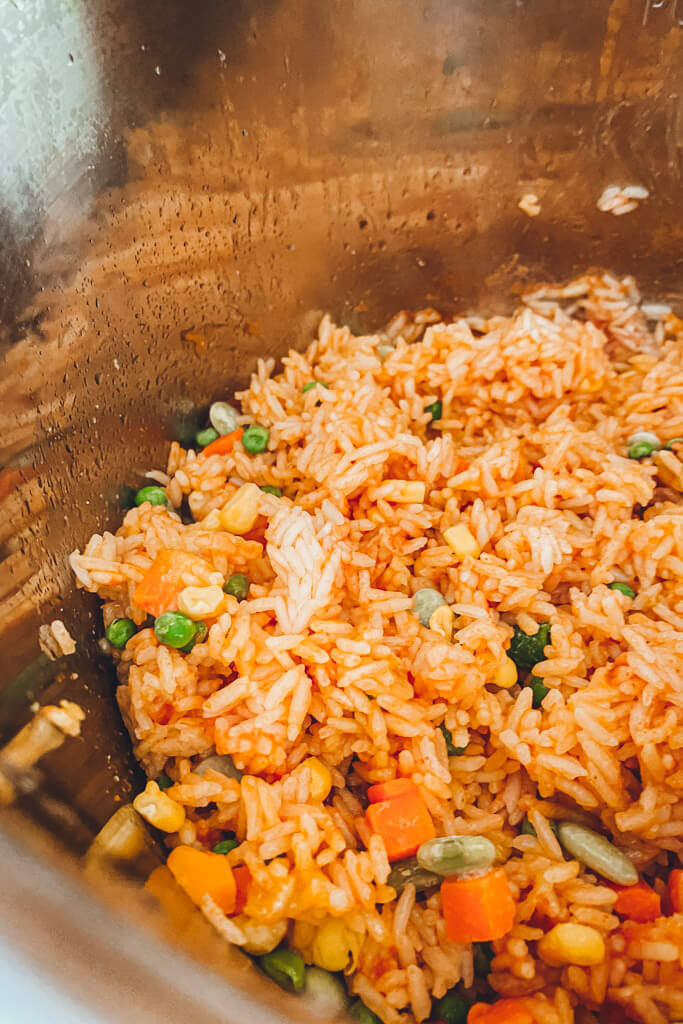 After I got my Instant Pot a few years ago I discovered quite quickly that I really love using it mostly for side dishes because it totally makes the dish pretty hands off so I don't have to think about it. I don't know about you, but I go a little overboard on side dishes, guacamole, and salsa/pico when we make Mexican food at home so I'm more than happy to make the rice in the Instant Pot so I don't even have to think about it!
This Instant Pot Mexican Rice is a little healthier than a more traditional Mexican Rice recipe because I don't toast the rice in loads of oil before hand. This may go against the authentic Mexican Rice guidelines, but I think it still tastes pretty darn good with less fat/calories! Most recipes I've seen call for 1/4-1/2 cup of oil while this recipe calls for just a teaspoon. That's why we call it the skinny-ish dish, friends.
What you need for Instant Pot Mexican Rice: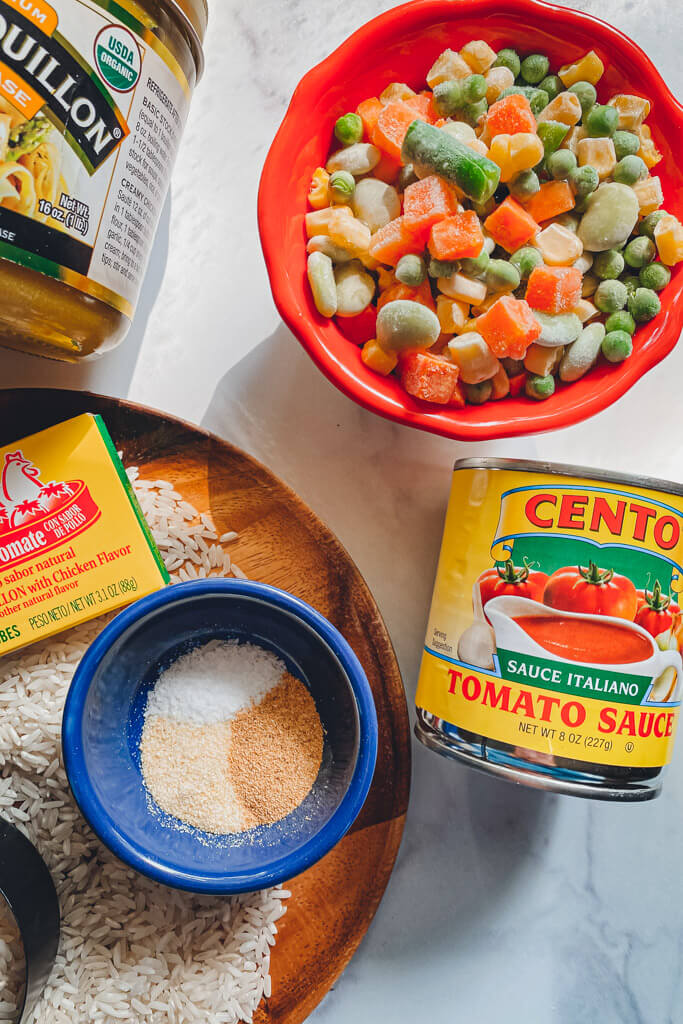 Instant Pot (click here for the one I use and love)
Long Grain White Rice- Note: rice is kind of weird. Different kinds of rice cook differently so be sure to use long grain white rice for these specific instructions. Brown/jasmine rice won't work, instant rice won't work here either. These would need different times/amounts of water because they cook differently than regular ol' long grain white rice.
Tomato Sauce
Knorr Tomato Boullion Cube (you can find these packs in the international food aisle in most grocery stores)
Better than Bouillon: This ingredient elevates flavor! You can find these jars in the broth/stock section of your grocery store. I use whatever I have on hand chicken, beef, or vegetable and usually stick to the low sodium one.
Oil (I use avocado, olive, or vegetable)
Spices: kosher salt, garlic powder, cumin, and onion powder.
Water
Frozen mixed vegetables (corn, green beans, peas, carrots) or just peas and carrots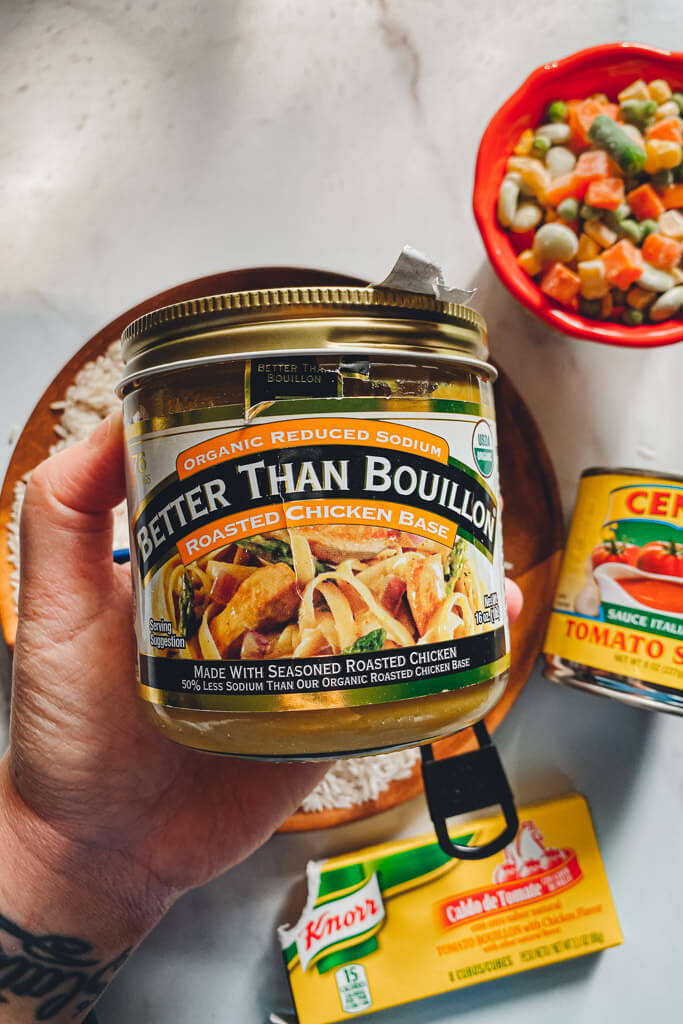 How to make Instant Pot Mexican Rice: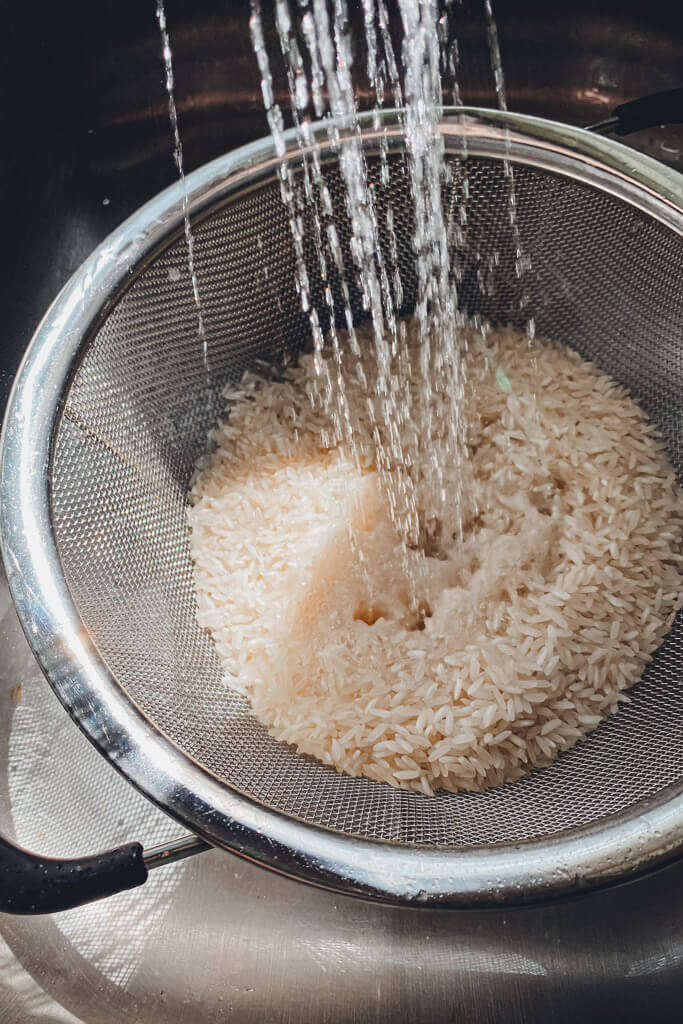 Rinse your rice before cooking!
Rinse rice in a fine mesh strainer until the water runs clear. In a nutshell, rinsing your rice removes excess starch from the rice. I know a lot of people are going to want to skip this step, and honestly you totally can, but your rice will more than likely turn out a little gummy and will clump a bit when it's finished making for not as yummy rice. I used to always ignore this part because I'm the number one advocate for less dishes and steps while getting the job done, but sometimes the extra small steps do make a difference. In this case, I agree with the rinse your rice before you cook it Gods and vote that you should too.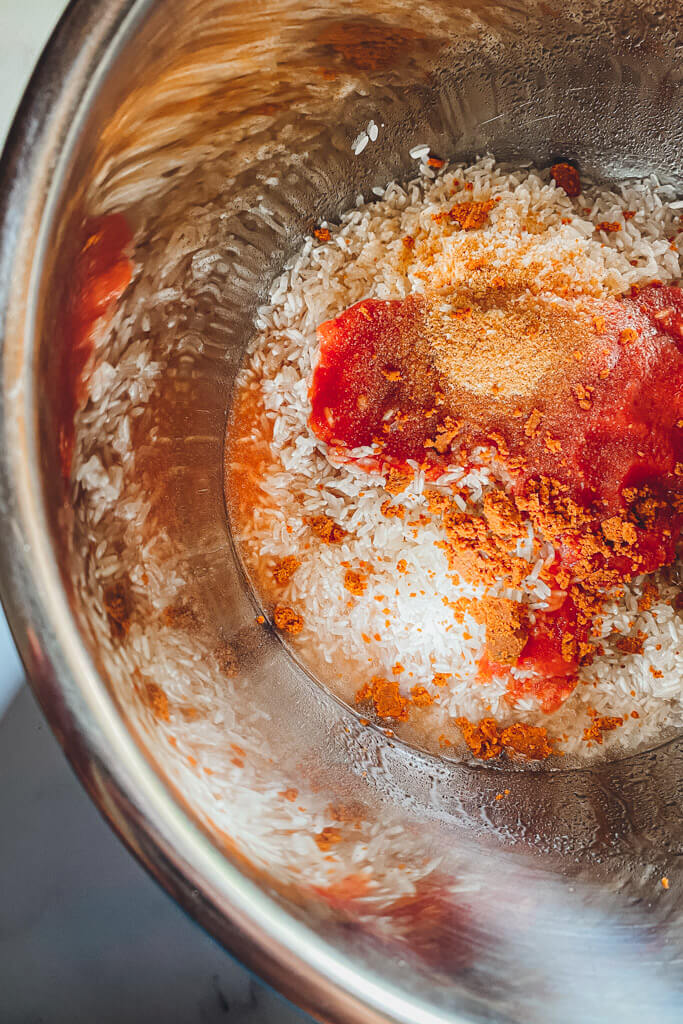 Next up, grab your Instant Pot. Load it with 1-1/2 cups uncooked long grain white rice, 1-1/2 cups water, 1 tsp of oil, 1 tsp each of garlic powder and onion powder, 1/4 tsp cumin, and 1 tsp kosher salt. Additionally, add in 1 tbsp of the better than bouillon, and 1 Knorr tomato bouillon cube (crush that up a bit with you fingers when you add it). Stir together really well. Cover the instant pot and turn it on to manual high pressure. Cook for 3 minutes and then let it naturally release pressure for 10 minutes. You shouldn't need to manually release anymore pressure after letting it release.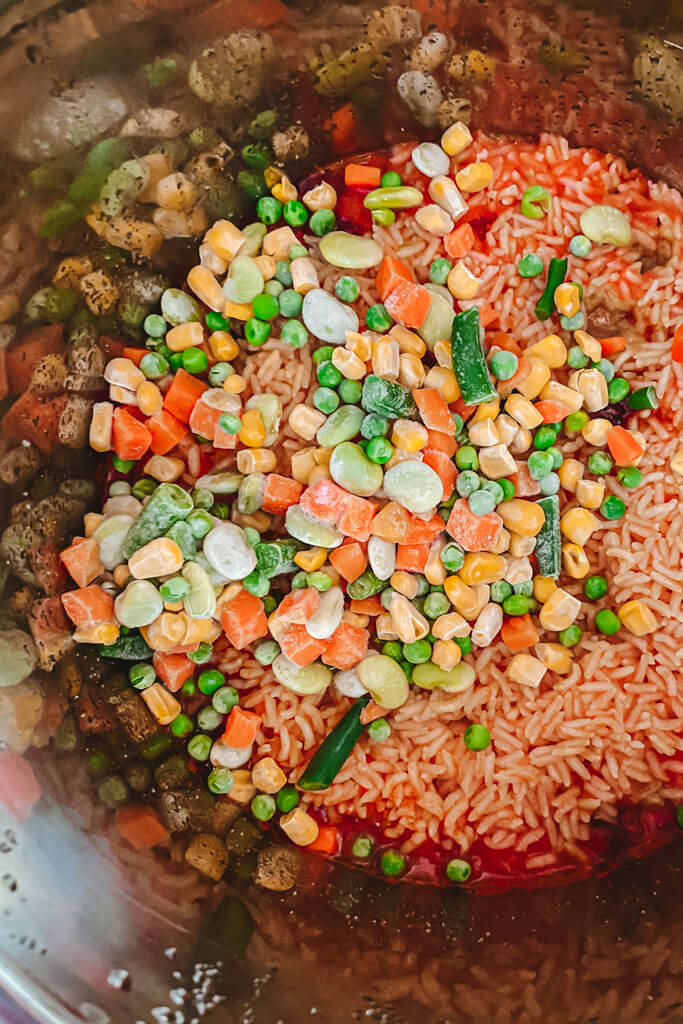 After you let the pressure release naturally (takes about 8-10 minutes), turn off the instant pot and take the cover off. Add 1 cup of the frozen veggies. Fluff the rice and vegetables well with a fork (be sure not to stir-it'll clump if you do). Place cover back on and let it sit for a few minutes. Be sure to turn off the instant pot because If you keep it on the warm setting it'll continue to cook the rice at the bottom.
Optional: Add a couple tablespoons of chopped fresh cilantro and juice from a lime. It takes the flavor up another level!
And there she is ladies and gents- a super easy and delish side dish!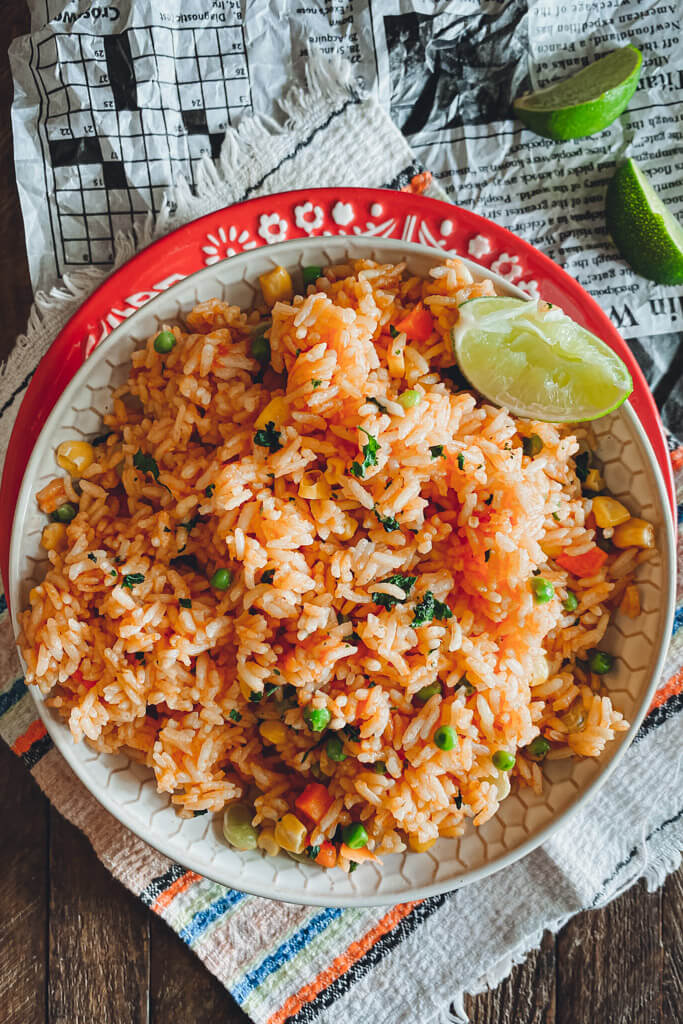 This Instant Pot Mexican Rice has quickly become our favorite dish to make as a side dish to our favorite Mexican dinners! Lately we've been enjoying in next to my other new recipe Air Fryer Chicken Fajitas!
Pepper and I argue over who's having the leftovers for lunch the next day because it's our fave!
More Mexican Inspired recipes for you to try!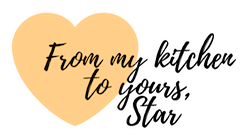 If you try this recipe please comment below and/or rate it to let me know how it went!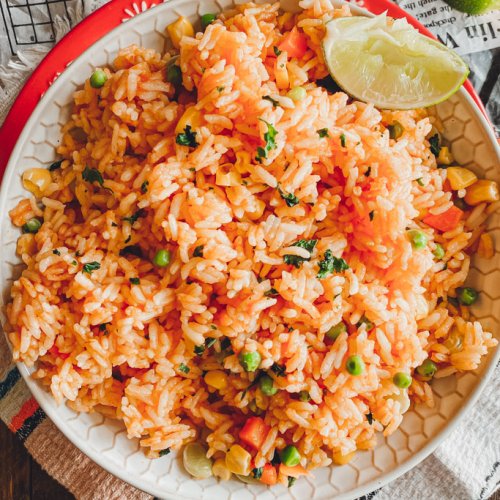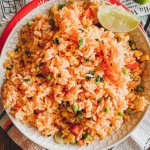 Print
Instant Pot Mexican Rice
Materials
1½

cups

long grain white rice, uncooked

1½

cups

water

1

tsp

oil

(avocado, olive, or vegetable oil will work fine)

1/2

cup

tomato sauce

1

tbsp

better than bouillon

(chicken, beef, or vegetable contcentrate flavor works- find this with broth/stock in store)

1

Knorr tomato bouillon cube

(usually found in the international food section in grocery stores)

1

tsp

garlic powder

1

tsp

onion powder

1/4

tsp

cumin

1

tsp

kosher salt

1

cup

frozen mixed vegetables

cooking spray

salt and pepper to taste
Instructions
Rinse rice in a fine mesh strainer until water runs clear.

Spray Instant Pot with cooking spray. Add all ingredients to the Instant Pot except for frozen mixed vegetables. Stir everything together very well.

Seal the Instant Pot cover onto the pot and turn on manual high pressure. Cook for 3 minutes (4 for softer rice). When timer beeps let it naturally release. It should take about 10 minutes.

When the pressure has naturally released turn off the instant pot and add frozen vegetables and fluff all together with a fork (don't stir it). Put the cover back on and close it doe 3-4 minutes letting the veggies steam a bit with the rice. Serve on the side of your favorite Mexican dish!
Notes
Makes 5 cups total. Serving size: 1/2 cup
112 calories | 0.5g fat, 0g saturated fat, 135g sodium, 23g carbohydrates, 1g fiber, 1g sugar (0g added sugar) 3g protein
Weight Watchers Points: 3 Points
*Be sure to check out blog post for extra tips and tricks!