Instant Pot Hard Boiled Eggs
This post may contain affiliate links (meaning I earn a small comission if you purchase an item through a link I provide) I only provide shoppable links to items I love and are helpful. As an Amazon Associate, I earn from qualifying purchases.
Everyone loves hard-boiled eggs. It's a perfect little way to get the protein and energy you need to power you through your day. And using this Instant Pot recipe is literally the easiest method ever for making them! These are quick to prepare, and easy to peel. They're great for a grab-and-go breakfast or a protein-rich snack, and they're the key to turning another plain old salad into a delicious, filling meal!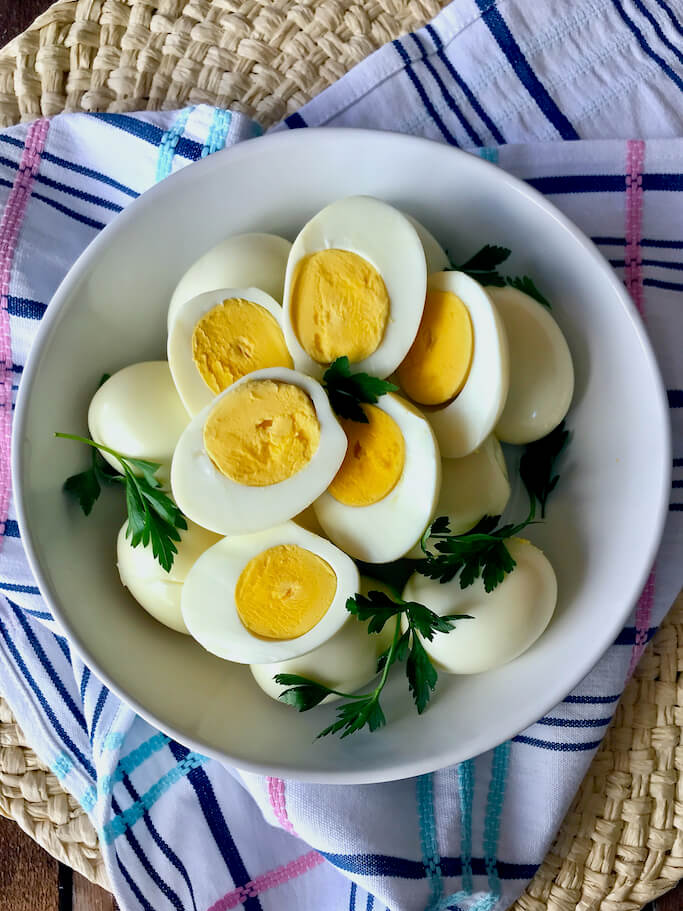 Who here loves hard boiled eggs? Me me me! I love them so much it's probably kinda ridiculous. I eat at least one a day, whether it's with just a little Cajun seasonin' (yum) or what I like to call "Lazy" deviled eggs. That's essentially cutting the egg in half and then drizzlin' on some light mayo and mustard, and sprinkling the top with whatever seasoning you're in the mood for. I also love to make Egg Salad or Tuna Pasta Salad for a quick n' easy lunch options.
And… oh wow, I just realized I don't have a recipe for Deviled Eggs on here! I think I'll change that soon, because what kinda food blogger doesn't have a good deviled egg recipe on their blog? It's almost a crime. haha! Anyway, in a nutshell (or an eggshell! ), we love hard-boiled eggs. And this mama loves the Instant Pot Hard-Boiled Egg method… because it's just easy.
With Easter right around the corner, I decided this is the perfect time to share my favorite method for Hard Boiled Eggs. There's zero fuss, and they come out perfect every single time! As I've told y'all before, I was a little hesitant when it came to the Instant Pot. I sat back and waited quite a while before getting one. Late last year I finally gave in, and our family has really been enjoying it! And do ya know what I make most in my Instant Pot? These Instant Pot Hard Boiled Eggs!
I'll keep this post short n' sweet, because it's pretty simple. It's actually so simple, I feel a little weird making a blog post out of it. But a few weeks back I posted about these over my Instagram Story… I got a couple hundred messages asking me how I do it, so here we are- A quick post explaining the details, so you'll always know this very handy and ridiculously easy process. I'm sure tons of you already do it this way because as far as I know it's really the only way to get eggs to come out perfectly every time in the Instant Pot. Less time? Jammy yolks. More time? Green rings.
Now let's get into the kitchen, folks!
How to make Instant Pot Hard Boiled Eggs:
How many eggs, a few or a lot?
First things first- you'll need an Instant Pot, and either the steamer insert that should've been included in the box, or an aftermarket egg-boiling rack.
Eric ordered a rack for me a few months ago, and I love it! So here's a link to the one I have. I know others who use this same one, and they love it too. With this insert, your fast egg-boiling ability will jump from only 7 or 8 up to 14 eggs at once!
Before that, I was just using the included small steamer insert. With this you can cook them in one layer, probably only 6 or 7 eggs. This worked, but sometimes an egg or two would get overcooked and tough. And I needed some way to cook more at once!
Psst… I have the Instant Pot Ultra 6 Qt.
Step one: add your eggs into the pot, along with 1-1/2 cups of water.
Lock the Instant Pot lid in place. Then set it to manual high pressure, and 4 minutes cooking time.
While those are cooking away, grab a bowl and pour in a bunch of ice and cold water. (Don't fill it all the way to the tippy top- the water level will rise once we add the eggs.)
Quick Release and Cooldown
When your eggs are done cooking, do a quick release, then carefully remove them and place them gently into the ice bath. I let'm hang out in there for about 5-10 minutes. I'm usually doing a handful of other things while making these (another plus to using the Instant Pot Hard-Boiled Egg method!), so I don't think it matters too much on the length of time they sit in the ice water. But definitely let'm sit for at least 5 minutes, so that the cooking process stops.
You won't see any green/blue rings around those egg yolks, baby! Does anyone else absolutely hate when that happens? Ugh…I've been known to throw a whole batch out because of it.
*I've said this before, but here it is again: If this is your "First Rodeo" with the instant pot, know what you're doing before starting a quick release! Follow instructions carefully, and maybe watch a reputable YouTube video of someone demonstrating how to safely do a quick release.
Now, just roll'm sideways on the counter top or another surface to create a crack, and then peel! Super easy.
I usually run each egg under water or rinse in the ice bath after peeling because inevitably there is always a rouge microscopic piece of shell and you know what's worse than biting into an egg shell in a salad or while you're enjoying an afternoon snack? Nothing. Absolutely nothing.
Golden Eggscellence!
And Voila! Beautiful golden yolks, easy to peel, and none of that guesswork… ya know, boiling water on the stove, then adding in vinegar or oil or salt, or whatever else our grandparents swore by. I love these so dang much. If you've never made anything in your Instant Pot and it's been collecting dust, MAKE THESE! This one is pretty much fail-proof, which makes it a perfect "first-timer" Instant Pot recipe.
Stay tuned, because here's a preview of coming attractions… These Instant Pot Hard-Boiled Eggs starring in- A Delicious New Chopped Cobb Salad!
With love from my kitchen to yours, Star
Want more delicious recipes featuring Eggs? Try these!:
Printer friendly recipe below!
Print
Instant Pot Hard Boiled Eggs
A quick, easy, and fuss free method for hard boiled eggs!
Materials
eggs, large

1-1/2

cups

water
Instructions
Pour 1 – 1/2 cups water into the Instant Pot. Prepare a large bowl of ice and water.

Place insert into the pot to hold the eggs. Cover and close the instant pot.

Set to cook on manual high pressure for 4 minutes. (It takes about 4-5 minutes for it to come to pressure) When the timer goes off release pressure by doing a "quick release".

I use a pair of tongs to remove eggs and place quickly into the ice bath. Let the eggs hang out in the ice bath for 5-10 minutes. Peel and enjoy!

Eggs will stay good in the fridge in an air tight container for up to one week.