Instant Pot Chicken Burrito Bowls
This post may contain affiliate links (meaning I earn a small comission if you purchase an item through a link I provide) I only provide shoppable links to items I love and are helpful. As an Amazon Associate, I earn from qualifying purchases.
These Instant Pot Chicken Burrito Bowls are so delicious! They take a total of about thirty minutes to get on the table, and most of that is hands-off time. They're full of flavor, and you can go ahead and scratch tortillas off your shopping list. Top'm off with some lettuce, cheese, chopped tomatoes and/or guacamole, and you've got yourself a home-run dinner tonight!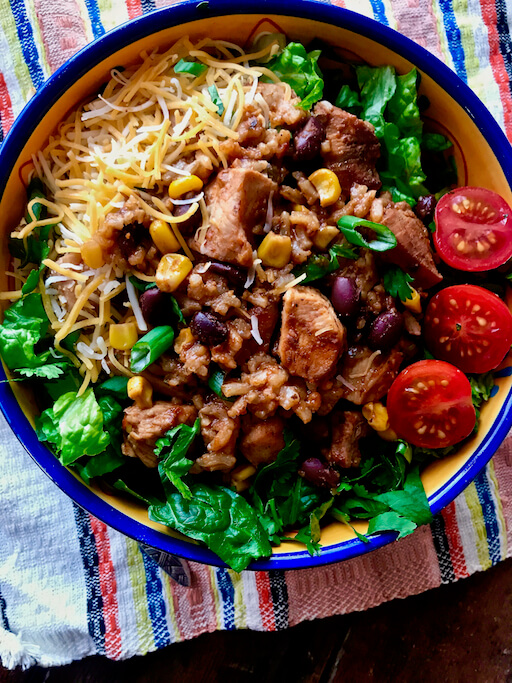 Hey y'all! So, my adventure with the Instant Pot has officially started. I know, I know, I held off for so very long. Truth is, in case you haven't noticed and/or seen me tell you before on this here blog, I'm a bit stubborn. While I like trying new foods and all, I'm not always super great at welcoming new kitchen gadgets into my world. The truth is, I'd rather have a million unique, pretty plates than a bunch of shiny new kitchen gadgets. I believe cooking, at the root of it all, is super simple, and you don't need a ton of appliances and thing-a-ma-jigs to make an outstanding meal. While I still believe all of this, I also believe that the Instant Pot might be a gift from heaven, because y'all… I'm a little obsessed. It mighta taken me 2-3 years to jump on board, but I finally did, and I'm so happy for it. The first thing I've noticed about the Instant Pot is that, well.. honestly, the name is a teeny tiny bit misleading. It's not literally instant… at least not with the things I have made in it so far. It's more like all-in-one and hands off, just like a slow cooker, except a lot quicker. Does that make sense? So I guess when you measure it against slow cooker times, it's pretty much instant. Either way, you'll be seeing a bunch of recipes for this soon. Don't worry, not everything! I am workshopping some new Instant Pot recipe ideas. But I've actually been having good luck creating Instant Pot versions of some of your Skinnyish favorites!
No matter what happens with this or other new kitchen appliances and devices, don't worry friends – My first love will always and forever be good ol' fashioned cooking. "Me, Jane – pot, pan, and cook fire good." Ha!
These Instant Pot Chicken Burrito Bowls are the perfect example of what I mean, and exactly why I'm sharing this recipe first. I have another recipe for Chipotle Chicken Burrito Bowls that are drop-dead delicious. In fact, they're one of my favorite things to make to this day. But… there are multiple steps, and multiple dishes to be washed, every time I make them. The multiple steps part doesn't bother me nearly as much as the multiple dishes part! Washing dishes continues to be the bane of my existence. This is hilarious in itself, because of what I've chosen to do for a living. You know, there's all these grocery delivery services, grocery pick up, meal kit delivery places, etc, etc. All these are designed to make cooking easier. But ya know what would really make life easier? If we could click a button on an app, and somebody shows up and cleans the messy kitchen! Now, I'd pay for that. Who's with me?
Anyhow, I know, we're off the subject, as usual. So let's get down to it! These Instant Pot Chicken Burrito Bowls are so stinkin' good, guys! Let me be clear (especially if you've made my Chipotle Chicken Burrito Bowls with the recipes like the cilantro lime rice, quick chipotle pinto beans, and skillet chipotle chicken)- these Instant Pot Chicken Burrito Bowls are different, but they're good different! They do not taste identical. When we do something in one pressurized pot, It's pretty much impossible to get all of the separate flavors of the original burrito bowls to come together the same exact way. These Instant Pot Chicken Burrito Bowls are quick and easy, and they're also full of great flavor! But I don't want you to expect the same thing… because as I convert some of your favorites into Instant Pot friendly recipes, that's what I'm learning – there's a trade off, convenience for flavors. This doesn't mean it won't be as good as the original version, just that it's different! I promise it's not a bad thing, because these Instant Pot Chicken Burrito Bowls have seriously become a weekly lifesaver since I started making them!

Let's get into the kitchen!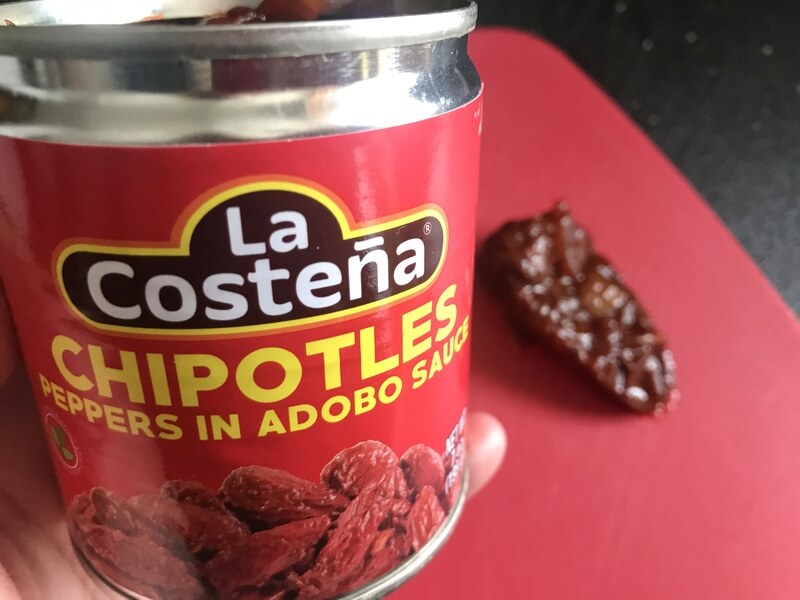 First, you're gonna chop up a yellow onion and four cloves of garlic. Nothing you haven't seen before, so I won't add a photo. But some of you haven't seen these little cans of Chipotle peppers in Adobo sauce, so here it is! You'll need to chop up one of the peppers. Yer also gonna need one tablespoon of the sauce from the can. These peppers are sooo good, and the sauce that they're in has a TON of flavor. I always keep a can or two of these babies in the pantry. You can easily find them at any grocery store in the Hispanic/International foods section. As far as brands go, there are a lot of different ones. I've tried most of'm, and they're all pretty much the same thing. (*These do have a bit of a kick! So if you're unsure of the spice level, slice open the pepper and scoop those seeds out before chopping it up.)
Tip: You will have some peppers and sauce left over. Just freeze'm right up in a small container or ziplock bag, and they're good for up to 3 months!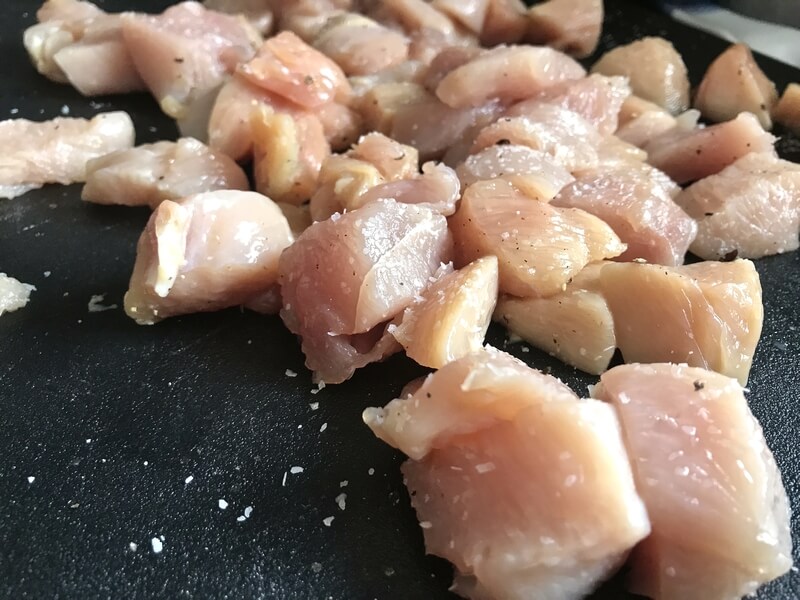 Grab a couple pounds of fresh chicken breast, and cut it up into small pieces. Sprinkle it with kosher salt and pepper. *Just to be perfectly clear – this step calls for Kosher Salt, not regular table salt. If you only have table salt, it should work, but make sure you use approximately half the amount.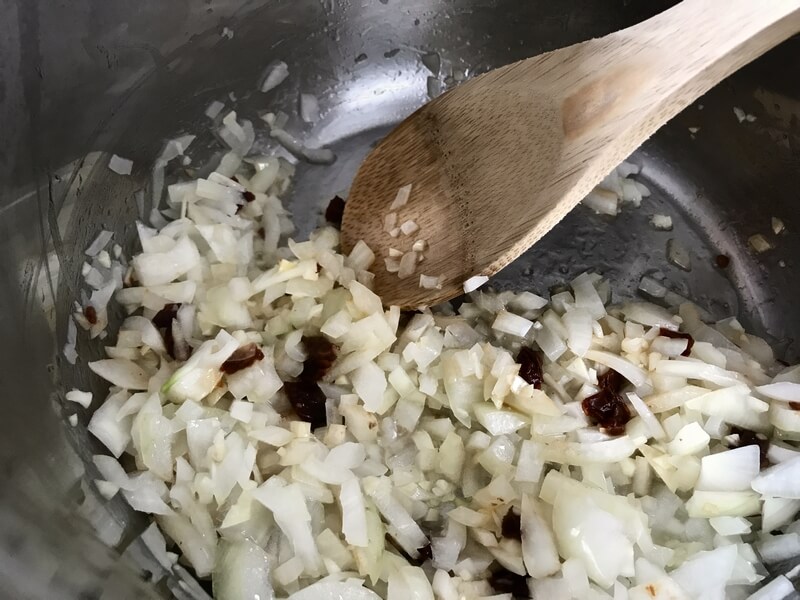 Turn on your Instant Pot, and set it to Sauté. Then add two teaspoons of olive oil, and the diced onions, garlic, and chipotle peppers.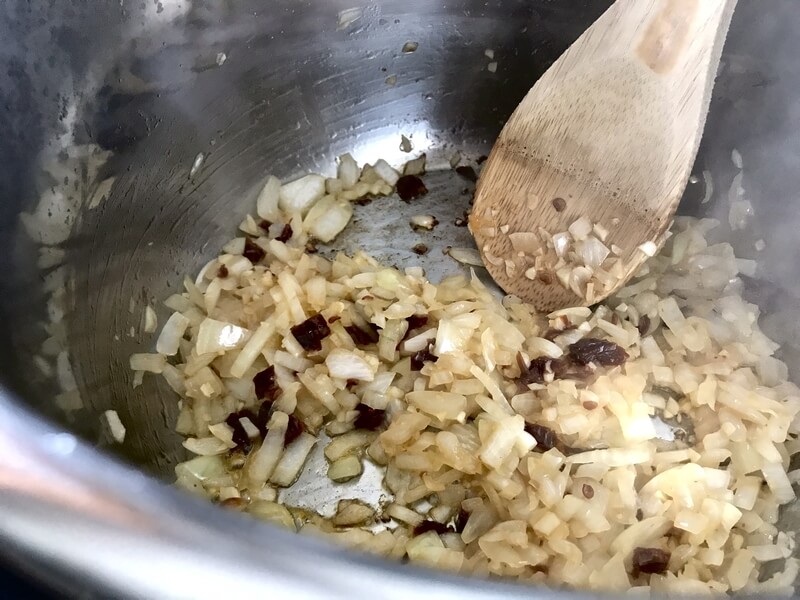 Cook for a few minutes, until the onions are softened.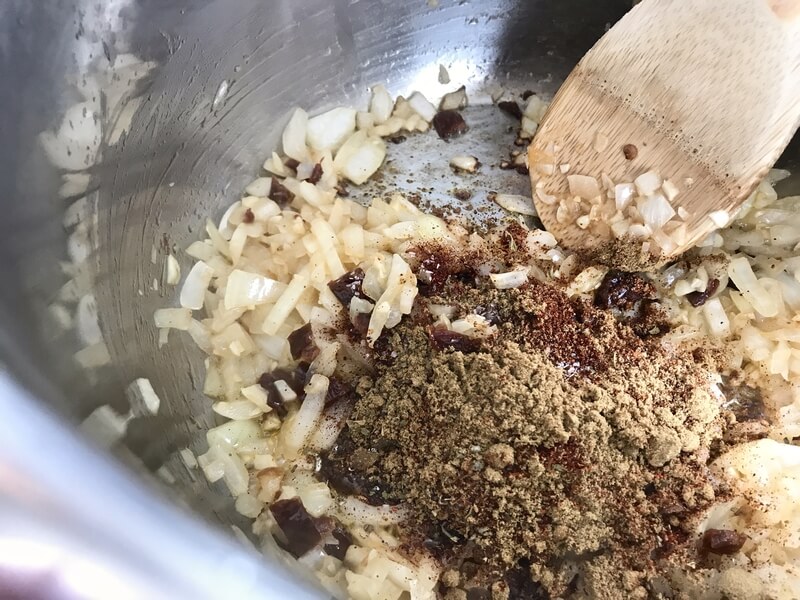 When the onions are softened, sprinkle in 2 teaspoons of cumin, 2 teaspoons of chili powder, and 1 teaspoon of oregano. Also, add in the tablespoon of the adobo sauce that's in the can of chipotle peppers. Stir it all around, and let it cook for a couple of minutes.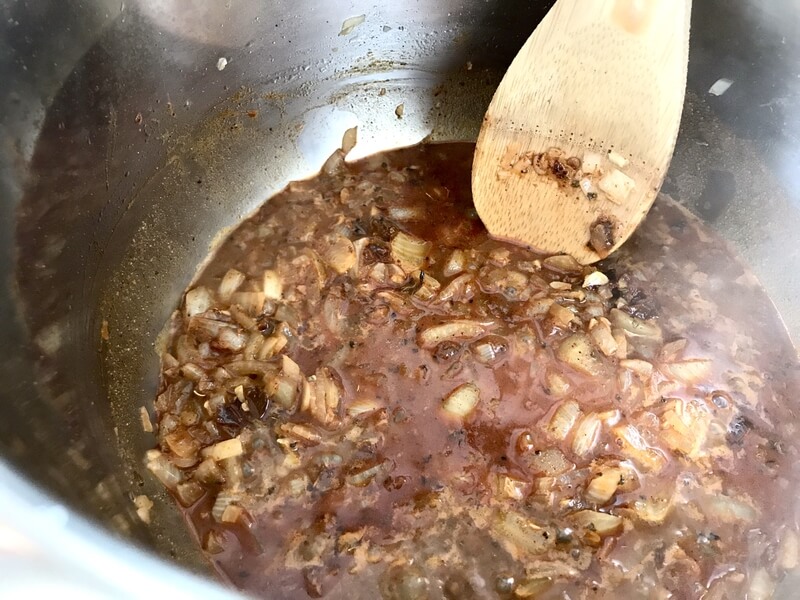 After a couple'a minutes, pour in 1/2 cup'a chicken broth to deglaze the pot. (Deglazing is a fancy word for just getting all the lil' bits that are stuck on the pan… unstuck.)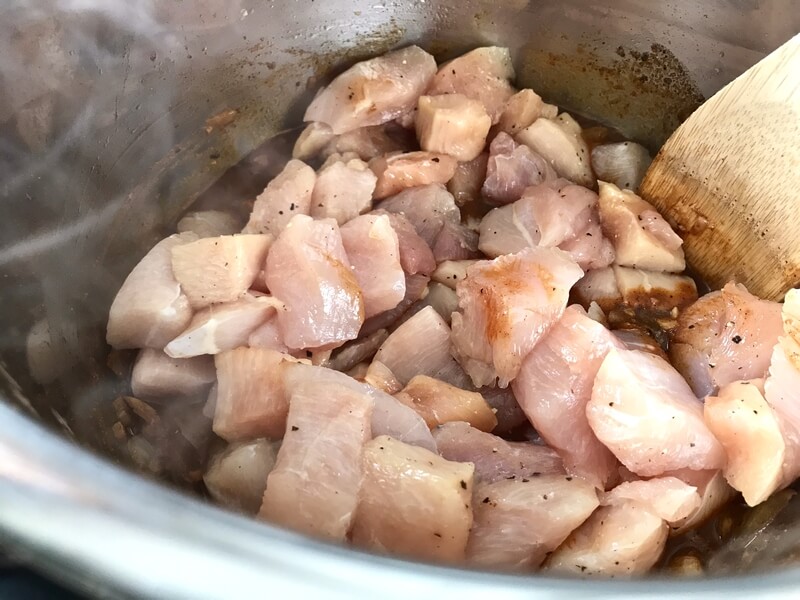 Throw in those chunks of diced chicken!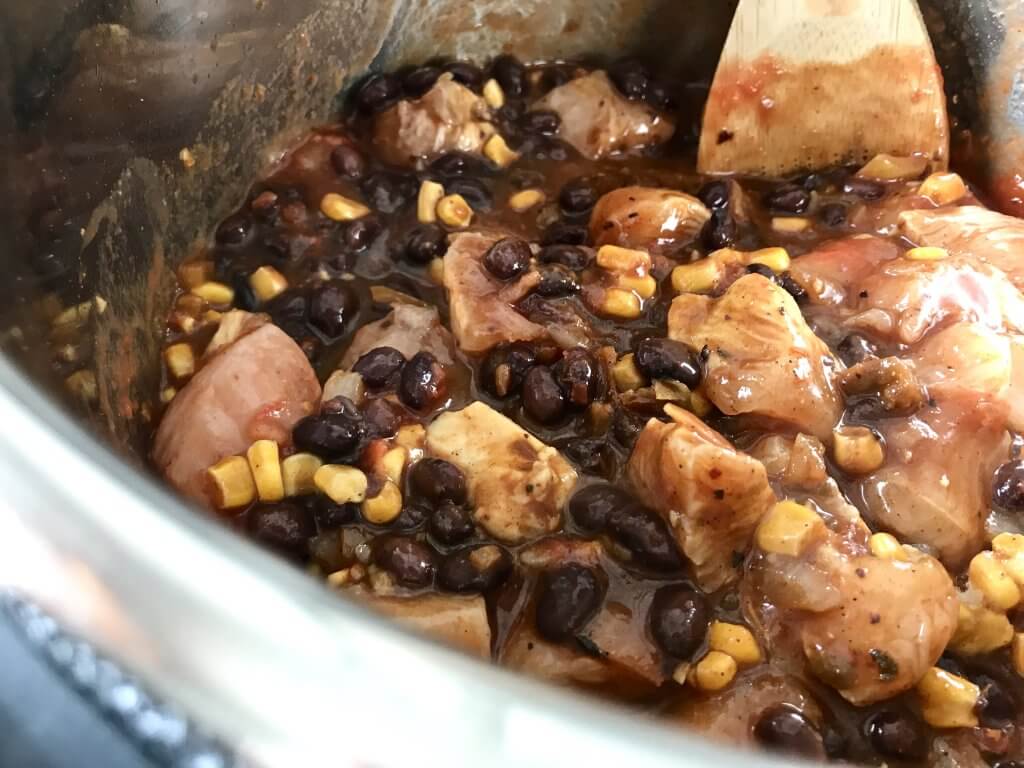 add in your can of drained black beans, 1 cup frozen corn, and 1-1/2 cup of salsaaaaa. Try to use a brand of salsa that you and your family enjoy, because everything in the pot is gonna take on a lot of that flavor!
Sprinkle long grain white rice on top, okay? Not minute/instant rice, the original, old-school kinda rice. Do not mix it in. I repeat- do not mix! The first two times I tested this recipe, I shoved the wooden spoon down in, and mixed it all together. And… Don't.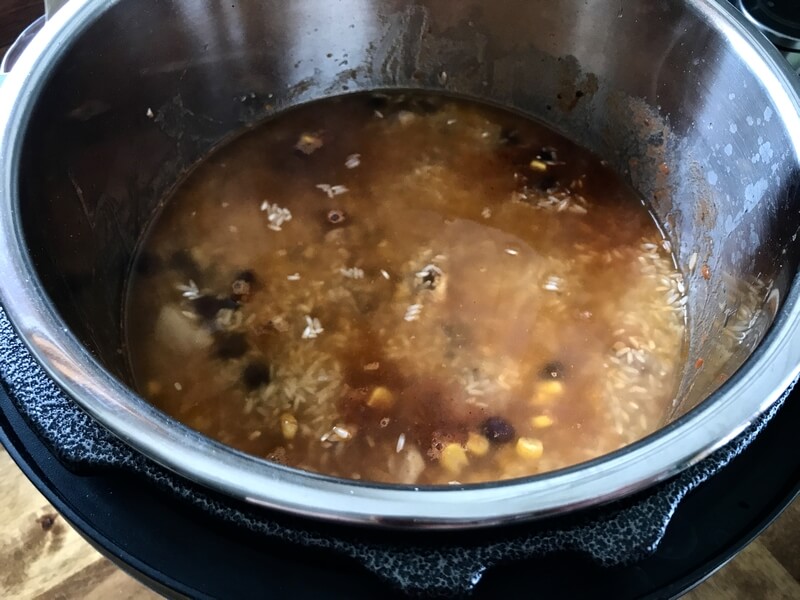 Pour the remaining 1-1/4 cup'a chicken broth over the rice. If there are some little islands of rice sticking up above the broth, well, just gently press it down beneath the surface. Don't mix it!
Use the manual setting, set to Pressure Cook HIGH for 10 minutes. Close and lock the lid. When the cooking time is complete, do a quick-release of pressure.
(NOTE: If you're new to the Instant Pot, this Quick Release step can be a little intimidating. And I won't lie – it can even be a little dangerous. After all, we're releasing pressurized steam that's heated to around 200 degrees F. I PROMISE that once you've done this a couple times, you'll know exactly what to expect, and there's nothing to it. But if it's done in a very wrong way, there's a very real possibility of getting serious burns. So I recommend you thoroughly read or review the official Instant Pot instructions for this quick release step. And it probably wouldn't hurt to watch a couple YouTube videos of reputable cooks demonstrating how it's done, properly and safely. Don't be scared off by this step, because MANY Instant Pot recipes require a quick release. But in the kitchen, whether you're cutting with a super-sharp knife, or using a food processor, or pouring boiling water through a strainer, the same applies for this Quick Release step: DON'T RUSH, and SAFETY FIRST!)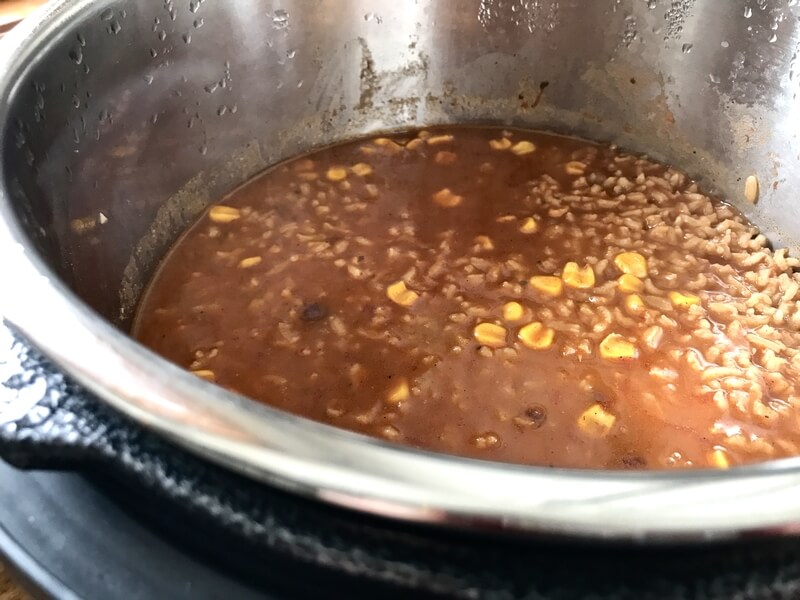 Nice. I know it ain't too purdy, but your kitchen is gonna smell insanely good.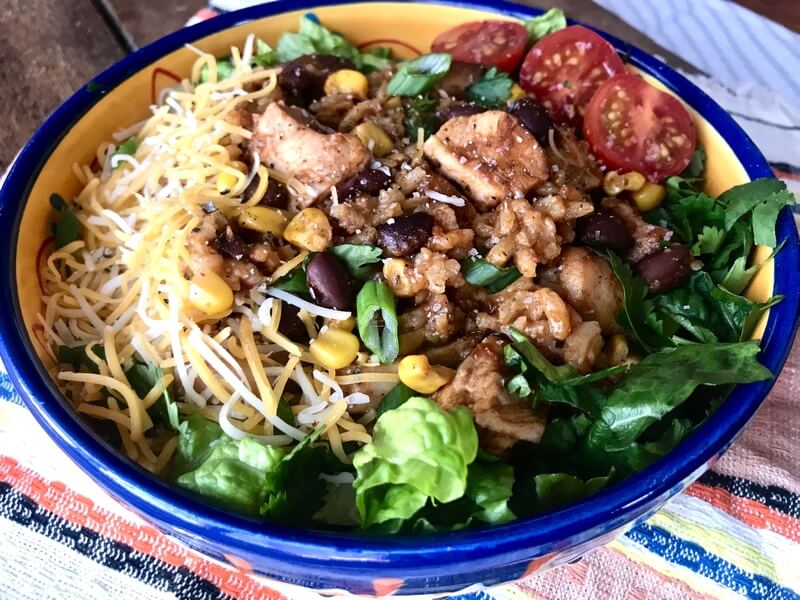 There we go! That's a little more somethin' to look at. The key to burrito bowls is toppings, because it wouldn't taste burrito-y without'm. Add some fresh crunchy lettuce, a little cheese, tomato/pico de gallo, maybe even some avocado if you're gettin' crazy. Throw your perfect mix of goodies into the bowl, and you seriously have yourself a pretty dang good dinner, that you barely had to do anything for… which is amazing in itself! Gotta love that Instant Pot.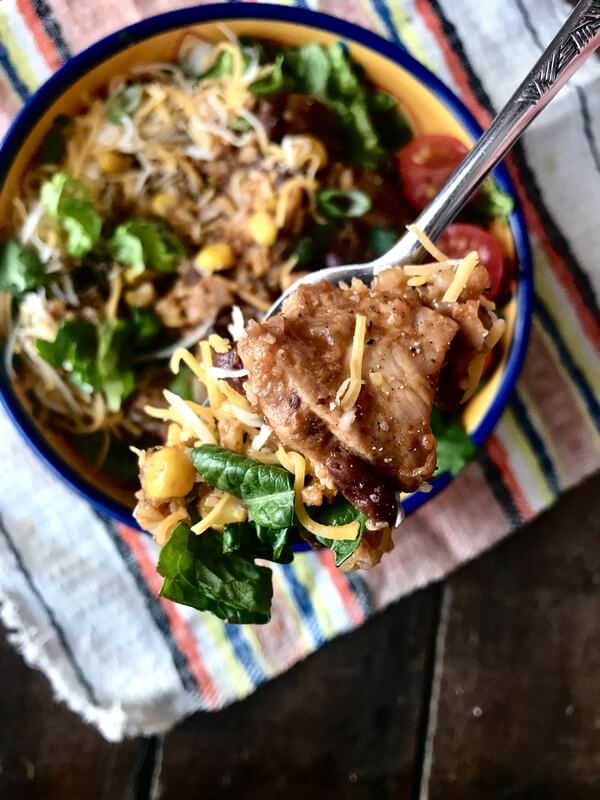 The best bite: a lil bit of it all… OH YEAH.
I hope you love these Instant Pot Chicken Burrito Bowls so very much!
If you happen to need an Instant Pot, click here for the same one I have!
If you make this recipe, I would love you to let me know how they went! Here in the comment section, or over on my Instagram or Facebook!
With love, from my kitchen to yours,
Star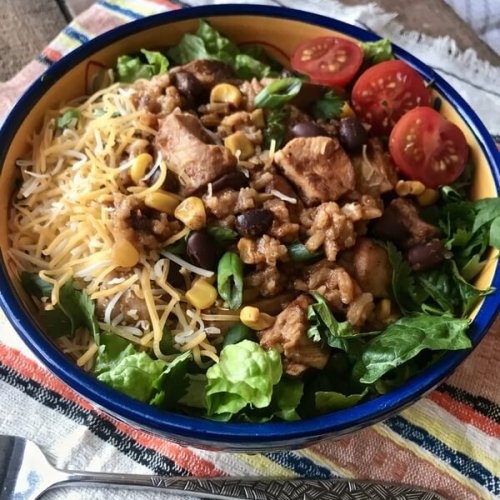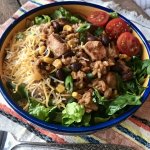 Print
Instant Pot Chicken Burrito Bowls
This all-in-one meal is perfect for a quick and easy dinner, or meal prep for lunch time! The Instant Pot Chicken Burrito Bowls feature chicken, rice, beans, corn, and outstanding flavor that all comes together quickly in one bowl.
Materials
2

tsp

olive oil

1

large

onion

chopped

4

cloves

garlic

finely chopped

1

medium

chipotle pepper in adobo sauce, diced

you can find them in a can in the hispanic section

1

tbsp

adobo sauce

from the same can that you get the chipotle pepper from

1

tsp

oregano

2

tsp

chili powder

2

tsp

cumin

1-3/4

cups

chicken broth, low sodium if available

set 1/2 cup seperately

1½

lbs

fresh chicken breast, raw

1

15 oz can

black beans

(about 1½ cups) drained, but not rinsed

1

cup

frozen corn

1-1/2

cups

jarred/fresh salsa

be sure to use a brand that you know and love

1

cup

long grain white rice

do not use instant/minute rice
Ideas for toppings, optional
avocado/guacamole

chopped tomatoes

shredded cheese

chopped romaine lettuce
Instructions
Dice chicken breast into small bite size pieces and season with kosher salt and pepper. Set aside.

Turn on sauté setting, add oil, heat for a minute or two and add onions, garlic, and chipotle pepper stirring occasionally until the onions are softened.

Stir in the chili powder, cumin, oregano, and adobo sauce cook for about 45 seconds.

Add ½ cup of the chicken broth, reserving the rest of the broth for a bit later, stir together and cook for about a minute.

Add diced chicken breast, beans, corn, and salsa. Stir together well.

Sprinkle rice over the top of the chicken, beans, and corn, but do not stir it in with the other ingredients.

Pour the remaining 1¼ cup of broth over the rice. If there seems to be some "dry rice" spots. Gently push it down with a spoon, but do not stir.

Use the manual pressure setting and set to high for 10 minutes. Close and lock lid.

When the cooking time is complete, do a quick release of the pressure.

Scoop into bowls and add your favorite toppings! Enjoy!
Notes
Serving size: 1-1/2 cups calories: 367, fat: 4g, saturated fat: 0.7g, carbohydrates: 42g, fiber: 4g, sugar: 4.7g, protein: 41g WeightWatchers Points: 4 Points