Instant Pot Buffalo Chicken Tacos
This post may contain affiliate links (meaning I earn a small comission if you purchase an item through a link I provide) I only provide shoppable links to items I love and are helpful. As an Amazon Associate, I earn from qualifying purchases.
Instant Pot Buffalo Chicken Tacos are a life saver kind of meal. They are absolutely delicious! Perfectly cooked buffalo chicken and crazy good (and easy) coleslaw on top of a charred taco shell. Buffalo Chicken in the Instant Pot is the hero of super busy week nights here.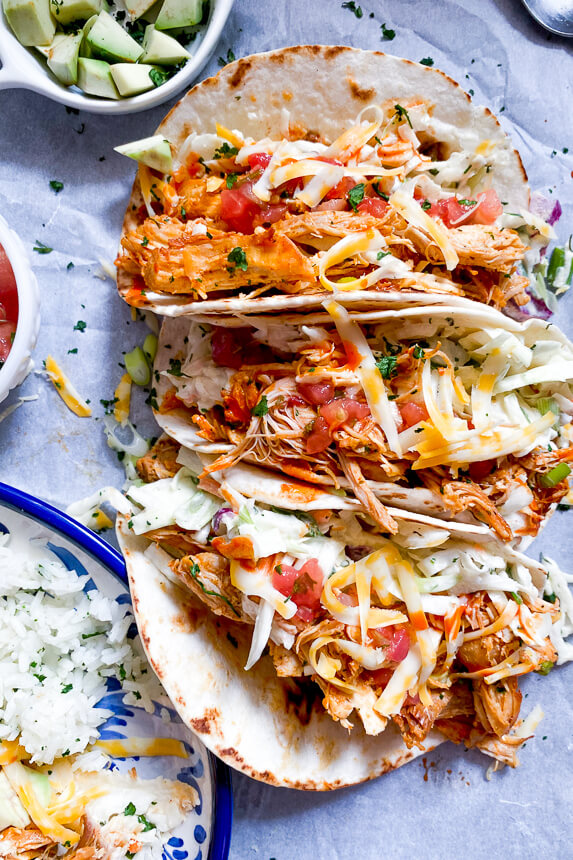 Did this photo make you drool? Same. Here in this house, tacos rule. Honestly we have some form of a taco situation at least once a week, sometimes even more. When I grew up we had taco night weekly, but it was usually the classic ground beef style taco (which I LOVE so no hate). Now that I've realized that a taco shell is such a blank canvas therefore they can really be anything they want to be. And these Buffalo Chicken Tacos are the perfect example. Craving Buffalo Chicken and Tacos? Good. Me too. Make'm soon!!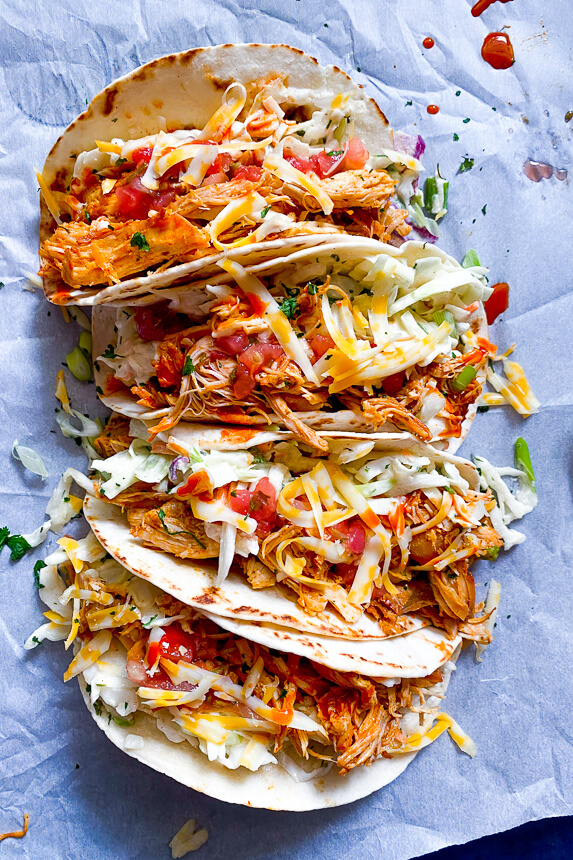 Buffalo Chicken Tacos are your new best friend.
I had to share these with you they are the most perfect weeknight hero dinner. As a matter of fact, they're so easy Eric can make them. And friends, that means something. We throw THREE!! ingredients into the Instant Pot and set it and forget about it (for just a bit). We grab a bowl and add a bag of coleslaw from the produce section along with a few easy spices, mayonnaise, and vinegar. Toss it all together and wait for the chicken to finish, shred with forks, and broil. Add to a tortilla (or bowl if you wanna go low carb) and top with cheese and salsa, if desired. This recipe is healthy, easy, quick, and incredibly delicious. Those four words are very important here in skinny(ish) dish world.
THE INSTANT POT BUFFALO CHICKEN PART:
Gather THREE(ish) ingredients!
chicken breast and/or chicken thighs (we enjoy a mixture of the two for texture and it's a bit more budget friendly too).
buffalo sauce (we prefer Frank's, make sure that it's buffalo sauce and not just hot sauce- it matters!)
ranch dressing seasoning packet (we prefer hidden valley restaurant style). If you need lower sodium check out Dak's Salt Free Ranch then you can salt to taste later on!
black pepper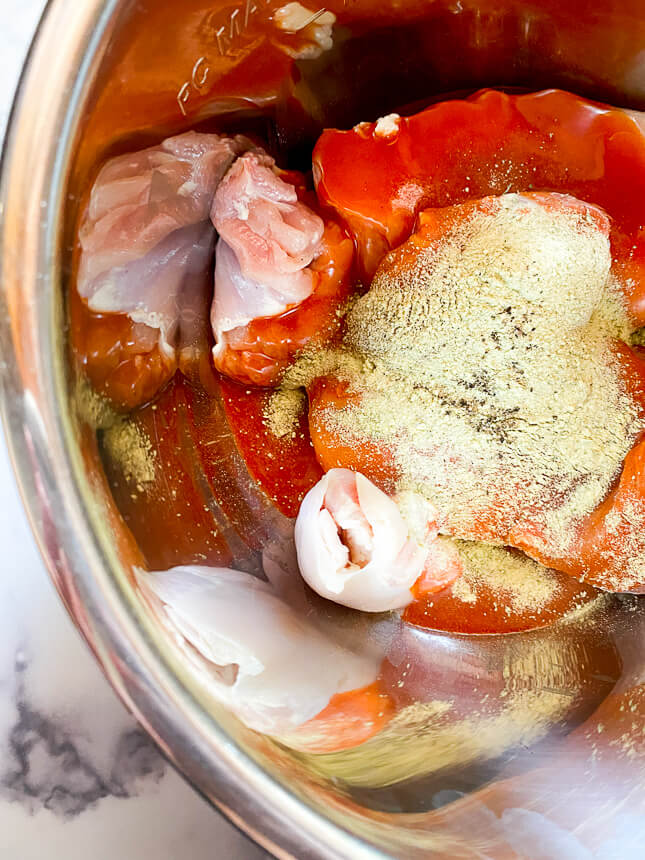 Place chicken breast, chicken thighs (if using), 1/2 cup buffalo sauce, ranch packet, and pepper in the instant pot. Set to high pressure for 12 minutes, cook chicken, and then let release naturally for about 10 minutes. If after 10 minutes the pressure isn't released completely manually release the pressure.
When the chicken has finished cooking grab to forks and gently shred the chicken. Some folks use a hand mixer here, but I personally like the meat to have more pieces especially in recipes like this.
If you've ever made my recipe for Chicken Carnitas you know how important this next step is! Line a sheet pan with aluminum foil for easy clean up, lightly spray with cooking spray, and spread the shredded chicken onto the pan along with all the sauce from the instant pot. Then broil for about 10-12 minutes or until you start to see crispy bits and the liquid dries up. It's perfection on a pan and the flavor is top notch.
THE COLESLAW PART: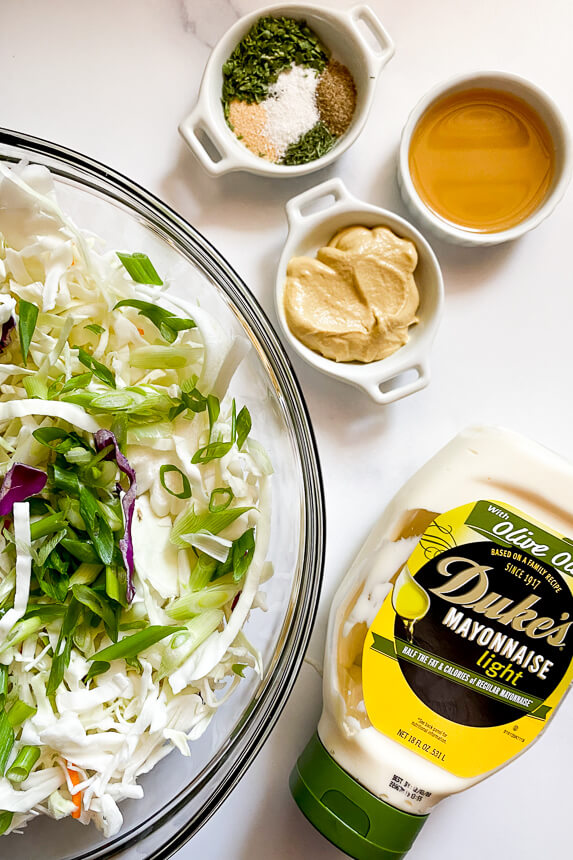 Most importantly, all tacos could benefit from a good crunchy fresh slaw. This coleslaw totally puts these Buffalo Chicken Tacos over the top. You're going to want to serve these for a special occasion because they are epic. And this slaw literally couldn't be easier. I've started making it as a super easy side dish on a regular basis that's how much I love it.
bag of shredded slaw mix from the produce section (shredded cabbage with shredded carrots)
mayonnaise
apple cider vinegar (white vinegar works)
green onions
dijon mustard
a lil sweetener to taste (I use stevia in the raw usually- sugar or honey works perfectly too)
spices (dried dill, garlic powder, parsley, celery salt)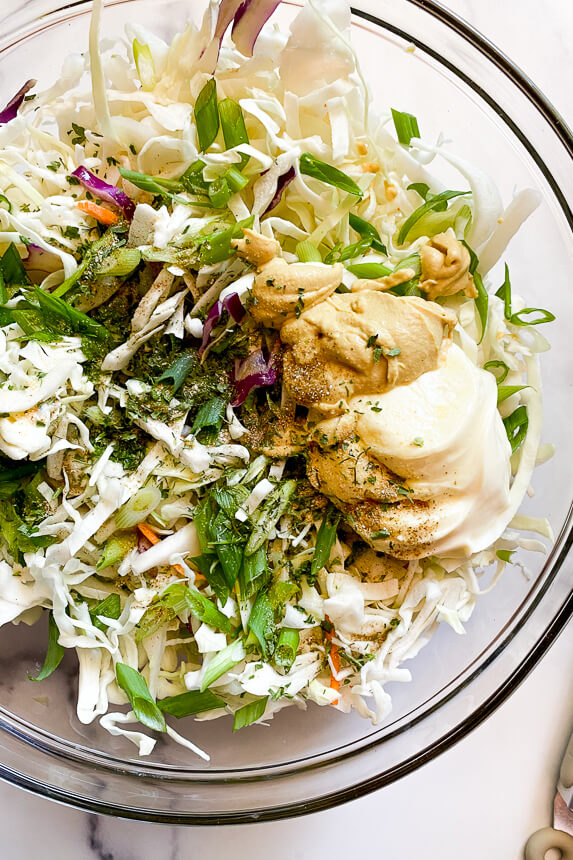 Add all ingredients to a bowl then toss together until its combined. After that set in the fridge while the chicken finishes cooking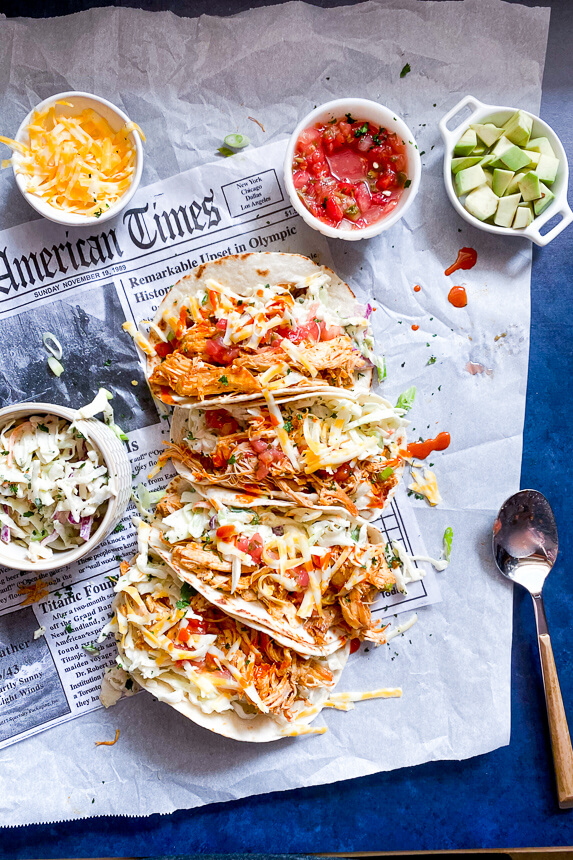 BUILD THE PERFECT TACO:
Heat your tortillas (corn or flour).
Add a little coleslaw.
Add Buffalo Chicken.
Top with a little extra slaw.
Throw on some extras like Colby Jack cheese, mozzarella, or bleu cheese (if that's your thing).
Maybe even add just a little salsa and diced avocado to really hit all the bases, k?
Got a lime? A little fresh squeezed lime over all of it never hurt anyone.
Next, you're gonna need to chow down. I mean how good does this look? It's 7:30 am and I absolutely need this for breakfast right now.
WHAT GOES WITH BUFFALO CHICKEN TACOS?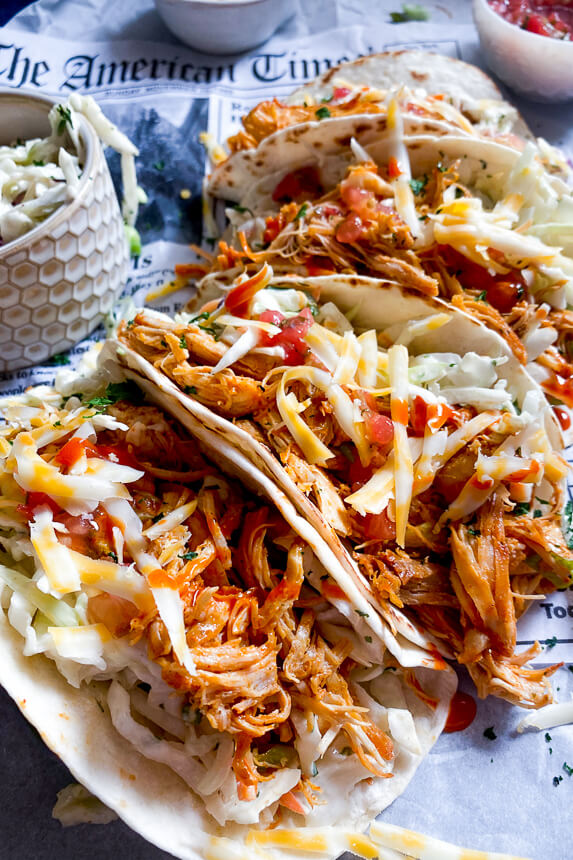 MORE BUFFALO CHICKEN RECIPES TO LOVE:
Print
Instant Pot Buffalo Chicken Tacos
Instant Pot Buffalo Chicken Tacos are an easy weeknight dinner. Taco shells filled with yummy buffalo chicken and topped with a fresh creamy coleslaw .
Materials
THE BUFFALO CHICKEN
1

lb

boneless skinless chicken breast

(you can use all chicken breast or all chicken thighs or a mix of the two- you just need two pounds total)

1

lb

boneless skinless chicken thighs

1

Ranch Seasoning Packet

½

cup

Buffalo wing sauce

(be sure its not just plain hot sauce- it makes a difference)

1/4 tsp pepper
THE SLAW
1

lb bag

coleslaw mix

(or you can shred your own cabbage)

1/2

cup

thinly diced green onion

1/4 cup + 1 tbsp Light Mayo

(I use Dukes)

2

tbsp

apple cider vinegar

(white vinegar will work)

2

tbsp

dijon mustard

1/2

tsp

dried dill

1/2

tsp

garlic powder

1/4

tsp

celery salt

1/2

tsp

sweetener of choice

(I use stevia in the raw and 1/2 tsp is plenty- if using a different sweetener or sugar/honey. I'd start with a little and add to taste!)
tortillas

(corn or flour)

cheese if you want it!

we like Colby Jack, mozzarella, or bleu cheese here!

tomato/avocado/salsa if you want it!
Instructions
Instant Pot Buffalo Chicken
Place chicken, ranch seasoning, pepper and buffalo seasoning into the instant pot. Put the lid on and click into the lock position. Cook on high for 12 minutes. Let naturally release for about 10 minutes. Shred chicken with two forks. I recommend the fork method and keeping pieces larger.

Line a sheet pan with aluminum foil (for easy clean up), spray lightly with cooking spray, and add the chicken and juices/sauce from the instant pot. Spread out and broil for about 10-12 minutes or until you've got some browned and crispy edges on the pieces.

Build the tacos!: Warm the tortillas. Add chicken, slaw, and any desired taco-y toppings like cheese, avocado, salsa, and/or tomatoes! They taste perfect just as is!
Notes
Makes about 10 Tacos depending on appetite. Please adjust these measurements depending on how you like to eat your tacos/your calorie/ww needs.
The type of tortilla isn't included in any of the information below since there is a wide variety of type and size.
Nutritional Info coleslaw: (I add about 1/2 cup on each taco so per 1/2 cup) 34 calories, 3g fat, 150g sodium, 2g carbohydrates (1g net carb), 0.8g sugar (0g added sugar, 0g sugar alcohol) 0.5g protein
coleslaw (1 cup)
Weight Watchers Points: 1 point
Nutritional info for Buffalo Chicken (breast and thigh mixture): per 1 oz cooked | 48 calories, 9g protein, 1g fat, 0g carbohydrates, 0g net carbs, 0g saturated fat, 150 g sodium, 0g fiber, 0g sugar (0g added sugar, 0g sugar alcohol),
WeightWatchers Points: 1 point per ounce
Nutritional info for Buffalo Chicken (breast only): per 1 oz cooked | 46 calories, 9g protein, 1g fat, 0g carbohydrates, 0g net carbs, 0g saturated fat, 150g sodium, 0g fiber, 0g sugar (0g added sugar, 0g sugar alcohol)
WeightWatchers Points: 0 Points per ounce