This post may contain affiliate links (meaning I earn a small comission if you purchase an item through a link I provide) I only provide shoppable links to items I love and are helpful. As an Amazon Associate, I earn from qualifying purchases.
This is literally about to be the quickest post I've ever done on this page. Green Bean Casserole is just about my favorite thing in this world. It's right up there with Iced coffee, Pepper hugs, and sleep. So as you can imagine, It really is one of my favorite things. Me and my big ol mouth promised that I would get my lightened up Green Bean Casserole up on the blog today….. and of course, things are happening that are making it take a liiiiiittle longer than expected.
I woke up this morning and started making this delicious casserole before I was even fully awake. So that I could share some photographs of it and the process. I'm surprised I didn't pour my sweetener in here instead of my coffee, to be completely honest. I got it aaaall made and I went to put it into the oven and I realized the oven was still stuck at 100 degrees… and I'm like, 'hm, that's weird". I didn't think much of it at first. I popped the casserole in and quickly realized it wasn't heating whatsoever. SO in conclusion, you guys aren't getting a finished product photograph tonight because well, I never finished the casserole from this morning. I hope you don't mind. I'm up to my dang ears in green bean casseroles as the last week I've been making it and perfecting the lightening up process. You think I would have taken a photo of it just ONCE… Nah, not me.
Also,
Little Pepper is teething…. her back molars teething, and there doesn't seem to be much relief, so just about every hour I was awaken by little sobs through the monitor so I dutifully went and comforted her every time… and I am beat. 100% beat right now.
One more thing, I promise I'm not complaining, I'm just really tired and I'm on my third large coffee from Starbucks today. It's not helping. Why isn't it helping?
We also had family Christmas photos this afternoon! Despite those nasty teeth, Pepper had such big smiles for our beloved photographer. I can't wait to show pictures from it. You'll see them as soon as I do!
Now let's get cooking! I've made green bean casseroles a few different ways over the years… from scratch with fresh beans, cheese sauce.. etc, but I always, always come back to the good old american way. So today, This is the one I'm sharing with you. Maybe next Thanksgiving I'll share my from scratch way, but I love it this way best.
Since you're probably making this along side a few other side dishes from a big ol family holiday dinner. You'll probably want to skip dirtying dishes where you can. Go ahead and just mix this up right in the pan that you'll use for cooking. I used a 3 quart circle casserole dish because it looked pretty. You can use any type of dish you please, really. Lightly spray with cooking spray. Add three cans french style green beans, 1 can 98% reduced fat cream of mushroom soup, 3/4 cup reduced fat shredded colby jack cheddar, 1/2 cup milk, 3 TBS dried minced onions, and fresh cracked pepper. Mix together thoroughly.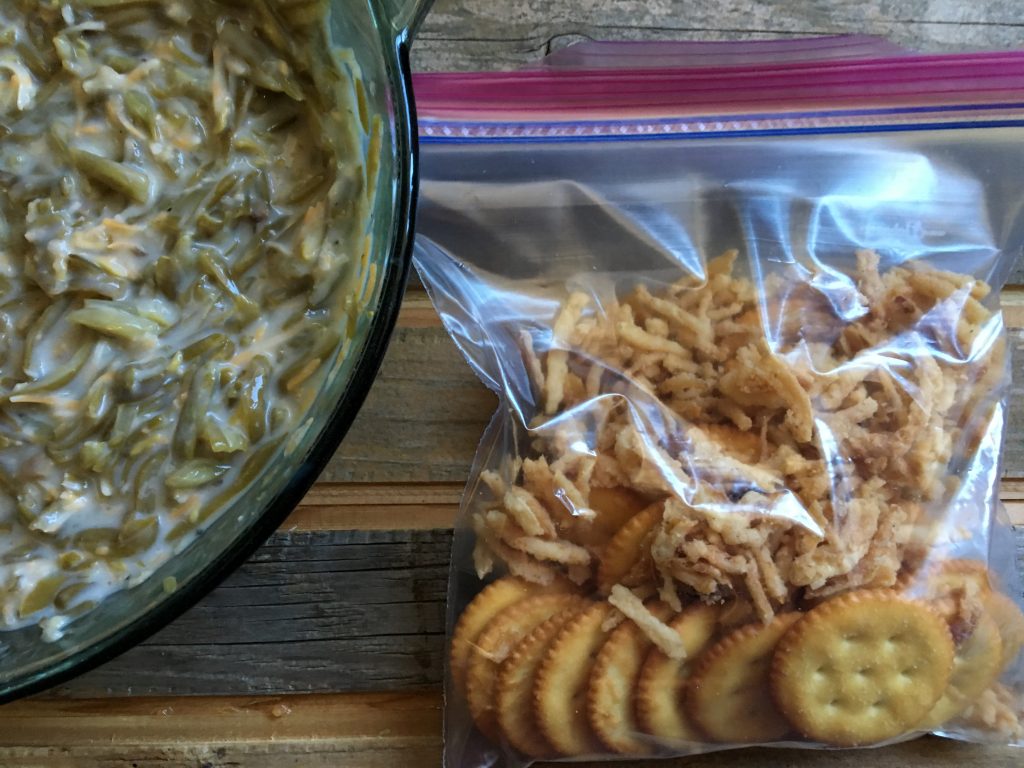 Now grab a plastic baggie and add 15 ritz cracks and about 2 oz of french fried onions.
Smash them up real quick! and pour into a small bowl.
Grab two tablespoons of light butter. (You may use real butter if you want, but points/calories will change) I use Land O Lakes because it's the only brand I can find in this area that has light butter. Use whatever you'd like!
Melt butter in a small microwave safe bowl for about 25 seconds in the microwave.
Pour into your cracker and french onion mixture and mix together thoroughly. I find using a fork really gets the butter to mix with all of the crumbs. Spread on top of the green bean mix in the casserole dish.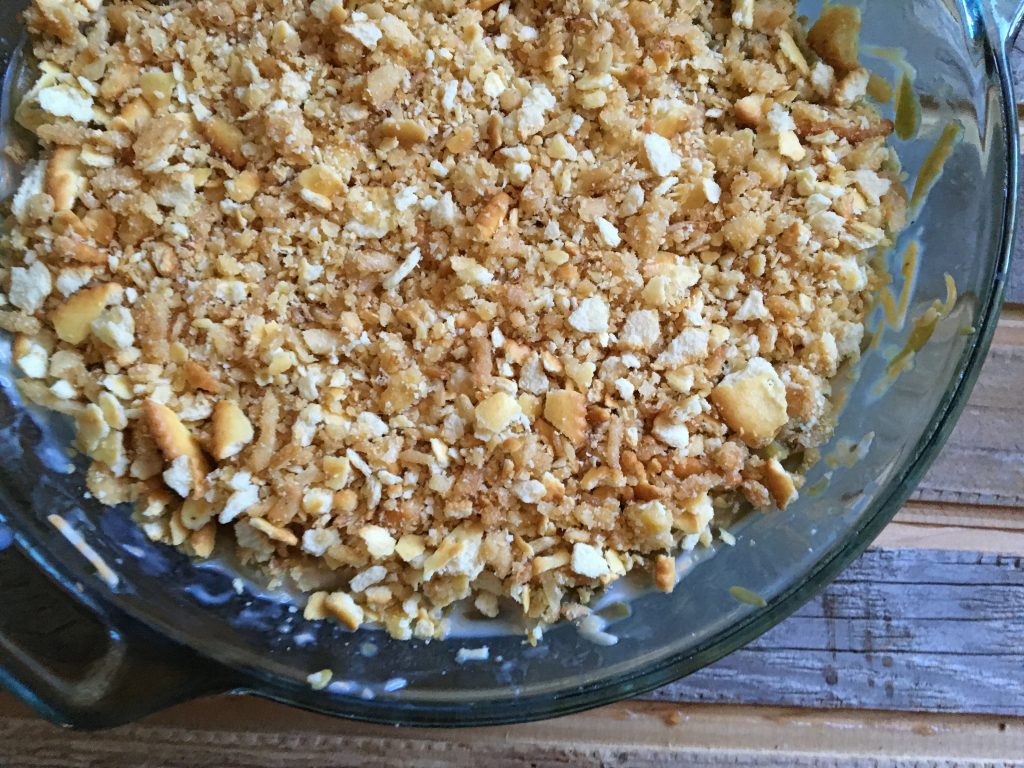 Here's where things get funny: I don't have a photo of it fresh out of the oven because if you read above…. the oven broke this morning while I was photographing this for the blog.
and you also probably read that I've already made green bean casserole 3 times this past week.
I cannot make another Green Bean Casserole until Thursday…. I just can't.
So! I'll update you all with a finished product photo then.
Until then….
Make this.
Make this.
Make this.
I'd send you all a sample if I could!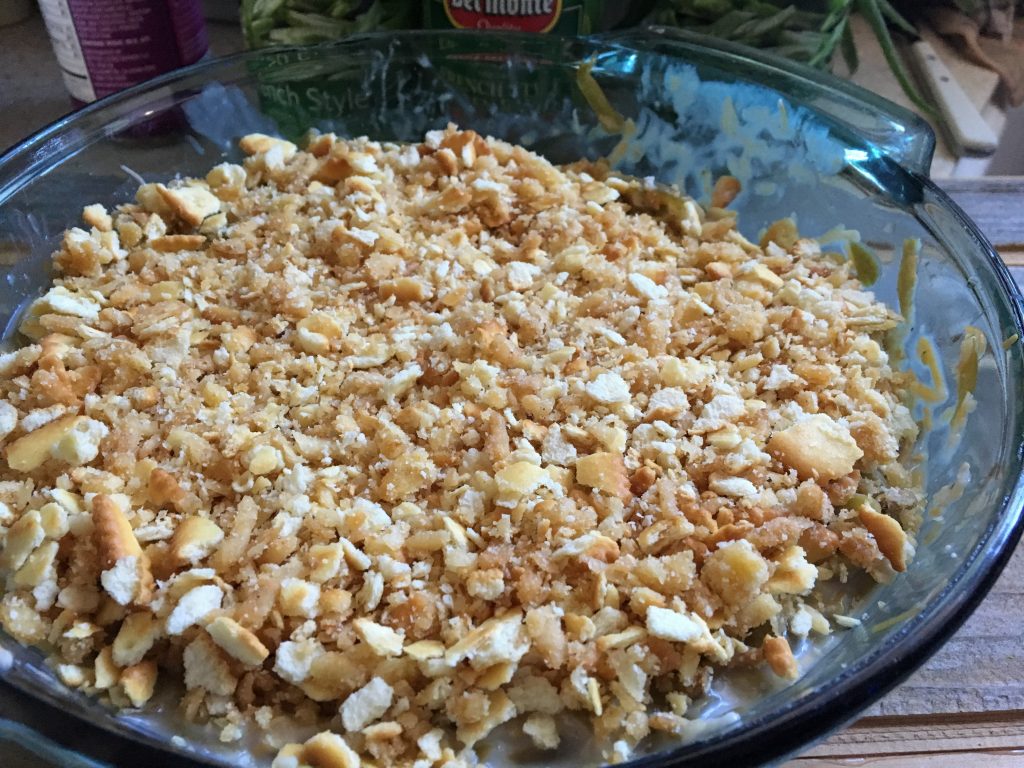 Happy Cooking!
With love from my kitchen to yours,
Star
Print
Green Bean Casserole
lightened up good old fashioned creamy, cheesy green bean casserole with a crunchy cracker and onion topping.
Materials
3 14.5

oz

cans french style green beans

1 10.5

oz

can 98% fat free cream of mushroom soup

3/4

cup

reduced fat shredded cheddar

1/2

cup

1% milk

3

tbs

dried minced/chopped onion

15

buttery round crackers

, such as ritz

2

oz

french fried onions

, such as french's

2

tbs

light butter

, such as land o' lakes

fresh cracked pepper

cooking spray
Instructions
Preheat oven to 350 degrees, lightly spray a large casserole dish with cooking spray, add french style green beans, cream of mushroom soup, milk, dried minced onions, shredded cheese, and freshly cracked pepper. Mix together well. In a plastic bag, combine ritz crackers and fried french onions. Smash bag with hands until crackers and onions are crushed. (Roughly crushed) Pour crushed mixture into a small bowl. Melt 2 tbs of butter in a the microwave for about 25 seconds. With a fork, stir the melted butter into the crushed mixture until combined well. Pour evenly over the top of the green bean mixture. Place into preheated oven uncovered for 25 minutes or until topping is golden brown.
Notes
Serving size: heaping 1/2 cup
115 Calories 6g fat. 2g saturated fat. 11g carbs. 2g fiber. 3.5g sugar. 4g protein
WeightWatchers Points: 4 Points