This post may contain affiliate links (meaning I earn a small comission if you purchase an item through a link I provide) I only provide shoppable links to items I love and are helpful. As an Amazon Associate, I earn from qualifying purchases.
Greek Roasted Vegetables are perfectly seasoned, healthy, and compliment so many different meals. They are practically effortless and I love the bright and delicious Greek inspired flavor. They make a great side dish!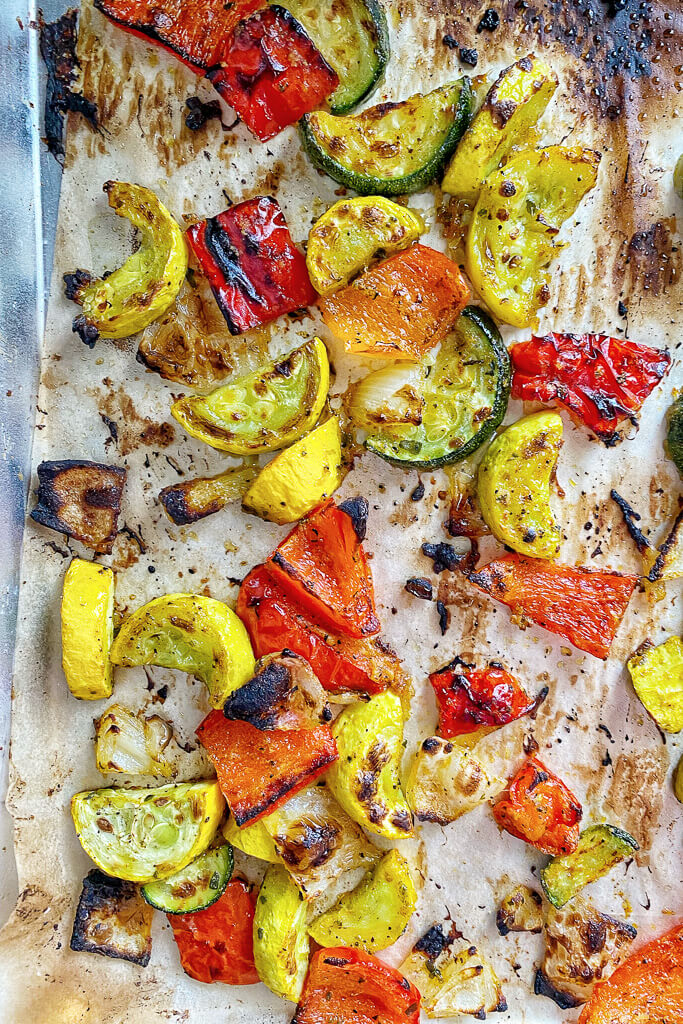 From time to time when we're running errands in Knoxville I like to grab some take out from Taziki's Cafe. It's a small chain that highlights meals with Mediterranean flavor. I normally get the grilled chicken plate with grilled vegetables and salad. The vegetables are SO SO SO GOOD. Honestly, there are times where I would be fine eating just hummus, pita, and vegetables. Since I'm me, I decided to just start making the Greek vegetables at home with so many different meals! Sometimes I eat them with just pitas a hummus over greens.
I use a variety of vegetables, but my favorite mixture is actually zucchini, red bell pepper, red onion, and asparagus. I didn't add asparagus to this batch because it's currently winter as I'm writing this and it just wasn't looking real good at the grocery store. I've also thrown in cherry tomatoes and broccoli when they needed to be used up! It's easy to make it your own with your favorite vegetables or whatever vegetables need to get used up in your fridge. If you've been looking for ways to liven up your dinner plate vegetables, this is it, folks!
This recipe shouldn't be confused with a traditional Greek roasted vegetable dish called Briami. This recipe is Roasted Vegetables inspired and infused with Greek flavors. Traditional Briami is absolutely delicious, but I've never actually made it at home. I will have to try a recipe some day for it though.
HOW TO MAKE GREEK ROASTED VEGETABLES: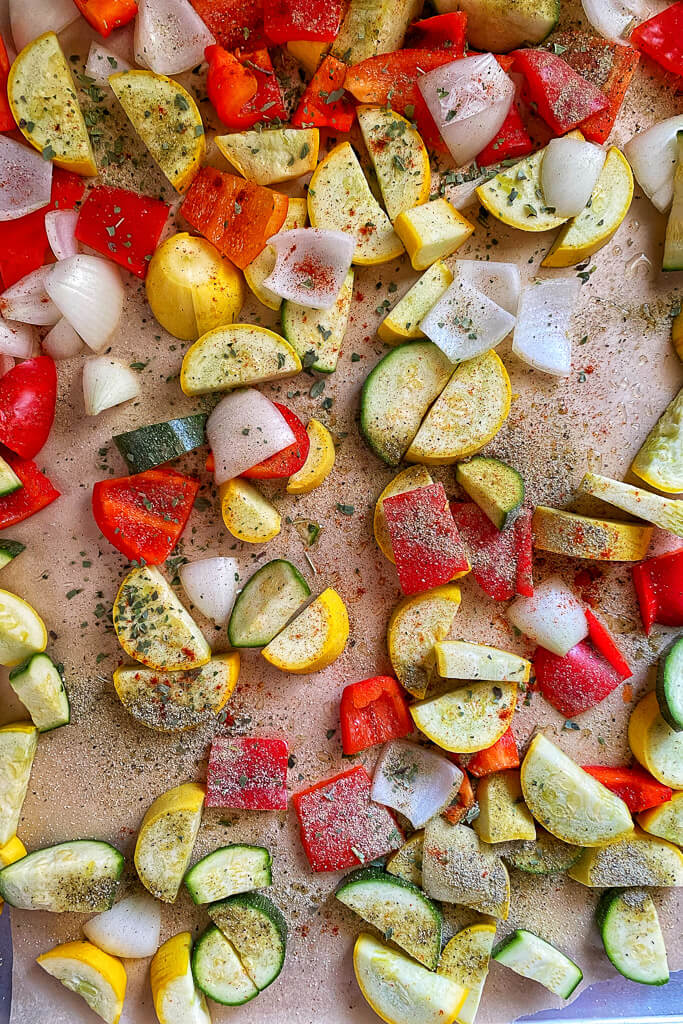 Start off by lining a sheet pan with aluminum foil and then spraying it with avocado oil cooking spray. Please pay no mind to my photo I wasn't thinking and used parchment paper and that's actually not a good idea if you choose to broil the vegetable at the very end like I do. WHOOPS. You don't have to even use aluminum foil, but it just makes clean up easy peasy and I like easy peasy clean up!
Make sure to use an extra large baking sheet. I love this one, but if you don't have an extra large sheet pan. No worries! Just use two smaller pan and make sure to not over crowd the vegetables. They need room to cook otherwise they'll just steam in the oven and we don't want that. We want those caramelized, lightly crispy and brown edges for ULTIMATE PERFECTION. These vegetables are going to convince you to eat more vegetables. I swear it.
Anyway, now that we've talked about… the pan. We're going to talk about the vegetables! You can totally use whatever vegetable that you A) love most or A) are on their last leg of life in the dark veggie crisper drawer begging for mercy. I personally love a good healthy mix of asparagus, red bell pepper, red onion, and zucchini, but we've also thrown in carrots, yellow squash, broccoli, cherry tomatoes. Eric wanted me to try with mushrooms, but after he asked me that I told him to sleep in the garage so we never gave it a try. I'm joking! Sorta.
Some vegetables are more dense than others so just keep that in mind. You can use less than 2 lbs, but if you want to use more I would actually suggest making two batches because again, we don't want these babies to steam in the oven so give'm room to bloom!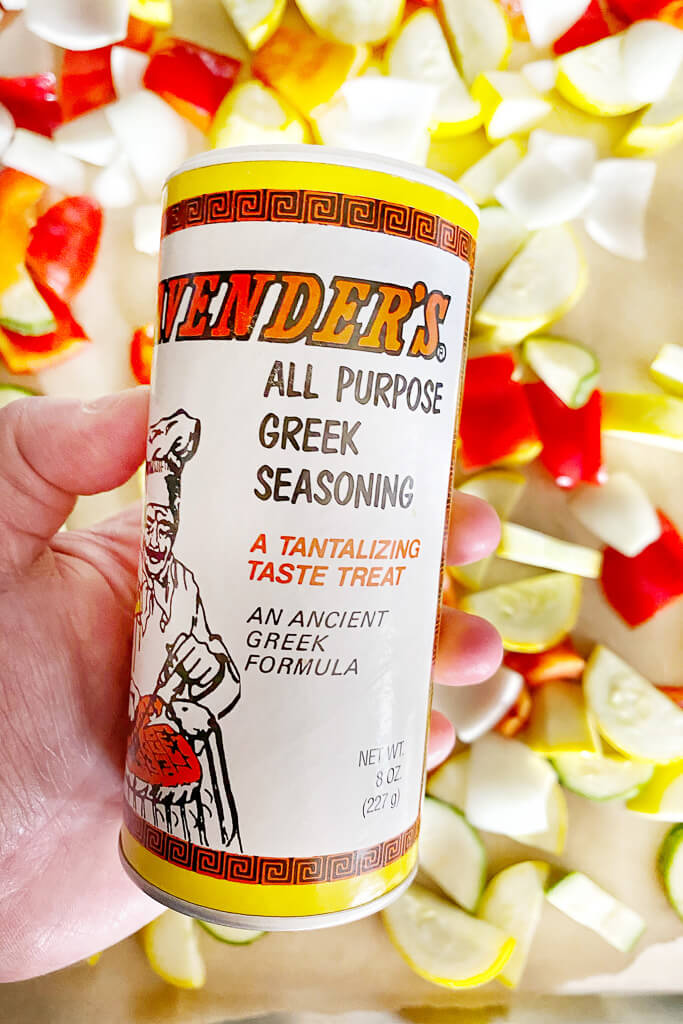 A few years ago I picked up Cavender's Greek Seasoning and I've been buying it ever since! It's so delicious. I've been able to find it at most any grocery stores, but you can also purchase it here. They also make a salt free version so you can add salt for your self if that's a concern. I'm also a big fan of Penzey's Greek Seasoning, it's equally as delicious!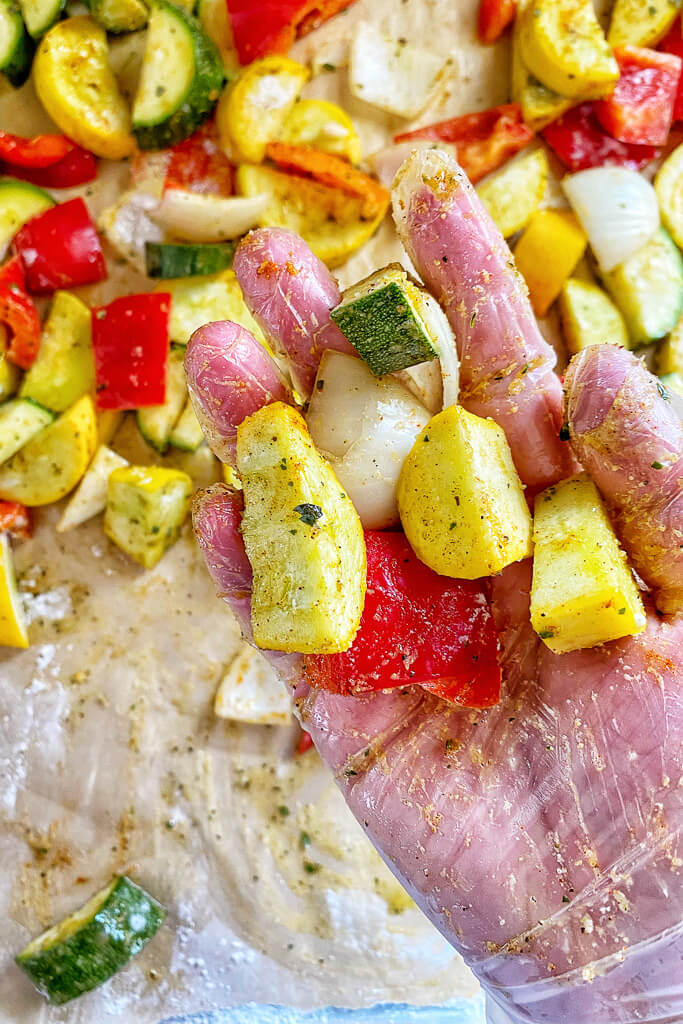 You know how a lot of roasted vegetable recipes tell you to just drizzle some oil on and pop them in the oven? I've seriously never, ever understood this. The veggies aren't evenly coated. I just don't get it. I started massaging the oil and spices into ALL the vegetables so that they were evenly coated. Vegetables have so many nooks and crannies especially something like broccoli or asparagus! They need the extra love! I think it pays off so this is the ONLY way that I'll make roasted vegetables of any kind now.
Anyway, add two tablespoons of avocado or olive oil and then add about one and a half tablespoons of Greek seasoning + a couple teaspoons of extra oregano along with about a half of a teaspoon of smoked paprika for extra pizzaz! You can salt and pepper to taste afterwards, but I think it's pretty good on the salt front.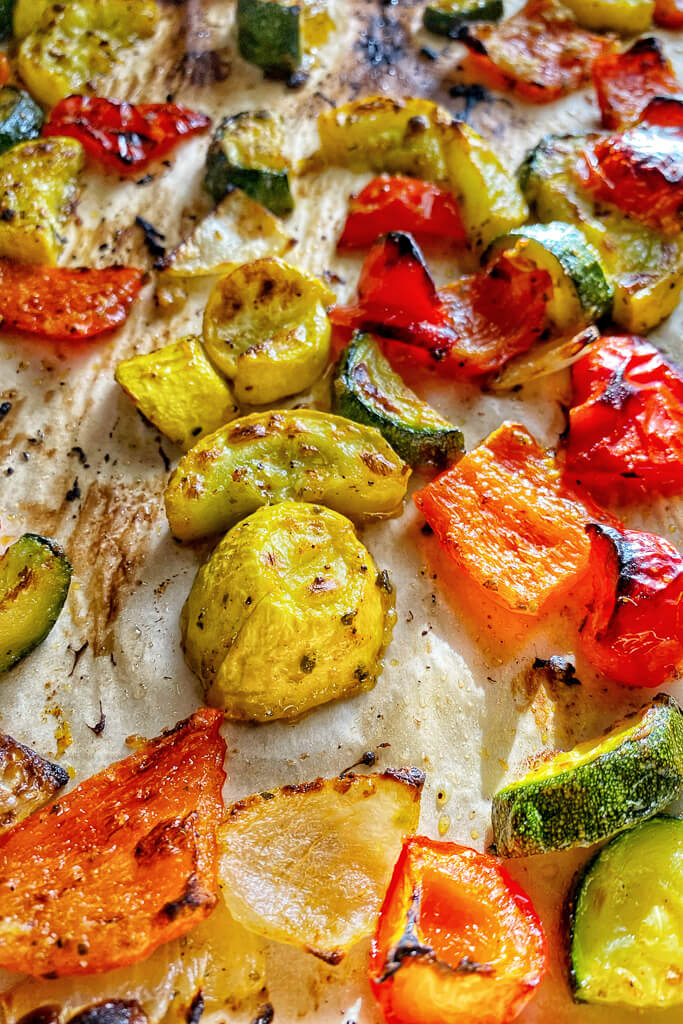 Place in a preheated 425 degree oven for about 20-25 minutes taking care to mix about half way through. I also like to finish if off with a nice broil for about 3-5 minutes to ensure char personally.
WARNING: when you broil watch them!! they can go from delightfully crisp edges to oh crap it's BURNT in a matter of seconds.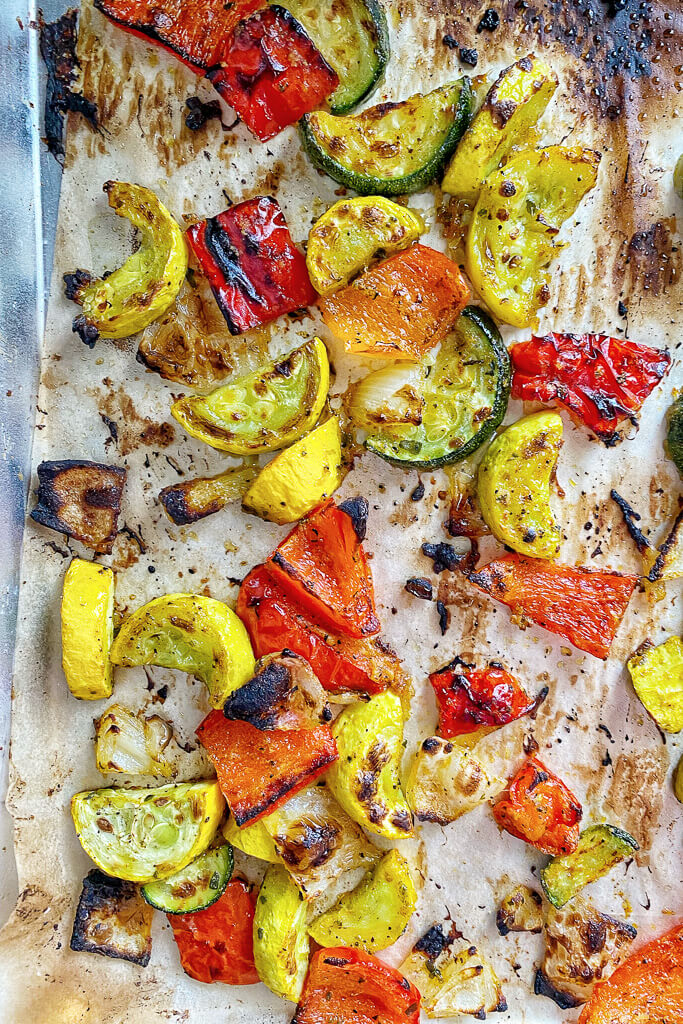 And that's all, y'all! It takes more time to read this post than it does to make them. It definitely took more time to write it than it does to make them. They're such a healthy, simple, and delicious side dish. I like to sprinkle my own serving with maybe a tablespoon of crumbled feta for a lil somethin' somethin'!
I hope you enjoy!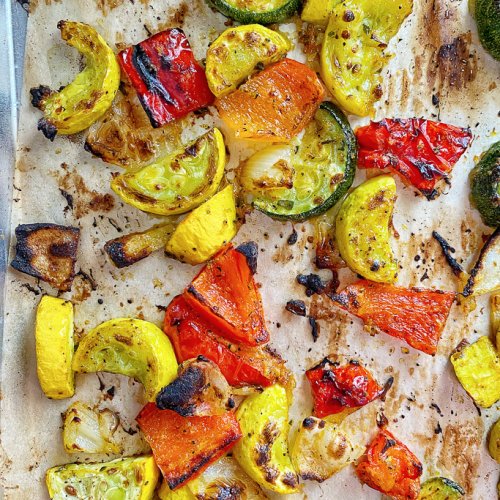 Print
Greek Roasted Vegetables
A variety of vegetables roasted to perfection inspired by Greek flavors.
Materials
2

lbs total

fresh, raw vegetables cut into strips, pieces, slices

*see notes below

2

tbsp

olive or avocado oil

1½

tbsp

Greek seasoning

I use Cavender's

2

tsp

dried oregano

1/2

tsp

smoked paprika

cooking spray

crumbled feta

Optional
Instructions
Preheat oven to 425 degrees. Spray an extra large sheet pan with cooking spray (or line with aluminum foil for easy clean up and spray with cooking spray).

*If you don't have an extra large sheet pan then use two smaller sheet pans. It's important to not overcrowd the vegetables or they will steam instead of get delicious and lightly crispy edges.

Place the cut up vegetables onto the sheet pan and drizzle with oil and shake seasoning all over. My secret to the best roasted vegetables is to get in there and massage the spices and oil into the vegetables super well so it's better distributed for cooking.

Place the sheet pan into the oven and roasted for about 20-25 minutes. Give'm a good mix about have way through if you can and if you are like me and want them a little extra brown and crispy on the edge you can broil them for a few extra minutes, but be sure to watch'm because they can burn real quick. Salt and pepper to taste!

Optional: Sometimes I like to finish my serving off with a little crumbled feta! If you have some on hand give it a try. It's delicious!
Notes
MAKES ABOUT 5 CUPS TOTAL. TAKE NOTE THIS MAY VARY SLIGHTLY DEPENDING ON WHAT VEGETABLES YOU USE AND HOW BIG YOU SLICED THEM.
POINTS/NUTRITIONAL INFORMATION IS FIGURED FOR FIVE -1 CUP SERVINGS.
WeightWatchers Points: 2 Points
NUTRITIONAL INFO: 102 CALORIES, 6G FAT, 0.5 SATURATED FAT, 11.5G CARBOHYDRATES, 10G SODIUM, 3G DIETARY FIBER, 6.7G SUGAR, 0G ADDED SUGAR, 0G SUGAR ALCOHOLS, 8G NET CARBS, 2G PROTEIN
*IF YOU'RE COUNTING CALORIES/MACROS- I WOULD INPUT THE RECIPE YOURSELF AND USE THE EXACT VEGETABLES THAT YOU'RE USING BECAUSE MACROS CAN VARY WITH DIFFERENT TYPES OF VEGETABLES. I USED A ROUGH GUESSTIMATE ON SIZE/WEIGHT OF THE VEGETABLES I USED.
VEGETABLES: IN THE PHOTOGRAPHS, I USED A MIXTURE OF YELLOW SQUASH, ZUCCHINI, RED BELL PEPPER, AND SWEET ONIONS, BUT MY FAVORITE MIXTURE IS ACTUALLY ZUCCHINI, ASPARAGUS, RED BELL PEPPER, AND RED ONION. I ALSO LOVE IT WITH CHERRY TOMATOES, CARROTS, AND BROCCOLI TOO! USE WHATEVER YOU WANT TO USE/WHAT NEEDS TO BE USED UP IN YOUR FRIDGE. YOU REALLY CAN'T GO WRONG! SLICE THEM INTO CHUNKY PIECES.
I don't recommend harder vegetables like parsnips/sweet potatoes/potatoes in this because they need a little bit different cooking time to ensure doneness and putting them all together might not work as well.