This post may contain affiliate links (meaning I earn a small comission if you purchase an item through a link I provide) I only provide shoppable links to items I love and are helpful. As an Amazon Associate, I earn from qualifying purchases.
Quick, delicious, tender, and savory seasoned Greek Meatballs made with a perfect blend of spices, lean ground beef and turkey mix, panko crumbs, and baked to perfection for ultimate flavor. The best for no-fuss weeknight dinners, impressive appetizer bites, and easy peasy meal prep!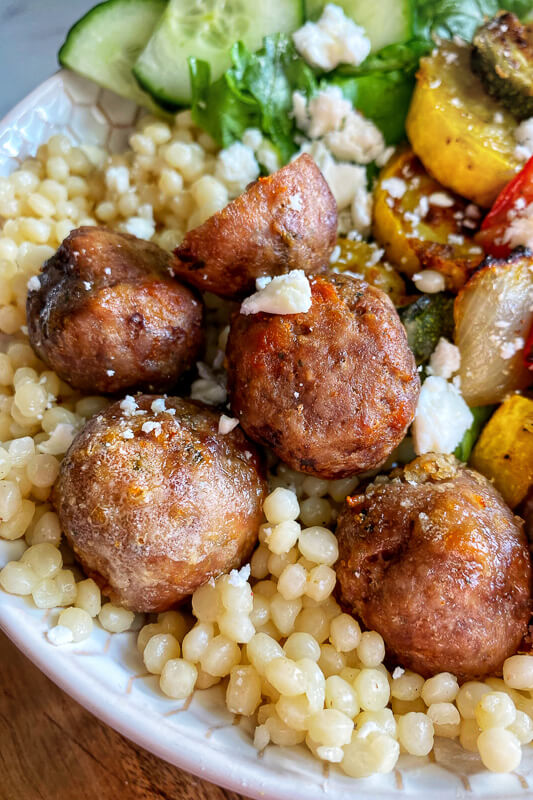 I'm on a Greek inspired food kick! You've probably seen lately that I've been posting recipes for Tzatziki sauce and the Greek Roasted Vegetables. I just can't stop! I started making these Greek Meatballs last year on a whim because I was missing gyros and I wanted something to kind of taste like one. Spoiler alert: these do not taste like Gyro, but honestly it's fine. They are incredible!
These Greek Meatballs are made with a mix of lean ground beef and lean ground turkey, but you may also use a mix of ground beef with ground lamb or ground pork! My favorite part about these meatballs is the simplicity. With just a few spices, couple pounds of meat, some panko, and a sheet pan you've got a seriously yummy restaurant quality meal at home. These meatballs are total people pleasers! Pepper (age 6) LOVES these meatballs and requests them often! The best part is how easy they are to throw together and into the oven and the simplistic list of ingredients.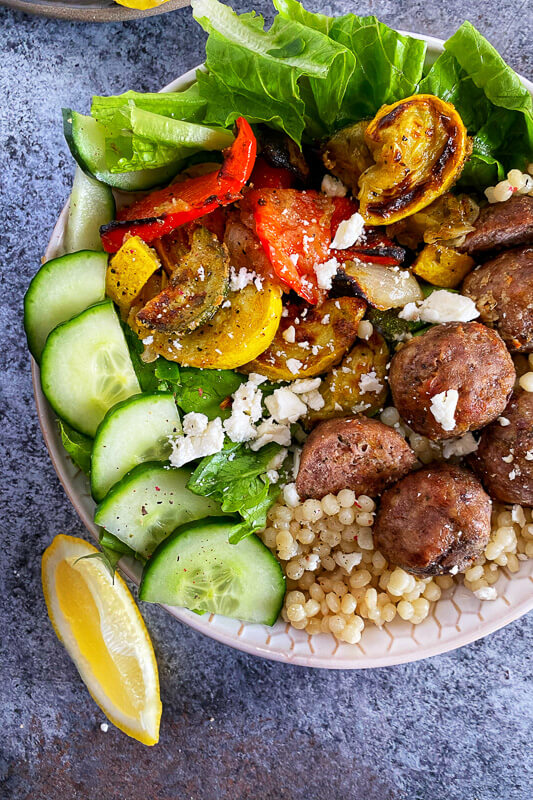 How to serve Greek Meatballs:
These meatballs are served best in a bowl with Greek Salad, roasted vegetables, couscous or rice, and /or Tzatziki sauce, on pita bread with lettuce, cucumber, tomato, and onion, or warm on toothpicks for a extra special appetizer!
How to make Greek Meatballs: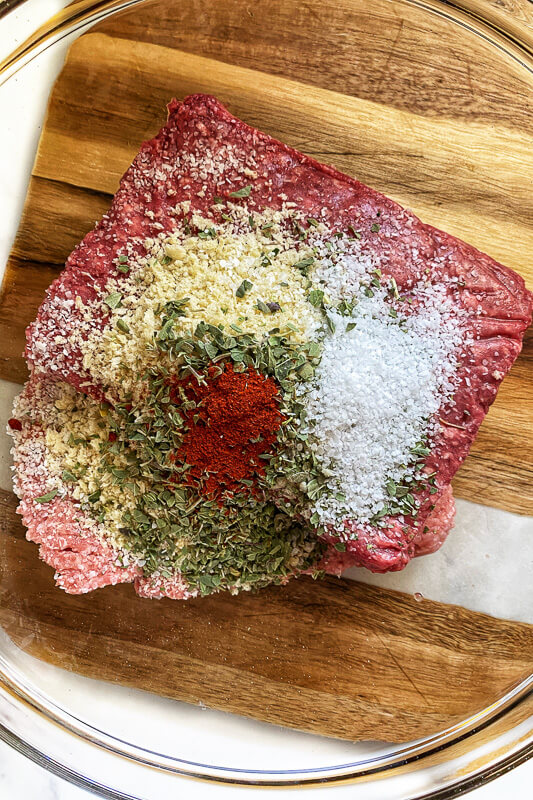 Start off by preheating the oven to 425 degrees and adjust oven rack to the top position. Moving the rack isn't completely necessary, but it does ensure they will be nicely golden brown. And for me, that's a must!
In a large mixing bowl add one pound of extra lean ground beef and one pound of lean ground turkey. Place it in a bowl and sprinkle two tablespoons oregano, 1/2 tsp smoked paprika, 1-1/2 tsp garlic powder, and 2 tsp kosher salt. Add in 1/2 cup Panko breadcrumbs.
A lot of recipes call for fresh herbs, but I keep it pretty simple so I can make them any time I want! If you happen to have fresh dill, fresh mint, or parsley on hand these are beautiful and bright additions to the meatball too.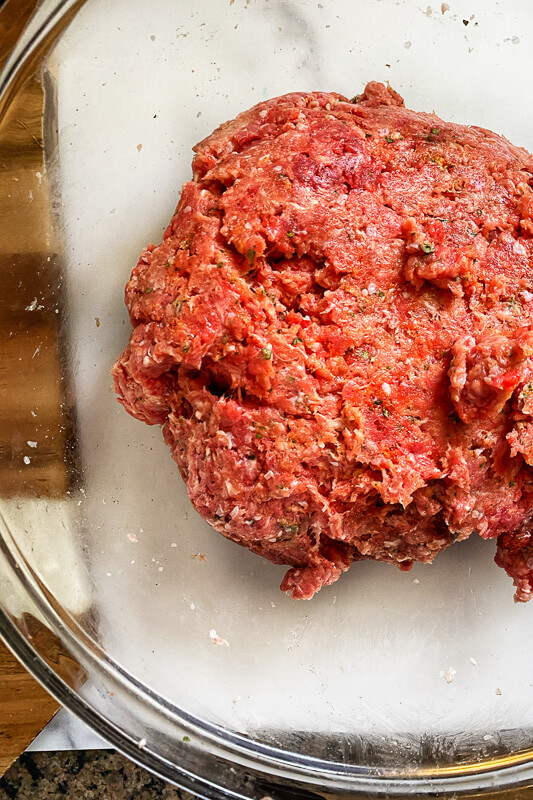 Mix together the meat mixture with clean hands for only about 45 seconds tops. You don't want to over do it. You can use a spoon, but nothing combines ingredients better than your hands. Try wearing food safe gloves if you don't like touching raw meat.
I spray my hands with just a quick spritz of cooking spray and gently form the mixture into small balls (1-inch to 1 ¼-inch balls). You should get about 34 meatballs. The meatballs should be around 1 ounce each. If you want to be exact for nutritional purposes you can weigh each out like I did in the photo above. I usually just eyeball it though.
Tip: a small cookie scoop (spray it with cooking spray to help prevent sticking) can help portion out meatballs quickly.
How to make Greek Meatballs ahead of time:
Raw meatballs can be refrigerated overnight and baked the next day. You can also freeze the raw meatballs and store up to three months. To freeze them, form the meatballs, and then place them onto a baking sheet lined with parchment paper or a silicone baking mat. Place the baking sheet into the freezer and freeze until the meatballs are firm. Transfer frozen meatballs to an air-tight, freezer friendly container. I LOVE using my FoodSaver for things like this.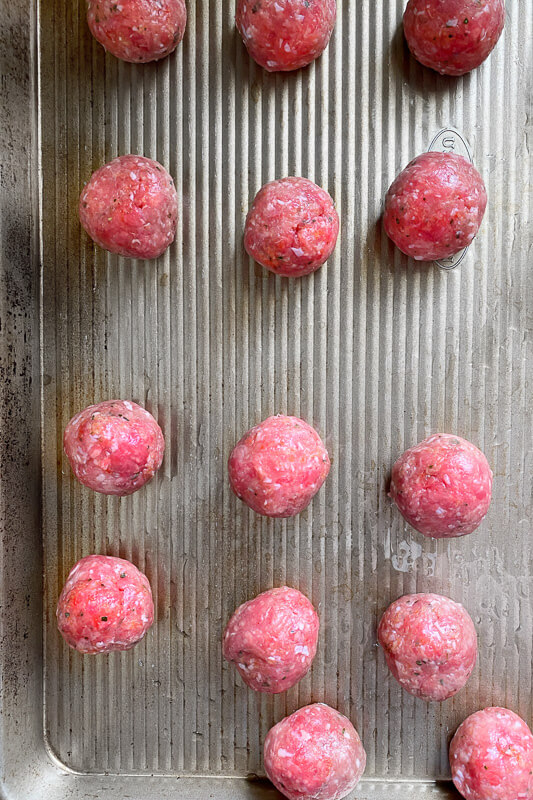 Place meatballs on a sheet pan (sprayed with olive oil cooking spray). Roast on the top rack until browned and cooked through, 10-12 minutes.
Tip: line ban with aluminum foil for extra easy clean up!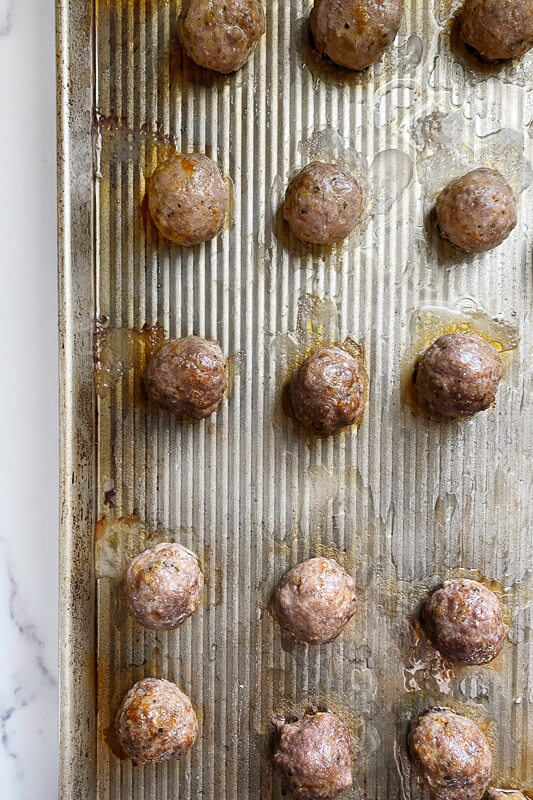 I always check with my favorite meat thermometer to make sure they are at least 165 degrees. Allow them to rest for a few minutes so the juices redistribute before cutting open.
Now enjoy them anyway you possibly can and don't forget the veggies and feta cheese if you're adding them to a yummy bowl like the one pictured below.
And that's all folks! Wasn't that easy? So much flavor in these meatballs. They are the perfect bites! You're gonna love'm. Make'm soon!
Other Greek inspired recipes you'll love: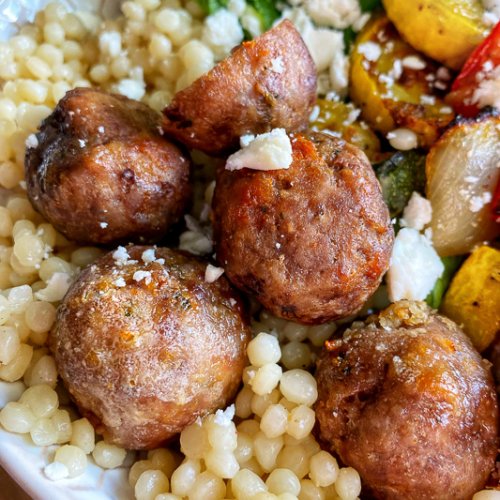 Print
Greek Meatballs
Perfectly tender and delicious oven baked meatballs with Greek inspired flavor.
Materials
1

lb

extra lean ground beef

raw

1

lb

lean ground turkey

raw

2

tbsp

oregano, dried

1½

tsp

garlic powder

1/2

tsp

smoked paprika

2

tsp

kosher salt

1/2

cup

panko crumbs

(i recommend Panko and not fine bread crumbs. I've never been much of a fan of them and their texture)

cooking spray
Instructions
Adjust oven rack to the top position in oven and preheat to 425 degrees.

*You don't have to move the oven rack, but it does ensure the meatballs get a bit golden brown color. If you don't care about this then it's not necessary.

In a bowl add raw beef, turkey, panko, paprika, oregano, garlic, and salt. Mix meat together well for only about 45-50 seconds. You don't want to over mix the meat because the meatballs will become tough.

Spray a little cooking spray on hands and form and roll into about 34 (1 oz) meatballs.

Lightly spray a sheet pan with cooking spray and add meatballs. Cook the meatballs until golden brown for about 10-12 minutes or until internal temp is 165. Let meatballs rest for a few minutes before cutting into them.
Notes
WW info and nutrition info is decided for one meatball so you can choose your serving size. I find 2-3 meatballs is the perfect serving when eating with rice/veggies.
WeightWatchers Points: 1 point
40 Calories, 1.5g fat, 0g saturated fat, 30g sodium, 5g carbohydrates, 0g fiber, 0g sugar, 0g added sugar, 0g sugar alcohol, 5g net carbs, 6g protein