This post may contain affiliate links (meaning I earn a small comission if you purchase an item through a link I provide) I only provide shoppable links to items I love and are helpful. As an Amazon Associate, I earn from qualifying purchases.
Greek Meatball Bowls are an incredibly satisfying dinner and go to meal prep. Greek Meatballs and Roasted Vegetables on a pile of couscous then drizzled with creamy Tzatziki Sauce for ultimate bowl of food. This recipe for Greek Meatball Bowls is loaded with fresh ingredients and Mediterranean inspired flavor for the ultimate meal.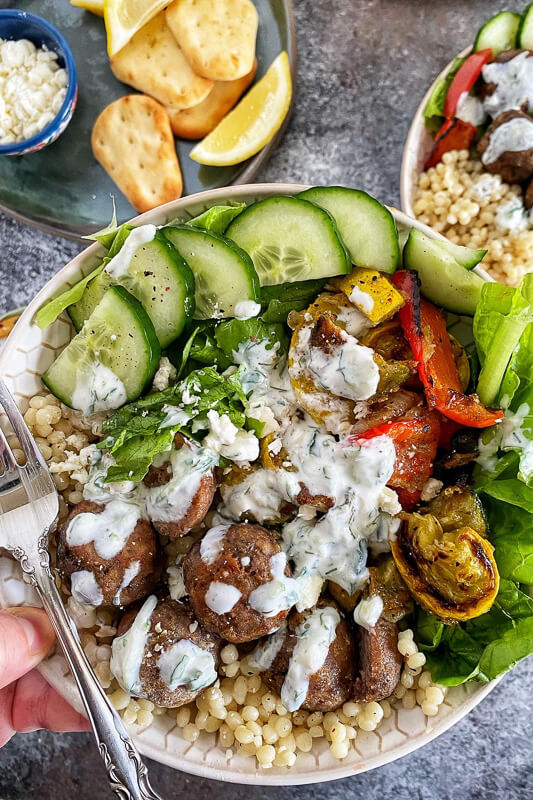 These Greek Meatball Bowls are.. well, they're incredible. I started making them last year and it started off by simply swapping Greek Meatballs in place of the chicken in my Greek Chicken Bowls. But, the more I ate them the more I realized that I wanted to make these bowls a little bit different. Enter: Roasted Vegetables and Couscous! The Tzatziki is a bouns! While these bowls have multiple components and seem like they might be a bit difficult. I promise it's quite easy to pull it all together quickly. The thing that takes the longest to prep is actually washing and chopping the vegetables so it may be best to prep those easier in the week and store in the fridge so they are ready to go!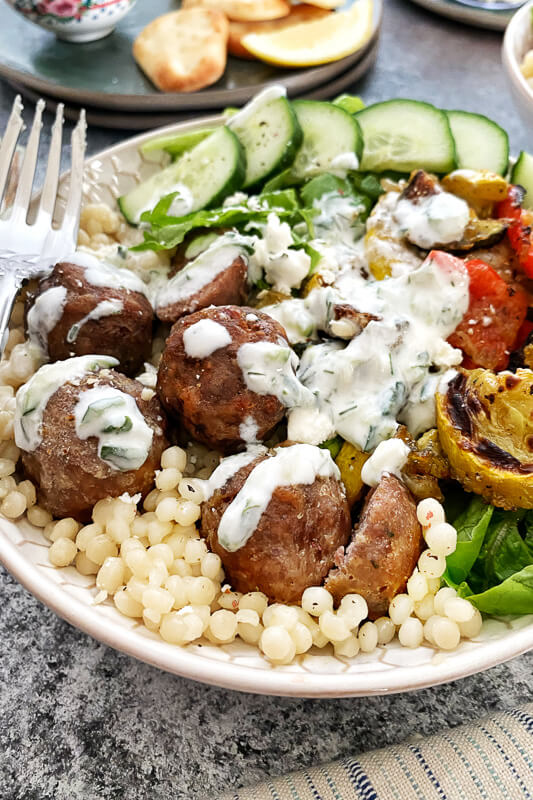 The first time I put this bowl of food in front of Eric he looked at me as if I had just grown a third eye mostly because of the couscous. Couscous is a new food to us, but we now LOVE it! Pepper had her arms crossed and was completely determined to not even look at it while mumbling something about a happy meal. If you follow along on Instagram you may have seen that I decided to "take a video" of her being a "food critic" and try the different components of these bowls. We had a blast and I posted it. She absolutely loved it all and honestly when my 6 year old actually eats what I make WITH smile. It's a real good sign that it's a dinner time winner. Haha!
What are the steps to make Greek Meatball Bowls?
Prepare Tzatziki sauce and place in fridge to let the flavors meld.
Wash and prep veggies.
Prepare meatballs.
Cook veggies and meatballs in the oven.
Prepare couscous on the stove top.
Below I'll walk you through exactly what I do and a couple tips to save time if you need to! It may seem like a lot, but I've outlined it for you to achieve delicious results! Additionally if you think it's too many steps cut something out the first time you make them to make it easier on yourself or make something ahead of time so you don't need to think about it.
I know a lot of readers skip to the recipe, but I suggest reading this post for helpful time saving tips.
How to make Greek Meatball Bowls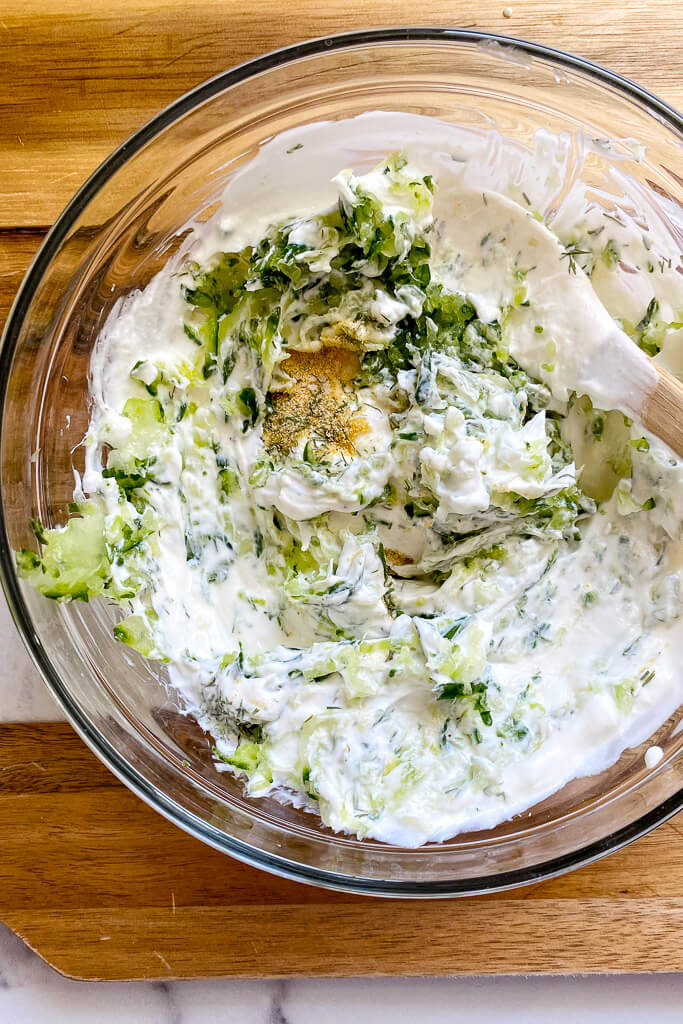 Prepare Tzatziki Sauce and store in fridge to let the flavors mingle before adding to bowls.
Tzatziki Sauce: Full recipe here!
Time Saver Tip!: This can be prepared a few days in advance and store in an air tight container.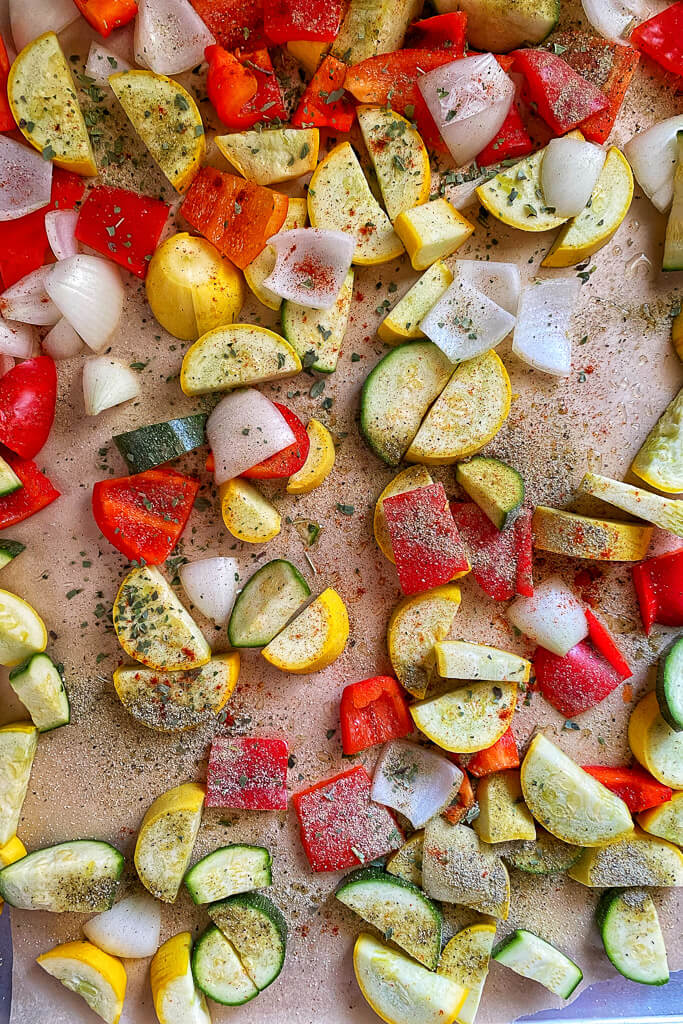 Start by preheating oven to 425 degrees. Move one of the oven racks to the top slot and place the other in the middle. Prepare the vegetables to roast. Roast the vegetables on the middle rack. The meatballs and vegetables go in at the same time, but the vegetables need a little longer so they will go in first. Place the vegetables in about 12 minutes before putting the meatballs in. Then let the vegetables finish roasting while the meatballs cook. I remove them both at the same time. If the veggies require a bit of "browning" remove the meatballs and let them rest. Broil the vegetables for just a few minutes.
Roasted Vegetables: Full recipe here!
If you want to try something different my Greek Cucumber Salad also tastes amazing! You can make that in place of the roasted vegetables too.
Time saving tip!:
If you're making these bowls for dinner and you want to cut down on prep time. Wash and prep vegetables and store in a tightly covered container. Chopping vegetables takes up the most time in most recipes so this will save you extra time on busy week nights! I've prepared fresh vegetables up to 5 days in advance with no issues. You may want to line the container with a couple paper towels to collect any excess moisture. Or, you can buy pre-cut vegetables. Your secret is safe with me. While it is more expensive, it's a wonderful short cut that I use from time to time.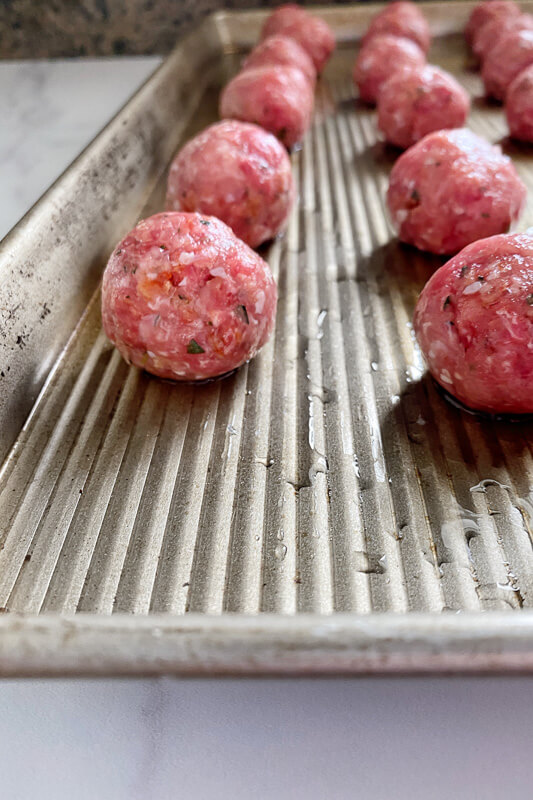 Prepare Meatballs and add to the oven when the vegetables have about 12 minutes left to roast. Remove from the oven and let rest for about 5 minutes.
Greek Meatballs: FULL RECIPE HERE!
Time Saving Tip!: Greek Meatballs can be prepared and stored in the fridge in a air tight container up to one day in advance. Additionally you can make a batch of meatballs, freeze, then you can thaw and make them anytime with minimal prep work!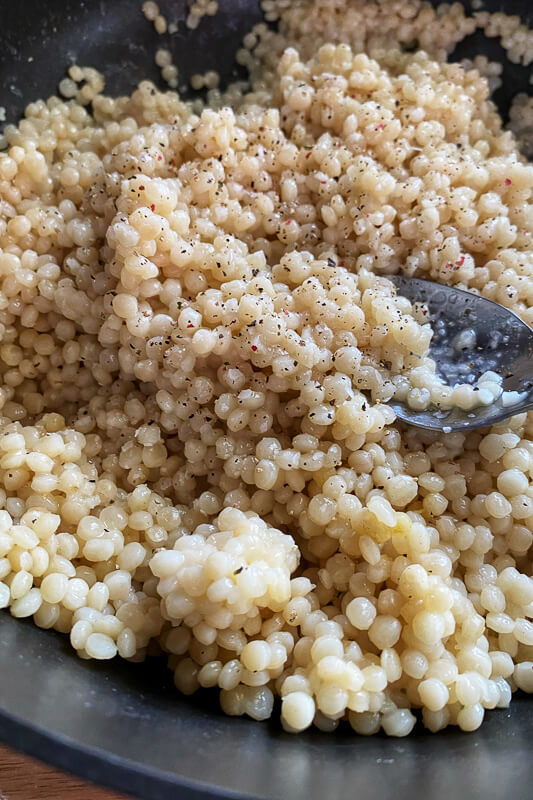 Couscous is the very last component and truly the easiest part! I know there are a few different varieties of couscous out there so just double check these are the pearl type couscous.
If you can't find it or aren't sure about using it you can also make rice or orzo in its place or swap it our completely for some crisp romaine you're trying to eat less carbs.
I've made couscous, orzo, and and rice in these bowls and all are just as good as the other! Just follow the instructions on the package and prepare while the meatballs cook. Israeli Pearl Couscous is basically just tiny balls of pasta and makes for something different. We also really like saying "couscous" in this house. Haha
Time Saving Tip: Couscous reheats perfectly in the microwave and tastes just as fresh as the day I made it. Even though it only takes one pot and about 8 minutes to makes you can totally make it in advance and just heat it up in the microwave while the meatballs and vegetables cook to lessen the tasks.
In a medium sauce pan add 1 tsp garlic powder, 1 tsp of oil, and 3 cups of water bring to a boil. Add 2 cups dry couscous and cook for about 8-10 minutes until done. Salt and Pepper to taste and if you've got it squeeze half of a lemon over it and lightly stir in for a nice fresh pop of flavor. I don't always have a fresh lemon so I don't do it every time.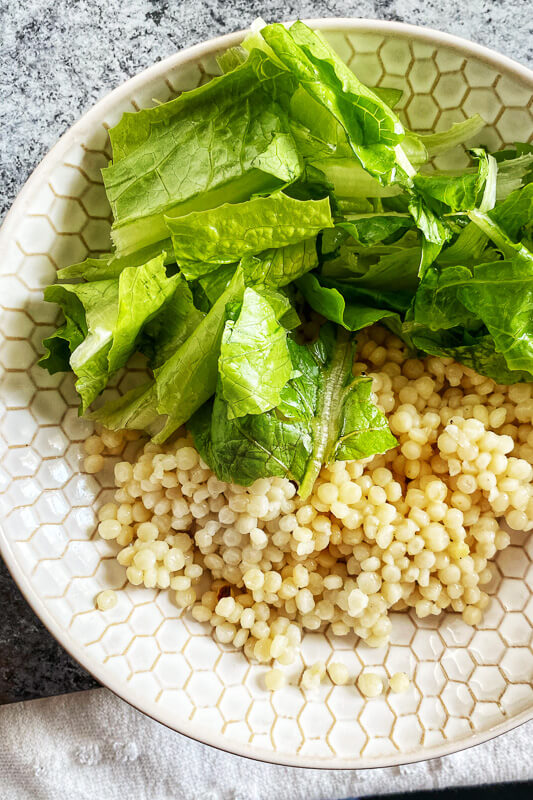 Now the best part! Time to prepare the Greek Meatball Bowls! I added a baby salad with lettuce and cucumber with some salt and pepper. Totally not necessary, but if you wanna get extra veggies in your meal(lookin' at you WW'ers). It's a great way! The Tzatziki acts as a dressing so it doesn't need a separate dressing. Add 1/2 cup couscous (or other pasta/grain) to the bowl.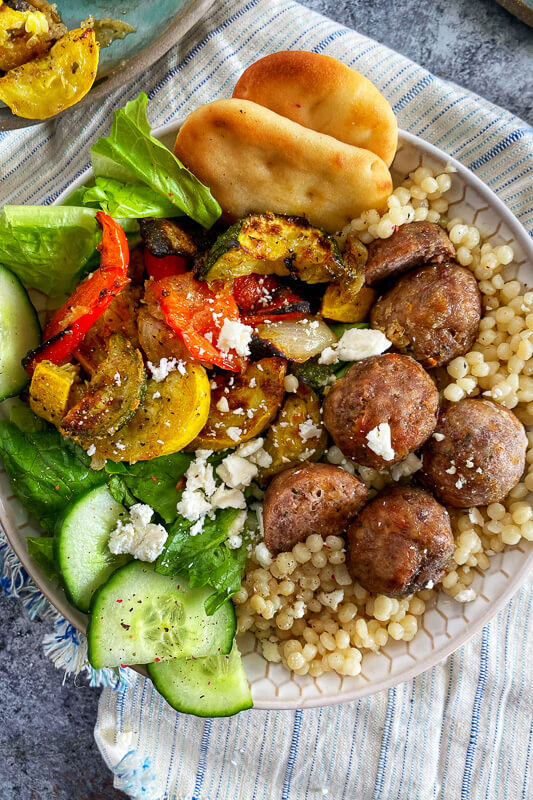 Add meatballs and one cup roasted vegetables on top of that. I find 3-4 meatballs are plenty (depending on how many points/calories i want to use), but add more or less depending on your preference. The Greek Meatball recipe makes 34 meatballs so you will have extra that you can add to this, eat on their own, or freeze for later use!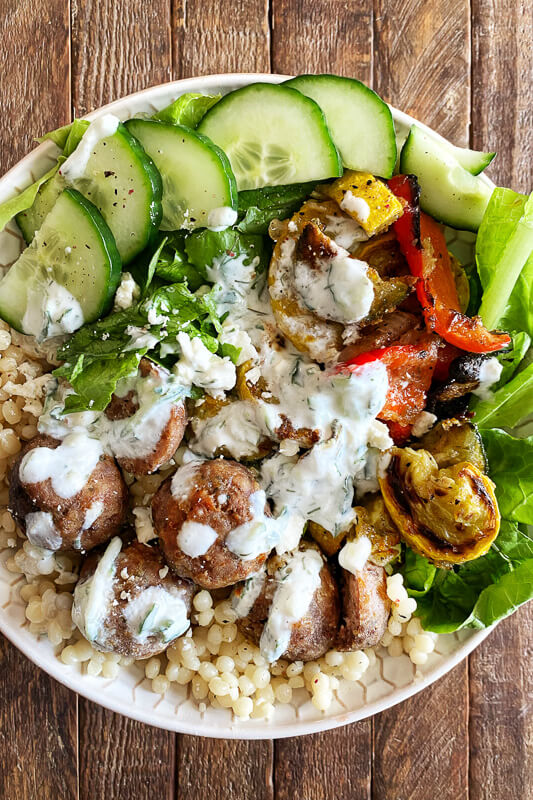 Then drizzle all that with Tzatziki Sauce and add a little feta love if you want! These bowls are truly magic.
A few weeks ago while I was finalizing recipes I had my mom and her husband over for lunch and made these for them to try. They absolutely loved them! I'm pretty sure my mom was on her phone adding all the ingredients to her next grocery order as she was finishing the bowls. They both loved them! And, my mom described the bowls as "fun" to eat because they were just something totally different for her! I agree, mama b!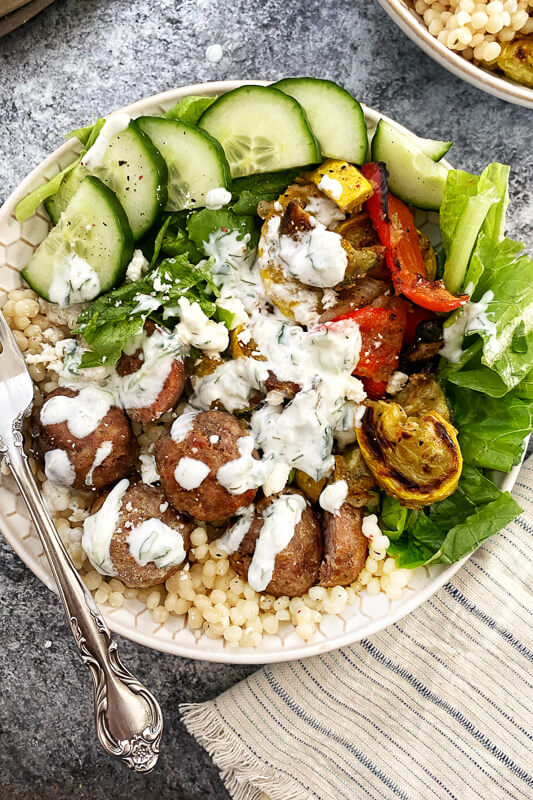 Honestly, this might be my favorite recipe ever. I say that a lot, but I think I mean it this time. I've made these at least 30 times and my mouth is still watering just thinking about having them for dinner again. I know it has a lot going on, but it's so worth it! Use a couple time saving tips! After you make'm once it'll be easy peasy second time around.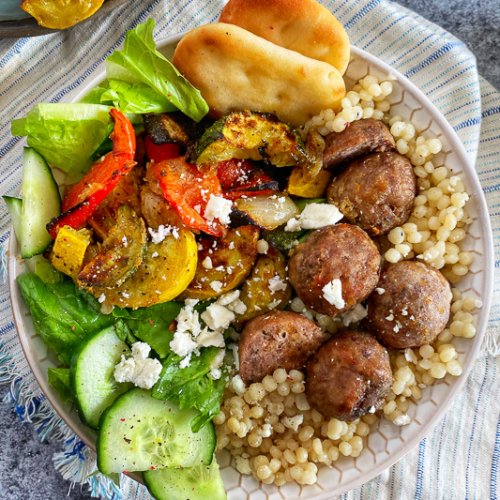 Print
Greek Meatball Bowls
Bowl filled with meatballs, couscous, delicious roasted vegetables, and topped with a creamy Tzatziki sauce
Materials
Tzatziki Sauce
1/2

cup

light sour cream

1/2

cup

non fat greek yogurt

1/2

cup

shredded english cucumber

(about 1/2 cup total after water is pressed out)

1-2

tsp

dried dill

1/2

tsp

garlic powder

1

tsp

olive oil

1

tbsp

lemon juice

1/4

tsp

kosher salt
Greek Roasted Vegetables
2

lbs total

fresh vegetables

i love a mix yellow squash, zucchini, bell peppers, red onions, asparagus

2

tbsp

olive oil

1½

tbsp

Greek Seasoning

I use Cavender's

2

tsp

dried oregano

½

tsp

smoked paprika
Greek Meatballs
1

lb

uncooked extra lean ground beef

1

lb

lean ground turkey

2

tsp

kosher salt

2

tbsp

oregano

1½

tsp

garlic powder

½

tsp

smoked paprika

1/2

cup

panko breadcrumbs

cooking spray
Couscous
2

cups

uncooked Pearl Couscous

1

tsp

olive oil

1

tsp

garlic powder

1

tsp

kosher salt

2

tbsp

fresh lemon juice

(optional)
Optional additions
Feta

Chopped lettuce/cucumber/tomato
Instructions
Tzatziki Sauce
Shred the cucumber using a food processor or a box grater. Either method works perfectly. Add the shredded cucumber to a piece of cheesecloth and wrap it up and press it over a sink multiple times until little to no water is being pressed out.

In a medium bowl add the greek yogurt, sour cream, dill, garlic powder, lemon juice, olive oil, and kosher salt. Stir together well. Salt and Pepper to taste!

This will taste best if it's able to be refrigerated for at least one hour before serving.
Greek Roasted Vegetables
*If you're making the vegetables and meatballs at the same time be sure to adjust one of the oven racks to the top and one in the middle before preheating.

Preheat oven to 425 degrees. Spray an extra large sheet pan with cooking spray (or line with aluminum foil for easy clean up and spray with cooking spray). *If you don't have an extra large sheet pan then use two smaller sheet pans. It's important to not overcrowd the vegetables or they will steam instead of get delicious and lightly "crisp" edges.

Place the cut up vegetables onto the sheet pan and drizzle with oil and shake seasoning all over. My secret to the best roasted vegetables is to get in there and massage the spices and oil into the vegetables super well so it's better distributed for cooking.

Place the sheet pan into the oven and roasted for about 20-25 minutes. Give'm a good mix about have way through if you can and if you are like me and want them a little extra brown and crispy on the edge you can broil them for a few extra minutes, but be sure to watch'm because they can burn real quick. Salt and pepper to taste!
Greek Meatballs
Adjust oven rack to the top position in oven and preheat to 425 degrees.

In a bowl add raw beef, turkey, panko, paprika, oregano, garlic, and salt. Mix meat together well for only about 45-50 seconds. You don't want to over mix the meat because the meatballs will become tough. Spray a little cooking spray on hands and form and roll into about 34 (1 oz) meatballs. Lightly spray a sheet pan with cooking spray and add meatballs. Cook the meatballs until golden brown for about 10-12 minutes or until internal temp is 165. Let meatballs rest for a few minutes before cutting into them.

To make the Greek Meatballs and the Vegetables at the same time add the pan of vegetables in first and cook for about 12 minutes total. Give the vegetables a good stir and place back in the oven. Add the pan of meatballs to the top oven rack and cook all together for a total of about 10 minutes.
Couscous
In a medium sauce pan, add 1 tsp garlic powder, 1 tsp of oil and 3 cups of water bring to a boil. Add 2 cups dry couscous and cook for about 8-10 minutes until done. Salt and Pepper to taste and if you've got it – squeeze half of a lemon over it and lightly stir in for a nice fresh pop of flavor.

Add 1/2 cup couscous to bowl followed by 1 cup of roasted vegetables and 3-4 meatballs then drizzle with 1-2 tablespoons of tzatziki sauce. Enjoy!
Notes
Suggested serving size: 4 Greek meatballs, 1 cup roasted vegetables, 2 tablespoons Tzatziki sauce, 1/2 cup couscous
Bowls should be about 9 Points for the above amounts, but to double check tap the links below for your personal points and be sure to adjust points for serving sizes of different components if needed. (plus the amount of couscous or whatever grain you use)
Tzatziki Sauce WeightWatchers Points: 1
Greek Meatballs WeightWatchers Points: 1 (be sure to adjust servings for how many meatballs you putting in the bowl- 1 point for 1 meatball, 2 points for 2 meatballs, 3 points for 3 meatballs etc etc)
Roasted Greek Vegetables WeightWatchers Points: 2
Cooked Couscous should be 2pts for 1/2 cup, but check the WW app.
Nutritional Info including 4 (4 oz) Greek Meatballs, 1 Cup Roasted Vegetables, 2 tbsp Tzatziki sauce
403 Calories, 17g, 4.5g saturated fat, 178g sodium, 16g carbohydrates, 12g net carbohydrates, 3g fiber, 7g sugar (0g added sugar/0g sugar alcohol), 25.2g protein
Couscous is separate
Note: the nutritional info and ww points in this recipe are estimated depending on the individual products I used. Please input your own products and info if you need complete accuracy. Thank you!