This post may contain affiliate links (meaning I earn a small comission if you purchase an item through a link I provide) I only provide shoppable links to items I love and are helpful. As an Amazon Associate, I earn from qualifying purchases.
This Greek Cucumber Salad is an easy peasy and crazy yummy side dish! It's full of simple fresh ingredients and big flavor. It's perfect to throw together for a quick n' tasty side or snack.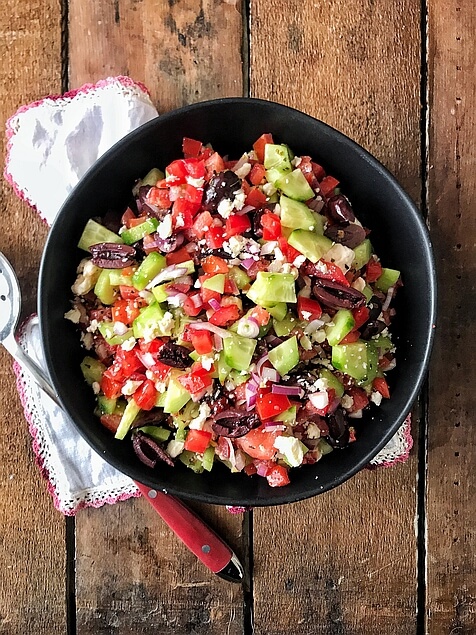 So I really love Greek food… but we don't actually have any places in my small town that serve it. There's a delicious diner not too far away from us that does a little Greek food, but nothing too crazy or authentic. This place does, however, have a delicious cucumber salad with grilled chicken kabobs, and it's to die for. We go there every once in a while, but not nearly enough to give me the Greek food fix that I crave. I've made this salad to accompany my Greek Chicken Bowls (which are dreamy).
This is my first attempt at replicating something with a Greek-ish flair. (Is that a thing? I guess it is now!) I'll now be able to enjoy this fresh, crisp, refreshing salad in my own home whenever I want to, and that makes this girl very happy. The first batch I made was perfect… and for once (thank the heavens above) I wrote down exactly what I did. Because friends, I probably could have tried half a million times, and it never would have come out so perfectly delicious again.
Greek Cucumber Salad is so easy to prep up, it's not really fair. I figured that to really hit the nail on the head with flavor, I'd have to do so much more than simply chop up some tomatoes and cucumbers, and add a handful of goodies into it. But it's truly that simple and delicious! When it was done, I shoved a big spoonful into Eric's mouth. After tormenting me with silence for at least two minutes, he finally said "I can't believe it, but it's perfect. Don't change thing!" This salad will g over great when you make and take it to a summer barbecue. It's loaded with so many bright flavors and fresh ingredients, you're going to love it up so much!
Let's make Greek Cucumber Salad!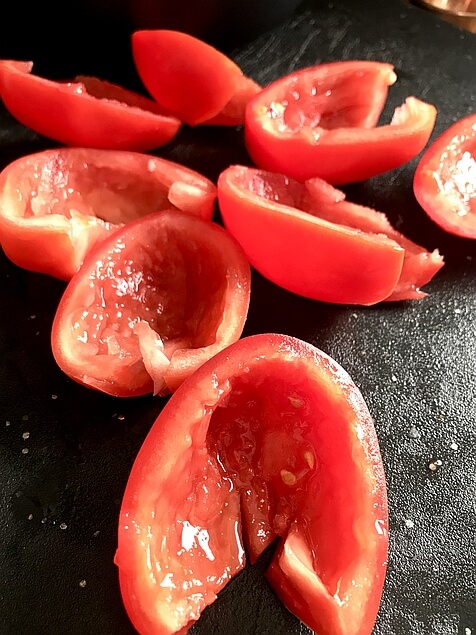 Grab some tomaters, four to be exact, preferably the Roma variety. Cut them right in half, and just scoop out all that water-y flesh. This is a personal preference, but I think it makes a bit of a difference… the tomato-fleshy stuff always makes salads a little goopy. Wow, I'm being super descriptive for y'all tonight, huh? Just know that in my quais-professional opinion, you should scoop it out and toss it. It makes it better, I promise.
Now that we've got the tomato situation outta the way, gather your other ingredients:
One half Small Red Onion, Diced (if it's a large red onion you've gotta use only 1/4 of it- too much, and it could take over the whole salad)
2 Cups Chopped up Cucumber. Preferably English cucumber, or baby cucumbers. a regular cucumber can easily be too bitter, and this can unbalance the flavors and ruin the whole darn thing!
29 Kalamata Olives, sliced in half… this is about 1/2 cup (I know that 29 is such a weird number, but that's how many you need to hit the nutritional and WW points info)
And of course, 1/2 cup of that glorious, tangy, lovely, wonderful Feta Cheese! Ugh, I just love Feta cheese so much. It's ridiculous.
Then take all those fresh and amazing ingredients, and throw'm in a mixing bowl!
Now throw in 1 tsp of oregano, 1/4 tsp dill, 1/2 tsp garlic powder, 2 tablespoons white whine vinegar, 1 tsp Kosher Salt, and 1 tbsp of olive oil. Mix it up well, and Salt & Pepper to taste.
For best results: Let it sit in the fridge for 15-20 minutes, to let the amazing flavors mingle. But honestly, It's super good right after you mix it up!
*If not using Kosher Salt, reduce the amount of salt to taste.
And taa-daaaa! Folks, Greek Cucumber Salad is some good stuff. One of my goals this year is to learn more about flavors by trying out some more varied, different, and exotic types of foods. Greek food is something I've been wanting to mess around with for so long! I'm very happy it came together easily and deliciously, and I'm delighted to share it with ya!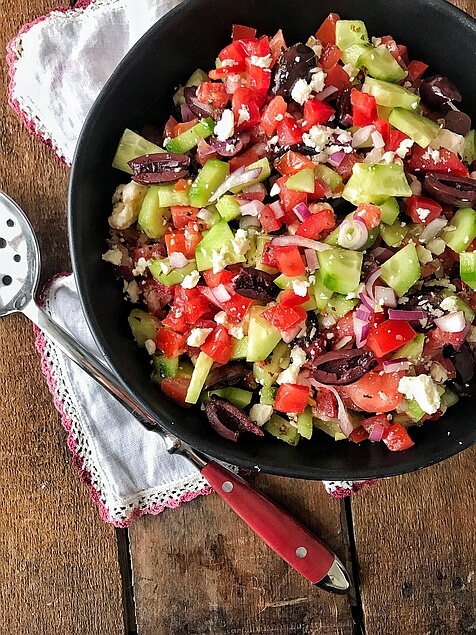 This salad is truly zero fuss. I know, it's the middle of freakin' January, and you're all like "Really, Star… Salad in January?" But for real. The holidays nearly did me in this year, and I've just been craving fresh fruits and veggies all the time. And so to keep the river of creativity flowing, I post what I'm eating, and loving, and craving, at the moment.
And don't worry- I PROMISE there's some comfort food coming your way soon.
This Greek Cucumber Salad would be so delicious next to just about anything, doesn't even have to be Greek food! It's also delicious stuffed into a warm pita. Oh my gosh, now I'm drooling… I want that right now.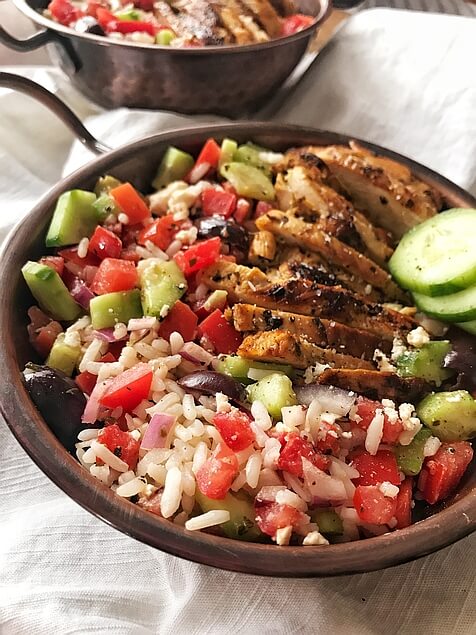 ….a little birdie told me that in the next day or two, this here blog just might feature a delicious Greek Chicken Bowl, including this yummy salad. You will want this in your life. Stay tuned, friends!
Don't forget to comment if you've made this, and let me know your thoughts and ideas!
With love from my kitchen to yours,
Star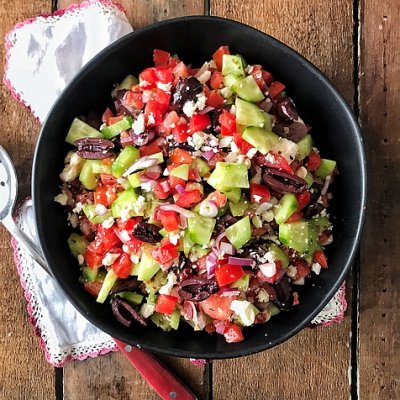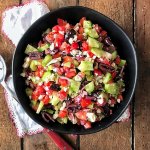 Print
Greek Cucumber Salad
A delicious fresh salad filled with cucumber, tomatoes, kalamata olives, feta, and flavor. Perfect side dish with wonderful greek flavor.
Materials
1

english cucumber

peeled and chopped into small chunks, about two cups total

4

roma tomatoes

flesh scooped out and chopped

1/2

small red onion

1/2

cup

crumbled feta cheese

1

tbsp

olive oil

2

tbsp

white wine vinegar

1

tsp

oregano, dried

1/4

tsp

dill weed, dried

1

tsp

Kosher Salt

or to taste if using table salt/sea salt

Pepper

to taste

29

kalamata olives

sliced in half, black olives will work too
Instructions
In a large bowl, combine all ingredients, and stir together well. This tastes great right away, but will taste better if it sits in the fridge for a bit, so the flavors mingle. Salt and Pepper to taste. Enjoy!
Notes
Makes 3-1/2 cups. Serving size: 1/2 cup.
Calories: 83, Fat: 6g, Saturated Fat: 2g, Carbohydrates: 4g, Fiber: 1g, Sugar: 2g, Protein: 2g
WeightWatchers Points: 2 Points
Nutrition