This post may contain affiliate links (meaning I earn a small comission if you purchase an item through a link I provide) I only provide shoppable links to items I love and are helpful. As an Amazon Associate, I earn from qualifying purchases.
Oh my word! You guys. On Sunday morning I set out to make a recipe that I had kind of played around in my head with ever since having my sister's French Onion Soup during Christmas time. Since then, I've lightend up her version of the soup into my version of the soup. You can find that recipe here, the soup was so rich and so tasty. I dreamed about it being with some meat, cheese, and on a hard roll of some sort. I love French Dips and Italian Beefs! Apparently, Italian beefs aren't a thing everywhere. I have a friend who moved to California years ago, and she could not find a Italian Beef if her life had depended on it! I still can't believe it. So, I am not sure where these types of sandwiches are popular… but let me tell you, there's a reason they are popular here. I decided to go with chicken as the protein to pair with the au jus. I knew it would keep the sandwich much more lean and let's be honest, I wanted it with some dreamy cheese on top! That's where I got nervous about this. I kept putting it off because I wasn't sure how it would turn out, and I was so hopeful that I really, really did not want to be disappointed! Sunday morning I finally said enough was enough and quickly popped it into the slow cooker. I kept peaking at it all dang day. Finally when enough time had passed, I set out to make these sandwiches. Eric and I split a sandwich seconds after I was done because I could not wait another minute. 8 hours in the crockpot was entirely too long, but it WAS WORTH THE WAIT. I might have burned my tongue while gobbling the goodness, but that was JUST FINE! The chicken was perfectly tender with just the right amount of flavor. The au jus is definitely where it's at when it comes to the french onion flavor so make sure to dip your sandwiches to your hearts content!
At this point, I'm thinking I could eat this sandwich every single day of my life. You can really use any type of bread/roll with these if you would like. This is not a sponsored post and I doubt S. Rosens Bakery even knows who I am, but I love their french bread rolls! I have been able to find them at just about any grocery stores in my area, so I hope you can too. They are low-ish in points for any WW folks reading this, and the calories aren't half bad either! For those wanting lower carbs/calories…. I also ate this as an open face sandwich using only half the roll with au jus poured all over it… guess what? It was amazing.
I'll keep this short and sweet because I want you to make this… like right now.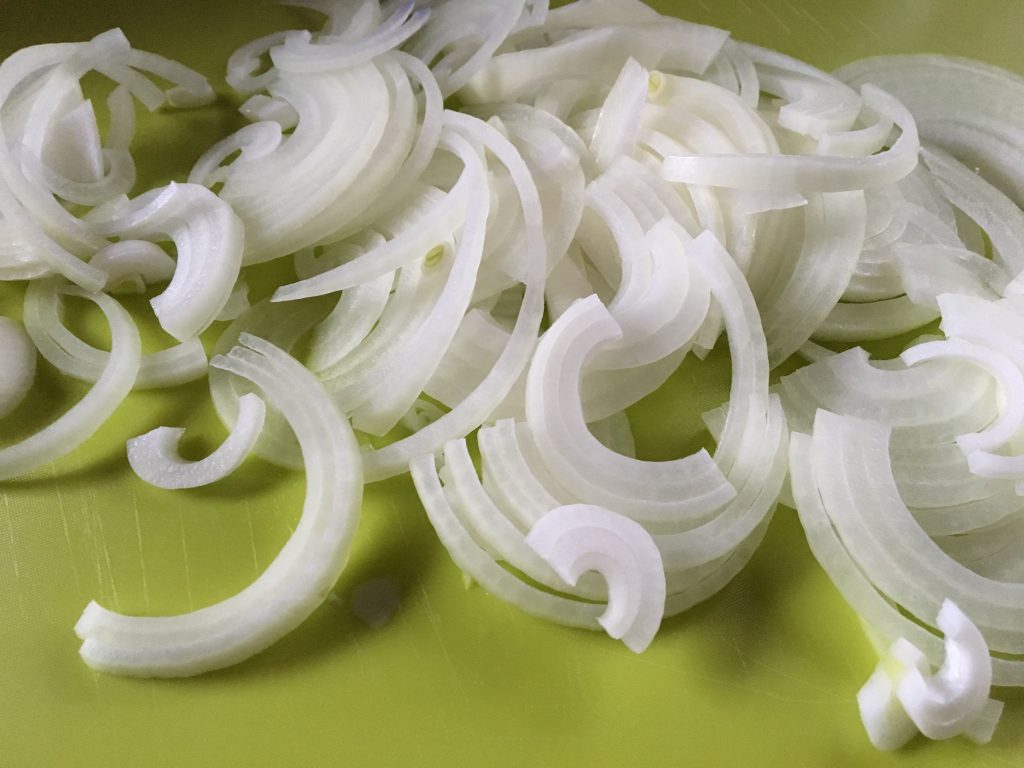 First things first. Slice up a large yellow sweet onion!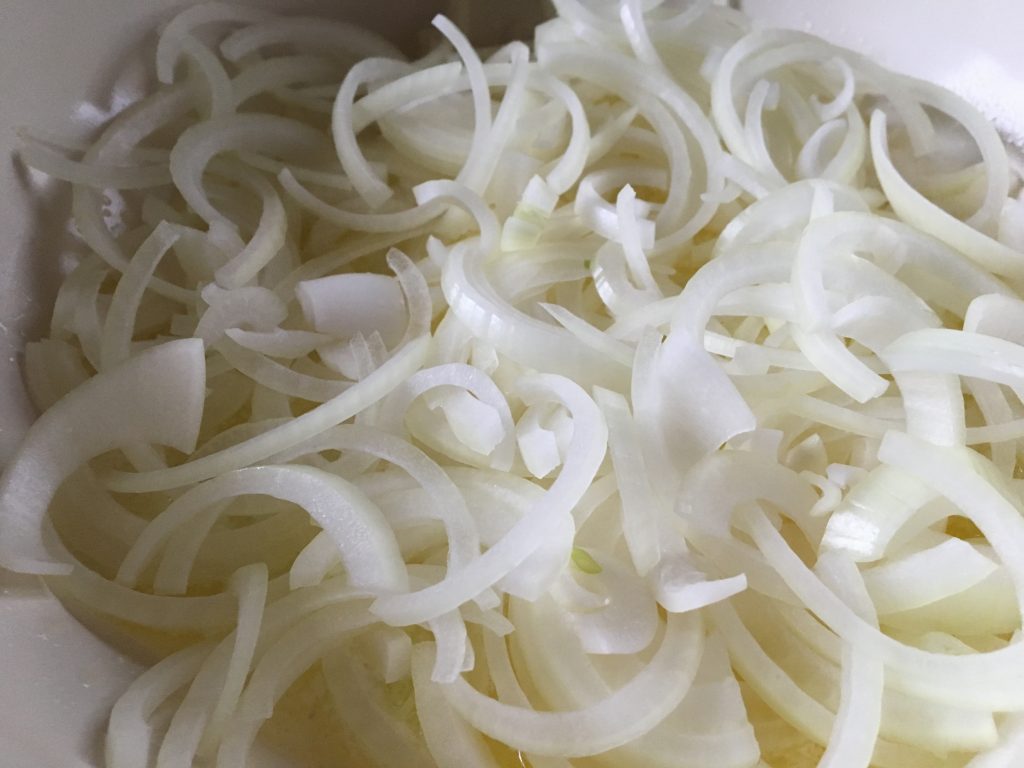 In a skillet over medium-high, add olive oil and light butter heat for a minute. Add onions and toss them with the butter and olive oil. Cook until the onions are super soft. (about 6-8 minutes)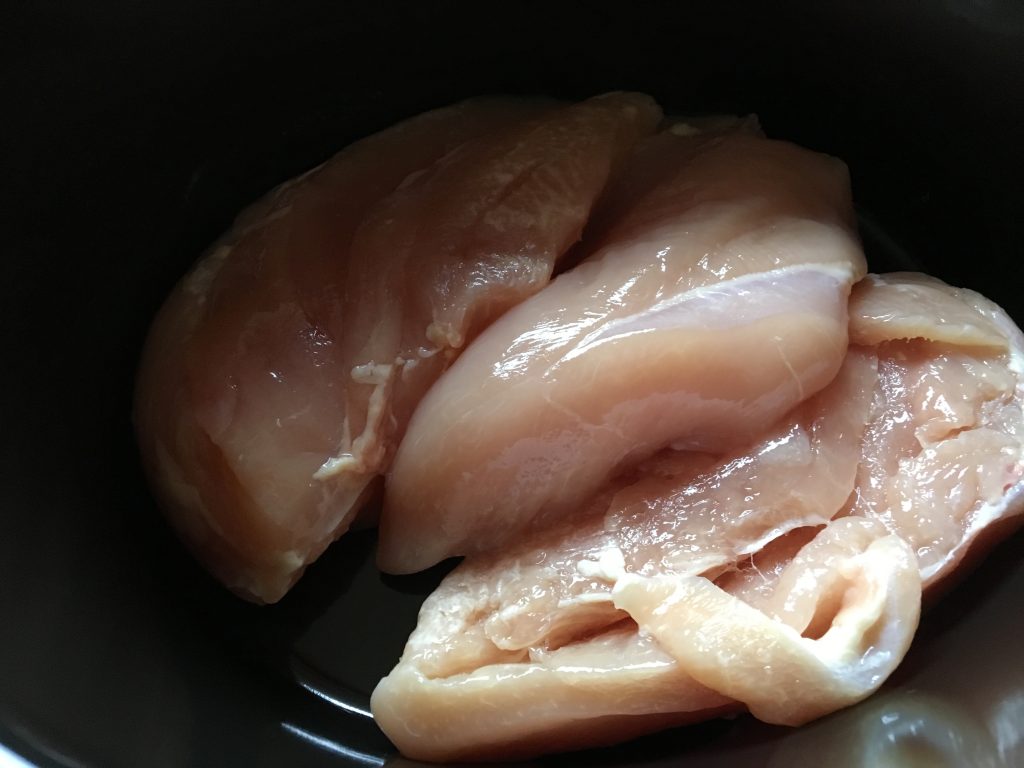 In a crockpot add three trimmed large chicken breasts. (2 lbs) Pstt.. It's okay if you have a little over the two lbs.
Add the cooked onions on top of the chicken! I a d o r e the smell of the kitchen at this moment.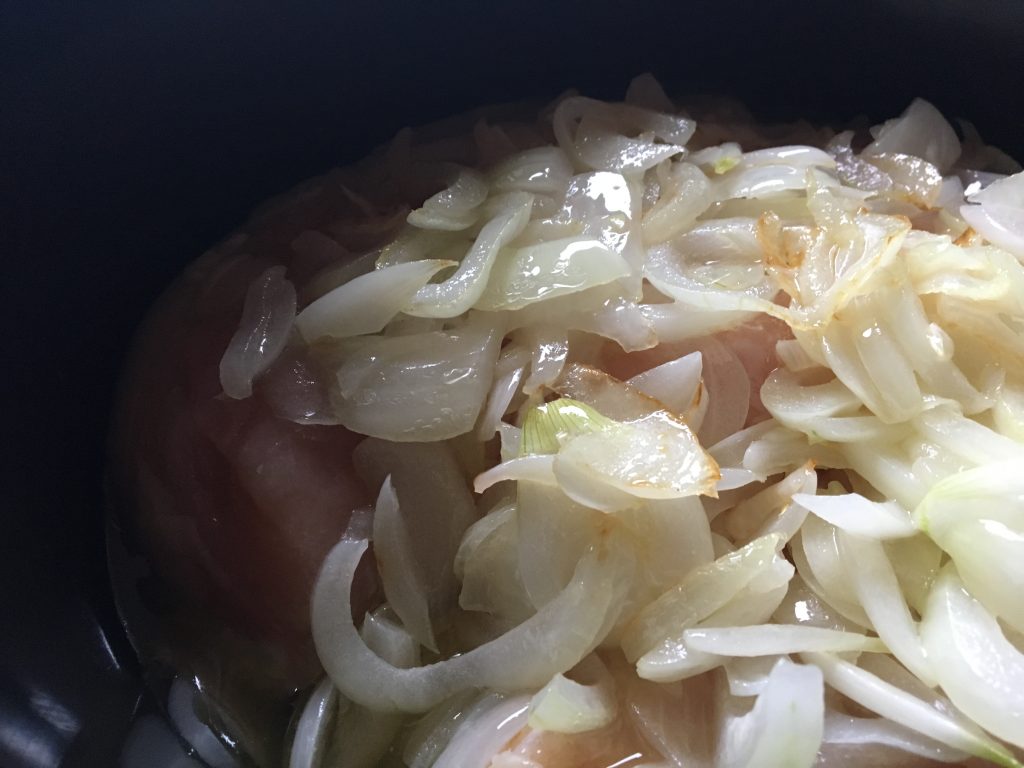 YUM! (okay, not so much the raw chicken part.. but those onions!)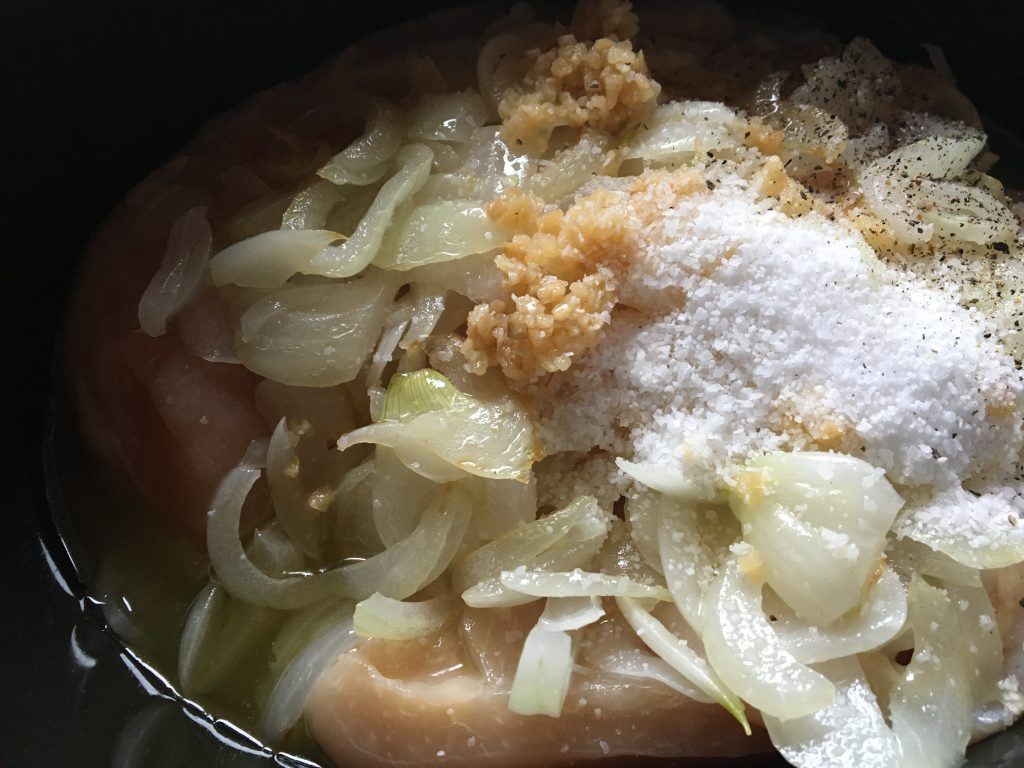 Now, add a few teaspoons of minced garlic (or a 4-5 minced fresh cloves!) Do whatever ya want. In the french onion soup recipe I used fresh garlic. I only had some of the refrigerated stuff on hand this time around, and you know what? It tasted great! So use what you have! Also, add a few teaspoons of kosher salt and a healthy amount of some fresh cracker pepper… or regular pepper out the shaker. I'm not judging.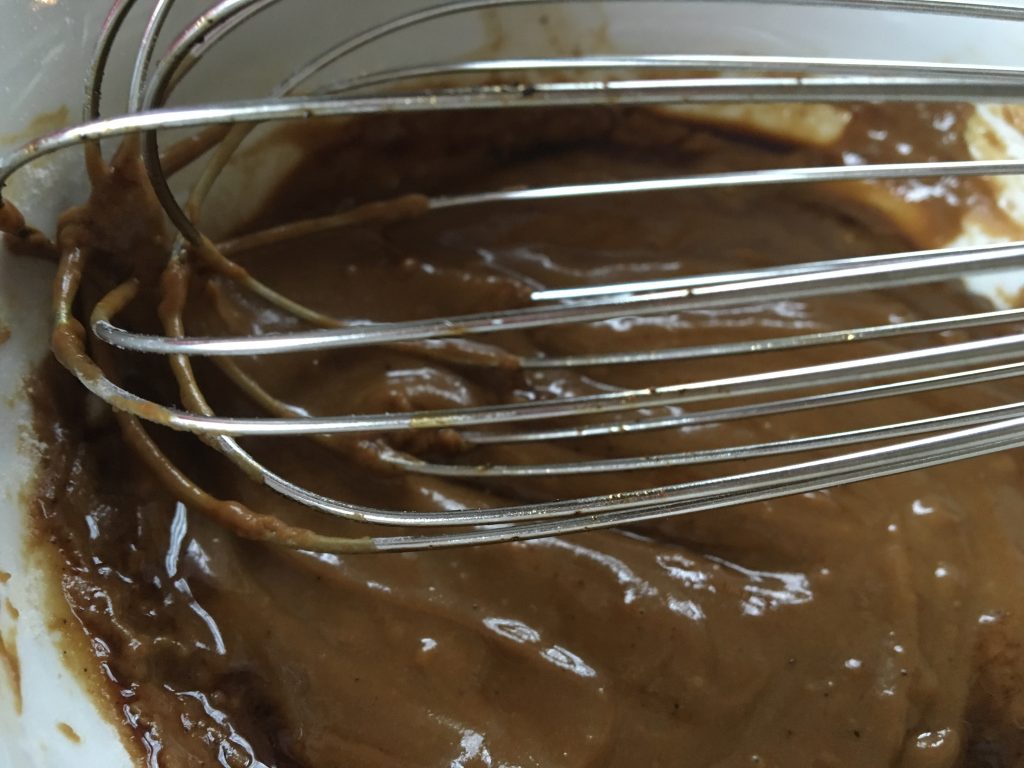 Add two tablespoons of flour to two tablespoons of Worcestershire sauce! (Again, my least favorite word to spell in the entire world.. not even spell check knows what I am doing.)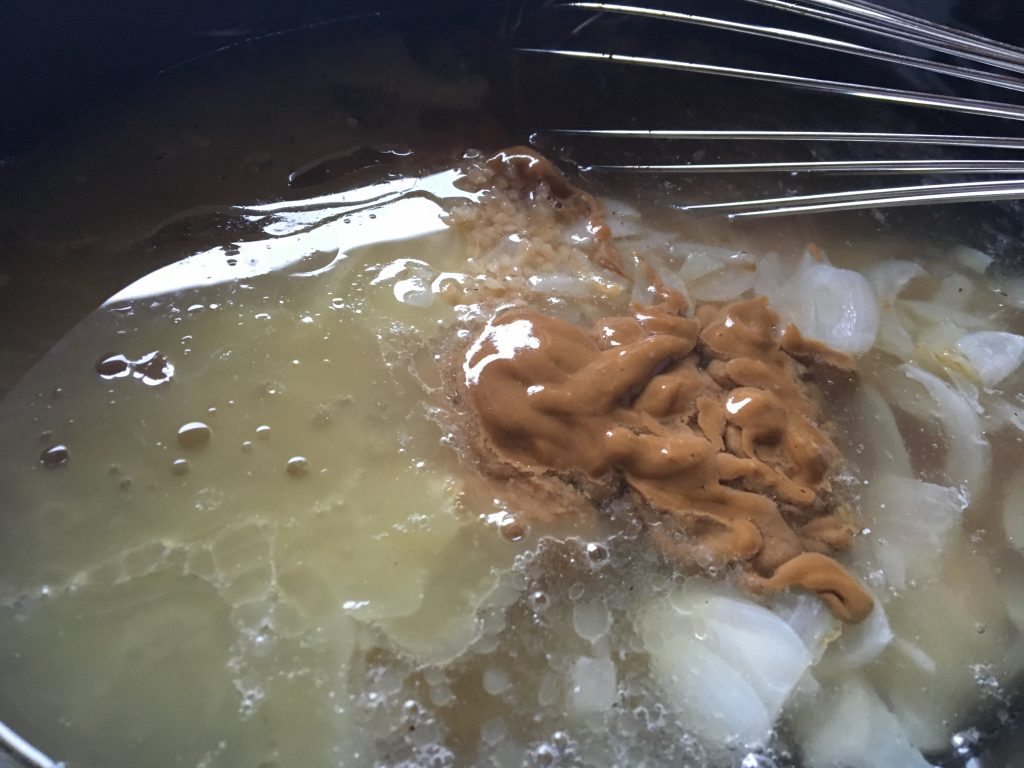 Add chicken broth on top of the chicken breast and onions. Add the flour and Worcetshire mix into the pot too!
Whisk the flour mixture into the broth on top of the chicken. Cook on low for 7-8 hours.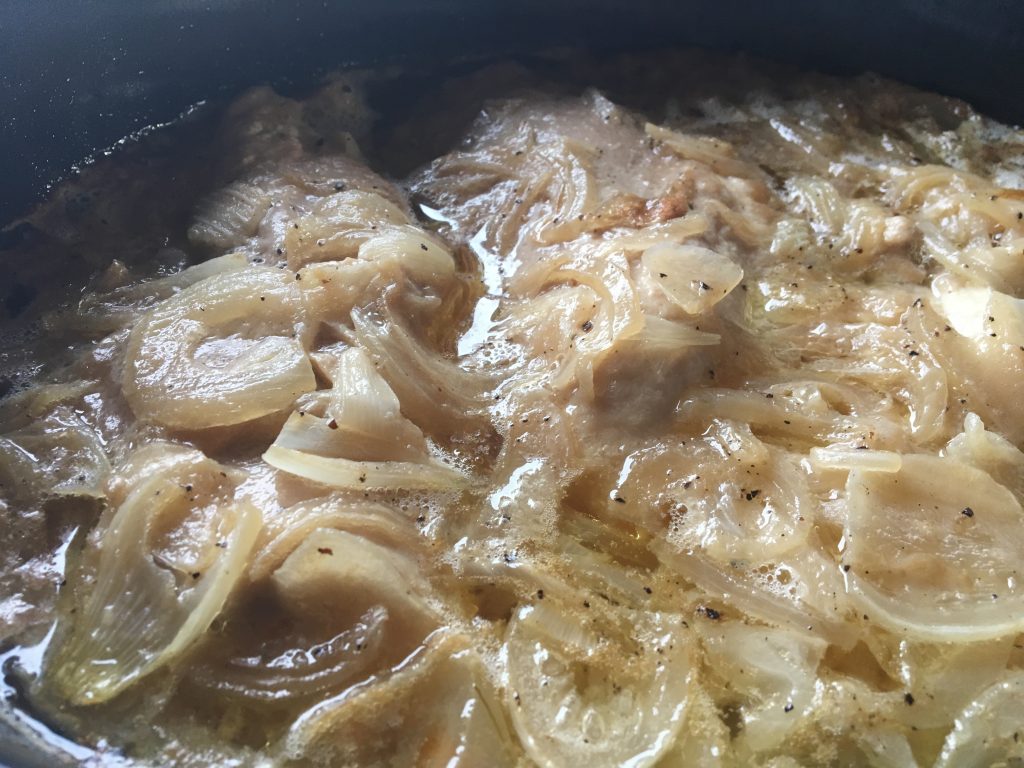 7-8 hours later… it's time! It's finally time!!! I all but danced around the kitchen when this happened as I had been peaking one too many times all day long. Your kitchen should smell amazing at this point. You're welcome!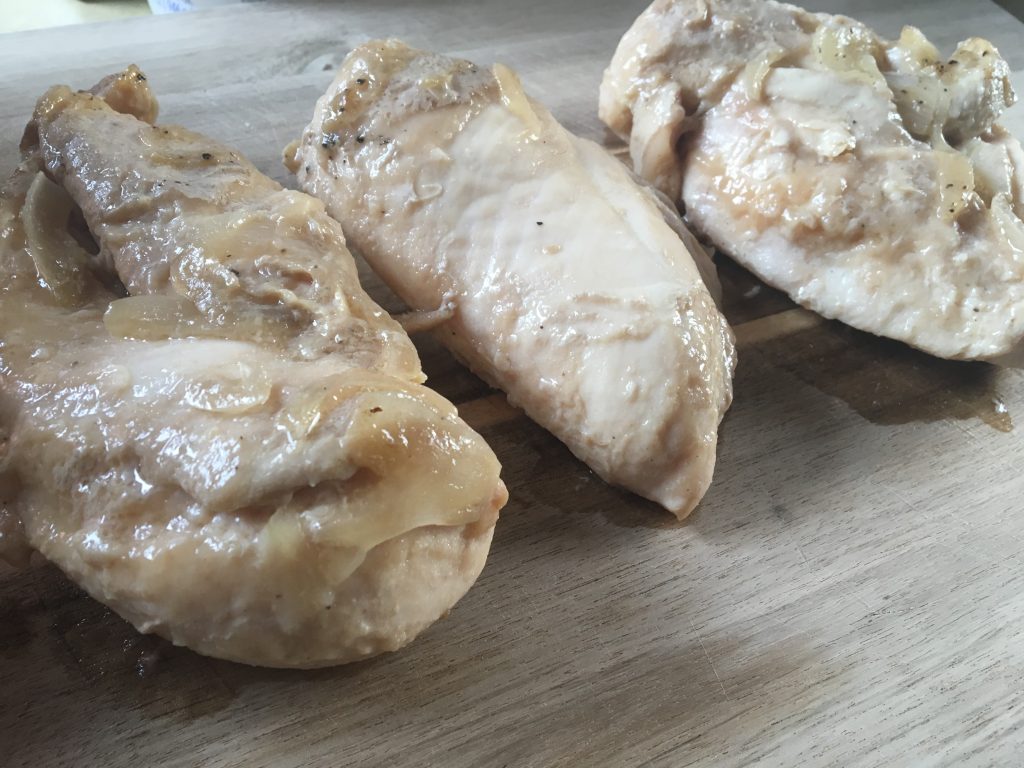 Take the chicken out and place on a plate or cutting board.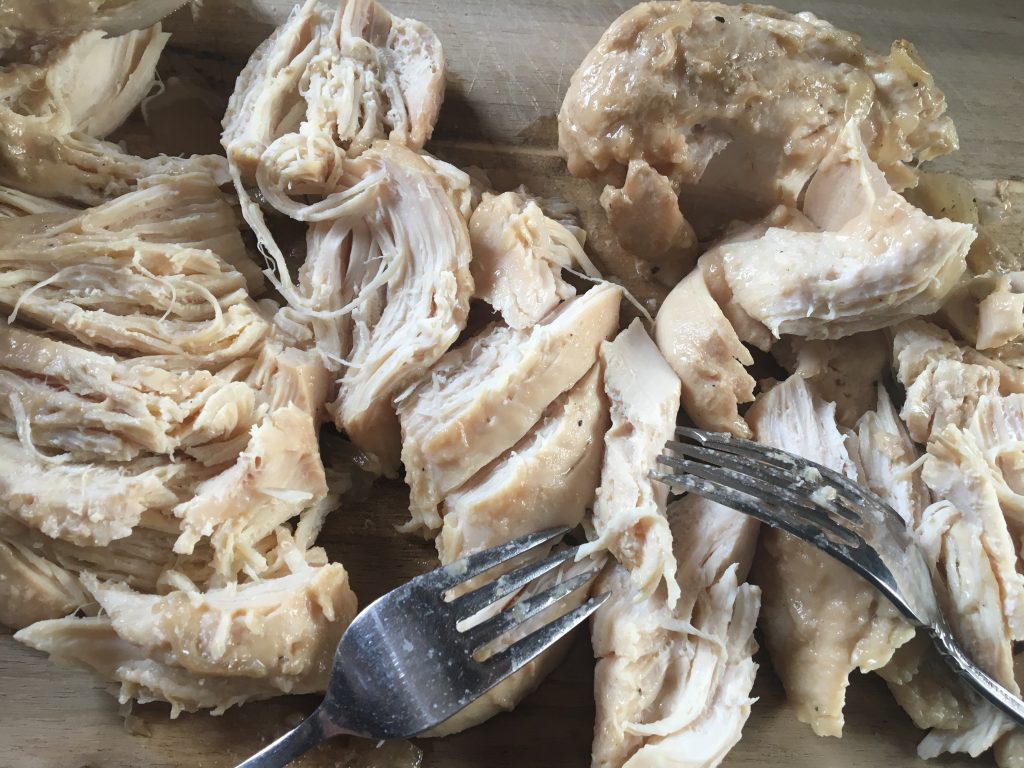 This chicken will be melt in your mouth, fall of the bone (if there was a bone) stuff! I didn't really want it to be shredded. In fact, next time I might just cut the chicken into smaller strips, but it's so tender that it will shred a bit without you even trying. If you want it shredded, it more than likely will taste the exact same. I have a weird brain. My brain wanted "slices' on the sandwich.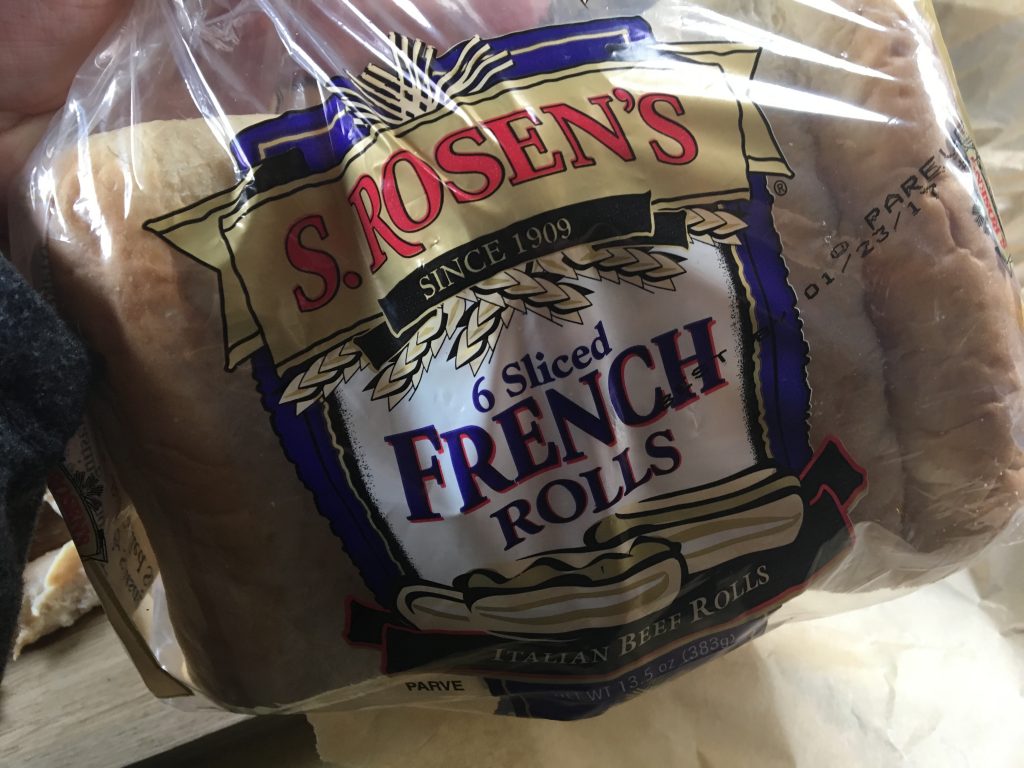 Here's the buns! I love these guys. Now like I said, you don't have to use these, you can use something smaller, bigger, wheatier, circular, half of one. Whatever your heart (or waist) desires! Bread is bread and bread is life.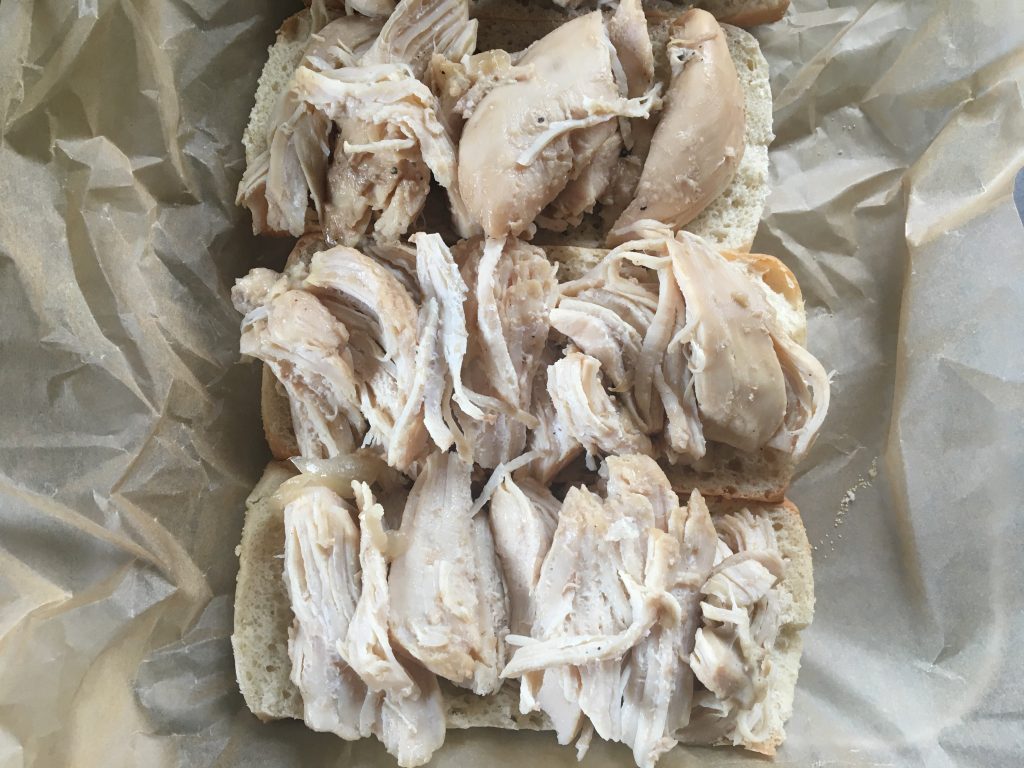 Time to assemble these babies! (I promise this is faster than the time it takes to read!) Split some hard rolls and pile up some chicken on the bottom half. (You can either spread evenly or if you like being super precise about 4 ounces on each half)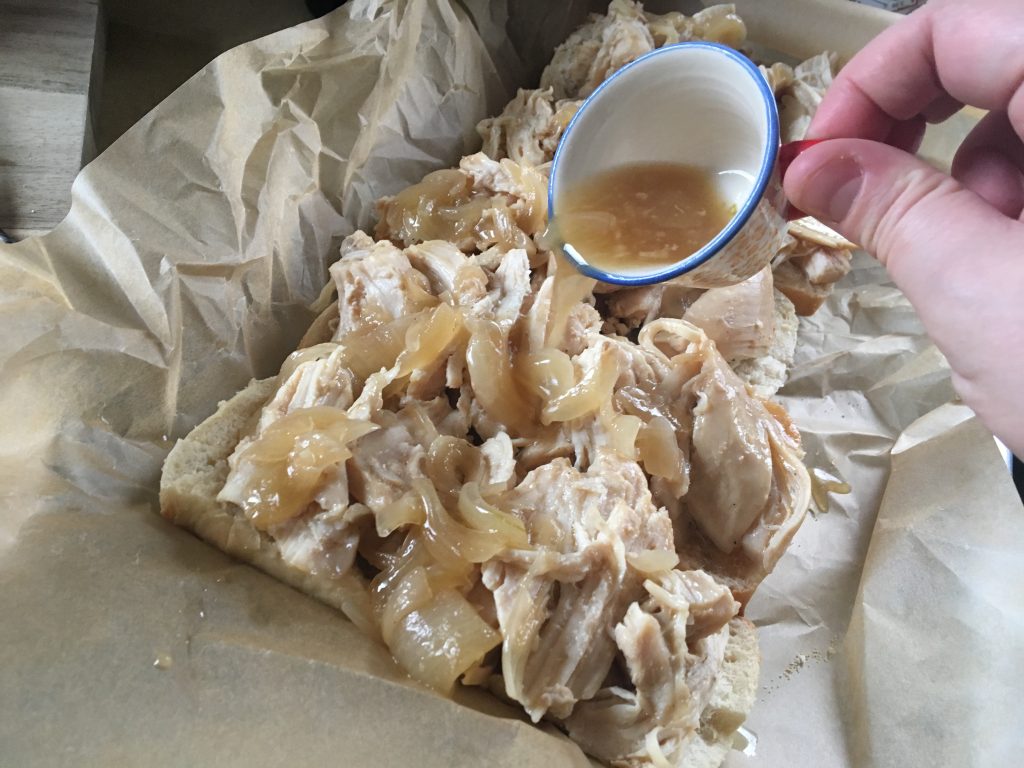 Now pour 1/4 cup of the onion and broth mixture on top of the chicken. Swoon! (Side note: Someday I'll go get a nice relaxing manicure. Cough cough Eric… if you're reading this… )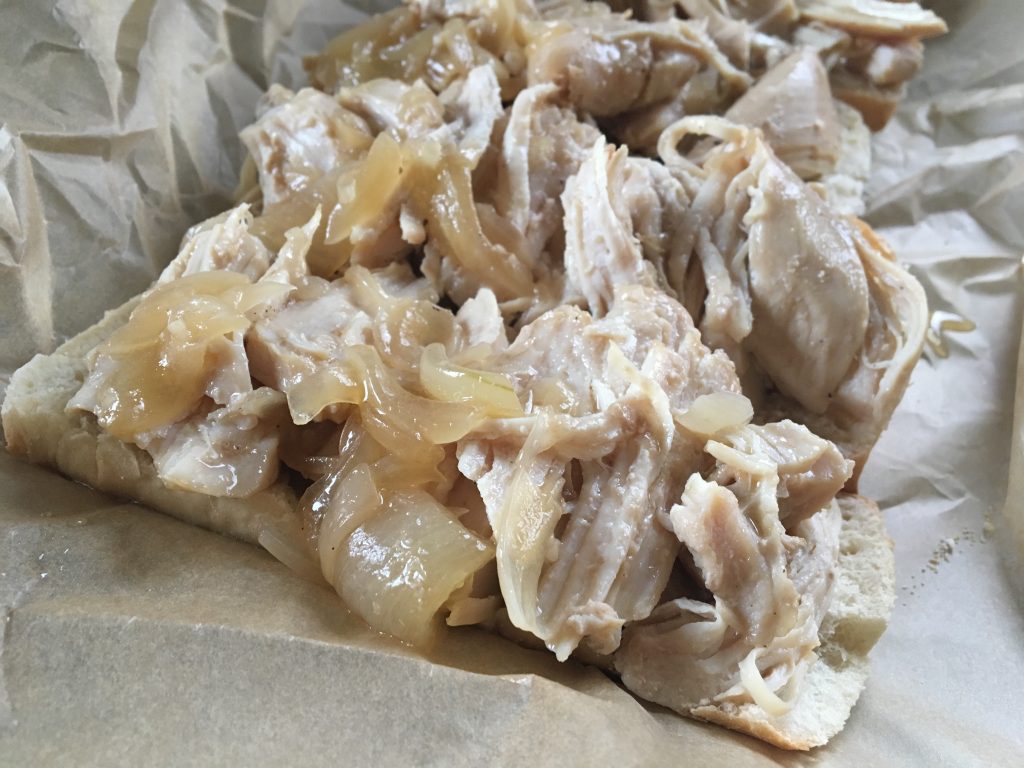 This tastes one billion times better than it looks at this point, I swear.
Time for cheese! (Always my favorite part) I add about two tablespoons on top of the chicken. So, all together you'll need about 3/4 cup. You could also be rebel and add as much as you want. I wish I could!
Top with the top half of the roll. (If you're going the full sandwich route, the first time…. you should.)
Pop'm into a 415 degree oven for about 10 minutes until the bread is a bit crunchy and the cheese is gorgeously melted onto the chicken.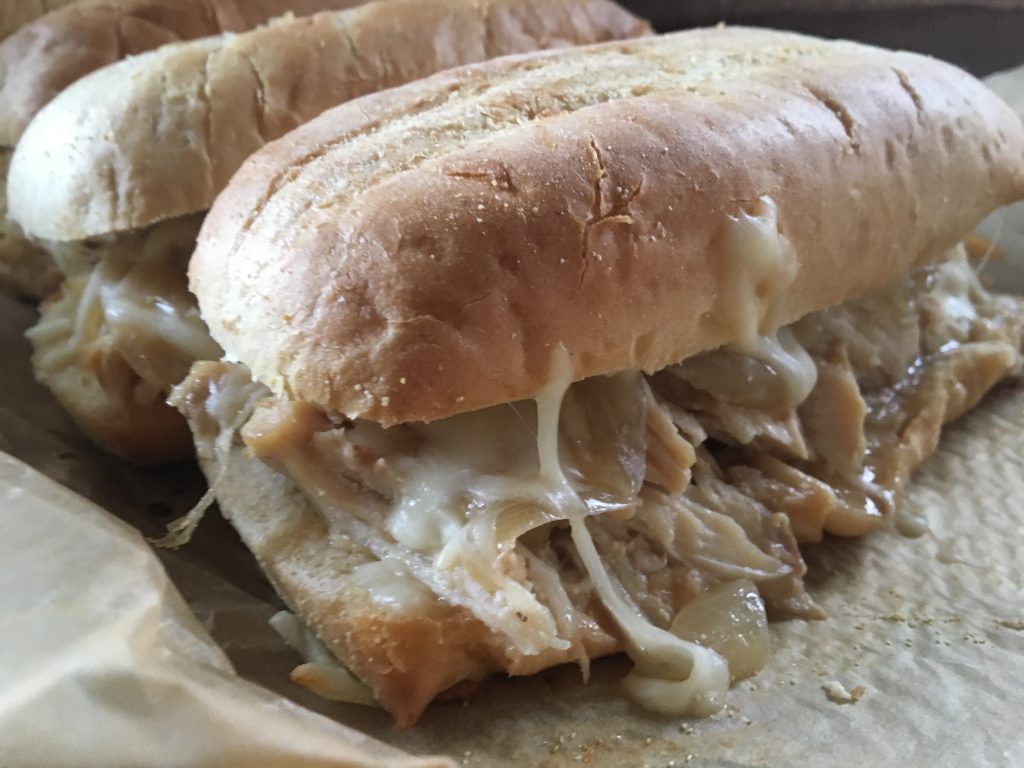 and then you'll have this.
and this.
and this.
I don't think we will be going very many weeks without these for the rest of our lives.
I am being completely honest.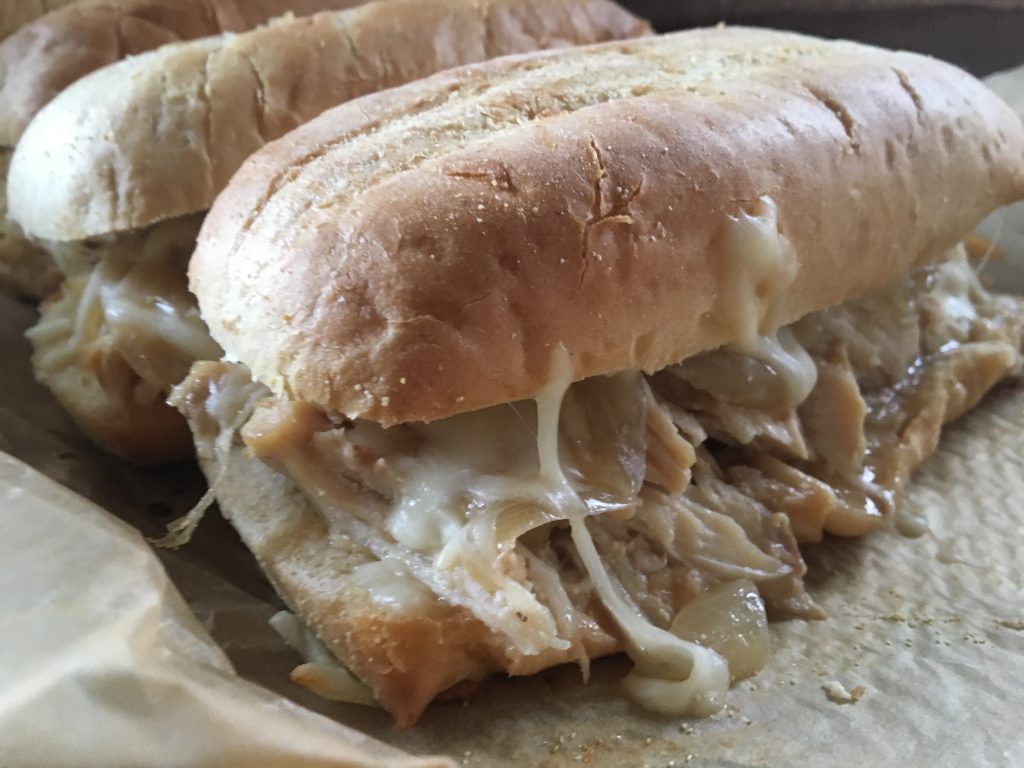 Absolute perfection.
Let me know how it went!
With love from my kitchen to yours,
Star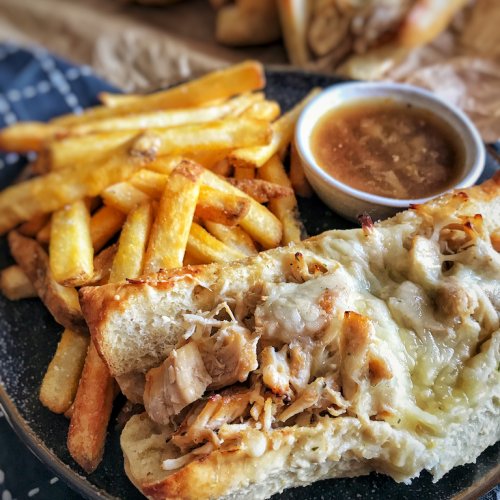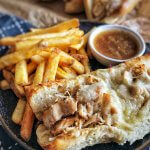 Print
Chicken French Dips!
tender, flavorful chicken piled onto a hard roll topped with cheese and paired with a delicious au jus.
Materials
2

lbs

chicken breast

raw

1

large yellow sweet onion

thinly sliced

2

tbsp

light butter

I use land o lakes

1/2

tbsp

olive oil

3

cups

of 98% fat free chicken broth

2

tbsp

Worcestershire sauce

2

tbsp

all purpose white flour

4-5

cloves

garlic

minced

2

tsp

kosher salt

freshly cracked pepper
For the sandwiches:
1

cup

shredded part skim mozzarella

6

hard rolls or bread of choice
Instructions
In a large skillet over medium heat add olive oil and butter. Add thinly sliced onions, a pinch of salt and pepper, and cook stirring often for about 12-15 minutes until the onions become very soft and a little caramelized.

Add chicken breasts to a slow cooker, followed by the cooked onions, minced garlic, chicken broth, and kosher salt & black pepper.

In a small bowl whisk together flour and Worcestershire sauce. Whisk the mixture into the broth on top of the chicken. Cook on low for 7-8 hours.

Remove the chicken, place onto a cutting board, and cut into pieces or lightly shred.

To assemble the sandwiches: Preheat oven to 425 degrees. On a sheet pan lay bottom of the roll down, top each roll with about 4 ounces of chicken, 1/4 cup of the au jus from the slow cooker (*see notes), two tbsp of mozzarella, and then the top of the bun.

(Note: These totally work as open faced sandwiches for those who want to cut back on carbs or calories)

Place sheet pan into oven and bake for about 10 minutes or until the bread is crispy and the cheese is nicely melted. Serve with 1/2 cup of au jus for dipping! Enjoy!
Notes
*Points and Nutrition Info do not include hard roll because bread can vary in both due to size and brand. You may choose your own adventure when it comes to the bread and add the points/calories seperately.
*If using a soft roll/bun skip the step that pours juice over the chicken before going into the oven. A sturdy/crusty hard roll is the only type of roll that can handle liquid without becoming a bit soggy.
Serving size: 3 oz chicken, 1/2 cup au jus, 2 tbsp mozzarella
WW Points: 4 Points
265 calories
10g fat, 3g saturated fat, 5g carbohydrates, 0g fiber, 0.5g sugars, 36g protein