This post may contain affiliate links (meaning I earn a small comission if you purchase an item through a link I provide) I only provide shoppable links to items I love and are helpful. As an Amazon Associate, I earn from qualifying purchases.
Happy Tuesday, Friends. I've got some fun news to share. As most of my friends and followers know. I'm fairly active on Instagram. I've been lucky enough to meet and become friends with some amazing people and cooks from all around! A couple of months ago, I had a idea to ask some of the lovely people who I admire and am inspired by to guest post on my blog once or twice a month. My first guest post is Erin, who is just a lovely person all around. She puts so much care into each and every meal she makes and you can tell just from a simple photo and description that she posts. She's a busy mom of two beautiful children who seem like they've got a million activities going on in school and she still manages to whip out the most delicious looking plates around. I'm excited and so honored that she said yes when I contacted her to guest post on here for me. Thank You, Erin! Now…. I don't know about you, but this Peach Crisp looks to DIE for. I will be making this immediately. If you couldn't tell. I kind of fail at lightened-up desserts, to be honest. I used to bake all the time and I have a bunch of recipes that contain lots of butter, lots of sugar, and I just can't get the hang of lightening up dessert! I am working on it, but for now… Erin not only is the first guest post for DDOP & Friends, but she ALSO gets the first post in desserts! Stay tuned I've got a fun line-up planned.
Hope you enjoy!
Xo-Star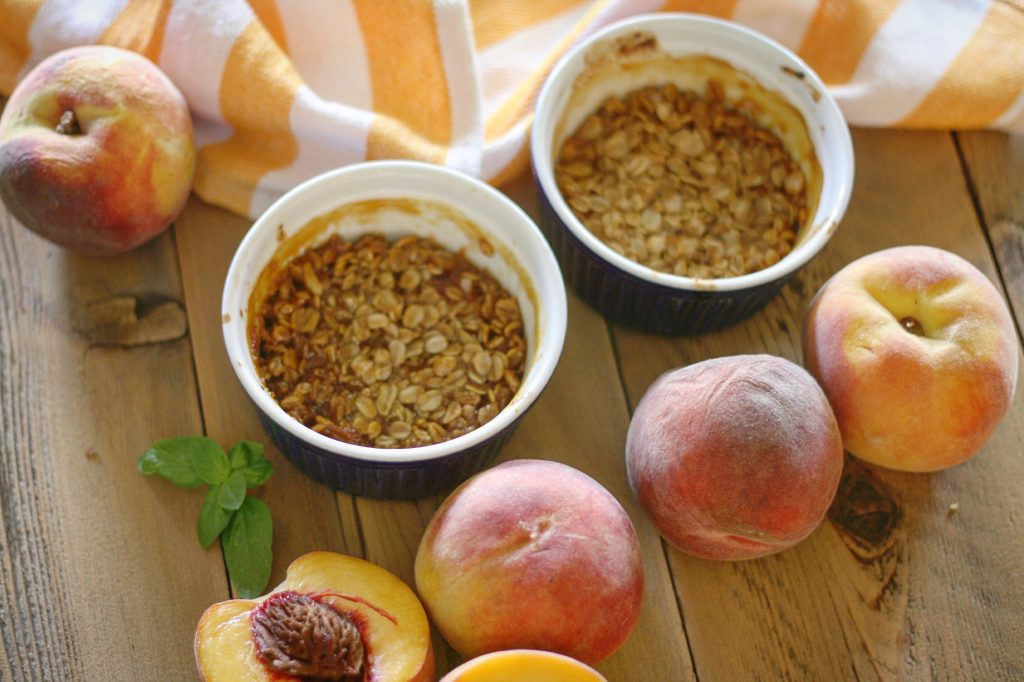 Well, hi, there friends. Thanks for coming by for a quick bite of dessert on my Instagram buddy Star's beautiful blog. I'm Erin, aka undercover.weightwatcher on Instagram. I'm just tickled pink (or maybe I should say tickled peach?) to be sharing on Daily Dose of Pepper. Star has a great big generous, warm hearted, larger than life personality. I just love her. I'm guessing you do too.
Here's something else I love-Peach Crisp. I've been working on getting fit and healthy for the past, oh say five months, give or take my entire life. Everything I eat is colored by this new health kick that I'm hoping is going to last for give or take the rest of my life.
So, when I started fooling around with peaches on a stormy afternoon, hoping to strike dessert gold, I also was trying to get it right in a healthful sort of way. It took a couple of tries, but I think I got it.
Each little individual peach crisp is 4 Smart Points, if you are following Weight Watchers. If you aren't, you're still going to like it. I served it to my only-cares-about-how-things-taste family, and everyone sopped the peach crisp right up. I used just enough brown sugar and butter to give this dessert an indulgent feel, but not so much that you couldn't eat one every night for the rest of the summer. And you'd better hurry, because summer's almost over. I can feel it in my baking heart.
One more note-be sure to serve your peach crisp with either some whipped cream of melty vanilla ice cream. (I use fat free aerosol whipped cream or even better-Vanilla Bean Halo Top ice cream.) You could use a great big scoop of premium ice cream, if you like. That'd be just peachy.
Individual Peach Crisps
Serves 2
2 large peaches, peeled, pitted sliced
1/2 teaspoon cornstarch
1 and 1/2 teaspoons packed brown sugar
1/4 teaspoon cinnamon
1 tablespoon lemon juice
Topping:
1/4 cup old fashioned oats
2 and 1/2 teaspoons packed brown sugar
2 teaspoons melted butter
Preheat oven to 400 degrees. In a small saucepan, combine peaches, cornstarch, a and 1/2 teaspoons brown sugar, cinnamon, and lemon juice. Bring to a boil over medium heat. (If peaches were a little dry, you can add a tablespoon of water here. You want the mixture to be somewhat juicy.)
Transfer hot peach mixure to two baking dishes (ramekins), coated with cooking spray. Meanwhile, combine oats, remaining brown sugar, and melted butter in a small dish. Top peaches with oat mixture, dividing evenly. Bake crisps in oven for 20 minutes. The topping will crisp up as the crisp cools, but I still like to eat it warm. Enjoy!
Notes: Want to serve your whole family? Triple the recipe and bake in an 8 by 8 inch baking dish. As long as your peaches are piping hot when you put them in the oven to bake, the baking time will be the same.
Serving Size: 1 Peach Crisp. 4 Smart Points, 3 Points Plus. 150 Calories, 4g fat, 3.5g fiber, 11 carbs, 6g sugar, .5 protein