This post may contain affiliate links (meaning I earn a small comission if you purchase an item through a link I provide) I only provide shoppable links to items I love and are helpful. As an Amazon Associate, I earn from qualifying purchases.
This Denver Omelet Bake is so delicious! It's chock-full of ham, peppers, onions, eggs, and a bit of cheese. I love Denver Omelets, but making multiple omelets for breakfast in the morning means nobody eats at the same time. So the other morning, I threw all the makings in a casserole dish, and called it breakfast… and we all loved it so much! It's a great option when you're feeding a bunch of hungry people, and it makes for delicious meal prep too!
Hi friends! It's now mid-December. Things are crazy busy around here, like they are pretty much everywhere. It's not much different from usual, but add glitter and garland. Ha! But I still like to make sure we start off the day with a delicious and nutritious breakfast. A couple'a weeks ago, I was absolutely cuhraaaving a Denver Omelet. Whenever we hit a local diner for breakfast, the Denver Omelet is one of my skinnyish go-to's. But here's the thing- on our stove at home, omelets only make it all the way to the omelet stage about 72% of the time. (This is a made up number, based on a complete guess… the real percentage could be 68. Or 44. You get it, yeah?..) They like to turn into scrambled eggs on me. This is a little annoying. But making three omelets for three hungry mouths takes time, and we can never sit and eat together. So what's one way to solve this problem? Throw it all in a casserole dish, and cross your fingers!
Another awesome thing about this Denver Omelet Bake… It's such an easy meal that requires very little effort, but it packs all the taste of that lil ol' greasy spoon downtown. I'm also going to go ahead and put this out there, it's much healthier than that ol' greasy spoon omelet we all know and love. And while it's baking away in the oven, there's extra time for yummy sides! I love a helping of Air Fryer Roasted Potatoeson the side of my breakfast plate.
If you happen to have a small crowd of hungry mouths around your table, or if you just need a delicious breakfast bake to make once and then eat all week, give this Denver Omelet Bake a try. I know you'll love it! Because we are really, really loving it right now.
Now let's get into the kitchen!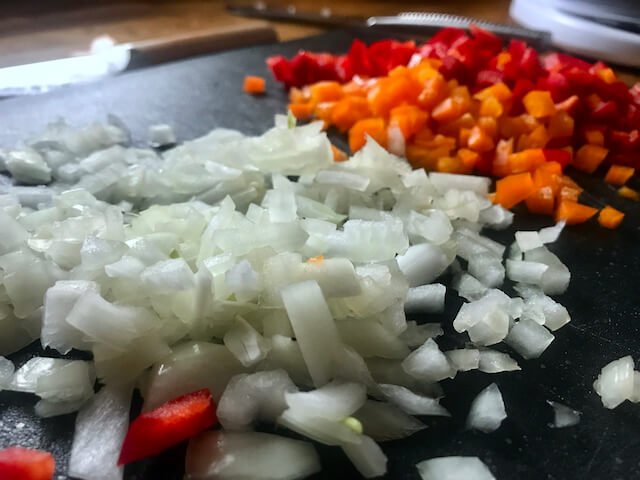 Chop up a small yellow onion and two medium peppers. Traditionally, Denver Omelets include green bell peppers. But when I started photographing for this recipe, my green bell peppers looked a bit funky… so out to the chickens they went, and I used a red and an orange one. Guess what? It tasted wonderful- pretty much exactly the same as when I use green. So really, any ol' pepper you've got lying around will do just fine. And come to think of it, using a red and green pepper would be very Christmasey!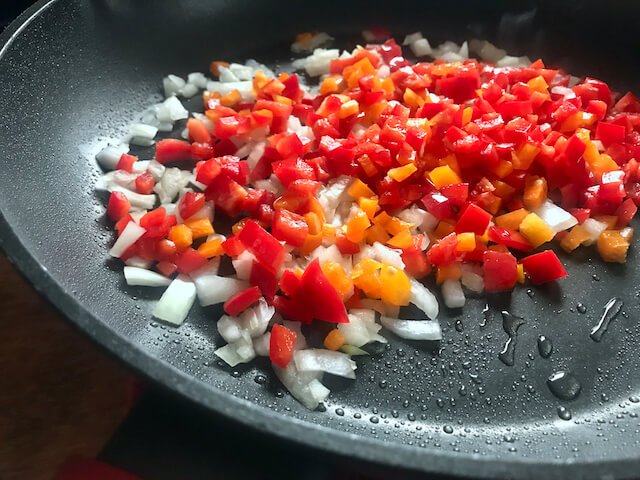 Spray a frying pan with a bit of cooking spray, and throw the peppers and onions in it to sauté for a few minutes. They don't need to browned or caramelized or anything. In fact, you can technically skip this step, but I think the peppers and onions taste best if they've been cooked a bit before going into the bake.
Grab some ham! This was leftover ham from Thanksgiving. It was smoked, and didn't have a glaze of any sort. You can also use cubed ham, ham steak, or even some sliced ham from the deli counter.
The only thing you need to worry about if you're counting points/calories is get some that says "oven roasted" or "smoked." If it says "Brown Sugar Ham" or something along those lines, it could have a bunch of sugar added… this means more points/calories.
Chop it up into tiny lil cubes.
Grab a big ol' bowl, and crack 10 eggs into it.
Add 1 cup of cottage cheese (shh, don't tell anyone- and don't let it scare ya off either! It just makes the eggs a lil extra fluffy and perfect and wonderful), 1/2 cup 1% milk, your fave seasoning salt (you all know I heart Lawry's always n' forever), and pepper. Whisk it real good!
After you whisk the eggs together add in the peppers, onions, and ham.
Then, pour it all in a 9×13 casserole dish that's been sprayed down with some cooking spray. My personal favorite is Avocado spray. Bake at 375 for about 40 minutes, maybe 45. You'll know it's done when the top gets a bit golden, then you stick a fork in the middle and it comes out clean.
And there ya have it folks. a Denver Omelet in casserole form, and it's oh so good!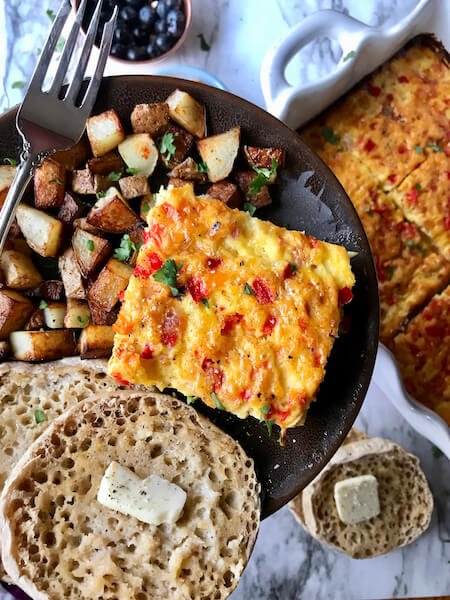 Taaaa-Daaaa! Bam. That's some good eatin'.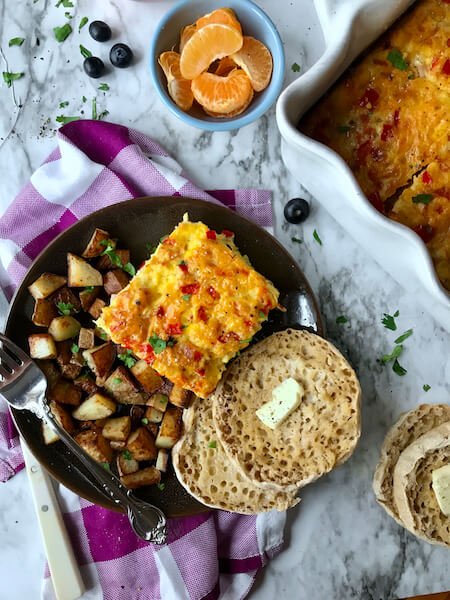 Such a wonderful breakfast. I hope you love it as much as I do.
With love from my kitchen to yours,
Star
Print
Denver Omelet Bake
A delicious oven baked egg casserole packed with peppers, onions, ham, and a little cheese just like a Denver Omelet. Perfect for a satisfying, healthy, and delicious breakfast!
Materials
2

medium

diced sweet bell peppers (red, orange or yellow)

1-1/2

cups

diced ham

1

small

diced onion

1

cup

low fat cottage cheese

1/2

cup

low fat milk

10

large

eggs

1

tsp

seasoned salt

i prefer Lawry's

1/2

tsp

pepper
Instructions
Preheat oven to 375 degrees. Spray a 9×13 baking dish with cooking spray.

Optional, but I prefer it this way: Sauté peppers and onions with cooking spray for a few minutes until lightly caramelized in a pan. Set aside.

In a large mixing bowl add eggs, milk, cottage cheese, seasoned salt & pepper. Whisk together well.

Add in chopped ham and peppers and onions (raw or cooked, either way works).

Place in oven and bake for 35-40 minutes or until lightly golden on top and you can stick a knife in the middle and it comes out clean.
Notes
Serving size 1/6 of casserole.
WW: 2 Points
Calories: 259. Fat: 14.5g. Saturated Fat: 5g. Carbohydrates: 5g. Fiber: 1g. Sugars: 2g. Protein: 25g.