This post may contain affiliate links (meaning I earn a small comission if you purchase an item through a link I provide) I only provide shoppable links to items I love and are helpful. As an Amazon Associate, I earn from qualifying purchases.
If you make this crock pot marinara sauce, I'm almost positive that you'll never buy a jar of sauce ever again, if you have a choice in the matter. It's free of any added sugars or oils, which makes it extremely calorie and weight watchers friendly.
It's huge on flavor! Nothing against anyone who uses a jar of sauce, I used jarred sauces of all different varieties for years and years. I never even thought making homemade sauce was a thing that normal people did until I did a Whole 30 Challenge two years ago.
Now jarred sauces are a thing of the past in this house. I made this into a bulk freezer recipe because like most people, I don't have time to make a fresh pot of sauce every single time I need some.
I simply measure out about two cups into quart freezer bags, squeeze out as much air as possible, lay them flat, and stack them in the freezer. This recipe makes about 5 freezer bags with 2 cups of sauce in each bag.
If you like your sauce chunky, blend it less.
However, I like it to be more smooth, so it goes a little farther and is a little more versatile. So I either run it through a blender, or use the immersion blender when it's fairly cool.
I use this in almost all recipes that require a sauce, and also for pizzas! Since it's really just tomatoes and spices, It's ZERO smart points for as much as you want!
ENJOY!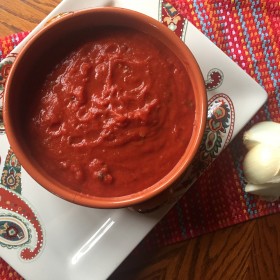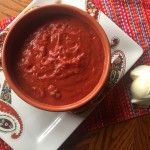 Print
Slow Cooker Marinara Sauce
A freezer friendly, delicious slow cooked marinara sauce with spices and herbs.
Materials
3

cans 28 oz

crushed tomatoes

preferably a higher quality brand. I use Cento (big yellow can) (you may also use diced or whole tomatoes even tomato sauce if that's all you can find- drain extra liquid if using diced/whole tomatoes)

2

14.5 oz cans

fire roasted diced tomatoes

drained

8

garlic cloves

minced

1

yellow large onion

diced

2

tbsp

dried oregano

2

tbsp

dried basil

1/4

tsp

red pepper flakes

more or less depending on the level of spice you'd like

1-½

tsp

kosher salt

1

teaspoon

pepper

1-2

bay leaves

(optional)
Instructions
Stir all of your ingredients in a 6 quart slow cooker. Cook on low for 8-10 hours to really get all of those lovely flavors to mingle and fall in love with each other.

Salt and Pepper to taste when finished.

For smoother sauce: use an immersion hand blender, or put in a blender. Blend on low until desired consistency.For thicker sauce: tilt the lid off of the crockpot and cook on high for about 30-60 minutes. This will reduce the sauce some so that it's thicker. Depending on the canned tomatoes sometimes the sauce can be a bit more "water-y". Reheating after freezing: You can add sauce to your favorite recipe. If you think it seems a bit "water-y" this is normal and can happen depending on the actual tomatoes after they were picked and canned. You can put sauce in a pot on the stove without a cover and heat over medium-low heat reducing it until you reach desired consistency.

*If using a blender make sure the sauce is cool or blend in small batches*

Freezing instructions: Let cool completely. I usually add about 2 cups to each freezer bag, press as much air out as possible, close the bag, and then stack on top of eachother in the freezer to save space.
Notes
Makes about 10 cups of sauce.
60 calories for about 1/2 cup of sauce
WeightWatchers Points: 0 (any amount)
Note: Not very often, but every once and awhile I get a comment/email saying that this sauce is bitter. Now this may just be your taste buds, but it can also be the quality of the canned tomatoes that were bought. If this happens, you can add a little sugar (which could add points) or some zero calorie sweetener to offset the "bitter" taste. I like to use either Swerve or Whole Earth Sweetener, but use whichever one you enjoy. I would start with just a couple teaspoons then taste and adjust with salt and pepper as well.