Crockpot Chicken and Dumplings
This post may contain affiliate links (meaning I earn a small comission if you purchase an item through a link I provide) I only provide shoppable links to items I love and are helpful. As an Amazon Associate, I earn from qualifying purchases.
Crockpot Chicken and Dumplings is the best kind of comfort food. Instead of slaving over the stove all day let this meal slowly simmer away in your slow cooker for extra ease and ultimate taste after a busy weekday or a lazy weekend.
It's basically winter everywhere right now which means that just about everyone could benefit from a big bowl of Chicken and Dumplings. It's the ultimate winter comfort meal in my humble opinion and I love doing it in the crockpot because it's so much easier that having to watch the stove and I love the smell of carrots, celery, and onions simmering away for hours. In most recipes you'll find cream of chicken soup, but here it's all homemade with simple ingredients.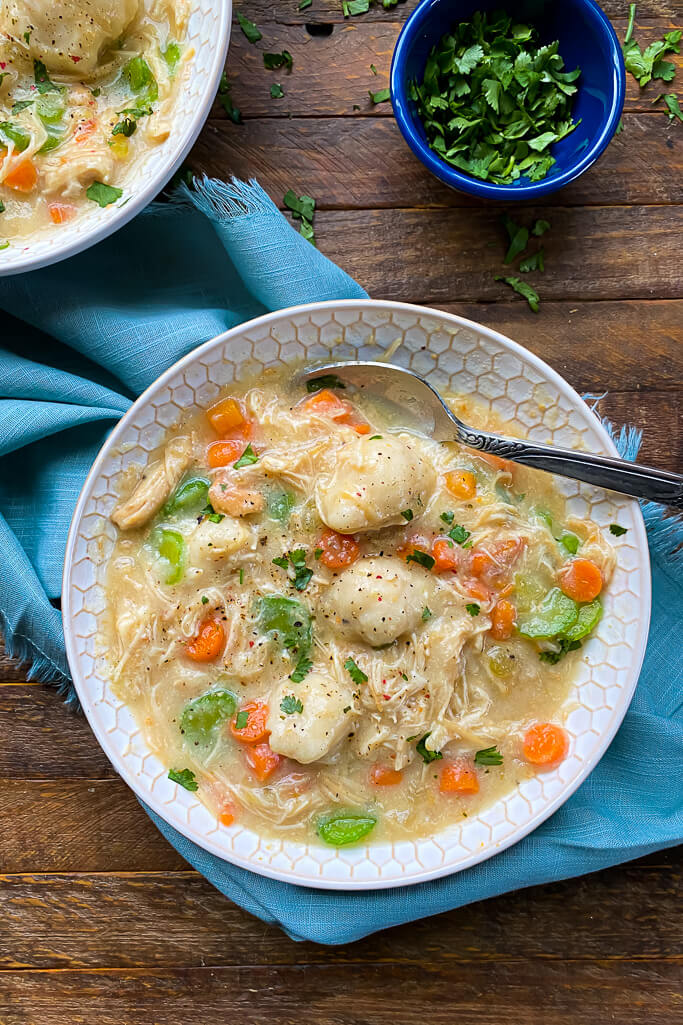 I grew up on Chicken and Dumplings and honestly, dumplings in just about any type of soup. My mom would throw dumplings in her beef stew too. They were little pockets of perfection to me. If I had to choose only one meal to eat in the winter. It's Crockpot Chicken and Dumplings, folks. There's no competition. The dumplings recipe is so easy! You'll be a pro before you know it.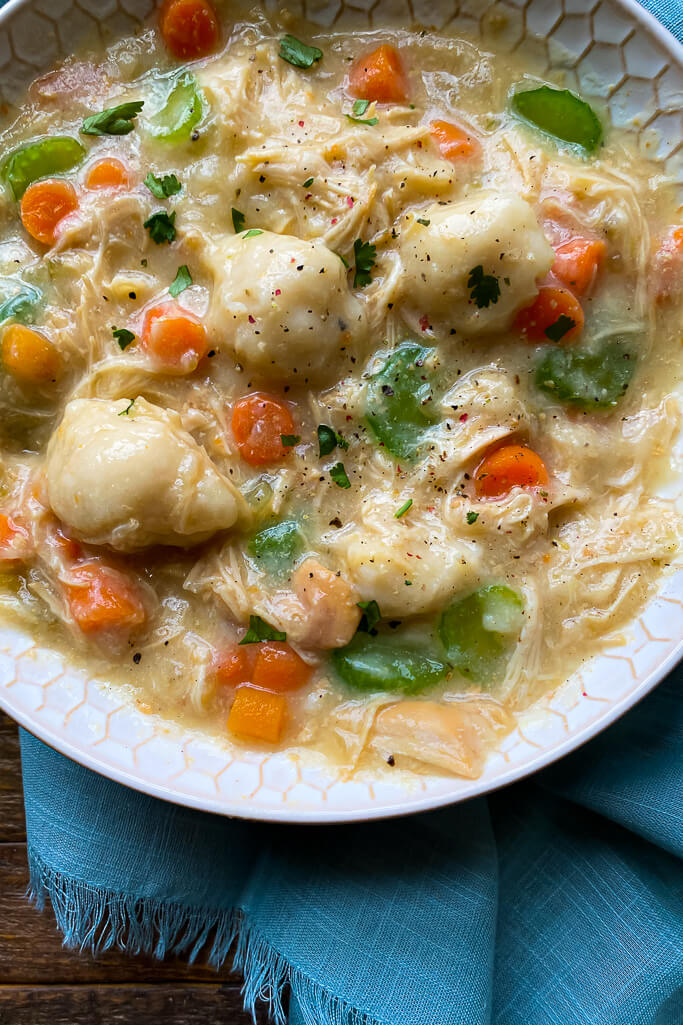 Now if you grew up on Chicken and Dumplings and you're looking at this like, "what in the world are you trying to tell me right now?" because I've got little round lumpy pillows in that bowl instead of flatter strip like thick noodle things. I know. I know.
My mama is the queen of easy in the kitchen so when she made her dumplings she just mixed up a little flour, milk, and water. Instead of rolling out and cutting dumplings she just dropped those suckers in. I don't even think my mom owns a rolling pin. You will not find my mom rolling out dough and cutting it into strips. Not when practically the same thing can be accomplished by dropping it by spoonfuls into the pot. Haha
I've made them both ways and honestly don't care which way they are made as long as I can eat them. Stat! Doing the drop dumpling method is most definitely easier and makes for less clean up. I know yall appreciate that so let's do it that way in this recipe, alright?
How to make Chicken and Dumplings!:
Start off my choppin up one cup of carrots, celery, and onion.
Optional, but recommended. I like to sauté the vegetables just for maybe 5 minutes before adding them into the crockpot. Now this is an extra step and I know so many of yall appreciate and super simple crockpot recipe, but tiny things like this make a difference especially in such a simple flavor profile recipe like chicken and dumplings. I say all this to also say, give me a bowl of chicken and dumplings where the vegetables weren't sautéed first and I'll still scarf it down so it's optional. You're welcome.
Grab your slow cooker (here's the one I use) Place boneless skinless chicken breasts (or chicken thighs!) in the crockpot and cover it with the chopped onions, carrots, and celery. In place of chicken broth, pour 5 cups of water over everything then add in about two heaping tablespoons of my favorite "not so secret ingredient". Stir it up just a bit then set your crock pot to low for 6-7 hours or on high for about 3-4 hours.
Better than Bouillon is actually my mom's favorite ingredient too so I learned this trick from her. I'm pretty sure there was ALWAYS a jar in our fridge growing up. Now there's ALWAYS a jar in my fridge too. I use this to make super quick semi homemade gravy. I also add a couple teaspoons to pasta, sauces, soups, etc for a instant flavor boost.
Tip: It's kind of like a sticky goop. Spray your measuring spoon with cooking spray before scooping it out. It'll come out with no problem at all.
Completely random, but I just looked up the definition of goop to make sure I was using it properly because I remembered Gwenyth Paltrow calls her lifestyle website thing "Goop". Confused why she calls it goop, but I know some people are like what the heck does "skinny-ish" mean? so it's fine. I'm just typin' out loud here. Haha.
These next couple steps are important!
If you set your slow cooker to low switch it to high and place the lid back on immediately. The liquid needs to be as hot as it can be so please don't forget to put the cover back. Cooking the dumplings and thickening up the liquid a bit will not work as well or it will take longer.
Remove the chicken (place the crockpot cover back on immediately) and lightly shred it with two forks or chop it up. Return shredded chicken to the crockpot and then put the cover back on.
Measure out 1 and 3/4 cup cold milk and then whisk in 4 tbsp of cornstarch. Be sure the milk is cold and straight outa the fridge and hasn't been sitting on the counter. This helps the cornstarch dissolve better and prevents clumps!
Pour the milk mixture into the crockpot and stir in well. Place the cover back on tightly.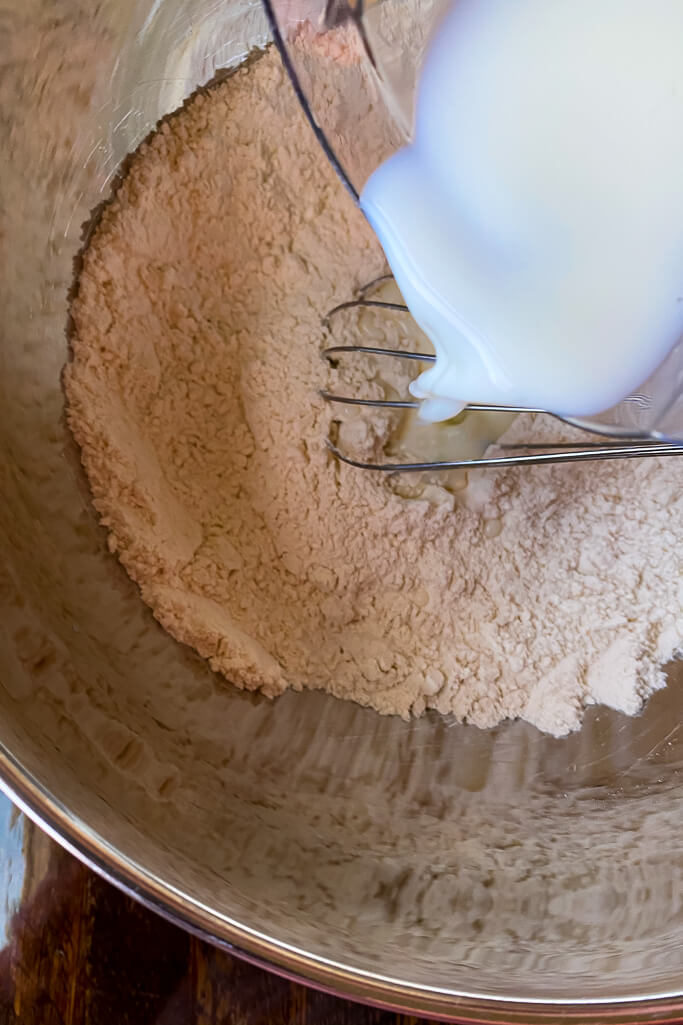 Whisk 2 cups of flour together with 1-1/2 tsp baking powder, 1 tsp of Lawry's Seasoned Salt then slowly mix in 3/4 cup milk, and one tablespoon of melted light butter (I use land o lakes). If you think it needs it you can add 1-2 tbsp of water.
I mix together until its pretty well incorporated.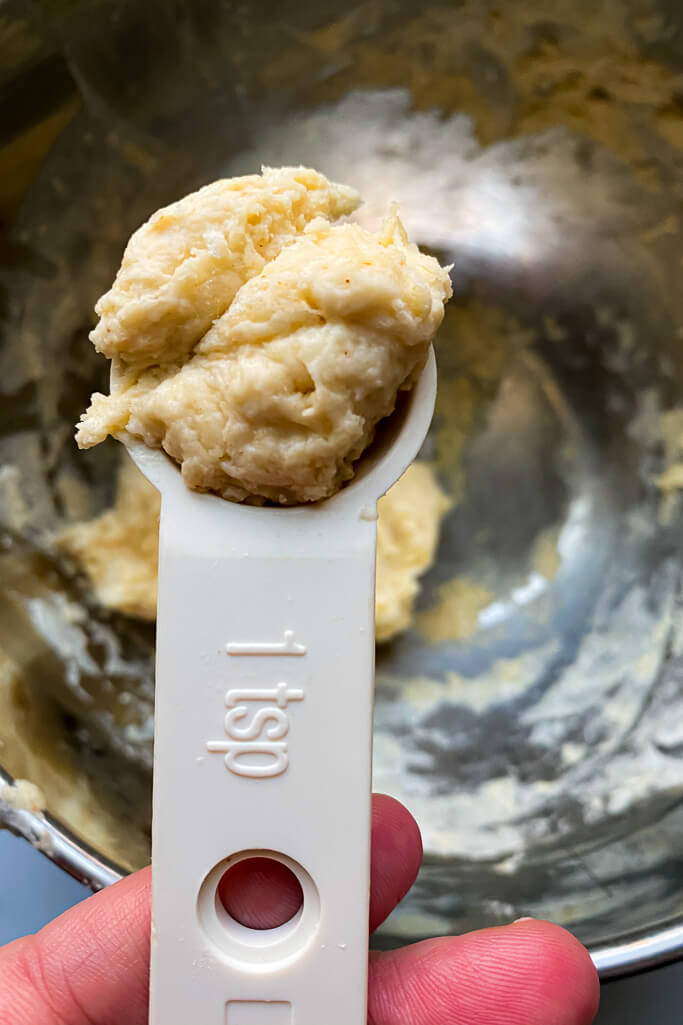 Now I just scoop little teaspoons full and pop them into the crockpot with the chicken mixture and cover the crockpot each time so that the liquid stays hot enough to cook these dumplings.
Another thing you could do is lay out a piece of parchment paper and scoop all the teaspoons of dough and keep them on there then place them in the crockpot all at once. Either way works.
Tip: Spray the teaspoon with a little cooking spray so that the dough doesn't stick to the spoon and comes off easily.
Be sure the cover is on the crockpot tightly and that it's set on high temp then let it go for another hour so that the dumplings can cook.
Note: Some recipes will call for canned biscuits instead. Homemade dumplings are non-negotiable for me, but you can definitely use them if you'd like a short cut. I would still do the same amount of time for cut up refrigerated biscuits.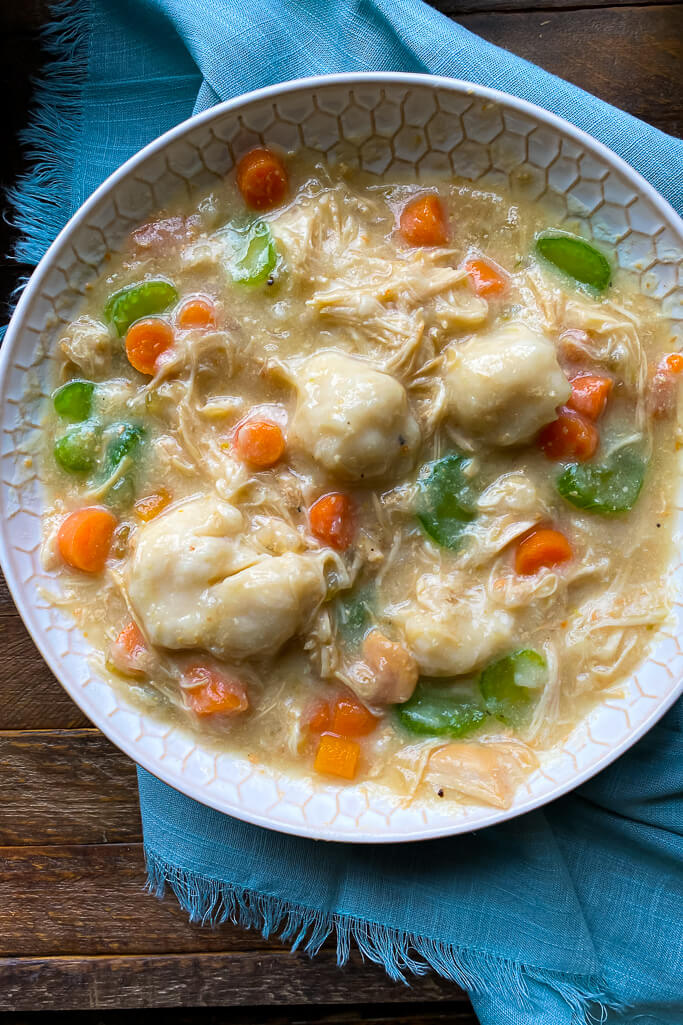 When it's done scoop up a big bowl and chow down! This really doesn't need anything but a lil bit of pepper, maybe a pinch of salt. Taste and see. It's the perfect meal. So hearty, so delicious. I wanna marry it. Season it with a little salt and black pepper!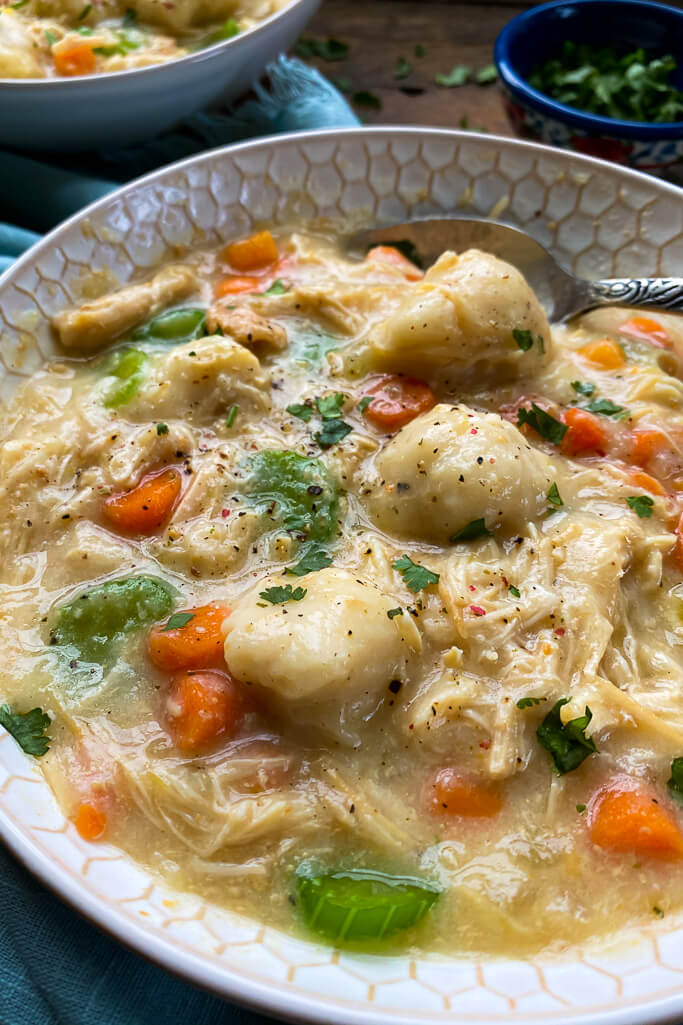 Wanna know what's even better about this? Its better the next day after it's sat in the fridge, MY FAVORITE KIND OF MEAL. I love to make a big crockpot full of this over the weekend and then eat leftovers throughout the week.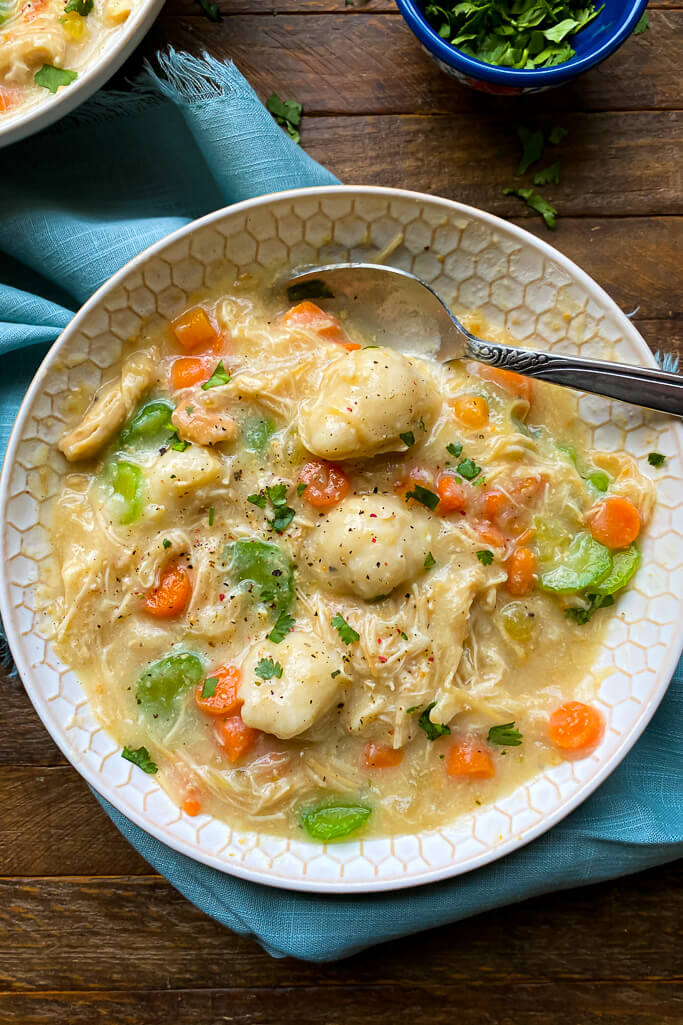 Make this soon, friends. It's just so yummy.
If you make these please comment below and let me know how it went!
Stay warm, y'all.
Looking for other ultimate comfort food ideas? Try out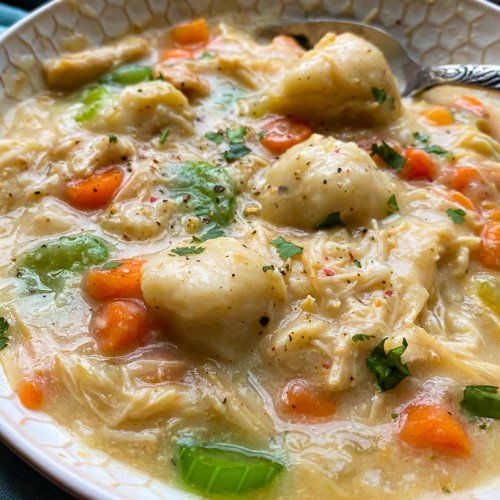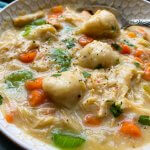 Print
Crockpot Chicken and Dumplings
Crockpot Chicken and Dumplings is a hearty and soul warming crockpot meal that's filled with vegetables, chicken, and homemade dumplings.
Materials
1

cup

diced celery

(about 3 large celery ribs)

1

cup

diced carrots

(about 3-4 large carrots)

1

cup

diced onion

(about one medium)

1½

lbs

chicken breast, raw

1

bay leaf

5

cups

water

2

tbsp

better than bouillon chicken base

(small jar- found in any grocery store near the cans/cartons of broth- look at blog post for photo of it if not sure what it is)

1¾

cups

cold low fat 1% milk

(2% or whole milk will do fine, have not checked with skim milk or unsweetened almond milk yet)

4

tbsp

cornstarch

cooking spray

salt and pepper, to taste
Dumplings
2

cups

all purpose flour

1½

tsp

baking powder

1

tsp

Lawry's Seasoned Salt

(your favorite seasoned salt is fine, but just make sure the flavors will work with something like this.)

3/4

cup

low fat 1% milk

(add 1-2 tbsp of water if the dough needs it)

1

tbsp

melted light butter

(i use land o' lakes brand)
Instructions
Optional, but recommended: Heat a large skillet and spray with cooking spray. Add the diced celery, carrots, and onions and cook until softened. Season with a pinch of salt and pepper.

Add chicken, chopped veggies, water, bay leaf, and better than bouillon to a slow cooker. Stir a bit together then cover and cook on low for 6-7 hours or on high for 3-4 hours.

When done cooking remove chicken breasts, turn the slow cooker on high, then place the cover tightly back onto the slow cooker, and then shred with a fork or chop up. Then add the chicken back in and place then place the cover back on.

Whisk together cold milk and cornstarch. Pour into crockpot with chicken and veggies and stir together. Put the cover back on the crockpot.

Make the dumplings(see notes below): In a medium bowl add flour, seasoning salt, and baking powder whisk together then slowly pour in the milk and melted butter and stir until combined well and there's no crumbs of flour dough in the bowl and makes a dough ball shape in the bowl.

Take a teaspoon measuring spoon, spray with a little bit of cooking spray(just makes it so no dough sticks), and scoop out little teaspoons worth of dough into the slow cooker. Cook on high for one hour.

Salt and pepper to taste, serve, and enjoy!
Notes
Serving size: heaping one and a half cup
WW Points: 6
320 calories, 3g fat, 0.7g saturated fat, 423g sodium, 38g carbohydrates, 2.4g dietary fiber, 5g sugar (0g added sugar, 0g Sugar alcohols), 38g protein
Notes:
You can either scoop the teaspoons of dough and put directly into the slow cooker (but just make sure to cover the slow cooker back up each time so that the liquid inside stays hot) OR you can scoop all the dumplings out, set them aside, and then add them all at once. Just be sure when adding all at once you give it a good stir after you add them so that they aren't clumped together.
Its very important to keep the slow cooker cover on all the time unless opening it to put something in or take something out because you want the liquid to remain hot as can be so that the dumplings cook up properly.