Creamy Corn and Potato Chowder
This post may contain affiliate links (meaning I earn a small comission if you purchase an item through a link I provide) I only provide shoppable links to items I love and are helpful. As an Amazon Associate, I earn from qualifying purchases.
Hey y'all! We are now officially into the first week of Fall, and oh what a wonderful week it's been so far. I know for some of you, Fall doesn't mean to much in terms of weather. But for me, this time is one of the major perks of living in the good ol' Midwest. The humidity is gone, the air is cool and crisp, and it's officially soup season for many months to come. I grew up knowing that in the cool season, a big pot steaming on the stove meant some good food was coming… and it's one of my favorite things. I know it seems like my recipes have contained a lot of corn lately. But you see, living in the heart of the Midwest also means that corn is kind of a way of life. We live out in the country surrounded by cornfields. My hometown even has an annual festival dedicated to corn! It's just the way she goes in these parts. And of course, it's delicious… so naturally, I have a killer corn chowder recipe, and I hope it will be your family's new favorite thing!
I've been making this recipe for quite a long time. Over the years, I've been tweaking it just enough that I finally am able to say that this is the best corn chowder in the entire world. Well, our lil' family thinks so anyway. 😉 It's just creamy and rich enough to be filling and delicious, without being heavy on calories. The flavor is out of this world! The basil really is necessary, so please don't skimp out on it, okay? I will say that fresh herbs are best. But I cooked this recipe a few times, and tried it using both fresh and dried basil. It's just as tasty either way. And lastly, this Corn Chowder is one of those recipes that tastes even better out of the fridge the next day, after all those subtle flavors have a chance to relax and mingle… this makes it perfect for meal prep, folks!
You can use fresh, frozen, or canned corn- It all works. But If I were you I'd go for frozen or fresh, because it's just better. I've got nothin' against canned corn. (I've got a few of them in my pantry right now.) But since the corn is the star of the show here, we want that crunchy texture, and fresh and frozen corn simply work better for that purpose.
Now here we go friends- let's get in the kitchen, and see how it's done!
Start it up by chopping up a big delicious red bell pepper.
Next, dice up a red onion.
Now, for the potato. Small chunks will do here. I'm a rebel, and don't much care to make them all the same size.
But yeah, try to make them kinda the same-sized small-ish chunks, to ensure they all cook up properly.
Now in a dutch oven or a large stock pot, add a little olive oil and let it heat up for just a minute. Then toss in your diced red peppers and onions.
Sauté them over medium heat for a few minutes until they are soft, and just a lil' caramelized.
Now add the chopped potatoes, corn, pepper, and some good ol' Lawry's Seasoned Salt.
(It's my favorite all purpose seasoned salt in the world, and I've always used it in this chowder!)
Okay. Now sprinkle some flour over all these goodies, just a lil bit at a time, while stirring.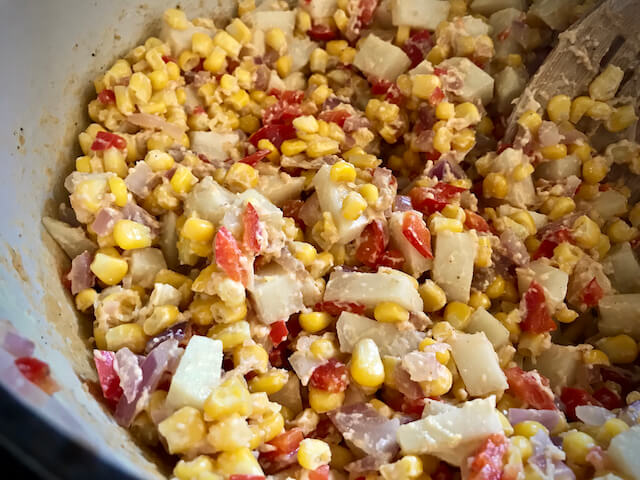 Continue stirring it up real good for a few minutes to make sure it coats everything real well, and to ensure the raw flour taste cooks off.
Stir everything up real well.
Add a bay leaf, and reduce the heat to a simmer. Let it hang out on the stove for 20-25 minutes, until the potatoes are cooked through.
Now finely chop up about two tablespoons worth of basil. Trust me folks- I've killed more basil plants than I'll ever admit,
and I don't always have the fresh stuff on hand to work with- dried basil will work just as well.
(If using fresh, make sure to add the basil in just the last few minutes. If using dried, use only one tablespoon, and any time works just fine.)
Now, stir in half and half, and let it continue to simmer for a few more minutes.
…and now you've got yourself some of the best dang Skinny-ish Corn Chowder ever!!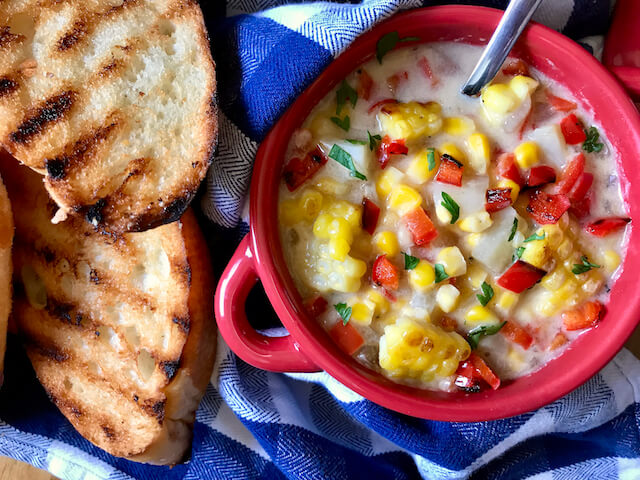 Psssst… grab some bread from your local bakery, slice it up, spray it with a little olive oil cooking spray, throw it on a grill pan and then dip it in this creamy-dreamy corn chowder…
have a bite, sit back, and say "mmm… that was some good eatin!"
Although this soup is absolutely perfect on its own, make it a little more of a meal by adding some crispy bacon and cheese on top, and you'll be even more in love with it!
With love from my kitchen to yours,
Star
Print
Creamy Corn and Potato Chowder
The tastiest chowder with red peppers, potatoes, onions, corn, and fresh basil.
Materials
1

large

red bell pepper

diced

1

medium

red onion

diced

12

oz

russet potatoes

chopped into small peices

1/2

tbsp

olive oil

5

cups

corn

frozen, fresh, or canned

1/3

cup

all purpose flour

(plus one tablespoon)

6

cups

vegetable broth

½

cup

half and half

1

tsp

Lawry's Seasoned Salt

1/4

tsp

pepper

2

tbsp

fresh basil

minced (or 1 tbsp dried)
Instructions
In a dutch oven or a large heavy bottom stock pot over medium heat add olive oil and then the diced red peppers and onion. Sauté until onions are soft and slightly caramelized.

When the onions are soft add potatoes, corn, seasoned salt, and pepper. Mix well.

Slowly sprinkle the flour over the mixture of vegetables while stirring. Continue to cook and stir for a few minutes.

Add vegetable broth. Reduce the heat to low and simmer for 20-25 minutes or until the potatoes are cooked.

Stir in half and half and fresh (or dried basil). Continue to cook for just a few more minutes. Salt & pepper to taste. Serve warm.
Notes
Serving size: 1.5 cups
213 calories. 5g fat, 2g saturated fat, 36g carbohydrates, 4g fiber, 5.5g protein, 7g sugar
WeightWatchers Points: 4 Points